In this article, we are going to answer all of the questions that you have about Pizza Cupcake. This company was featured on Shark Tank a few years ago, and ever since then, people have been wondering what happened to them. We will tell you what they are up to now, and whether or not their business is still successful. So, if you're curious about Pizza Cupcake, keep reading!
What Is The Pizza Cupcake?
It's hard to find someone who doesn't like pizza. In fact, pizza is one of America's favorite foods. The only problem with pizza is that it can be messy to eat. Even worse, due to its large size, you can't take pizza on your field trips or to work. However, pizza cupcakes are the solution to this problem.
Pizza cupcakes are single-serving pizzas that have been baked in a cupcake tin. So this delicious treat is essentially a cross between pizza and cupcakes. They are made with dough, cheese tortellini, marinara sauce and more! They are the perfect size for snacking and they are less messy than traditional pizzas.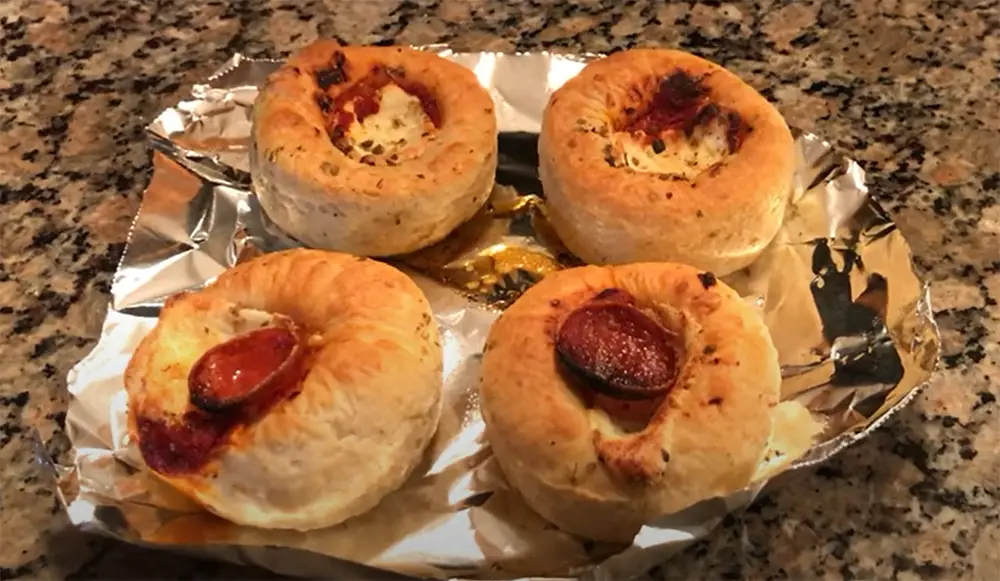 The delicious taste of a pizza cupcake now available in two flavors. Customers can choose the Margherita or Pepperoni made with our proprietary dough. And there are also a variety of toppings available, such as sausage, mushrooms, and zucchini.
The only thing you need to do to consume the cupcake, is to heat it up in the oven. The dough of the cupcake is incredibly fluffy, and the cheese pulls right off. The sauce is slightly sweet with a strong flavor of tomatoes. Creators of the recipe don't recommend heating it up in the microwave, as it will make the cupcake doughy. [1]
History of the Founders
Pizza Cupcakes is a new food startup that started in New York City. The founders, Andrea Meggiato and Michelle Jimenez are both husband-and wife team who have been working together for years before starting this business venture.
Andrea worked at FARAONE MENNELLA as Chief Operating Officer and has a wealth of experience in the food industry. His wife, Michelle on other hand is a marketing expert.
Andrea's job as a chef always took up too much of his time. When he had some free hours in between shifts and assignments at work, Andrea would spend them dreaming about starting his own culinary business one day. At one point, Michele offered her husband to quit his job for them both to start a family business which would turn his dream into reality and share their delicious creation with the world.
The company started out of humble beginnings, opening their first store in 2018 at Smorgasburg – an outdoor mall that serves up delicious street eats from around the world. The exposure they got by launching their own Instagram helped the store quickly become popular among tourists and locals alike.
Later in 2019, Pizza Cupcakes debuted as a snack food at Citi Field, home of the New York Mets. Many people had an opportunity to enjoy the unique flavor of these cupcakes throughout the season.
Famous celebrities like Mariah Carey tried out the Pizza Cupcakes, and even took a lesson on how to make them from Andrea himself!
It was clear that there was a demand for their product and things were going well for the couple. However in the same year COVID-19 pandemic hit the world, which put a major strain on their business.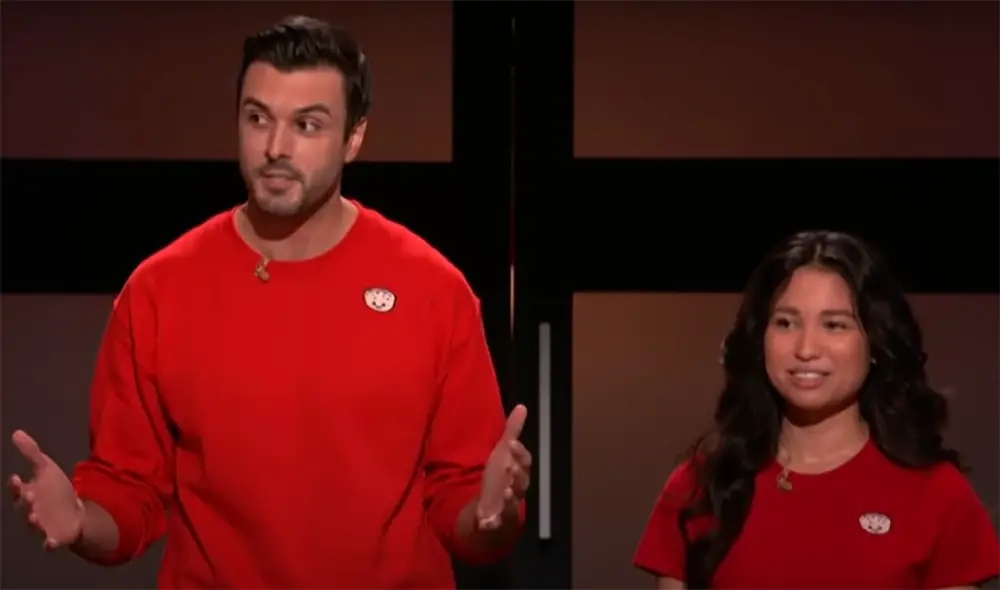 Unfortunately, as many other small business owners, they had to close their physical store. The couple was struggling to keep their business afloat, but they did not give up. Because of the pandemic, many people had to spend time indoors and because of that their online deliveries had increased.
Despite all these struggles, they still managed to earn around $800,000 in sales in 2020, despite expecting to earn only around $344,000.
Understanding that the pandemic is hard on everyone, but especially the essential workers, they decided to give away free cupcakes to the health care and welfare workers in New York. [1], [2], [3], [6]
Pizza Cupcake at Shark Tank
The couple's hard work and dedication eventually paid off and in 2020 they landed a spot on Shark Tank. Since the pandemic halted their plans a little, they had to recover and find new ways to market their product. To take their business to the next level, they needed more than just a loan – they needed a helping hand to grow and reach a wider audience.
Andrea and Michelle asked sharks for a $125,000 investment for a 5% stake. They started their negotiations by telling their own story. And of course, they brought some cupcakes for the sharks to try out. Sharks had enjoyed the cupcakes and were very impressed with how the couple developed their business until now. However, they were not willing to accept the offer that was on the table.
Lori Greneir was the shark that showed the most interest and she offered $125,000 for a 20% stake in the company. Previously she had already invested in other bakery companies, so she had some experience in the field. Andrea and Michelle did their research and wanted to have a partnership with Lori as well. The couple negotiated back with Lori and changed their offer to $125,000 at 12.5% equity and 2.5% advisory shares. In the end, they managed to reach a deal! [1], [2], [3], [4], [7]
How Pizza Cupcake is Doing After Shark Tank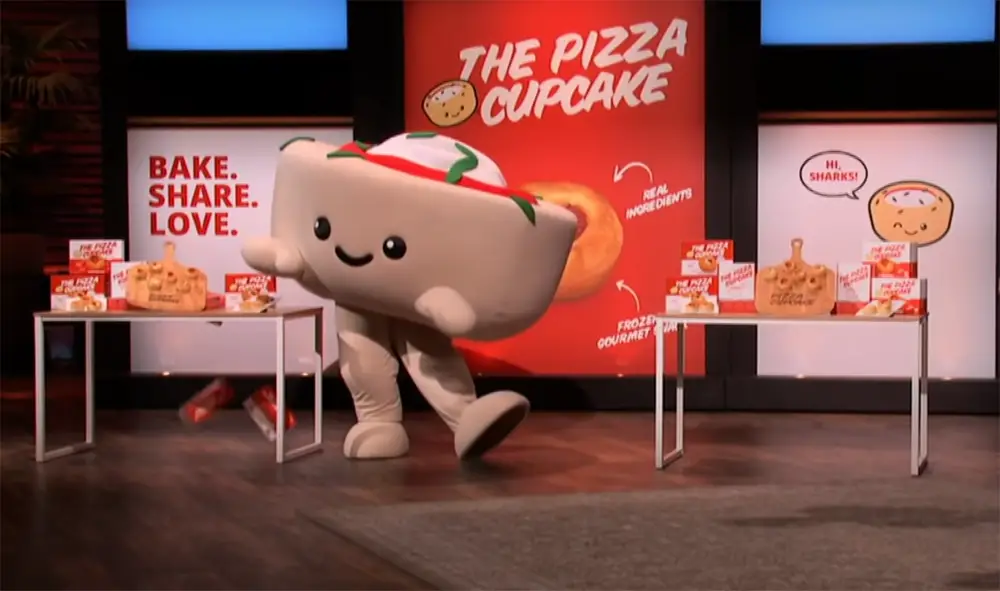 A few months after the episode aired, they decided to venture into retail. The couple's unique product can now be found in select stores on the East Coast.
Pizza Cupcakes can be purchased online at the company's website or in selected stores. A box of twelve cupcakes costs $25.99 and can be shipped anywhere in the United States. They also have a store locator on their website, so you can easily find out if there's a store near you.
You also get to save money by doing multiple boxes in bulk however, for example the double box offer costs $49.99 which means you are saving a dollar, and three boxes are worth $69.99.
Unfortunately, as of now the company doesn't sell vegan options, but they don't count out such a possibility in future. Gluten-free cupcakes however are being sold, simply choose this option when making an order.
Pizza Cupcakes also has a wide social media presence with around 30 thousand followers on Instagram. The company uses this platform to not only advertise their product but also to show the behind the scenes of what goes into making these delicious cupcakes. They also keep an active Facebook page with 7k likes to reach the audience over there.
Because of a fairly decent online presence, the Pizza Cupcake couple was also invited by Lori Greiner and Kevin O'Leary to help them launch IG 4 Live.
Last Valentine's Day, the Pizza Cupcake team partnered with cravings by Chrissy Teigen for a special flavor-a Margarita topped off with chili flakes and filled to the rimmed mozzarella cheese.
Even though the COVID-19 pandemic continued to be a difficult time for Pizza Cupcake. However, they have managed to weather the storm and are still in business today. [1], [2], [3], [5]
Pizza Cupcake Net Worth
The couple has not disclosed their exact net worth, but according to various sources, the company initially had a valuation of $250,000, which quickly rose to $833,000. This is a significant increase from when they first started out and it is safe to say that their time on Shark Tank was a success. [7]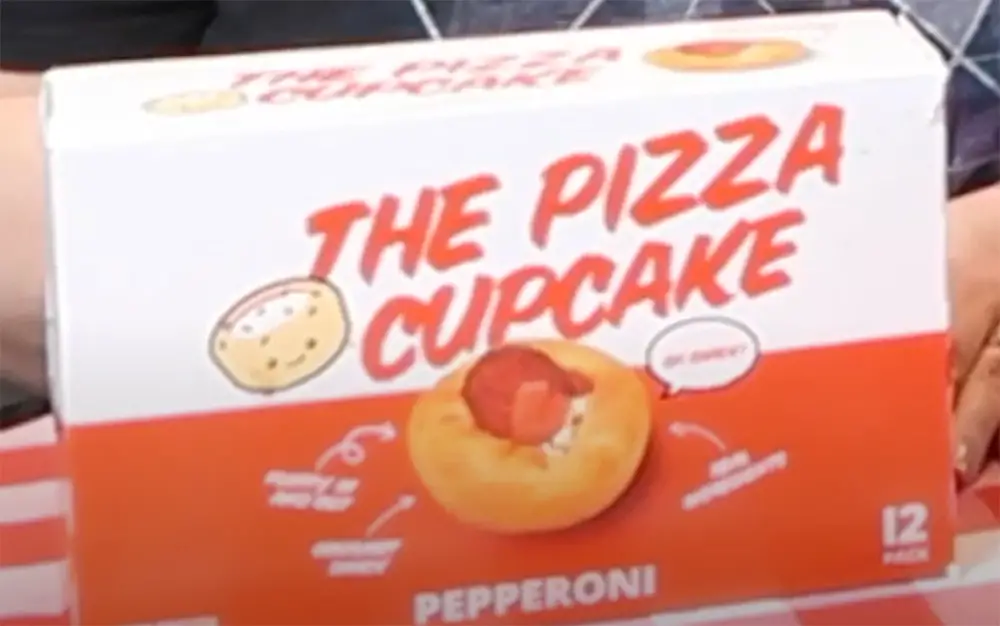 FAQ
Did The Pizza Cupcake get a deal on Shark Tank?
Yes, the Pizza Cupcake founders managed to reach a deal with Lori Greneir. She presented the couple with the deal of $125,000 for a 20% stake in the company. However, they negotiated back and offered $125,000 at 12.25% equity and 2.50% advisory shares. In the end, Lori agreed to this deal.
How much is The Pizza Cupcake worth now?
After getting a deal from Lori Greiner, Pizza Cupcakes had reached a valuation of $833,000. This means they were successful in their time on Shark Tank and we can't wait to see what else these entrepreneurs will do next!
Who owns the pizza cupcake?
The company is currently owned by Andrea and Michelle Jimenez Meggiato, the couple that appeared on Shark Tank. What initially started as a small cupcake business in their kitchen, has now turned into a company with a big following.
Is the pizza cupcake doing well?
The answer is yes! The company has been growing steadily not only online but in-stores as well. If you live on the East Coast of the United States, you might have seen them in select stores. They keep fulfilling orders with no issues and are always looking for ways to improve their product.
Andrea and Michelle have also implemented a subscription model, which indicates they put a lot of faith in their business.
How much money has Pizza Cupcake made?
Not only did the company complete these orders but they also helped the community by providing their product to 500 healthcare frontline workers. Furthermore, they expanded their business to 25 states in America. The popularity of this convenient food was gradually increasing and currently, the company has 12,000 pizza cupcake lovers whom they keep updated on their website.
The business saw a $344,000 increase in revenue within the first 12 months and has since profitably continued to grow – currently with an annual revenue of $833,000. This unique fusion has certainly been a success for Pizza Cupcake and we can expect to see more innovative creations from them in the future.
They were valued at $2.5 million, and then their value shot up to $8.3 million. This shows just how successful the business has been and how much it continues to thrive. Additionally, they received funding from investors such as Shark Tank's Mark Cuban and Kevin O'Leary, further boosting their success.
How much does the Pizza Cupcake cost?
The Pizza Cupcake is baked in the oven and can be eaten within 10 to 12 minutes.
A box of six retails at $9.99 typically, as Walmart suggests.
After the pandemic, Pizza Cupcake made the shift from being a sit-down restaurant to offering a frozen product that can be shipped Direct-to-Consumer nationwide. The company is based in New York but services customers in 25 states across America.
How many calories are in a Pizza Cupcake?
Pizza Cupcake is a gourmet mini version of the classic pizza. It is shaped and sized like a cupcake, but packed with the Margherita and Pepperoni flavors that everyone loves.
Handmade and composed of only 160 calories, these Pizza Cupcakes are the perfect snack or appetizer. The crust is a combination of sourdough and brioche, while the filling is fresh tomato marinara sauce. They can be topped with mozzarella cheese, basil, or pepperoni.
Can you air-fry Pizza Cupcakes?
According to the official Facebook suggestion, you can air-fry frozen Pizza Cupcakes. You need to preheat the air fryer to 350 degrees F before baking for 6 minutes. Let them sit for 1 minute before serving.
This is a great option for those who prefer a healthier alternative to traditional frying methods, or for those with limited oven space. The air-fried Pizza Cupcake will have a crispy crust and a hot, gooey center.
How to cook a Pizza Cupcake?
According to the official website, you should:
Pre-heat oven to 375° F;
Place the frozen Pizza Cupcakes onto a baking sheet;
Afterward, bake the goods in an oven at 375° Fahrenheit for 10-12 minutes. Let it sit for 1 minute before serving;
Baking times may vary depending on the oven;
Is the Pizza Cupcake still in business?
Shark Tank provided Pizza Cupcake with a lot of opportunities and newfound recognition, which then steadily increased demands, orders, and sales. In order to keep expanding the brand awareness for Pizza Cupcake, they created an official website where customers are able to place orders.
The next gluten-free product for this pair to introduce is pizza cupcakes. It'll be interesting to see what else they come up with in their culinary kitchen.
The company has done a great job of building its brand through its website design. With the help of Lori, Andrea & Michelle, it has managed to increase its social media presence significantly.
As of July 2022, this company has 30.1k followers on its Instagram account and has been verified. Currently, one cupcake is available in most places on the East Coast.
What are the advantages of Pizza Cupcake?
American frozen food company The Pizza Cupcake joins the ranks of exceptions who have managed to make an impression on Lori Greiner, one of the sharks from the hit TV show Shark Tank.
Some advantages of Pizza Cupcake include its convenience and unique take on pizza. It is a quick and easy snack or appetizer, as it can be cooked in under 12 minutes. Additionally, its miniature size and cupcake shape add a fun twist to the traditional pizza. It also offers gluten-free options for those with dietary restrictions.
Pros of using Pizza Cupcake:
Great customer service;
Flaky texture, just like a fresh pizza;
Delicious filling. Mimics a fresh, Italian pizza perfectly;
Bite-sized. Can be used anywhere and on any occasion;
What are the disadvantages of Pizza Cupcakes?
If you want to order the Pizza Cupcake for yourself or your kids, we recommend getting the pepperoni and plain ones. The margarita flavor might not be everyone's favorite. Also, keep in mind that the filling isn't always consistent. Some cupcakes may have more filling than others.
The beauty of making pizzas at home is that you get to choose how you want them. Whether you like your dough a little undercooked or extra crispy, it's up to you. However, keep in mind that if your oven doesn't cooperate, your pizza may not turn out the way you planned.
The instructions to make these snacks are very straightforward, and many enjoy cooking them. The only problem is that they're somewhat pricey; you get 12 or 24 bites for the same price as a large pizza from Costco.
What are some alternatives to Pizza Cupcakes?
If you're a fan of either Chicago or New York-style pizzas, the Pizza Cupcake is definitely something that you should try. It's especially perfect for those moments when you get a craving for pizza but don't want to go through the hassle of making an entire pie.
Our verdict is that the cupcakes are good enough to be given as gifts or served at parties, but they're not quite amazing enough to match their price tag.
Although there are plenty of other desserts masquerading as pizzas, none of them come in a package labeled "cupcake pizza". You'll have to make this one from scratch – a difficult task for those with little-to-no baking skills.
If you are looking for a dish that is effortless to make, The Pizza Cupcakes can't be beaten. However, if you want something that has a similar taste without breaking the bank, we suggest opting for frozen mini pizzas or DIY pizza roll-ups using biscuit dough. You can also try making traditional pizzas with store-bought or homemade dough and customizable toppings.
How long does it take to ship a Pizza Cupcake?
The team processes orders from Monday to Wednesday mornings at 8 am EST. If an order is placed after Wednesday at 8 am EST, we will begin processing it the following Monday. Once your order ships, you can expect delivery within 1-2 days. However, please note that depending on when you place your order, total shipping time could take up to 7 business days.
You will get your shipment tracking information through email once your order has been sent. We really appreciate your support and patience as our small business grows quickly.
What is the return policy of Pizza Cupcake?
Some Facebook comments report that this company does not offer refunds for cancellations. This makes sense because the food would go bad by the time another customer wanted it.
Was Pizza Cupcakes a popular product?
Since its 2018 debut, The Pizza Cupcake has driven business through online sales. In January 2021, the company appeared on Shark Tank and secured a $125,000 investment from Lori Greiner for 12.5% equity and 2.5% advisory shares.
For many years, Ms. Greiner has been an investor in "Shark Tank" and its spin-off "Beyond the Tank". She is also an American television personality, inventor, and entrepreneur.
With nearly 12,000 followers on Facebook and Instagram, Pizza Cupcake keeps its fans updated with the latest promos and adventures of its mascot, PC.
Last year, Pizza Cupcake reached 2,000 Walmart stores in the United States. Through Lori Greiner's efforts, they were also able to get some good air-time on television which led to increased sales.
This year alone, they've made over $2 million dollars just from Walmart sales.
Useful Video: Shark Tank US | Pizza Cupcake Company Impresses Lori Greiner
Conclusion
The appearance at Shark Tank turned out to be a great outcome for the Pizza Cupcake couple as it gave them the investment they needed to take their business to the next level. It also helped increase their popularity and they started receiving orders from all over the country. Both Andrea and Michelle managed to stay strong even during the pandemic and it shows their spirit.
All in all, things are going well for Pizza Cupcake and they continue to grow as a business. Who knows – maybe one day we'll be able to get our hands on these delicious treats no matter where we live!
References:
https://moneyaves.com/the-pizza-cupcake-shark-tank-update/
https://sharktanktalks.com/the-pizza-cupcake-shark-tank-update/
https://biznewske.com/pizza-cupcake-shark-tank-update/
https://2paragraphs.com/2021/03/pizza-cupcake-what-happened-after-125000-lori-greiner-shark-tank-deal/
https://www.thepizzacupcake.com/
https://www.amny.com/lifestyle/eat-and-drink/citi-field-food-1-28771898/
https://www.pinoymoneytalk.com/pizza-cupcake-shark-tank/