The entrepreneurial journey of Ash and Anvil Clothing, now known as Ash & Erie, took a transformative turn when its founders, Eric Huang and Steven Mazur, stepped into the high-stakes arena of the hit television show Shark Tank.
Originating in the vibrant city of Detroit, Michigan, this innovative brand was born from a genuine need for fashionable attire tailored specifically for shorter men – a demographic often underserved by the mainstream fashion industry.
In this exploration of "Ash and Anvil Clothing: What Happened After Shark Tank", we delve into the captivating evolution of a brand that dared to challenge conventions and redefine the style for men of modest height, measuring 5'8″ and under.
After securing a critical investment in the show, the brand underwent a rebranding, becoming Ash & Erie, and embarked on a remarkable journey marked by soaring sales, groundbreaking initiatives, and a resounding impact on the fashion landscape.
What Is Ash and Anvil (Ash & Erie) Clothing?
It's crucial to bear in mind that their apparel distinctly caters to gentlemen who measure 5 feet 8 inches or below. This demonstrates the brand's commitment to providing a snug and flattering fit for men of shorter build, while its suitability for taller individuals might not be as impressive.
Ash and Erie emerge as the go-to choice for individuals of shorter height, filling a void that has persisted for quite some time. A majority of fashion labels predominantly fashion garments catering to the taller demographic.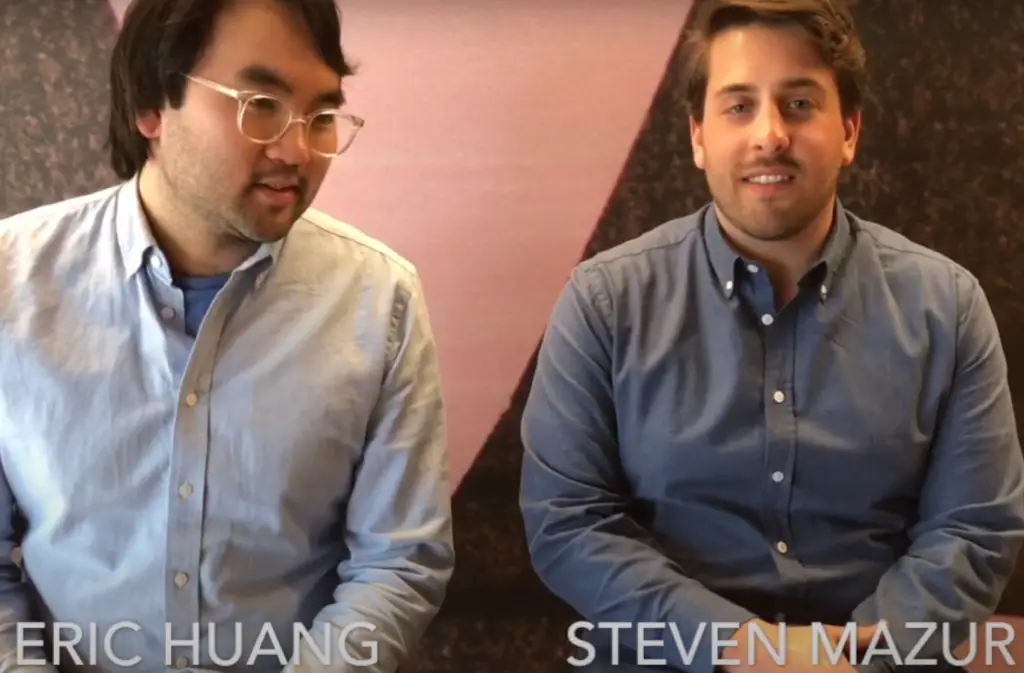 Consequently, men of shorter stature often found themselves grappling with garments that were not well-suited, resulting in an unflattering and oversized appearance. This scenario has undergone a complete transformation with the advent of Ash and Erie, bestowing shorter men with a dedicated brand to eagerly anticipate.
Ash and Anvil Clothes Review
Launched back in 2015, Ash and Erie embarked on its journey with an initial focus on casual shirts.
Over time, their offerings have expanded significantly, encompassing a diverse array of clothing categories, which now include:
Outerwear;
Sweaters;
Henleys;
Polo shirts;
T-shirts;
Jeans;
Dress shirts;
Casual button-ups;
Pioneering the lineup is the Ash and Erie everyday shirt, serving as the cornerstone of their collection. Unsurprisingly, this particular piece has retained its position as the brand's top seller since its inception, and this achievement is certainly well-deserved. This casual shirt boasts a button-up design, offering the versatility of wearing it either untucked or neatly tucked in – both styling choices yield impressive results [2].
What's especially noteworthy is the broad spectrum of colors and fabric options available for this shirt style. This assortment ensures that you can seamlessly align your choice with your individual taste. Irrespective of your chosen style, you're bound to appreciate the excellent fit that these shirts provide. It's simply a matter of selecting the size that complements your physique.
The sleeve length, a critical factor in shirt comfort, proved to be impeccable. However, there's a minor suggestion pertaining to the sleeves – the inclusion of a double-button cuff. This adjustment would greatly benefit individuals with slimmer wrists, offering them the flexibility they desire.
The inherent durability of the shirt is palpable, instilling confidence that it will retain its form and condition well into the foreseeable future.
About Founders Of Ash and Anvil Clothing
Both Mazur and Huang confronted the lifelong challenge of standing shorter in stature compared to the average populace. This struggle persisted, even as they grew to embrace and find comfort in their unique physical attributes. In 2008, Eric relocated to Detroit after completing his studies, aligning with the path of Steven, a native Detroiter. Their shared experience birthed the inspiration behind the Ash & Anvil clothing label.
With resolute determination, they embarked on a journey to cater to men whose heights fell below the standard: a modest 5'8" and under. Amidst the cutthroat landscape of fashion and apparel, an arena rife with competition, the duo recognized a persistent lamentation from shorter men about the dearth of suitable clothing options.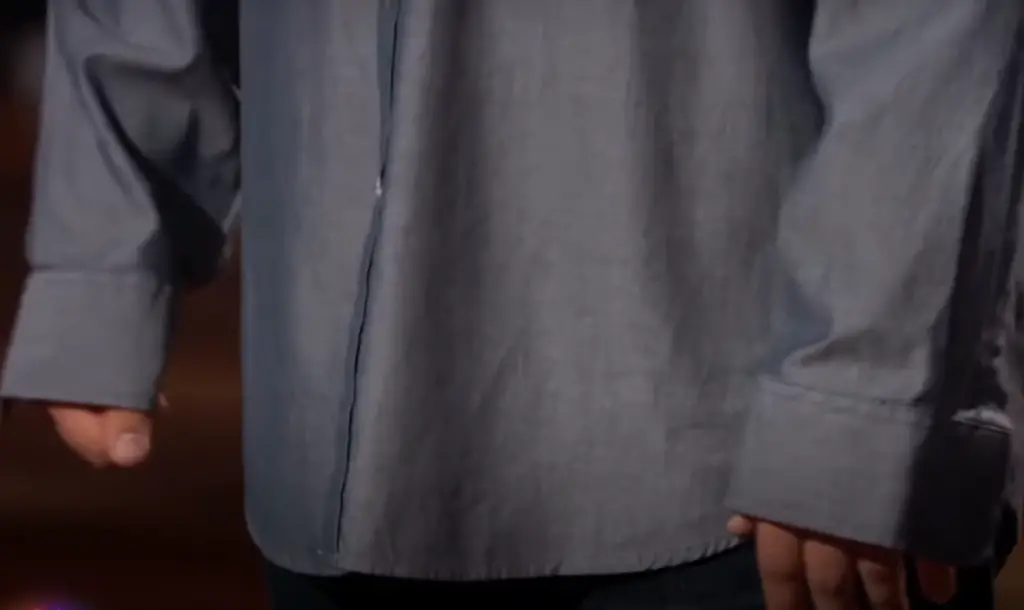 Following a thorough examination of shirts from prominent brands, a revelation dawned: these garments were designed for individuals slightly exceeding six feet in height. This realization, vocalized by a prominent fashion blogger who himself stood below the average height, exposed the fashion industry's inadvertent disregard for shorter men – a sentiment that had been festering for years.
To compound this issue, a supplementary fee dubbed the "tailor tax" was commonplace for tailoring garments to fit shorter frames accurately. This was the exasperating reality that Mazur and Huang faced repeatedly, compelling them to create a space that celebrated short-statured men, fostering a sense of assurance and self-assuredness.
Standing at five feet six and five feet eight inches respectively, Steven and Eric conceived Ash and Anvil as a solution for the one in three American men measuring under five feet eight inches. This demographic encompasses a staggering 40 million individuals who often find themselves underserved in the realm of tailored shirts.
The enterprise took its maiden strides in 2015, soliciting financial backing for its inaugural production cycle via the Indiegogo platform. Their modest target of $ 10,000 was swiftly surpassed, with nearly $ 26,000 amassed from supportive Indiegogo backers within a month of the campaign's closure.
The following year witnessed the company securing additional funding, propelling the expansion of its clothing spectrum to encompass jeans and knitwear. Fast forward three years, and the founders, Steven and Eric, turned their attention to the "Shark Tank" show, seeking a strategic investment to fuel the brand's growth trajectory.
The Pitch Of Ash and Anvil Clothing At Shark Tank
Upon their entry into the Shark Tank, Steven and Eric sought a $ 100,000 investment in exchange for a 12.5% stake in their company [4]. An intriguing twist accompanied their presentation as they walked in flanked by two taller models, effectively highlighting that they weren't aspiring to be the tallest entrepreneurs globally. This clever play on perspective swiftly transitioned into a serious pitch.
Amidst a slight touch of gimmickry, they directed the tall models to the periphery, setting the stage to address a profound concern: the glaring inadequacy of clothing options for shorter men in the market. Eric unveiled the disheartening reality that some shorter men resorted to children's garments in their quest for suitable shirts. Both he and Steven sported shirts with sleeves that were too long and collars that were overly expansive. These were ordinary off-the-rack clothes, tailored for the average tall male demographic they had entered with.
In a theatrical display reminiscent of transformation, Eric and Steven dramatically shed their ill-fitting shirts, unveiling well-fitting alternatives beneath. This transformation was a testament to Ash and Anvil's purpose-built line of attire for shorter men.
The climax of the pitch saw Steven articulating their vision – with the sharks' support, Ash and Anvil could ascend to heights that he and Eric could only dream of, rescuing shorter men from the confines of shopping in the children's section.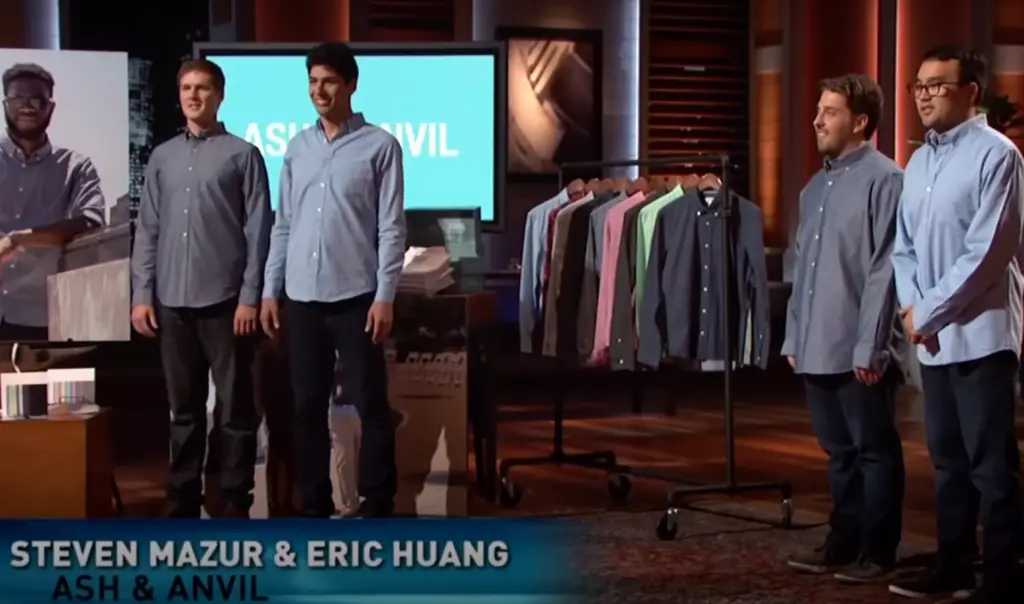 As samples of their clothing found their way into the hands of the sharks, the questioning began, with Kevin O'Leary leading the charge. His query centered around the wisdom of labeling the clothes as "Shorter men's clothes", considering the societal stigma often linked to shorter stature.
Mark Cuban, the tallest among the sharks, seized an opportunity for humor, tossing the question back to Kevin. In his characteristically candid manner, Kevin responded, asserting his own stature as "medium height". Steven provided insight into their branding approach, explaining that they had opted for the direct and unambiguous tagline 'For shorter men' for their clothing line.
However, the conversation took an unexpected turn as Robert Herjavec claimed his status as tall and queried how Steven and Eric defined "short". In response, Steven outlined that their line of Ash and Anvil shirts catered to men standing at five foot eight inches and below, a sentiment he corroborated by disclosing his height at five foot six inches, while Eric measured five foot eight.
The exchange inadvertently underscored the ongoing challenges faced by shorter men in the realm of fashion and personal confidence.
As Daymond John humorously declared his height as five foot eight, a comical measurement showdown unfolded [5]. Striding over to Eric and Steven for a physical comparison, Daymond dismissed Mark Cuban's jest about looking at the heels and positioned himself next to Steven, a shade taller than him at five foot six. Amidst chuckles from the sharks, Daymond was unwavering in asserting his height multiple times. Robert Herjavec joined in the jest, claiming his own stature as tall, even though his marginal height difference from Eric's five foot eight cast some doubt on that assertion.
With camaraderie and humor flowing, the banter shifted to Daymond's supposed shrinking height, as Kevin O'Leary gleefully pointed out. Undeterred, Daymond steadfastly declared himself five foot eight, drawing playful jabs from Mark Cuban, who reveled in the lighthearted exchange.
As the conversation shifted to financial figures, Kevin inquired about sales. Eric disclosed that their sales had crossed $ 130,000 within the first nine months of operation, all of which had been conducted online. The duo had even faced stock shortages twice due to high demand.
Mark Cuban delved into profit margins, with Eric revealing a 55% margin for the $ 79-priced shirts. He explained how they had interacted with shorter men on Detroit streets to gather feedback, an approach that Lori Greiner commended for its resourcefulness. Mark questioned their reason for approaching the Shark Tank, prompting Steven to explain that the main hurdle lay in building up inventory, hence their need for investment.
The conversation then circled around the challenge of catering to a niche subset of shorter men, with Kevin O'Leary pointing out the difficulty in identifying this market. Daymond, however, humorously persisted in discussing his own height, acknowledging his moderate stature and asserting his lack of suitability for their line, even though his actual height discrepancy from their target range was minimal.
Undeterred, Steven cited the one in three men under five foot eight as the potential customer base, amounting to over forty million men in the U.S. Daymond, who found himself intrigued by the prospect, continued his playful skepticism while the entrepreneurs diplomatically countered his points.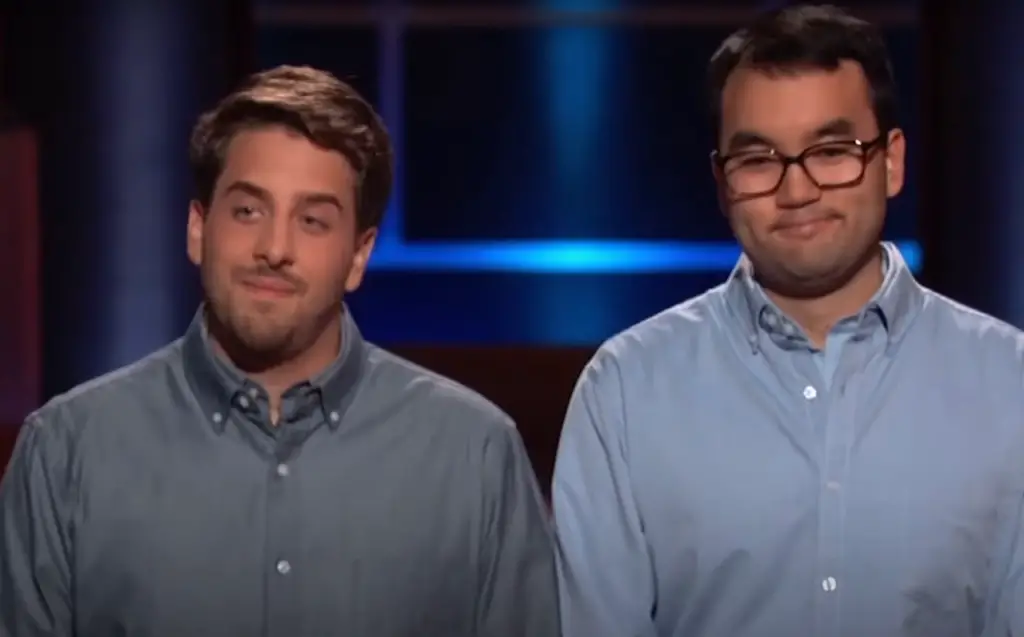 Ultimately, Robert Herjavec bowed out, acknowledging the sound concept but feeling it wasn't his forte. Lori Greiner followed suit, appreciating their efforts but deciding not to join. As the most experienced in the clothing industry, Daymond was seen as the most natural fit, although he chose to pass, speculating that shorter men might not readily admit to needing specialized attire. This left only Kevin O'Leary and Mark Cuban in the running.
Mark, appreciating the niche nature of Ash and Anvil's business, expressed his interest and proposed a deal. He offered $ 150,000 for a 25% equity stake, underscoring that this was a definitive offer without room for negotiation. With the table set for decision, the fate of Ash and Anvil hung in the balance [6].
Appreciative of Mark Cuban's offer, Steven expressed gratitude but politely requested to hear Kevin's response before making a decision. Mark's response was a firm "No", leaving the entrepreneurs with a sense of immediacy. As a brief pause ensued, Kevin saw the opening to make his own offer: $ 100,000 for a 15% stake. Amidst hushed deliberations between Steven and Eric, Mark adhered to his earlier statement, declaring "I'm out, guys" before they could fully respond.
Anticipating Steven's next words, Mark made his exit, but Steven's reply demonstrated his willingness to embrace the opportunity Mark presented. "If you're in, we'll take the offer", he responded to Mark's lingering presence. The weight of the decision hung in the air momentarily before Mark, after a brief contemplation, voiced his assent. "You're lucky I like you", he remarked with a smile, sealing the deal with a handshake and embodying the transformative power of Ash and Anvil's mission.
Ash and Anvil Clothing After The Shark Tank
Departing from the tank, Steven and Eric radiated a sense of accomplishment, their decision to consider Kevin's offer now validated as they walked away with a deal. Although Mr. Wonderful might not have been thrilled about his rejection, he couldn't help but admire the astute negotiation skills exhibited by the two entrepreneurs.
In November 2017, Ash and Erie participated in the Accelerate Michigan Innovation Competition. Moreover, they initiated their foray into retail, briefly occupying a pop-up shop in Detroit toward the end of the same year. Collaborating with a local Detroit-based photography company, they initiated promotional contests to win their distinctive clothing.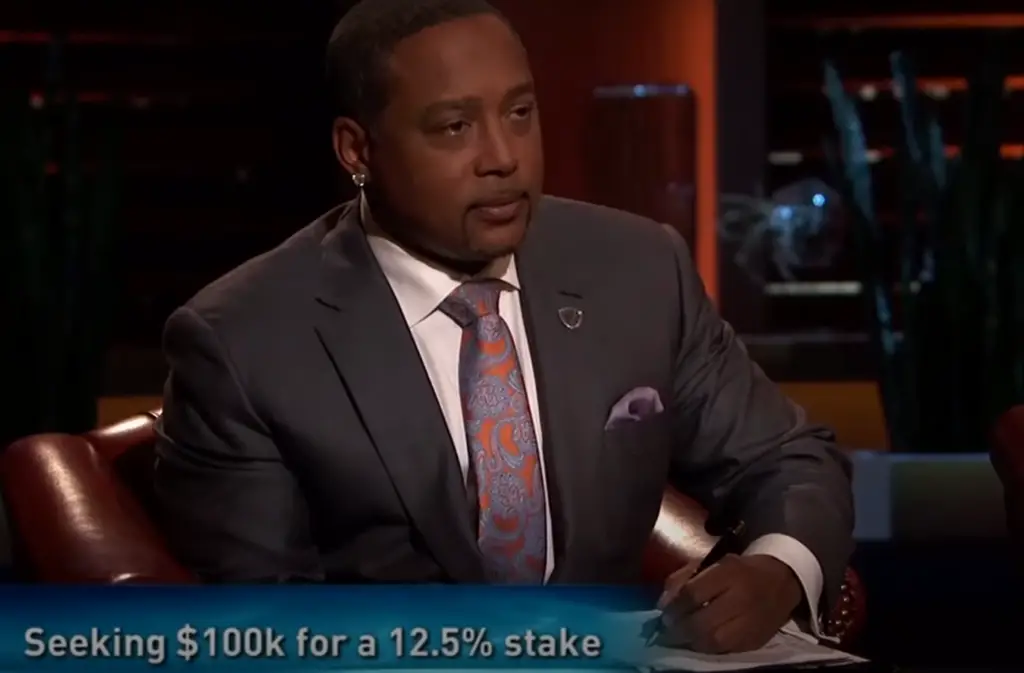 As the brand charts its course in the fiercely competitive clothing industry, Ash and Erie is prepared for the challenges ahead. Keeping tabs on their progress is easily achievable through the company's website and Twitter account. While the duo has yet to unveil definitive plans for a permanent expansion into retail outlets, the buzz generated by their Shark Tank appearance has garnered positive attention from within the clothing industry. Industry insiders acknowledge the underserved niche of shorter men as one of the few segments left untouched by conventional clothing brands.
The Net Worth Of Ash and Anvil Clothing
The impact of Ash and Erie's appearance on Shark Tank was palpable, leading to a substantial surge in sales. Mere hours after their televised pitch, the brand garnered thousands of online orders, reflecting the show's ability to catalyze consumer interest.
Thriving in the aftermath of their television exposure, Ash and Erie's performance has translated into a robust revenue stream. As of 2022, the brand consistently generates revenue surpassing the $ 1 million mark annually, underscoring its successful journey since its debut on Shark Tank [8].
Alternatives To Ash and Anvil Clothing:
Peter Manning NYC: This brand is known for its focus on clothing for men 5'8″ and under. They offer a wide variety of clothing, including shirts, pants, and jackets, all tailored for shorter frames;
Mizzen+Main: While not exclusively for shorter men, Mizzen+Main offers a range of sizes and fits that could accommodate a variety of body types, including those on the shorter side;
Under 5'10": This brand is dedicated to providing clothing for men who are under 5'10". They offer a selection of shirts, pants, and other essentials designed to fit shorter frames;
UNTUCKit: While their main focus is on creating shirts designed to be worn untucked, UNTUCKit does offer a variety of sizes that might suit shorter individuals;
Topman: This brand offers a range of trendy clothing for men, including styles that might be more suitable for shorter frames. They have a variety of fits and sizes available;
J.Crew: J.Crew offers a variety of sizes, including shorter inseams for pants and different fits for shirts, which could cater to men of varying heights;
Banana Republic: Similar to J.Crew, Banana Republic provides options for shorter inseams and various shirt fits, making it a potential option for shorter men;
American Eagle: American Eagle offers jeans in a variety of lengths, including shorter inseams, which could be helpful for finding well-fitting pants;
H&M: H&M offers a range of sizes and styles, and they often have shorter inseam options for pants;
ASOS: ASOS provides a wide selection of clothing and brands, and they offer a range of sizes that might be suitable for shorter individuals [9];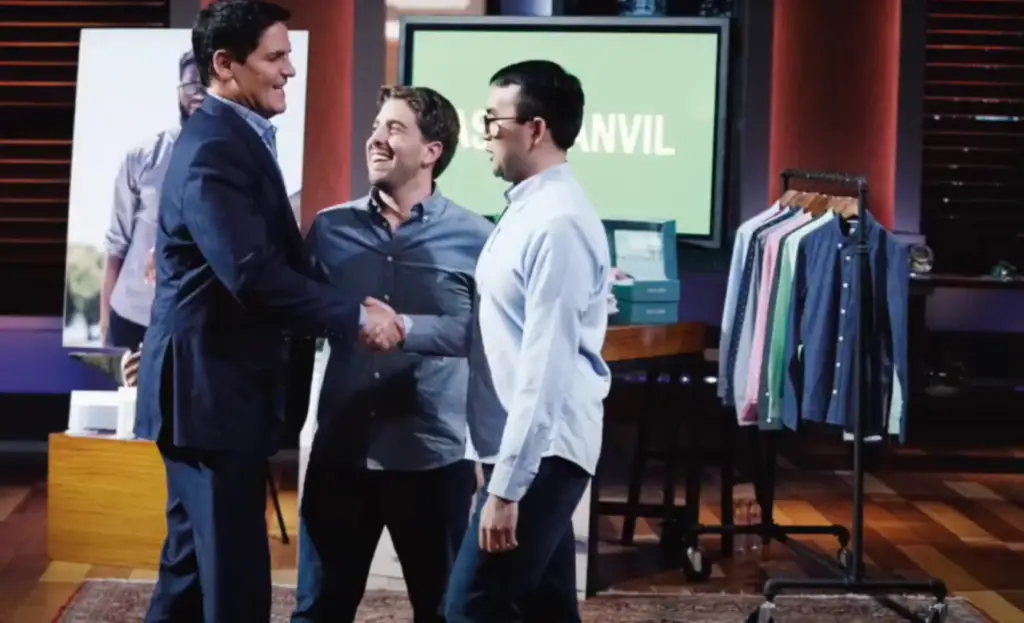 Remember that sizing and fit can vary between brands, so it's always a good idea to check each brand's size chart and reviews to find the best fit for you.
---
FAQ:
Where are Ash and Erie clothes made?
Indeed, Ash & Erie (formerly known as Ash & Anvil) is headquartered in Detroit, Michigan, and was founded by Eric Huang and Steven Mazur. This brand specializes in offering a diverse collection of high-quality casual clothing tailored specifically for men of shorter stature, typically measuring 5'8″ and under. Their product lineup encompasses various items including button-down shirts and jeans, designed to provide a comfortable and well-fitting wardrobe solution for individuals with modest height.
Is Ash and Anvil still in business?
Yes, as of 2023, Ash & Erie (formerly known as Ash & Anvil) is still in business and operational. Despite the rebranding, the brand has maintained its commitment to providing exceptional attire tailored for shorter men.
Ash & Erie's offerings include shirts from their Classic Collection, which retail for $ 79 online, as well as slim-cut jeans with inseams starting at 25 inches, priced at $ 159 online.
In May 2018, Ash & Erie achieved significant sales, surpassing $ 1 million in total revenue. This impressive figure included around 11,000 shirts sold and approximately 1,100 pairs of pants sold.
The influence of Mark Cuban, the owner of the NBA's Dallas Mavericks, was instrumental in securing a notable endorsement from retired NBA basketball player Muggsy Bogues, who stands at 5'3". This endorsement likely further solidified the brand's reputation and appeal within the market.
What are some ideas for a Shark Tank project?
Ideas for a Shark Tank project can span various industries and niches. Here are a few examples:
Innovative Gadgets: Develop a new and useful gadget that solves a common problem, like a kitchen tool or a tech accessory;
Eco-Friendly Products: Present a sustainable product, such as reusable or biodegradable items, to address environmental concerns;
Health and Wellness Innovations: Introduce a unique health or fitness product that enhances well-being, such as a specialized exercise equipment or a nutrition-related solution;
Educational Tech: Pitch an educational app or platform that enhances learning experiences for students of all ages;
Fashion and Apparel: Present a novel clothing line, accessories, or fashion technology that caters to a specific market need;
Social Impact Ventures: Propose a business model that tackles a social issue while generating profit, like products made by marginalized communities;
Food and Beverage Innovations: Offer a new culinary product or service that stands out in taste, quality, or convenience;
How do you present a Shark Tank project?
To present a Shark Tank project effectively:
Craft a Compelling Pitch: Begin with a concise and engaging pitch that outlines the problem your product solves;
Highlight Market Opportunity: Emphasize the market demand and potential for growth, showcasing your target audience;
Demonstrate Uniqueness: Clearly define what sets your product apart from competitors and why it's a valuable innovation;
Numbers and Projections: Present your financials, including sales, costs, and projections, to demonstrate the business's viability;
Engage Emotionally: Connect with the Sharks on a personal or emotional level to create a memorable impression;
Be Ready for Questions: Anticipate and prepare for tough questions about your business model, competition, and strategy;
What is a Shark Tank proposal?
A Shark Tank proposal refers to the pitch and business plan that entrepreneurs present to the panel of investors (Sharks) on the TV show Shark Tank. It outlines their business idea, the problem it addresses, market potential, financials, and the investment they seek in exchange for equity.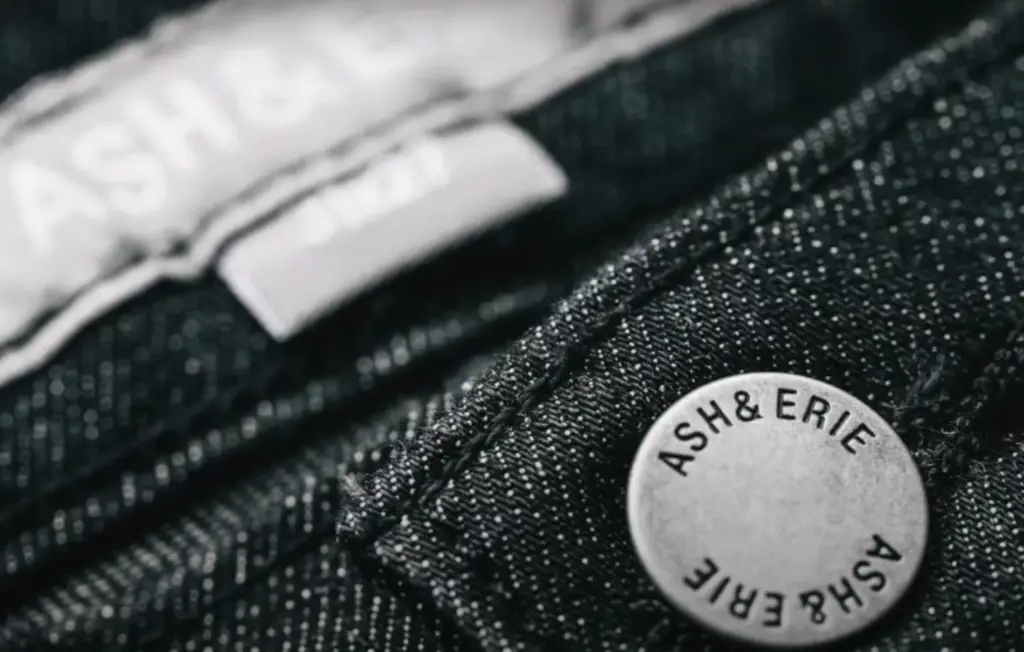 What is the Shark Tank format?
Shark Tank is a reality TV show where aspiring entrepreneurs pitch their business ideas to a panel of successful investors (Sharks). Each entrepreneur seeks funding for their business in exchange for a stake in their company. The Sharks evaluate the pitches, ask questions, and decide whether to invest.
Does Shark Tank really pay money to contestants?
Yes, if a Shark decides to invest in a contestant's business idea, they provide actual capital in exchange for an equity stake in the business. The investment is contingent on an agreed-upon valuation and terms negotiated during the show.
Are all Shark Tank products successful?
No, not all Shark Tank products achieve success. While many businesses that receive investment experience growth, some face challenges post-show due to market conditions, competition, or other factors. Success varies based on the product, execution, and ongoing business strategies.
What is a unique business idea in Shark Tank?
One unique business idea featured on Shark Tank was "LuminAID". They presented inflatable solar-powered lanterns that can be used for outdoor adventures or emergency situations. The product's combination of eco-friendliness and practicality made it stand out.
What are business ideas for students:
Online Tutoring Platform: Create a platform where students can offer tutoring services to peers in subjects they excel in;
Student Event Planning: Organize and manage events specifically for college students, like parties, workshops, or networking events;
Custom Merchandise: Design and sell custom merchandise, such as apparel, accessories, or stationery, catering to student interests;
Campus Delivery Service: Launch a delivery service that brings essentials, snacks, or study materials directly to students on campus;
Healthy Snack Vending: Set up vending machines that dispense healthy snacks and drinks in school buildings or dormitories;
Can you go on Shark Tank with just an idea?
Yes, you can present a business idea on Shark Tank, but it's essential to have a well-developed plan and some level of validation, such as a prototype, market research, or a viable strategy. Investors usually prefer ventures with tangible progress beyond just an idea.
Who is the poorest "shark" on Shark Tank?
Kevin Harrington, one of the original Sharks, is often considered one of the less wealthy among the group. However, it's important to note that the term "poorest" is relative, as all the Sharks are successful entrepreneurs.
Who made the most money on Shark Tank?
Mark Cuban is considered the Shark who has made the most money from investments on the show. His diverse investments and portfolio have contributed significantly to his wealth.
Why is Shark Tank Season 2 so bad?
Opinions on season quality can vary, but some viewers have criticized Season 2 for its mix of products and entrepreneurs that might not have been as innovative or engaging as later seasons. Additionally, early seasons of reality shows often undergo changes and adjustments as they find their footing.
Can you lie on Shark Tank?
While entrepreneurs are expected to present their businesses honestly, instances of misrepresentation have occurred on Shark Tank. However, lies or exaggerations can be detrimental to an entrepreneur's reputation and chances of securing investment.
How much is Lori Shark Tank worth?
Lori Greiner's net worth is estimated to be around $ 100 million. Keep in mind that net worth figures can change over time.
Do Shark Tank investors get their money back?
Shark Tank investors receive a stake in the business in exchange for their investment. They make money when the business grows and becomes more valuable. This can happen through increased sales, expansion, or even a successful exit, like selling the business.
What is the Shark Tank judges' salary?
The Sharks on Shark Tank do not receive a salary for appearing on the show. Their involvement is based on their potential investments in the entrepreneurs' businesses.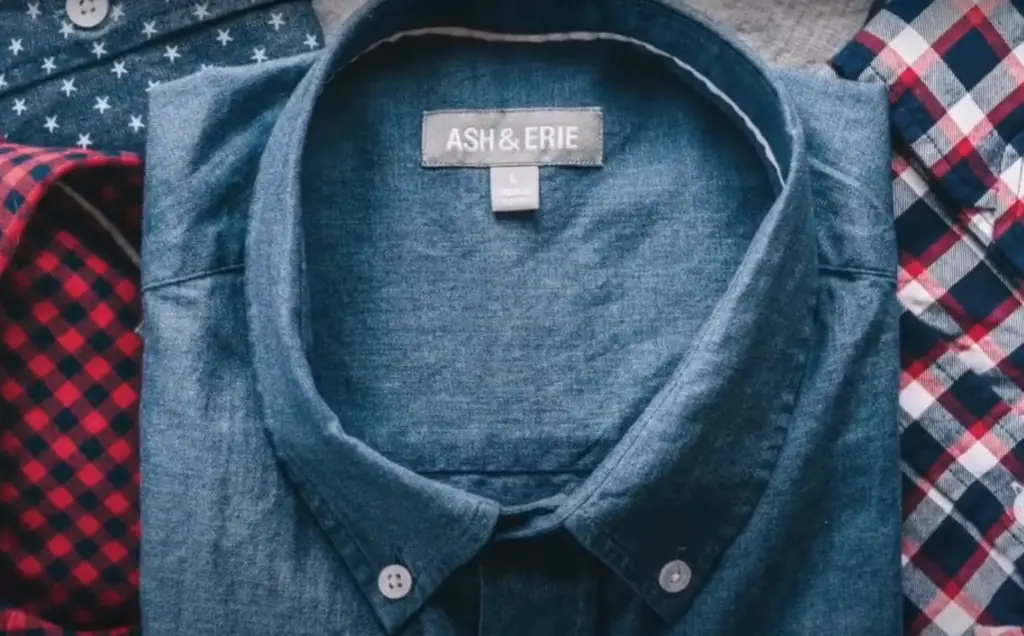 How much is Kevin from Shark Tank worth?
Kevin O'Leary, also known as Mr. Wonderful, has a net worth estimated to be in the hundreds of millions of dollars. As of 2023, his net worth is around $ 400 million.
Who is the only billionaire on Shark Tank?
Mark Cuban is the only Shark on Shark Tank who is a billionaire. His diverse investments, ownership of the Dallas Mavericks NBA team, and various business ventures have contributed to his substantial wealth.
Useful Video: Shark Tank: The Clothing Brand Tailored For Short Men
---
References:
https://www.sharktankblog.com/business/ash-and-anvil
https://sharktankrecap.com/ash-and-anvil-clothing-update-shark-tank-season-9/
https://seoaves.com/what-happened-to-ash-and-erie-after-shark-tank/
https://2paragraphs.com/2017/10/ash-anvil-shorter-guy-shirts-changes-name-to-ash-erie-after-shark-tank/
https://gazettereview.com/2018/08/ash-anvil-after-shark-tank-update/
https://www.sharktanksuccess.com/ash-and-erie-shark-tank-review/
http://www.dailydetroit.com/2017/10/22/detroit-based-clothing-company-gets-150000-mark-cuban-shark-tank/
https://www.freep.com/story/money/business/2017/10/23/shark-tank-ash-erie-detroit-cuban/790027001/
https://www.businessinsider.com/ash-and-erie-rewiew-menswear-for-shorter-guys-2018-8