If you're one of the millions of Americans who watch Shark Tank every week, then you probably remember the episode where two entrepreneurs from Utah pitched their company Tough Tie. The product is a tie that is made from a water-repellent material and can withstand up to 100 pounds of force. After pitching their product to the sharks, they ended up landing a deal with Robert Herjavec for $ 100,000 in exchange for 35% equity in the company. So what happened to Tough Tie after Shark Tank?
Founders of Tough Tie and Their Story
After months of brainstorming, Kevin and Skylar designed the Tough Tie – a stylish yet durable tie with an adjustable strap that makes it almost indestructible. There wasn't any viable alternative on the market and so the duo decided to take a risk and launch their own brand.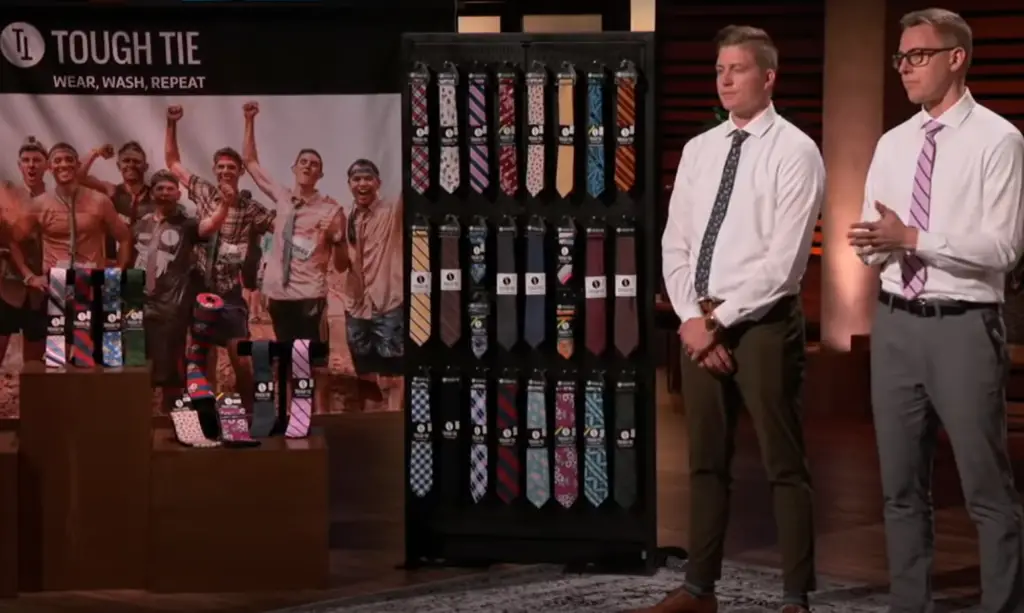 What Tough Tie is – a liquid and stain-resistant tie with an adjustable strap for a perfect fit every time. Best of all, you can wash these in a washing machine too!
The guys had a rapid start but they wanted to push the brand further and so they decided to appear on Shark Tank. [1] [2] [3]
Tough Tie on Shark Tank
The two entrepreneurs indeed made an appearance at Shark Tank and sought a $ 100,000 investment in exchange for 15 percent equity in their business.
They began their pitch by telling their story and describing their product and providing samples. The Sharks were impressed by the quality of the tie and how it was an innovative idea, but they wanted to know if the business had any real sales yet.
And last year, their sales skyrocketed to an impressive $ 208,000. This year they are well on their way to exceeding that figure and reaching a projected total of $ 400,000 in sales! To finance the business growth the owners have invested $ 43,000 along with acquiring debt financing up to $ 150,000. Despite this, only Robert is interested in investing and he offers $ 100,000 for 35%. Duo attempts to negotiate 33.3% but Robert doesn't change the offer and the entrepreneurs accept it. [2] [3]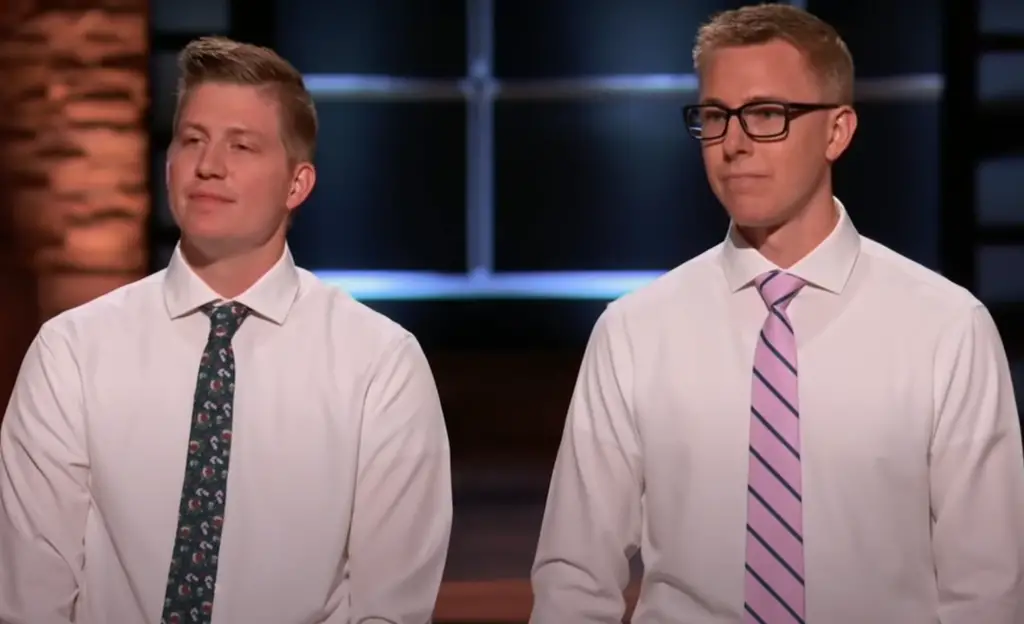 What Happened After Shark Tank?
Shark Tank is known for its amazing success stories, and Tough Tie is no exception. After appearing on the show, Tough Tie went from strength to strength. The business received a surge of attention on social media with people wanting to purchase ties for themselves or gifts for loved ones.
Unfortunately, the deal they made with Robert never closed and the team is still looking for additional investments. However, this hasn't stopped them from expanding their product line. They now offer a wide range of ties such as bowties, shirts, and more.
Tough Tie has also been featured in a variety of media outlets and this has helped to spread their message even further with people from around the world enjoying the convenience of their products.
Soon after the episode, Kevin and Skylar renamed their business to Tough Apparel and have since released a range of other products. With the help of their social media presence, they've been able to reach a larger audience and grow their business even further.
As for the sales, the duo has sold over a thousand ties to date and in 2022 managed to hit $ 2 million in annual revenue. They are aiming to reach even more in the following years!
All in all, Tough Tie has achieved great success since appearing on Shark Tank and are continuing to expand its reach even further! Their story proves that having a strong idea, passion for what you do, and a good business plan can make all the difference when it comes to achieving your goals. With this in mind, they remain an inspiring example of what perseverance and hard work can achieve! [2] [3] [4] [5]
Tough Tie Net Worth
After appearing on Shark Tank, Tough Tie went from strength to strength. With their impressive sales figures and presence on social media, they are well on their way to becoming a huge success!
At the moment, it is difficult to accurately estimate their net worth as they have not made any official announcements yet. However, with the increasing sales of their products, it's likely that their net worth will continue to grow in the future.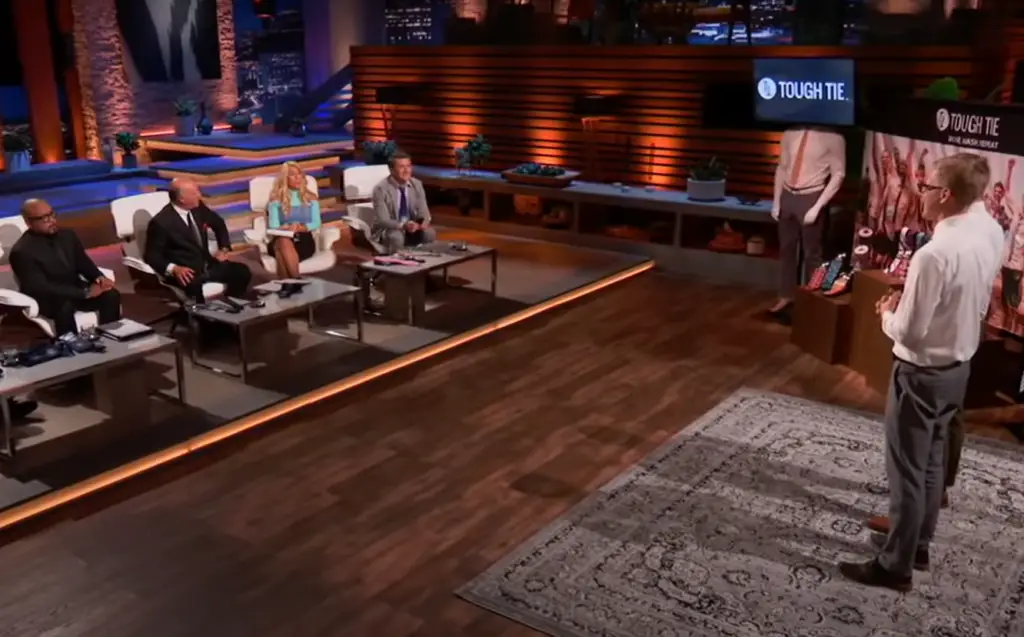 Combine this with the investments they've made, the media attention they've received, and their presence on social media; it's clear that Tough Tie has established a successful business model and will continue to be profitable for years to come. [3]
Tough Tie Competitors
While Tough Tie is a unique business, there are a few competitors who offer similar products. They may not offer the same anti-stain technology or the same range of fabric choices, but they offer customers an alternative to Tough Tie.
The Tie Bar
The Tie Bar is a popular online retailer of high-quality ties and accessories. They have hundreds of styles to choose from, many of which are made with wrinkle-resistant fabrics. The Tie Bar also offers pre-tied bow ties in several unique designs. Price wise, their ties are similar to Tough Tie's, but The Tie Bar does not offer the same range of fabric choices or anti-stain technology.
Brooks Brothers
Brooks Brothers is a renowned luxury clothing retailer that produces apparel for men and is known for its long-standing commitment to quality and craftsmanship. The company boasts an extensive selection of garments that include formal suits, casual wear, outerwear, accessories, and more. It also offers custom clothing services where customers can design their own apparel from scratch or with the help of a Brooks Brothers professional tailor.
Since its inception, Brooks Brothers has become synonymous with classic American style and high-end fashion. The brand is worn by celebrities such as Brad Pitt, George Clooney, and Kate Middleton.
It is known for its high-quality fabrics, classic styling, and attention to detail in its design. In addition to clothing, Brooks Brothers also offer accessories such as ties, cufflinks, handkerchiefs, hats, belts, and other items that add a touch of class to any outfit. While it has evolved from being an American-made brand in the 19th century to one with factories located all around the world today, the company still stands proudly on its commitment to quality products and customer satisfaction.
Ties.com
Ties.com is a retailer of ties and accessories for men, with an emphasis on luxury fabrics. Their selection includes hundreds of styles and colors to choose from, with prices ranging from affordable to designer-level. They also offer various accessories like pocket squares and cummerbunds.
They offer custom-made ties and bowties, with the customer being able to choose their own fabrics and design details. They also offer a line of performance-grade wrinkle-resistant ties, although not with the same anti-stain technology as Tough Tie.
Compared to their competitors Tough Tie has an advantage in terms of convenience as their ties are designed to resist stains and spills—giving customers the confidence and peace of mind that their tie will stay looking sharp regardless of what the day throws at them. Additionally, Tough Tie's selection of fabric choices allows customers to find a unique look that is tailored to their personal style. With high-quality ties available at an affordable price, it's no wonder why Tough Tie has become such a hit among shoppers.
---
FAQ
Can you iron tough apparel shirts?
It's not advised to iron one of the shirts produced by tough apparel. However, if you do choose to iron one of them, the best way would be to first turn the shirt inside out and then use a low heat setting. This will help prevent any potential damage due to high temperatures or scorching. Additionally, it is recommended that you use a pressing cloth between the iron and the fabric so that there is an extra layer of protection against burning or damage.
Is Tough Tie successful?
The short answer is yes, Tough Tie has been successful since appearing on Shark Tank. Founded by Kevin Shoemaker and Skylar Bennett, the company managed to get a deal with Robert, however, it didn't conclude in the way they had anticipated.
Still, in the months following their appearance on Shark Tank, Tough Tie saw a substantial increase in sales and brand recognition across all channels. The product also reached $ 2 million in total sales.
Furthermore, the company has since shifted its focus and expanded its offerings to include a line of men's fashion accessories as well as a home goods collection. This expansion into new markets has seen Tough Tie become even more successful, with further increases in both sales and brand recognition.
Did Tough Tie get a deal?
Kevin Shoemaker and Skylar Bennett, the co-founders of Tough Tie, appeared on Shark Tank with their innovative necktie design. These ties are resistant to both stains and wrinkles, so they can be worn looking sharp all day long.
The Sharks were intrigued by the product and impressed with the entrepreneurs' passion, and Robert Herjavec ultimately made an offer of $ 150,000 for 35 percent equity. However, the deal didn't go further than that.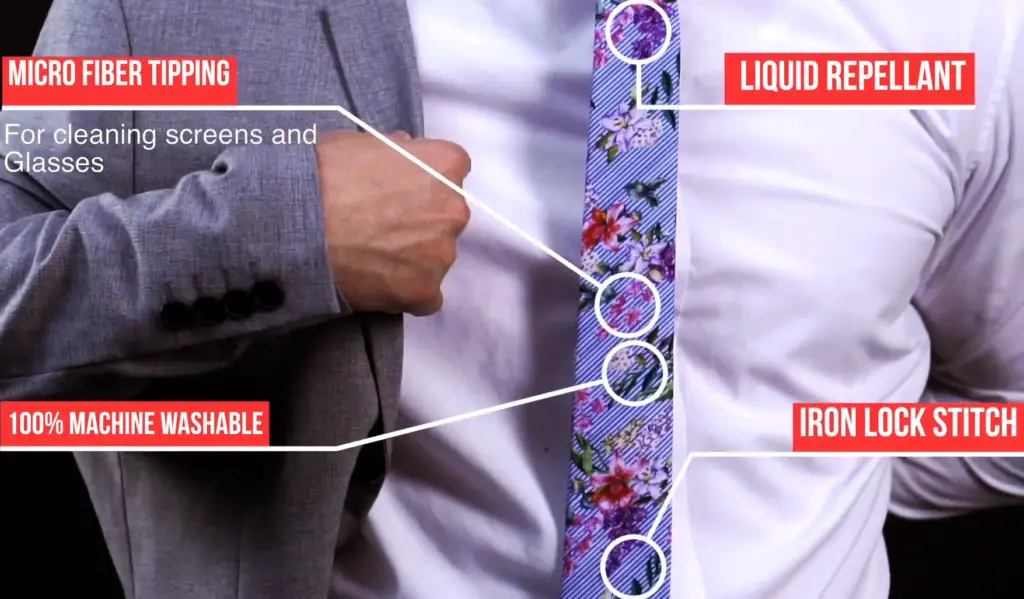 In spite of not getting a deal on Shark Tank, Tough Tie has continued to grow and develop its business model since then. They have expanded their product line beyond just ties – now offering bowties, shirts, and other men's accessories – which has allowed them to reach more customers and build a larger customer base.
What happened with Tough Tie Shark Tank?
The Tough Tie story on Shark Tank was an amazing success! Founders Kevin Shoemaker and Skylar Bennett had made their appearance on Shark Tank and had sealed a deal with Robert Herjavec for a $ 150,000 investment in exchange for 35% equity. Unfortunately, the deal didn't close.
However, that didn't stop the Tough Tie founders. After their appearance on Shark Tank, the duo worked hard to make their product a success. Their efforts paid off and within months they had sold millions in products and achieved 2 million USD annually in 2022.
Who owns Tough Apparel?
Kevin Shoemaker and Skylar Bennett, the brother-sister duo behind Tough Apparel, are still the company's owners. While they failed to close the deal with Robert Herjavec on Shark Tank, they have been able to secure some other investments and are currently running their business as a full-time venture.
Now Tough Apparel is a successful apparel brand that is making waves in the fashion industry. Their unique tie designs have attracted customers from all over the world.
What is a Tough Tie?
Tough Tie is a product created by two entrepreneurs Kevin Shoemaker and Skylar Bennett. It is an adjustable tie that can withstand stains and moisturize. The tough fabric is also resistant to wrinkles, so it looks great all day long. And if you get a stain on your tie, the good news is that you can wash it in the washing machine and it will still look good.
This makes it a great choice for anyone looking for an easy way to stay well-dressed. It's also perfect for the person who wants to look good without sacrificing comfort or style. Soon after the episode aired, Kevin and Skylar added even more apparel items such as bow ties, pocket squares, and neckties to the Tough Tie line.
Useful Video: Robert Herjavec Doesn't Want to Be Nickel-and-Dimed
Conclusion
Kevin and Skylar's appearance on Shark Tank has been a huge success, helping them to build their Tough Tie business into one of the most recognizable brands in men's fashion. They managed to get a deal with Robert Herjavec and received the exposure they needed so much.
Despite that, the deal with Robert never closed. Skylar and Kevin however decided to push further and continue to make Tough Tie a global brand. They've been featured in multiple publications, earned the trust of many customers, and grown their company's revenue significantly.
It goes to show that it's possible for any entrepreneur or startup to succeed despite the challenges faced. Skylar and Kevin have demonstrated that you can win big on Shark Tank even if a deal doesn't close. With hard work and determination, anything is possible!
If you're thinking of starting your own business, take some time to learn from what Skylar and Kevin have accomplished with Tough Tie. Their story may inspire you to reach for your dreams as well!
---
References:
https://www.sharktankblog.com/tough-ties-by-tough-apparel/
https://www.sharktankblog.com/business/tough-tie/
https://bizzbucket.co/tough-ties-shark-tank-update/
https://www.facebook.com/tough.apparel/
https://www.instagram.com/tough.apparel/?hl=en