If you're a fan of Shark Tank, then you may remember the episode where Touch Up Cup founder Carson Grill and his father Jason pitched her product to the sharks. The product is a self-sealing cup designed to keep the paint away from drying, and more! After the show aired, did they start getting inundated with orders from all over the world or their idea wasn't as popular as she expected it to get? In this article, we'll answer some common questions about what happened to Touch Up Cup after Shark Tank.
What is a Touch-Up Cup?
A Touch-Up Cup is a small 13 oz, transparent polypropylene cup that is designed to preserve the paint safe and fresh for up to 10 years. The cup has a unique airtight seal that prevents paint from drying out and keeps it from spilling. In addition to that, the cup features a stainless steel spring inside it that allows the user to mix the paint without any issues and clumps, simply by shaking the can!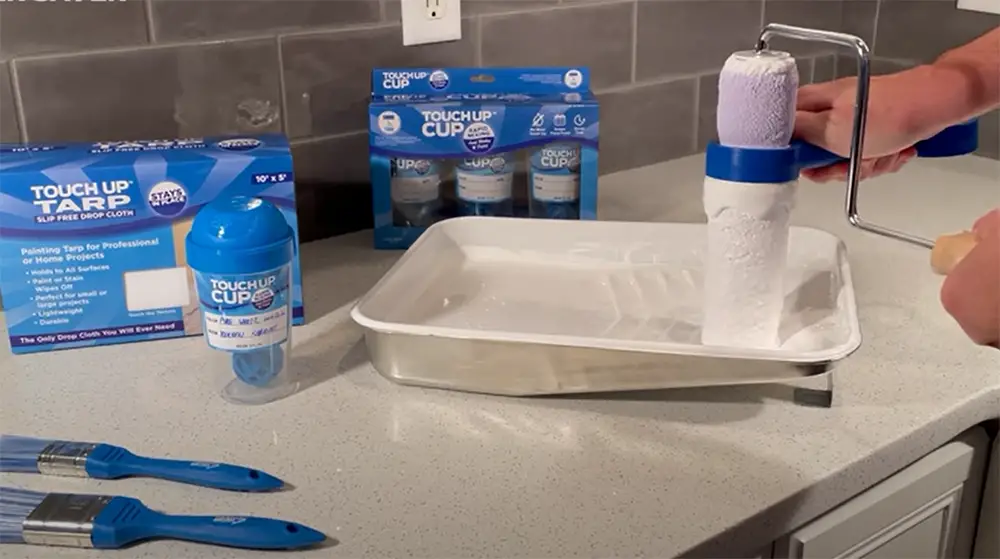 Touch-Up cup is the perfect tool for all painting projects, be it an indoor or outdoor job. The fast and easy way of using this product will have your final work looking more consistent with less effort!
For even more convenience, each cup has a label on it, where you can leave your own notes. And what's more, due to its small size, the Touch-Up Cup is highly portable and can be stored practically anywhere. [1], [2]
How to Use Touch Up Cup
So, the Touch Up Cup is basically a paint container which can be used to store any kind of leftover paint. First you need to unscrew the lid of the cup, and then pour the paint inside. After that, you just screw the lid back on and voila! Your paint is now stored away safely.
If you are planning on painting, give the cup a good shake before using to make sure that the paint is properly mixed. Pick a brush, unscrew the lid and begin painting! When you're done, just put the lid back on and store the paint away for future use.
The nice thing about this product is that it can be used over and over again, so you don't have to worry about wasting any leftover paint. Plus, it's also eco-friendly since it's reusable. Another great thing about this product is that it doesn't take up much space. So if you're short on storage, then this is definitely the way to go. [7]
History of the Founders
The idea for the Touch-Up Cup came to the 13-year old founder, Carson Grill, when he was helping his father with some painting work. They opened a paint can and it was completely dried up, the insides were covered with rust, it emitted an awful smell and was full of clumps on top of all that.
It was also a great opportunity to solve the issue with mixing the paint for good. Who likes the extra hussle of looking for a mixer every time they start a new painting project? Not to mention the paint always seems to get stuck on the sides and you can never get all of it out! They knew that if they could just get the paint to mix inside the can, it would be a much better experience for the user.
So, the duo set out to create a better way to keep paint fresh for longer periods of time without all the hassle that comes with it. And that's how the Touch-Up Cup was born!
Both father and son became co-CEOs of the newly created company and started to look for ways to bring their product to the market. While Carson was the one who invented the product, Jason was the main person behind the logistics, negotiations and business side of things as a whole.
The production cost for Touch Up Cups was only 90 cents per unit! And the Grills were originally selling them at five dollars.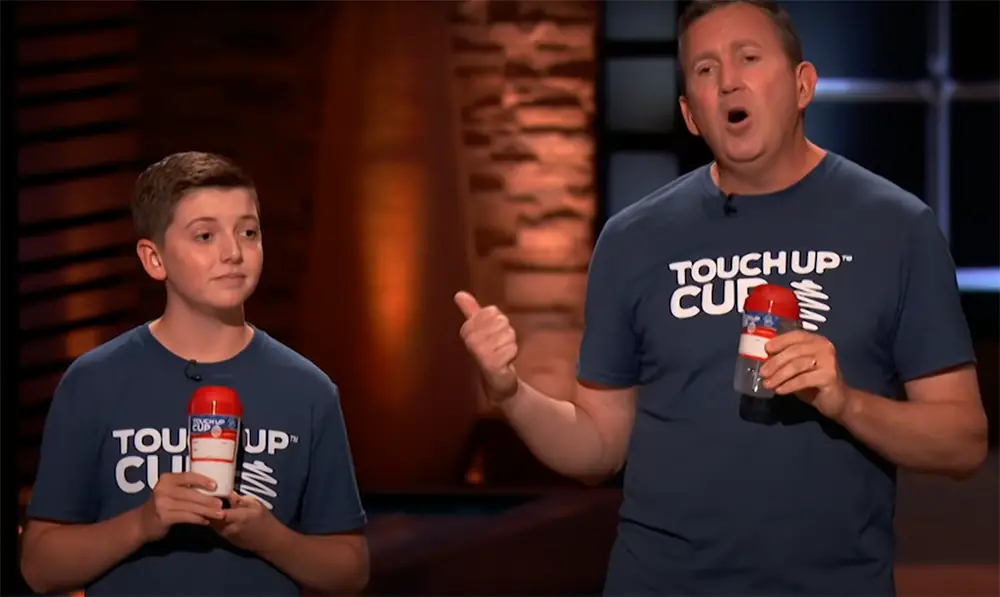 Carson had patented the product and they applied for a trademark in order to protect their invention. But his creations didn't end there, as he also has three more patents for three other container designs, for storing pastry and keeping it fresh. For a 13-year old, he's definitely accomplished a lot! [2], [3]
Touch Up Cup at Shark Tank
The Grill's appeared on Shark Tank in 2020 in hopes of securing a deal that would help them take the Touch Up Cup to the next level. The episode starring them started a brand new twelfth season.
The sharks present were: Mark Cuban, Blake Mycoskie, Kevin O'Leary, Lori Greiner and Daymond John.
The father and son team went into the tank seeking an investment of $150,000 in return for a 10% equity stake in their company.
Carson was the one who pitched the product to the sharks and he did a great job! He was very enthusiastic and passionate about the Touch Up Cup and it showed. In fact he was presenting the product so well, even the sharks who had no interest in the item itself were impressed!
Carson mentioned that both him and his father had started their own strategic partnership and that all picking and packing is being managed by EDI.
Carson also brought up that their product is already in 4,000 retail stores across Nashville and already had planned an agreement with Frog Tape, planning on expanding even further.
Sharks Mark Cuban, Lori Greiner and O'Leary opted out after Carson's pitch but they did see a potential in the family. O'Leary even suggested Carson quit the school and focus on improving the business. Carlos refused since he is only 15 years old with only 8th grade under his belt. It would be best for him to finish out this educational journey now rather than later when there could potentially still many hurdles lying ahead.
This leaves out Blake as the final shark in the tank. He thought the product had a lot of potential and wanted to see the family grow this business by lending them a helping hand. Carson mentioned that his other creations would become a part of the deal as well, because they too account for a big part of the sales.
Blake pointed out that $150,000 the Grills wanted may not be enough to really grow the business, but he was willing to negotiate. Initially he offered $200,000 for 25% stake. However upon finding out that both father and son work full time on the business, Blake revised his deal. He stated that he would give them the $150,000 for 17.5% stake and a board seat instead. Jason was quick to accept this deal and they shook hands on it despite the equity being higher than they wanted first!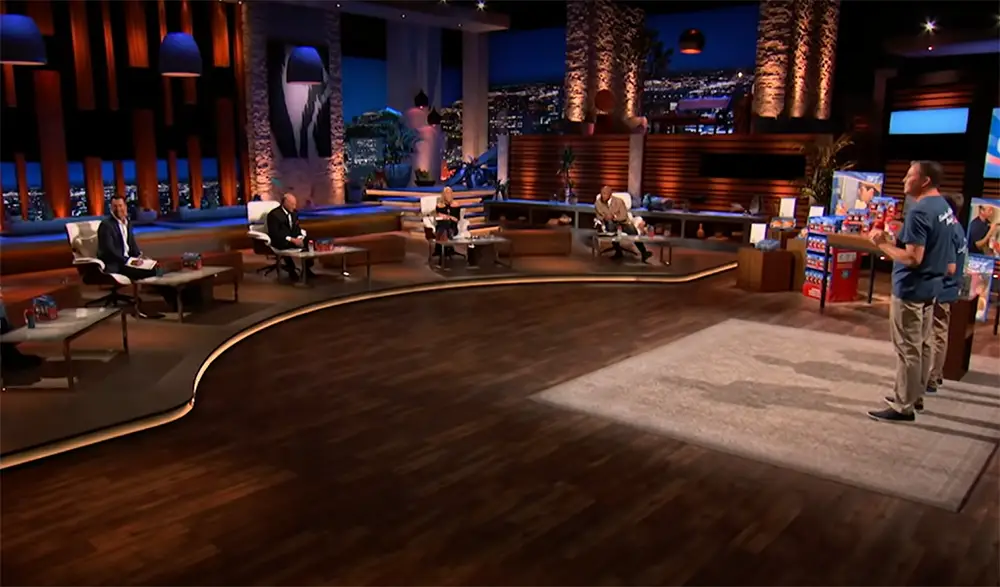 This was a great opportunity for the family as it not only gave them the money they need to grow their business, but also some valuable advice from one of most successful entrepreneurs out there! [2], [4], [5], [6]
Touch-Up Cup After Shark Tank
If you are reading this page, then you are already aware that Shark Tank is a well-known TV show where entrepreneurs go to seek an investment from one of the "sharks".
The show has helped many businesses take off, and the Touch Up Cup is no exception. After appearing on Shark Tank, the company saw a surge in sales and was able to expand their operations.
The company's retail presence has increased exponentially with the help of multiple deals. They now have access to major retailers like Walmart and Lowe's, so their products can be found in more places than before! In addition they also sell them online apart from stores which helped them expand even overseas. Their Amazon page is full of positive reviews, with many people stating that the product is exactly as advertised for storing paint.
Grill's family has started their own website, where they sell not only the Touch Up Cup but other products that were invented by them. Among these inventions is Touch Up Tarp, an anti-split drop cloth that adheres to the floor really well and makes the painting process all more efficient.
If you are curious about the other inventions of the father & son, they are all essentially related to making the painting process easier. In the line-up they have: Touch Up Roller and Roller Savers, Roller Keeper and Touch Up Brushes. It really seems like the expansion of the business went as planned and now they are doing well by exploring many new ideas.
Speaking of which, the pastry cases we mentioned before are also being sold on the website! They don't have the "Touch Up" in their name, but instead they are labeled "Muffin Fresh" and "Donut Fresh". The main purpose of these is to prevent moldy and stale pastry.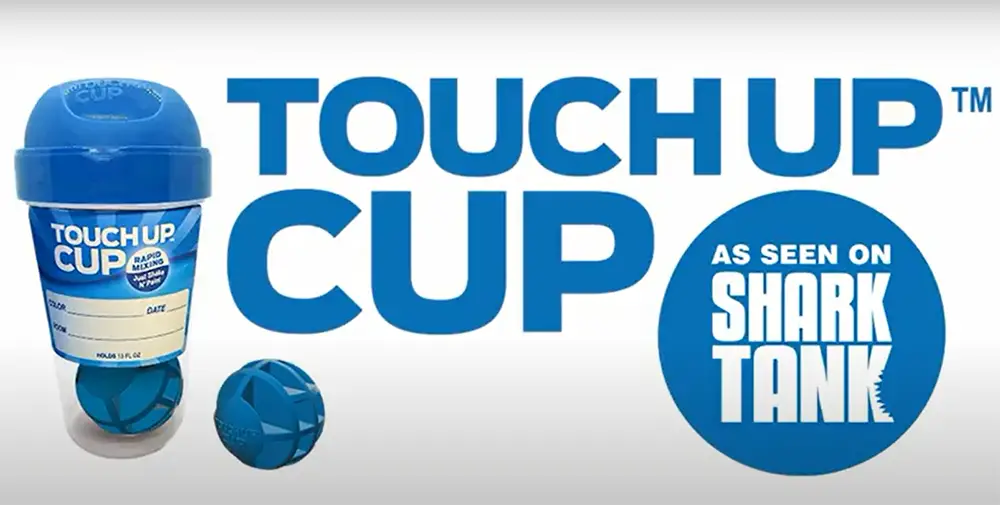 On the website you can see how many people are viewing the products and how many people have already purchased them in the last few days. And numbers don't lie, as people are still keeping to buy Touch Up items!
Family has also created Facebook and Instagram pages for the product, although their Facebook page is not really active. Instagram, on the other hand, is regularly updated and has around nine thousand followers. [2], [7]
Touch Up Cup Net Worth
The current net worth of the company is not public, however it is safe to say that it has grown significantly since appearing on Shark Tank.
Before appearing on the show, their net worth was valued at around $800,000. In 2021 however, the estimated value of the company is around $2 million! [8]
Where to Buy a Touch Up Cup?
The Touch Up Cup is available in many retail stores such as Walmart, Lowe's, and on the official website. And of course it can also be found on Amazon, however it should be noted that there are some counterfeits being sold on the platform. So if you are planning to buy it from Amazon, make sure to purchase it directly from the company's website or from one of the retail stores mentioned above.
Touch Up Cups are sold in the packs of 3 and cost between $15 to $19. Pastry cases come at the same price with 6 storage slots for your favorite muffins or bagels. These two items are often on sale, so it's not that hard to snug them at a lower price. Tarp is on the pricier side, with the price tag of $20.But it is a decent investment either way as you can use it multiple times and it will save you a lot of money in the long run.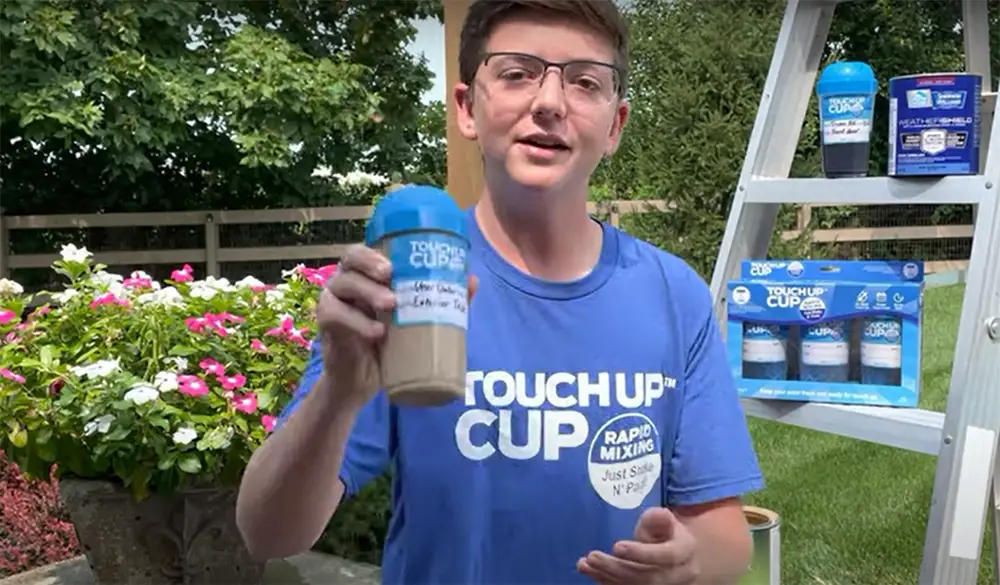 The company offers worldwide shipping but you should keep in mind the shipping fees. If you live in Contiguous USA however, you shouldn't worry about this as shipping is free! [6], [7]
FAQ
What is a Touch Up Cup?
The Touch Up Cup is the great solution for any painter who has ever had a hard time with rust and clumps of paint. Not only does this special cup eliminate them, but it also allows you to store your colors in an easy-to-use container that will last 10 years without draining out!
Where is the Touch Up Cup sold?
The Touch Up Cup is available online on Amazon and the official website. The company also has an impressive retail presence however, so you might come across the product in stores like Walmart and Lowe's.
Is Touch Up Cup successful?
If you are wondering what happened to the Touch Up Cup after Shark Tank, then wonder no more! Thanks to Blake Mycoskie's deal, they were able to take their business to the next level. They managed to expand their item line-up beyond paint cups and now offer other great products.
What is the Touch Up Cup worth?
Touch Up Cup was worth $1.5 million before Mycoskie's offer, but after accepting, the net value dropped down to only $800,000.
When the father-and-son duo originally pitched Touch Up Cup on Shark Tank, they valued their business at $1.5 million. However, Mycoskie's valuation of $800,000 is likely way too low given that sales are forecasted to be $2 million in 2021.
But even with the lower valuation, Mycoskie sees potential in Touch Up Cup's unique product and mission to reduce single-use plastic waste. He is also interested in leveraging TOMS' network and resources to expand the brand's reach.
How long does paint last in the Touch Up Cup?
The Touch Up Cup is an airtight container that can store 13 oz of paint for touch-ups around the house. It comes with a stainless steel spring to mix the paint and remove clumps, so all you have to do according to the company is shake and paint!
The paint can last up to six months in the Touch Up Cup, according to its website. But it also recommends mixing and using the paint within a few weeks for best results.
How to use a Touch Up Cup?
Touch Up Cup serves as a repository for leftover paint from jobs, whether it's repainting a room or giving new life to an old piece of furniture. Use Touch Up Cup like this:
Unscrew the lid and get ready to pour your paint;
Pour the paint inside the Touch Up Cup;
Shake the Touch Up Cup. The ball inside helps ensure a good mix;
Start painting with the Touch Up Cup;
The painter's cup is a polypropylene cup that holds paint and has a stainless steel spring, which eliminates rusting and clumps. The product is perfect for any painting project- whether you're working inside or outside. By using the touch-up cup for painting, you will speed up your process and make it more convenient.
Is the Touch Up Cup still in business?
The business transaction with Blake was completed, and he tweeted about it afterward. He said that one of the reasons he felt inclined to invest in Touch Up Cup is because he formed an immediate bond with Carson and Jason.
Jason Grill revealed in December 2020 that Touch Up Cup is developing a private label deal with Frog Tape, a painter's tape company. The partnership remains active as of February 2022, and the business has seen $2 million in annual sales.
What are the advantages of Touch Up Cup?
Keep your paint easily within reach with Touch Up Cup. This product comes with three storage containers and a label, so you can see the paint color and record the date, color, and room of your next painting project – all while reducing the amount of space required to store bulky paint cans!
This product's innovative design keeps your paint from rusting or clumping, and the stainless steel mixing ball lets you reconstitute it easily.
The Touch Up Cup is an easy way to store paint for touch-ups. No more messes or hassle! Just pour your leftover paint into the cup, twist the cap closed, and you're done. Plus, it's environmentally friendly and reduces single-use plastic waste.
This mug is easy to store and perfect for keeping paint fresh. The airtight seal helps the paint last up to 10 years. When you're ready to use it again, simply shake the Touchup Cup and the stainless steel mixing dial will mix the paint quickly. Once finished, clean the cap and reseal until your next project!
By using Touch Up Cup, you can reduce your reliance on disposable plastic paint trays and rollers. Not to mention, it'll save you time cleaning up after a project!
Pros of using Touch Up Cup:
You can see through the cup to check the remaining paint;
It is perfect for indoor and outdoor and for all types of surfaces;
These are reusable paint bottles perfect for quick and light touch-ups;
There is a shaker ball included in each bottle-no need for messy mixing sticks;
If you close the lid properly each time you use it, the airtight design of the bottle will keep your paint wet for almost ten years and prevent rust buildup;
With Touch Up Cup, you can avoid the inconvenience of having to purchase a new paint can whenever your wall needs a quick repair;
With Touch Up Cup, you can avoid storing bulky and messy paint cans;
What are the disadvantages of Touch Up Cup?
The Touch Up Cup's potential disadvantage is that it may not be large enough for larger touch-up projects or entire room painting jobs. Another thing to watch out for is if you don't clean the cup's lid and mouth properly after each use, residue can dry on the surface and affect the rest of the paint in the cup. For long-term storage, make sure to clean the lid thoroughly.
Although some users might find traditional paint cans more familiar and easier to use, the Touch Up Cup offers advantages in space-saving convenience. Also, the label on the cup may not be as durable as with traditional cans, but this potential drawback is outweighed by its benefits.
What are some alternatives to Touch Up Cup?
The only alternative product to the Touchup Cups quite similar in terms of features. The main difference is that instead of a stainless steel ring, it contains a spring attached to the mixing cap for every touch-up project. This spring makes it messier, and when you open the lid there's always a chance of spillage. With Touch Up Cup you just need to shake and open it – all within seconds.
How long does it take to ship Touch Up Cup?
All orders shipping to locations within the contiguous United States come with free standard shipping! Orders usually process and ship out within 1-3 business days. Shipping fees will be applied to checkout for all other destinations. Note that delivery times may fluctuate depending on location.
Touch Up Cup is available at Lowes and Walmart. For overseas orders, please email us at info@touchupcup.com for a shipping quote.
What is the return policy of Touch Up Cup?
Their return policy gives you 30 days to request a refund after you receive your purchase.
In order to be qualified for a return, your item must arrive back to us in the same condition as when it was received- unworn, unused, with tags still attached and in its original packaging. You will also need to include either the receipt or proof of purchase.
Once we accept your return, we will send you a shipping label along with specific instructions on where to send the package. Please note that items sent back without first requesting a return will not be accepted.
As soon as you receive your order, please take a look at it to make sure everything is in good condition. If there are any problems with the item (e.g., if it's defective or damaged), or if you received the wrong item, please let us know right away so we can figure out what happened and fix the issue.
They will send you an update once your return has been received and inspected. If your refund is approved, you'll receive the funds on your original payment method. Please keep in mind that it might take some time to process and post.
Was Touch Up Cup a popular product?
All of the users who tried the product loved it and found that the Touch Up Cup was perfect for painting. The company's sales shot up after they were featured on the show, with 40,000 new visitors to their website translating to 5,000 new orders. A year later, they were able to expand their distribution to over 1,200 retail locations across the country. The Touch Up Cup was also named a top 10 new product by This Old House magazine in 2017.
With the addition of the Touch Up Cup segment, average online sale sizes for the product increased from $15 to $25. To date, YouTube views for this clip are almost 2 million since it was posted on Oct 17th.
Touch Up Cup is currently in 4,000 retail locations across the United States and has generated $220,000 in sales over the last two years. According to Carson, they are on track to reach $400,000 in sales this year. In December 2020 Jason Grill announced that Touch Up Cup is working on a private label partnership with Frog Tape – a painter's tape brand – and also have an ongoing relationship with Do It Hardware.
Touch Up Cup has not only improved its packaging, but also the shaker ball inside the cup which helps mix the paint. The products are currently being considered for another national TV appearance on "Steals & Deals", a segment of TODAY that will attract more customers and orders.
Carson has pitched the product so well to potential customers that sales have increased rapidly, and the company is now seeing fantastic profits. Even Shark O'Leary from ABC's "Shark Tank" thinks it shows promise and has offered to invest in Carson's venture – but only if he drops out of school full-time. However, at just the age of 8th grade, Carson understandably isn't ready to make that commitment yet.
Useful Video: Shark Tank US | Father and Son Duo Pitch Their 'Touch Up Cup'
Conclusion
There's no age limit when you can't become a successful entrepreneur and the Grills family is a great example of that. Their story goes to show that with a great product and some dedication, you can achieve anything you set your mind to, even at the age of 13.
All in all, it's clear that the family is doing great after their appearance on Shark Tank that helped them reach $1,000,000 in sales in the first year after the show. They are still expanding their business by exploring new ideas and selling their products through multiple channels. We wish them all the best in their future endeavors!
References:
https://2paragraphs.com/2021/01/touch-up-cup-what-happened-to-paint-container-after-150000-shark-tank-deal/
https://tvovermind.com/whatever-happened-to-touch-up-cup-after-shark-tank/
https://biznewske.com/what-happened-to-touch-up-cup-after-shark-tank/
https://www.cnbc.com/2020/10/19/shark-tank-how-teen-landed-business-deal-with-toms-founder.html
https://geeksaroundglobe.com/touch-up-cup-current-net-worth-what-happened-after-shark-tank/
https://insidergrowth.com/touch-up-cup-net-worth/
https://touchupcup.com/
https://bizzbucket.co/touch-up-cup-shark-tank-update/