In Season 10, Episode 3 of Shark Tank, the Cup Board Pro was featured as a product that could potentially be a great investment. The product is a bamboo cutting board with a built-in cup to catch the juices from your food. A must-have item is used often in the kitchen.
After the episode aired, the sisters experienced an influx of orders and decided to hire more help to keep up with production. They also decided to raise their prices due to the increased demand.
The Cup Board Pro was a huge success on Shark Tank and continues to be a popular product. If you are looking for a cutting board that is functional and stylish, the Cup Board Pro is the perfect option.
What Is Cup Board Pro?
No more messes! The bamboo board has a detachable cup that collects pieces while you're cooking. Once you're done, simply remove the cup and throw away the collected waste – it's that easy [1]!
Cup is easy to insert into the cutting board and collapsible for quick storage. Includes comfortable grips for carrying ease. The cutting board requires hand-washing, and a cup is dishwasher safe.
The included juice groove on this attachable cup makes it the perfect cutting board for meat lovers. Meanwhile, the rubber feet create a non-slip experience and provide a slight tilt to catch any juices.
This is an all-in-one prep board for cutting almost any food. Vegetables, meats, and cheeses may be chopped and separated with ease thanks to its precision blade.
Made of bamboo, a naturally antimicrobial material that resists germs. Bamboo lowers the frequency of knife sharpening and is gentler on knives. Sustainable elements were used in its construction.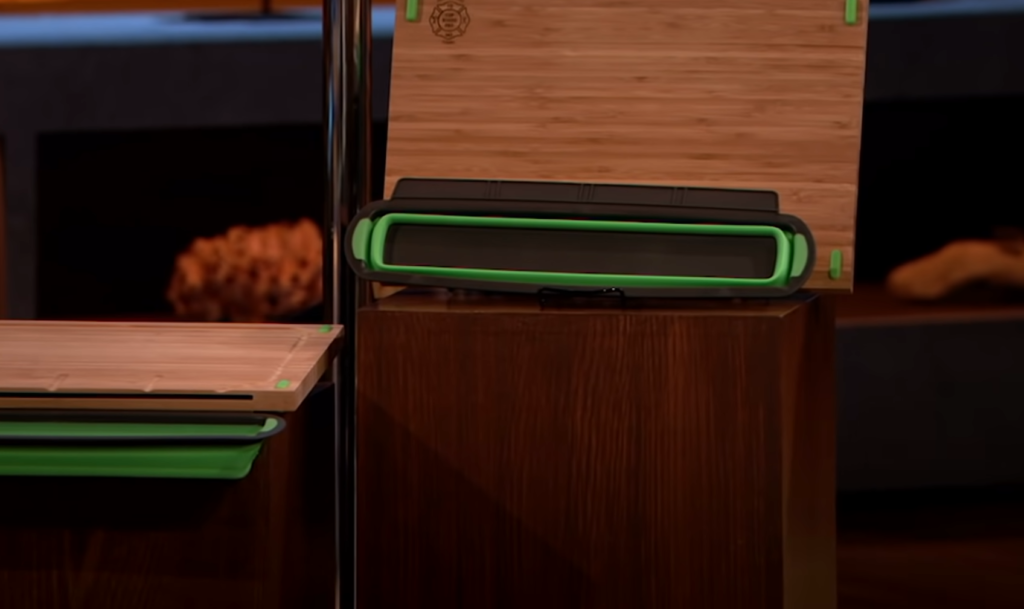 Who Is The Founder Of Cup Board Pro?
Keith Young created Cup Board Pro in 2010–an amazing invention that has withstood the test of time. Did you know Keith was a firefighter, two-time chopper riding champion, and chef? He typically used plastic cutting boards for his prototypes; however, when it came to Keith's family, they were always his most crucial support system.
His children Kaley, Christian, and Keira helped in the creation of the Cup Board Pro website. Keith and his wife passed away from cancer [2].
Keith's confidence was boosted after he cooked his way to victory on Chopped. He was finally ready to turn his cutting board idea into a reality – that is until he received some devastating news in 2015. Keith had cancer, and it was linked to the time he spent working as a firefighter during 9/11.
In 2018, their father passed away and left behind three kids. Keira, Kaley, and Christian found that he had an inventory of about 2,000 cutting boards when they went through his belongings. They set up an online store soon after and advertised their product on social media – in only three weeks they managed to sell 300 units! However, the kids realized they needed some help from experts so applied for Shark Tank [3].
Cup Board Pro Before Shark Tank
Keith Young, a New York City fireman, created the Cup Board Pro in 2010 to quickly and easily clean up after cooking. The Cup Board Pro is a bamboo cutting board with side wells that channel liquid spills into a cup-like container underneath for easy disposal.
In 2011, when Keith Young's wife, Beth King, was diagnosed with breast cancer, production halted. Until her death in 2012, Keith Young was by her side. After she passed away, Keith Young participated in Food Network's Chopped competition and won two titles before resuming work on his invention, the Cup Board Pro.
Right before he could sell his first shipment of boards in 2015, he was diagnosed with cancer from working at Ground Zero on 9/11. He sought treatment but passed away in March 2018 from his cancer.
After three weeks, Keira, Christian, and Kaley Young's father's products were finished. They worked together to make their father's product a success in just two months, having an inventory of 2000 boards from his first shipment. Keith's children established an online store and posted pictures on social media advertising the Cup Board Pro. Their efforts were successful, with them selling 300 boards in three weeks after launching an online store.
Before he was diagnosed with cancer, shark investor Kaley Cuoco-Sweeting wanted to try out for Shark Tank. In his place, Kaley, Keira, and Christian showed the Sharks a video of their father's audition.
Cup Board Pro On Shark Tank: The Pitch
The three siblings' late father had auditioned for Shark Tank before he passed away. In episode 3 of season 10, they played his tape and told the story of the Cup Board Pro – a high-quality bamboo cutting board with an engraving to commemorate fallen firemen on Ground Zero. The Sharks were moved by their story and impressed with the product quality [4].
The siblings wanted $100,000 for a 10% appraisal. They claimed the $100,000 would be used for advertising, equipment renewal, and restocking inventory. Each cutting board costs $12.50 to make and is available for $40 on their website.
In the previous 3 weeks, the Young family has sold 300 Cup Board Pros for $12,000 in revenue, each board being carefully packaged from the siblings' residence with thank you notes.
The "Sharks" asked the brothers and sisters to wait in the corridor while they discussed terms. The sharks called back the Young family after concluding.
The five sharks worked together and offered $100,000 for 20% of the company, with each shark paying $20,000. The only condition was that they would donate all profits made from their stake in the business to Keith Young's supported charity.
The siblings thought the deal was great and agreed to it! All five sharks were so happy that they hugged the siblings, resulting in a heartwarming ending for the episode.
Cup Board Pro Now In 2022
The Young family's Cup Board Pro success on Shark Tank did not end there; the brothers and sisters utilized the internet to create a GoFundMe page to support the FDNY (The Fire Department of the City of New York) foundation. The Young family's GoFundMe page was so successful that it generated over twice as much money as they had requested; out of the $25,000 asked for on the GoFundMe website, they raised over $41,119. They gave their donation in an official ceremony at which sharks had been present.
The Cup Board Pro was so popular that it sold out in 2019 and had to increase production to meet demand. The company expanded its product line, adding two new versions: the Natural Board and the Synthetic Board. The Synthetic Board is a cheaper, lighter version of the Cup Board Pro that is dishwasher-safe.
The Cup Board Pro is now sold in several countries worldwide via both brick-and-mortar and online storehouses. The original Cup Board Pro retails at $114.95, while the Synthetic Cup Board Pro goes for $74.95.
The Net Worth Of Cup Board Pro
The company's entire stock of cutting boards sold out minutes after their Shark Tank episode aired. They received around 100,000 emails from customers hoping to buy one.
They've sold 20,000 products and have exceeded $1 million in sales by the end of next year. The Sharks subsequently linked up the firm with Williams-Sonoma, Inc., which took care of further production and marketing tasks.
Cup Board Pro, a kitchenware product from Williams-Sonoma, is the company's best-selling item. Its most recent financial statement reveals revenues of $3 million. As a result, the business is worth $15 million [5].
Cup Board Pro Reviews And Sales
It is the number one bestseller in the "Kitchen Cutting Boards" category [6].
The company's products are available for purchase on Williams-Sonoma, Inc.'s website and through other retailers such as Bed Bath & Beyond and Sur La Table. Cup Board Pro sales have increased significantly since appearing on Shark Tank; in the first year after their episode aired, they sold 20,000 units and generated $12 million in revenue.
Competitors of Cupboard Pro
Bamboo Cutting Board by Lipper International;
Wooden Cutting Board by Epicurean;
Plastic Cutting Board by Good Cooking;
The company has been featured on Shark Tank, Good Morning America, The Today Show, and Rachel Ray. Cupboard Pro's success can be attributed to its high-quality product, competitive pricing, and use of social media marketing.
FAQ
Is Cup Board Pro dishwasher safe?
Cup Board Pro is not dishwasher safe. If you wash it in the dishwasher, it will warp and discolor.
To clean Cup Board Pro, simply wipe it down with a damp cloth. Do not use any harsh chemicals or abrasives, as this will damage the finish.
If you have any stubborn stains, you can try using a mild soap and water solution. However, be sure to rinse it well afterward to remove any soap residue.
Finally, always dry your Cup Board Pro immediately after cleaning to prevent water spots from forming.
How much does the Cup Board Pro cost?
Featured on Shark Tank, the Cup Board Pro is a must-have in every kitchen. It was invented by Keith Young, who is not only a New York City fireman and cook but also a loving father. This cutting board sells for $69.95.
Where can I buy Cup Board Pro?
Can Cup Board Pro be cleaned easily?
Yes! The Cup Board Pro is dishwasher safe and can be cleaned with ease. You can also use it as a serving tray or prep station. It's perfect for any kitchen!
Can I use Cup Board Pro anywhere?
The Cup Board Pro is perfect for indoor and outdoor use. It's lightweight and portable, so you can take it with you wherever you go. Whether you're tailgating, camping, or picnicking, the Cup Board Pro is a must-have.
Who is the least successful shark?
Barbara Corcoran is the least wealthy of all of the main sharks, with a net worth of $80 million, so her unwillingness to invest is understandable [7].
Who makes the most Shark Tank deals?
Mark Cuban has made the most deals of any shark, with 83 investments throughout the show. He is closely followed by Lori Greiner with 68 deals.
Do the "sharks" actually invest?
The sharks do not invest their own money in the businesses that appear on the show. They are made aware of the business and its financial situation before filming begins. The sharks may offer to invest their own money, but it is not a requirement for appearing on Shark Tank.
What percent of Shark Tank companies fail?
Only 6% of the contestants in recent seasons have closed their doors, and only 20% have yet to make a profit (but are still operational). As a result, Shark Tank's success rate is thought to be about 94% [8].
Useful Video: Cup Board Pro Special Update
References
https://biznewske.com/cup-board-pro-shark-tank-update/
https://www.tuko.co.ke/facts-lifehacks/430221-what-happened-cup-board-pro-shark-tank-sales-latest-updates/
https://techiegamers.com/cup-board-pro-net-worth
https://gazettereview.com/cup-board-pro-shark-tank-update/
https://techiegamers.com/cup-board-pro-net-worth
https://sharktankrecap.com/cup-board-pro-update-shark-tank-season-10/
https://screenrant.com/shark-tank-abc-tv-show-best-worst-sharks-ever
https://thehustlestory.com/the-21-most-famous-shark-tank-failures-what-you-can-learn-from-them/