The entrepreneurs behind the Doughp app appeared on Shark Tank in 2018 but unfortunately couldn't strike a deal with the Sharks. However, this didn't stop them from achieving success in the long run. Still, the question on everyone's mind since then has been: what happened to Dough after Shark Tank? We're excited to share with you all the details about what happened after the show aired, including sales numbers and where the app is now. Keep reading for an epic guide full of useful tips and information!
Story of the Doughp and Its Founders
Cookie dough brands are pretty common at Shark Tank. Each pitch has its own unique story, and so does Doughp. It was founded by Kelsey Witherow who was set on a mission to create delicious cookie dough that is 100% vegan!
Many people were confused about how exactly they should pronounce "Doughp" – it is said like "dope" without the "e". The name Doughp came from their mission to make something that was fun, unique, and authentic.
In 2017, she opened a special shop in San Francisco. It was at Pier 39, which is a famous place for tourists. She only had one small booth at first. And she only grew since then. Now her business has a stand at AT&T Park in San Francisco and at the Miracle Mile Shops in Las Vegas.
You can either eat this dough raw or use it to make cookies. This adds versatility to the product, and it's quickly becoming popular among many vegan fans.
Before appearing on the show, Witherow offered her products to individuals through retail outlets as well as on her website and Amazon. She is devoted to making a positive difference and donates a portion of her profits to causes that strive for better mental health and addiction awareness. Aside from her retail stores, she offers a wholesale shipping service for cookie dough and sells directly through her website. At the cost of $ 69 per six-pack that contains four ounces of cookie dough each, this delicious treat is truly worth its price tag!
Her ambition is to extend her retail presence, set up more kiosks, and potentially enter supermarkets. That's why she decided to appear on Shark Tank. Let's recap how it went and see what happened next. [1] [2]
Doughp at Shark Tank
Kelsey has entered the room looking for an investment of $ 450,000 in exchange for 10% ownership. With a booming customer base that reaches up to 20,000 individuals each month and only one storefront location open currently, profits appeared steady and secure.
She then hands the samples to the sharks – and they enjoy them! What's more, they complement Kesley's margins and branding. The sales topic comes up, and she reveals she sold $ 850,000 worth in sales in a year and a half. However, the sharks don't like the value of the equity she's asking for and are not happy with her valuation. Lori was adamantly opposed to supporting any product that could contribute to childhood obesity. One after the other, the Sharks removed their support, leaving Kelsey without a deal. [2]
How is Doughp Doing After the Show?
After appearing on Shark Tank and gaining recognition, Kesley gained quite a boost in business. She immediately used the exposure to expand her business and increase sales.
A Shark Tank effect took place and Doughp quickly became the household name it is today. While she didn't get an investment from the Sharks, Kesley was quickly able to find an investor who supplied her with $ 500,000 of capital at a favorable undisclosed price. This helped her to open a shop on the Las Vegas strip in the Miracle Mile Mall. In addition, she established cookie dough vending machines at McCarran Airport. With this, she made her product way more accessible. In pursuit of financial freedom, she and her husband relocated to Las Vegas in order to expand their eCommerce business without the fear of paying California's staggering 9.25% income tax rate.
Despite all odds, Doughp's success was skyrocketing until the Covid-19 pandemic of 2020 struck and brought everything to a standstill. She even managed to get into the Forbes 30 Under 30 list during the same year!
However, the pandemic has affected her just like everyone else. She had to lay off retail employees and put a pause on the expansion plans. Still, the sales took a positive turn after the pandemic hit, as in 2020 she earned $ 2.5 million in products, this is compared to sales for 2019 with $ 50,000 in online sales. And in 2021 those sales were $ 5 million. After carefully examining the Shark's advice, she decided to create Doughp Drops. She followed up her decision by closely monitoring her sales figures. Subsequently, she entered the retail scene with a bang, and now it's everywhere.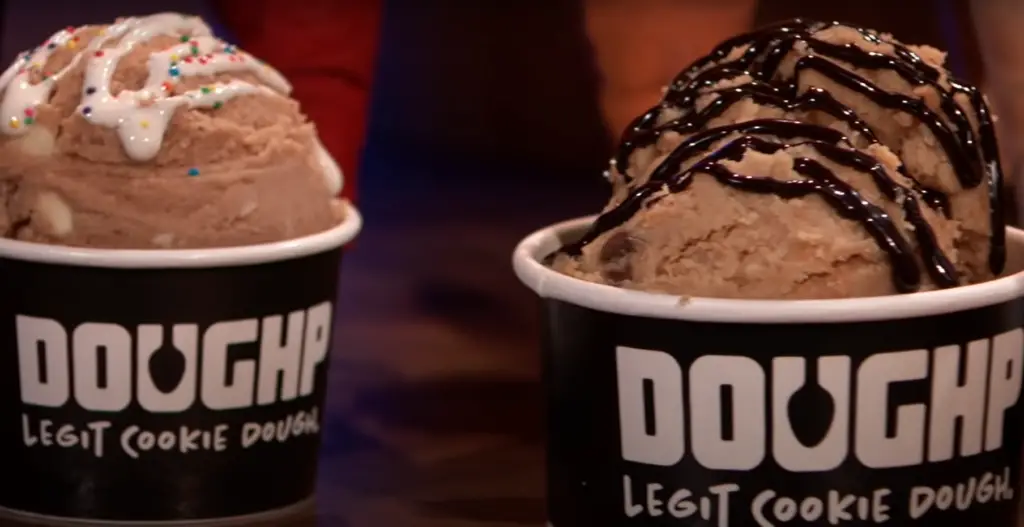 Her products are now available at Costco and Walmart, as well as in over 1,500 stores around the US. With that said, she is creating a strong presence in the retail industry and becoming a favorite among foodies. You can even find her stuff at some smaller stores!
She also appeared at QVC – an American home shopping channel where she quickly sold out of all units within minutes. This made QVC invite her once more to their popular program!
Now she not only works on her cookie dough but also helps the Hope Foundation which works with ex-addicts. She is proud to be able to help the community in many ways and her company keeps on growing.
She also managed to gather quite a following in all those years. The Doughp Instagram account has over 119K followers and the Facebook page has more than 36K fans.
Kesley's success story is a testament that you can still make it big without getting any investments from Shark Tank. Despite not being able to get a deal from the sharks in 2018, Kelsey has been successful in growing her business by leaps and bounds. This certainly goes on to show that with sheer hard work and dedication one can achieve extraordinary things in life. We wish Kesley all the best in her future endeavors! [2] [3] [4]
Doughp Net Worth
The exposure she gained from Shark Tank certainly helped increase her visibility, which led to more customers buying her product and thus increasing her net worth significantly. With a successful retail presence and continued press coverage, there's no doubt that Kelsey will continue to grow her net worth. We wish her all the best in her future endeavors! [5]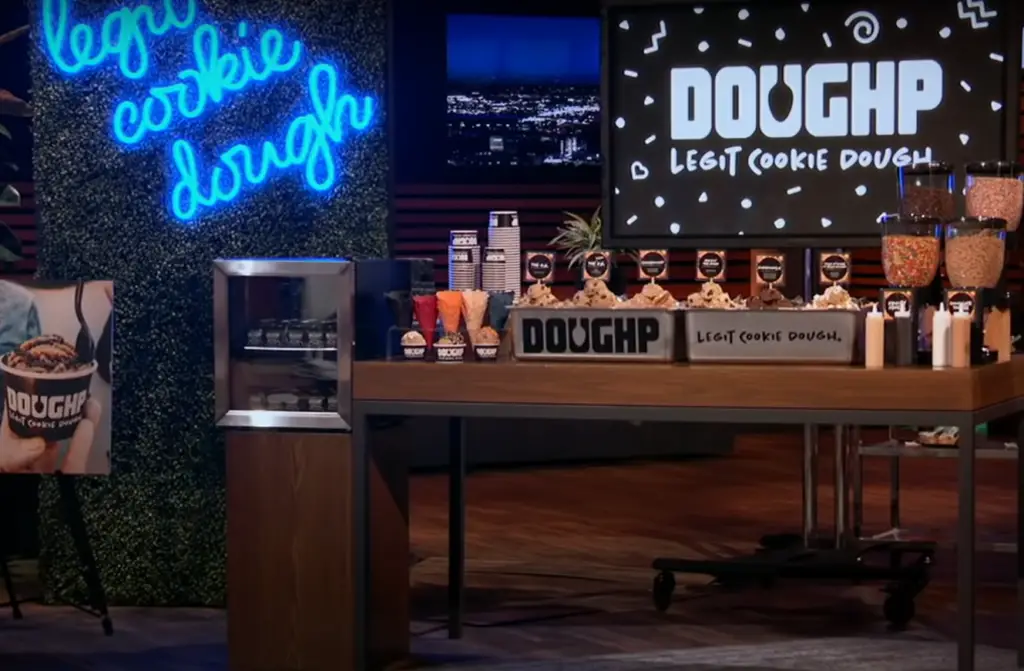 ---
FAQ
Did Doughp get a deal on Shark Tank?
No, Doughp did not get a deal on Shark Tank. The Sharks were impressed by the company's innovative idea and potential for growth but had several concerns about the business model and product.
The Sharks ultimately decided not to invest in Doughp due to their doubts about the company's ability to scale quickly enough, profitability issues, and lack of market validation. However, they wished founder Kelsey Witherow luck with her venture and gave her valuable advice that she has implemented since then.
What is Doughp?
Doughp is a gourmet cookie dough company based in San Francisco, California. Founded by Kelsey Witherow in 2015, Doughp was created with the mission to make life a little sweeter. The company specializes in edible cookie dough made from natural ingredients and free of eggs, preservatives, artificial colors, and flavors. Doughp offers customers a variety of flavors from vegan Chocolate Chip to classic Snickerdoodles that can be eaten raw or baked into cookies.
You can either eat the dough raw or bake it into delicious cookies. Doughp has made a name for itself by offering gourmet cookie dough in a safe and convenient way.
What happened to Doughp?
Since making an appearance on Shark Tank, Doughp has gone on to become a nationally-recognized bakery brand. The company was founded in 2015 by Kelsey Witherow with the aim of creating delicious vegan cookie dough treats that are perfect for any occasion. After appearing on the show, Doughp received an investment from Mark Cuban and Lori Greiner which enabled them to expand their business operations.
The team at Doughp worked hard over the following years to build up a strong presence in stores across the US. Today, their products can be found in hundreds of retail locations nationwide including Whole Foods, Costco, Target, and Walmart. They also have an e-commerce store where customers can purchase cookie dough directly from their website.
How is Doughp doing since Shark Tank?
Since appearing on Shark Tank, Doughp has seen considerable success. Kelsey Witherow, while unable to get a shark on board, got funding from other investors soon after the episode aired.
She even managed to open some of her own stores and entered a bigger retail store to spread the Doughp love. Her stores are highly successful and they have a great following in the Bay Area.
Kelsey has also entered the big retail realm, with Doughp products available in stores like Target and Whole Foods. She has developed many other flavors of cookie dough to cater to a wider audience as well.
Who are the owners of Doughp?
Kelsey Witherow is of Doughp, a cookie dough empire born out of San Francisco. She has taken their passions for baking and entrepreneurship to create an innovative product that is enjoyed by consumers around the US.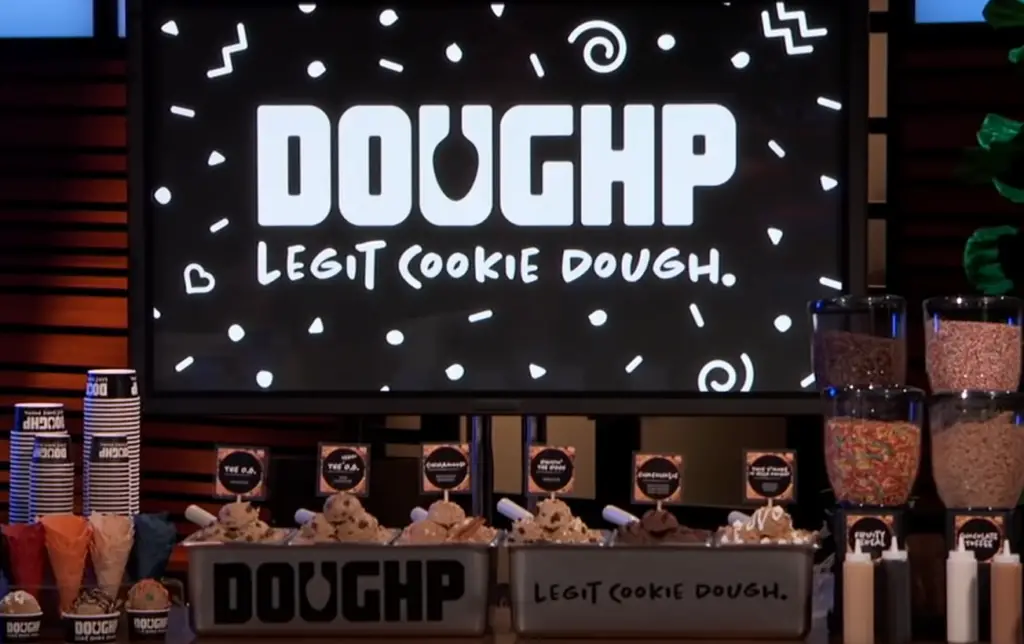 She began her company when recovering from alcoholism and has since found success in the baking and business world. Her determination to make something of her own and provide for her family is what drives Doughp's mission today: To make cookie dough accessible, enjoyable, and delicious.
Did Shark Tank invest in Doughp?
No, Doughp did not receive any investments from the Sharks on Shark Tank. After their pitch, the Sharks praised the product and its potential but all five Sharks decided to pass.
Despite not receiving any funding from Shark Tank, Doughp has continued to grow and expand in the years since appearing on the show. By leveraging existing relationships with investors, founder Kelsey Witherow was able to secure investment for Doughp outside of Shark Tank. They have been able to use these funds to develop their products and build out a team of specialists and advisors who help them manage operations and keep up with customer demand.
In addition to securing investment outside of Shark Tank, Doughp received valuable exposure as a result of their appearance. Their website and social media presence grew significantly following the episode and Doughp continues to maintain strong relationships with its customers by engaging on multiple platforms.
Useful Video: Doughp – Shark Tank
Conclusion
Kelsey Witherow wanted to make the world a better place with her delicious and fun cookie dough, so she risked it all on Shark Tank. While she didn't get an offer from the Sharks, Doughp has gone on to become a success story since appearing on the show.
In this article, we've explored the impact that appearing on Shark Tank had on Doughp. We looked at how Kelsey used her newfound attention and resources to grow quickly, how she's been able to maintain a loyal customer base, and what the future holds for this cookie dough empire.
Kelsey's success story is an inspiring one. She is a great example of what hard work and dedication can achieve. Despite not being able to get a deal from the Sharks in 2018, Kelsey has been successful in growing her business by leaps and bounds – she has faced setbacks during the pandemic but continues to be resilient and push forward with new ideas. Her products are now available in many stores across the US, giving her a strong presence in the retail industry and making her a favorite among foodies. With Doughp's annual sales figures increasing exponentially every year, it is estimated that Kelsey will become a multi-millionaire in the next few years.
Kelsey continues to innovate and grow her business, offering unique flavors that have helped Doughp stand out from other cookie dough brands. Through her hard work, she has built an achievable dream into a successful reality – and it's only going to get bigger from here on out!
---
References:
https://www.sharktankblog.com/doughp-cookie-dough/
https://www.sharktankblog.com/business/doughp/
https://www.instagram.com/doughp/?hl=en
https://www.facebook.com/doughp/
https://otakukart.com/doughp-net-worth-how-is-the-cookie-dough-company-doing/