Ava the Elephant, a charming talking medicine dispenser, was one of the earliest and most memorable pitches on the hit television show Shark Tank. The brainchild of Tiffany Krumins, Ava the Elephant was designed to make administering medicine to children less intimidating and more enjoyable. 
After receiving backing from Barbara Corcoran, Ava the Elephant embarked on an impressive journey of growth and success. This article delves into the journey of Ava the Elephant post-Shark Tank, exploring its development, achievements, challenges, and current status in the market.
What Is Ava the Elephant?
Ava the Elephant, a unique talking medicine dispenser, is one of the earliest and most successful products to emerge from the popular television show Shark Tank. The brainchild of Tiffany Krumins, Ava the Elephant was born out of a need to make the process of administering medicine less daunting for children.
Features of Ava the Elephant
Ava the Elephant is more than just a cute toy. It's a practical, user-friendly device designed to administer the entire dosage of medicine on the first try. The key feature of Ava the Elephant is its ability to talk, which adds an element of fun and distraction for the child during the typically stressful process of taking medicine [1].
Pros:
Ava the Elephant has several advantages that make it a valuable tool for parents and caregivers. Firstly, its talking feature provides a distraction for the child, making the medicine-taking process easier and less stressful.
Secondly, its friendly, non-threatening design makes it appealing to children, encouraging them to cooperate during medicine administration.
Another significant advantage of Ava the Elephant is its ability to administer the entire dosage on the first try. This feature is particularly beneficial for children who are resistant to taking medicine, as it reduces the need for multiple attempts at administration.
Advantages of using Ava The Elephant:
Fun and Exciting: Ava the Elephant makes medicine time fun and exciting for children. This helps to distract children from the discomfort or fear associated with taking medicine;
Efficient Dosage Administration: The device allows administering medicine dosages on the first try. This is particularly beneficial for children who are resistant to taking medicine, as it reduces the need for multiple attempts at administration;
Durability: The product is well made and seems like it would withstand multiple uses and washes [2];
Cons:
While Ava the Elephant has many benefits, there are a few potential drawbacks to consider.
For instance, some users have reported that the volume of the talking feature is not adjustable, which could be an issue in certain situations.
Additionally, some parents may find that their child becomes dependent on Ava for taking medicine, which could be problematic if the device is not available.
Disadvantages of using Ava The Elephant:
Syringe Size: Some users have found that the syringe is too big for a normal dosage, which could make it less suitable for certain medications or age groups;
Association with Medicine: There's a concern that once children connect Ava the Elephant with taking medicine, it may not be as effective. This means that over time, children may come to associate the device with an unpleasant experience;
Leakage: If held on its side, the dispenser may leak or drop medicine. This could result in inaccurate dosing or mess;
Compatibility: Ava the Elephant may not fit all types of syringes, which could limit its functionality with certain medications;
Availability: The product has been discontinued by the manufacturer and can only be purchased independently [3];
Who Should Use Ava the Elephant?
Ava the Elephant is designed for anyone who needs to administer medication to children. This can include:
Parents and Guardians: If you're a parent or guardian struggling to get your child to take their medicine, Ava the Elephant can be a great tool. It can make the process less stressful and more efficient;
Healthcare Professionals: Pediatricians, nurses, and other healthcare professionals who work with children could also benefit from using Ava the Elephant. It can assist in making the medicine administration process smoother and more enjoyable for young patients;
Child Care Providers: If you're a nanny, babysitter, teacher, or daycare provider, Ava the Elephant can be a helpful addition to your toolkit. It can help ensure that children under your care take their required medication without hassle;
Special Needs Caregivers: For caregivers of children with special needs, Ava the Elephant can be particularly beneficial. The friendly, talking elephant design can provide a comforting and distracting element, making the experience less intimidating for the child [4];
Remember, while Ava the Elephant can be a helpful tool, it's important to always follow the medicine dosage instructions provided by healthcare professionals and to supervise children during its use.
About the Founders Of Ava the Elephant
AVA The Elephant was not the brand name assigned to the invention Tiffany Krumins presented during her appearance on the inaugural episode of Shark Tank. Originally, it bore the name Emma the Elephant, but a modification followed once the agreement was reached [5].
Tiffany's original impetus for crafting AVA the Elephant was to aid a young ailing child she was assisting in ingesting his oral medication. Conventional medicine droppers caused considerable distress to him, prompting Tiffany to conceal one within an elephant-themed character, coupled with a recording of her voice delivering congratulations upon taking the medicine.
Endowed with a medical background, Tiffany possessed the insight that countless parents encountered analogous dilemmas when it came to administering medication to their children. She astutely recognized that it was not the medicine itself that struck fear into children's hearts, but rather the daunting process surrounding it. Armed with this awareness, Tiffany embarked on a mission to resolve this prevalent issue. She successfully crafted a rudimentary prototype of Emma the Elephant, using everyday supplies procured from the store, including sponges and fabric.
Yet, despite her commendable efforts, Tiffany grappled with the challenges that often beset nascent entrepreneurs, such as the quandary of when to initiate the patenting process or how to secure a foothold within the labyrinthine world of retailers. With no prior experience in product development, these hurdles presented formidable obstacles to overcome.
The strategy yielded positive results! One fateful day, as she perused Craigslist, Tiffany chanced upon an advertisement seeking groundbreaking products for an upcoming reality television program. Unbeknownst to her, this very ad heralded the commencement of Shark Tank's inaugural episode.  Without hesitation, she responded, and the remainder, as they say, is now part of the annals of history.
The Pitch Of Ava the Elephant At Shark Tank
When Tiffany stepped into the Shark Tank, she had a clear ask: $ 50,000 in exchange for a 15% stake in her venture, Ava The Elephant [6]. Tiffany eloquently recounted the genesis of her idea and demonstrated the practical usage of Ava The Elephant. To bolster her case, she distributed prototypes to the Sharks.
However, Kevin O'Leary swiftly voiced his apprehension. He expressed concerns about children eventually realizing that Ava The Elephant delivered unpleasant-tasting medicine, which might render the product ineffective. Tiffany ardently defended her concept by asserting that children's fear stemmed from the overall medication process, not the taste.
She explained that Ava The Elephant's congratulatory message, coupled with its charming character, brought smiles to children's faces even after taking the medicine. Tiffany also acknowledged her lack of a patent, clarifying that she sought the investment primarily to secure one, alongside developing a functional prototype. She emphasized that there were no similar patented products.
Kevin O'Leary articulated a common skepticism in the Tank – Tiffany seemed to have an idea, not a fully-fledged business, making a return on investment uncertain. Consequently, he decided to bow out. Daymond and Kevin Harrington concurred, believing it was too early for them to invest, and they followed suit.
Robert then stepped in with a unique perspective. He suggested Tiffany explore a licensing deal with a major company, asserting that she might not require an investment. Although Tiffany hesitated at first, Robert ultimately withdrew his offer.
Barbara, the last Shark standing, expressed her genuine admiration for the concept but expressed doubts about recouping her investment at a 15% stake. She counteroffered Tiffany $ 50,000 for a more substantial 55% ownership, effectively taking control of the business. Tiffany attempted to negotiate, but Barbara stood firm, citing her lack of prowess in "playing hardball".
Tiffany shifted her focus, highlighting the value Barbara would bring beyond the financial aspect – mentorship and valuable connections, something that many entrepreneurs in Season 1 were unaware of. Eventually, Tiffany accepted Barbara's offer, recognizing the potential for growth and success with her new partner, who promised to deliver on their shared vision of making significant profits.
Ava the Elephant After The Shark Tank
Despite Barbara's initial $ 50,000 investment in Ava The Elephant on Shark Tank, her total investment in the venture eventually reached $ 285,000 [7]. She revealed that bringing the product to market turned out to be a considerably more expensive endeavor than anticipated. One major obstacle that Tiffany confronted was a pharmaceutical recall that rendered the Ava The Elephant dropper useless. However, with unwavering determination, Tiffany successfully navigated this setback by redesigning her product and relocating production back to the United States.
With the combined forces of her Shark Tank exposure and Barbara's support, Tiffany managed to transform her concept into a thriving business. Ava The Elephant now boasts versions suitable for both home and hospital use. Tiffany takes pride in the fact that all of this achievement has been realized within the United States, contributing to the creation of numerous jobs. Her journey underscores the significance of pursuing one's passion in the pursuit of entrepreneurial success.
Tiffany's ascent from nanny to inventor to entrepreneur was propelled by her remarkable creativity, astute business acumen, and unwavering commitment to meaningful causes that resonated deeply with her compassionate nature.
As a respected inventor, iHeartRadio host, motivational speaker, accomplished entrepreneur, and devoted mother of three, Tiffany now leads all her endeavors with a daily mantra: that achieving business success and personal fulfillment are not mutually exclusive goals. Her inspiring journey serves as a testament to the power of passion and determination in turning dreams into reality.
The talks of a potential acquisition first surfaced in March of 2021. Tiffany entered into a temporary management agreement with Better Family, Inc., during this period to facilitate discussions about the acquisition's terms.
Tiffany expressed her perspective, stating, "I was well aware that if I were to entertain the notion of selling my company, it would have to be to a brand that truly shared my mission of serving and championing the special needs community". She went on to explain that in the early conversations with Better Family, Inc., it became evident that they were deeply committed to her mission. They discussed the idea of featuring Jacob Clemons, who has Down syndrome, on Ava The Elephant's new packaging, as a symbol of their dedication to inclusivity.
Despite external advice cautioning against this marketing approach, Tiffany and Better Family, Inc. were united by a common goal: to promote more inclusive marketing that celebrated the community they had consistently served with this product.
Carman Cook-Campbell, CEO of Better Family, Inc., shared her perspective on the matter, saying, "We immediately felt a strong connection to the Ava product and to Tiffany herself". She emphasized that Better Family, Inc. and its family of brands were driven by a shared mission to introduce innovative, patented products that make parenting easier worldwide. The inclusion of Jacob on Ava The Elephant's new packaging symbolized their commitment to this mission.
Carman also highlighted Better Family's robust supply chain and established retail relationships, positioning the acquisition as the optimal opportunity for Ava's ongoing success. With Better Family's existing products already stocked in major retailers and further collaborations on the horizon, it was evident to them that Ava and Tiffany had found their rightful home within Better Family.
The update of 2023 – Ava the Elephant was discontinued by its creator, Tiffany Krumins. After seven years in business, Tiffany made the decision to license Ava the Elephant to Baby Delight, a baby goods company.
The Net Worth Of Ava the Elephant
Tiffany's enduring dedication to aiding young children, even while battling her own medical challenges, only intensified her commitment to Ava The Elephant. Today, the product can be found in thousands of stores across the country, and the company continues to experience robust growth.
Following its appearance on Shark Tank, the dynamic partnership between Barbara and Tiffany propelled Ava The Elephant into a beloved and prosperous product, serving as a source of inspiration for countless Mompreneurs. The product's availability expanded to an impressive network of over 10,000 retailers, including household names like CVS, Walgreens, Walmart, and Amazon.
This widespread reach translated into the sale of over 100,000 units, amounting to an impressive $ 1 million in sales. This was a remarkable feat, especially considering that Ava The Elephant began with a modest valuation of around $ 90,909.
Not content with just domestic success, Ava The Elephant branched out to international markets, reaching consumers in countries such as Canada, Mexico, Asia, and London. In 2013, a new addition to the Ava product line emerged in the form of the second edition of Ava The Elephant thermometer sticker, a handy tool for monitoring a child's temperature.
As the years rolled by, Tiffany made the strategic decision to license her brand to Baby Delight, a well-known baby products brand. However, this licensing agreement came to an end in 2019.
Fast forward to March 2021, and Ava The Elephant inked an agreement with Beebo, a company specializing in patented baby products. As part of its product lineup expansion, Ava The Elephant also introduced a 10 ml long syringe, further catering to the needs of its ever-growing customer base.
It's worth noting that when Ava The Elephant initially appeared on Shark Tank, its valuation stood at approximately $ 91,000. The journey since then has been marked by tremendous growth and success, firmly establishing Ava The Elephant as a leading player in the baby products market.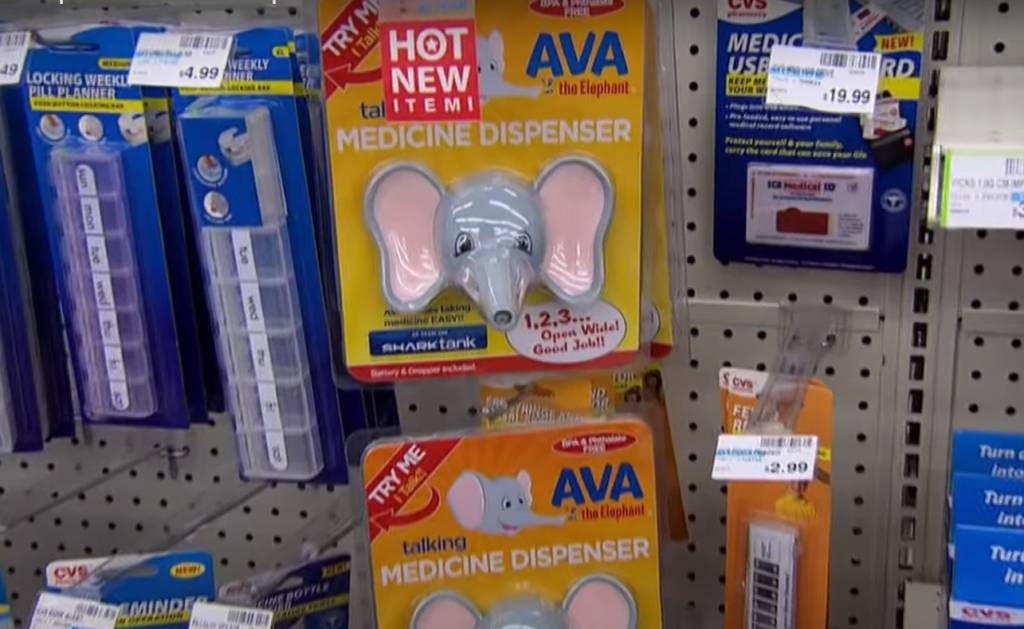 Alternatives To Ava the Elephant:
Munchkin Medicator: This is a medicine dispenser that looks like a pacifier, allowing parents to administer liquid medicine through a familiar and soothing method;
MediFrida the Accu-Dose Pacifier: This pacifier-style medicine dispenser comes with a dosing tool, making it easier for parents to measure and administer the correct amount of medicine to their child;
Safety 1st MediDispenser: This is a simple, easy-to-use medicine dispenser that resembles a syringe and helps parents accurately measure and give medicine to their child;
Buzzy: While not specifically for medication, Buzzy is a device that helps alleviate pain from injections and needle procedures by using vibration and cold packs;
Pediatrician-recommended devices: Some pediatricians recommend using standard syringes or droppers to administer medicine. They may provide guidance on how to make the process less intimidating for children;
Fun-themed medicine cups: Some companies offer medicine cups with fun designs and markings to help parents measure and administer medicine more easily;
DIY creative solutions: Some parents get creative by using regular medicine syringes or droppers and decorating them to make them more appealing to children;
---
FAQ:
What does Ava the Elephant do?
Ava the Elephant is a talking medicine dispenser designed to make administering medicine to children easier and less stressful. This innovative product was created to help ensure that the entire dosage is given on the first try, reducing the often challenging task of giving medicine to children.
What was the elephant deal on Shark Tank?
On the inaugural episode of ABC's Shark Tank, Tiffany Krumins pitched Ava the Elephant and was awarded $ 50,0001. After the show, Barbara Corcoran, one of the "sharks" on the panel, ended up investing a lot more than the initial $ 50,000 she offered on the show.
Who is Ava the Elephant?
Ava the Elephant is a product invented by Tiffany Krumins. The inspiration behind this talking medicine dispenser came from her experience as a nanny to a little boy with Down syndrome. It was created to make the process of administering medicine less daunting for children.
What is the biggest Shark Tank success story?
Ava the Elephant is considered one of the biggest Shark Tank success stories. It was one of the first successful products from the show and is now sold in over 10,000 retail outlets, including major drugstore chains.
Which Shark Tank business failed?
Several Shark Tank businesses have failed. One notable example is Toygaroo, a toy rental company that grew too quickly and eventually filed for bankruptcy due to high costs and low stock.
Another example is The Body Jac, a fitness product that failed to gain traction in the market.
Sweet Ballz, a cake ball company, also faced challenges despite initially winning over all five Shark Tank investors.
These are just a few examples of Shark Tank businesses that experienced failure. It's important to note that business success and failure can be subjective, and the specific details and outcomes of each business can vary.
What was the worst Shark Tank investment:
Mark Cuban has mentioned that one of his worst Shark Tank investments was a company where "all of the money's gone", but the specific details are not provided in the search results;
Kevin O'Leary has mentioned that he lost half a million dollars on his worst Shark Tank investment, but the specific company or deal is not mentioned;
Some user lists that mention various companies as the worst Shark Tank investments, such as You Smell Soap, Three65 Underwear, CATEapp, ShowNo Towels, Qubits, The Body Jac, Night Runner 270, and Breathometer;
Are Shark Tank deals real?
Yes, the deals made on Shark Tank are real. Entrepreneurs pitch their businesses to a panel of investors ("sharks"), who then decide whether or not to invest. However, it's important to note that while a deal might be agreed upon during the show, it doesn't guarantee that the deal will go through after the show. Sometimes, further due diligence can lead to a change in the terms of the deal or even its cancellation.
Useful Video: Barbara Corcoran's First Ever Shark Tank Deal
---
References:
https://www.sharktankblog.com/business/ava-the-elephant/
https://www.looper.com/1269135/whatever-happened-ava-elephant-after-shark-tank/
https://sharktanktales.com/ava-the-elephant-shark-tank-update/
https://bizzbucket.co/ava-the-elephant-shark-tank-update/
https://finance.yahoo.com/news/pilot-episode-shark-tank-invention-062500510.html
https://2paragraphs.com/2018/02/ava-the-elephant-gets-new-licensing-deal-7-years-after-shark-tank-2018/
https://www.realitytitbit.com/game-shows/shark-tanks-most-success-stories
https://gazettereview.com/2015/07/ava-the-elephant-update-see-what-happened-after-shark-tank/