In the dynamic world of start-ups, College Foxes Packing Boxes holds a unique place. This innovative company, which debuted on the first season of ABC's entrepreneurial reality show "Shark Tank", aimed to shake up the moving industry with its unique business model.
The founders, Nick Friedman and Omar Soliman, envisioned an all-female staff providing professional packing services for customers preparing for a move. Their eco-friendly approach and community-minded ethos, encouraging customers to donate unwanted items to local charities, further set them apart.
But what happened after their Shark Tank appearance? Did their innovative concept manage to transform the moving industry as they hoped, or did they face unforeseen challenges? This article dives into the journey of College Foxes Packing Boxes post-Shark Tank, exploring their successes, struggles, and the current status of this unique venture.
What Is College Foxes Packing Boxes?
The primary focus of the company revolves around catering to the college-aged female demographic, positioning itself as a prominent player in the moving industry. This initiative draws inspiration from the accomplishments of the College Hunks Hauling Junk & Moving Company, which laid the foundation for this endeavor.
Features
The primary service offered by College Foxes Packing Boxes is moving assistance. They specialize in packing, organizing, and unpacking items, which can be a lifesaver during a stressful move. Their workers are trained to handle everything from kitchenware to valuable antiques with care.
Moreover, the company also provides organizational services. If you're struggling with a cluttered home or office, College Foxes can help. They'll not only organize your space but also give you tips and tricks to keep it tidy in the future, which adds great value to their service.
Customer Experience
One of the key strengths of College Foxes Packing Boxes is their focus on customer service. From the moment you contact them, you're treated with respect and professionalism. Their website is easy to navigate, and getting a quote is straightforward and transparent.
The "foxes", as their employees are affectionately known, are highly praised by customers for their efficiency, friendliness, and professionalism [2]. They arrive on time, work diligently, and ensure that your belongings are treated with the utmost care. Moreover, they're always happy to go the extra mile to make the moving process as smooth as possible.
However, it's worth noting that there have been occasional complaints about pricing. Some customers have found their services to be more expensive than competitors. However, many argue that the exceptional service and peace of mind offered by College Foxes justify the higher prices.
Impact and Innovation
Innovation is at the heart of College Foxes Packing Boxes. By employing an all-female workforce, they're challenging gender norms in a traditionally male-dominated industry. This not only provides employment opportunities for college students but also gives customers a unique service experience.
Furthermore, the company is committed to sustainability. They encourage donations of unwanted items to local charities, reducing waste, and promoting a culture of giving back to the community.
Pros:
Exceptional Service: Customers have consistently praised the quality of service provided by College Foxes. The team is lauded for their professionalism, efficiency, and attention to detail during the moving process;
Innovation and Diversity: The company's innovative approach to staffing is another strength. By employing an all-female workforce, they promote gender diversity in an industry traditionally dominated by men;
Community Impact: The company encourages customers to donate unwanted items to local charities, promoting a culture of giving back;
Cons:
Pricing: While the service is generally praised, the pricing has been a point of contention for some customers. Some have found their services to be more expensive compared to competitors;
Limited Business Scope: Unlike the already successful College Hunks franchise, College Foxes Packing Boxes only offers packing and organizing services and does not include hauling or junk removal;
Who May Benefit From Using College Foxes Packing Boxes:
Individuals with Busy Schedules: People with demanding jobs or those who cannot dedicate time to packing and organizing may greatly benefit from the company's services;
Elderly Customers: Senior citizens who may find it taxing to pack and move their belongings can take advantage of the company's professional and efficient service;
Students: College students moving in or out of dorm rooms or apartments might also find the services of College Foxes Packing Boxes useful;
People Looking for Gender Diversity: As an all-female workforce, College Foxes offers a fresh perspective in the moving industry traditionally dominated by men;
Socially Conscious Customers: The company's socially conscious initiatives like encouraging customers to donate unwanted items to local charities5 may appeal to customers who value corporate social responsibility [3];
About Founders Of College Foxes Packing Boxes
College Foxes Packing Boxes emerged as an innovative alternative to the conventional and mundane individuals who typically handle the task of packing boxes within one's residence.
The genesis of their entrepreneurial journey can be traced back to Omar's remarkable stroke of luck when he clinched a $ 10,000 sweepstakes prize. This financial boost served as the catalyst for Nick and Omar's inaugural business venture. Demonstrating their exceptional business acumen, they not only expanded College Hunks Hauling Junk significantly but also ventured into franchising the company in just a little over two years.
Their remarkable achievements garnered them top-tier rankings in various esteemed publications, further amplifying their visibility and bolstering sales.
Driven by their unwavering ambition, Nick and Omar sought to propel their latest business idea to greater heights, leading them to apply for participation in the inaugural season of Shark Tank, where they were granted the opportunity to showcase their vision and seek investment to fuel their expansion.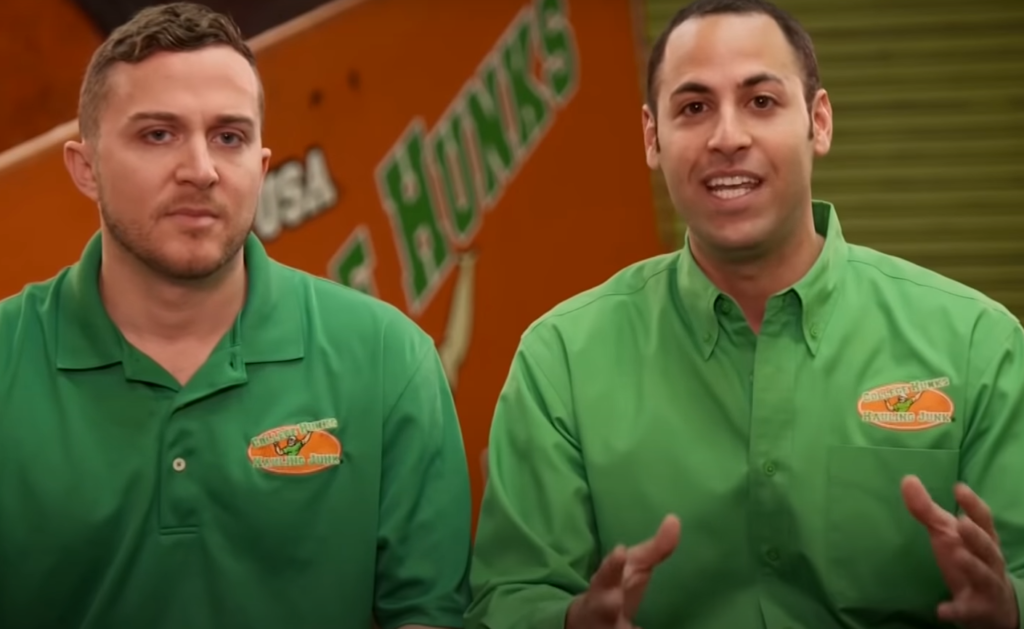 The Pitch Of College Foxes Packing Boxes At Shark Tank
Omar and Nick bravely entered the Shark Tank, plunging right into their pitch by posing a provocative question: "Who would you prefer to handle your packing – an unprofessional, unlicensed mover or a meticulously trained 'college fox"?" They then laid their cards on the table, seeking a $ 250,000 investment in exchange for a 25% stake in their venture [5].
The duo proceeded to provide a glimpse into their already prosperous venture, College Hunks Hauling Junk, emphasizing that the Sharks would essentially be investing in their collective entrepreneurial prowess. However, Daymond and Robert immediately raised concerns about their reluctance to offer equity in their successful enterprise.
Kevin O'Leary chimed in, expressing skepticism about investing in a new business without a share in the existing one, given the inherent risks.
In an attempt to justify their request, Omar and Nick mentioned their intention to bring in a CFO for the new business, which only exacerbated the Sharks' apprehensions, as it implied they would be dividing their focus.
Kevin O'Leary pressed for financial details of their flourishing business, and Nick revealed that they had generated $ 500,000 in revenue the previous year, boasting a 20 % profit margin. Impressed, Kevin made an audacious offer of $ 250,000 for a controlling 51 % stake in both businesses, eliciting a chuckle from Omar.
Robert suggested that Omar and Nick step out and reconsider their proposition for both ventures. After deliberation, Omar and Nick returned with a revised proposal of $ 1,000,000 for a 10% stake, a move that prompted laughter from the Sharks. Kevin O'Leary raised further objections, particularly concerning the valuation, accompanied by his customary witty jabs, but Omar and Nick remained resolute in their stance. Kevin O'Leary, clearly agitated, exited the deal.
Daymond, however, didn't challenge the valuation or the separation of the businesses but instead questioned the business model of College Foxes Packing Boxes, leading him to opt out. Kevin Harrington commended Omar and Nick for their success with College Hunks Hauling Junk but asserted that their valuation seemed to be based on future potential rather than present realities, prompting his exit.
In agreement with Kevin Harrington's perspective, Barbara also decided to bow out. Robert, who had been teetering on the edge, ultimately chose to make an offer of $ 250,000 for a 50% stake in College Foxes Packing Boxes and a 10% stake in College Hunks Hauling Junk, considering the 10% of the latter as a "collateral" safety net in case the former didn't thrive [6]. Although the other Sharks deemed Robert's offer generous, Omar and Nick, firm in their vision, declined it, opting to pursue their own path for the future of their businesses.
College Foxes Packing Boxes After The Shark Tank
After their appearance on Shark Tank, College Foxes Packing Boxes failed to gain the traction they had hoped for. Initially, they claimed to have put the business on hold, but it appears they ultimately decided to channel their full focus into their more established venture, College Hunks Hauling Junk.
In stark contrast, Omar and Nick's original business, College Hunks Hauling Junk, has enjoyed tremendous success. Since their appearance on the show, the franchise has expanded significantly, with the number of sites growing to a whopping sixty-eight.
Their pitch on Shark Tank has provided valuable lessons for aspiring entrepreneurs, highlighting several critical pitfalls to avoid when entering the Tank.
One key takeaway is that if an entrepreneur already runs a thriving business and seeks investment for a new venture, they are likely to face challenges securing a deal due to concerns about divided attention.
Another lesson is the importance of accurately valuing a business based on its current worth rather than relying on future projections, a point of contention that the Sharks never fully embraced during their pitch.
It's worth noting that the Sharks in the first season of the show appeared to be more demanding in terms of equity, possibly owing to the inherent risks and the desire for substantial control over the projects they invested in, given the absence of a track record for success stemming from the program.
However, the Sharks have evolved in subsequent seasons, often seeking lower equity percentages [7]. This shift can be attributed to various factors, including the presence of savvier entrepreneurs, more established businesses participating in the show, the addition of Mark and Lori to the panel, and a better understanding of the potential impact of the "Shark Tank effect" within certain industries.
The Net Worth Of College Foxes Packing Boxes/ College Hunks Hauling Junk
As for College Hunks, the company operates on a revenue model that encompasses franchise fees, junk removal charges, and relocation fees as its primary sources of income.
For aspiring franchisees looking to join the College Hunks family, the initial franchise cost falls within the range of $ 40,000 to $ 60,000.
However, the total investment required to kickstart a College Hunks business spans from $ 95,700 to $ 231,200 [8]. This comprehensive investment covers various aspects, including additional licenses and permits, training, rent or leases, security deposits, equipment and tools procurement, and insurance.
The pricing for junk removal services is contingent upon the volume of junk that needs removal and the specific vehicle required for the task. Customers can expect junk removal costs to fluctuate, typically ranging from $ 100 to $ 600 based on these variables.
Moving services provided by College Hunks come with varying price tags, influenced by geographical location and the nature of the services rendered. This includes the cost of the moving vehicle and an hourly fee for the labor involved.
The remarkable journey of Nick Friedman and Omar Soliman saw them bootstrap their junk collection enterprise from a humble cargo van to a thriving $ 3 million operation in a mere three years, setting the stage for their appearance on Shark Tank.
Today, College Hunks boasts a workforce of over 2000 employees and boasts an impressive annual revenue exceeding $ 100 million [9]. Some of their franchisees have even achieved remarkable milestones, with select locations raking in revenues surpassing the $ 2 million mark.
Alternatives To College Foxes Packing Boxes:
Two Men and a Truck: This is one of the largest franchised moving companies in the United States;
College Hunks Hauling Junk & Moving: The counterpart to College Foxes, this company offers comprehensive moving and junk removal services;
U-Haul: Known for its rental trucks, U-Haul also offers packing and moving services;
PODS: They offer portable storage containers for self-packing, along with optional packing and loading help;
Remember to compare prices, read reviews, and check availability in your area when choosing a moving service.
---
FAQ:
Where do College Foxes Packing Boxes operate?
The company was initially based in New Jersey, but it's not clear whether they have expanded their services to other locations.
How do I book a service with College Foxes Packing Boxes?
You can contact them directly through their website or by phone to book a service.
What makes College Foxes Packing Boxes unique?
College Foxes Packing Boxes stands out due to its all-female workforce, which is a rarity in the moving industry. They also focus on eco-friendly practices and encourage customers to donate unwanted items to local charities.
How much do College Foxes Packing Boxes' services cost?
The cost of their services varies depending on factors such as the size of the move and the distance. For an accurate quote, it's best to contact them directly [10].
Can College Foxes Packing Boxes help with moving as well as packing?
The company primarily focuses on packing services. However, they may be able to assist with some aspects of moving. Please contact them directly for more information.
What is the most famous thing from Shark Tank?
The Scrub Daddy is arguably the most famous product from Shark Tank. The versatile cleaning tool can adjust its firmness based on the temperature of the water. Since its appearance on the show, it has reportedly sold over 10 million units and generated over $ 50 million in sales. 
What is the most unsuccessful Shark Tank product?
One of the most unsuccessful product pitches was for a company called "Wake 'N Bacon". This was a wooden alarm clock that woke you up with the smell of cooking bacon. However, the Sharks were concerned about the fire hazard a product like this could pose, and the product did not get any offers.
What Shark Tank companies have failed?
Several Shark Tank companies have failed after their appearance on the show. For example, Toygaroo, a toy rental service, went bankrupt only two years after receiving an investment from Mark Cuban and Kevin O'Leary. Another example is Sweet Ballz, a cake ball company, which ended up in a legal dispute and eventually went out of business.
Who is the least successful shark?
It's difficult to determine the "least successful" Shark as success can be measured in various ways. However, in terms of deals made on the show, Daymond John has made the fewest investments compared to the other Sharks.
Which "shark" has made the least deals?
Daymond John has made the fewest deals among the Sharks. According to reports, he has made around 61 deals across the first six seasons, fewer than any other Shark during that period.
Are all the Shark Tank's judges billionaires?
Not all the judges on Shark Tank are billionaires. As of 2023, Mark Cuban is the only confirmed billionaire on the panel. The net worth of the other Sharks – Lori Greiner, Kevin O'Leary, Daymond John, and Robert Herjavec – are all reportedly in the hundreds of millions.
Useful Video: Two Friends Threw Away Corporate Gigs To Throw Away Junk
---
References:
https://sharktanktales.com/college-foxes-packing-boxes-shark-tank-update/
https://seoaves.com/college-foxes-packing-boxes-shark-tank-update/
https://www.sharktankblog.com/business/college-foxes-packing-boxes/
https://bizzbucket.co/college-foxes-packaging-boxes-shark-tank-update/?expand_article=1
https://www.collegehunkshaulingjunk.com/franchising/blog/2014/september/5-years-after-shark-tank-college-hunks-hauling-j/
https://gazettereview.com/2015/11/college-foxes-packing-boxes-update-see-happened-shark-tank/
https://allsharktankproducts.com/service/college-foxes-packing-boxes/
https://sharktankrecap.com/college-foxes-packing-boxes-update-shark-tank-season-1/
https://sharktankinfo.com/college-foxes-packing-boxes/
https://biznewske.com/college-foxes-packing-boxes-shark-tank-net-worth/