Founded by Marti Wymer, Spoonful of Comfort started with the heartfelt idea of delivering homemade soup to those in need of comfort and care. Despite failing to secure a deal on Shark Tank, the company has since blossomed into a successful venture, delivering gourmet comfort food nationwide. In this article, we'll explore how Spoonful of Comfort overcame its initial setback on the show, its growth trajectory, the secret behind its success, and what the future holds for this inspiring business.
What Is Spoonful of Comfort?
Features:
Gluten-Free Options: Spoonful of Comfort caters to a variety of dietary preferences by offering gluten-free soups and gluten-free vegan cookies. This inclusivity ensures that individuals with dietary restrictions can also enjoy their comforting packages;
Chilled Soup Delivery: The soup included in Spoonful of Comfort's packages arrives cold to maintain its freshness. Upon receipt, it's recommended to refrigerate the soup promptly. The soups are best enjoyed within 3-5 days to ensure optimal taste and quality;
Diverse Soup Selection: Spoonful of Comfort boasts an impressive array of six great soup varieties. From classic Chicken soup to Clam, Tomato Basil, Harvest Vegetable, and more, there's a flavor to suit every palate and occasion;
Cookie Variety: Their care packages don't just stop at soup; they also offer a delightful assortment of cookies. With seven different cookie types to choose from, including options like Chocolate Chip (with a vegan alternative), Snickerdoodle, Sugar, Triple Chocolate, and Gingerbread Cookies, you can tailor your gift to satisfy any sweet tooth;
Personal Touch
Spoonful of Comfort's website offers a seamless and user-friendly experience for customizing care packages that can be shipped anywhere within the United States.
Your personalized gift package comprises:
64 Ounces of Freshly Made Soup: Choose from comforting options like chicken soup or tomato basil, totaling half a gallon in volume, ensuring plenty of nourishing goodness;
Ladle: The package includes a perfectly sized ladle for convenient serving;
Bacci Rolls: Enjoy half a dozen freshly baked Bacci rolls, adding a delightful accompaniment to the soup;
Freshly Baked Cookies: Savor half a dozen delectable freshly baked cookies, providing a sweet touch to the package;
Handwritten Note: Express your sentiments with a handwritten note, where you can use your own words to convey your thoughts and well-wishes;
The total cost to order a Spoonful of Comfort package is $ 69.99, with standard shipping priced at $ 14.99, resulting in a combined total of $ 84.98 [2]. This pricing structure ensures that you can send a thoughtful and comforting care package to your loved ones without breaking the bank.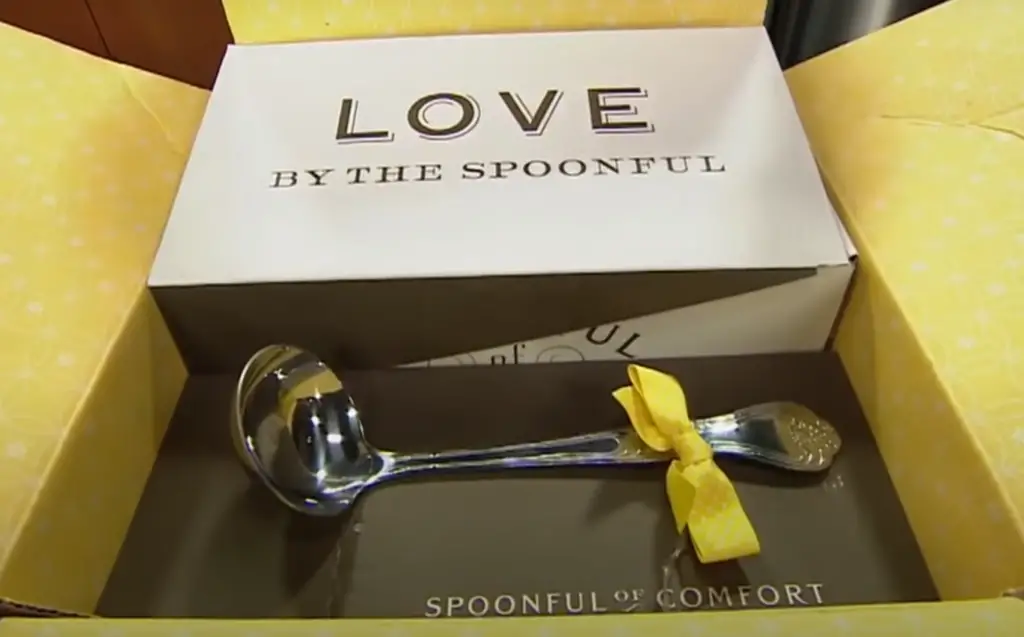 Pros:
Quality and Taste
Based on multiple reviews, Spoonful of Comfort's offerings are nothing short of delicious. From their gourmet soups to their soft, semi-sweet rolls and cookies, everything is made using all-natural products and flavorings. The chicken noodle soup has been hailed as one of the best some customers have ever tasted. Their food not only tastes homemade but also feels like it, creating a comforting and satisfying culinary experience.
Unique and Thoughtful Gift
Spoonful of Comfort offers a unique, thoughtful, and practical gift option. If you're looking to send someone a gift that's different from the usual flowers or chocolates, a basket of gourmet soup, rolls, and cookies might just be the perfect idea. It's a tangible and tasty way of showing someone you care.
Excellent Customer Service
The company has been praised for its outstanding customer service. They seem to understand the importance of maintaining good relationships with their customers, which is always a plus for any business.
Packaging and Delivery
Delivery and packaging are other areas where Spoonful of Comfort shines. The boxes are not only cute but also sturdy, ensuring that everything stays together during shipping.
Cons:
Sour Taste
One review mentioned that the soup had a somewhat sour taste. Taste is subjective, of course, so what one person finds sour, another might find flavorful and tangy. Nonetheless, it's something to keep in mind.
Price
Quality and convenience often come at a price, and Spoonful of Comfort is no exception. Some might find their products a bit on the pricey side. However, considering the high-quality ingredients used and the convenience it offers, many would argue it's worth every penny.
Mixed Reviews
While most reviews for Spoonful of Comfort are positive, there are some mixed opinions out there. This is not unusual for any company, but it's worth noting [3].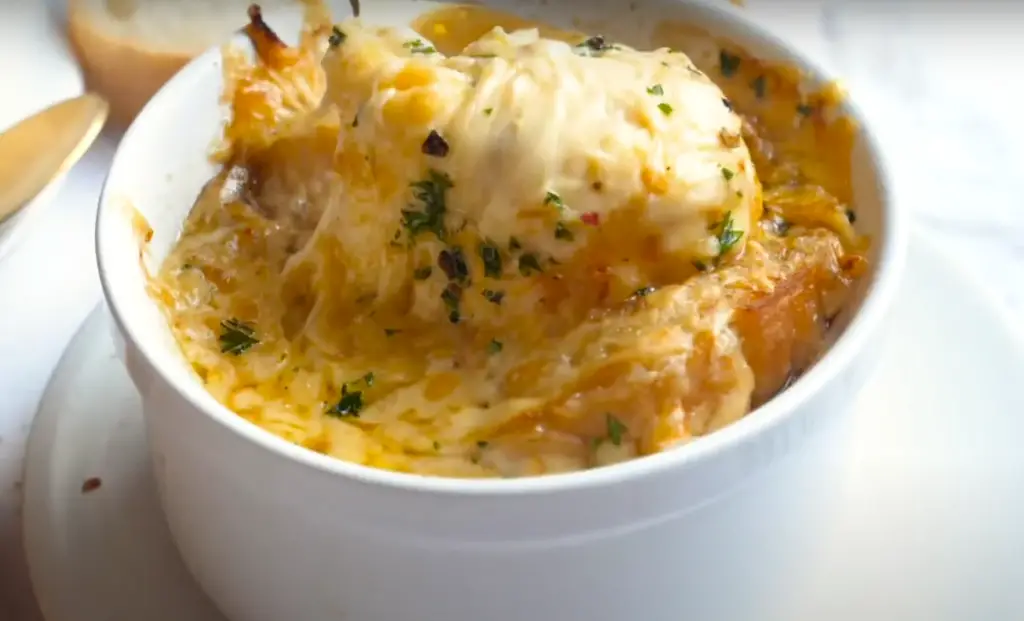 About Founders Of Spoonful of Comfort
When in search of an exceptional, compassionate, and distinctive culinary gift, Spoonful of Comfort emerges as a top-notch choice.
This notion propelled them to conceive a brilliant idea – the introduction of an extensive Chicken Soup Jar, complemented by half a dozen delectable cookies, an assortment of half a dozen rolls, a handy serving ladle, and a heartfelt handwritten note, all meticulously arranged within the package. The aim? To provide our cherished ones with nourishment precisely when they need it most, promoting their well-being during times of necessity.
The genesis of Wymer's inspiration dates back to 2007, a year marked by poignant circumstances. It was during this time that she received the devastating news of her mother's cancer diagnosis. Separated by geographic distance, with her mother in Canada and herself residing in Florida, along with the responsibilities of caring for her young children, Wymer faced the challenge of being unable to visit her mother as frequently as she wished.
Filled with a profound desire to provide solace and comfort to her ailing mother, Wymer decided to take matters into her own hands. She resolved to send her mother a heartfelt gesture: a batch of homemade chicken soup. The gesture resonated deeply with her mother, bringing a sense of warmth and comfort during her trying times. However, fate dealt a cruel hand, and her mother passed away just six weeks later.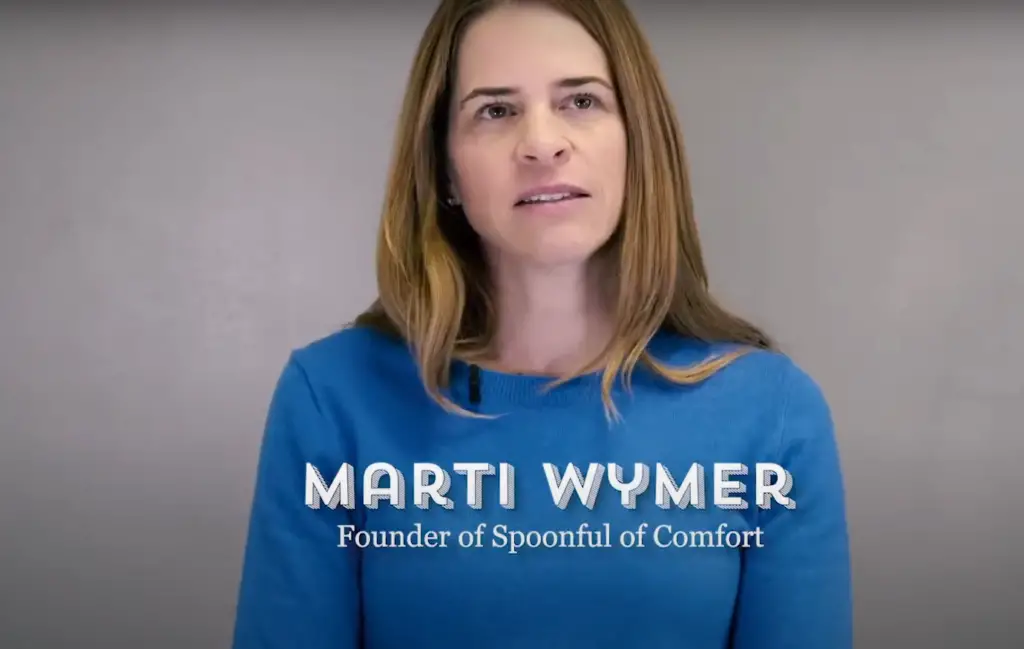 In the wake of this profound loss, Wymer embarked on a heartfelt mission. She founded Spoonful of Comfort as a touching tribute to her late mother, aiming to make it easier for individuals in similar situations to send gourmet gift baskets to their loved ones who find themselves far from home, offering them a taste of solace and connection.
The heart of Spoonful of Comfort's care packages is its signature 64-ounce chicken soup, complemented by additional delectable offerings such as tomato basil and leek potato soup [5]. These packages also include an assortment of rolls, mouthwatering cookies, and a beautifully crafted handwritten note, serving as a tangible expression of care and compassion.
Wymer stands firmly behind her commitment, assuring customers with a heartfelt guarantee: "It is my promise to make and deliver a Spoonful of Comfort with as much care as if I were sending it to my own mother". In 2016, Marti Wymer, along with Scott Gustafson, brought their vision of Spoonful of Comfort to life, establishing their comfort food delivery service to share the gift of solace and nourishment with others in need.
The Pitch Of Spoonful of Comfort At Shark Tank
Spoonful of Comfort's founders, Marty Wymer and Scott Gustavson entered the Shark Tank stage with high hopes and a heartfelt mission. They were seeking $ 400,000 in growth capital in exchange for a 10% stake in their business [6].
Their presentation began by painting a relatable picture for the Sharks: the challenge of comforting a sick or distant loved one in today's fast-paced world. Marty explained that the traditional options of sending flowers or candy often fell short of providing genuine solace. Scott interjected with emotion in his voice, emphasizing the limitations of these conventional choices.
Marty then introduced Spoonful of Comfort as the solution to this dilemma. She passionately expressed that nothing could compare to the warmth and comfort of homemade chicken soup. Scott, with an increasingly emotional voice, acknowledged the difficulty of expeditiously sending soup across the country. Marty detailed how their business allowed customers to select a care package from their website and have it shipped to their loved ones in need. 
These care packages included a generous serving of handmade soup, along with half a dozen rolls and cookies, all painstakingly prepared. Scott highlighted that this thoughtful gesture not only provided comfort but was also cost-effective, often surpassing the sentimentality of traditional flower bouquets. He concluded by inviting the Sharks to experience a taste of their burgeoning gourmet soup venture.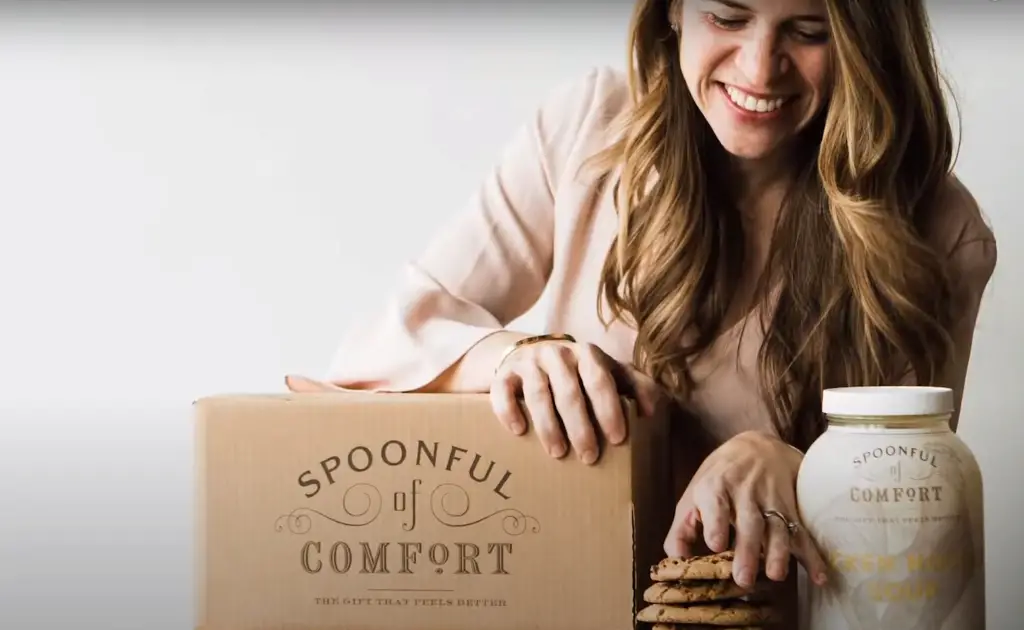 The Sharks, visibly intrigued, eagerly requested samples. However, when the conversation shifted to margins, Robert inquired about the cost structure. Marty explained that each care package was priced at $ 69.99, excluding shipping, which incurred an additional fee of $ 14.99. This revelation left the Sharks visibly concerned, with Kevin humorously remarking on the choice between sending soup and financing his kids' college education.
Robert expressed interest in delving deeper into the business. Marty shared the heartfelt origin of Spoonful of Comfort, inspired by her mother's battle with breast cancer, which had kept her separated from her family. This experience motivated her to create a more meaningful way to offer comfort during challenging times. When Barbara questioned Scott's involvement, he revealed having invested $ 1.3 million over time to keep the business afloat.
The discussion turned to the early days when Spoonful of Comfort operated on a Groupon-like platform. While the product had gained popularity, they were hemorrhaging money due to high customer acquisition costs and production expenses exceeding the selling price. Kevin probed about customer retention, and Scott acknowledged the issue.
Barbara expressed her admiration for the concept but sought greater immediacy. The revelation that overnight shipping added an extra $ 39 to the package price shocked the Sharks, casting doubt on the business's sustainability despite generating $ 1 million in its first year.
Barbara and Mark both went out, citing the business's complexity and lackluster marketing efforts. Daymond was reluctant but ultimately went out due to concerns about the market's size and scalability. Lori praised the taste and convenience of Spoonful of Comfort but deemed it unlikely to reach the scale required for her investment.
Robert, a self-proclaimed soup enthusiast, acknowledged their passion but questioned why the business had not resolved its issues after 5 years. Mr. Wonderful, Kevin, initially teased the possibility of hope with six Sharks present but ultimately expressed his inability to help due to the crippling customer acquisition costs.
The entrepreneurs graciously thanked the Sharks and left the stage. Despite not securing a deal with the Sharks, Marty Wymer and Scott Gustavson remained determined to carry on with Spoonful of Comfort [7], a venture inspired by a heartfelt desire to provide comfort during challenging times.
Spoonful of Comfort After The Shark Tank
While Spoonful of Comfort initially made its mark with its comforting soups and thoughtful get-well gifts, the company's repertoire has since broadened significantly. They now offer an extensive array of gift packages tailored for various occasions, including bereavement, birthdays, weddings, anniversaries, college life, and any other celebration or compassionate circumstance you can fathom.
Moreover, all these packages can be tailored to individual preferences through the incorporation of add-ons like cozy blankets, packaged snacks, self-care items, jewelry, and meditation guides, spanning a price spectrum ranging from $ 4 to $ 75 [8].
As of the year 2022, the company's estimated valuation stands at approximately $ 68 million. Spoonful of Comfort garnered recognition as part of Oprah Daily's prestigious 2023 Back to School list and continues to maintain an impressive 4.8-star rating based on more than 38,000 reviews [9]. This company aptly demonstrates that obtaining the backing of a major investor is not always a prerequisite for attaining success.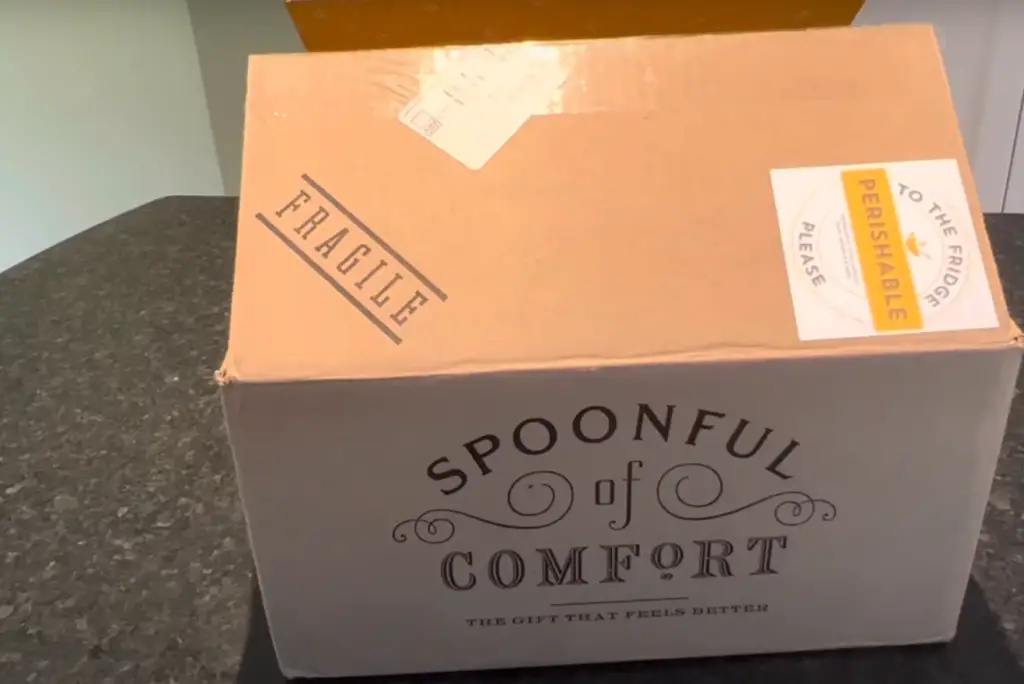 While Spoonful of Comfort has not unveiled any official forthcoming plans at present, it is evident that the company harbors ambitions for sustained growth. Year after year, they introduce novel products and fresh care packages, solidifying their relevance in every facet of life, be it the good, the challenging, or the moments in between.
Furthermore, in the current year, Spoonful of Comfort has embarked on a collaboration with Helmsie to craft an assortment of journals, puzzles, tea towels, and mugs. This collaboration suggests the possibility of future partnerships with other brands for the creation of innovative collections.
The Net Worth Of Spoonful of Comfort
Although Spoonful of Comfort failed to secure a deal on "Shark Tank", their journey was far from its conclusion. Subsequent to Marti Wymer's pitch, an influx of individuals extended their hand in providing solace and backing. Spoonful of Comfort transitioned from receiving only a handful of orders each day to an impressive tally of over 200 daily requests [10].
During a discussion with the Shark Tank Podcast, Wymer and her companion elucidated how they managed to diminish their customer acquisition expenses. Wymer underscored that their distinctive structure, encompassing both a bestower and a recipient, effectively amplifies their potential for customer conversion, a fact substantiated by the company's remarkable growth, clocking in at approximately 40% year-on-year.
Undoubtedly, the shifting eating habits during America's pandemic era significantly contributed to the surge in soup sales, yet the company has also diversified its offerings beyond the confines of mere "get well soon" packages.
Alternatives To Spoonful of Comfort:
Harry & David: Harry & David offer a wide range of gourmet gift baskets, including fruit baskets, gourmet food, and wine, which can be great for different occasions;
Edible Arrangements: Edible Arrangements specializes in fruit arrangements and chocolate-dipped fruit, making it a sweet and healthy gift choice;
Amazon Gift Baskets: Amazon offers a vast selection of gift baskets for every occasion, from gourmet food baskets to spa gift sets;
1-800-Flowers: Known for their flower arrangements, 1-800-Flowers also offers gift baskets with a variety of goodies, including chocolates, snacks, and more;
GiftTree: GiftTree provides a variety of gift baskets, from wine and champagne gift sets to gourmet food and spa baskets;
The Grommet: The Grommet features unique and innovative gift ideas, including personalized and curated gift sets;
Hickory Farms: Hickory Farms specializes in meat and cheese gift baskets, making them a great choice for savory snack lovers;
Bouqs: Bouqs focuses on fresh flower arrangements, and they have options for subscription services;
ProFlowers: ProFlowers offers a range of floral arrangements and gift sets, including chocolates, teddy bears, and more;
Local Specialty Stores: Consider supporting local businesses by checking out specialty shops in your area that offer custom gift baskets, artisanal products, or homemade goods;
Etsy: Etsy is a platform that allows you to find unique, handmade, and personalized gift options, including custom care packages;
DIY Care Packages: Sometimes, the most heartfelt gesture is to create a care package yourself. You can personalize it with your loved one's favorite items, homemade treats, and a handwritten note;
Meal Delivery Services: Explore meal kit delivery services like Blue Apron, HelloFresh, or Home Chef, which can be an excellent alternative for providing nourishing and comforting meals [11];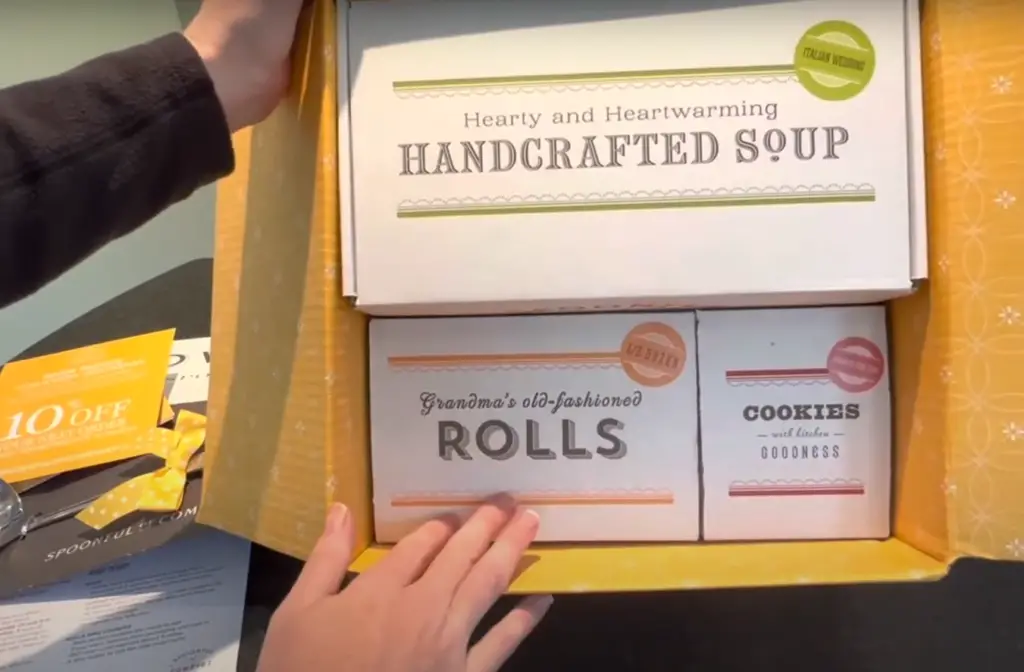 ---
FAQ:
Is Spoonful of Comfort successful?
Yes, Spoonful of Comfort has been successful. Despite not securing a deal on Shark Tank, the founders Marti Wymer and Scott Gustafson continued to push their business forward. Today, their service is well-received and appreciated by many customers across the country.
What is the story behind Spoonful of Comfort?
Spoonful of Comfort was founded by Marti Wymer as a way to send comfort food to her mother who was battling lung cancer1. It started with the idea of sending homemade soup, and the concept evolved into a full-fledged business offering gourmet soups, cookies, and rolls delivered right to your doorstep.
Where does Spoonful of Comfort ship from?
Spoonful of Comfort is based in Salt Lake City, Utah. They ship their products nationwide [12].
Can you freeze Spoonful of Comfort?
While there isn't specific information available regarding freezing Spoonful of Comfort's products, most soups can generally be frozen for future use. It would be best to contact their customer service for specific storage instructions.
How is Spoonful of Comfort packaged?
Spoonful of Comfort's packaging has been praised for its sturdiness and attractiveness1. Their products are carefully packed to ensure they arrive in perfect condition.
How many servings are in a Spoonful of Comfort?
The exact number of servings in a Spoonful of Comfort package can vary depending on the product. However, their soup jars typically serve 4-6 people [1].
How long is Spoonful of Comfort good for?
The shelf life of Spoonful of Comfort's products will depend on the specific item and how it is stored. It's recommended to consume their products within a few days of receiving them or to follow the best-by date on the packaging [14].
What is the #1 product in Shark Tank history?
The most successful product in Shark Tank history is the Scrub Daddy, a versatile cleaning sponge, which has generated over $ 200 million in sales since it was featured on the show.
What is the most unsuccessful Shark Tank product?
One of the most unsuccessful Shark Tank products would be the Ionic Ear, an implantable Bluetooth device that needed to be surgically installed into the user's ear. The Sharks unanimously decided not to invest in this product.
Does Shark Tank really pay?
Yes, Shark Tank does pay. Entrepreneurs who pitch on the show receive a $ 5,000 stipend for their appearance. However, the significant financial benefits come from securing an investment deal with one or more of the Sharks.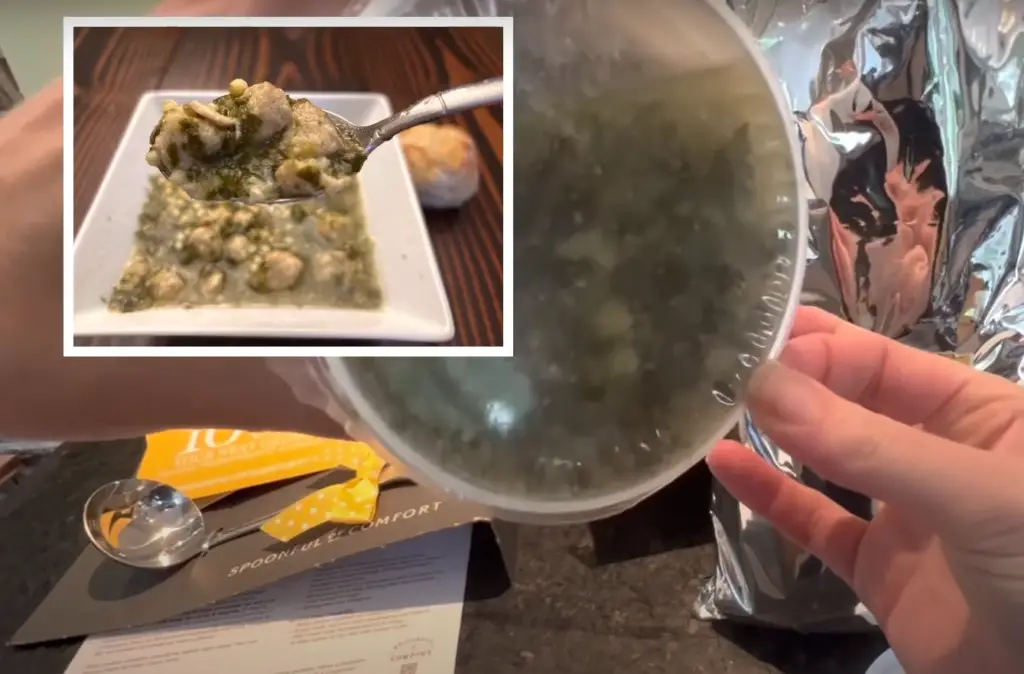 Who is the highest paid on Shark Tank?
Mark Cuban, with a net worth of $ 4.3 billion, is the richest of the Sharks [15].
Who is the poorest "shark"?
Compared to his fellow Sharks, Robert Herjavec is the least wealthy, with a net worth of $ 200 million.
What is the most successful business in Shark Tank history?
The most successful business from Shark Tank is Scrub Daddy, with over $ 200 million in sales since its appearance on the show.
Who is the least successful shark?
In terms of deals made on the show, Kevin O'Leary has the lowest success rate among the Sharks.
Has anyone ever gotten all 5 "sharks"?
Yes, several entrepreneurs have managed to secure deals with all five Sharks, including the creators of Groovebook, a photo book app, and Kodiak Cakes, a natural foods company.
Which shark invested the most?
Lori Greiner holds the record for the most money invested in a single deal. She invested $ 2 million for 20% equity in Scrub Daddy, which has since become the most successful product in Shark Tank history.
Useful Video: Check This Out: Spoonful of Comfort
---
References:
https://www.sharktankblog.com/business/spoonful-of-comfort
https://www.mashed.com/985987/what-happened-to-spoonful-of-comfort-after-shark-tank/
https://bizzbucket.co/spoonful-of-comfort-shark-tank-update/
https://www.thedailymeal.com/1174443/where-is-spoonful-of-comfort-from-shark-tank-today/
https://seoaves.com/what-happened-to-spoonful-of-comfort-after-shark-tank/
https://www.spoonfulofcomfort.com/blogs/corporate/3-things-we-learned-being-on-shark-tank
https://www.bstrategyinsights.com/spoonful-of-comfort-after-shark-tank/
https://sharktanktales.com/spoonful-of-comfort-shark-tank-update/
https://www.sharktanksuccess.com/spoonful-of-comfort/
https://kirktaylor.com/spoonful-of-comfort-shark-tank-pitch-and-after-show-update/
https://nypost.com/2016/10/08/this-company-actually-benefited-from-shark-tanks-harsh-bite/
https://gazettereview.com/2017/10/spoonful-comfort-update-happened-shark-tank/
https://allsharktankproducts.com/shark-tank-products-food-and-drink/spoonful-comfort-soup-delivery/
https://celebrity.fm/is-spoonful-of-comfort-still-in-business/
https://www.bustle.com/articles/185418-how-to-send-spoonful-of-comfort-from-shark-tank-because-nothing-says-you-care-like-food