StretchLace, the ingenious no-tie shoelace solution, made a memorable appearance on the popular TV show Shark Tank. Designed to convert any shoe into a slip-on, StretchLace not only adds convenience but also a unique style statement to your footwear. This article delves deep into the journey of StretchLace after its Shark Tank exposure.
We'll explore how the company capitalized on the platform, the challenges it faced, its growth trajectory, and the current status of the business. Join us as we unfold the story of StretchLace, a simple idea that aims to revolutionize how we lace up our shoes.
What Is StretchLace?
Introducing The Original StretchLace, a revolutionary solution for effortlessly securing your shoes without the need for constant retying.
These elastic laces offer a transformative experience, converting any lace-up shoe into a convenient slip-on [1]. 
After a single tie, users can effortlessly slide their shoes on and off without the hassle of untying them.
The Original StretchLace is readily available for purchase through popular platforms such as Amazon, Walmart, and the company's official website, all priced at a wallet-friendly $ 10.99. Customers can select from a diverse array of colors and opt for either round or flat laces to suit their preferences.
Functionality and Ease of Use
One of the most significant selling points of StretchLace is its functionality. The elastic shoelaces are designed to turn any lace-up shoes into slip-ons effortlessly, making them perfect for people of all ages and lifestyles. Whether you're a busy parent with toddlers, a senior citizen with mobility issues, or an active individual constantly on the go, these laces offer convenience and ease.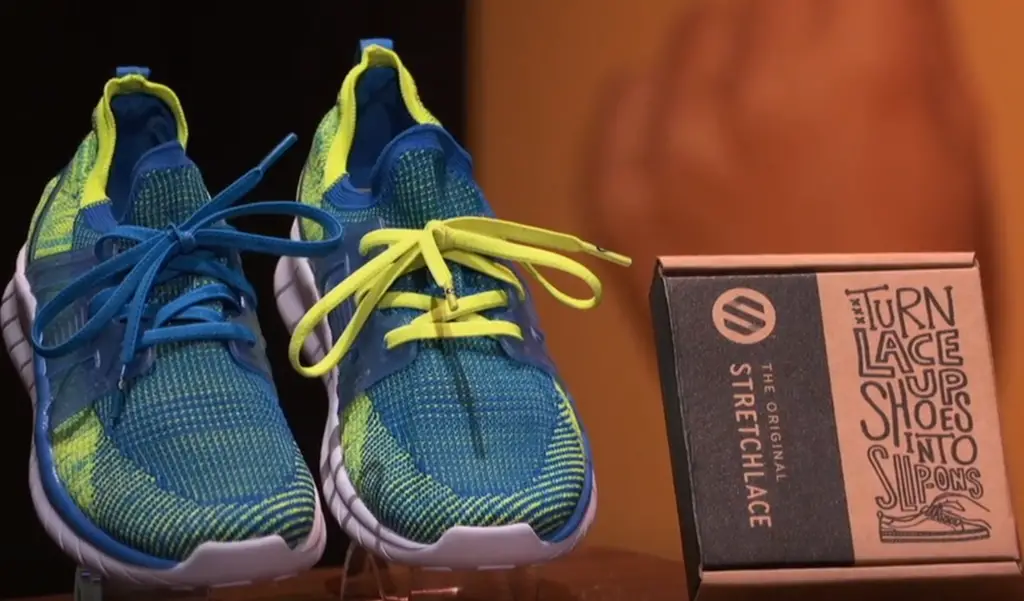 The installation process is simple and straightforward. You replace your regular shoelaces with StretchLace, and voila! Your shoes are transformed into slip-ons. No more time wasted tying and untying laces, especially during those rushed mornings.
Quality and Durability
StretchLace didn't compromise on quality. Despite their flexibility, the laces are robust and durable, built to withstand daily wear and tear. They maintain their elasticity over time, ensuring that your shoes remain secure and comfortable.
Design and Aesthetics
Who says convenience can't be stylish? StretchLace is available in various colors, allowing customers to personalize their shoes according to their preferences. This adds a fun, fashionable element to the product, catering not only to those seeking practicality but also to those wanting to make a style statement.
Brand Evolution and Market Response
Since its debut on Shark Tank, StretchLace has gone from strength to strength. The brand has been positively received by customers, with numerous reviews praising the product's convenience, quality, and style.
The company has also collaborated with other Shark Tank brands for giveaways, further cementing its position in the market. Updates from 2023 indicate that the brand continues to thrive, adapting to changing market trends while maintaining its core qualities.
Pros:
Convenience: StretchLace transforms traditional lace-up shoes into slip-ons, making them easy to put on and take off. This is especially beneficial for people who have mobility issues or who are always on the go;
Versatility: Available in various colors and sizes, these laces can be used on almost any type of shoes – from sneakers to formal shoes;
Durability: Despite their flexibility, StretchLace products are known for their durability. They're designed to withstand daily wear and tear;
Style: The variety of colors allows for personalization, adding a fun and fashionable element to your shoes;
Time-Saving: No more time wasted on tying and untying shoe laces, especially during those rushed mornings [2];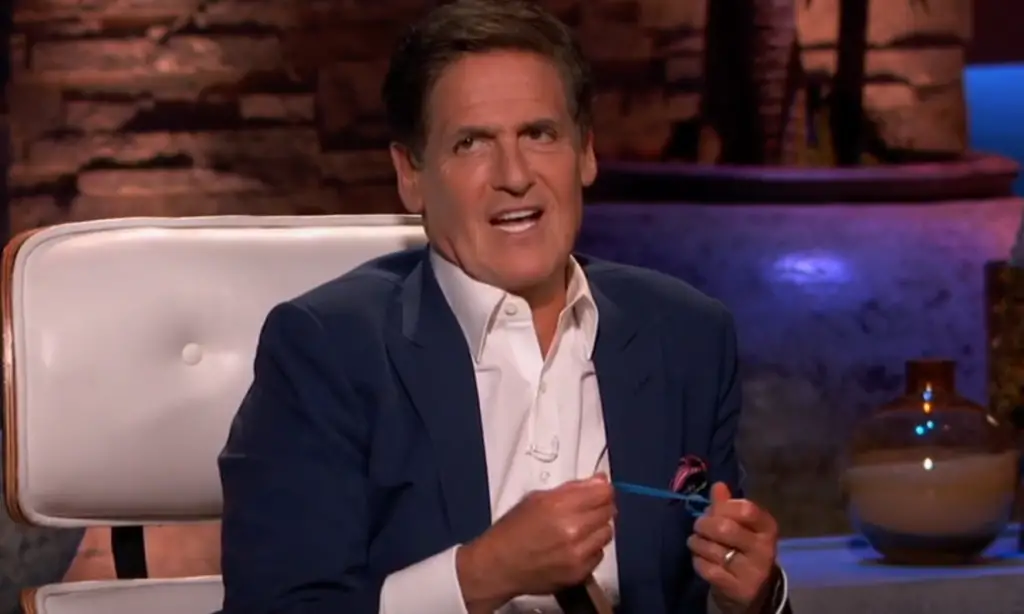 Cons:
Fit: While StretchLace is designed to fit most shoes, there may be some exceptions. Some users have reported difficulty fitting them into shoes with smaller eyelets;
Comfort: Some people might find the elasticity of the laces uncomfortable if they're used to tightly tied shoes. The stretchiness of the laces may not provide the same snug fit as traditional laces;
Price: Compared to regular shoelaces, StretchLace is a bit pricier. However, considering its benefits and durability, many users find it worth the cost;
Availability: Depending on your location, you might have trouble finding StretchLace products in local stores and may need to purchase them online;
How Does StretchLace Work?
StretchLace, in its Original form, is meticulously crafted from the finest materials, with a touch of artisanal care in both cutting and packaging.
The color spectrum encompasses timeless classics such as pristine white, deep black, and versatile grey. For those with a flair for fashion, there are options like sophisticated navy, regal royal blue, and rich dark red. For the bold and vibrant, neon pink, electric blue, and vivid green are among the choices.
Not only does StretchLace prioritize top-tier product quality, but it also extends its commitment to eco-friendliness. Their cardboard packaging and shipping materials are fully recyclable, aligning with sustainable practices. Moreover, all printing operations employ water-based inks that are not only recyclable but also biodegradable and compostable, further underscoring their dedication to environmental responsibility.
When embarking on the initial lacing of your shoes, it's advisable to keep your foot comfortably nestled inside the shoe and commence the lacing process from the bottom, working your way upwards [4]. In the event that this approach is not feasible, it becomes crucial to ensure ample room is left to facilitate easy insertion and removal of your foot.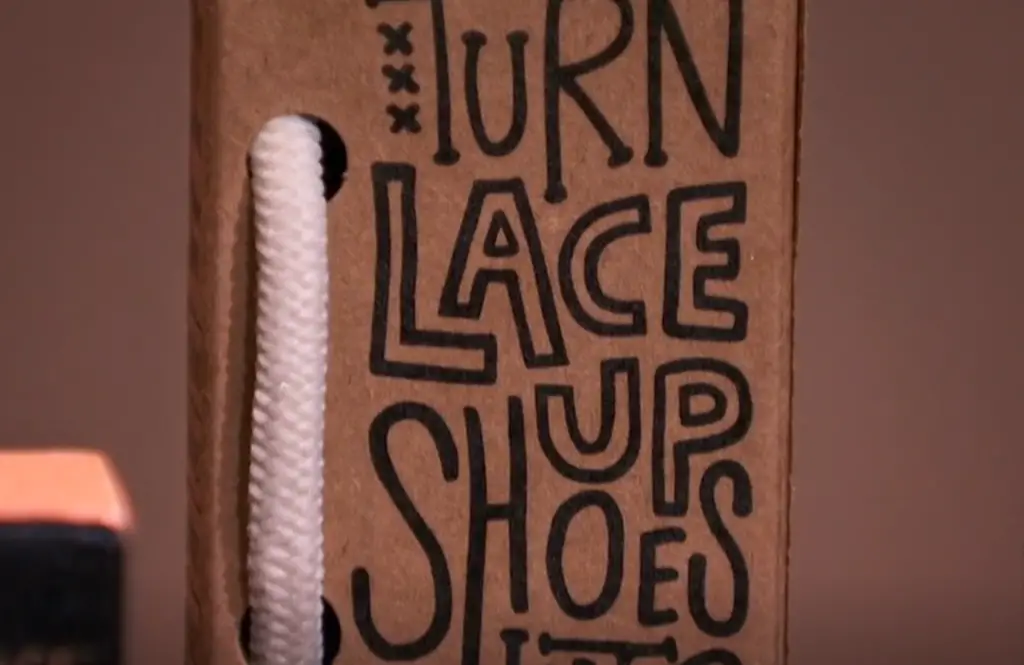 As you embark on lacing, ensure that each lace end is firmly anchored into the shoe's base, and meticulously confirm that the lengths of the laces are precise even before proceeding to weave them through the designated lace holes.
Maintain the laces in a flat orientation while lacing upward, guarding against any inadvertent twists that may impede the process.
At this juncture, you have the liberty to tailor your fit to your preference, be it snug or loose. Tie a neat bow, and your lacing endeavor is successfully accomplished. The beauty of this technique lies in the ease with which you can slip your shoes on and off at will.
The StretchLace innovation, akin to the elasticity of a rubber band, facilitates a remarkable stretch and flex in your shoe's lacing system. This quality serves to alleviate pressure points, resulting in a snug and comfortable fit that conforms seamlessly to the contours of your foot. Moreover, it plays a pivotal role in enhancing blood flow and circulation, contributing to an overall enhanced wearing experience.
Who May Benefit From Using StretchLace:
People with Mobility Issues: Individuals with arthritis, back pain, or other conditions that limit bending and movement may find it easier to use StretchLace than traditional laces;
Children: Kids who are still learning how to tie their shoes can benefit from these no-tie laces. It can also provide peace of mind for parents knowing that their child's shoes won't come untied during the day;
Elderly Individuals: For seniors, bending down to tie shoelaces can be difficult due to mobility issues or balance concerns. StretchLace can make putting on shoes a safer, more convenient process;
Athletes and Fitness Enthusiasts: People who engage in high-intensity workouts or sports may find that StretchLace stays secure even during strenuous activity, eliminating the need to stop and retie shoelaces;
Busy Individuals: Those who are always on the go and value speed and convenience might appreciate the time-saving aspect of StretchLace;
Fashion Forward Individuals: People who like to personalize their footwear and stand out with unique accessories may enjoy the variety of colors and styles available with StretchLace;
People with Special Needs: Individuals with cognitive challenges or fine motor skill difficulties might find the simplicity of StretchLace beneficial [5];
About Founders Of StretchLace
In 2015, she co-founded The Original StretchLace alongside her husband, David Montz, who also balances his role in the business with a position as Chief Technology Officer at the software company Appdetex [6].
Shortly after The Original StretchLace's debut, Jamie Montz observed its surging popularity among diverse demographics, including children, athletes, and senior citizens. Athletes found solace in these laces, appreciating their contribution to enhanced blood circulation and comfort.
Senior citizens celebrated newfound independence, as they could effortlessly don their shoes without the hassle of tying. In 2019, Montz made a strategic move by leaving her position at Amazon to focus full-time on expanding her entrepreneurial endeavor.
Armed with her expertise in marketing and e-commerce, she began marketing The Original StretchLace, earning acclaim and positive reviews on Amazon. The product gained recognition in esteemed publications such as Forbes, Red Tricycle, Real Simple Magazine, and Parade, solidifying its status as a game-changer.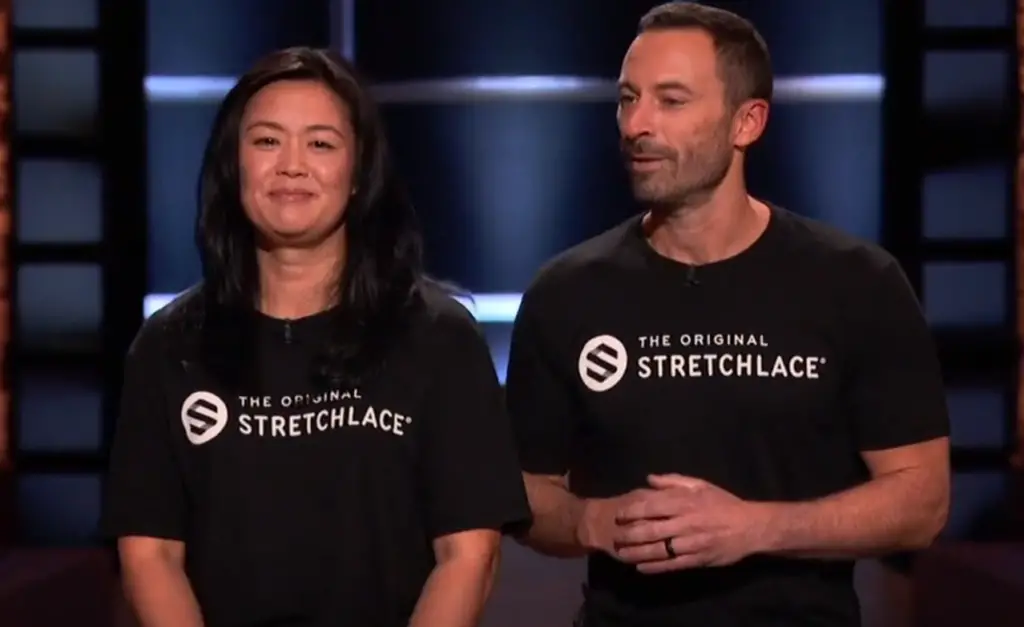 Jamie and David Montz now aspire to secure a shark's assistance in taking their lace business to greater heights.
The Pitch Of StretchLace At Shark Tank
In the year 2020, Jamie and David Montz made a memorable appearance on the popular television show "Shark Tank". Their mission was to secure a $ 100,000 investment in exchange for a 15 % stake in their company, The Original StretchLace [7]. As they introduced themselves, the couple shared the inspiring tale behind the creation of their innovative product. Throughout this presentation, the sharks were meticulously examining samples of their shoelaces, showing keen interest in both the founders and their business concept.
After hearing the origin story and evaluating the quality of the product, the sharks appeared visibly impressed. However, they were equally intrigued by the business potential. Jamie and David then disclosed that they had achieved impressive sales figures, boasting $ 165,000 in revenue for the current year, with the previous year's sales reaching $ 221,000. The cost of manufacturing The Original StretchLace shoelaces amounted to approximately $ 2.14 each, while they were retailed between $ 9.99 and $ 13.99.
The first "shark" to bow out of the deal was Robert Herjavec, despite being genuinely impressed by Jamie's story. He playfully referred to her as a "20-year Amazon goddess", perhaps suggesting that her previous career experiences were far more extensive than selling shoelaces. Daniel Lubetzky followed suit, citing disagreements with the provided data.
However, Lori Greiner opposed Daniel's stance but ultimately chose not to invest, as The Original StretchLace did not align with her investment portfolio. Kevin O'Leary, known for his candid remarks, dropped out next, dubbing Jamie and David as "shoelace cockroaches".
With all sharks having exited the negotiation, only Mark Cuban remained. Mark, however, took an unconventional route and encouraged the couple to continue their business without an investor, believing they could thrive independently. Consequently, he also opted out. It seemed as though Jamie and David would leave the tank without a deal. But just when it seemed like their pitch had run its course, Robert Herjavec re-entered the fray.
He offered them $ 100,000 in exchange for a 33 % stake in their company. In a swift counteroffer, the Montz's proposed a 25 % equity stake, to which Robert objected [8]. 
He expressed a desire to assist the founders in launching more products. The negotiations reached their conclusion with Jamie and David proposing a 30% equity stake, which Robert ultimately agreed to. Consequently, Jamie and David departed from "Shark Tank" with a partnership deal with Robert Herjavec.
StretchLace After The Shark Tank
Jamie and David Montz likely strolled away with an extra spring in their step. Their agreement with Robert Herjavec promised The Original StretchLace an unprecedented boost. Their website showcases an impressive array of lace variations, configurations, and hues.
The Original StretchLace caters to athletic footwear, children's shoes, casual attire, and shoes for the elderly and those with mobility challenges. Each category boasts a delightful assortment of colors, allowing you to personalize your footwear to your heart's content.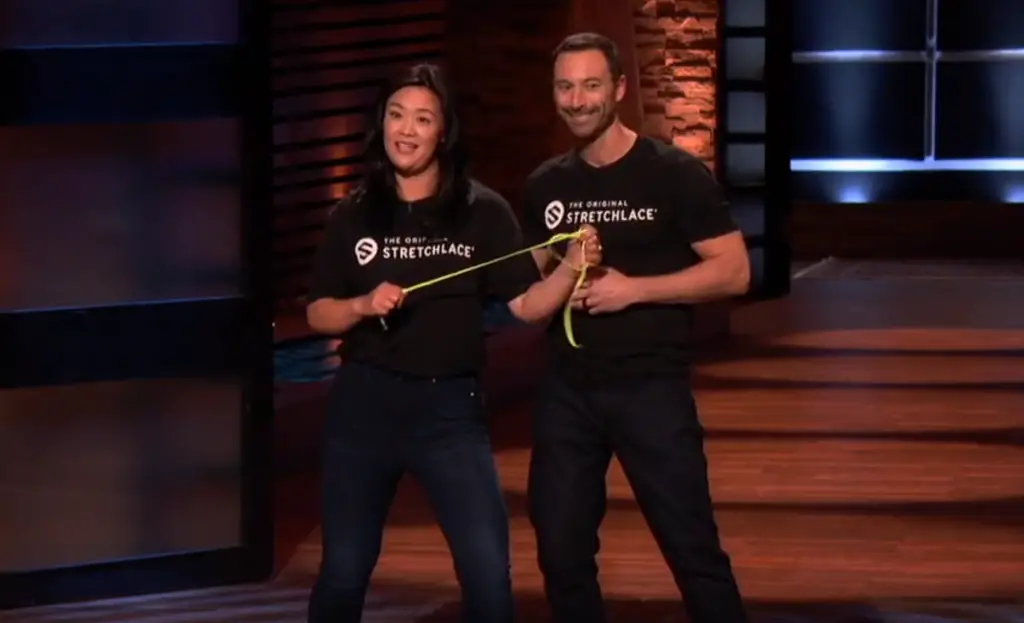 Satisfied customers have showered the product with praise, emphasizing its versatility across various shoe types. While the Montz couple has yet to divulge their company's precise net worth, it's becoming increasingly apparent that The Original StretchLace might just be one of the standout success stories emerging from the "Shark Tank" realm.
The Net Worth Of StretchLace
Alternatives To StretchLace:
HOMAR No Tie Shoelaces for Kids and Adults: These are stretch silicone elastic no-tie shoelaces that provide convenience and ease for both kids and adults;
Elastic No Tie Shoelaces from Seriosity: These shoelaces feature a spiral structure with a screw lock system, providing an alternative to traditional laces and to The Original Stretchlace;
RJ-Sport Tieless Shoe Laces: These tieless laces are another alternative for those looking for a no-tie solution;
LOCK LACES: LOCK LACES are quick and easy to install, and they can be adjusted for tightness according to the wearer's preference;
ILiveX No Tie Shoelaces: Designed to provide comfort and support, these laces are great for runners, walkers, and other athletes [11];
---
FAQ:
How is StretchLace doing after Shark Tank?
After their appearance on "Shark Tank", StretchLace seems to be doing well. They managed to secure a deal with Robert Herjavec on the show, which likely provided them with valuable guidance and resources. The exposure from the show also likely boosted their brand awareness and customer base, helping them expand their business further.
Are stretch laces good?
Stretch laces, like StretchLace, are generally considered a convenient and practical solution for many people [12]. They can turn any lace-up shoe into a slip-on, making it easier to put on and take off shoes without the need for constant tying and untying. These laces are particularly popular among athletes and those looking for a comfortable and secure fit in their footwear.
What is stretchy lace made of?
Stretchy lace, such as StretchLace, is typically made from a durable and elastic material, often a combination of synthetic fibers like nylon or polyester. These materials provide the necessary flexibility and strength to ensure the laces can stretch and retain their shape over time.
How do you install StretchLaces?
To install StretchLaces, you should first lace them through the shoe's eyelets just like traditional laces. Start from the bottom and work your way up, ensuring the lengths are even on both sides. Once laced, you can adjust the tightness to your preference. After this initial installation, you won't need to re-lace your shoes regularly, as StretchLaces allow for easy slipping on and off.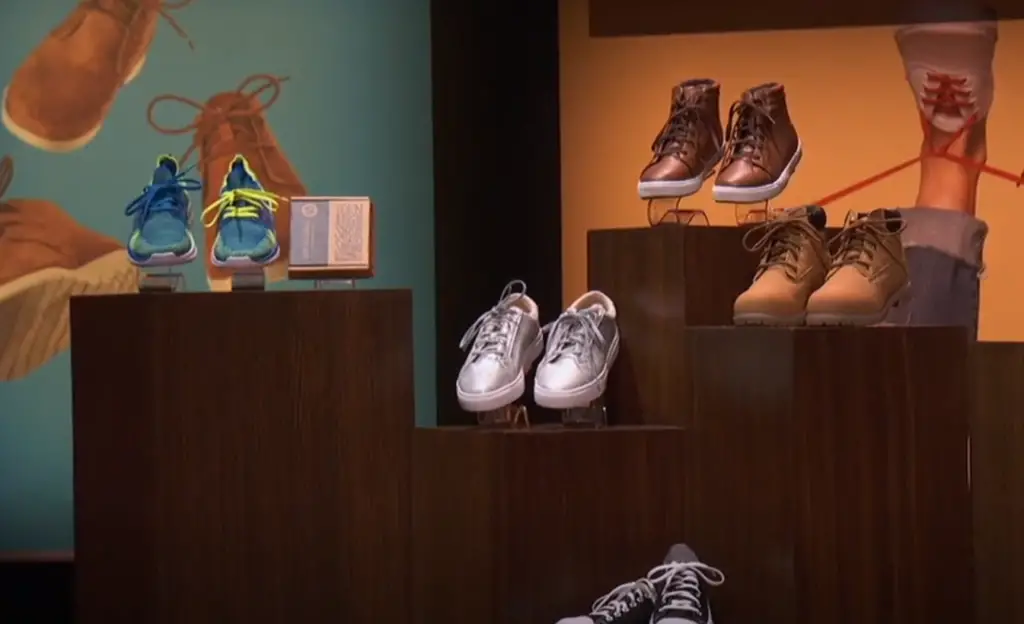 How do you adjust for a comfortable fit?
Adjusting for a comfortable fit with StretchLaces is straightforward. You can tighten or loosen them by pulling on the ends or adjusting the tension at the base of the shoe. Finding the right balance ensures your shoes stay securely in place while still providing the comfort you desire.
How do you keep my laces from coming untied?
The beauty of stretchy laces like StretchLace is that they don't come untied easily. Once you've set the desired tension, they stay in place, preventing the need for frequent retying. This feature makes them highly convenient for those seeking hassle-free shoe management.
What size should you buy?
When purchasing StretchLaces, it's advisable to choose a size that corresponds to the length of your current shoelaces or the size of your shoes. They come in various lengths to accommodate different shoe sizes and styles, ensuring a proper fit.
Will these fit in my hightops, boots, cleats, sk8-high, chukkas, or dress shoes?
StretchLaces are designed to fit a wide range of shoe types, including hightops, boots, cleats, sk8-high shoes, chukkas, and dress shoes. Their versatility makes them suitable for various footwear styles, making them convenient for people with diverse shoe preferences.
What are the best elastic laces?
The best elastic laces can vary depending on individual preferences and needs. StretchLace is one of the options available, but it's essential to consider factors like durability, ease of installation, and compatibility with your shoe type when choosing elastic laces. Reading reviews and seeking recommendations can also help you find the best fit for your specific requirements.
Do elastic shoelaces work?
Yes, elastic shoelaces, like StretchLace, are known to work effectively. They offer a convenient alternative to traditional laces, allowing for easy on-and-off access while maintaining a secure fit. They are particularly popular among individuals seeking convenience and comfort in their footwear.
Which Shark Tank business failed?
Several businesses featured on Shark Tank have unfortunately failed. Some notable examples include ToyGaroo, ShowNo Towels, Sweet Ballz, Body Jac, CATEapp, Breathometer, and You Smell Soap. A particularly dramatic case was that of Sweet Ballz, where founders James McDonald and Cole Egger ended up in a legal battle after their deal on Shark Tank (source; source).
Which "shark" invested the most?
The answer to this question can vary depending on how you define "invested the most". If you mean the shark who has invested the most money overall, that title often goes to Mark Cuban. However, if you're referring to the shark who has invested in most companies, that would likely be Kevin O'Leary. It should be noted that exact figures can fluctuate as new episodes air.
Are Shark Tank millionaires?
Yes, all of the sharks on Shark Tank are millionaires – and some are billionaires! Their wealth comes not only from their investments on the show but also from their other business ventures.
For example, Mark Cuban is the owner of the Dallas Mavericks and has numerous other investments. Daymond John is the founder of FUBU, a successful clothing line. Lori Greiner has made a fortune from her inventions and the QVC show. Robert Herjavec made his wealth in cybersecurity, and Kevin O'Leary is a successful businessman with investments in various industries.
Useful Video: Unlocked Potential? | Stretchlace on Shark Tank
---
References:
https://www.looper.com/1322329/whatever-happened-stretchlace-shark-tank
https://www.thelist.com/1352675/what-happened-the-original-stretchlace-after-shark-tank/
https://sharktankrecap.com/shark-tank-the-original-stretchlace-update-season-12/
https://www.sharktankblog.com/business/stretchlace/
https://www.sharktanksuccess.com/stretchlace-shark-tank-review/
https://gazettereview.com/the-original-stretchlace-update-what-happened-after-shark-tank/
https://thecinemaholic.com/update-on-the-original-stretchlace-from-shark-tank/
https://sharktanktales.com/the-original-stretchlace-shark-tank-update/
https://kidotalkradio.com/how-the-original-stretchlace-company-hooked-robert-herjavec/
https://2paragraphs.com/2021/05/stretchlace-elastic-shoelaces-pitch-mark-cuban-on-shark-tank/
https://allsharktankproducts.com/shark-tank-products-fashion/the-original-stretchlace-elastic-shoelaces/
https://sharktankshopper.com/product/the-original-stretchlace/