Poppi, the revolutionary hydration system, has taken the world by storm after appearing on Shark Tank. Countless curious minds have flooded the internet asking the same question: What happened to Poppi after Shark Tank? We've uncovered exclusive information and tips from individuals close to Poppi's success that provide all of the answers you need to know. Uncover what goes on behind closed doors with this Epic Guide uncovering what happened to Poppi after Shark Tank.
What is Poppi?
The beverage industry is a highly competitive space, with both large and small players vying for market share. Companies must continually innovate to stay ahead of the competition and offer products that meet consumer demands. Still, knowing this didn't deter Allison and Stephen Ellsworth from pursuing their dream – creating a Poppi beverage [1].
Apple cider vinegar has been used as a homeopathic remedy for over a century and is believed to aid in weight loss by increasing metabolism. It is also thought to relieve bloating, promote heart health, stabilize blood sugar levels, and promote alkalinity in the body.
Allison is a big fan of apple cider vinegar and drinks it regularly for its supposed health benefits, such as increased metabolism, relief from bloating, heart health, stabilized blood sugar levels, and alkalinity in the body. Many people also drink apple cider vinegar for a variety of reasons.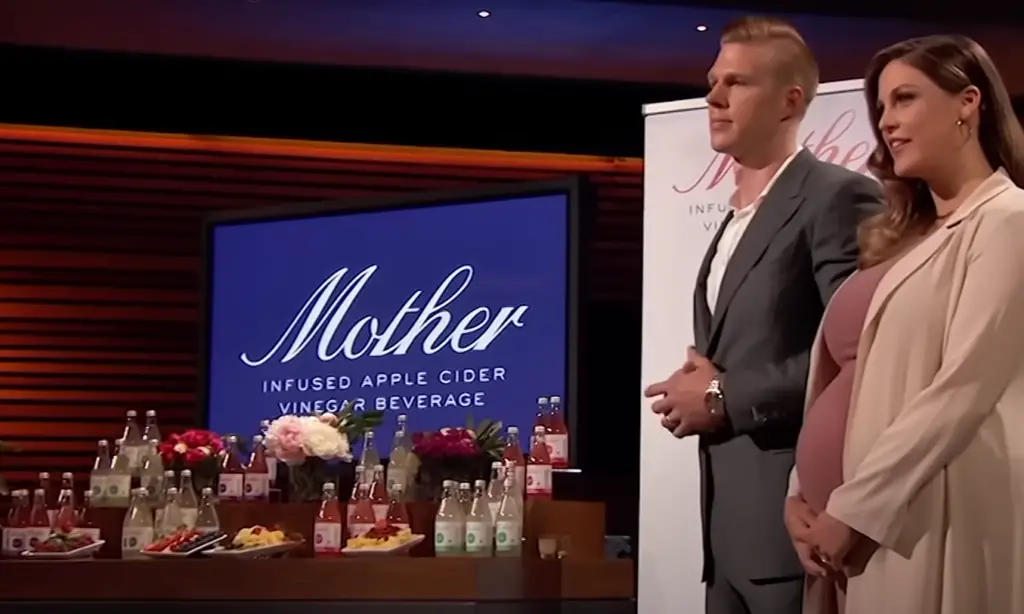 While Allison introduced Stephen to the health benefits of apple cider vinegar, he, like her, did not enjoy the harsh taste. In response, the couple infused the vinegar with natural ingredients such as pineapple turmeric, strawberry lime, lime ginger, raspberry rose, blueberry sage, and blood orange. They also added a little Stevia and carbonated water, resulting in a refreshing and low-calorie beverage that offers all the benefits of apple cider vinegar without the unpleasant taste.  The result was a line of drinks that offered a more enjoyable and convenient way to consume apple cider vinegar.
Mother Beverage has already garnered recognition in the industry, having won the BevNet New Beverage Showdown in 2016. Currently, the drinks are only available for purchase in the Dallas/Fort Worth area through Amazon's Whole Foods delivery service. The Ellsworths are hoping that the Sharks can help them expand their distribution and bring their products to a wider audience.
Back then, Poppi offered free delivery within a five-mile radius of Dallas and is available on Amazon Prime Now in the Dallas Fort/Worth area. Customers can also order directly from their website, with a twelve-pack of 12-ounce bottles costing $ 42 and a 24-pack costing $ 84 (with free shipping). The Ellsworths are keen to expand their reach, particularly with Whole Foods (via Amazon), and seek nationwide distribution. They hope that a Shark can help them take Mother to the next level.
Did Poppi Get a Deal?
In the Shark Tank episode 1005, entrepreneurs Stephen and Allison Ellsworth are seeking $ 400,000 for a 10% stake in their business, Mother Beverage. The company specializes in producing apple cider vinegar-based drinks, which they claim offer a variety of health benefits, such as promoting weight loss, relieving bloating, and supporting heart health.
To impress the Sharks, Stephen and Allison provide samples of their drinks, which are well-received by the investors. The couple reveals that they have achieved $ 500,000 in sales over the past 18 months and anticipate hitting $ 1 million in the current year. With each bottle priced at $ 2.99 and a production cost of $ 0.75, the business seems to be profitable.
Despite these impressive numbers, some of the Sharks express concerns about the lack of proprietary elements in the business. Additionally, they question the decision to build their own bottling plant. The Sharks, apart from Rohan, backed out of the investment opportunity. Rohan suggests a counteroffer of $ 400,000 for a 25% stake in the business, which Stephen and Allison accept.
It is evident that the Sharks were impressed by the taste and potential of the apple cider vinegar-based drinks from Mother Beverage. However, the lack of proprietary elements and the company's decision to build its bottling plant posed concerns for the investors. But what else awaited the company further down the line? [2]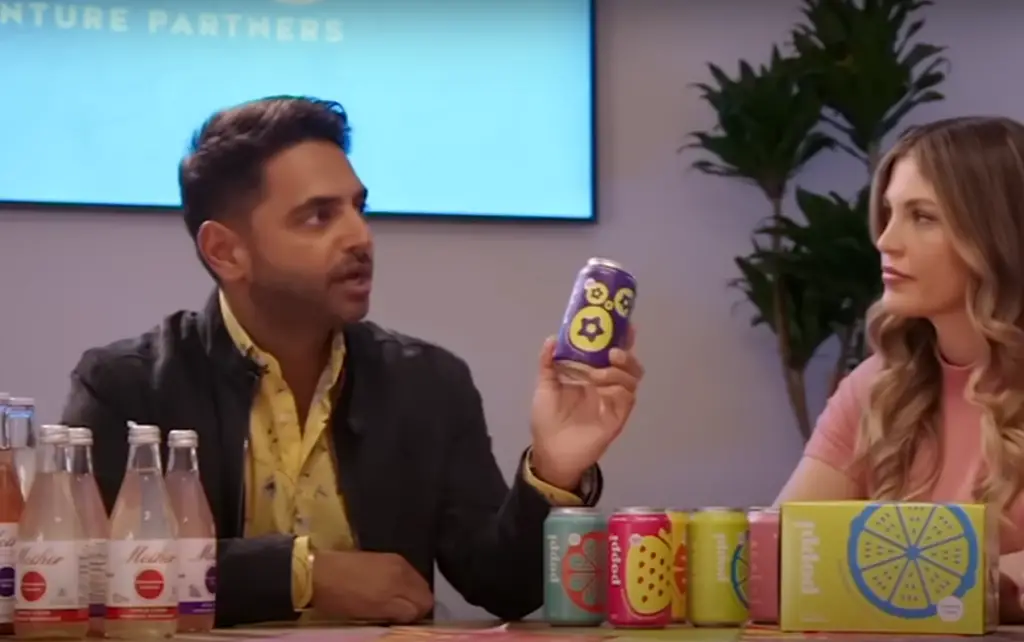 Poppi Business History After Shark Tank
So Popi's journey appeared to be a success story after the Shark Tank episode. After signing the deal with Rohan, Stephen and Allison Ellsworth went to work on expanding their business.
An appearance on Live TV and various other media outlets certainly helped them gain more exposure. The Shark Tank effect was in full action and the Ellsworths were able to boost their sales big time within two months of airing the episode.
The deal with Rohan had closed before the show even aired, and the founders were able to secure multiple co-packers throughout the USA instead of building their own bottling plant.
Since then, they have expanded their product line by introducing cans in addition to bottles and rebranded the beverage as Poppi in early 2020. They aimed to trademark the new name, and they believed it was more marketable than the previous name. The company quickly gained traction and was soon available in over 2,000 stores, including Walmart, Whole Foods, and Amazon.
They also received a significant investment of $ 13.5 million from a venture firm called CAVU, which was introduced to them by Rohan. To further improve their business, they hired a new CEO to replace Allison, who still sits on the company board. With their rebranding efforts and new investments, Poppi continued to thrive and expand.
You can purchase Poppi both on Amazon, the official website, and in select stores today. Their Amazon page is especially impressive as they have 10-20k of reviews on products over there and everything is rated 4.5 stars or higher.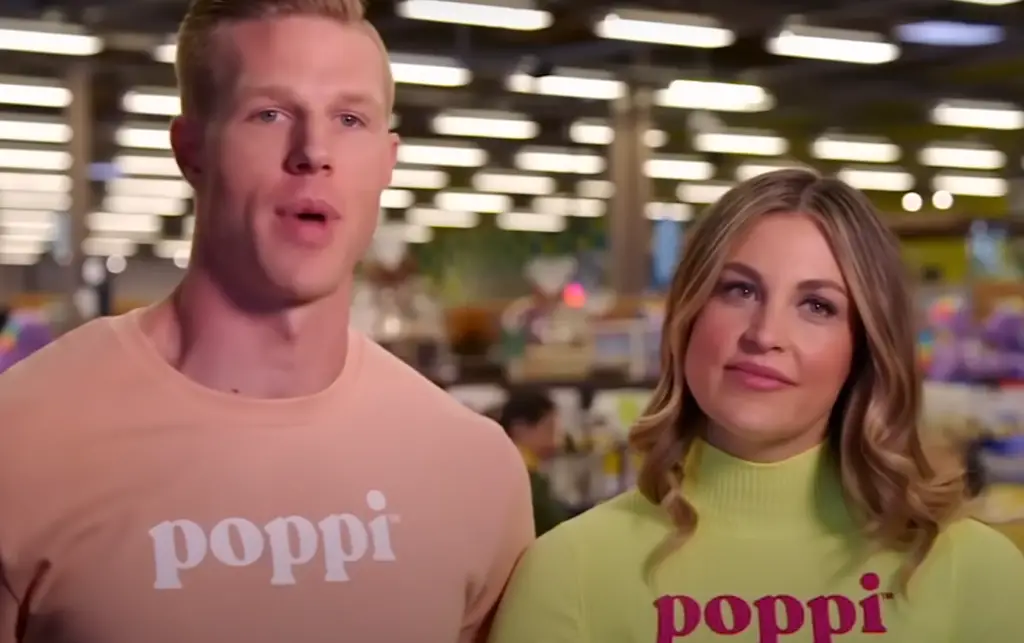 As of 2023, a 12-pack of cans is priced between $ 24 – $ 29.99, with the price depending on the flavor of the drink. You can also get multi-flavor packs as well!
Another impressive achievement of Poppi is its social media presence. It's astronomical, with a total of 7k followers on their Facebook account and an Instagram account with nearly 190k. But their biggest platform by far is TikTok, which currently has over 300k followers. By using influence and marketing strategies, Poppi has certainly taken advantage of the Tank spotlight to grow its business to meteoric heights.
While the competition in the beverage industry is fierce, Poppi has certainly made a name for itself through clever marketing and high-quality products. The Sharks may have backed out of the deal, but it appears that Rohan's investment was well worth it and he reaped the rewards.
Poppi's success story is truly inspirational since it shows that even when faced with challenges, a company can thrive if it stays true to its vision and makes smart decisions. The Ellsworths have proven that hard work pays off and that anything is possible as long as you stay focused on your goals! [2] [3] [4] [5]
Poppi Net Worth
Since appearing on Shark Tank, Poppi has seen tremendous success and growth since their initial investment. The Ellsworths have been able to grow the business even more with additional investments from CAVU and their plans for expansion in 2021.
It's also worth noting that Poppi has been extremely successful with its social media presence, which no doubt contributes to the increase in value of its brand. With over 300k followers on TikTok alone, they are certainly doing something right and will only get even more traction as time goes on. [6]
---
FAQ
1. Does Poppi taste like Coke?
No, Poppi does not taste like Coke. Poppi is a prebiotic soda made from apple cider vinegar and infused with various natural flavors like ginger, lime, raspberry, and blueberry, among others. Unlike Coke, which is a carbonated soft drink made with high fructose corn syrup and various artificial ingredients, Poppi is a healthier alternative that is low in sugar and calories.
Poppi's taste is unique and is often described as a refreshing and slightly tangy beverage with a subtle hint of sweetness. While it has a similar carbonation level as Coke, its natural fruit flavors and apple cider vinegar give it a distinct taste that sets it apart from traditional sodas.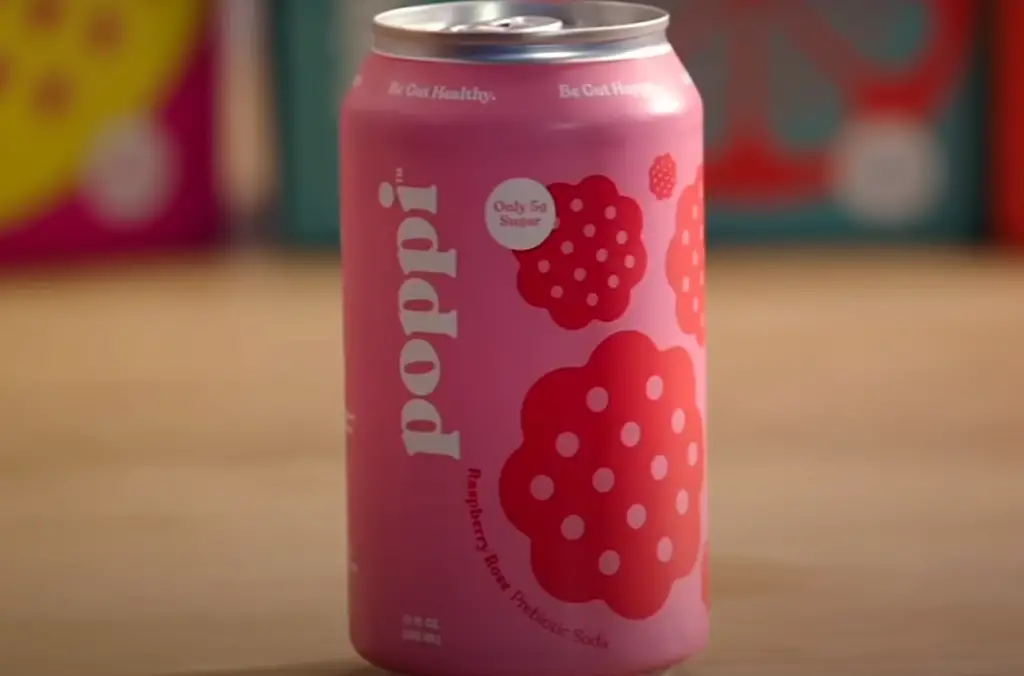 2. Did Poppi go to Shark Tank?
Yes, Poppi, a prebiotic soda brand, did appear on Shark Tank in season 11. During the show, founders Allison and Stephen Ellsworth pitched their product to the Sharks, seeking a $ 400,000 investment for 10% of their business. The couple explained the health benefits of their product and handed out samples to the Sharks, who liked the taste. Rohan Oza, a branding expert and one of the Sharks, offered $ 400,000 for 25% of the business, which the Ellsworths accepted.
3. Is it OK to drink Poppi every day?
Poppi is a low-calorie and healthy beverage option that is safe to drink daily. Poppi's drinks are made with natural ingredients and are free from caffeine, artificial sweeteners, and preservatives. They are formulated with prebiotics, apple cider vinegar, and fruit juices, which can help promote gut health and digestion. However, as with any food or drink, it's important to consume Poppi in moderation as part of a balanced diet.
4. What happened to Mother Beverage after Shark Tank?
After appearing on Shark Tank, Mother Beverage went through a significant transformation. In the show, Stephen and Allison were seeking $ 400,000 for 10% of their business. However, they ultimately struck a deal with Rohan Oza, who invested $ 400,000 for a 25% stake in the company. The deal closed before the episode even aired, and they went on to make several changes to their business model.
One of the most significant changes they made was scrapping their plans to build their own bottling plant and instead going with multiple co-packers strategically placed throughout the USA. This decision allowed them to expand their production and distribution capabilities without the financial burden of building and maintaining their own facility.
Poppi has since experienced significant growth and success. As of the first quarter of 2022, they were in over 20,000 stores, including major retailers like Walmart, Whole Foods, and Wegmans. In December 2022, they raised $ 25 million in a Series B funding round, which they plan to use to expand nationwide through direct store delivery (DSD). They aim to be in over 30,000 stores by the end of 2023.
5. Which shark invested in Poppi?
Rohan Oza is the shark who invested in Poppi during its appearance on Shark Tank. Oza is a renowned brand builder, marketing expert, and investor who has a long track record of successful investments in the beverage industry. He is known for his involvement in building the Vitaminwater and Smartwater brands, among others.
On Shark Tank, Poppi founders Stephen and Allison explained the health benefits of their prebiotic soda made with apple cider vinegar, and the Sharks were impressed with the taste and sales numbers. Oza was particularly interested in the product and saw the potential for it to become a billion-dollar brand. He made an offer of $ 400,000 for 25% equity, which was ultimately accepted by the founders.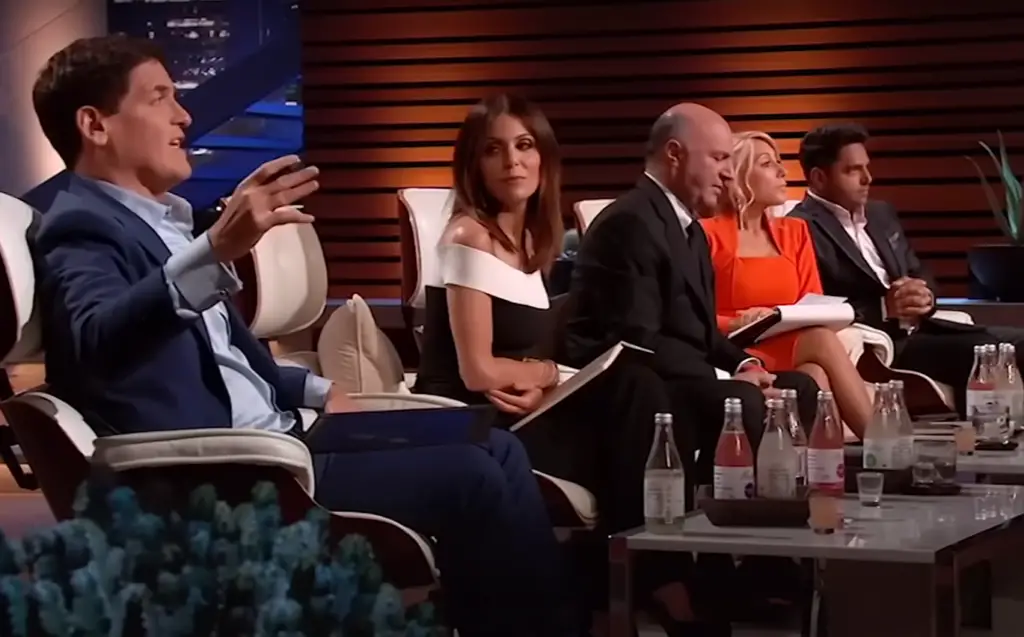 Since then, Oza has played an active role in Poppi's growth, joining the board of directors and helping the company secure additional funding from CAVU Venture Partners. Under Oza's guidance, Poppi has undergone rebranding and expanded its product line, introducing new flavors and packaging options.
How much is Poppi worth now?
As of May 2023, the exact valuation of Poppi is not publicly available. However, according to a December 2022 press release, the company raised $ 25 million in a Series B funding round led by CAVU Ventures, which indicates a strong investor interest and growth potential. In addition, in a Shark Tank update segment, Rohan Oza confidently stated that Poppi has the potential to be Shark Tank's first billion-dollar brand, indicating a high valuation in the future.
We however believe that the net worth of Poppi is near $ 4 million as of May 2023. This is an impressive number considering that Poppi was valued at a mere $ 1 million when it appeared in Shark Tank in December 2020.
Useful Video: The Sharks Get GROSSED OUT | Shark Tank: How It Started
Conclusion
Poppi, formerly known as Mother Beverage, has come a long way since its appearance on Shark Tank in 2018. The brand's journey is a testament to the power of innovation and determination in the beverage industry. From a small startup seeking investment to a nationally recognized brand with over 20,000 stores carrying its products, Poppi has achieved remarkable success in a short amount of time.
After securing a deal with Rohan Oza for $ 400,000 in exchange for 25% of the company, Poppi scrapped its initial plan to build its bottling plant and instead went with multiple co-packers. The brand's sales have continued to skyrocket since the Shark Tank appearance, with revenue reaching $ 28 million in 2022.
Poppi's success can be attributed to its unique approach to healthy drinks.
The brand offers prebiotic sodas infused with apple cider vinegar, which provides a variety of health benefits. The brand has also expanded its product line to include flavors such as blueberry, orange, raspberry rose, lime ginger, and strawberry lime. These refreshing, low-calorie beverages have proven to be a hit with consumers, who are increasingly looking for healthy, flavorful alternatives to traditional sodas.
All in all, Allison and Stephen Ellsworth and their team have gone from strength to strength with Poppi. The brand continues to grow and expand, offering consumers exciting new flavors in a health-focused range of products. With its innovative approach and drive for success, Poppi is well-positioned to continue making strides in the beverage industry for many years to come.
---
References:
https://www.sharktankblog.com/mother-beverage-apple-cider-vinegar-drinks/
https://www.sharktankblog.com/business/mother/
https://www.tiktok.com/@drinkpoppi?lang=en
https://www.instagram.com/drinkpoppi/?hl=en
https://www.facebook.com/drinkpoppi/
https://biznewske.com/mother-beverage-poppi-net-worth/