In this article, we'll be giving you the inside story of what happened to the Truffle Shuffle after Shark Tank. We'll answer some of the most common questions that people have about the company, such as how they've been able to keep going despite not getting a deal from the sharks, and what their plans are for the future. As one of the most interesting companies to ever appear on Shark Tank, the story of the Truffle Shuffle is definitely worth reading. So without further ado, let's get started.
History of the Founders
The team realized they needed to act quickly since they didn't want to waste the truffles. Since everyone and their mother was locked down at home with nothing to do, they decided to bring the delicious truffle dish ideas directly to the people! They started a website called "Truffle Shuffle" where people could watch online cooking classes using high-class (and not only!) ingredients and fancy cooking techniques. This seemed like a brilliant idea that could get them back on their feet!
They started small at first, working from Jason's tiny apartment kitchen. For three months, they provided cooking classes to people all around the US and the world. But soon enough, people started loving their content and their subscriber base grew quickly. With more traction comes more opportunities – they got themselves a bigger building!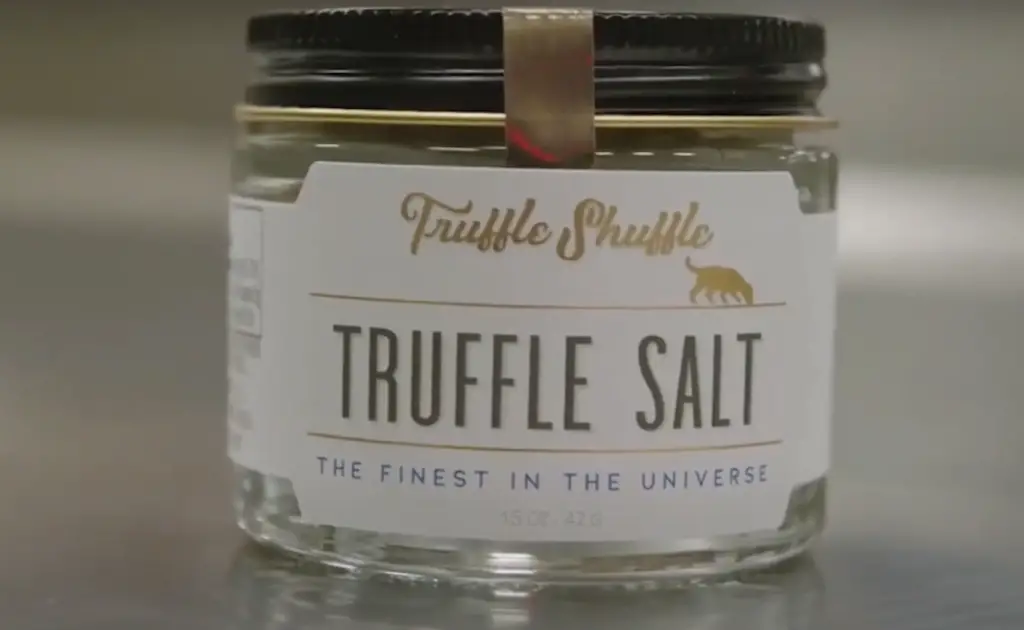 The facility had four kitchens where they could quickly produce up to 10,000 meal kits per week. Yes, besides giving classes, they started packaging and selling meal kits with all the ingredients needed for the recipes in their classes. This allowed people to cook along with the class or have a delicious meal ready in no time, without any hassle!
They've also started shipping their fresh truffles all over the country. Things were really looking up for the company!
They even lent a helping hand to all the folks who lost their jobs in the food industry and had over 40 employees by the time they appeared on Shark Tank. [1] [2] [3] [4] [5]
How Do Truffle Shuffle Classes Work?
The starting point for Truffle Shuffle was their cooking classes. The company offers different types of cooking classes, from beginner to advanced levels.
As the team calls the cooking experience themselves, it's a Peloton of Cooking. You can follow along with the recipes that are being made in real-time or you can choose your own pace. But the most important thing is to feel connected and have fun! Cooking shouldn't feel intimidating, especially when you have someone to guide you through the process.
The classes are held through Zoom, so you can join from anywhere in the world. And if you can't make it to a live class, you can always watch the recordings.
Chefs constantly ask their viewers for feedback, so they can make the experience even better. They want to know what you're struggling with, what you're enjoying, and anything else that would help them improve.
So as you can see, the team behind Truffle Shuffle was very thoughtful about their product and their target market. They knew that there was a need for cooking classes that were life, interactive, and fun. And they've created a product that delivers on all of those fronts.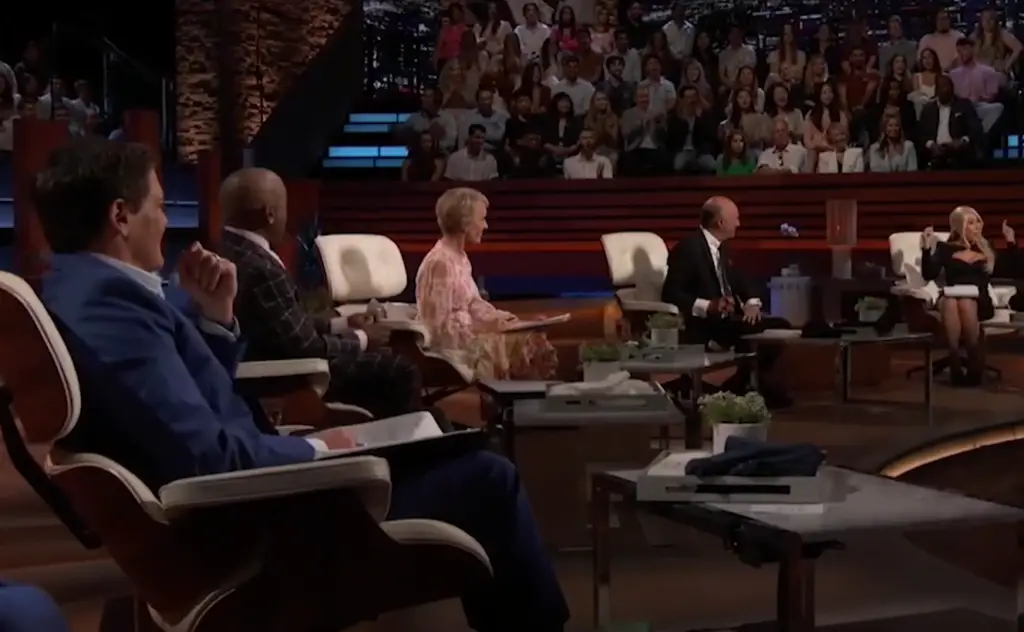 They also featured some famous faces in their online classes, like Snoop Dog and Ronnie Lot. This helped them get even more attention and traction. However, it also led to some massive spending.
The team decided they wanted to get bigger, and one of the opportunities they saw was being featured on Shark Tank. And they believed a Shark would help them to manage their expenditures! [5] [6]
Truffle Shuffle at Shark Tank
Jason and Tyler applied and got accepted to be on Shark Tank for the 12th Season. They asked for a $ 500,000 investment for a 5% equity stake in the company. This valued their company at $ 10 million. The duo thought a Shark assistant would help them with following the correct business path and avoid pitfalls.
They tell the sharks their story and give them some samples to try out. And the Sharks loved what they tried! It was truly a 5-star food taste experience. But the Sharks don't just invest in a company because they like the product.
Daymon wondered how much they sell their truffles and was instantly hooked upon finding out the price!
Still, not all the sharks were as impressed. Lori is the first one to back out, followed by Mark who said that the guys will need a lot of cash to grow. But Robert continued to ask tough questions, wanting to know more about their business model and growth potential. Finally, he offers the team $ 500,000 for a 20% stake in the company. Kevin is also interested, he offers $ 500,000 too but has a 9.5% debt over 3 years and wants 25% of the company. He also suggests the guys should focus on truffle products, as the market is growing.
Robert and Kevin have a bit of banter here as Robert found Kevin's deal ridiculous and he claimed he knows what business is better than Kevin.
Jason and Tyler ask if Robert and Mark would team up, to which Robert refuses. He then brings up his original deal again. But then Mark joins the race himself and offers the same as Robert did. Jason asks if he could lower the equity to 15% and Mark decides to lower it to 18%, without going any lower than that. Guys then ask if he could go with 17% or offer more money and Mark eventually agrees to offer $ 510,000 for an 18% stake.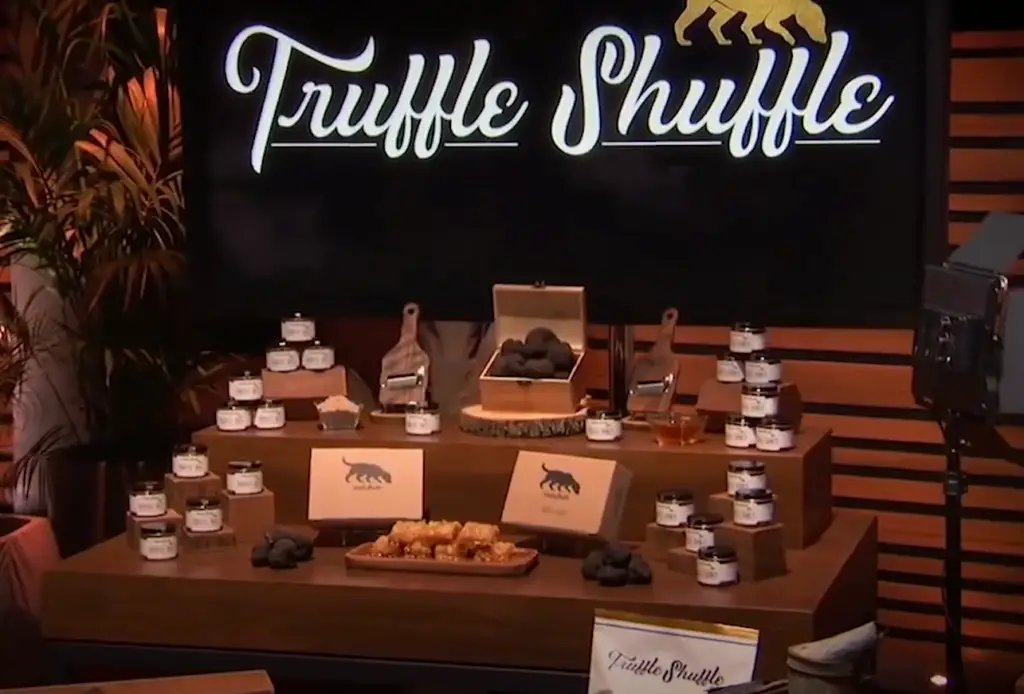 The duo discussed it for a bit and eventually went with Mark's offer as he was more flexible and they thought Robert was more interested in food companies that were already established. [1] [3] [4]
Truffle Shuffle After Shark Tank Update
So what happened to the Truffle Shuffle after Shark Tank? Well, it seems like things are going well!
Appearance at Shark Tank gave Jason and Tyler the needed exposure and credibility to take their business to the next level. Many new people were introduced to the product and the brand, which helped sales to grow significantly.
As for their earnings, they are sitting at a comfortable $ 6 million per year and are looking to keep growing the company. They used to sell their kits at Whole Foods, but they don't anymore. You are still free to order these from their official website, however!
For example, you can purchase high-quality truffles starting from $ 160 for 1 oz and you can order up to 1 pound for $ 1,700. These sold like hotcakes on the show and were even featured in Forbes.
The Truffle Shuffle also sells Balinese Truffle Salt, which is a gourmet salt that has truffles infused in it. This product will improve the flavor of any dish, whether it's savory or sweet. The prices for this one start from $ 40 for two jars and go up to $ 66 for four.
To further improve your dishes, you can purchase a can of white truffle butter for around $ 30. This will make any dish more luxurious without breaking the bank.
Truffle Carpaccio is another product they offer, which is thinly sliced white truffles. This is perfect for salads or as a garnish on pasta dishes. These cost just $ 40.
Now as for the mixes, Truffle and White Cheddar Kettle Corn is one of the most popular ones. This is a classic flavor combination that is taken to the next level with the addition of truffles. 24 1.5-ounce bags cost $ 115 and 10 8-ounce bags can be purchased for $ 210.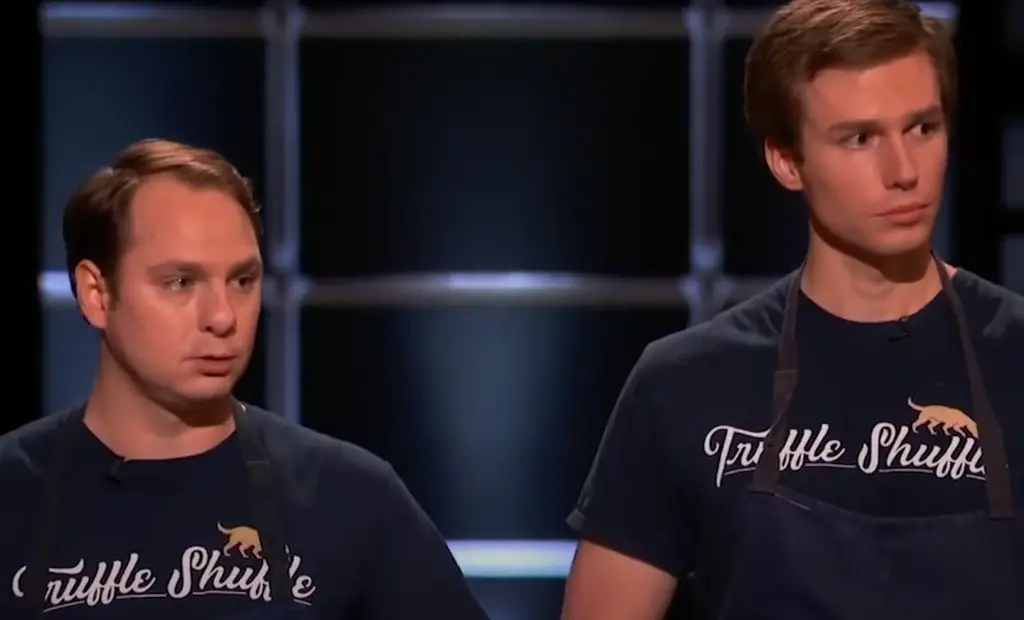 You can also buy a Paloma Cocktail Mixer Set which includes everything you need to make 4 Paloma cocktails. This set costs $ 25.
And if you want to get your friend or family to try some of the high-quality products the company offers, you can purchase a gift set which starts at $ 50. You can either get an e-copy or a physical copy of the card depending on your preference.
Gold and Platinum tiers also provide you with discounts on credits to use in the store so you could buy the premium items for less.
Oh, and each of the three tiers also grants you free shipping throughout the whole USA!
The Silver tier costs just $ 12.99 a month, The Gold tier is $ 59 monthly and The Platinum gives you all the benefits for just $ 99 per month. You can also receive a 30-day trial to check out the service and see if it's for you.
There is also a points system where you can earn points and exchange these for a variety of rewards and discounts.
Truffle Shuffle also maintains a strong social media following with their Instagram having around 18.2K followers. They constantly update their feed with new recipes, class announcements, pictures of their products in use, and general company news. [1] [3] [4] [5] [6] [7]
How Can You Book Truffle Shuffle Classes
Even though Truffle Shuffle has launched its own store, it didn't abandon its beginnings as a cooking class platform. You can still book their classes right from their official website.
Head there and click on 'Private Events' then opt-in for a Live Chat with one of the team members. You'll be able to discuss your specific requirements in regard to budget, group size, and menu.
More than 10,000 class attendees were left satisfied with their experience, judging by the 4.9-star rating.
You can also book special events there. The "Holiday Spiced Sugar Cookies and Eggnog Class" for example is a time-limited offer that will teach you how to make classic holiday cookies. [6]
Truffle Shuffle Net Worth
The company started out small, but after its appearance on Shark Tank, it saw a major influx of both customers and attention. This allowed them to grow at a much faster rate than they had been previously. In the years since their time on the show, they've continued to expand their product line and increase their sales.
They're now one of the most successful companies to come out of Shark Tank, and it's safe to say that they're doing quite well for themselves. [8]
Truffle and Shuffle Competitors
As an online cooking class platform, Truffle Shuffle competes with other online cooking classes, such as Food52, but also with more general online learning platforms, like Skillshare.
In terms of competition from other online cooking classes, Food52 is one of the most well-known names in the space. They offer a variety of cooking classes taught by professional chefs, as well as a large recipe database and food-related articles on their website.
Truffle and Shuffle, however, offers a subscription program that not only gives you access to all the past online classes but also a recipe book.
In addition, Truffle and Shuffle is mainly based on cooking high-end meals, whereas Food52 offers a wider variety of classes, including baking, vegetarian cooking, and knife skills.
---
FAQ
How is Truffle Shuffle doing after Shark Tank?
Jason and Tyler from Truffle Shuffle are doing exceptionally well! The company is still in business as of 2022 and doesn't seem to disappear anytime soon.
The investment from Mark Cuban really helped the guys grow their business and they now offer a much larger variety of online classes in addition to a membership program for the biggest fans.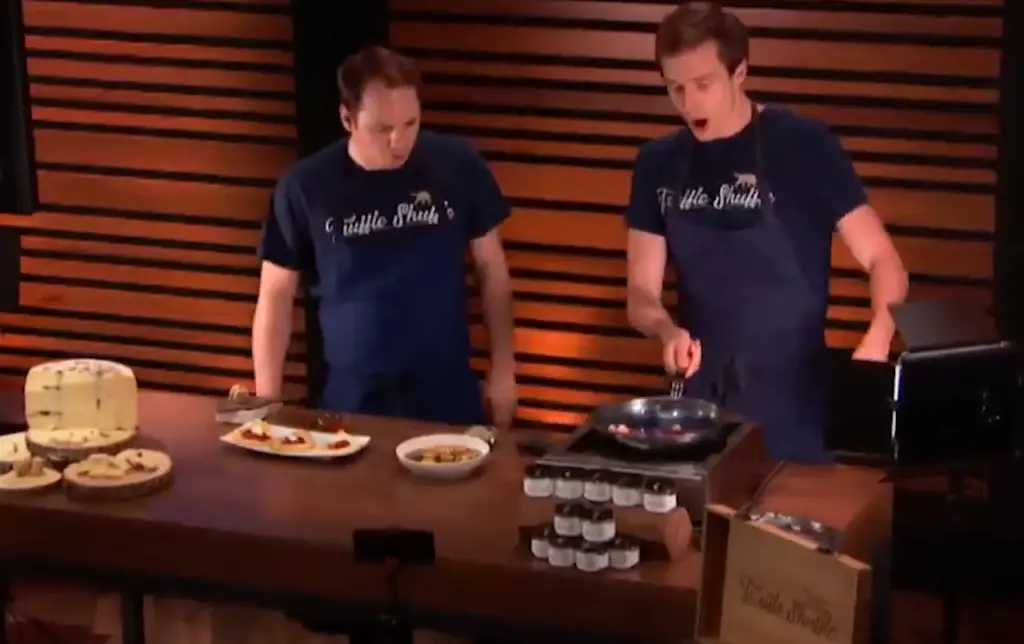 So far you can only purchase their products online but the company is planning to open up brick-and-mortar stores in the near future!
What is Truffle Shuffle on Shark Tank?
Truffle Shuffle is a platform that helps people find and share recipes. The company was featured on Shark Tank in the twelfth season where it received a $ 510,000 investment from Mark Cuban for 18% equity.
The Truffle Shuffle team not only shares top-notch recipes and classes using high-quality ingredients, but they also give the home cooks special tips and tricks on how to make the meal more tasty and presentable.
You also can purchase truffles and truffle products on their website to save some time on shopping.
Is Truffle Shuffle successful?
Truffle Shuffle has managed to reach success! They have been selling out of products and have even had to hire extra help to keep up with the demand. Online classes are still up for booking and they have more than 10K of satisfied customers.
They have also reached $ 6 million in annual earnings and are now looking to expand their business by opening more locations and selling their products in stores.
Who owns Truffle Shuffle?
Jason McKinney and Tyler Vorce are the current owners of Truffle Shuffle. While they first started as a cooking class platform, they transformed into a private event catering business after appearing on Shark Tank and even sell their own truffles and mixes!
Useful Video: What REALLY Happened To Truffle Shuffle After Shark Tank?
Conclusion
Truffle and Shuffle is one of the many food businesses that have been able to find success after appearing on Shark Tank. The company has continued to grow and expand its product line since its appearance on the show, and it has become a well-recognized brand in the food industry.
Jason McKinney and Tyler Vorce had a rough start but they managed to turn their business around and make it into a success. After appearing on Shark Tank, they were able to get the investment they needed to grow their business, all thanks to Mark Cuban!
Appearance at Shark Tank gave Jason and Tyler the needed exposure and credibility to take their business to the next level. Many new people were introduced to the product and the brand, which helped sales to grow significantly. They were so confident in their business and user base to launch a membership program!
People still keep booking cooking classes and truffles are running out of stock all the time at many stores. You can't really find a better success story than this!
What do you think about Jason McKinney and Tyler Vorce's story? Let us know in the comments below!
---
References:
https://www.sharktankblog.com/business/truffle-shuffle/
https://www.sharktankblog.com/truffleshuffle-online-chef-classes/
https://sharktankrecap.com/truffle-shuffle-update-shark-tank-season-12/
https://sf.eater.com/2021/4/20/22392158/truffle-shuffle-shark-tank-cooking-classes-san-francisco
https://www.mashed.com/998153/what-happened-to-truffle-shuffle-after-shark-tank/
https://www.truffleshufflesf.com/
https://www.instagram.com/truffleshuffle_sf/
https://sharktanktalks.com/truffle-shuffle-shark-tank-update/