The SBU (Self-Balancing Unicycle) is a unique mode of transportation that first appeared on Shark Tank in 2012. Invented by Daniel Wood, the SBU utilizes gyroscopic stabilization to keep the rider balanced while riding. Despite initial skepticism from the show's investors, Wood was able to secure a deal with Mark Cuban, and the SBU has since gained a following among enthusiasts of alternative transportation [1].
However, the journey of the SBU after its appearance on Shark Tank has been fraught with challenges.
One of the main obstacles has been the emergence of competitors in the market. Other companies have created their own versions of the self-balancing unicycle, making it difficult for the SBU to maintain its edge. Additionally, the high price point of the SBU has made it inaccessible to many potential customers.
Another issue facing the SBU has been the lack of regulation surrounding electric unicycles. Many cities and states have yet to create laws governing the use of this type of transportation, which has made it difficult for the SBU to market itself effectively. However, Wood has been active in promoting the safety and benefits of electric unicycles, helping to create a growing community of enthusiasts.
Despite these challenges, Wood has continued to improve the product and has recently released a new version of the SBU that boasts improved battery life and increased stability. As more people become interested in alternative modes of transportation, the SBU and its competitors may become increasingly relevant, making it an exciting time for the industry.
In this article, we will explore the history and evolution of the SBU Self-Balancing Unicycle, examining the challenges it has faced and the ways in which it has adapted to the changing market. We will also look at the future of the electric unicycle industry and the potential impact of new innovations and regulations on the SBU and its competitors.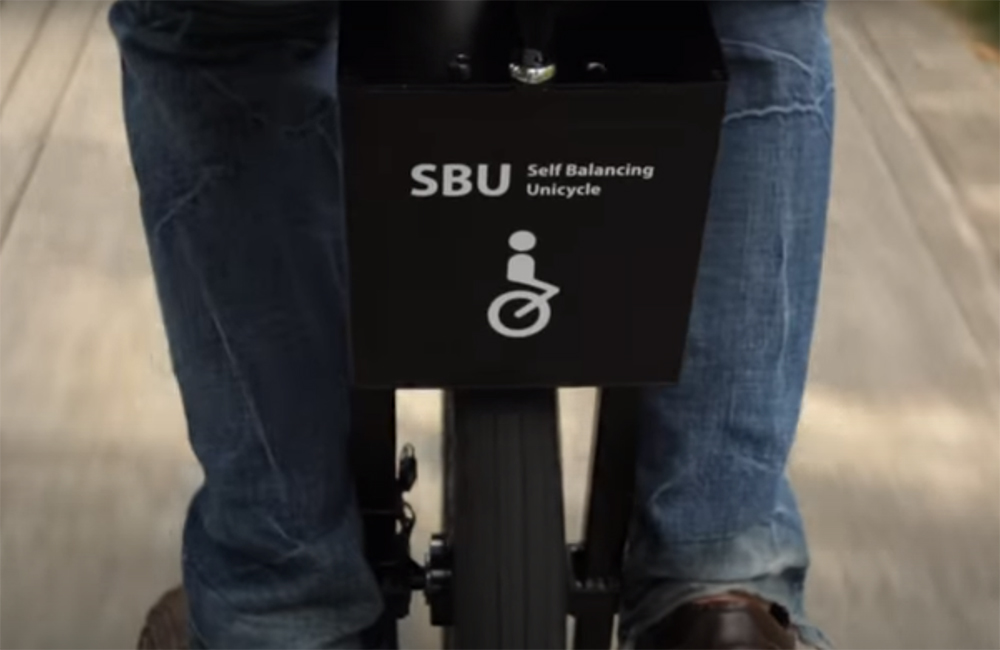 What Is SBU – Self-Balancing Unicycle?
The SBU or Self-Balancing Unicycle is a unique mode of personal transportation that combines the latest technology and engineering to create a fun and efficient transportation solution. The SBU can best be described as an electric unicycle with self-balancing capabilities, allowing riders to smoothly and effortlessly travel short distances while standing on a single wheel.
The SBU operates using advanced gyroscopic technology that balances the wheel automatically as the rider shifts their weight. The user simply stands on the foot pedals and leans forward or backward to control the speed and direction of the SBU. The SBU can reach speeds of up to 15 miles per hour and can travel between 8 and 12 miles on a single charge, depending on the model.
One of the most notable features of the SBU is its compact design, which allows it to fit easily in the trunk of a car or on public transportation. The SBU is also eco-friendly, emitting no harmful emissions or pollutants during operation.
Despite its compact size, the SBU is also incredibly durable, with a robust frame and high-quality components that can withstand the rigors of daily use. Additionally, the SBU features a unique hub motor system that provides a smooth and quiet ride.
Moving ahead to 2023, the rideables from this company are still up for grabs. The current product line-up comprises 5 distinct models:
The Solowheel Extreme is lightweight and portable rideable featuring an 18" wheel and contoured leg pads for comfort and stability. It sports a built-in handle and foldable foot platforms and is available in two colors – black and white. The price tag for this model is $899;
Hoverwheel Hover Skates are self-balancing electric hover shoes that combine the features of inline skates and a hoverboard. They are lightweight, easy to carry, and transport. As of writing, they are currently sold out and retail for $349;
Designed for transportation and play, the Iotatrax is a compact-style hoverboard that is easy to maneuver in tight spaces, thanks to its narrow design. It is currently sold out, and its retail price is $499;
The Solowheel Classic is a gyro-stabilized electric unicycle that includes two foldable foot platforms and a wheel. It packs a 1000-watt motor, gyro sensors, and a rechargeable Lithium-ion battery. The retail price for this model is $699;
The Solowheel Scorpion is the latest addition to their product line-up. It features a convertible handle that doubles up as a kickboard, Bluetooth technology, and a headlight for illuminating your path. It retails for $699 [3];
Apart from rideables, the company also offers sporting goods such as Swerver Skates and roll-up sails. The Orbitwheel is another innovative product that combines inline skates and a skateboard, while the Lunicycle is a pedal-powered unicycle with specially-designed leg supports. The AquaSkipper is perfect for walking or surfing small waves, while the Roll-Up Sail is a stand-up paddle that harnesses the power of the breeze.
About The Founders Of SBU Self-Balancing Unicycle
Daniel Wood is the inventor and founder of the SBU Self-Balancing Unicycle. Wood had a background in product design and engineering and was fascinated by the possibilities of using gyroscopic technology to create new modes of personal transportation. In 2007, he incorporated Focus Designs and began working on the SBU, which was released commercially in 2008.
Wood's vision for the SBU was to create a compact and eco-friendly mode of transportation that could be used for short trips or daily commuting. The self-balancing capabilities of the SBU made it a convenient and easy-to-use option for riders, and its compact size made it easy to transport and store.
Since the release of the SBU, Wood, and his team at Focus Designs have continued to improve and refine the product, releasing new models with updated features and components. The company has also been actively involved in promoting the use of self-balancing technology, sponsoring events and competitions, and introducing the SBU to new audiences.
Although the SBU demonstrated potential as a standalone product, the company struggled with scaling to meet demand, creating a robust distribution chain, and providing reliable customer support. This led to the company being dissolved after gaining traction on the Shark Tank in 2012 [4].
Despite the challenges faced by the company, Daniel Wood's innovation and pioneering of the self-balancing unicycles represented one of the significant innovations in the world of personal transportation, inspiring new models, and designs. Wood's persistence and vision led to the creation of a practical and eco-friendly mode of personal transportation with a unique and compelling design that captured the imagination of people worldwide.
The Pitch Of SBU Self-Balancing Unicycle At Shark Tank
Daniel Wood and David Martschinske made a grand entrance into the Shark Tank, riding what appeared to be unicycles while sporting matching black helmets and t-shirts. As they circled around the sharks, the panel burst into laughter before the duo eventually approached the stage. David then proceeded to introduce their innovative product, the SBU, or self-balancing unicycle, the only one of its kind on the market, and an electronic device. They were seeking $300,000 in exchange for a 10% stake in their company.
Daniel took over the presentation, outlining the advanced technology behind the SBU's self-stabilizing and movement capabilities, leaving most of the sharks looking overwhelmed and bored. Only Mark Cuban appeared excited.
To help the investors better understand, David chimed in, claiming he could "speak nerd" and translate the technicalities of the SBU. He went on to explain that the SBU employed "smart sensors", similar to those in a Segway, to keep the rider balanced and that it didn't require any pedaling, making it easier to balance. David also highlighted the SBU's intuitiveness to the rider's movements, making it a breeze to ride.
Daniel then hopped back onto the SBU to demonstrate how it worked. David mentioned that the SBU was portable enough to fit under a desk, making it an excellent commuting option for those looking to impress colleagues.
In jest, he added that if the sharks were anything like Daniel, they could also program a graphing calculator, which garnered more laughter. Robert humorously commented on Daniel's nerdy laugh, adding to the light-hearted atmosphere of the presentation.
During his presentation to the Sharks, David shared that the SBU was capable of reaching a top speed of 15 miles per hour and could travel an impressive 10 miles on a single charge. He then jokingly asked who was ready to "ride nerdy" with them, which elicited laughter from Mark and a request from Robert to try the unicycle. After putting on a helmet, Robert received a tutorial from David on how to use the device, with tips such as leaning forward to accelerate and leaning back to slow down.
With Daniel and David supporting him on either side, Robert gave the SBU a try, but he struggled to maintain his balance. Daniel noted that it typically takes around 20 minutes to learn how to use it effectively and recommended using it in a spacious area like a parking lot.
Upon seeing Robert's attempt, Kevin expressed his interest in trying it out as well. With the support of the entrepreneurs, he took his turn on the SBU and declared it "very cool". He even asked about the price, to which Daniel responded that it was $1,800 but could be obtained for free through a deal. Daymond inquired about the sales history of the SBU, and Daniel shared that they had recently finished their overseas factory and had already sold all 100 units produced that week.
When Mark asked about the cost to produce the SBU, Daniel revealed that it was $350,000 [5]. The conversation then shifted to the comparison between the SBU and the Segway, with Robert bringing up the unfortunate accident that befell one of the Segway's founders.
David acknowledged that the Segway was overhyped and lacked portability and convenience, but he expressed confidence that the SBU would not face the same issues as it was smaller and more maneuverable. Kevin questioned whether there were any legal concerns with using the SBU on public sidewalks, but Mark felt that it would not be as problematic as the Segway due to its size and design.
The Sharks were intrigued when Daniel shared that they had been stopped by several police officers while riding the motorized unicycle. He added that the officers loved the product and wanted to know where they could get one. However, Lori expressed her concern, stating that she needed to be passionate about any business she invested in. While she liked the entrepreneurs, she didn't feel excited about the unicycle and decided to opt out.
Daymond showed some interest, but was wary of the Segway's business model and ultimately chose not to invest. Robert echoed Daymond's sentiments, citing the Segway's huge loss of investment. David was shocked but nodded in acceptance. Kevin was conflicted, as he liked the product, but felt it was not worth the $3 million valuation.
To convince Kevin, David estimated that they could sell 1,000 motorized unicycles in a year, resulting in a profit of $1 million. Kevin was skeptical but asked if they could guarantee quality assurance, considering that their manufacturing was overseas. Mark expressed his concern, stating that trusting overseas manufacturers was risky, and if there were any production issues, the entire business would be in trouble. He cited Apple's similar problems and opted out. Though SBU had a brilliant design, Mark didn't like the idea of relying on overseas manufacturers.
Robert expressed his skepticism regarding investing $3 million in the mass transport market, citing past failures in similar ventures. However, Daniel interrupted him, mentioning that their motorized unicycle had the most advanced bike controller, which he personally designed, and that much of the technology was exclusive to them.
Robert appeared surprised and suggested that they should have mentioned their patents earlier. Despite this, Daniel went on to reveal that other bike manufacturers were interested in licensing their technology, which they had already begun doing and were receiving royalties for it.
Daymond urged them not to waste any more time, and the entrepreneurs ultimately agreed to the deal with Robert and Kevin. As they cycled off the stage, Daniel expressed excitement about partnering with two of the biggest nerds on Shark Tank, while David envisioned putting a motorized unicycle in every cubicle in America.
SBU Self-Balancing Unicycle After The Shark Tank
Following their appearance on Shark Tank, Woods and Martschinske decided not to pursue the deal and the investment opportunity did not come to fruition.
In the aftermath of the show, two additional versions of the SBU were introduced to the product line. The SBU was also featured on popular TV programs such as Mythbusters and Tosh.0 [6].
Initially, the SBU could be purchased on Amazon and through Focus Designs directly. However, at present, the product appears to be unavailable and has been discontinued.
The Net Worth Of SBU Self-Balancing Unicycle
As of 2023, the net worth of the SBU Self-Balancing Unicycle is unclear. The company faced challenges in scaling its production to meet demand, creating a robust distribution chain, and providing reliable customer support, which led to its dissolution after gaining traction on Shark Tank in 2012 [7].
The company's initial valuation was around $900,000, and after securing an investment for 33% equity from two Sharks, the net worth likely increased to some extent. However, the company's ultimate fate remains unclear, and it is difficult to determine its current net worth.
While the SBU Self-Balancing Unicycle did not enjoy long-term success as a standalone product, its impact on personal transportation and gyroscopic technology cannot be denied. The SBU inspired new models and designs, and its innovative features have been incorporated into other products, such as electric scooters and hoverboards.
Alternatives To SBU Self-Balancing Unicycle
There are several alternatives to the SBU Self-Balancing Unicycle available on the market today:
Electric scooters are a popular alternative to the SBU self-balancing unicycle. They are lightweight, easy to use, and can reach faster speeds than the unicycle. Some popular electric scooter brands include Bird, Lime, and Segway;
Hoverboards are similar to the SBU in that they are self-balancing, but they have two wheels instead of one. They can be a bit more challenging to use than the SBU, but they offer a unique and fun riding experience. Some popular hoverboard brands include Swagtron and Razor;
Electric skateboards are another alternative to the SBU. They offer a smooth and easy ride and can reach faster speeds than the unicycle. Some popular electric skateboard brands include Boosted and Evolve;
Electric Unicycles: If you enjoy the idea of a self-balancing unicycle but want something different than the SBU, an electric unicycle might be a good alternative. These devices have one wheel like the SBU but often have different designs and features. Some popular electric unicycle brands include InMotion and Kingsong;
Electric bikes are another popular option for personal transportation. They offer a more traditional riding experience than the SBU or other self-balancing devices but still provide electric power for easier and faster riding. Some popular electric bike brands include Rad Power Bikes and Trek;
FAQ:
How do Self-Balancing Unicycles work?
Self-Balancing Unicycles (SBU) use a combination of gyroscopes, accelerometers, and microprocessors to maintain balance. The sensors detect the rider's movements and adjust the motor's speed and direction to keep the SBU upright. The rider controls the SBU's forward and backward motion by leaning forward or backward while turning is controlled by twisting the pedals.
What is the fastest electric unicycle?
As of 2023, the fastest electric unicycle is the Veteran Sherman, which has a top speed of 50 mph (80 km/h) [8].
Is it hard to learn how do you ride an electric unicycle?
Learning to ride an electric unicycle can be challenging for some people, especially if they are not familiar with balancing on one wheel. However, with practice and proper safety gear, most people can learn to ride an electric unicycle in a few days to a few weeks.
Why is unicycling so hard?
Unicycling can be challenging because it requires a high degree of balance and coordination. Unlike a bike, which has two wheels for stability, a unicycle has only one wheel. Additionally, the rider must learn to pedal and steer simultaneously while keeping the unicycle upright.
Are electric unicycles good exercise?
Riding an electric unicycle can provide a good cardiovascular workout and can help improve balance and coordination. It also engages the core muscles, legs, and glutes.
How fast is a 32-unicycle?
The speed of a unicycle depends on several factors, including the rider's skill level and terrain. However, on average, a 32-inch unicycle can travel at a speed of 8-12 mph (13-19 km/h) [9].
Is a unicycle faster than walking?
Yes, a unicycle is generally faster than walking, especially if the rider is skilled and riding on flat terrain. However, it may be slower than cycling or other forms of transportation.
How fast can a 36-inch unicycle go?
A 36-inch unicycle can travel at a speed of around 12-15 mph (19-24 km/h), depending on the rider's skill level and terrain.
Do electric unicycles balance themselves?
Yes, electric unicycles use sensors and microprocessors to balance themselves, which allows the rider to focus on controlling their forward and backward motion.
How long can a unicycle last?
The lifespan of a unicycle depends on several factors, including the quality of the components, frequency of use, and maintenance. With proper care and maintenance, a unicycle can last for many years.
What is the most powerful unicycle?
As of 2023, the most powerful unicycle is the Gotway Monster Pro, which has a 3600W motor and a range of up to 100 miles (160 km) on a single charge.
How long does it take to learn unicycling?
Is a unicycle harder than a bike?
Unicycling can be more challenging than cycling due to the need for greater balance and coordination. However, both activities require similar skills and techniques, and some people may find one easier than the other.
What is the price of a self-balancing bike?
The price of self-balancing bikes can vary depending on the brand, model, and features. On average, they can range from a few hundred dollars to several thousand dollars.
Can you coast on a unicycle?
Coasting on a unicycle refers to the act of riding without pedaling, relying solely on the rider's balance and momentum to keep moving. While it is possible to coast on a unicycle, it requires a significant amount of skill and practice. Coasting on a unicycle is generally more difficult than coasting on a bicycle because the lack of handlebars makes it harder to maintain balance. Some experienced unicyclists are able to coast for long distances or perform tricks while coasting, but it is not a common skill among unicycle riders.
Is it easier to ride a unicycle with a bigger wheel?
In general, it is easier to ride a unicycle with a larger wheel. This is because larger wheels have more rotational inertia, which means they are harder to stop or change direction. This stability can make it easier for beginners to learn to balance on a unicycle.
However, larger wheels also require more leg strength to get moving and maintain balance, so they may not be suitable for all riders. Ultimately, the size of the wheel that is best for a rider will depend on their height, weight, skill level, and the type of riding they want to do.
Is riding a unicycle good for your core?
Yes, riding a unicycle can be a great workout for your core muscles. Balancing on a unicycle requires a lot of core strength, as well as strong leg muscles to control the pedals and maintain balance. Riding a unicycle can help to tone your abs, back muscles, and hips, and can also improve your posture and balance. However, it is important to start slowly and gradually build up your strength and endurance, as unicycling can be quite challenging at first.
How tall should you be for a 24-inch unicycle?
There is no hard and fast rule for how tall you should be to ride a 24-inch unicycle, as it will depend on a variety of factors, including your leg length and riding style. In general, a 24-inch unicycle is a good size for riders who are between 4'6″ and 5'6″ tall. However, some riders who are taller or shorter than this range may also find a 24-inch unicycle to be a good fit, depending on their leg length and riding preferences. It is important to choose a unicycle that is the right size for you, as this can help to make learning to ride easier and more comfortable.
Useful Video: SBU – Electric Self Balancing Unicycle
References:
https://gazettereview.com/sbu-happened-shark-tank/
https://2paragraphs.com/2016/11/sbu-what-happened-to-1795-electric-unicycle-after-shark-tank/
https://insidergrowth.com/sbu-topper-net-worth/
https://www.sharktanksuccess.com/sbu-self-balancing-unicycle/
https://www.sharktankblog.com/business/self-balancing-unicycle/
https://sharktanktales.com/self-balancing-unicycle-shark-tank-update/
https://allsharktankproducts.com/shark-tank-products-tech/sbu-self-balancing-unicycle/
https://kirktaylor.com/sbu-self-balancing-unicycle-focus-design-shark-tank/
http://focusdesigns.com/2012/11/sbu-on-shark-tank/