Muff Waders, the company that created a unique wader design to keep your drinks cold during summer fishing, made an appearance on Shark Tank in early 2021. Unfortunately, the company couldn't get a deal from any of the sharks. However, what exactly happened to Muff Waders after Shark Tank? Did they manage to succeed despite landing no deal? This comprehensive guide will answer all of your questions about the future of the company and their products!
What are Muff Waders?
If you love to fish in the hot summer season you should know how important cold drinks are to keep you going. But, when you're out in the sun all day it's hard to keep anything cold for very long. Especially if you don't have a cooler with ice or access to a fridge. The Muff Waders are a great solution to keeping your drinks cold all day long while fishing or doing any outdoor activity in the heat.
Even outside of summer, carrying your drinks around with you can be a pain. If you're going on a hike or taking a long walk, you have to either drink all your water before you leave or bring a big, bulky water bottle. With Muff Waders, you can just throw a few cans or bottles in the insulated pockets and head out without having to worry about them getting warm.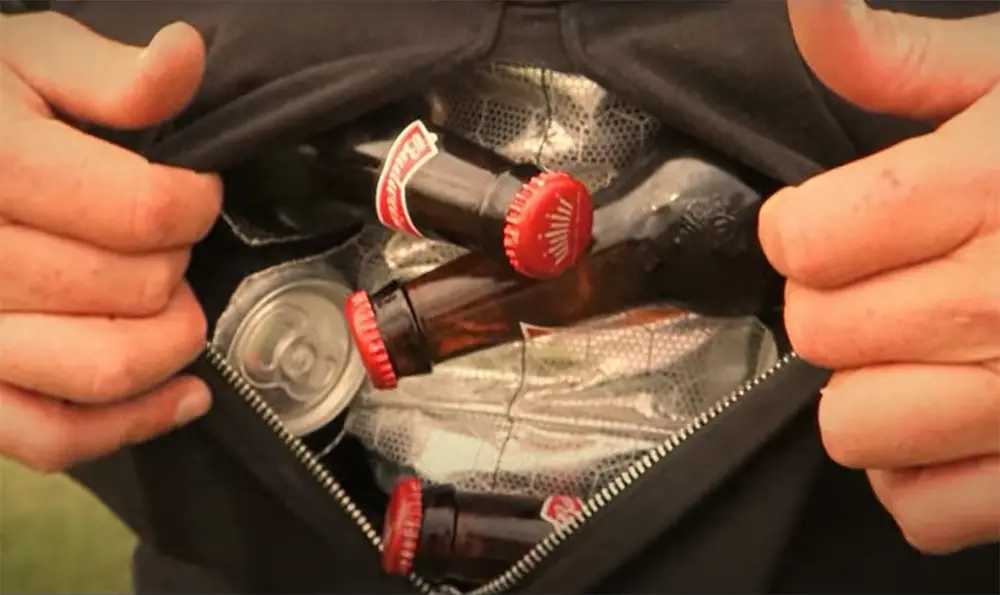 The Muff Waders are basically giant koozies that can be worn as a jacket. They have six large insulated pockets that can fit multiple cans or bottles each. There is also a zippered pocket in the front for things like keys, your phone, or snacks. And, of course, there are adjustable straps so you can make sure they fit snugly around your chest.
Despite being called "waders" these jackets are not waterproof. So, if you're planning on being in or near the water make sure to bring a separate jacket to keep you dry. The creators of the item claimed that waterproofing it would be too costly.
This piece of clothing can also be worn as a workwear or hunting gear. It has a lot of the same features as a regular work vest with pockets and straps. But, the addition of insulation makes it perfect for hot days spent outside or for storing your lunch so it doesn't get warm before you eat it. [1], [2], [3], [4], [5]
History of the Founders
Muff Waders was founded by two childhood friends, Taylor Nees and Garret Lamp, who are also known as Earl and Buddy. Both men have grown up together in a small town of Holstein, Iowa. And, both have always loved fishing and various outdoor activities.
The idea for this creation, surprisingly came to Taylor not while fishing but when they were sitting in a bar one evening. As they were enjoying their drinks, they started discussing how annoying it is that they can't keep their own drinks cool while watching the games at a stadium, and the lightbulb went off. Taylor started making a rough sketch of what would eventually become the Muff Wader on a napkin. This was when they came up with a cooler & jacket hybrid they can take every time they go fishing.
So, now they had an idea on the table, they needed to find a manufacturer. This was actually the hardest part of the process. It took them months to find a company that was willing to make their vision a reality, but eventually they found one in the Twin Cities and created the first prototype.
The first prototype didn't turn out in the perfect way they wanted so they decided to improve it before releasing it to the masses. After some more tweaking and adjustments, they had the second prototype ready which looked much better.
After testing the finished product out themselves and getting some feedback from friends, they decided to launch a Kickstarter campaign in November in order to find funds for mass production. They set their goal to $135,000.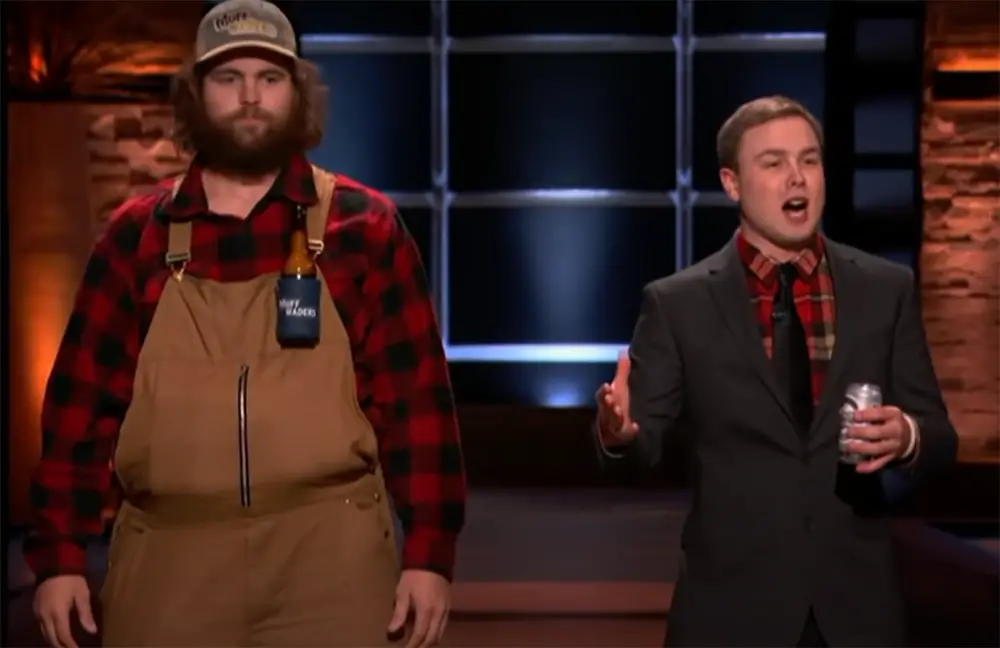 Unfortunately, their Kickstarter campaign was not as successful as they had hoped and they failed to reach the goal. But, this did not deter them. Some time after, they managed to begin mass production and, in 2020 they finally launched their product to the public.
At first, they began advertising their product on their Facebook page. They included a video showcasing how the Muff Waders work and what they can be used for. The video soon went viral with over 100,000 views in just a few days.
Muff Waders at Shark Tank
In 2020 Taylor and Garret appeared on Shark Tank where they asked the sharks for $25,000 in exchange for a 25% stake in their company. They needed some help with supply chain logistics as well as marketing since one Muff Wader cost them $35 to make and they sold them for $55.
The duo presented how the product works, and told the sharks their own story. Sharks were impressed by the sales numbers and the main gimmick of the product managed to catch their attention.
The two friends also brought up that they are working on a new product called Muff Spenders, which will allow you to easily attach your drink of choice and enjoy it throughout the day. According to them, this analogue of Muff Waders is intended to be used in more formal settings, like a wedding. These suspenders have pockets for both cans and bottles on each side!
Despite the sharks expressing some interest, none of them decided to invest in the company. Their reasoning was simple, they didn't think that the product had enough potential to grow into a large company. And so the duo had to leave the tank without a deal. [2], [3], [5], [6]
Muff Waders After Shark Tank
This wasn't the result Taylor and Garret expected nor wanted, but they decided to not give up on their dream. The two entrepreneurs continued working on their business and managed to find some success.
Appearance on live TV helped them to get more exposure and soon they were able to build a small but passionate customer base. They even started to run their own blog on their website.
They also have an Instagram account with over 4 thousand followers where they post various pictures and videos of their everyday life. Muff Waders don't fare bad in social media presence on Facebook either with around 5 thousand likes and regular updates on their life.
Trevor and Garret seem to be happy their accidental invention got so much traction, as they continuously share the pictures of customers using their product in various creative ways.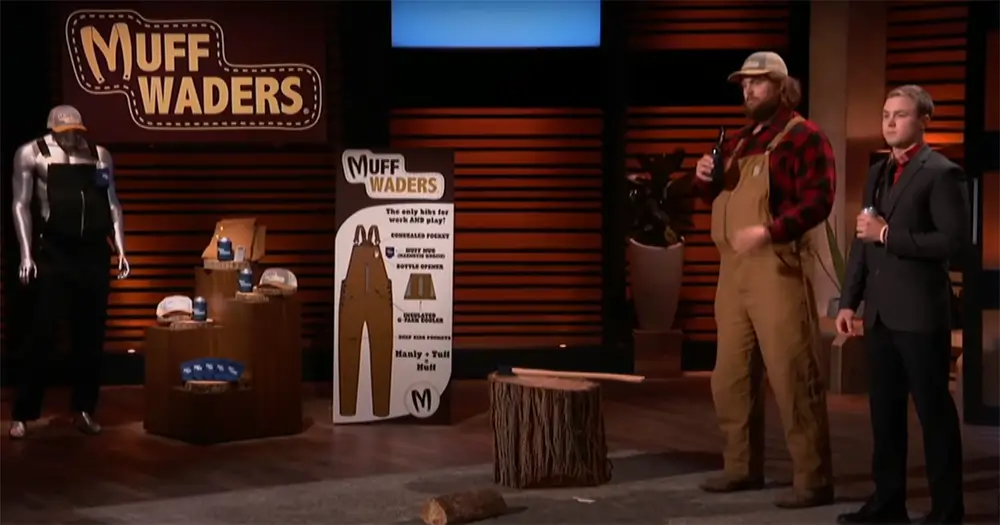 They did struggle a bit during the pandemic since people were not going outside as much, but they managed to make a slight comeback by selling their products now that things are starting to return back to normal.
They decided to raise the price for their product to $89.99 from the initial $55.99. As of now there's only two colors available, brown and black. The overalls are mainly popular among the fishermen and people who spend a lot of time working outside as the product makes it easier to carry all the drinks with you and enjoy them during the break. Customers can also choose one among three available sizes: Medium, Large or X-Large.
One thing we noticed is that the price for one unit on Amazon is different from the website, it's currently set at $96.
They eventually expanded their product line to include the Muff Spenders they've been working on at the time of the filming.
Muff Spenders are a bit cheaper than Muff Waders and are available for $55.00. For this product, you can opt for more design options. For example, you can go with patriotic USA stars and stripes design or opt for a more formal look with black or navy blue colors. You have two choices when it comes to size: Small or Large.
Besides these two can holders, Taylor and Garret have also started selling "Muff" merchandise, such as T-shirts, hats, and even patches.
The company has also implemented a Brand Ambassador model. You can either pick commision based or reseller options. For commision based, you will receive a special code that you can share with your friends and family. For each purchase made with that code, you will receive a certain percentage of the sale. The reseller option is great for those who want to sell Muff Waders in their own store or website. You will be provided with a special login to their site where you can place orders at discounted prices and have them drop-shipped directly to your customers! [1], [2], [3], [4], [5], [7]
Muff Waders Net Worth
Following the show, Muff Wader's had reached $250,000 in sales and as of now, Muff Waders' net worth is estimated to be around $500,000. This is a huge increase from the $50,000 they had when they first appeared on Shark Tank.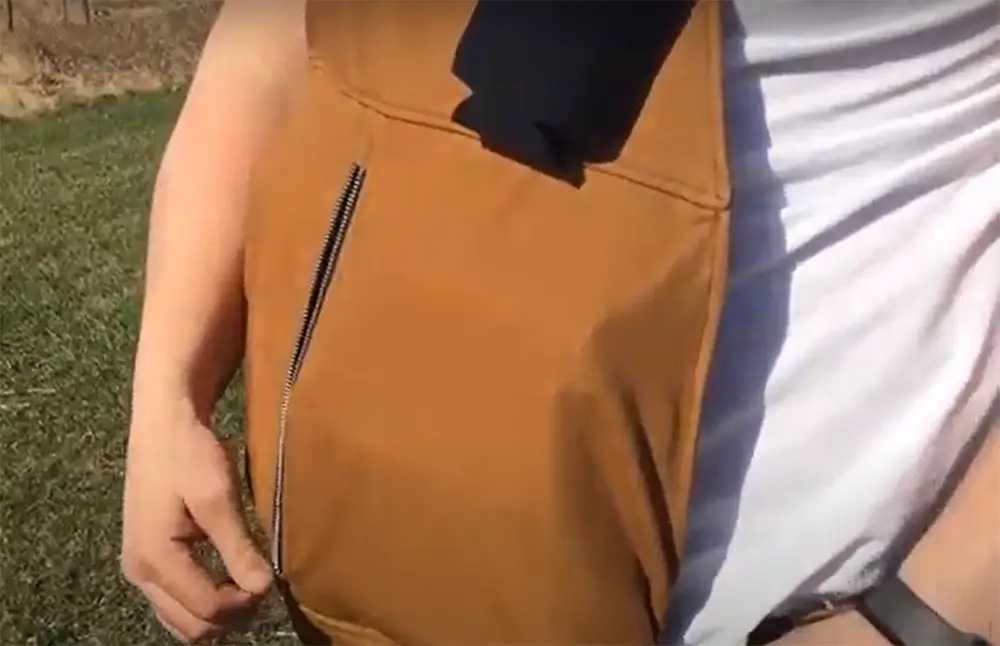 Main Competitor of Muff Waders
From what we saw, for now there aren't any big competitors for Muff Waders. There are some other companies that make similar products, but they don't seem to be as popular or neither do they have the same exposure.
It will be interesting to see if any new competitors emerge in the future and how Muff Waders will fare against them. For now, it seems like they are the top dog in their little niche! [3]
FAQ
Who created Muff Waders?
Taylor Nees and Garret Lamp are the founders of Muff Waders. The duo was sitting at the bar when they started making jokes about a jacket that can keep your beer cold. They were quick to sketch out a design on one of the napkins near them, and before too long the idea for Muff Waders was born!
They contacted around 80 manufacturers around them, but to no luck. Everyone they talked to said that it was impossible to make a jacket with built-in koozies. But, these two entrepreneurs were not about to give up that easily.
Finally, after months of searching they found a manufacturer who was willing to take on the challenge. And as you know it turned out to be a success!
What are Muff Waders?
Muff Waders are a type of overalls that have been designed to keep your drinks cold while you're working. They have a special pocket in the front that can hold up to six cans of beer or soda. The overalls are easy to use and can be washed in a washing machine with no problem.
Did Muff Waders get a deal at Shark Tank?
Unfortunately, Muff Waders did not get a deal from any of the sharks. They were told their product is interesting from a gimmicky standpoint, but it was not something that would interest the sharks as an investment as they didn't see much potential in this product.
While Muff Waders are still a small company, they still have managed to find some success in the market even without a deal. Who knows, maybe one of the sharks will regret passing on this opportunity!
Useful Video: Shark Tank US | Muff Waders Pitch Their Handy Product To The Sharks
Conclusion
After their appearance on Shark Tank, Muff Waders managed to gain some exposure and popularity. Yes, they may have failed to land a deal but this didn't make them abandon their ambitions. The story of Taylor Nees and Garret Lamp serves as an inspiration to entrepreneurs everywhere that it is possible to make your dreams a reality with enough dedication and perseverance.
It's clear that Muff Waders have come a long way since that fateful night when Taylor and Garret first came up with the idea while sitting in a bar. And they are not planning on stopping anytime soon!
References:
https://allsharktankproducts.com/shark-tank-products-fashion/muff-waders-beer-cooler-overalls/
https://moneyaves.com/muff-waders-shark-tank-update/
https://geeksaroundglobe.com/muff-waders-current-net-worth-after-shark-tank/
https://thecinemaholic.com/update-on-muff-waders-from-shark-tank/
https://www.sharktankrecap.com/muff-waders-update-shark-tank-season-12/
https://househomeandgarden.com/muff-waders-net-worth/
https://www.muffwaders.com/