In the world of entrepreneurial ambition and innovative beauty products, Makeup Junkie Bags emerged as a remarkable success story following its appearance on the hit reality TV show, Shark Tank. Founded by the enterprising Meredith Jurica, Makeup Junkie Bags captured the spotlight with its multifunctional, stylish beauty organizers.
This article delves into the intriguing post-Shark Tank journey of Makeup Junkie Bags, unraveling the pivotal decisions, challenges, and triumphs that have propelled this brand to new heights.
From wholesale domination to maintaining ownership control, we explore how Meredith Jurica's vision and strategic choices have steered her company to a position of prominence in the beauty and fashion industry.
What Is Makeup Junkie Bags?
Makeup Junkie Bags have been making waves in the beauty and fashion industry since their appearance on the popular TV show, Shark Tank.
Makeup Junkie Bags are renowned for their patented, luxury leak-resistant design. These lay-flat cosmetic and travel bags are designed with the modern woman in mind, providing a practical solution for makeup storage while maintaining a sense of style [1]. They come in a variety of fun prints, adding an element of personalization to your makeup routine.
Advantages:
One of the main advantages of Makeup Junkie Bags is their multifunctionality. They are wide enough to fit all your makeup essentials yet compact enough to carry around with ease. The bags' unique lay-flat feature allows for easy access to all your products without having to dig around.
Another positive aspect is the quality of the bags. They are built to last, with strong, durable materials that can withstand regular use. Additionally, the leak-resistant design ensures that any spillages are contained within the bag, protecting your other belongings.
The deal struck on Shark Tank with Lori Greiner has also allowed the brand to expand. Since then, the company has branched out into clothing, makeup, purses, and more varieties of the original makeup bag [2].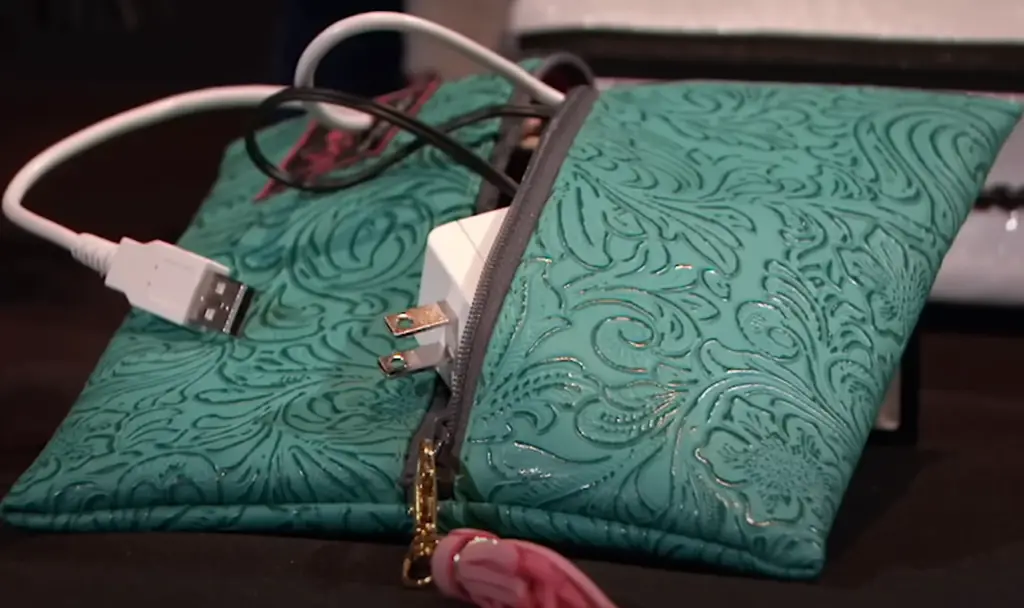 Drawbacks:
Despite the many positives, there are a few potential drawbacks to consider. One is the price point. While the quality and design of the bags justify the cost, they may be a little steep for some customers, especially when compared to other brands on the market.
Another potential con is the royalty deal agreed on Shark Tank. With Lori Greiner taking $ 0.75 per bag sold, this could potentially impact the overall profitability of the company in the long run.
Overview
Makeup Junkie Bags doesn't just offer practicality; they're also bursting with vibrant and playful prints, making them an enticing choice for women seeking both functionality and style [3]. This fusion of utility and aesthetics may well be the driving force behind the brand's burgeoning popularity.
The standout feature that captivates women across America is the product's unique ability to lay flat on any surface. While this may seem like a simple feature, it has a profound impact on organization and convenience. The bags' flat design ensures that everything inside remains neatly arranged, allowing users to locate their essentials within seconds, a remarkable time-saving benefit.
Another standout feature is the elongated zipper, which provides immediate visibility to the bag's contents upon unzipping. No more fumbling around to find that specific cosmetic item; it's all right there at your fingertips.
Furthermore, Makeup Junkie Bags' interiors are designed to be washable, allowing for easy cleaning without losing their original luster. Lastly, these bags are available in a plethora of colors and designs, empowering every woman to carry her Makeup Junkie Bags with pride, reflecting her unique style and personality.
About Founders Of Makeup Junkie Bags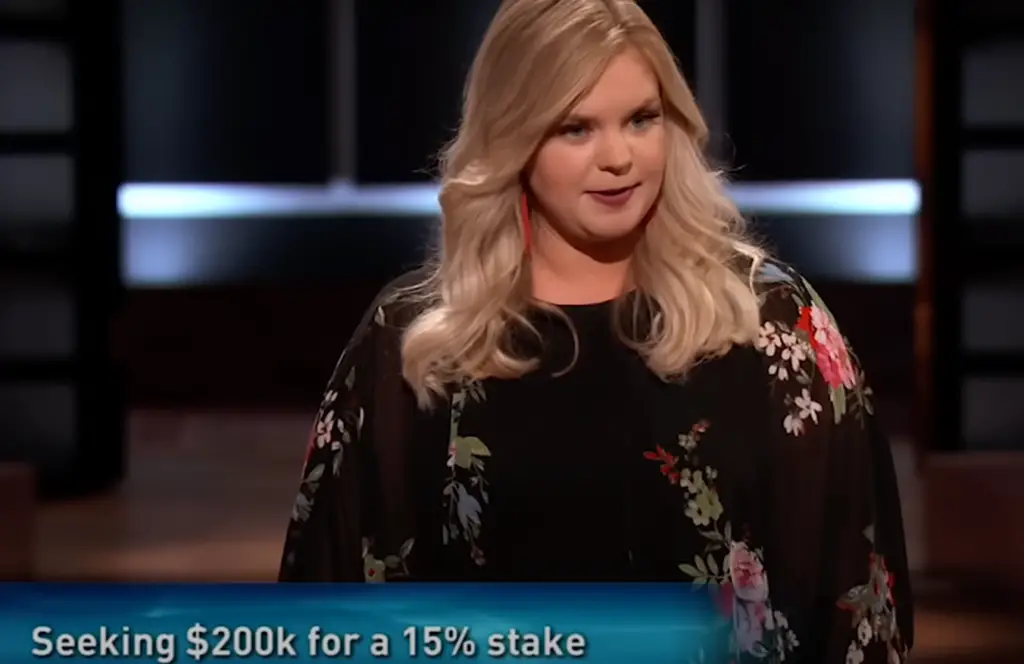 As the bag's popularity soared, it served as the catalyst for her foray into the realm of manufacturing. Unlike conventional counterparts that stand erect, Makeup Junkie Bags are ingeniously designed to lay flat on surfaces, rendering them exceptionally stable and impervious to accidental knocks.
What sets these bags apart is their interior, designed to thwart leaks, ensuring that any spills remain confined within. Their sumptuous, velvety texture allows for effortless hand-clutching, making them equally suited for extensive voyages and leisurely strolls to the nearby shopping hub. Although Meredith initially peddled her creations through social media channels, it didn't take long before wholesale inquiries started flooding in, heralding Makeup Junkie's meteoric ascent in the world of beauty accessories.
Nevertheless, Meredith's journey has been fraught with challenges. Despite churning out a monthly production of 6000 bags, the voracious demand continually outstrips supply. It's precisely this conundrum that brings her to the Shark Tank, in pursuit of a mentor and investor who can infuse additional capital and proffer sage counsel to navigate these supply quandaries.
The Pitch Of Makeup Junkie Bags At Shark Tank
Meredith entered the Shark Tank seeking a $ 200,000 investment in exchange for a 15% equity stake in her company, Makeup Junkie Bags [5]. Her impressive sales figures of $ 100,000 in just the first 12 weeks and placement in 1,200 stores across the nation earned her a round of applause from the sharks.
When Barbara inquired about her total sales, Meredith revealed that she had generated between $ 1.1 million to $ 1.5 million in the 18 months since starting her business, further astounding the sharks. Despite her success, she faced challenges, including a troublesome supplier that prompted her to invest all her profits in establishing her manufacturing plant in Texas.
Lori, eager to delve into the financials, asked about manufacturing costs and selling prices. Meredith disclosed that the small bag cost $ 6.75 to produce, while the larger one cost $ 7.50. The wholesale price for the large bag was $ 24, with a retail price of $ 50. Sara was curious about Meredith's ownership stake, and she was relieved to hear that Meredith still held 100% of the company. Meredith expressed her determination to scale production, even if it meant outsourcing to other countries, as she was nearing her capacity to fulfill larger retail orders.
Kevin O'Leary voiced his concern about the vulnerability of businesses like Meredith's to acquisition by large retailers. Meredith admitted to receiving sales offers but couldn't accept them due to the upfront cash requirements.
Barbara decided to bow out, believing that Meredith didn't require the sought-after investment and should persevere independently. Sara also declined to make a bid, emphasizing her desire for Meredith to retain full ownership of her business. Mark Cuban followed suit, citing a lack of understanding of her business operations.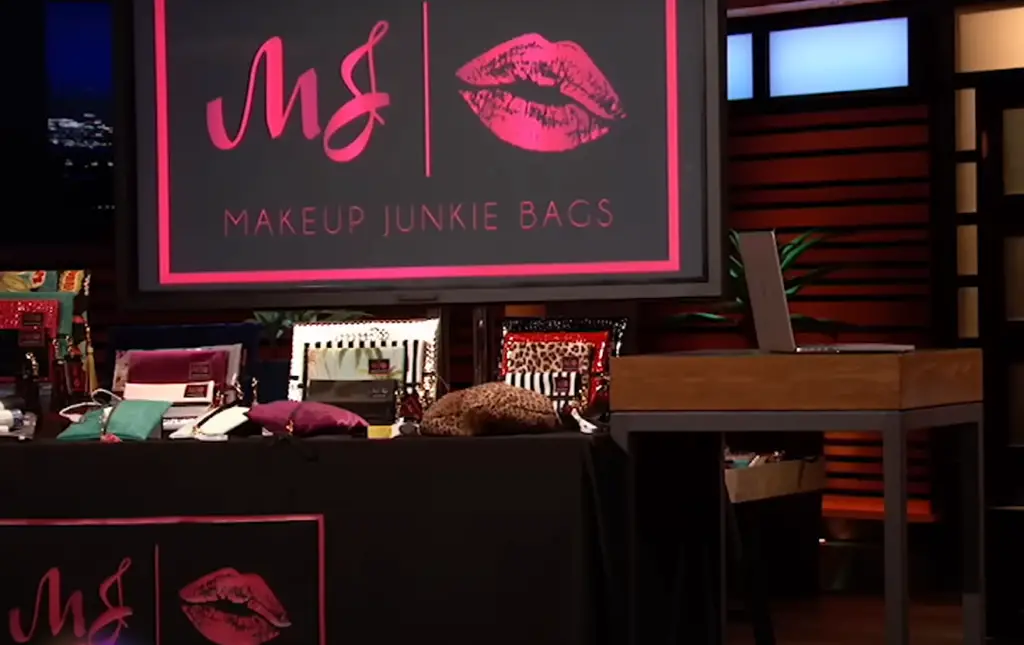 Lori, initially hesitant, offered Meredith a $ 200,000 loan in exchange for a 5% equity stake and a perpetual $ 1 royalty per bag. Kevin then made his offer of $ 200,000 for a 3% equity stake and a $ 1.50 royalty per bag until $ 750,000 is recouped. Lori clarified that she would charge a 5% interest on her loan.
Sara reentered the negotiation with a $ 200,000 offer and a $ 1 royalty per bag, aiming to help Meredith retain her business without committing as much time. Meredith requested Lori to reconsider her offer, suggesting a reduced royalty of $ 0.75 per bag, which Lori accepted, sealing the deal between them [6].
Makeup Junkie Bags After The Shark Tank
Despite the tempting offer presented to her on the show, Meredith ultimately decided not to accept Lori's proposal. While Lori Greiner boasts extensive experience in the fashion industry, including overseas operations, there were certain aspects they couldn't quite align on. Nevertheless, they parted ways amicably and maintained their connection. Meredith retains full ownership of Makeup Junkie Bags.
However, this decision didn't hinder the brand's success. Following the show, Makeup Junkie Bags received an influx of over one thousand wholesale requests, propelling its net worth to approximately $ 10 million. The company's sales strategy underwent a transformation; it shifted its focus exclusively to wholesale, foregoing the retail aspect.
Meredith Jurica's journey with Makeup Junkie Bags is a testament to determination and resilience. Armed with degrees in speech pathology, she embarked on an unexpected path as the Founder, Owner, and Lead Seamstress of Makeup Junkie Bags. Despite her initial reservations about starting a business, Meredith's passion for her cosmetic bags fueled her entrepreneurial spirit. Her foray into the business world, however, was anything but smooth, marked by challenges that included patent infringement, website content piracy, and substantial inventory loss due to Hurricane Harvey.
Nevertheless, Meredith's unwavering perseverance bore fruit as her bags garnered immense popularity, raking in $ 1 million in the very first year [8]. The brand received accolades, such as the "People's Choice Award of 2017" at Junior League Market and a feature in USA Today's list of the "Top 10 Travel Bags of 2017".
The Net Worth Of Makeup Junkie Bags
Today, Makeup Junkie Bags' expansive product line encompasses not only bags but also cosmetics, five-piece travel sets, and various accessories, all available at a remarkable 1200 stores throughout the United States. In the span from mid-year 2017 to year-end 2018, Makeup Junkie Bags achieved an impressive revenue of $ 1.5 million over an 18-month period.
Recognizing the potential for even greater sales growth with additional investment, the brand's owner decided to take her venture to the reality TV show Shark Tank, seeking a $ 200,000 investment for a 15% stake. Meredith aimed to elevate the brand awareness of Makeup Junkie Bags and ramp up production to cater to larger retailers. Her mission proved successful, as she secured an investment from Lori Greiner.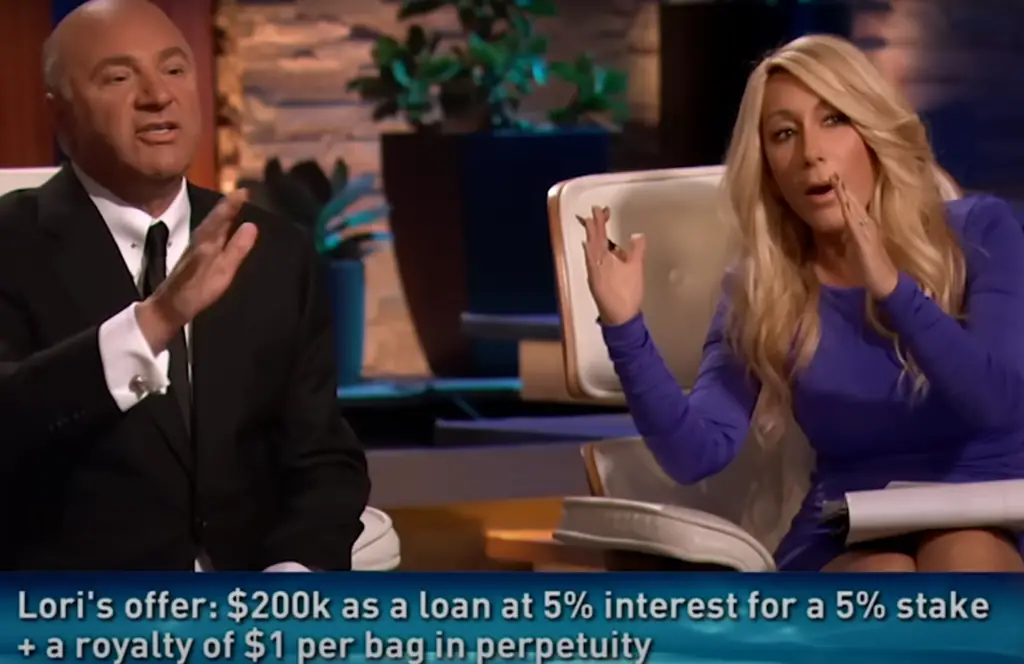 The injection of capital facilitated an expansion in Makeup Junkie Bags' production capabilities. By 2019, the brand was churning out an impressive 6000 units per month [9]. With increased production and heightened brand recognition, Makeup Junkie Bags experienced significant growth in both sales and profitability.
What's the Business Model of Makeup Junkie Bags?
Makeup Junkie Bags' business model primarily revolves around wholesale selling, a strategic choice that has contributed significantly to its success. Meredith Jurica, the founder, recognized the potential for larger profits by focusing on wholesale distribution rather than retail sales. This shift in the business model has been instrumental in the brand's growth and profitability.
Key elements of Makeup Junkie Bags' business model include:
Wholesale Distribution: The core of the business model is centered on selling Makeup Junkie Bags' products in bulk to retailers and distributors. This approach allows the brand to reach a broader customer base through various stores and outlets across the United States;
Product Variety: Makeup Junkie Bags offers a diverse range of products, including makeup bags, cosmetics, travel sets, and accessories. This product variety caters to different customer preferences and needs, enhancing the brand's market presence;
Quality and Style: The brand's products are known for their quality, stylish designs, and fun prints, appealing to customers seeking both functionality and aesthetics;
Continuous Innovation: Staying relevant and competitive in the market requires ongoing innovation. Makeup Junkie Bags regularly introduces new designs and products to meet changing consumer demands and trends;
Ownership Control: Meredith Jurica retains a significant ownership stake in the company, maintaining control over its direction and decision-making. This ownership structure allows her to steer the brand's growth and profitability while making strategic choices, such as focusing on wholesale distribution;
Financial Prudence: The brand has demonstrated financial prudence by carefully managing its resources and investments. For instance, the decision to take a loan from Lori Greiner allowed the company to grow without relinquishing a substantial ownership stake;
Brand Awareness: The brand has invested in building brand awareness, evident through appearances on television shows like Shark Tank and its expansion into numerous stores nationwide [11];
Alternatives To Makeup Junkie Bags:
Sonia Kashuk: Sonia Kashuk offers a wide range of makeup bags and organizers known for their quality and stylish designs. They are available at various price points and sizes to suit different needs;
Caboodles: Caboodles has been a popular choice for makeup storage for years. They offer a variety of cases and organizers, from classic styles to modern designs;
Victoria's Secret: Victoria's Secret offers makeup bags and travel cases with trendy patterns and designs. They are known for their durability and style;
Benefit Cosmetics: Benefit Cosmetics offers makeup bags and kits that often come with their makeup products. These can be great options if you're a fan of their cosmetics;
Trish McEvoy: Trish McEvoy offers high-end makeup organizers and bags designed for makeup artists and enthusiasts. They are known for their quality and functionality;
Tarte Cosmetics: Tarte Cosmetics offers a variety of makeup bags and travel cases that are often bundled with their makeup sets. They are known for their fun and unique designs;
Morphe: Morphe offers makeup brush and tool organizers, which can also double as makeup bags. They are popular among makeup artists;
AmazonBasics: AmazonBasics offers a range of affordable and practical makeup bags and organizers in various sizes and styles;
Sephora Collection: Sephora's in-house brand offers a diverse selection of makeup bags and cases, catering to different preferences and needs;
Travelon: Travelon specializes in travel accessories, including makeup bags with anti-theft features, making them suitable for travelers;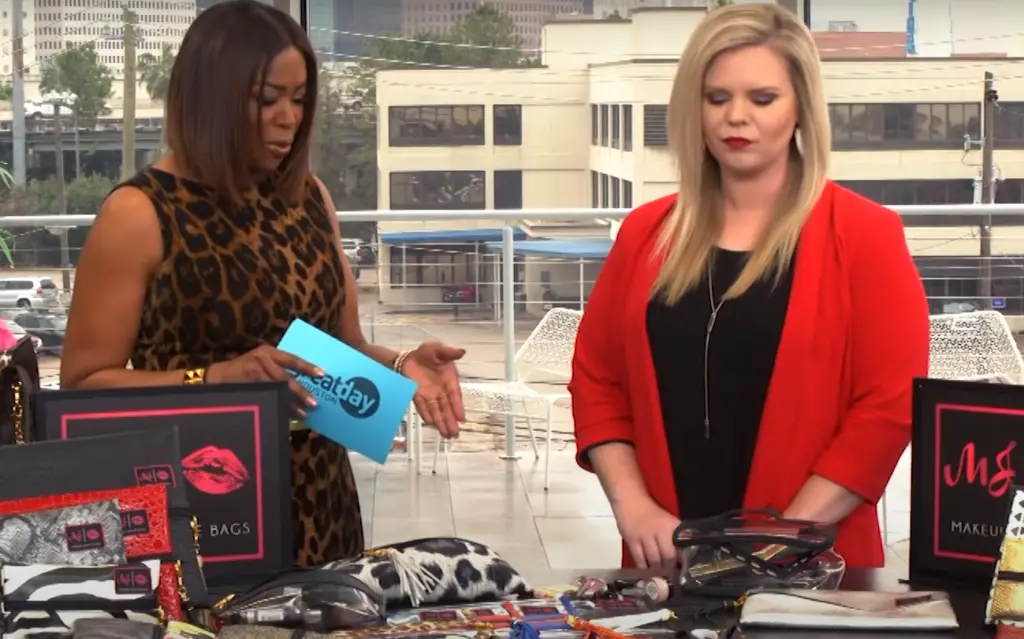 ---
FAQ:
Who owns Makeup Junkie Bags?
Makeup Junkie Bags is owned by Meredith Jurica, who founded the company out of dissatisfaction with existing cosmetic bag options. The CEO of Makeup Junkie Bags is also Meredith Jurica. She founded the company and has been instrumental in its growth and success.
Where are Makeup Junkie Bags made?
Makeup Junkie Bags are handmade in Texas. This ensures high-quality construction and attention to detail in every piece.
Can you wash Makeup Junkie Bags?
Most makeup bags (including these ones) can be cleaned. However, it's recommended to check the care label or consult the company's customer service for proper cleaning instructions.
How long does a Makeup Junkie Bag last?
The lifespan of a Makeup Junkie Bag depends on how well it's cared for and how frequently it's used. Given their high-quality construction, these bags are designed to be durable and long-lasting.
How do you clean Makeup Junkie Bags?
Specific cleaning instructions for Makeup Junkie Bags are not readily available. Generally, for makeup bags, it's advisable to empty the bag, shake out any debris, and wipe down the interior with a damp cloth. For stubborn stains, a mild soap may be used. Always let the bag air dry completely before reuse.
Why does my makeup bag get so dirty?
Makeup bags often get dirty due to spillage from products, dust from powders, and residue from makeup brushes. Regularly cleaning your makeup bag can help keep it clean and extend its lifespan.
Should you wash your makeup bag?
Yes, it's good practice to clean your makeup bag regularly. This not only keeps the bag looking its best but also helps prevent the spread of bacteria which can lead to skin breakouts.
What is the best travel makeup bag?
While "best" can be subjective and dependent on individual needs, Makeup Junkie Bags have been named one of the Top 10 Travel Bags by USA TODAY3, making them a strong contender.
What are makeup pouches called?
Makeup pouches can go by various names, including cosmetic bags, makeup bags, toiletry bags, or vanity cases. The term used often depends on the size of the bag and its intended use.
How do I choose a makeup bag?
When choosing a makeup bag, consider your needs. Think about the size (do you need it to fit in a handbag or for travel?), the type of makeup you carry, and the material and design of the bag. You might also want a bag with compartments for organization.
How to travel internationally with makeup?
When traveling internationally with makeup, it's important to comply with airline regulations. Typically, any liquids or gels must be in containers no larger than 3.4 ounces (100 milliliters) and all containers must fit in a single, clear, quart-size, zip-top bag. Having a good quality makeup bag like Makeup Junkie Bags can help protect your makeup during travel.
Do you need a makeup bag?
Whether or not you need a makeup bag depends on your personal habits and lifestyle. If you often apply makeup on the go or travel frequently, a makeup bag could be very useful. It's also a good way to keep your cosmetics organized and protected at home.
Useful Video: Makeup Junkie Bags From Shark Tank
---
References:
https://www.thelist.com/731253/what-happened-to-makeup-junkie-bags-after-shark-tank
https://gazettereview.com/makeup-junkie-bags-shark-tank-update/
https://www.sharktanksuccess.com/makeup-junkie-bags-review/
https://insidergrowth.com/makeup-junkie-bags-net-worth/
https://www.women.com/1376297/what-went-down-makeup-junkie-bags-after-shark-tank/
https://www.sharktankblog.com/business/make-up-junkie-bags/
https://2paragraphs.com/2019/05/makeup-junkie-bags-what-happened-after-200000-shark-tank-deal/
https://makeupjunkiebags.com/
https://patty360.com/makeup-junkie-bags-net-worth/
https://www.business2community.com/entertainment/shark-tank-deal-makeup-junkie-bags-accepts-200000-from-lori-greiner-02171333
https://allsharktankproducts.com/shark-tank-products-health/makeup-junkie-bags/