The episode of Shark Tank featuring VaBroom aired in the year of 2021. The product is a broom with a built-in vacuum that was pitched by the Enhance Innovations Co. The sharks were intrigued and the company duo left the tank with a deal from Kevin O'Leary. Since then, there have been a lot of questions about what happened to VaBroom after Shark Tank. In this article, we will answer all of those questions and give you the most recent information about what happened to VaBroom after their appearance on Shark Tank!
What is VaBroom?
Cleaning your house is a pain, but it's something that we all have to do. There are plenty of products on the market that claim to make cleaning easier, some of them are more unique than others.
When sweeping, you often have to deal with a lot of dust and debris flying around, which can be annoying and even dangerous if you have allergies. Not to mention the broom lines on your floor that are difficult to clean!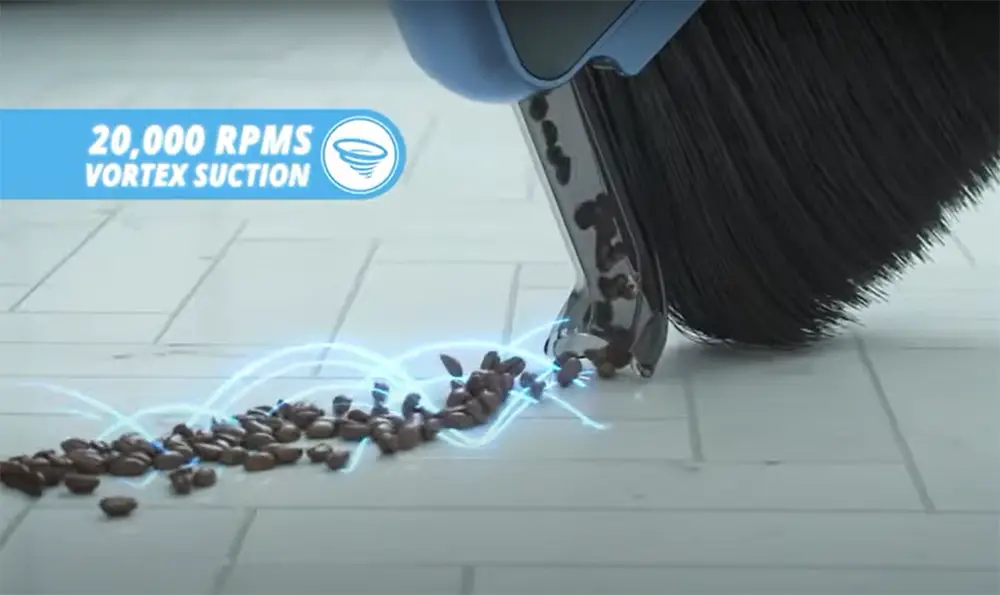 This is where VaBroom comes in. It's a cordless vacuum that also doubles as a broom.
With a push of a button, VaBroom goes from being a broom to a vacuum. The vacuum is powerful enough to pick up dirt, dust, and even pet hair. Simply press the button and tilt the broom as you sweep and the vacuum will do the rest.
The best part about this broom vacuum hybrid is that it doesn't need to be plugged in. This means that you can use it anywhere in your house without having to worry about finding an outlet. Instead, the device operates on a rechargeable lithium battery. Despite having so much for it the broom is very lightweight, making it easy to use for everyone. [1], [2]
History of the Founders
VaBroom was invented by Joseph Caswell, a Vice-President of Enhance Product Development. It is unknown how he came up with the product, but it is clear that he put a lot of thought into its design. The ones who pitched the product to the sharks however, were Trevor Lambert and John Vadnais.
Trevor is the CEO of Lambert Licensing, which is a product development company. He has over 15 years of experience in the industry and has helped to popularize a variety of existing products. Many products have been distributed in stores like Walmart, Target and Lowes under Trevor.
But Trevor wanted to create products of his own, and that's when he established Enhance Innovations. He thought that most of the companies out there lack creativity, and he wanted to change that. One of the first innovations his company was selling was Incredi microwave cookware and Migration Mars.
John Vadnais on other hand, has a Masters degree in Business Administration in Entrepreneurship and Entrepreneurial Studies of Bemidji State University. He mainly works as a Manager and Master Plumber at Roger Vadnais Plumbing company. Besides that, he also realized his entrepreneurship skills by being the CEO of Vadco Innovations LLC, and That's Epic! dba Sauce Toss. After hearing about the idea of a vacuum broom hybrid, John decided to invest $200,000 into this product. He thought it would make cleaning easier for people with mobility challenges just like him.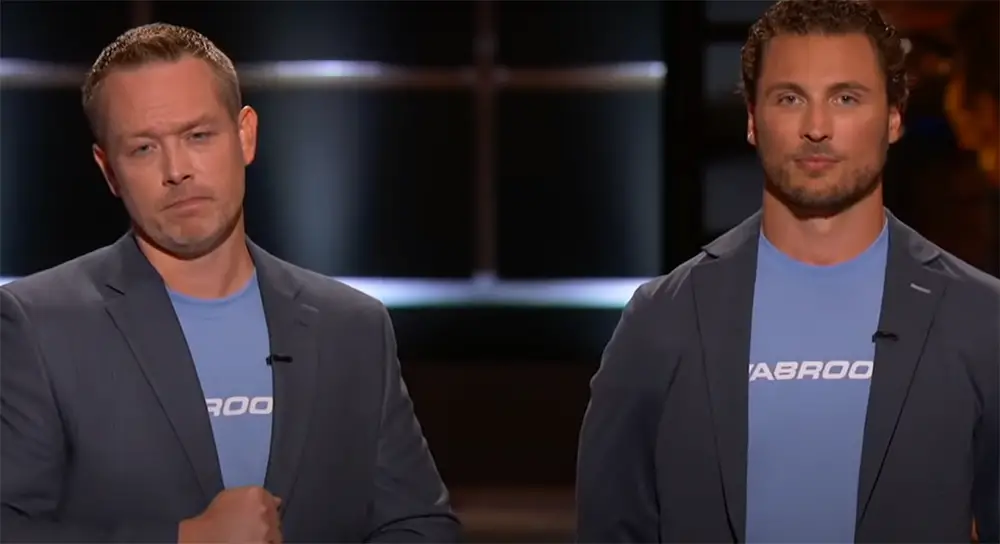 This is where Trevor and John's paths crossed. The two men quickly realized that they had similar goals and decided to create a VaBroom together. An idea that the Enhance Innovations team already had in mind for a while.
The main purpose of such an invention was to make cleaning much faster, and easier for everyone. The thought process behind the design was to make a product that would save time and effort while still being affordable.
However this wasn't enough to put their invention into mass production, so he decided to seek additional funds from another crowdfunding website called IndieGoGo. With the help of IndieGoGo they managed to raise an additional $70K, which finally allowed them to set their plans into motion.
After gaining enough funds, they began to mass produce their products. The manufacturing process initially took place in China.
Unfortunately, in 2020 another challenge appeared. The COVID-19 pandemic has put a lot of pressure on the economy, which means that a lot of small businesses have had to close their doors.
While Trevor and John managed to maintain their business, their plans for VaBroom have been put on hold since the whole manufacturing process has been delayed. Still, they continued to update their backers and keep them in the loop about what was going on.
After they managed to get back on their feet in October 2020, Trevor and John finally decided to launch their product. The very first batch of VaBroom's has been sent out to their Kickstarter backers, while the others who were interested in the product could buy it from Amazon or the official Vabroom website.
They originally intended to sell their product for $79.99, but they eventually decided to lower the price to $59.99 in order to make it more affordable for their target market.
Still, both Trevor and John wanted more exposure for VaBroom, so they decided to appear on Shark Tank. [1], [2], [3]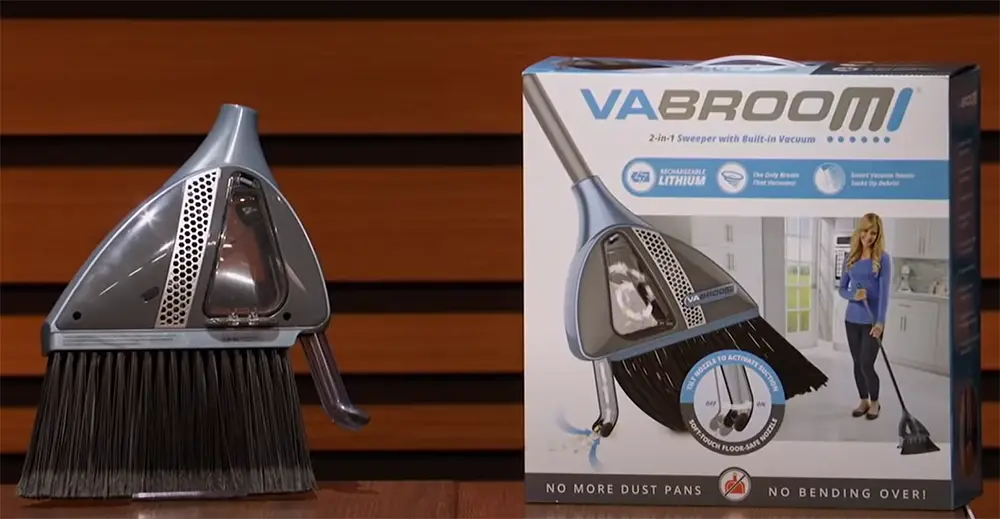 VaBroom at Shark Tank
Trevor and John enter the Shark Tank looking for $350,000 in funding for 2.5% of their company. They began by showcasing their product with the help of Kevin O'Leary, who was more than happy to test it out. After a brief demonstration, the rest of the Sharks were given their own VaBroom to try out. Overall they seemed to like how it operates.
Trevor and John then told them their own stories and how they came up with the idea for VaBroom. Then, they jumped right to the sales they've made so far. In just a year, they managed to sell $3.1 millions worth of product and are expecting to reach the $5 million mark next year.
The Sharks were impressed by the sales Trevor and John have made in such a short amount of time. But, they were also quick to point out the price point of the product being high.
Mark Cuban brought up that the equity they're asking for is too low. However he decided against investing mainly because he didn't like some design decisions that were made in this product. He was the first shark to drop out.
The guest shark, Peter Jones, agreed with Mark on the design aspects. But he also thought that a device like this is simply unnecessary since people can just use a regular broom and a vacuum cleaner. And thus he is out as well.
Daymond John too thought that the equity was way too low. He suggests that the duo is simply too greedy for seeking a deal with only 2.5% of equity. He even questioned that maybe they just came to Shark Tank for exposure and not for a real deal.
Trevor and John then moved on to Lori Greiner, who had some pretty good things to say about their product. However she then started asking about the patents they have for their product. Trevor and John revealed that they already have an international patent although their US one is still pending.
This made Lori a bit hesitant to invest, and she asks about what makes the VaBroom different from the similar hybrid cleaners. In the end, Lori decides that the product will have a hard time in such a competitive market and so she too drops out.
The final Shark, Kevin O'Leary, really liked the product. He was quick to point out that he is indeed willing to invest in VaBroom but he needs to be incentivized first. He then offers $350,000 for a 2.5% stake in the design firm on conditions of $3 royalty per unit until Kevin would recoup $700,000.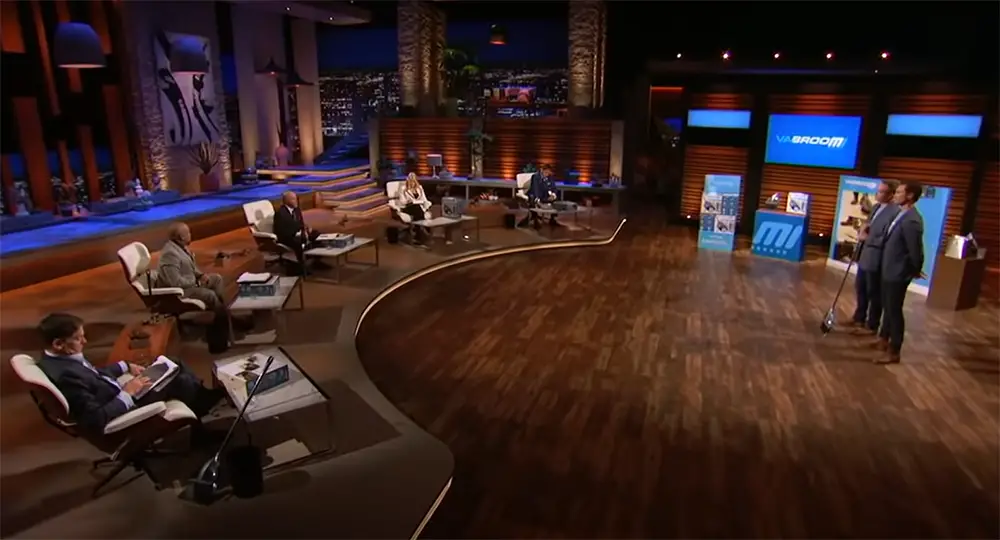 Trevor and John thought about it for a bit, but in the end they decided to counter-offer with $700,000 at 5% equity. Kevin O'Leary continued to stay his ground and in the end, Trevor and John went with Mr. Wonderful's offer and left the Shark Tank with a deal. [4], [5], [6]
VaBroom After Shark Tank
After their appearance on Shark Tank, Trevor and John managed to get plenty of exposure. Their product was featured on many popular news outlets and blogs. This helped increase their sales significantly. This is what they call an infamous Shark Tank Effect.
It's unclear how many units exactly Enhance Innovations have sold since their time on Shark Tank. However, it's safe to say that they got a boost and they're still going strong even though it's been a year since their episode aired.
The duo has also managed to keep the same price point for their product. You can currently buy a VaBroom on both the official website and Amazon for $59.99 with a one year warranty for the product. In addition, if you order two units of VaBroom, you get free shipping anywhere in the United States.
When it comes to the reviews, well they are quite mixed. The product currently holds a rating of three and a half stars on Amazon with over 800 customer reviews. Some people really love their VaBroom and claim that it's one of the most useful purchases they've ever made. On the other hand, there are also those who didn't have such a great experience with it.
They still keep their social media up to date, which indicates that they're still actively selling their product. Trevor and John seem to be very happy with the results of their Shark Tank episode. It definitely helped them take their business to a whole new level. [1], [4], [5], [7]
VaBroom Net Worth
It's hard to estimate the exact VaBroom net worth at this point. However, according to some sources we think it's safe to say that it was estimated to be around $5 millions in 2021.
The company has definitely grown significantly since their time on Shark Tank. And with Kevin O'Leary as an investor, they have access to plenty of resources and connections that can help them take their business even further. [5]
VaBroom Competitors
The VaBroom is not the only product of its kind on the market. In fact, there are many other similar products that serve the same purpose.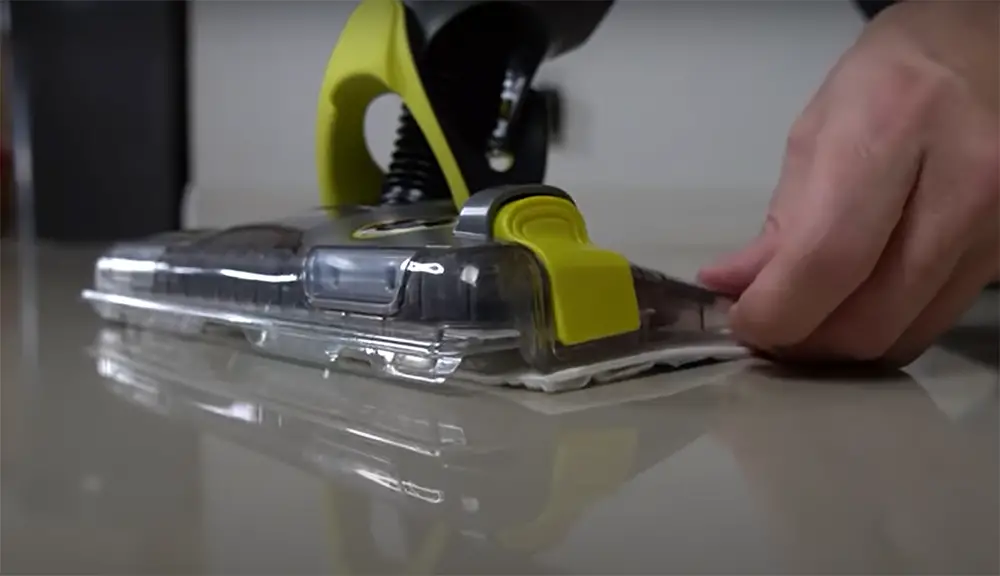 Take Dustbuster for example, it's a very popular cordless vacuum cleaner that can also be used as a broom. It doesn't have the same design as the VaBroom, but it's still a very effective product.
It's also hard to predict how many people would prefer this device over a regular broom. After all, it's not a necessity and some people might not want to spend the extra money on it. VaBroom comes at $59.99 while a regular broom costs no higher than $20. So, it's definitely not the most affordable option out there.
These are just some of the many competitors that the VaBroom has to face. And considering how competitive the market is, it's not going to be easy for them to stay on top. Only time will tell how successful the VaBroom will be in the long run. But one thing is for sure, they definitely made an impression on Shark Tank and they're not going anywhere anytime soon.
FAQ
Was VaBroom successful?
It's been a year since the airing of VaBroom on Shark Tank, and it seems like they're doing just fine. The company managed to increase their sales significantly after being featured in an episode that had millions of viewers! You can purchase this product either from the official website or Amazon–although there are mixed reviews about its quality.
Did VaBroom get a deal on Shark Tank?
Yes, the duo got a deal from Mr. Wonderful, Kevin O'Leary. He offered them $350,000 for a royalty of $3 per unit until the company will pay off $700,000 as well as a 2.5% stake in the design firm.
Who invented VaBroom?
VaBroom was invented by Joseph Caswell, a Vice President of Enhance Product Development. The ones who pitched the product to the sharks however, were Trevor Lambert and John Vadnais. Trevor is a CEO of Enhance Product Development and John Vadnais is a plumber in a 4th generation with some education in entrepreneurship, who decided to invest in VaBroom.
How much money has VaBroom made?
Trevor and John, the founders of their design business, went on Shark Tank Season 13 Episode 11 in search of $350,000 for a 2.5 percent stake in their company.
This indicated a valuation of $14 million. They accepted an offer from Kevin to invest $350,000 with a $3 royalty until he recoups $700,000 plus 2.5 percent ownership in the design business – thus giving Kevin the same valuation as if they had given him his original offer outright.
Where is VaBroom made?
Enhance Product Development, an industrial design firm in Minneapolis with a team of eight members, is the representation for VaBroom. This creation serves brand-name consumer product companies and start-ups.
How much does the VaBroom cost?
For just $79.99, the VaBroom is a cost-effective and efficient way to clean those hard-to-reach places in your home or office space. With its adjustable handle and a rotating head, the VaBroom can easily reach underneath furniture or along baseboards for thorough cleaning. Give your space a deep clean without breaking the bank with the VaBroom.
How to use VaBroom?
At VaBroom, they believe that cleaning should be easy and fun. That's why they created a 2-in-1 cleaning product that does the job of two products in one.
The built-in vacuum quickly cleans up common household dirt and debris, with no dustpan required. All you have to do is brush the mess onto the floor in a line or mound, and the VaBroom does the rest! It's powered by a rechargeable lithium battery that kicks into action when you tilt the broom.
To start the vacuum and make that debris pile disappear quickly, tilt and push the suction nozzle on the floor.
The VaBroom is simple to use – when you're done, just put it over the garbage and press the release button to clear it out (it can hold up to 1 cup of debris).
This specifically engineered pressure-activated nozzle does away with the need for dustpans! You'll never have to worry about bending down or being left behind dusty lines again.
The bristles on this broom are extra sensitive to small particles, making it more effective than a standard broom.
What are the advantages of VaBroom?
The vacuum nozzle may not be as large as the one in your household vacuum, but it is wide enough. With a few quick strokes, The wider end of the nozzle easily picks up any dust and debris you have piled up in one spot. Goodbye tiny broom and accompanying dustpan!
There is very little to dislike about this product, as it is light and easy to use. You can sweep up your tile or hardwood floors with ease every day, without having to lug around a dustpan.
However, you will have to take care of another battery-powered device. But as 'electrifying' innovations in high-tech become increasingly common, an increasing number of devices and gadgets are running on batteries – even something as simple as a broom. In fact, our hearts have been running on batteries since the sixties. Let's just hope that charge time and capacity improve soon.
Pros of using VaBroom:
Cordless – battery powered;
Sweeping without a dustpan is now possible;
The motor is adequately strong and efficient;
What are the disadvantages of VaBroom?
Low dust holding capacity;
Yet another battery-powered device to recharge;
The main complaint about the vacuum is that it won't pick up larger pieces of debris.
What are some alternatives to VaBroom?
The VaBroom is perfect for those who want a quick and easy way to clean up. If you don't mind getting down on the floor and sweeping with a brush and dustpan, then this product is not for you.
Although the inventors advocated for its use, they were clear that the VaBroom is not a replacement for the heavy-duty vacuum cleaner. While it can clean hard floors quickly, it cannot replace the power of a full-sized vacuum when it comes to cleaning carpets and rugs. The VaBroom was never meant to be used on these types of surfaces – its ultra-light vacuum motor is no match for them.
With VaBroom, you can clean your floors without ever having to touch a dustpan again.
No, not exactly. But for hard surfaces, there are brooms and vacuums you can use. For example, the Bissell Featherweight Stick Lightweight Bagless Vacuum With Crevice Tool.
How long does it take to ship VaBroom?
According to the official website and retailers – it typically takes about 3-5 days to ship VaBroom all over the United States. The average cost of shipping services is $10.
You agree to always give us your current, complete, and accurate information for every purchase made on this website. If any of your personal info changes (e.g., email address, billing address, phone number), you agree to update it promptly so that we can finish processing your transaction and contact you if necessary.
What is the return policy of VaBroom?
You must email them at contact@vabroom.com to obtain a Return Authorization Number (RA#) and return instructions before returning an item. You will not be refunded for the cost of mailing the returned item, and they will not accept hand-delivered or unauthorized returns. This warranty is only extended to original purchasers of VaBroom from vabroom.com who are end-users; it can't be transferred.
This warranty does not cover damage caused by misuse, abuse, neglect, or improper maintenance. This includes using the product with the equipment it is not compatible with or failing to follow operating instructions.
This warranty does not cover cosmetic or incidental damages, damage caused by unauthorized alteration or repair of the product, lost or stolen products, items that have expired the warranty period, or products without sufficient proof of purchase.
Was VaBroom a popular product?
After appearing on Shark Tank and running a few successful campaigns to launch their product, VaBroom has taken off. The product can be found online or in stores, with a one-year warranty too.
Some customers have even gone so far as to call VaBroom a "game changer" in their cleaning routine. Its versatility and effectiveness have won it many fans, making it one of the most popular products on the market.
Before you purchase VaBroom, it's important to be aware that some customers have left mixed reviews about the product's durability. A small number of them mention that the extension arm broke after a few uses or that the bristles started falling out shortly after they bought it.
Are VaBroom still in business?
Trevor and John's idea for VaBroom led them to start a Kickstarter campaign in April 2019, which raised approximately $74,494. However, they still needed more money, so they also ran a successful fundraiser IndieGoGo. This crowdfunding site earned them an additional $78,350 – promising a prosperous launch. Unfortunately, the outbreak of COVID-19 threw off their plans by delaying production.
Despite the unforeseen events, Trevor and John remained transparent with their investors by providing them with updates on a regular basis. At VaBroom's launch, it didn't receive many favorable reviews; however, over time as more people realized how easy it was to use, its popularity gradually increased. With an influx of customers and business growth overall, Trevor and John had to lower the product's price from $79.99.
Presently, the VaBroom costs $59.99 and can be found on their site, Amazon, as well numerous home appliances stores like Lowe's Home Improvement and Bed Bath & Beyond. Moreover, each device has a one-year warranty that customers find appealing. You'll also notice regular sales if you wait to purchase it from the official website.
How long does it take a VaBroom to charge?
To charge the VaBroom unit, insert the charging cable's USB-A end into the charging port on the back of the unit and twist clockwise until the interlocking teeth fully clamp each segment snugly together. Then connect  the other end of  the cable to a USB power source. To assemble the handle, take one section and screw it into another section until tight – this will take about 24 hours for full charge before first use.
Does the VaBroom use batteries?
The VaBroom is powered by a high-powered lithium-ion battery, which provides the vacuum with the power it needs to run. The built-in vacuum motor on the VaBroom has been designed for both safety and convenience.
The device turns off automatically when not used to prevent any accidents with small children or pets. Additionally, while charging, the machine ceases once it's full [13].
Useful Video: Messy!? | VaBroom on Shark Tank
Conclusion
It's been a few months since Trevor and John appeared on Shark Tank, and their business is still going strong. Not only did they manage to get a deal with Kevin O'Leary, but they also got a lot of exposure which helped them boost their sales significantly.
It will be interesting to see how things pan out for VaBroom in the future. Will they be able to make a name for themselves in such a competitive market? Only time will tell. But one thing is certain, these guys have definitely managed to create quite a buzz around their product. All in all, it seems like Trevor and John have made a great decision by appearing on the show.
References:
https://allsharktankproducts.com/shark-tank-products-home/vabroom-broom-with-built-in-vacuum/
https://meaww.com/vabroom-shark-tank-ultimate-house-cleaning-tool-cost-where-buy-who-founders-broom-vacuum-558703
https://thecinemaholic.com/vabroom-shark-tank-update-where-is-vabroom-now/
https://www.sharktankrecap.com/vabroom-update-shark-tank-season-13/
https://insidergrowth.com/vabroom-net-worth/
https://www.sharktankblog.com/business/vabroom/
https://vabroom.com/