In Season 12, Episode 24 of Shark Tank two friends Mikey Bashawaty and Jeremy Quillico introduced the world to Float 'N' Grill, a unique product that allows users to cook food on an open flame while floating in a pool. Majority of the Sharks weren't much intrigued by the product but Mikey and Jeremy still walked away with a $200,000 investment from Daniel Lubetzky. But what happened to Float 'N' Grill after their Shark Tank episode aired? Keep reading for the latest updates!
What is Float 'N' Grill?
Summer is a perfect time for swimming in the pool and enjoying some BBQ. Float 'N' Grill is a product that lets you do both at the same time. It's really just a floating grill!
The Float 'N' Grill is built from a high-quality food-grade vinyl that's UV resistant. It has three cup holders and latches that help lock the lid of the grill. The floating grill also comes with a removable grease trap as well as a spot for a propane tank.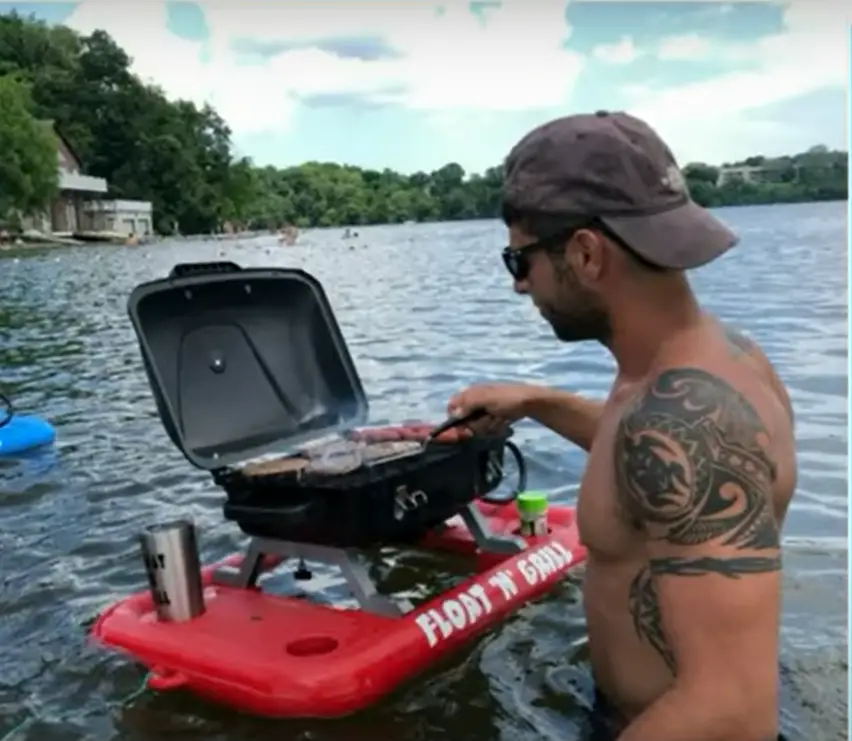 The Float 'N' Grill is pretty light, too. It only weighs about 8 pounds when it's empty. When it's full, the weight will depend on what you put inside of it.
The creators of this product claim that you shouldn't worry about the grill flipping over, either. It's designed in a way that makes it stable even while floating, so it will always stay upright. [1], [2], [3], [4]
History of the Founders
The idea for Float 'N' Grill came to Mikey Bashawaty, a young man with an education in mechanical engineering. On weekends though, Mikey spent his time hanging together with his friend Jeremy Quillico.
Jeremy has graduated from Eastern Michigan University and has a Bachelors in Cyber Security. He too works a full-time job as a Senior Systems Administrator at a manufacturing plant.
Mikey owned a small boat he used to take to the sand bar and spend some time outdoors. There he would spend his days swimming, sunbathing, and grilling with friends.
One day, while they were eating their lunch on the boat, Mikey got hungry. Of course he took a bunch of sandwiches together with him on this trip, but he wanted to enjoy a proper hot meal.
The only option he had was to swim back to the shore, which seemed like a lot of work for just a burger. That's when the idea of Float 'N' Grill came to his mind. His boat was way too small to accommodate a full-sized grill and to be honest, carrying one with him wouldn't be the most convenient thing either.
Therefore Mikey decided to combine his passion for grilled food and love for water and create a floating grill. After some time, Mikey had a working prototype of the Float 'N' Grill in 2017. He then asked Jeremy what he thought of it and Jeremy was on board.
After doing some research, they found out that there are no similar products on the market. And so, they decided to bring Float 'N' Grill to the public.
Before going with that however, the duo spent some time perfecting the design of the product. They wanted to make sure that it's not only convenient but also safe to use. Then, they took some time to patent their invention. After they had everything ready, they created a Kickstarter campaign in order to raise funds for mass production, asking for $200,000. Unfortunately, the Float 'N' Grill Kickstarter campaign was a failure as both Mikey and Jeremy only raised $862 from their original goal.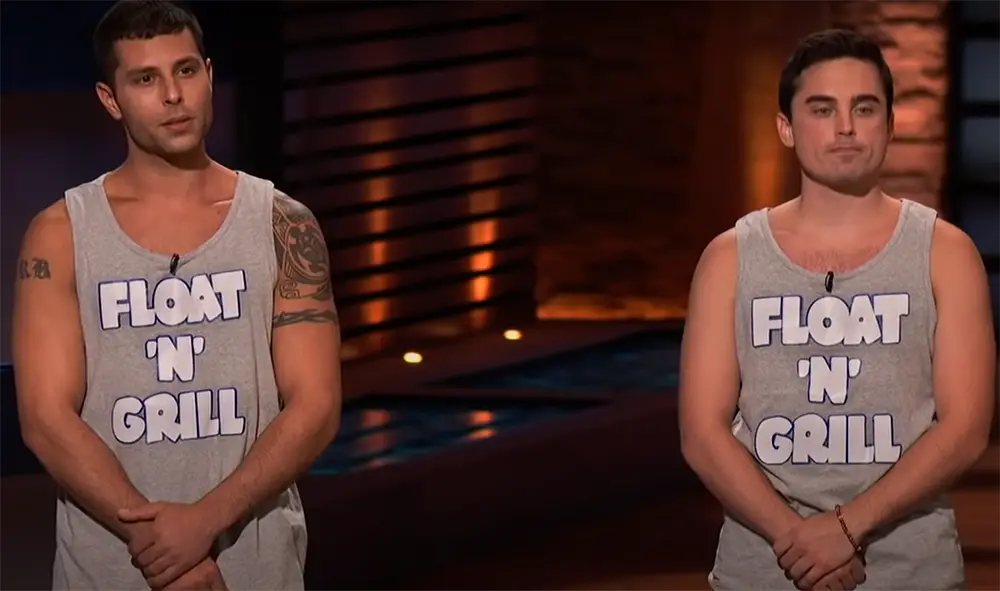 Despite the setback, they didn't give up on their dream and in 2018 they managed to find another way to finance the manufacturing of Float 'N' Grill. To get the production going, they commissioned a local company. Now that manufacturing part was settled, they started to focus on marketing and selling their product.
The duo mainly used social media to create some buzz around their product. And it worked! People were interested in Float 'N' Grill. In 2019 Mikey & Jeremy had officially launched their product and started to ship it to their customers. [1], [2], [3], [4]
Float 'N' Grill at Shark Tank
After receiving mainly positive feedback, both Mikey and Jeremy wanted to take their business to the next level. They knew that one of the best opportunities would be to present their product on Shark Tank. The show provides a great platform for entrepreneurs to not only gain exposure but also funding for their businesses.
They actually have auctioned for the show before while the product was still in the development phase. However, they were declined as the Sharks didn't want to invest in an idea that wasn't fully developed yet.
Mikey and Jeremy were energetic explaining what their product is and how it works. The sharks however, weren't as excited as the guys, although Mark had recognized them from the viral video with the grill he saw on Facebook.
The main complaint they were concerned about were the sales. Float 'N' Grill had made only $19,400 after more than a year on the market. Which is a measly small amount considering the grill retails for $229 and costs $126.88 per unit to create.
Kevin O'Leary was especially brutal about the sales factor, saying that nobody would care about a grill that floats. Other investors doubted the future of the business as well, since the sales really weren't convincing.
But Daniel Lubetzky decided to speak up, giving Mikey and Jeremy some hope. He could see the potential in Float 'N' Grill even while the sales might not be where they want them to be. He then asked if the friends have any patents and if they are willing to license the product.
Mikey and Jeremy have already patented their product and they were willing to license it. After some more discussion, Daniel made them an offer of $200,000 for 50% equity stake.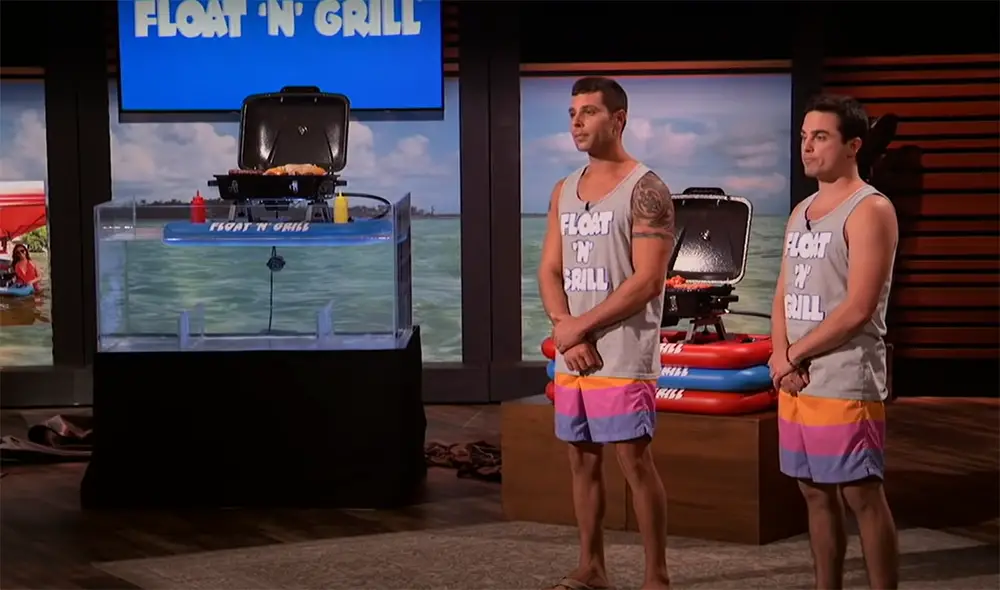 The offer from Daniel Lubetzky was too high for Mikey and Jeremy and they decided to counter with $100,000 loan at 7% interest and additional $100,000 for 20% equity and a $2 royalty per unit until they manage to pay loan back.
Daniel counters back with $100,000 for 22.5% equity and $100,000 loan at 7% + 50% of all the Float 'N' Grill's licensing deals. After some more discussion the duo accepted the offer from Daniel Lubetzky. He then said to Mikey and Jeremy that he will organize a meeting with Weber, to license their invention. [2], [4], [5]
Float 'N' Grill After Shark Tank
It's been more than a year since Mikey and Jeremy appeared on Shark Tank. So what happened with Float 'N' Grill after they struck a deal with Daniel Lubetzky?
After the show, the duo has managed to get more exposure than they were getting before. And we believe it's safe to say that the sales have increased as well.
While Float 'N' Grill has its official social media accounts, they haven't been very active lately. The last post on their Facebook page is from 2021, the year they appeared on the show.
As of now, Float 'N' Grill can only be purchased within the continental United States, and only on Amazon and the official website. Each product also comes with a one year warranty, in case something goes wrong with it.
Right now, international shipping is not available. This is mainly because of high shipping costs and import taxes.
The grill still sells at the same price as they were before the show, for $229. Currently the Float 'N' Grill comes in two colors, red and blue. But according to Mikey there are more colors on the way. There aren't many reviews either on Amazon or the official website, but the ones that are there are positive.
Right now the duo is working on their next project, an accessories line for Float 'N' Grill. So far they've come up with a Float 'N' Grill utensil holder, anchor and extra cup holders but they promise many more. [2], [4], [5], [6]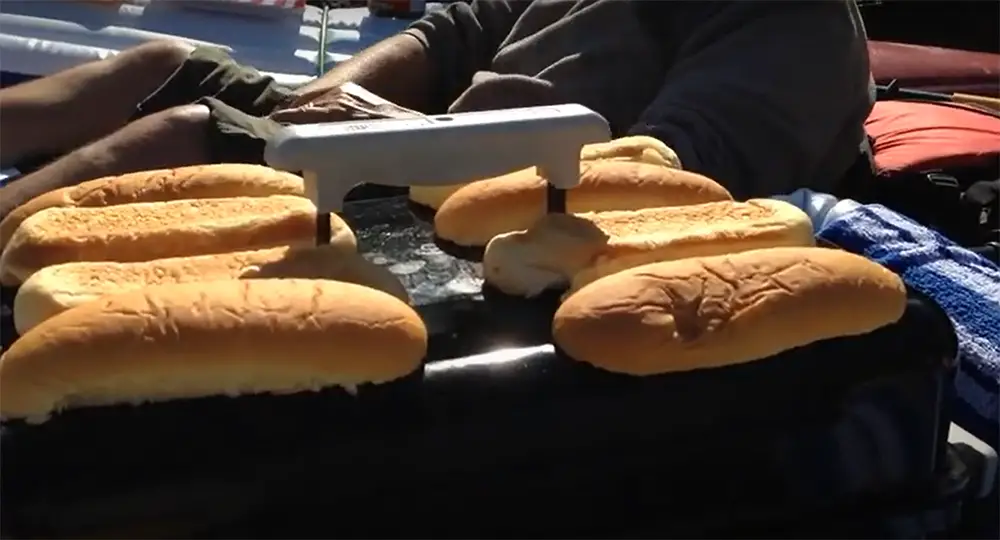 Float 'N' Grill Net Worth
We will update this post as soon as we get more information about Float 'N' Grill's net worth. Stay tuned! [5]
FAQ
Did Float 'N' Grill get a deal?
Yes, Float 'N' Grill got a deal with Daniel Lubetzky on Shark Tank. His final deal was $100,000 for 22.50% equity & $100,000 loan at a seven percent interest rate, plus 50% of all the licensing deals Float 'N' Grill do.
Float 'N' Grill managed to not only get funding from Shark Tank but also a potential deal with one of the biggest grill companies in the world – Weber!
Who founded Float 'N' Grill?
Mikey Bashawaty and Jeremy Quillico came up with the idea of a floating grill. Mikey loved to spend his weekends in his boat and he wanted to eat something better than just hot dogs. So he and his friend decided to create a floating grill that could be used in the pool, lake or ocean.
How are Float 'N' Grill Doing?
As with most of the businesses that appear on Shark Tank, Float 'N' Grill has seen an increase in sales and exposure. It's still too early to tell how they will be doing in the long run but so far, they seem to be doing just well.
What is Float 'N' Grill Net Worth?
Mikey and Jeremy haven't shared their exact sales numbers, but we can make an estimate based on what we know.
So far, we believe Float 'N' Grill's net worth is somewhere around $1.2 million but of course things can always change in the future. However it's clear that Float 'N' Grill has come a long way since its humble beginnings on Kickstarter.
Useful Video: Float 'N' Grill Argues with the Sharks on Sales – Shark Tank
Conclusion
Float 'N' Grill had appeared in 24th episode of the 12th season of Shark Tank and they left the tank with a deal. Since then, things have been looking up for Mikey and Jeremy. The duo has been working hard on promoting their product and expanding their business. Thanks to Shark Tank, Float 'N' Grill now has a loyal following with more and more people finally starting to take notice of this unique product.
Even though the business is doing well, it's still too early to say if Mikey and Jeremy are going to close the deal they got from Daniel Lubetzky. But they are hopeful that they will be able to do it soon and then start working on their next big project.
References:
https://allsharktankproducts.com/shark-tank-products-sports/float-n-grill/
https://www.sharktankblog.com/business/float-n-grill/
https://thecinemaholic.com/update-on-floatngrill-from-shark-tank/
https://www.sharktankrecap.com/shark-tank-float-n-grill-update-season-12/
https://insidergrowth.com/float-n-grill-net-worth/
https://floatngrill.com/