Shark Tank, the popular entrepreneurial reality show, has provided a platform for countless aspiring entrepreneurs to pitch their ideas and seek investments from the panel of esteemed investors, known as the Sharks. One such success story is Mission Belt, a company that introduced a revolutionary belt design and captured the attention of both the Sharks and the viewers.
But what happened to Mission Belt after their appearance on Shark Tank? In this article, we will dive into the post-Shark Tank journey of Mission Belt, exploring its growth, achievements, challenges, and how they have navigated the competitive business landscape. Join us as we uncover the story behind Mission Belt's journey to success.
What Is Mission Belt?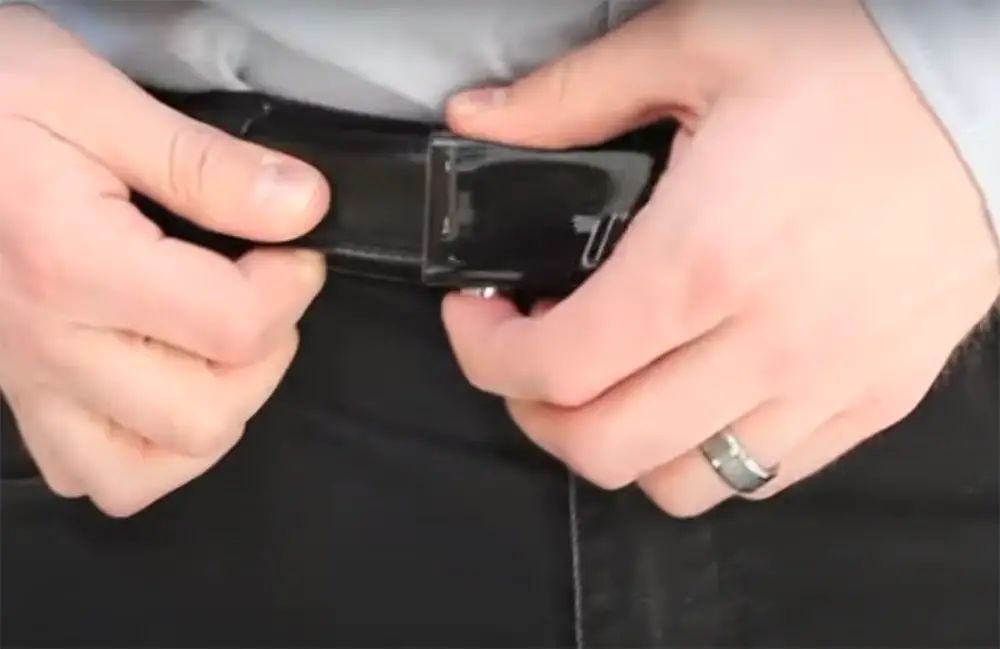 The key lies in the exceptional ratcheting buckle of the Mission Belt. The belt's reverse side features teeth that securely interlock with a ratchet mechanism within the buckle. This design delivers a snug and steadfast fit, surpassing the adjustability of a typical belt. It functions akin to a zip tie for your trousers, guaranteeing optimal comfort and support.
Unlike traditional belts, which offer holes at one-inch intervals, the Mission Belt recognizes that waist sizes do not conform precisely to these increments. Consequently, a single hole may feel overly tight while the adjacent one remains too loose. The act of squeezing your belt to fit exacerbates wear and tear on the notches over time. In contrast, the Mission Belt allows adjustments in quarter-inch intervals, ensuring a perfect and customizable fit without showing signs of deterioration, even after size alterations.
However, the Mission Belt is not solely focused on its exceptional fit. It also caters to your desire for sartorial diversity. If you wish to inject a vibrant touch into your ensemble, the Mission Belt offers an array of colors, including blue, grey, red, white, green, orange, pink, purple, and yellow. Naturally, it also provides more traditional options such as black and brown, accommodating various style preferences.
Furthermore, by choosing The Mission Belt Co as your belt provider, you actively contribute to their noble cause. With every purchase, one dollar is donated towards empowering underprivileged families worldwide, enabling them to achieve self-sufficiency. The Mission Belt not only epitomizes elegance but also bears a philanthropic mission.
Mission Belts Features
Width: Mission Belts come in various widths, allowing you to choose the one that best suits your personal style and the occasion. The most common width options are 30 mm, 35 mm, and 40 mm. The width you choose can have a significant impact on the overall look and feel of the belt when paired with different outfits;
Material: Mission Belts are known for their high-quality construction and materials. You have the option to select different materials based on your preferences and needs. Leather is a popular choice, offering a classic and sophisticated look that ages beautifully over time. Nylon belts provide a more casual and durable option, perfect for outdoor activities or everyday wear. Canvas belts offer a unique texture and a more relaxed, laid-back vibe;
Length: Mission Belts come in various lengths to accommodate different waist sizes. It's important to choose the appropriate length to ensure a comfortable and secure fit. The length options typically range from small to extra-large, catering to a wide array of body types;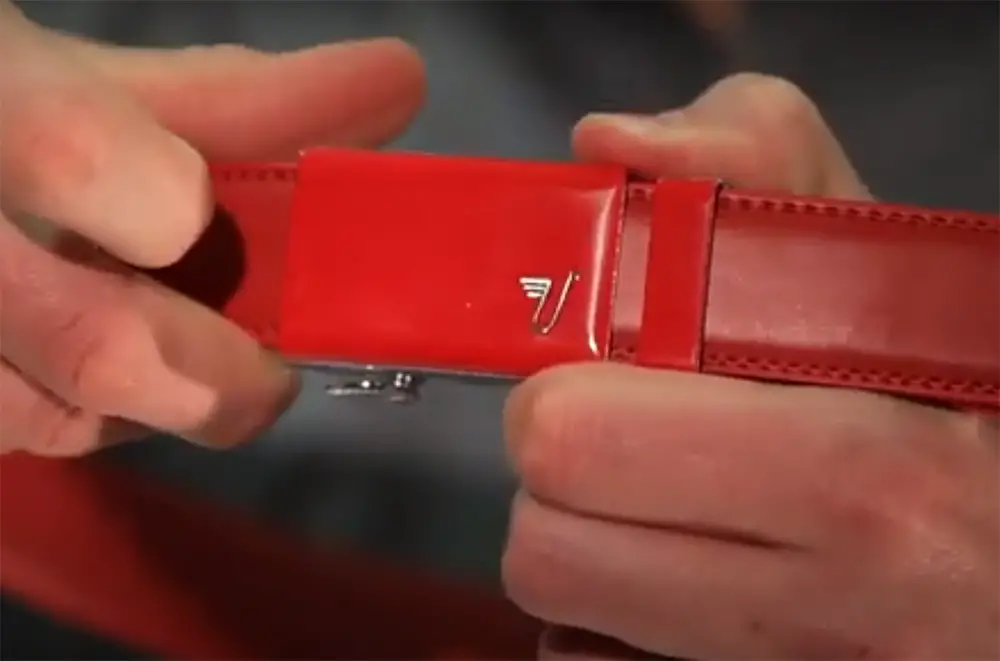 Colors: Mission Belts are available in a variety of colors, allowing you to find the perfect belt that complements your wardrobe. Some popular color options include light, tan, mocha, chocolate, and dark brown. Whether you prefer a neutral tone that seamlessly blends with any outfit or a bold color to make a statement, Mission Belts have got you covered [2];
About Founders Of Mission Belt
Nathan Holzapfel devised a brilliant business blueprint when he had an epiphany about reinventing men's belts [3]. What he crafted was an elegant and refined belt, crafted from premium leather, with a remarkable feature – it had no perforations. The purpose behind this innovation was rather straightforward. It offered a custom fit for anyone, eliminating the need to punch new holes as the belt size shifted.
In addition to being a stylish accessory, Holzapfel was determined to ensure that his product remained affordable for a wide range of individuals. Luxury designer belts often come with exorbitant price tags, so he aimed to create something equally refined while keeping it within a reasonable price range.
But wait, there's more! Holzapfel is an enterprising visionary with a mission to make a positive impact on the world. When he established the Mission Belt, he committed himself to directing his potential success and profits toward a noble cause.
For every belt sold by his company, $1.00 goes towards funding micro-loans through Kiva.com [4]. Why? Well, Holzapfel desires to contribute to the eradication, or at the very least, a reduction in global hunger. These micro-loans offer an alternative solution to simply providing food. Instead, they empower impoverished individuals by granting them access to education and resources necessary for self-sustainability in food production and cultivation.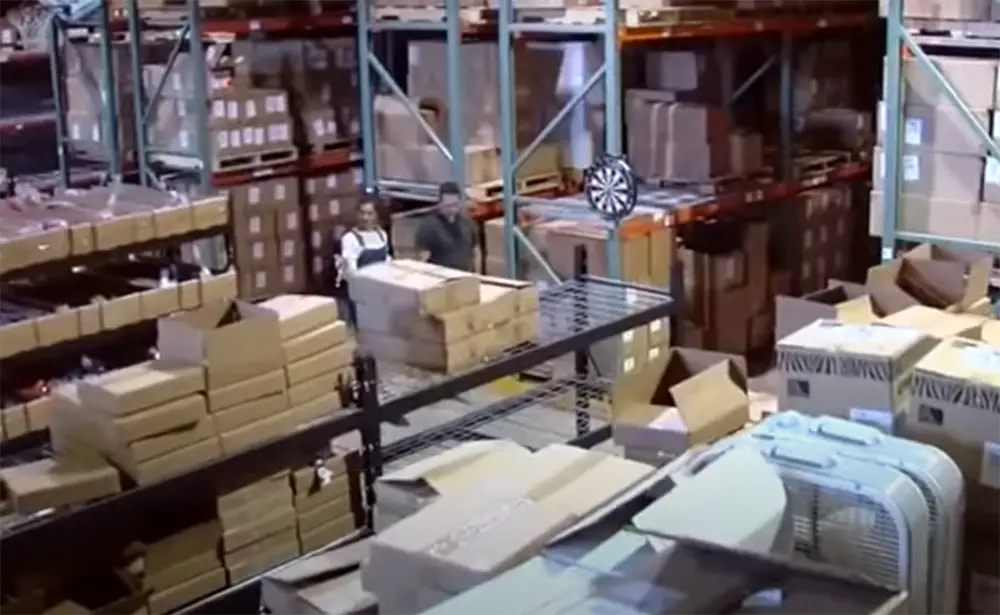 Seeking a strategic partner with expertise in the marketing industry, Holzapfel made the decision to present his Mission Belt on the esteemed platform of Shark Tank. He harbors hope that at least one of the Sharks will recognize the venture's potential and higher purpose, offering an investment that can propel the business towards resounding success. He understands the value of support in launching his business and is eager to secure the assistance needed to realize his vision.
The Pitch Of Mission Belt At Shark Tank
Holzapfel steps into the Shark Tank with the aim of securing a $50k investment, offering a 20% stake in his business [5]. He launches into his pitch, emphasizing that belts are a staple in most people's wardrobes, and yet their design has remained unchanged for ages. The Mission Belt brand, however, seeks to challenge the status quo by reinventing this timeless accessory.
Holzapfel proceeds to demonstrate the innovative ratchet system, replacing the traditional holes in the belt. Users can easily slide on the belt and adjust it by clicking until it fits comfortably around their waist. Removing the belt is a breeze with a release button on the buckle.
After concluding his speech, Holzapfel distributes belts to the Sharks, allowing them to feel and examine the product. Robert Herjavec is quick to notice the belt's exceptional quality and inquires if Holzapfel manufactures them himself. Although the Mission Belt brand commissions a manufacturing company to produce the belts, Holzapfel handles the selling process. He highlights the belt's sleek design, superior materials, and affordable price range, emphasizing that it stands alone in the market.
Kevin O'Leary expresses curiosity about the business plan for expanding into major retail clothing stores. Holzapfel explains that he is seeking the Sharks' assistance precisely for that reason. While he currently supplies belts to country clubs and local men's clothing stores, his ambition is to propel the Mission Belt beyond these outlets. Despite possessing excellent salesmanship skills, Holzapfel acknowledges the need for a partner with the right connections to facilitate business expansion.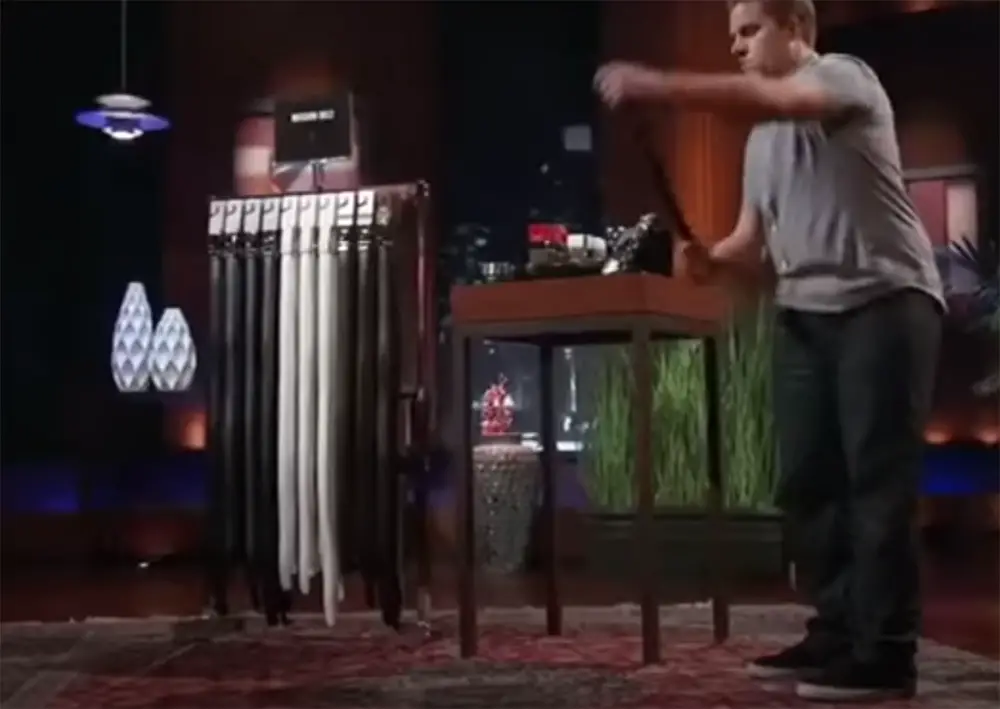 Lori Greiner raises a concern regarding the belt's branding and its failure to convey what sets the Mission Belt apart: the innovative ratchet system. Holzapfel explains that he has taken a proactive approach by personally demonstrating the product at vending stations, going the extra mile to showcase its functionality.
His dedication extends further, as he demonstrates his passion by even selling belts door to door shortly after arriving at his Los Angeles hotel. Cuban admires Holzapfel's initiative and commitment to his business.
Greiner is the first Shark to decide on whether to invest. She believes in the product's potential success and recognizes the need for a product like this for men. However, she worries that the lack of a comprehensive demonstration might impede sales. Properly advertising the belt in larger stores like JC Penney could be challenging, potentially causing it to get lost among other products. For this reason alone, she opts not to invest.
O'Leary shares a similar perspective, expressing his love for the belt and indicating his personal interest in purchasing one. Nonetheless, he concludes that the distribution aspect would pose significant challenges, leading him to decline the opportunity to invest.
Cuban raises a concern about excess material for slimmer individuals. Although trimming off the excess material seems like a simple solution, Holzapfel assures the Sharks that Mission Belts are available in a range of sizes, catering to various body types.
While Cuban contemplates the response, Herjavec points out that Holzapfel lacks the necessary connections to effectively market the business. With only two Sharks remaining, Daymond John seizes the opportunity and makes an offer.
He proposes investing $50k but requests a 40% stake in the company [7]. John's plan involves licensing the belt to another manufacturer while retaining Holzapfel as the head of sales, with a fair commission structure. Holzapfel counters with a 30% stake, but John insists on settling at 37.5%. Recognizing the value of the partnership, Holzapfel eagerly accepts John's offer, securing the investment and expertise needed to expand the Mission Belt business.
Mission Belt After The Shark Tank
Following the segment's broadcast, their sales experienced a significant surge, surpassing $180,000. Within a month, that impressive figure skyrocketed to $1 million [8]. With Daymond's invaluable assistance, they devised a comprehensive business strategy that set them on a trajectory to achieve $5 million in annual revenue.
Nathan also showcased a range of fresh designs for the belt, expanding their target audience. For instance, they introduced belt buckles featuring logos of popular sports teams, such as the NHL and NBA. Not only that, but they bolstered their workforce to meet the surging demand.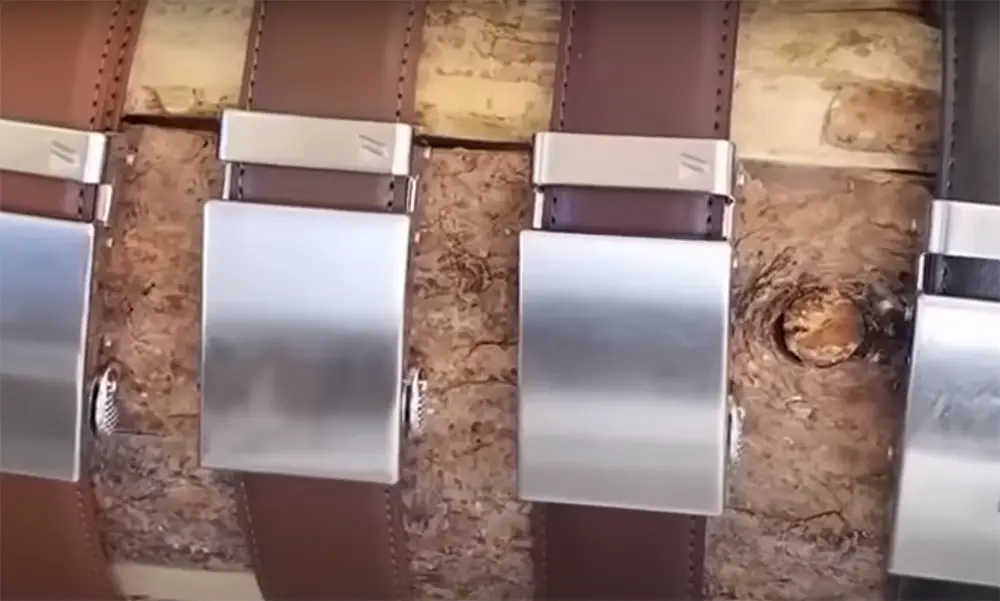 Their remarkable progress eventually earned them a spot in episode 105 of Beyond the Tank. During the episode, they proudly announced the availability of their product in over 1,000 retail locations across the United States, with lifetime sales exceeding $1 million. With a staggering annual growth rate of 400%, their team expanded from 20 to 45 dedicated employees.
Nathan expressed his aspiration to take Mission Belts nationwide, and he later met with Daymond in a follow-up meeting to discuss the business. While Nathan remains optimistic, Daymond expresses concern that the belt might not perform well in prominent retail chains known as "big box" stores. Daymond highlights the necessity of proactive selling strategies as the product doesn't inherently sell itself. Failure to meet sales expectations could result in retailers discontinuing the product.
Nathan acknowledges the risks but remains determined to elevate the business to new heights. Daymond shares his worries but believes in Nathan's ability to succeed. He advises the creation of a sales force and the cultivation of brand ambassadors who can actively drive sales. As they delve into the possibilities, Nathan visibly grapples with stress, contemplating scaling back his goal from 20,000 stores to 5,000.
In 2017, a year after the update, Nathan secured a $1.5 million loan from Kiva.com, empowering them to enhance their production process.
However, their path soon encountered obstacles. In March 2019, talk show host Larry King won a lawsuit against Nathan for unauthorized use of his likeness in marketing materials, resulting in a costly settlement of $250,000.
Then, in 2021, Nathan faced arrest and two counts of fraud charges. Allegedly, he deceived a woman he was involved with into signing over her house, subsequently selling the property without her knowledge and using the proceeds to repay his debts. Another woman came forward during the same year, accusing Nathan of defrauding her of $50,000 by selling her rifle and vehicle without her consent.
Subsequently, Nathan faced additional charges. In January 2022, a third victim emerged, claiming that he had persuaded her to issue a $100,000 check that he diverted for personal purposes instead of business investment.
In March 2022, Nathan faced charges of two counts of sexual abuse, classified as a second-degree felony [9]. Shortly after, he was arrested for engaging in inappropriate physical contact with a woman and exposing himself in public.
Despite Nathan's legal troubles, the business continues to operate independently, considering his complete disassociation from it.
The Net Worth Of Mission Belt
Nathan felt privileged to join forces with Daymond as their partnership flourished. On the night of their initial appearance, they achieved a remarkable feat by selling belts worth $180,000, and within the following month, their sales skyrocketed to over $1 million. Their projections indicate a phenomenal sales target of over $5 million for the year [10].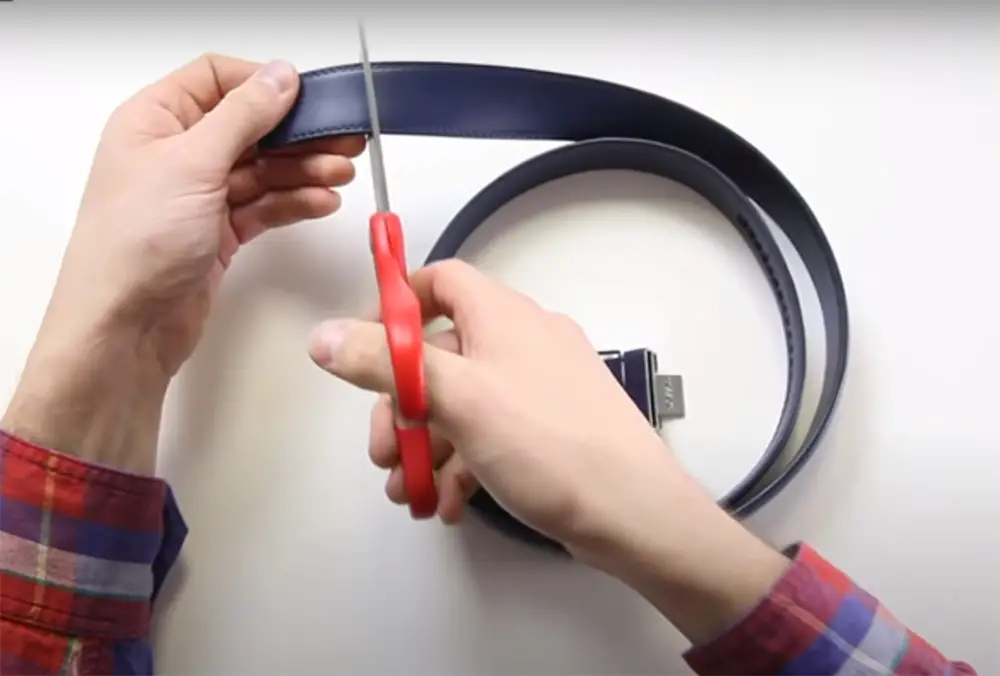 With a workforce of 20 dedicated individuals, Mission Belt continues to make significant contributions to Kiva.com, and Nathan firmly believes that appearing on Shark Tank was the most advantageous move he made for his business. Additionally, Mission Belts now offers licensed belts featuring NHL, NBA, and College logos, expanding their range of offerings.
This thriving enterprise received the spotlight it deserved in Episode 105 of Beyond the Tank. However, shortly after the update segment, Nathan decided to part ways with the company, embarking on a new chapter.
In 2017, Nathan took the initiative to fund loans totaling $1.5 million through Kiva.com, making a tangible difference in the lives of many. As of July 2021, the annual revenue for the business stands at an impressive $7 million [11].
Unfortunately, in March 2019, talk show host Larry King secured a default judgment of $250,000 against Holzapfel for the unauthorized use of his likeness in marketing materials. Nathan had utilized footage from a "mock interview" with King as an endorsement, which led to this legal consequence.
Alternatives To Mission Belt:
SlideBelt: Similar to Mission Belt, SlideBelt offers a ratchet-style mechanism that allows for a custom fit without traditional belt holes. With a sleek and modern design, SlideBelt provides a range of belt styles and buckle options to suit various occasions and outfits;
Anson Belt & Buckle: Anson Belt & Buckle offers a unique micro-adjustable holeless belt system. Their belts feature a track system with small increments, allowing you to adjust the belt precisely to your desired fit. With a variety of buckle and strap options, Anson Belt & Buckle provides versatility and style;
Grip6: If you prefer a minimalist and lightweight design, Grip6 belts might be the perfect choice. Made from high-quality materials, these belts utilize a unique friction locking system that provides a secure and comfortable fit. Grip6 belts come in various colors and buckle designs to match your personal style;
Nexbelt: Nexbelt offers a wide range of belt styles with a hidden track system for precise adjustability. With their patented EDC (Everyday Carry) belts, Nexbelt incorporates additional features such as hidden pockets for storing small essentials like cash or keys. Nexbelt caters to both fashion-conscious individuals and those seeking functional utility;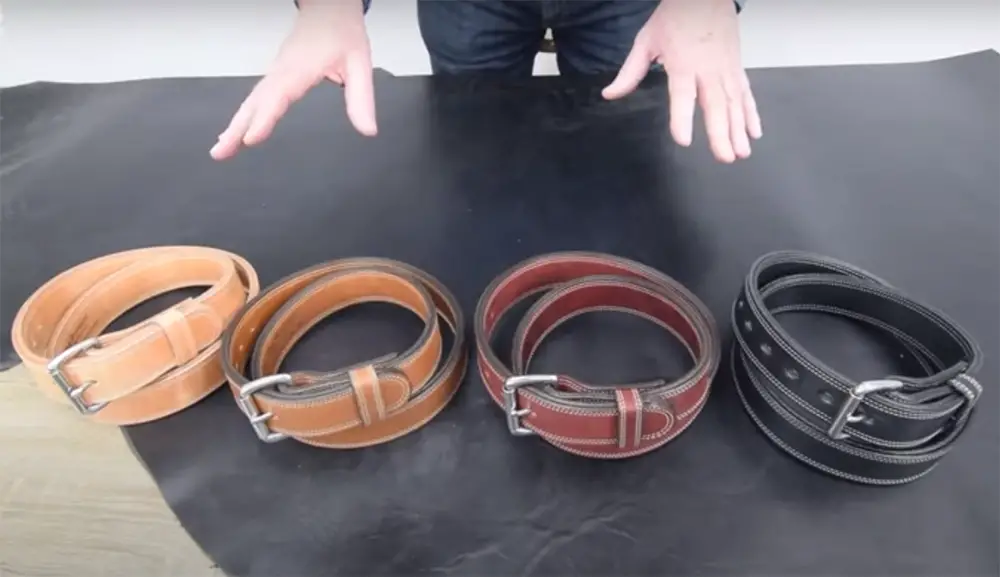 Hanks Belts: If you're looking for a more traditional and rugged option, Hanks Belts specializes in high-quality leather belts. Crafted from full-grain and top-grain leather, Hanks Belts offer durability and timeless style. Their belts come in various widths, buckle designs, and leather finishes to suit different preferences;
Arcade Belts: For those with an active lifestyle, Arcade Belts provides a range of stretchy and comfortable belts designed for outdoor and athletic activities. These belts offer a secure fit and flexibility, allowing you to move freely without compromising on style;
The Fraud Case of The Mission Belt's Founder – Holzapfel
Holzapfel made an appearance on the popular ABC program back in 2013, showcasing his belt business, which has gained recognition for producing top-notch belts without traditional holes while actively combating global hunger. He managed to strike a deal with Daymond John, one of the esteemed hosts of the show.
Recently, charging documents were filed by the Utah County Attorney's Office, alleging that Holzapfel engaged in fraudulent activities and swindled a woman he had been romantically involved with out of nearly $200,000. The scheme involved deceiving her into transferring ownership of her house to a company under his control. It's important to note that this woman faced significant health issues and was also responsible for the care of her disabled adult child.
According to prosecutors, the deceptive actions began in February 2020 when Holzapfel started inquiring about the woman's financial situation and the equity she held in her home. He convinced her that she needed to take steps to protect her home equity and referred her to a company that claimed it could assist in minimizing her capital gains taxes if she decided to sell her property.
A few months later, in May 2020, Holzapfel accompanied the woman to a title company and applied pressure on her to sign over ownership to a company called Save My House, LLC, which he controlled, as stated in the charging documents [12].
Prosecutors revealed that the victim expressed confusion and resistance throughout the transaction, but eventually gave in due to Holzapfel's representations and her deepening affection for him.
After the transfer of ownership, the victim requested that Holzapfel transfer it back to her, but he disregarded her pleas. Furthermore, the charging documents alleged that Holzapfel coerced the woman into selling her house and investing in one of his nonexistent companies. In August 2020, Holzapfel listed the woman's house for sale without her knowledge, keeping most of the proceeds for himself and only providing her with a meager $11,000 from the sale.
Prosecutors stated, "Holzapfel utilized these funds to pay off personal debts, including his vehicle, attorney fees, credit cards, and indulged in extravagant purchases such as firearms and gun supplies".
Throughout this entire ordeal, Holzapfel never disclosed his marital status to the woman or revealed his financial troubles resulting from a lawsuit filed against him by talk show host Larry King, which led to a substantial judgment against Holzapfel amounting to over $250,000. It should be noted that Larry King sadly passed away earlier this year.
The victim finally threatened to report the incidents to the police around November 2020, and in response, Holzapfel abruptly severed all contact with her and vanished.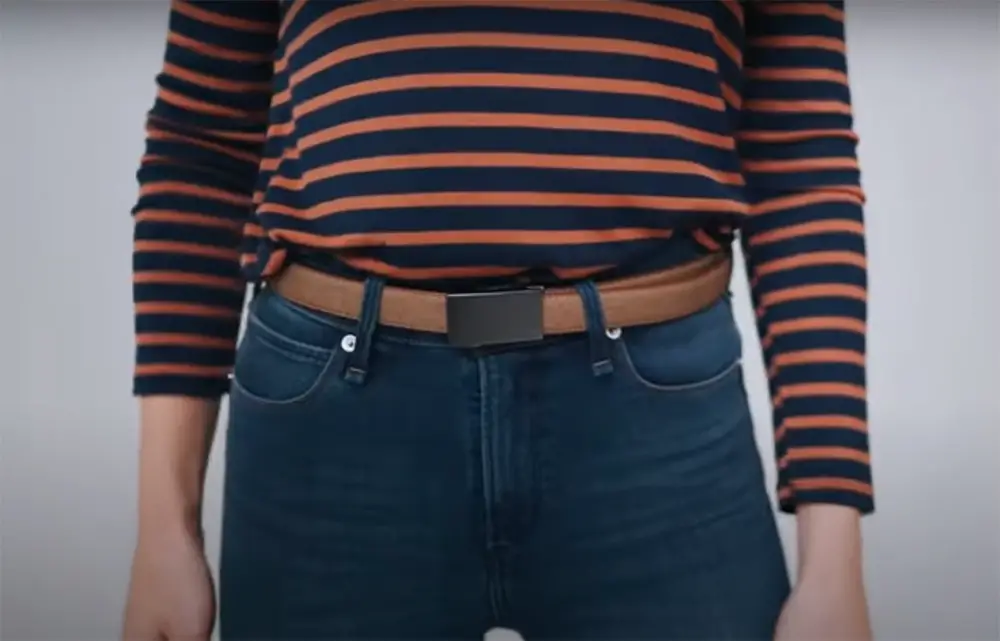 In response to these troubling allegations, Mission Belt released an official statement clarifying their position:
"Nate Holzapfel ceased any affiliation with Mission Belt over seven years ago and has had no involvement with our employees, management, or customers. Nate Holzapfel does not represent Mission Belt in any capacity. Mission Belt is a small Utah-based business dedicated to producing high-quality belts and making a positive impact through micro-lending. To date, Mission Belt has provided over $5 million in loans to more than 200,000 individuals in over 75 countries, assisting those in need".
FAQ:
Where did Mission Belt start?
Mission Belt was founded in the United States.
What is the most successful company in Shark Tank history?
The most successful company in Shark Tank's history, in terms of revenue generated after appearing on the show, is the product Scrub Daddy. Scrub Daddy is a cleaning tool company that has generated over $209 million in revenue as of 2022.
Have all 5 Sharks ever invested in one product?
No, it is quite rare for all five Sharks on Shark Tank to invest in a single product or business. While multiple Sharks may make offers or express interest, it ultimately depends on the entrepreneur's decision to accept the investment.
Who is the most successful Shark Tank investor?
There isn't a definitive answer to this question, as success can be measured in various ways. However, some of the notable successful Shark Tank investors include Mark Cuban, Lori Greiner, and Daymond John, who have made significant investments and achieved considerable success with various companies featured on the show.
Who is the largest belt manufacturer?
There are several prominent belt manufacturers globally, and it is challenging to determine the largest one. Some well-known belt manufacturers include companies like Nike, Levi's, and Gucci, among others.
Is 35 mm and 40 mm the size of the buckle or the Mission's belt?
The measurements 35 mm and 40 mm typically refer to the width of the belt strap itself, not the buckle size. These measurements indicate the width of the belt strap in millimeters.
What is their return policy?
How do you get free shipping on your Mission Belt order?
The availability of free shipping on Mission Belt orders may vary depending on factors such as location and promotional offers. To determine if free shipping is available for your order, it is best to check their official website or contact their customer service for the most accurate and up-to-date information.
Do they have any larger sizes?
Yes, Mission Belt offers a range of sizes to accommodate different waist sizes. They typically offer sizes ranging from small to extra-large, providing options for a variety of body types.
How can you resize your Mission belt?
Mission Belts are designed with a customizable fit. To resize the belt, simply release the buckle's locking mechanism, trim the belt strap to your desired length, and reattach the buckle for a perfect fit. The exact resizing process may vary depending on the specific model of the Mission Belt, so it is recommended to refer to the instructions provided by the company or contact their customer service for detailed guidance.
Is The Mission Belt made of real leather?
Yes, Mission Belts are typically made of genuine leather. However, they also offer belts in other materials such as nylon and canvas, providing a variety of options to suit different preferences.
What size of Mission Belt should you buy?
The size of Mission Belt you should buy depends on your waist size. It is recommended to measure your waist accurately and refer to the sizing guide provided by Mission Belt to determine the appropriate size for your needs. The sizing guide will typically provide information on which waist measurements correspond to each belt size offered.
Is The Mission Belt a good gift?
The Mission Belt can be a thoughtful and practical gift for individuals who appreciate stylish accessories and a customizable fit. The belts are known for their quality craftsmanship and unique features, making them a potentially well-received gift for many occasions.
How long will a Mission Belt last?
The lifespan of a Mission Belt can vary depending on factors such as frequency of use, care, and the specific belt model. However, with proper care and maintenance, a high-quality Mission Belt made from genuine leather or durable materials can last for several years.
Are there specific Mission Belts for women?
Yes, Mission Belt offers a range of belts that are suitable for both men and women. While some belt designs may have a more masculine aesthetic, many styles are versatile and can be worn by anyone regardless of gender.
Useful Video: Utah Success Stories – Mission Belt 2017 11 26
References:
https://allsharktankproducts.com/shark-tank-products-fashion/mission-belt-ratcheting-belt-buckle/
https://gazettereview.com/mission-belt-update-after-shark-tank/
https://missionbelt.com/pages/faq
https://bizzbucket.co/mission-belt-shark-tank-update/?expand_article=1
https://www.looper.com/1200361/whatever-happened-to-mission-belt-after-shark-tank/
https://www.sharktankblog.com/business/mission-belt/
https://www.abc4.com/news/what-happened-to-mission-belt-after-shark-tank/
https://kutv.com/news/local/mission-belt-co-founder-shark-tank-alum-arrested-in-fraud-case
https://www.sharktanksuccess.com/mission-belt/
https://insigniaseo.com/blog/mission-belt-shark-tank-updates-in-2020/
https://2paragraphs.com/2016/05/mission-belt-founder-nate-holzapfel-selling-the-nate-state-of-mind/
https://www.businessinsider.com/shark-tank-success-stories-2014-11#mission-belt-co-8