If you're one of the millions of people who tuned in to watch Shark Tank last season, then you may remember DoorBot. This innovative product allows homeowners to see and speak with visitors at their door, even when they're not home. The product was so popular that it caught the attention of the sharks, and they ended up investing in the company. So what happened to DoorBot after Shark Tank? Keep reading to find out!
What is DoorBot and Who is Its Founder?
DoorBot is a Wi-Fi-enabled doorbell that allows users to see and speak with visitors at their door, even when they are not home. It was developed by Jamie Siminoff, an entrepreneur and inventor. The device also has motion detection capabilities that allow you to monitor activity around your home as well.
What DoorBot attempts to solve is the lack of control and security that homeowners experience when it comes to their front doors. With DoorBot, you can monitor who is at your door and decide whether or not you want to grant them access. No more peeking out the window or having to guess who is there.
Jamie put in a good deal of effort and energy to create Doorbot. Despite his financial struggles, he wanted to contribute something positive to the neighborhood and so took it upon himself to craft an improved security device in his garage. With this thought-out invention, Jamie sought to reduce crime rates within the area. But the actual idea came to him when he was working in the garage and didn't hear the sound of the doorbell, missing his important delivery. He was aware that this was an issue for many people, so he set about creating a device that would alert him whenever someone rang his doorbell.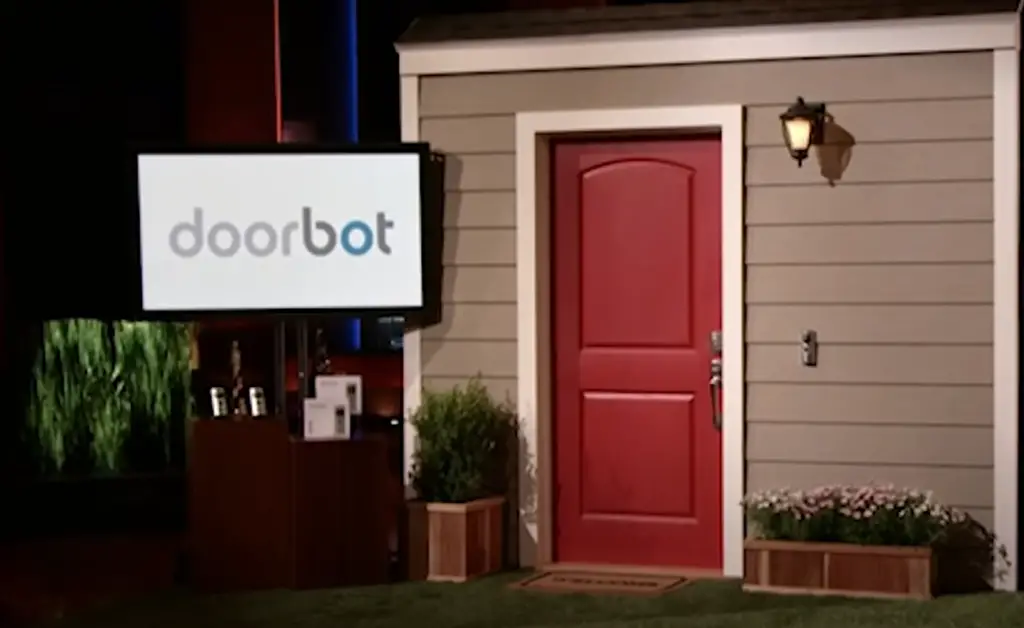 By selecting "Accept" on the app, Siminoff reveals that your doorbell will be transformed into a traditional apartment building intercom. This allows you to communicate with visitors from afar, as two-way audio and one-way video capabilities are also included in the product. Henceforth, you can view what's happening outside but not within your premises!
Jamie saw the opportunity to make this device into a successful business and so went on to pitch DoorBot on "Shark Tank", the popular reality TV show. [1] [2] [3] [4]
DoorBot Gets Its Shark Tank Moment
Jamie Siminoff had been developing his invention for four years before he even got an opportunity to appear on the show. After several attempts, he was finally given the chance to get in front of the Sharks in 2013. He pitched DoorBot with great enthusiasm and passion.
At the time of the pitch, DoorBot had over a million of sales, but Jamie was looking for the Sharks' help to take it to the next level. The Sharks, however, were hesitant and questioned Jamie about its scalability. The pitch really didn't go well for him.
Jamie Siminoff presented his business, Doorbot, to the Sharks on Shark Tank and requested an investment of $ 700,000 for a 10% stake in the exchange. He enters a pitch in a very memorable way, by not entering straight away and rather knocking on the front door of the tank and sharks ask 'Who's there?' Lori invites him in!
He begins by explaining what DoorBot is, how it works, and the fact that it has already sold a million units. The Sharks don't appear to understand what he's saying and don't see any potential.
Actually, Robert Herjavec remarked that this service is intended for consumers instead of an internet venture, so he quit. Mark sees 0 growth potential in Doorbot and follows Robert out of the tank. Lori doesn't see anything unique about DoorBot and thinks it's too expensive. She also doubts Jamie's ability to scale the business.
Daymond believed that security companies will overshadow DoorBot if they start to produce something similar. He says no, so now there are only two Sharks left in the tank and Jamie still hasn't been able to get an offer.
It is at this point that Kevin O'Leary comes up with a counteroffer and offers him a $ 700,000 loan instead of the requested investment. In exchange, he wants 5% of Doorbot plus 8% interest on top of it.
Jamie doesn't feel comfortable with the offer and so he decides to go for it, with a few changes. However, Kevin doesn't budge and so Jamie leaves the tank without a deal.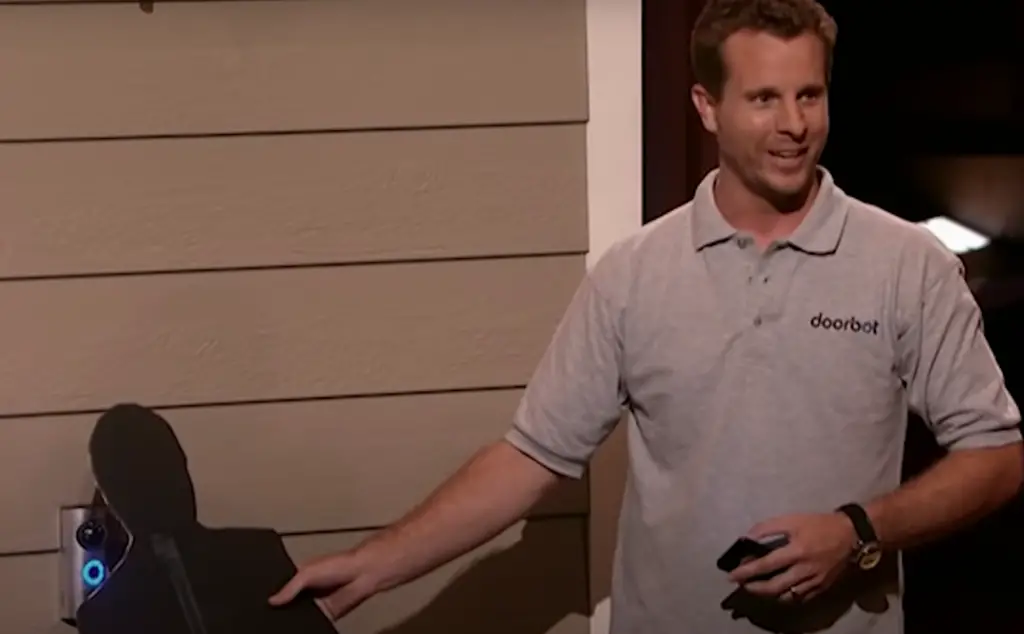 And this concludes the story of what happened to DoorBot after Shark Tank. Jamie persevered and continued to develop his product, eventually attracting investment from another firm. You probably heard of it by now, but let's see how it unfolded! [2] [3] [4]
The Aftermath
Despite walking away without a Shark Tank deal, Jamie Siminoff knew he had something special on his hands with DoorBot. He kept pushing forward with it. He got enough business experience, he realized what was missing in Doorbot.
His creation gained a lot of popularity thanks to the Shark Tank effect, and he was able to get his product into both online and physical stores. He then used the money from his sales to further develop DoorBot and grew his customer base.
In the same year as the episode aired, DoorBot Managed to achieve $ 5 million in sales and over $ 5 million in profit.
Jamie captivated the attention of numerous other people and investors, eventually resulting in them investing in the organization. In 2018, Amazon acquired Doorbot for a whopping $ 1.1 billion and even brought in basketball legend Shaquille O'Neal as an ambassador of the Ring brand—which is now one of the most profitable companies to ever take part in Shark Tank!
After making a deal with Amazon during Shark Tank, the company now distributes ten of its main products to up to 16,000 different venues! Ring currently has 1300 people in their employment.
It's hard to imagine how this has influenced doorbells and home security. What was once a simple doorbell has now been reinvented into an entire system that includes security cameras, motion sensors, and video feeds.
Some of the benefits from DoorBot include advanced motion sensing technology, two-way audio communication, night vision capability, mobile alerts for visitors at your front door—and so much more!
As of 2023, the annual sales of Ring products stand at an impressive $ 275 million, proving that Jamie Siminoff's decisions to push forward with DoorBot were the right ones.
It just goes to show that even when you don't receive a deal from the Sharks, it doesn't mean your product or service isn't worth investing in! It's definitely inspiring to know what happened with Doorbot after Shark Tank and all its incredible success.
Not even Mark Cuban, who rarely expresses regret, can help but feel the sting of lost opportunity after watching this episode. The rest of the sharks are vocally remorseful for not investing in what could have been a billion-dollar enterprise.
Jamie Siminoff, now CEO of Ring and certified millionaire, returned to the tank five years after his original appearance as a guest shark – clearly having found success in transforming one of the largest security companies worldwide. He was the first Shark Tank contestant who had made his way back to the show as a guest Shark himself, and it was an inspiring moment of homecoming for him.
The story of Doorbot is one that shows us what can be achieved when you don't give up and continue to strive toward your goals. The initial rejection from the sharks did not stop Jamie Siminoff; it only spurred him on to create something even greater than before.[2] [3] [4] [5]
DoorBot Net Worth
When Jamie first pitched DoorBot on Shark Tank, he asked for an investment of $ 700,000. All five sharks passed on the offer and it seemed as if Jamie had failed to secure a deal. However, after his appearance on the show, DoorBot received a large influx of orders and was catapulted into success.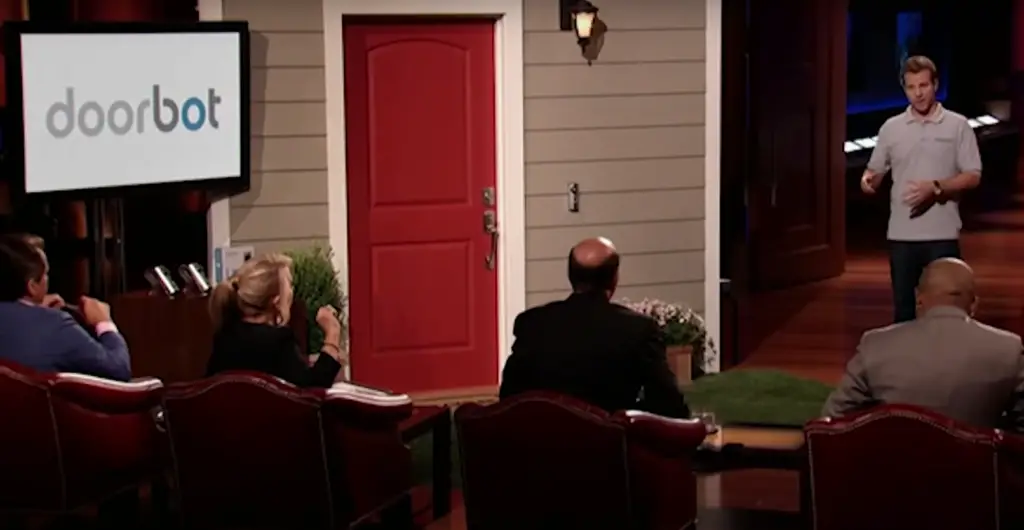 This is by far the most impressive success story that has ever come out of Shark Tank, and it is a testament to Jamie Siminoff's incredible vision and determination. His success proves that even if the Sharks don't believe in you, there are still opportunities available out there if you just keep working hard. [2] [3]
---
FAQ
How is Doorbot doing?
DoorBot is doing very well since its appearance on Shark Tank! In fact, the show helped to boost sales and marketing efforts for the company. After its appearance on the show, DoorBot managed to increase its customer base significantly. They have also been featured in many mainstream publications and television shows, such as The Today Show, Good Morning America, and Forbes Magazine.
The product itself has seen numerous improvements over the years and it's now a reliable device that can be used in homes or businesses. Furthermore, DoorBot has also expanded its range of products with different types of doorbells that include video recording capabilities and other features.
But most importantly, Amazon decided to buy the company in 2018 for $ 1 billion, making it one of the largest acquisitions in the history of Shark Tank. Since then, DoorBot has become an Amazon subsidiary and is now integrated into the Alexa home automation system. This means that users can access all DoorBot features directly from their Alexa app, which makes it much easier to manage doorbells and access recorded video footage.
Overall, DoorBot is doing very well since its appearance on Shark tank and we're sure that the company will continue to grow as a part of Amazon. The future looks bright for this innovative product!
Where is Doorbot today?
Doorbot is alive and kicking today, although the product has since evolved in a few ways. After appearing on Shark Tank, Doorbot was rebranded as Ring. The company also shifted its focus to home security products rather than simply doorbells. Under the new name, Ring released several video doorbells with innovative features such as motion detection, live streaming of events at your doorstep, two-way audio communication, and more.
In February 2018 Ring was acquired by Amazon for around $ 1 billion USD. Since then they have continued to develop their hardware products and launch new interactive services.
Did Sharks regret not investing in Doorbot?
Some sharks have indeed expressed their regret about not investing in Doorbot, the home security device that appeared on Shark Tank. However, Mark Cuban, who was one of the sharks on the show, said shortly after that he was not regretful of his decision to pass on Doorbot.
Cuban holds this stance to any product, regardless of the success or failure of the company, since ultimately his goal is to make money and he needs to see a good return on investment. With Doorbot, he did not think that potential was there and has stuck to this opinion.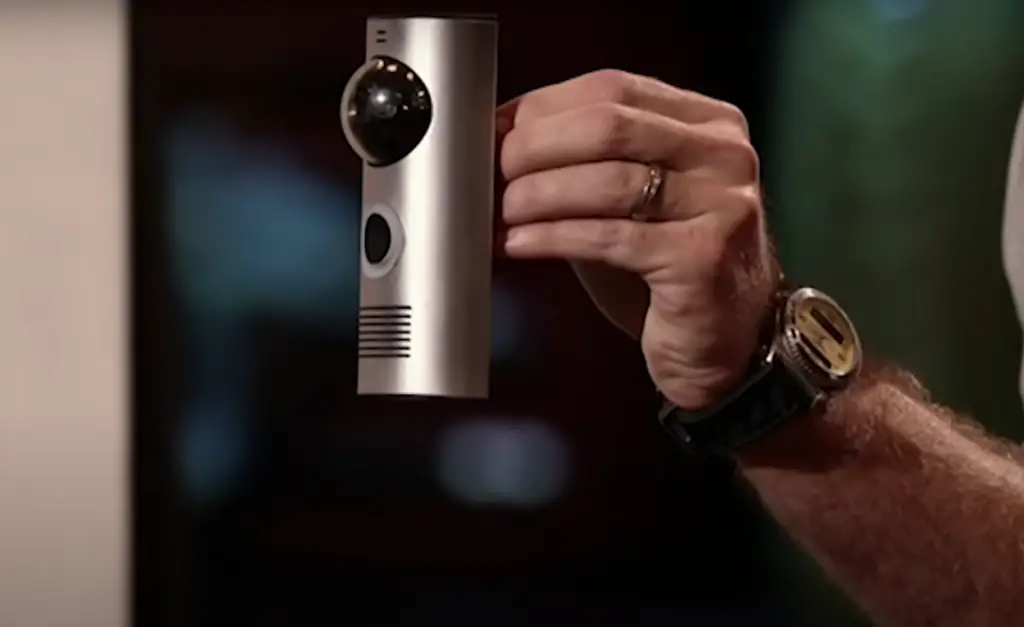 Is DoorBot and Ring the same company?
Yes. In 2018, Amazon acquired the company Ring (formerly known as DoorBot). This was a strategic move by Amazon, allowing them to leverage the technology and resources provided by DoorBot to expand their home security product lineup. Jamie agreed to an all-cash deal, making him $ 1 billion dollars.
How much was DoorBot sold for?
Ring CEO Jamie Siminoff had originally pitched DoorBot on Shark Tank in 2013 where he asked for a $ 700k loan. All five Sharks declined to invest but the exposure helped catapult DoorBot into success.
Useful Video: The Sharks Struggle To Understand Doorbot's Value | Shark Tank US | Shark Tank Global
Conclusion
Jamie Siminoff made an appearance in Shark Tank that didn't end too well but the DoorBot had a major comeback. After being rejected by the Sharks, Jamie and his company never gave up!
Since then, DoorBot (now known as Ring) shifted its focus to home security solutions and introduced several new products. The company has appeared in various major news outlets and was even acquired by Amazon for an impressive $ 1 billion in 2018.
DoorBot has come a long way since Jamie's original idea of a smart doorbell that connects to a person's smartphone. It is now the leading home security company and continues to expand its offerings with new products and services.
Throughout his journey from Shark Tank to becoming part of Amazon, Jamie Siminoff has proven himself as a master of innovation and entrepreneurship. He's pushed the boundaries of technology and shown what can be achieved when you remain focused on your goals. With Ring firmly established in the industry, it'll be exciting to see what else Jamie comes up with in the future!
Now the company is worth several billion and Jamie earns $ 250 million in annual revenue. He is a shining example of how persistence, hard work, and dedication can pay off in the business world. We wish Jamie and Ring all the best in their future endeavors!
So there you have it – DoorBot's journey from Shark Tank to becoming an Amazon household name. It was certainly a long and winding road but Jamie Siminoff persevered with his entrepreneurial spirit and creativity, making DoorBot one of the most successful companies to ever appear on the show. With Ring firmly established in both the tech and home security industries, we can't wait to see what else Jamie has up his sleeve!
---
References:
https://www.sharktankblog.com/door-bot/
https://www.sharktankblog.com/business/doorbot/
https://bizzbucket.co/doorbot-ring-shark-tank-update/
https://seoaves.com/what-happened-to-doorbot-after-shark-tank/
https://www.amazon.com/stores/Ring/page/77B53039-540E-4816-BABB-49AA21285FCF