Rob Neuner established Boost Oxygen, a supplemental oxygen provider, in 2007 after noticing canned oxygen's popularity among European consumers. Canned oxygen provides an energy boost, so he started using it both when he was combating jet lag and during triathlon competitions.
Given the popularity of canned oxygen in other markets, Rob and his business partner Mike Grice appear on Shark Tank in Season 11 to seek help with retail expansion. Their ask is $1 million for 5% equity in the company [1].
When the sharks on Shark Tank heard about Boost Oxygen, they were intrigued. The product is a can of oxygen that you can drink to help with physical activity and athletic performance. The sharks were interested in the business because it was a new way to market oxygen, which is something that everyone needs. After the show aired, Boost Oxygen saw a surge in sales and interest from potential investors.
What Is Boost Oxygen?
After witnessing the success of canned oxygen in European markets, Rob Neuner decided to launch his own company focused on supplementary oxygen, Boost Oxygen [2].
He started using canned oxygen to help with his regular jet lag and as an energy boost while he was racing in triathlons out of curiosity. He then noticed that others might find this helpful too and decided to market it in the United States under the Boost label – which soon became the world's best-selling canned oxygen brand.
There are several fringe health advantages of breathing oxygen. It offers many of the same benefits as an energy drink but without caffeine or sugar. Boost Oxygen is "aviator-grade" oxygen that improves cellular metabolism. Cells require oxygen and, if your body doesn't get enough of it, cell function slows down and you feel sluggish.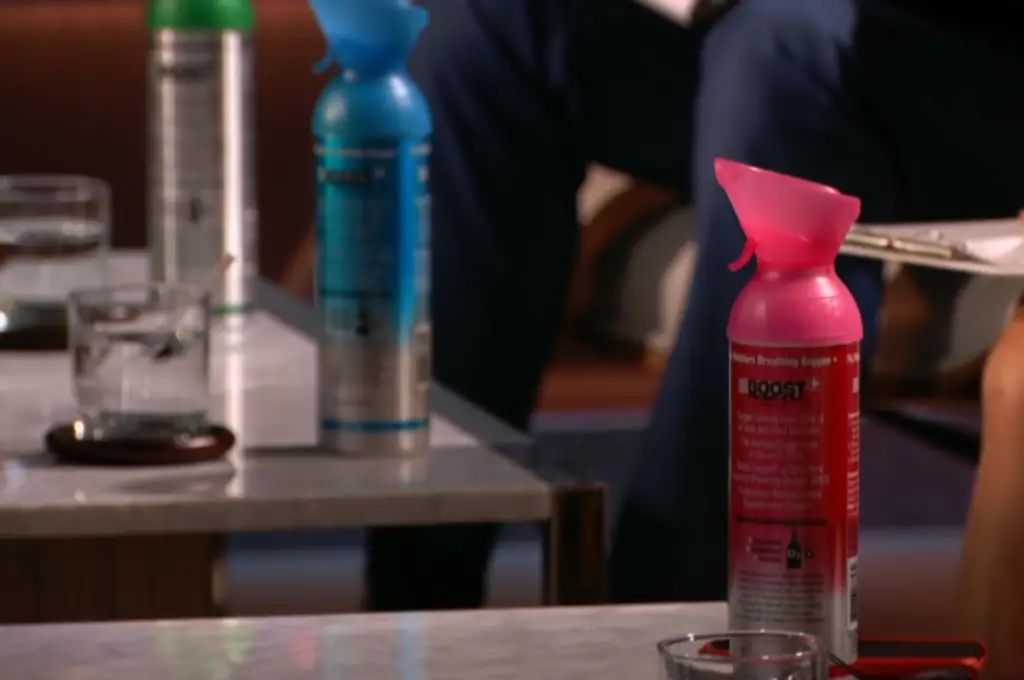 Pros of Boost Oxygen
Refreshes instantaneously;
Provides a sudden supply of pure oxygen to the body;
Helps to increase energy and motivation while working out;
After a hard workout, this device reduces the time it takes to catch your breath [3];
Cons of Boost Oxygen
Expensive;
If you have a skinny face, the integrated mask will not fit snugly;
Who is Boost Oxygen For?
Whether your stamina needs a pick-me-up on your hike or you're dealing with difficulty breathing, Boost Oxygen can help. If air pollution is rampant where you live, this product can also offer relief.
Additionally, amateur footballers, athletes, senior citizens, people visiting high-altitude locations, and more have found a use for Boost Oxygen.
It is not a magical cure-all. Rather, it's a technique for increasing your body's oxygen consumption that has proved to work for several people. Some users have praised Boost Oxygen for providing them with an exciting pure oxygen experience.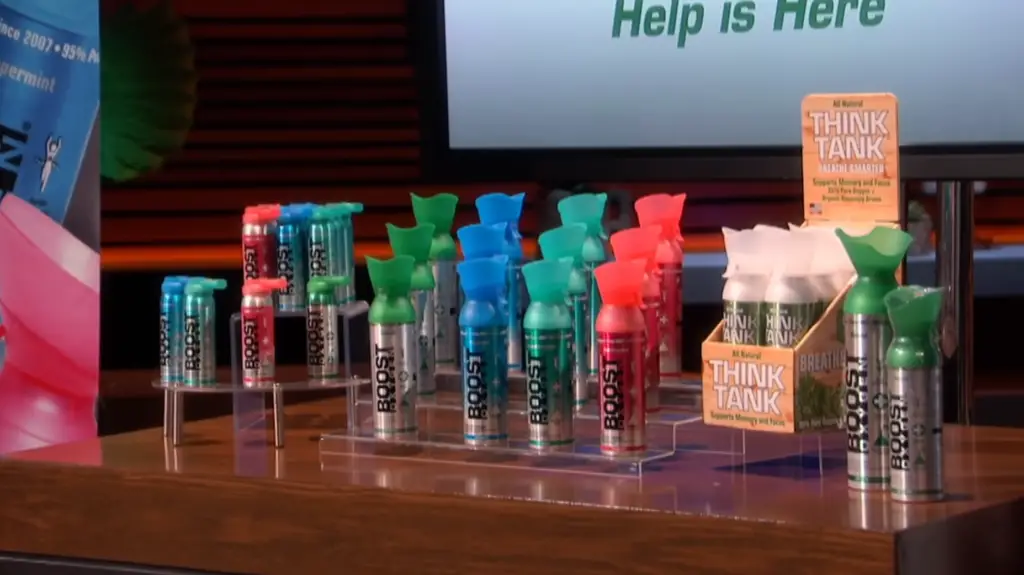 Are There Any Alternatives?
Though Boost Oxygen was not the first company to sell canned oxygen, it is among one of the most popular brands. Though there are many alternatives on the market, such as Big OX O2 and Vitality Air Premium Oxygen, people often choose Boost Oxygen because it is an undisputed champion in its industry due to its well-established presence and ease of use.
Who Is The Founder Of Boost Oxygen?
Mike pursued his Business Administration and Management degree at the University of Colorado in Denver while also taking time to serve as a U.S. Marine [4].
Mike earned his master's degree in Military Science from the American Public University System. Later, he attended USC's Marshall School of Business to get an MBA. Rob Neuner was always drawn to business, but most of his early professional experiences were abroad; he spent a great deal of time importing beer throughout Europe.
After finding that there were no US bottled oxygen providers, Neuner saw a business opportunity, as he often used supplemental oxygen when struggling with jet lag from his frequent trips to the Czech Republic.
As a result, he exited the beer importing business and went to America. There, he partnered with Mike Grice to establish Boost Oxygen in 2007. Like every other supplemental oxygen product at that time, it was not FDA-approved.
It was truly beneficial, with no negative side effects. The company made $6.4 million in sales and a $1.5 million profit before seeking angel investors' assistance, thanks to the 5% oxygen content compared to the 25% in the open air.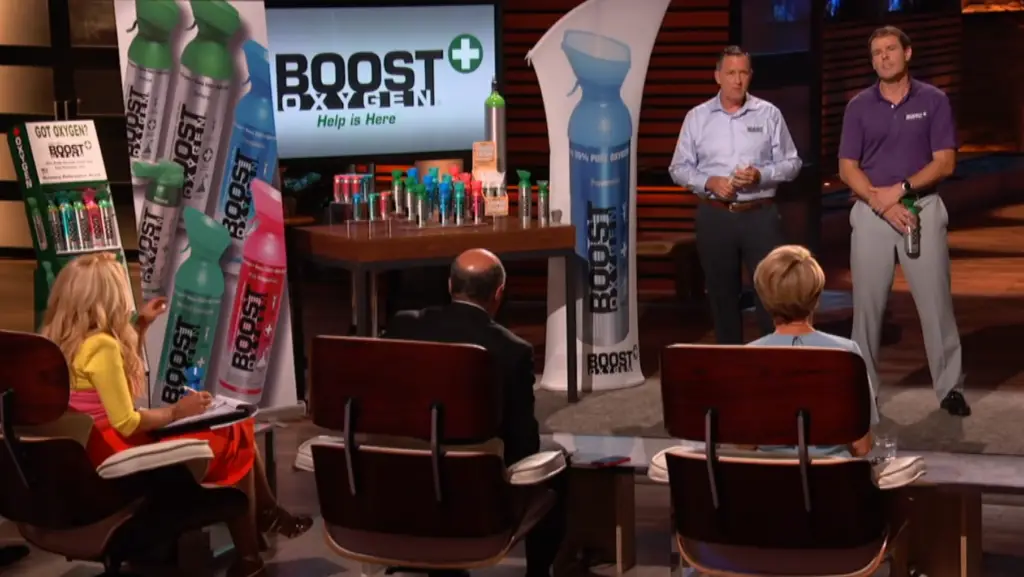 Boost Oxygen Before Shark Tank
The product is not a substitute for medical oxygen. The company claims that the product is for recreational use and is 85% pure, whereas medical oxygen is 99% pure.
The three "aromatherapy tastes" are as follows: grapefruit, peppermint, and menthol. It's available on Amazon and in CVS stores all over the country.
A pocket-sized can of breathable air costs $7.99 and provides about 40 inhalations. A medium can is priced at $9.99, containing 100 breaths, while a large cage retails for $14.99 and approximately 200 inhalations worth of oxygenated air. For best value, purchase in bulk quantities [5]!
Recently, Boost Oxygen signed a contract with Major League Lacrosse. They have made a name for themselves in the fitness world and many triathletes use their product regularly. Olympic swimmer and Ironman champion Kyle Smith are one of many people who utilize Boost regularly.
One canister of boost will last approximately 30 minutes. The volume available from one container is 0.5 milliliters (mL) of air, which is the same as 1 liter (L) of room air at sea level pressure (14.7 psi).
Boost Oxygen On Shark Tank: The Pitch
Rob Neuner and Mike Grice went to the shark tank looking for a $1 million investment in exchange for 5% equity. Shark talked about the need for money and knowledge of sharks when Duo revealed that they required investment and shark expertise to expand their retail network. Rob stated that they make sales of $6.4 million each year with a profit of $1.5 million [6].
The sales numbers impressed everyone, and they showed them. Roham Oza stated that Boost oxygen is attempting to educate people on an issue that no one is aware of, so he went out. Barbara Corcoran stated that she would prefer to invest in a beautiful beach house rather than spend money on Boost oxygen and go outdoors. Lori Greiner said she was the wrong fit for business and departed.
Mark Cuban said that he didn't find any incentive to invest, so he left the tank. Kevin O'Leary (Mr. Wonderful) saw an opportunity and offered $1 million at 9% interest with a due period of 3 years, along with 7.5% in equity in the business.
Rob and Mike couldn't pass up this bargain, so they countered with a $1 million offer at 6% interest and 5% ownership in Boost Oxygen. Kevin O'Leary offered them another $1 million for $1 million with a 7 percent equity stake and a 6.5 percent equity stake in the company. Mike and Rob accepted Kevin O'Leary's second offer.
Boost Oxygen Now In 2022
The company's sales and growth have soared to new heights since appearing on Shark Tank. The product is now available in major retail outlets such as Albertsons, CVS, and Walmart. It may also be purchased from a large number of independent retailers across the country [7].
In high-altitude areas such as Colorado, however, Oxygen Boost is flying off the shelves. They began selling oxygen in a variety of tastes at malls and gained popularity. The brand has also become a favorite among many fitness enthusiasts and endurance athletes. Even football teams purchase them for use on the sidelines during long runs to aid players to recuperate faster.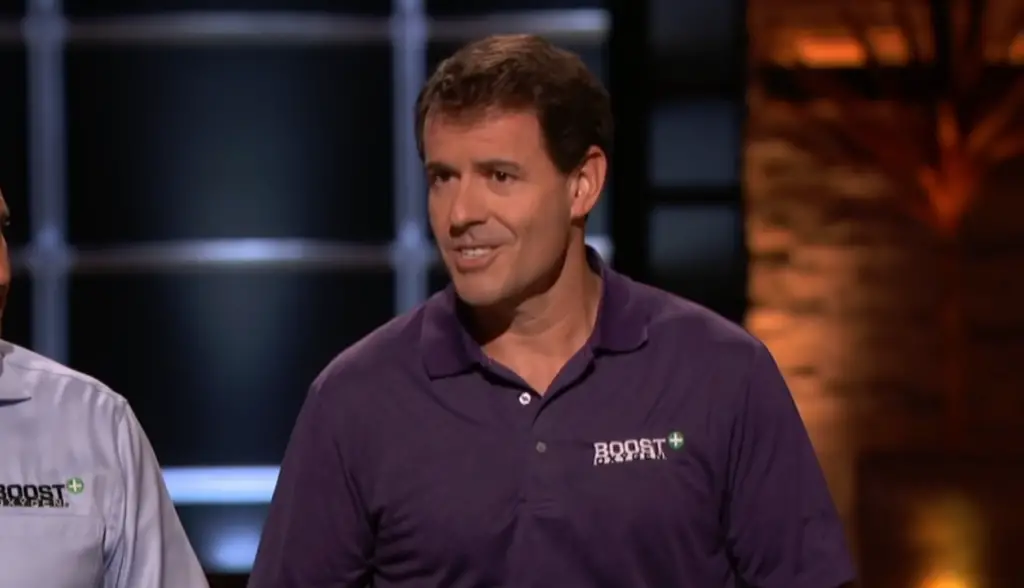 In the United States, Boost Oxygen, which has sold over $15 million worth of oxygen since appearing on Shark Tank, is the most well-known non-medical oxygen seller.
When it debuted on Shark Tank Recap, Boost Oxygen was expected to sell for $20 million and was valued at around $15 million.
The Net Worth Of Boost Oxygen
After the investment by Kevin O'Leary, the firm was valued at $20 million in 2021. The business valuation was $15.4 million after the investment done by Kevin O'Leary. With annual sales of $15 million, the company has been doing well since then. This indicates that the company's net worth had risen as a result of this deal [8].
FAQ
Is Boost Oxygen FDA-approved?
Boost Oxygen is not classified as a type of oxygen supplement, but rather by the Consumer Product Safety Commission and not the FDA. No approved form of supplementary oxygen is available [9].
How much does Boost Oxygen cost?
Prices for Boost Oxygen vary depending on the retailer, but a canister typically costs between $15 and $25. A single canister will last around 50-60 inhalations [10].
How many times can I use Boost Oxygen?
You can use Boost Oxygen 3-5 times. After that, the oxygen levels in the canister will start to drop and it will no longer be as effective [11].
Does Boost Oxygen help with shortness of breath?
Although it cannot completely relieve the sensation, oxygen therapy can help decrease your shortness of breath or breathlessness by supplying additional oxygen to your lungs. This might be useful for patients with lung diseases who want to feel less burdened during their day-to-day activities.
Does Boost Oxygen help COPD?
A study published in the European Respiratory Society's Breathe (clinical educational publication) found that exercise training, when part of a comprehensive pulmonary rehabilitation program, is beneficial to people with COPD. Exercise training improves physical fitness, reduces dyspnea and tiredness symptoms, and enhances the quality of life in individuals with COPD [12].
Why don't you need a prescription with Boost Oxygen?
The FDA has not approved any type of supplementary oxygen for human use, so a prescription is not necessary.
How long do Boost Oxygen tanks last?
The factory-sealed one-second Boost Oxygen canisters contain 10 liters of oxygen, which pressure-wise is approximately 200 seconds of continuous flow or over 200 one-second inhalations [13].
Where is Boost Oxygen made?
Boost Oxygen is proudly made in the USA with American-sourced materials. All Boost Oxygen canisters are filled at our FDA-registered and inspected oxygen facility in Danbury, Connecticut.
Does Boost Oxygen help with headaches?
The effects of pure oxygen on cluster and migraine headaches are still being researched, but it is hypothesized that the constriction of blood vessels helps to lessen the pain. There is also evidence showing an increased blood flow in the brain with both types of headaches, though migraines experience a higher degree of increase. It has been theorized that because Oxygen causes a decrease in cerebral blood flow, this could be why there are reduced feelings of pain.
Some of our customers who experience migraines have started keeping a portable canister of Boost Oxygen with them at all times, as inhaling the 95% pure oxygen helps to lessen nausea and anxiety that comes with an attack.
Additionally, Boost Oxygen can help migraine sufferers relax while they wait for their acute migraine treatments to take effect.
Can I travel on a plane with Boost Oxygen?
The Federal Aviation Administration (FAA) and the Transportation Security Administration (TSA) do not allow recreational oxygen in carry-on or checked luggage, even though Boost Oxygen is natural and safe [14].
Is Boost Oxygen safe for seniors?
Yes, Boost Oxygen is safe for seniors. All of our products are natural and free from any harmful chemicals or additives. Pure oxygen is also non-flammable, so it can be used safely around seniors. However, as with all supplemental oxygen products, we always recommend consulting with a physician before use.
Is it okay for me to take Boost Oxygen if I have a lung condition?
It's crucial to bear in mind that DMSO is not a substitute for people who require Medical Oxygen (99% purity) for health reasons. It's only designed for enjoyment.
Is Boost Oxygen combustible?
No, these products are not combustible. However, it is important to keep in mind that pure oxygen is a strong oxidizer and can accelerate the burning of any combustible materials. Therefore, it is important to use caution when using Boost Oxygen around any open flames.
Useful Video: The Sharks Left Breathless By Boost Oxygen | Shark Tank US | Shark Tank Global
References
https://sharktankrecap.com/shark-tank-boost-oxygen-update-season-11/
https://biznewske.com/boost-oxygen-shark-tank-update
https://www.sharktanksuccess.com/boost-oxygen-review/
https://techiegamers.com/boost-oxygen-net-worth
https://www.sharktankblog.com/business/boost-oxygen
https://bizzbucket.co/boost-oxygen-shark-tank-update/
https://techiegamers.com/boost-oxygen-net-worth
https://sharktanktales.com/boost-oxygen-shark-tank-update/
http://learn.boostoxygen.com/common-questions-about-boost-oxygen
https://www.boostoxygen.life/products/natural
https://boostoxygen.life/contact-us/faqs
https://www.ncbi.nlm.nih.gov/pmc/articles/PMC4933612/
https://learn.boostoxygen.com/how-to-use-boost-oxygen
http://learn.boostoxygen.com/common-questions-about-boost-oxygen