Bark'em's To Go, a unique pet product featured on Shark Tank, promised to revolutionize the way we feed our pets while on the move. The brainchild of Blake St. Clair, Bark'em's To Go is a complete, portable meal solution for dogs, comprising of a disposable container filled with food, vitamin-enriched water, a treat, and even a waste bag. 
However, since its appearance on the show, many have wondered about the fate of this innovative product. This article delves into what happened to Bark'em's To Go after its Shark Tank debut, exploring its journey and current status in the market.
What Is Bark'em's to Go?
Overview:
Bark'em's To Go offers a convenient solution for feeding your beloved pets when you're away from home. Managing your pet's meals while traveling can often pose a challenge, but the creator of BarkEm's is here to ensure your pet's nourishment with a hassle-free, on-the-go meal solution.
BarkEm's To Go represents an innovative business endeavor that provides a comprehensive kit of pre-packaged meals for your canine companions. It proves to be the most suitable option when you're hitting the road.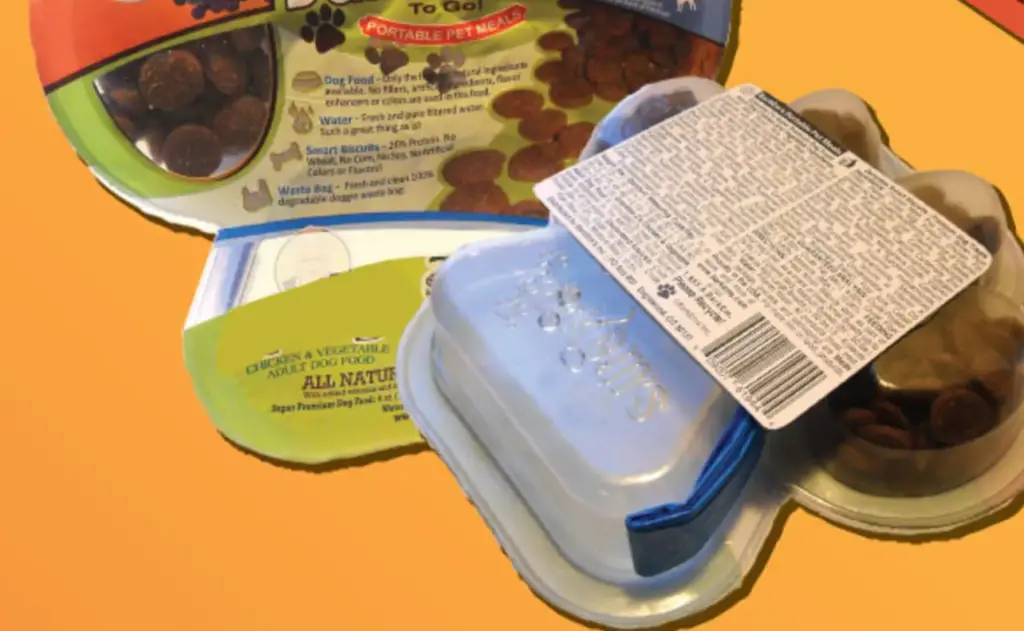 The BarkEm's To Go meal kits cater to dogs of varying sizes, meticulously categorized into three options:
12 oz (designed for large dogs, weighing 55 lbs. and above);
6.5 oz (ideal for dogs in the 30-55 lbs. weight range);
Small 4 oz. (tailored for dogs weighing 30 lbs. and under) [2];
Pros:
Convenience: The primary benefit of Bark'em's To Go is its convenience. This product eliminates the need to carry separate containers for food and water, making it ideal for trips, hikes, or even day-to-day outings with your pet;
Nutrition: Each serving of Bark'em's To Go includes a balanced meal for dogs. The addition of vitamin-enhanced water ensures that your pet gets a nutritionally rich meal, even when you're out and about;
Waste Management: The inclusion of a waste bag is a thoughtful touch, emphasizing responsible pet ownership. This feature allows for easy clean-up after your pet has finished their meal;
Dog Approval: According to St. Clair, dogs love the taste of Bark'em's To Go. The addition of a treat in each pack ensures that mealtime is something your pet can look forward to, even on the road;
Cons:
Price: One potential drawback of Bark'em's To Go could be the price point. As a premium product, it may not fit into every pet owner's budget, especially for those with multiple dogs or larger breeds who may require more than one serving per meal;
Environmental Impact: While the convenience of disposable containers is undeniable, it's important to consider the environmental implications of single-use items. The waste generated by Bark'em's To Go could be a concern for environmentally-conscious pet owners;
Limited Availability: As a relatively new product on the market, availability could be an issue. Depending on your location, Bark'em's To Go may not be easily accessible from local pet stores or supermarkets;
One Size Fits All: Currently, Bark'em's To Go seems to offer a one-size-fits-all solution when it comes to portion size. This might not cater to the dietary needs of all dogs, particularly those that are smaller or larger than average;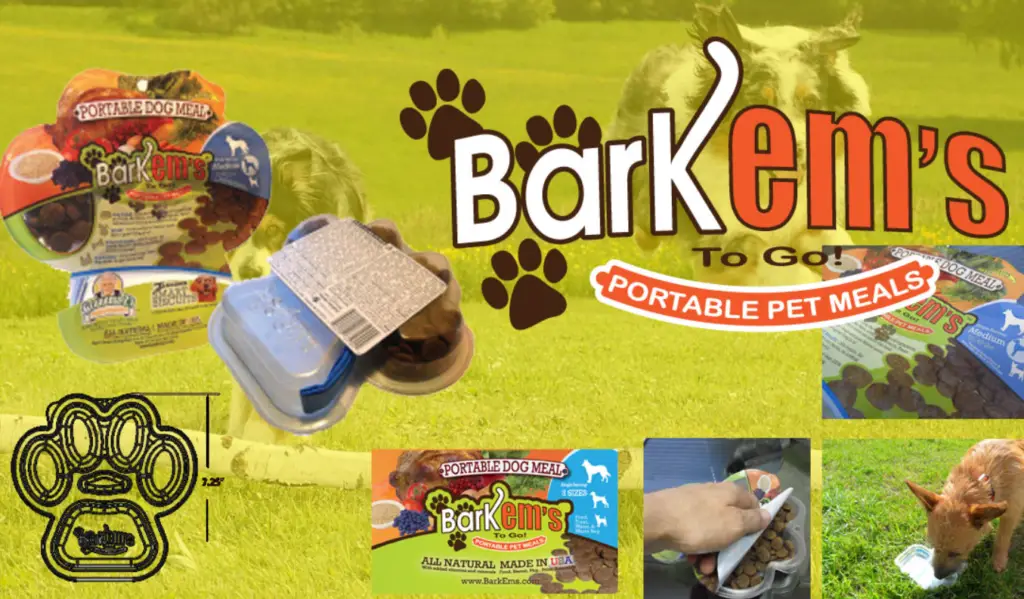 Who May Benefit From Using Bark'em To Go:
Busy Pet Owners: People with busy schedules who often find it challenging to prepare meals for their pets would find Bark'em To Go very beneficial. It offers a quick and convenient option without compromising the nutritional value of your pet's meal;
Travelers: Those who frequently travel with their pets, whether for work, vacation, or outdoor activities like camping and hiking, would greatly benefit from this product. It eliminates the need to carry bulky pet food containers and dishes;
Emergency Preparedness: Pet owners who want to be prepared for emergencies or natural disasters may also find Bark'em To Go useful. The product can be stored easily in an emergency kit, providing a reliable source of food and water for pets during unexpected situations;
Pet Sitters & Dog Walkers: Professional pet sitters and dog walkers could benefit from using Bark'em To Go. It provides an easy-to-carry, complete meal, making their jobs easier and more efficient;
Event Planners: If you're organizing events where pets are welcome, having Bark'em To Go on hand could be a thoughtful touch. Attendees would appreciate the convenience of being provided with an easy feeding solution for their pets [3];
Dog Shelters & Rescue Centers: These organizations can use Bark'em To Go to feed the dogs in their care, especially when they are transporting dogs to new homes or vet appointments. It offers a hassle-free way to ensure the dogs are well-fed and hydrated;
About Founders Of Bark'em's to Go
Included in the kit is a disposable dish, meticulously crafted to maintain the nutritional balance essential for your dog's well-being. Complementing this, BarkEm's To Go includes vitamin-enhanced water and a selection of treats within its packaging. Once your dog has savored the meal, you can efficiently dispose of leftovers in the provided waste bag, showcasing the product's environmentally friendly design.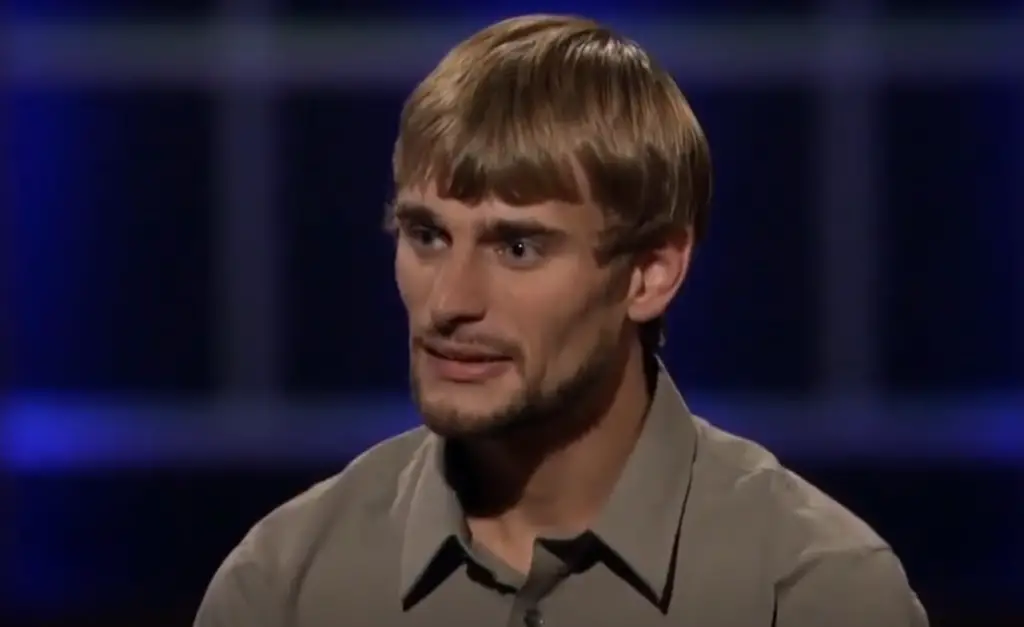 Blake, the driving force behind BarkEm's To Go, even took his entrepreneurial venture to the Shark Tank. He was willing to part with a 51% stake in exchange for a $ 100,000 investment. Regrettably, the sharks declined to back this idea.
Undeterred, Blake has now wholeheartedly dedicated himself to this distinctive project of providing on-the-go meals for dogs [5]. He has forged partnerships with other companies specializing in canine cuisine via e-commerce channels. Additionally, BarkEm's To Go products can be found on Amazon in select regions.
The Pitch Of Bark'em's to Go At Shark Tank
Blake St. Clair confidently stepped into the Shark Tank, accompanied by his yellow lab. He proudly declared himself the creator of the first full-serving meal solution for dogs and sought a $ 100,000 investment in exchange for a 51% stake in his company [6]. However, Mark wore a look of skepticism, and this valuation left Blake with little room for negotiation. He pointed out that many Americans adore their pets and take them everywhere they go.
The problem Blake aimed to address was the lack of a convenient way to feed pets on the go. As he presented his idea, Robert seemed distracted and fixated on the dog. Blake questioned why pet owners should carry separate bags of food, water, and other supplies. He claimed that his product, Barkem's To Go, offered the perfect solution—a pre-packaged meal designed exclusively for dogs. Each unit featured compartments with different amounts of food, vitamin-enhanced water, and a treat for later consumption. However, Kevin appeared puzzled.
Daymond appeared disinterested, almost closing his eyes during the presentation. Despite this, Blake continued, emphasizing that traveling pet owners would appreciate the convenience of Barkem's To Go. He believed there was a market waiting for it on supermarket shelves nationwide. As he spoke, his yellow lab sampled the meal from the container. Barbara commented on the potential messiness of the product, and Robert pointed out that a large dog like the yellow lab might make a mess.
Blake clarified that his product came in different sizes to accommodate dogs of various sizes. Barbara asked which size they were observing at the moment, and Blake confirmed it was for a medium-sized dog. This prompted the Sharks to burst into laughter, leaving Barbara perplexed. Mark asked if the packaging was designed for larger dogs, and Robert inquired if they could meet the dog. Blake introduced his dog, Rummy, and Robert invited Barbara to pet the large dog. As Daymond departed, Mark humorously suggested kicking Kevin in the head.
Mark then asked if Barkem's To Go could apply to other pets, while Kevin questioned why someone wouldn't just pack a baggie of dry food. Kevin sought to understand the unique value Blake's product brought to the market. Blake explained that it was designed for occasional use, such as weekends or vacations, and mentioned camping as an example. Kevin expressed doubt about the viability of the idea, stating that it likely had no market.
Blake defended his product, highlighting the convenience of not needing to carry additional supplies. Kevin remained unconvinced, claiming the idea lacked value. He decided to opt out, and Blake thanked him. Kevin asked what he was being thanked for, and Barbara commended Blake's politeness.
Mark acknowledged that Blake was in the early stages of his business, with much work ahead. He didn't believe he could assist Blake and opted out.
Daymond inquired about Blake's patent, and Blake confirmed he had a design patent and had also trademarked the name. Robert asked if the patent was pending, and Barbara chimed in that it was. Robert liked the idea, particularly for large food companies looking to diversify their packaging options. He asked if Blake had made any sales calls in this regard, but Blake admitted he hadn't made much progress in contacting pet food vendors. Kevin reiterated his belief that the idea had no merit.
Robert saw potential in the concept, especially for travelers with pets, and inquired about the cost of production. Blake revealed that it costs $ 0.64 to manufacture each Barkem's To Go box [7]. Daymond asked if this cost included the food, but Blake explained that the food would need to be licensed through a food company in the final design.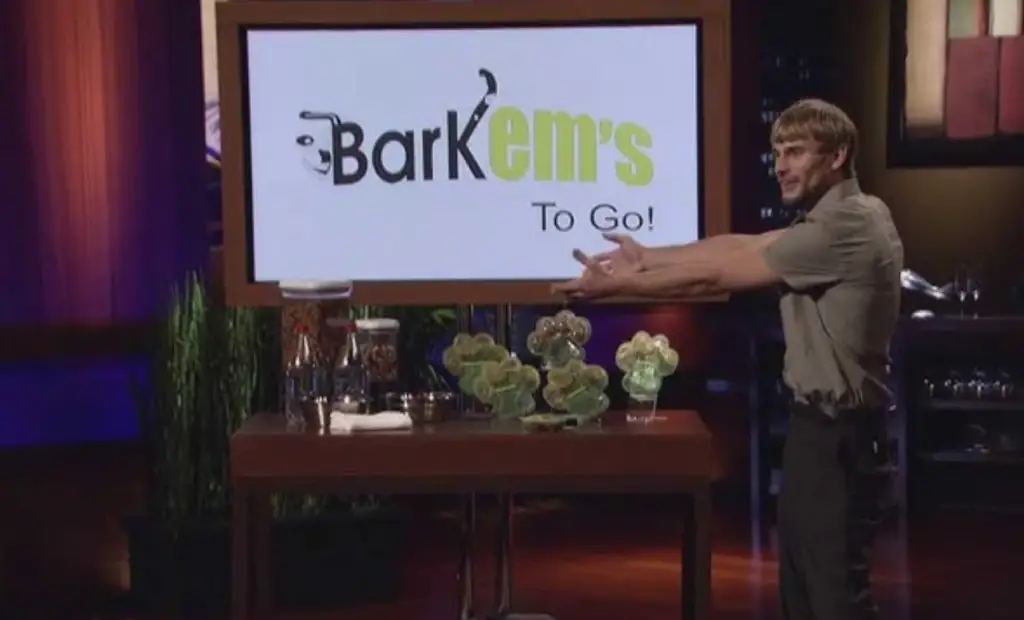 Kevin remained unconvinced and advised Blake not to quit his day job. He exited the deal, and Blake thanked him. Kevin wondered why he was being thanked again, to which Barbara complimented Blake's manners.
With all the other Sharks out, Barbara told Blake that there was no problem with simply packing dry food in a bag, a method she personally used for her dog. She believed Blake was trying to solve a non-existent problem and opted out. Blake argued that at $ 2.50, it was a matter of convenience, but Robert thought it was too early for him to invest [8].
Robert suggested that Blake first obtain the food license, and he believed Blake could do this independently. However, Robert decided not to invest in the business. Mark informed Blake that everyone was out, and Blake left the stage.
In a humorous moment, Blake jokingly asked if he could exchange $ 100,000 for 51% of the dog, but Robert and the others laughed it off. Blake left the stage with his dog, Rummy.
In his post-presentation interview, Blake expressed disappointment at the Sharks' assessment of his product as worthless and pointless, given the considerable effort he had invested in it. However, he remained confident that Barkem's would become a significant innovation in the pet industry, soon gracing the shelves of stores everywhere.
Bark'em's to Go After The Shark Tank
Subsequently, Blake redirected his efforts toward managing ProductGoGo, a firm specializing in product design and development. 
The exposure garnered from their appearance on the show proved to be a pivotal moment for Barkem's. The company experienced an overwhelming response from pet owners across the nation who were ecstatic to discover a solution to their pet travel challenges.
Although the Sharks didn't invest in the business during the show, Barkem's capitalized on the newfound attention to propel their business to new heights. Their website saw a substantial increase in traffic, and their products became highly sought after, flying off the shelves. They started receiving substantial bulk orders from both pet stores and online marketplaces, resulting in a significant boost in revenue.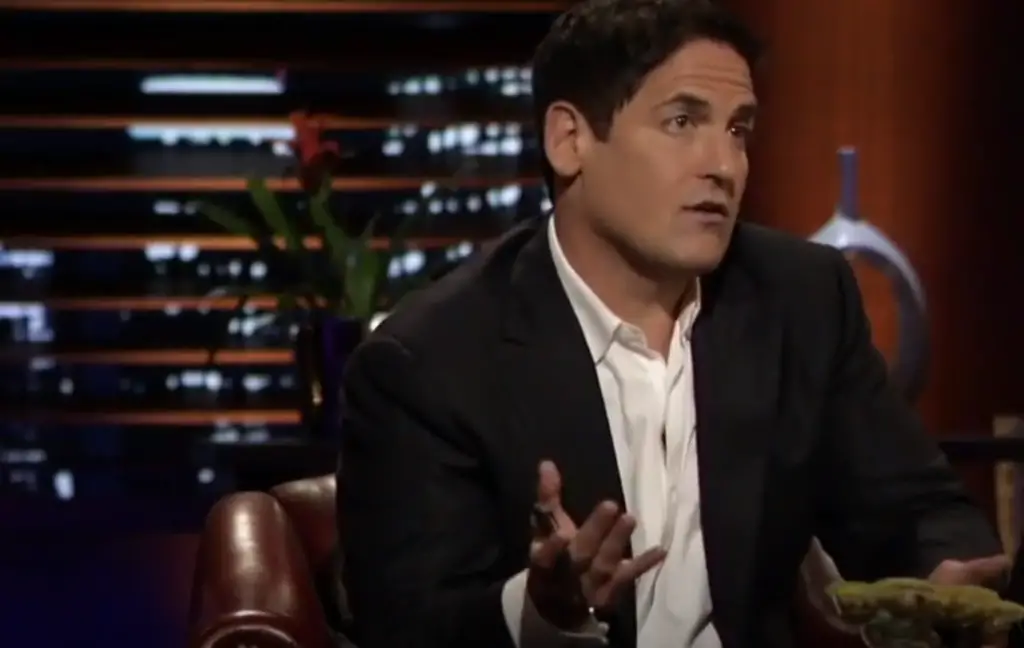 Barkem's astutely leveraged the exposure they received on the show, continuing their marketing efforts to emphasize the convenience and simplicity their products offered for traveling with pets. Customer testimonials played a pivotal role in promoting the brand, as satisfied users shared their positive experiences with the product.
Furthermore, in addition to their core product sales, Barkem's expanded their product line to include additional items catering to the various needs of pets during travel.
Regrettably, their success was short-lived. Despite their best efforts, they eventually faced financial constraints, and in 2015, their website ceased to operate. As of 2023, Barkem's is no longer in business, marking the end of its journey in the pet travel market.
The Net Worth Of Bark'em's to Go
Limited details regarding Bark'em's to Go's financial standing and overall value are accessible. Nonetheless, an examination of its website yielded a valuation of $ 240 on an annual basis, translating to an average of $ 0.66 each day. 
Alternatives To Bark'em's to Go:
Portable Pet Bowls: These are collapsible bowls that you can fill with your pet's regular food and water. They're lightweight and compact, making them easy to carry when you're on the move;
Pre-packaged Wet Food: This is another option for feeding pets while traveling. Many brands offer wet food in single-serving packages. However, this option might not be suitable for all pets, especially those with specific dietary needs;
Pet Food Containers: These are special containers designed to store pet food securely. They're typically airtight to keep the food fresh and come in various sizes to suit your needs;
Homemade Dog Meals: If you have the time and inclination, you could prepare your pet's meals at home and pack them in reusable containers. This gives you full control over what goes into your pet's diet;
---
FAQ:
What is the highest amount asked on Shark Tank?
The highest amount ever asked for on Shark Tank was $ 10 million. This record was set by Jamie Siminoff, the founder of Ring, a company that produces video doorbells. Although none of the sharks agreed to the full amount, he eventually secured a deal with Richard Branson for $ 700,000.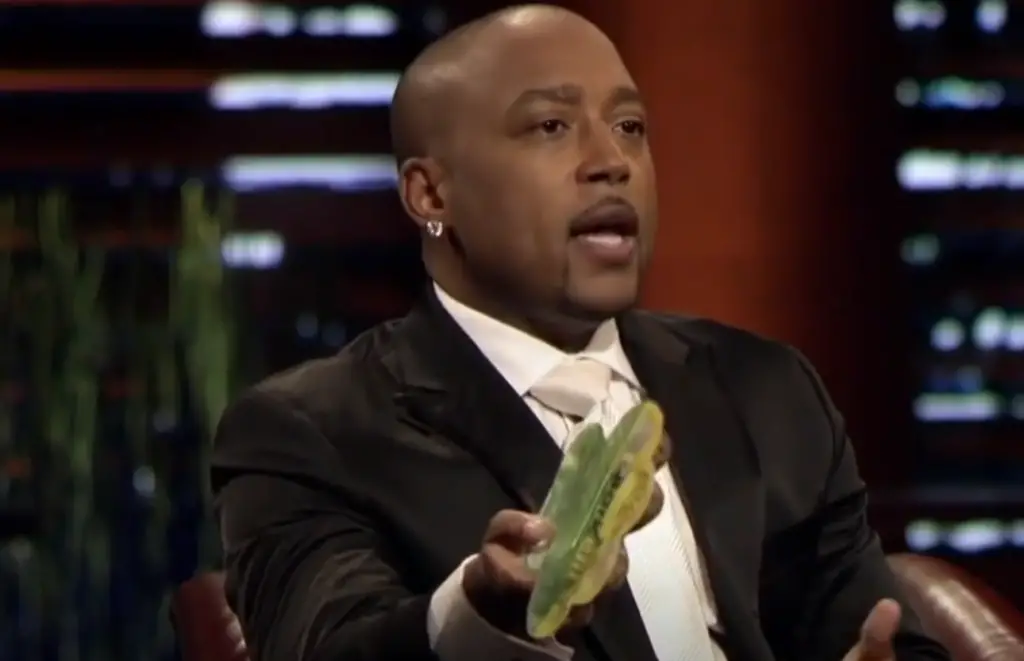 Do Shark Tank investors really invest?
Yes, the investors on Shark Tank, often referred to as "sharks", are real investors. They have the potential to invest their own money in the businesses presented on the show in exchange for equity in the company. However, not all deals made on the show necessarily close after filming, and some entrepreneurs choose to go with other investors or decline the offers made by the sharks.
Which 3 "sharks" are billionaires?
As of 2023, the three sharks on Shark Tank who are billionaires are:
Mark Cuban: Mark Cuban is not only a billionaire but one of the most well-known sharks on the show. He made his fortune primarily through tech-related ventures and is the owner of the Dallas Mavericks NBA team;
Richard Branson: Although not a regular shark, Richard Branson has appeared as a guest shark on the show. He is the founder of the Virgin Group, with ventures spanning airlines, music, telecommunications, and more;
Kevin O'Leary: Kevin O'Leary, also known as "Mr. Wonderful", is another billionaire shark. He made his wealth through various business ventures, including software and licensing;
How real is Shark Tank?
Shark Tank is a real television show, and the entrepreneurs who pitch their businesses to the sharks are real entrepreneurs seeking investment. However, it's important to note that the show is edited for entertainment purposes, and some negotiations or deals that happen during filming may not necessarily close or materialize after the show airs.
Do the "sharks" get paid?
The "sharks" on Shark Tank do not receive salaries for their appearances on the show. They invest their own money into the businesses they choose to partner with, and any earnings or losses from those investments are real and independent of their roles on the show. They do, however, receive compensation for their time spent filming, but it's not tied to the outcomes of the deals.
Has anyone from Shark Tank made it big?
Yes, several entrepreneurs who have appeared on Shark Tank have gone on to achieve significant success. Some of the most notable examples include the creators of the Scrub Daddy sponge, Groovebook, and Tipsy Elves, among others. These businesses have experienced tremendous growth and profitability after securing deals with the sharks.
Who turned down a million dollars on Shark Tank?
One memorable instance of an entrepreneur turning down a million-dollar offer on Shark Tank was Mike Doyle, the creator of Rent Like a Champion. He rejected a $ 1 million offer from Mark Cuban for a 10% equity stake in his business.
How did Lori Greiner get rich?
Lori Greiner, often referred to as the "Queen of QVC", became wealthy through her inventions and entrepreneurship. She has created and patented numerous consumer products, many of which she has successfully marketed on the QVC shopping channel. Her innovative products, combined with her shrewd business acumen, have led to her substantial wealth and made her a prominent figure in the world of retail and television shopping.
Useful Video: BarkEm's To Go – Portable Pet Meals
---
References:
https://tecake.com/barkems-to-go-how-much-is-the-pet-meals-company-worth/
https://sharktanktales.com/bark-em-to-go-shark-tank-update/
https://biznewske.com/barkems-to-go-shark-tank-net-worth/
https://www.sharktankblog.com/business/barkems-to-go/
https://gazettereview.com/barkems-go-update-happened-shark-tank/
https://seriosity.com/barkems-to-go-shark-tank/
https://kirktaylor.com/bark-ems-go-getting-dogged-shark-tank-investors/
https://otakukart.com/251410/barkems-to-go-net-worth-in-2020/
https://allsharktankproducts.com/pet-care/barkems-to-go-dog-meals/