If you're like most people, you probably tune into Shark Tank every week to watch aspiring entrepreneurs pitch their businesses to a panel of celebrity investors. It's always exciting to see who gets a deal and who gets sent packing. Apolla Socks were one of such businesses that managed to score a deal on the show.
For those who are not familiar, Apolla Socks is a company that makes performance-enhancing compression socks. The socks are designed to help improve stability in the foot, ankle, and calf, which can lead to better performance in activities such as running, weightlifting, and Crossfit. They also claim to reduce muscle fatigue and soreness. But what happens after the show airs? That's what we're here to tell you today.
History of the Product and Founders
If you have some experience with dancing, then you know that foot pain is a very real issue. Most often, this is caused by shoes that don't fit properly or are too tight. This can lead to blisters, calluses, and other problems.
Ballet dancers especially have a lot of trouble with their feet. They need to wear shoes that fit very snugly, and they are often on their toes for long periods of time. This can lead to a lot of pain and discomfort.
Support is a crucial element of any good ballet shoe, both to protect the foot and to help with balance. This is why most ballet shoes have a built-in support system, usually in the form of a hard-toe box.
However, this built-in support often isn't enough, especially for dancing where your feet are on their toes for long periods of time.
So when two former professional dancers decided to create a better sock, they had a lot of first-hand experience to draw from. Founders Kaycee Jones and Brianne Zborowski came up with the idea for Apolla Socks after suffering from foot pain themselves.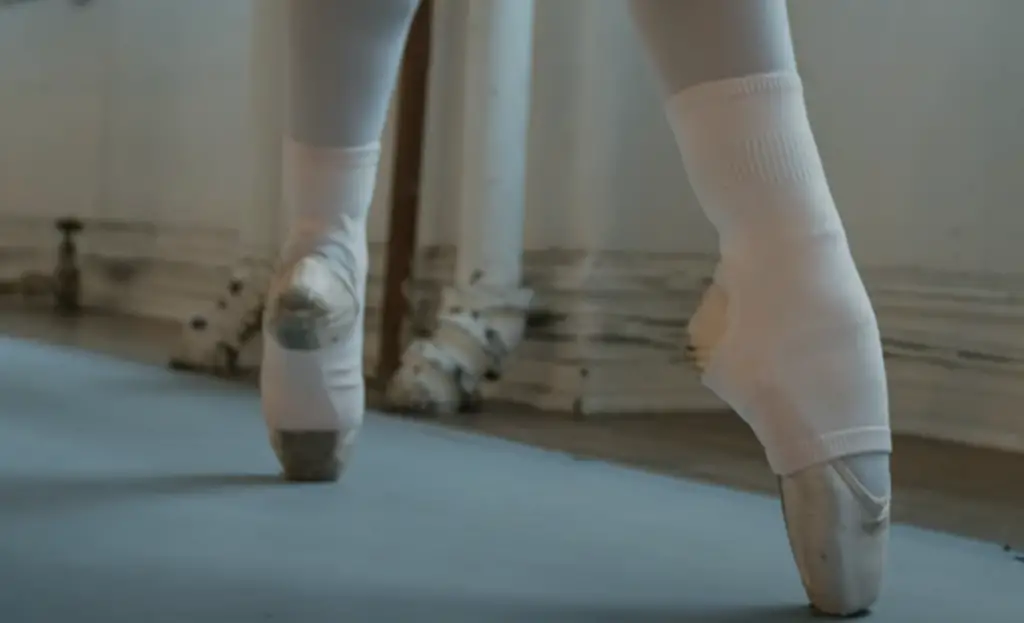 Their business was built slowly as they spent plenty of their time researching how to create the perfect socks that would save the feet of dancers everywhere. The idea popped up back in 2013 and they only launched their business only in 2016. The original Apolla sock was designed to provide support and cushioning for the entire foot. The result is a sock that feels more like a shoe than a traditional sock. It has a hard toe box and an arch support system that helps with balance. The socks come with and without traction pads, which is a nice feature for those who want to use them for different activities. Traction is important for dancing, but not always necessary. Traction is also helpful if you are working out on slippery surfaces.
The socks quickly became popular with dancers and athletes alike. Even Sonya Tayeh, a well-known choreographer, has decided to endorse the product. Many other dancers and choreographers have followed suit. And Apolla socks weren't popular only with dancers! Hockey players, footballers, and other athletes also started using them because of the support and comfort they provide.
But what is the secret behind these socks that makes them so popular? Let's take a closer look.
The sock is also lined with a cloth that provides additional cushioning and support. There is padding in the heel and the toe area, which helps to absorb impact and protect your feet. And the arch support system helps to improve balance and prevent foot pain.
All of these features come together to create a sock that is unlike any other on the market. It's no wonder that dancers and athletes alike have fallen in love with Apolla socks!
Even prior to appearing on Shark Tank, the company had already secured a few hundred thousand dollars in seed funding. And one could find Apolla Socks in a variety of stores targeting dancers.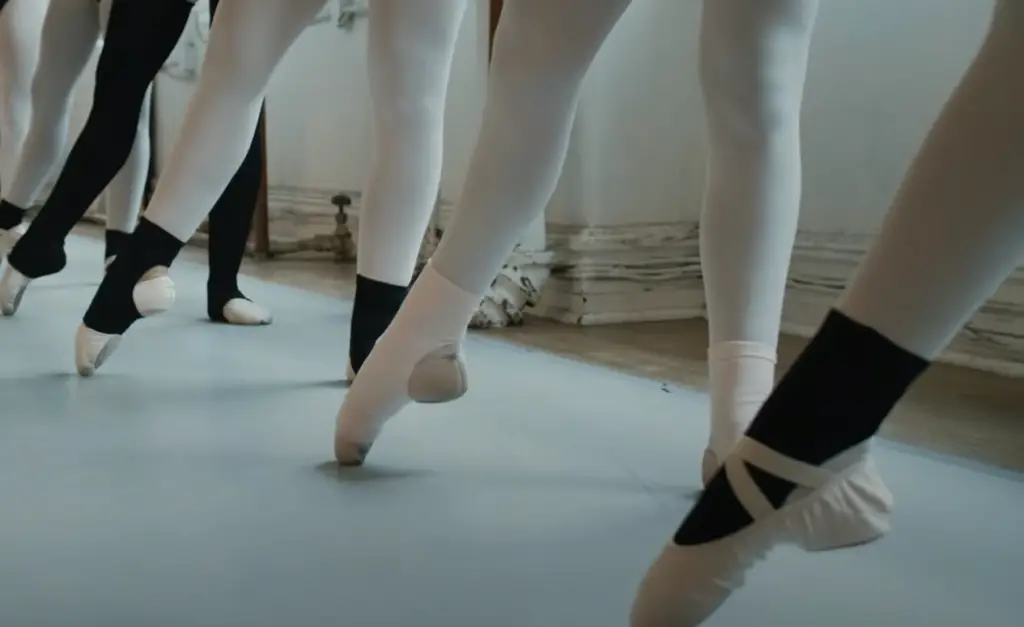 But do these socks actually help with foot pain? There is a lot of evidence that suggests that they do. Dancers who have used Apolla Socks report feeling less pain and discomfort in their feet, even after long periods of dancing. And many athletes also say that the socks have helped to improve their performance.
Energy absorption in the heel and toe area is crucial for any sock designed for high-impact activities. And the Apolla sock does a great job in this area. You will certainly say goodbye to discomfort and blisters when you start wearing these socks!
The Apolla sock is available in a variety of sizes and colors. And there are even different styles to choose from, depending on your needs.
While these socks were infamous among the dancers and athletes, Kaycee and Brianne still decided to take their business to the next level by appearing on Shark Tank. They wanted the world to know about their product and how it can help people. [1] [2] [3] [4]
How Did Apolla Socks Tank Pitch Go
The duo appeared at Shark Tank in April of 2022, in the 13th season. While they had a global business at the time and were doing well, they were seeking a $ 300,000 investment in return for a 15% equity stake.
Kaycee and Brianne begin their pitch by explaining that at least 75% of Americans suffer from foot pain and that their product – can help. The socks are made with a special material that wicks away moisture and offers arch support, something that many people need.
While they started the company originally to help the dancers out, they want more people than that to be able to enjoy the benefits of their socks. The pair then go on to explain the patents. They have a design patent and two utility patents. This gives them some level of protection, but it doesn't stop others from trying to copy their product.
Since the start of their company in 2016, they have sold 120,000 socks worth up to $ 4,1 million with $ 800,000 of it being earned in the year 2021. 85% of the sales are directed right to the customers with the rest being wholesale. The return rate is under 2%.
Not everything was smooth for the duo however, the COVID-19 pandemic hit their business hard as the dance industry came to a screeching halt. But they have managed to recover since. They also revealed that between 53% and 70% of customers return to purchase more socks from them.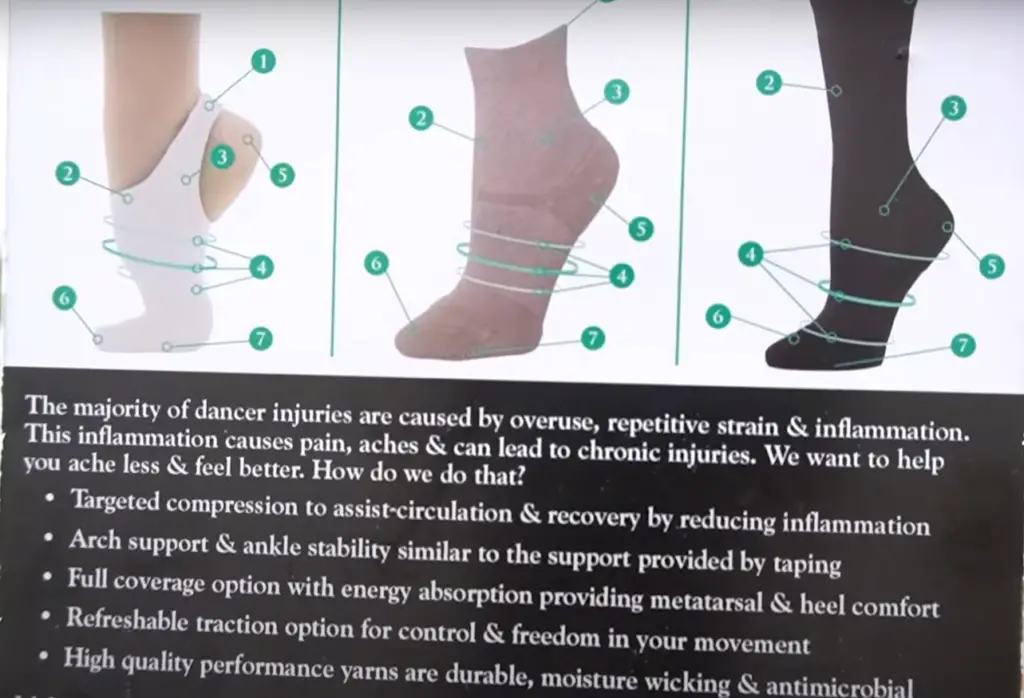 The sharks were impressed with the business and their story. But, they wanted to know more about the costs. Kaycee and Brianne revealed that socks cost around $ 10 to make and are being sold for $ 32 – $ 40. Which shocked some of the sharks as they believed that the socks should be priced lower. As for the operating expenses, these are around $ 45,000 per month.
Lori is especially excited about the product. She had years of dancing experience and she can attest to the fact that dancing is hard on one's feet. She even had to undergo toe surgery due to an injury she got from dancing.
Kevin likes the product but he believes there's a better shark for the business so he backs out. Mark also likes the product, in fact, he too had dancing experience and even was teaching dancing for a while. But he also backs out.
The next shark, Robert, says that he is shocked that the product isn't more popular. But same as other sharks, he also backs out.
Emma is surprised by how low their return rate is and she is also interested in the product. But she says that the business isn't growing as fast as she would like it to and she is out.
Finally, only Lori is left. Lori isn't the biggest fan of socks as a whole but she had to deal with foot problems herself. She likes that they are targeting dancers with their product and she makes an offer.
Lori offers $ 300,000 for a 25% equity stake. The duo thinks about it for a bit and asks whether Lori is willing to come down to 20%. Lori doesn't and says that the pair has a lot to learn and she wants to be there to help them. They eventually agree and they have a deal. [2] [3] [4]
Apolla Socks After Shark Tank
As you can see from the pitch, Lori was very interested in the product and she offered to invest $ 300,000 in return for a 25% equity stake. But getting a deal from the Sharks is only half the battle, as we all know. The real challenge is what happens after you leave the Tank.
After the episode aired, many more people found out about Apolla Socks and the company started to gain some traction. This is a given since Shark Tank gains millions of viewers every episode. The company started to get more orders and they were able to fulfill them all.
While the demand was surprisingly high, Kaycee and Brianne managed to keep up with it and they even managed to improve their product. A week after the show aired they gave an interview where they stated they are incredibly happy with the way everything went. Not only did they get a great deal, but they also managed to get their name and product out there to a much wider audience.
For now, they have a week's backlog on orders but are working hard to catch up and they are confident they will be able to do so. As far as we know the deal with Lori is still in the negotiation process, but we are sure it will go through and the friends will have a bright future ahead of them.
The company is still very active on social media. Their Instagram account has over 40k followers and their Facebook page has over 17k likes. They are constantly posting new pictures and videos of their product and they seem to be doing very well.
You can purchase Apolla Socks on their website or on Amazon. The website is very easy to navigate and you can purchase one of the different types of socks they offer. The shipping is very fast and the customer service is excellent.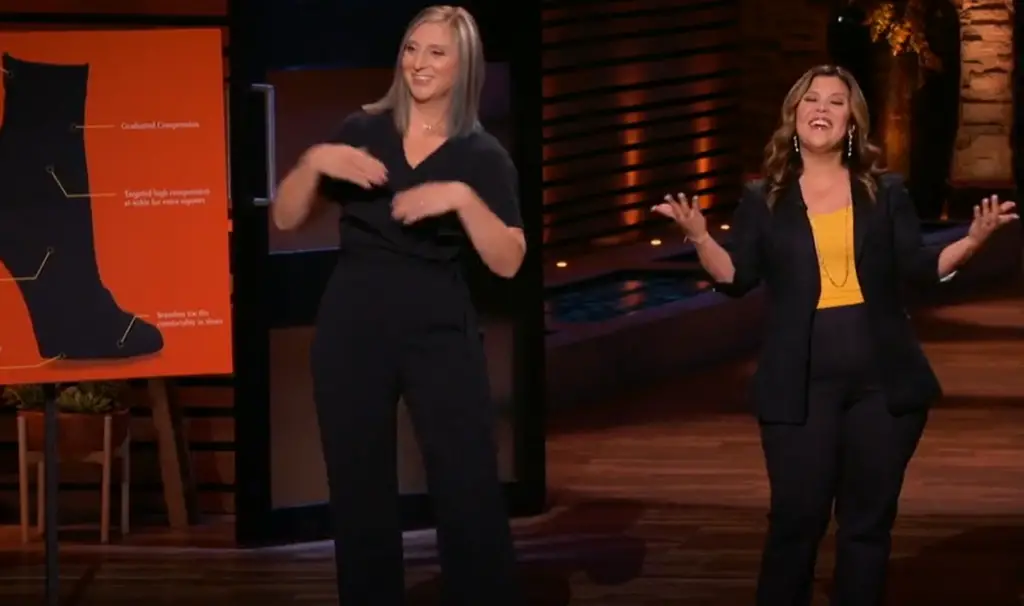 The team is also selling a variety of accessories besides socks, such as bags and face masks. All of their products are available in different colors and sizes, so you can find the perfect one for you.
As far as the prices go, they haven't changed much. You can buy socks from $ 32 to $ 40 and the masks cost around $ 17. Domestic shipping is free for orders with three pairs or more. And what's more, you can order Apolla socks internationally! [2] [3] [4] [5] [6] [7] [8]
Apolla Socks Net Worth
So the Shark Tank journey has turned out to be a success for Apolla Socks. And it's not just because they managed to get a deal with Lori.
And we believe this is only the start for the company. In the next few years, they will continue to grow and we believe they will be worth much more than they are today. [9]
---
FAQ
How is Apolla Socks doing after Shark Tank?
We can say with certainty that the Apolla Socks are doing well after Shark Tank. Not only did they receive an offer from Lori, but they also managed to get some extra exposure and credibility from the show.
Since then, they have continued to grow their business and are now popular not only among the dancers and athletes they originally intended to target but also among people who simply appreciate good quality socks.
You can currently find their socks on Amazon, in select stores across the US, and on their own website. And the company offers international shipping, so you can get your hands on a pair no matter where you are in the world.
What are Apolla Socks on Shark Tank?
Apolla Shocks are compression socks designed for dancers and athletes. They were featured on Shark Tank in 2022. They were founded by a duo of friends who had suffered from foot injuries.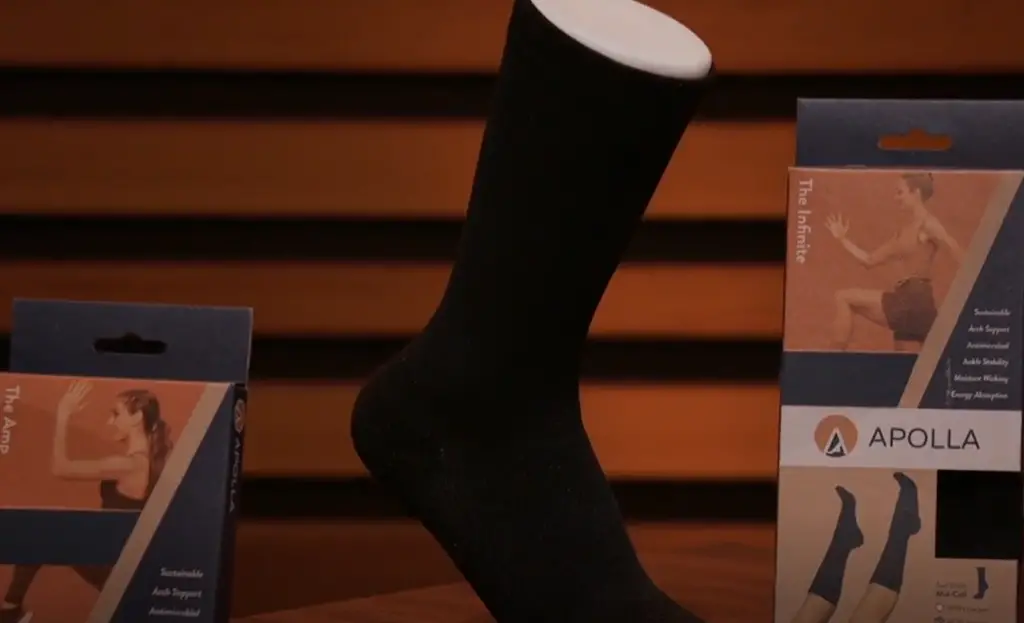 The socks are compression socks, which means they help to support the muscles and prevent cramping. The company offers a variety of sizes and colors for both men and women. And they have quite a selection of styles as well!
Are Apolla Socks successful?
Apolla Socks already earned more than $ 4 million in years prior to Shark Tank. After their appearance on the show, they managed to increase their sales even more! While we can't find the exact revenue numbers, we can safely say that Apolla Socks are doing great since their time on Shark Tank. The net worth of the company is estimated to be over $ 1.2 million.
Who owns Apolla Socks?
Apolla Socks were founded by two friends Kaycee Jones and Brianne Zborowski. They started their company back in 2016 and were doing exceptionally well before they appeared on Shark Tank in early 2022.
After their successful appearance on the show, they managed to land a deal with millionaire investor Lori Greiner. She invested $ 300,000 for a 25% stake in their company.
Useful Video: ZArtists Group & Apolla Socks – Best injury prevention tool
Conclusion
Whether you are a dancer or not, you must know how awful the feet injuries are. Dancers have to go through a lot of pain to get where they are. Unfortunately, most of them don't use the proper gear which leads to even more injuries.
Kaycee Jones and Brianne Zborowski decided to grant some relief to these dancers with their product, Apolla Shocks. The socks are designed with support and comfort in mind and they also absorb sweat, so the dancers can perform without any discomfort.
The two entrepreneurs went on Shark Tank to seek an investment of $ 300,000 in exchange for 15% equity in their company. And they managed to leave with an offer from Lori Greiner, although at a higher equity of 25%.
After their appearance on Shark Tank, Apolla Shocks managed to grow significantly. Their main focus was on improving their online presence and expanding their customer base. While they were already successful in the niche market of dancers, they wanted to make their product available to everyone.
Nowadays, Apolla Shocks are purchased by many people all over the world, both dancers and non-dancers. The socks have helped people with all sorts of foot problems, from plantar fasciitis to bunions.
While the deal with Lori is yet to be finalized, it is clear that Apolla Shocks is a company with a bright future. Thanks to their innovative product, they have managed to help many people and make a difference in the world.
---
References:
https://www.sharktankblog.com/compression-socks-by-apolla/
https://www.sharktankblog.com/business/apolla/
https://thecinemaholic.com/apolla-shark-tank-update-where-is-apolla-now/
https://sharktankrecap.com/apolla-performance-update-shark-tank-season-13/
https://www.apollaperformance.com/pages/our-story
https://www.facebook.com/apollaperformance/info?tab=page_info
https://www.instagram.com/apollaperformance/
https://www.amazon.com/stores/Apolla/Homepage/page/DC27A303-CC34-4C85-9BF9-4D874DFE0478
https://sharktanktalks.com/apolla-shark-tank-update/