This article explores the growth and challenges faced by the Suds2Go Company post-show after its pitch on Shark Tank. The guide provides insights into its status, market performance, and the impact of the investment it secured. Whether you're an entrepreneur, a fan of the show, or someone interested in innovative hygiene solutions, this piece offers a comprehensive look at Suds2Go's evolution and its role in promoting on-the-go cleanliness in today's health-conscious world.
What Is Suds2Go?
The Trevizos describe Suds2Go as the world's first patented and portable handwashing system. It consists of a 25-ounce stainless steel bottle with an integrated soap pump, making it a compact solution for on-the-go hand hygiene.
Different Models
This versatile device isn't limited to personal hygiene alone; it extends its utility to dishwashing tasks. After all, who wants to contaminate clean dishes with dirty fingers? Compact and lightweight, Suds2Go tips the scales at under 1 pound and conveniently features a built-in soap dispenser. It comes complete with dishwashing liquid, but if you have a preferred brand, you're free to use it.
Should you find that Suds2Go isn't meeting your dishwashing needs, there's the option to purchase a separate soap refill for enhanced cleaning performance. Priced at $ 19.99, this package includes shipping within the U.S. [3].
In addition to offering customizable stickers, Suds2Go also provides replacement pumps for bottle repairs if needed. These fantastic and helpful products are exclusively available through their website. Moreover, a portion of the couple's sales proceeds is dedicated to supporting clean and fresh drinking water distribution in the Central African Republic.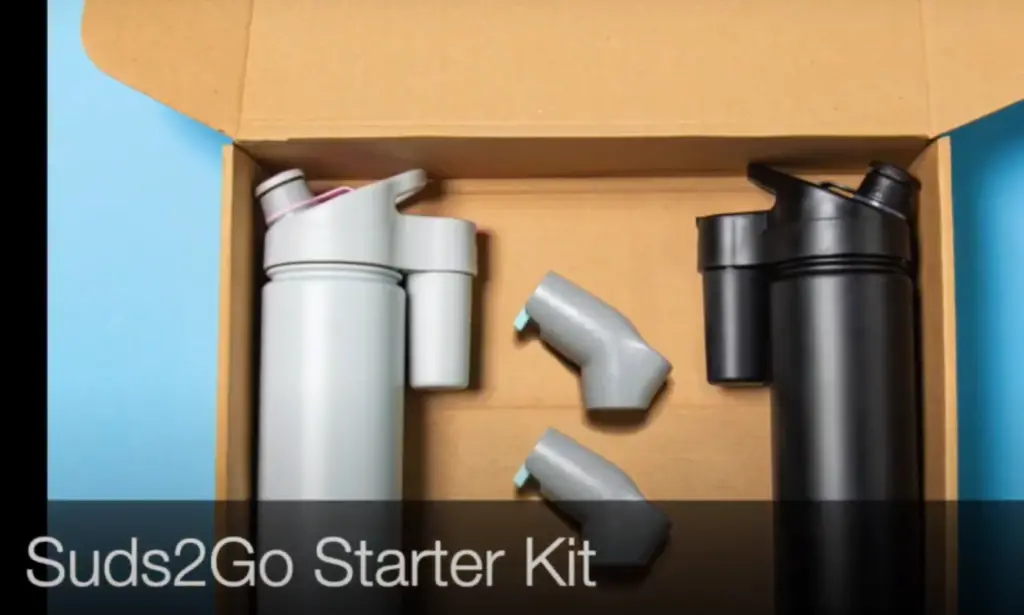 It's worth noting that the company recommends handwashing the device rather than subjecting it to a dishwasher, as prolonged exposure to heat can lead to detergent buildup over time. In essence, while Suds2Go is a remarkable addition to your kitchen arsenal, it doesn't render traditional dishwashing practices obsolete.
Pros:
Convenience and Portability. The primary strength of Suds2Go lies in its convenience and portability. The design integrates a water bottle and a foaming soap dispenser into one compact package3. This feature makes it ideal for outdoor activities or situations where access to clean water and soap might be limited;
Quality and Design. Users have praised the quality and design of Suds2Go. The product has a high-quality feel, and its aesthetic is comparable to popular brands like Hydroflask4. This attention to detail extends to the interior, suggesting that the creators prioritized both form and function;
Promotes Healthy Hygiene Habits. In a world increasingly conscious of hygiene, Suds2Go encourages healthy habits. It provides an easy way to wash hands anytime, anywhere, which is especially important in the current climate;
Cons:
Size and Weight. Given that Suds2Go is a combination of a water bottle and soap dispenser, it may be larger and heavier than a standard water bottle. This could make it less practical for certain activities or for those who prefer a lightweight carry;
Cost. Some users might find the cost of Suds2Go to be a disadvantage. While the price point reflects its dual functionality and high-quality construction, it is higher than a regular water bottle or soap dispenser;
Maintenance. The complexity of the design may necessitate more maintenance than a regular water bottle. Users will need to refill both the water and soap compartments, which could be inconvenient for some;
Who Should Use Suds2Go Bottles?
Offering an attractive price point and an innovative design, this product proves to be an ideal choice for parents who prioritize their children's hygiene. Additionally, it caters to athletes who abhor the discomfort of sweaty palms and the accompanying bacteria.
Suds2Go stands as an essential tool for individuals with a keen concern for germ prevention, allowing them to maintain impeccable hand hygiene [4]. This versatile and advantageous solution effortlessly addresses your handwashing needs. Whether you choose to keep one in your vehicle or toss it into your backpack, you'll always have a reliable means of achieving clean hands, free from the reliance on public restrooms or hand sanitizers. It's a game-changing asset for adventurous souls constantly on the go.
Overview
Promoted as the globe's "premier patented & portable hand washing system", Suds2Go arrives equipped with a 25-ounce stainless steel container fitted with a soap pump extension. The process is as straightforward as removing the extension and dispensing any frothy soap liquid into the receptacle, all the while maintaining a supply of water in the bottle. Utilization is a breeze, as a mere depression of the pump dispenses effervescent soap onto the user's palms. Subsequently, the water spout can be uncapped, and the stored water can be employed for hand cleansing.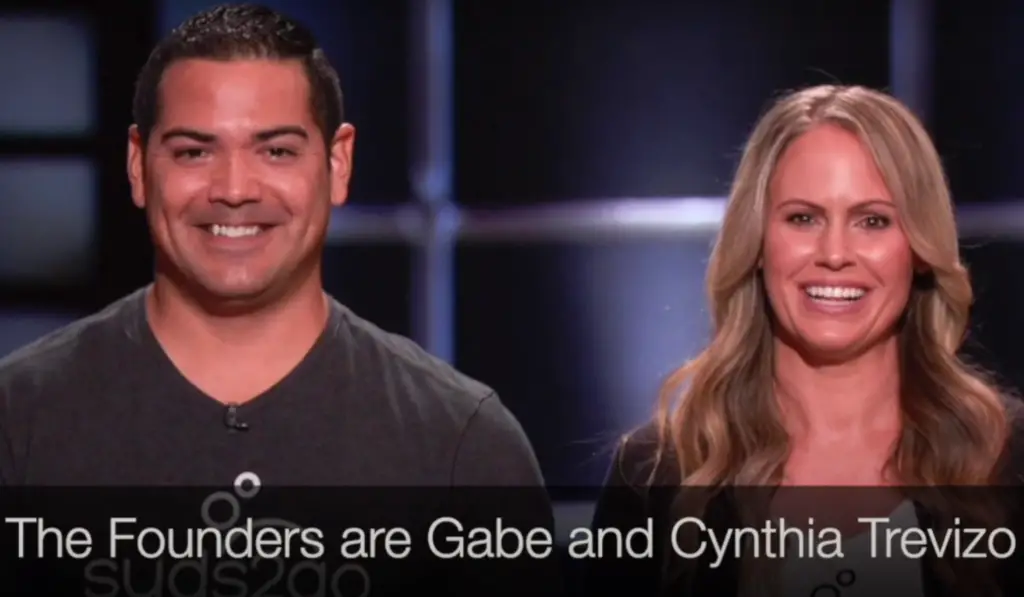 The corporation asserts that the soap reservoir, once filled, can accommodate approximately 65 to 75 depressions of the pump. Additionally, there's the added convenience of being able to consume water directly from the bottle when thirst strikes. Nevertheless, it is imperative to bear in mind that Suds2Go exclusively works with foaming liquid soap.
With Suds2Go, the hassle of halting rest areas and gas stations to maintain clean hands has been eliminated. Simple to employ anywhere and anytime, Suds2Go presents the most efficient and swiftest solution for on-the-go hand washing.
About the Founders Of Suds2Go
Their journey began amidst family and financial challenges, which they chose to tackle head-on when they embarked on their startup venture. Gabe's relentless dedication and hard work soon paid off, transforming their modest startup into a substantial success story.
In August 2021, Gabe faced the unfortunate loss of his job. Cindy, who worked as a teacher, supplemented her income by waitressing on weekends to make ends meet.
With his job loss, Gabe ventured into a variety of roles to support his family, including car valeting, landscaping, and even trash collection as a porter. The emotional weight of this period brought tears to Gabe's eyes during his appearance on the Shark Tank television show. His tenacity and determination eventually led to the creation of a thriving startup.
Today, Gabe serves as the President of Firebird Appliances & Consulting and is the creative force behind Suds2Go LLC.
Before founding Suds2Go, both husband and wife took on various small jobs to ensure the financial stability of their household. Gabe dedicated any available spare time to additional work to improve their financial situation.
Their daily grind inspired Gabe to conceive the idea for their startup. To kickstart their venture, he pooled together approximately $ 80,000 in capital and launched a Kickstarter campaign, successfully raising $ 12,500.
Every penny in their bank account was channeled into product manufacturing, marketing, and storage. Additionally, Gabe secured a personal loan amounting to $ 150,000 to fuel the company's growth, resulting in a total investment of $ 242,500.
During his appearance on Shark Tank, Gabe revealed that he currently held $ 90,000 in his bank account, along with $ 120,000 worth of paid inventory.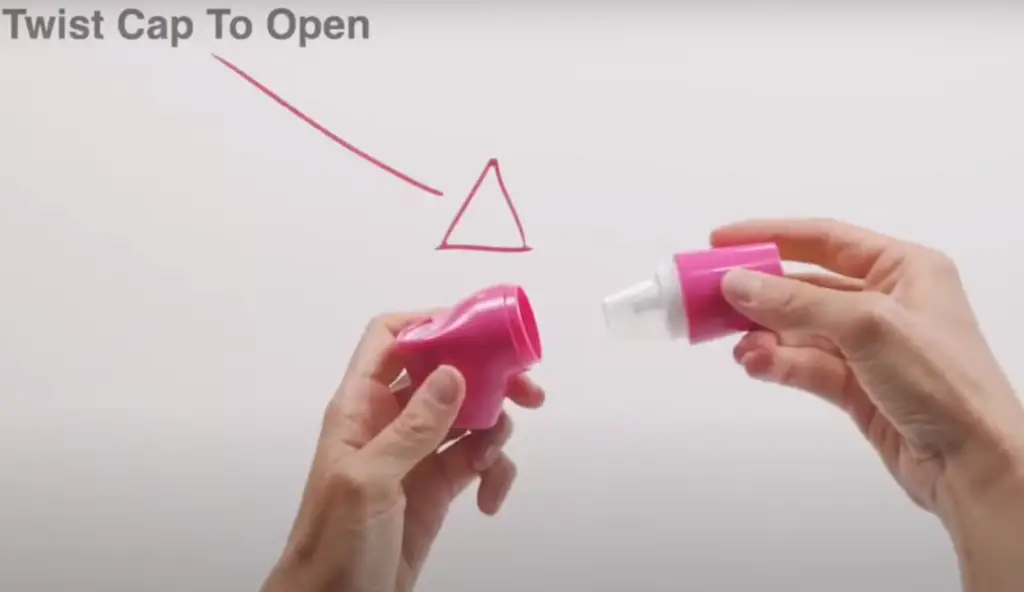 The Pitch Of Suds2Go At Shark Tank
The visionary founders of Suds2Go took center stage on the renowned ABC reality show "Shark Tank" during Season 12, Episode 21, sharing the compelling tale that led to the birth of their innovative product. They presented Suds2Go as the ultimate "Portable Handwashing System", designed to address the need for hand hygiene in outdoor settings where soap and water are in short supply, effectively safeguarding hands against the lurking threats of germs and bacteria.
In a captivating display, they demonstrated the power of Suds2Go by cleansing their hands right before the inquisitive Sharks on the show. Their pitch included a request for a $ 200,000 investment in exchange for a 10% equity stake in their company.
The Sharks were visibly intrigued as they examined the product and witnessed the impressive demonstration. Naturally, they were eager to delve into the product's sales figures. The founders disclosed an astounding sales figure, boasting approximately $ 392,000 in revenue generated thus far in the year.
Daymond expressed keen interest and made an enticing offer of $ 200,000 for a 22.5% equity share. Following suit, Robert also conveyed his enthusiasm for the couple and their product, offering the same $ 200,000 for a 15% equity stake.
Ultimately, the couple embraced Robert's offer, sealing the deal on the show and marking a significant milestone in the Suds2Go journey.
Suds2Go After The Shark Tank
Headquartered in Arizona, the company swiftly gained traction as its product enjoyed a meteoric rise in popularity upon its initial launch. In December 2018, the Trevizos initiated their journey with a triumphant Kickstarter campaign that garnered $ 12,567 in funding [7].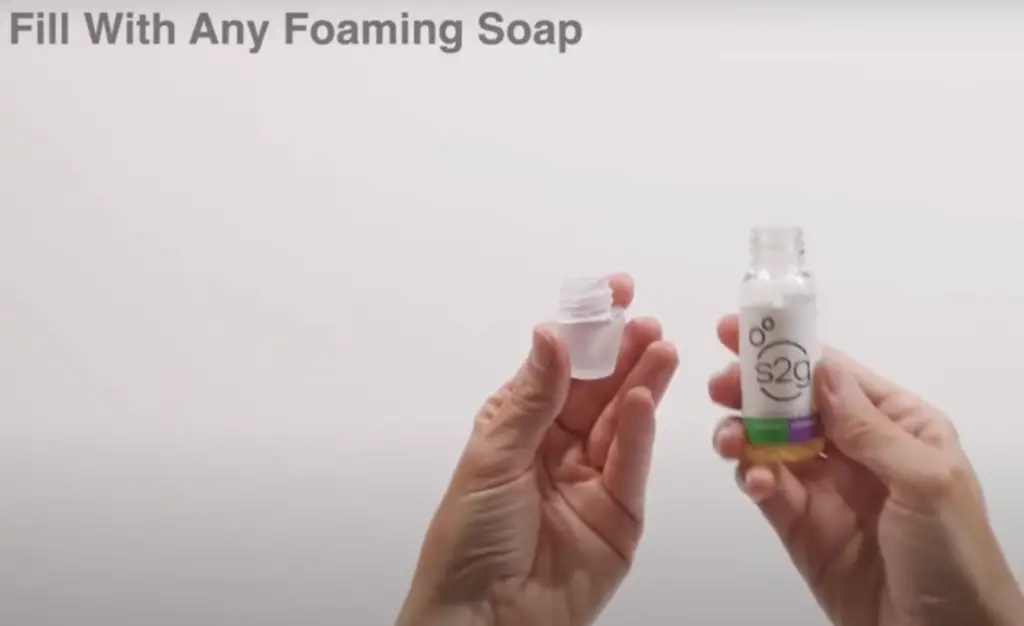 It took nearly a year for the company to meticulously refine its prototype and prepare the inaugural batch of products for market release. In December 2019, Suds2Go made its debut via its official website.
Shortly after the launch, the world was thrust into the grip of the COVID-19 pandemic, significantly bolstering sales as Suds2Go seamlessly aligned with the pressing demands and requirements of those challenging times by promoting hand hygiene.
The resounding success of their product also prompted Gabe and Cindy to introduce innovative offerings such as the Suds2Go cap – an ingenious soap dispenser compatible with any disposable water bottle, effectively transforming it into a portable handwashing system. Additionally, they introduced their own hand soap and an attachable hand towel designed for use with the bottle.
The impact of their appearance on Shark Tank proved to be overwhelmingly positive for Suds2Go, igniting significant engagement across various social media platforms, including Facebook, YouTube, Instagram, and more.
With the infusion of $ 200,000 in funding from the show, the founders strategically allocated their resources towards manufacturing, marketing initiatives, and expanding their product's reach on a global scale.
Before their appearance on Shark Tank, the company had already achieved commendable total sales figures amounting to $ 392,000. However, the exposure and backing from the show propelled their sales to new heights.
In its ongoing journey, the brand has recently introduced two exciting new offerings: Suds2Go Foaming Hand Soap and Suds2Go Replacement Pump, showcasing its commitment to innovation and meeting diverse customer needs.
In addition to the standalone Suds2Go bottle priced at $ 36.99, the company offers several enticing packages: 
Hero Pack, which comprises a bottle, hand soap, and towel;
Basic Starter Kit that includes two bottles and two caps;
Premium Starter Kit featuring two bottles, two caps, a towel, and two bottles of hand soap;
These kits are available at $ 45.57, $ 76.47, and $ 96.24, respectively.
Suds2Go also provides customizable stickers for personalizing bottles and replacement pumps for any necessary repairs. Gabe and Cindy exclusively retail their exceptional and beneficial products through their website. Remarkably, the couple allocates a portion of their earnings from each sale to support the provision of clean and potable drinking water for the Central African Republic.
The Net Worth Of Suds2Go
Suds2Go successfully secured a deal on Shark Tank, with Robert Herjavec becoming their partner. The company was valued at $ 1.3 million when the deal was sealed.
During their appearance on Shark Tank, the founders shared that they had achieved an impressive sales figure of $ 392,000 in just three months.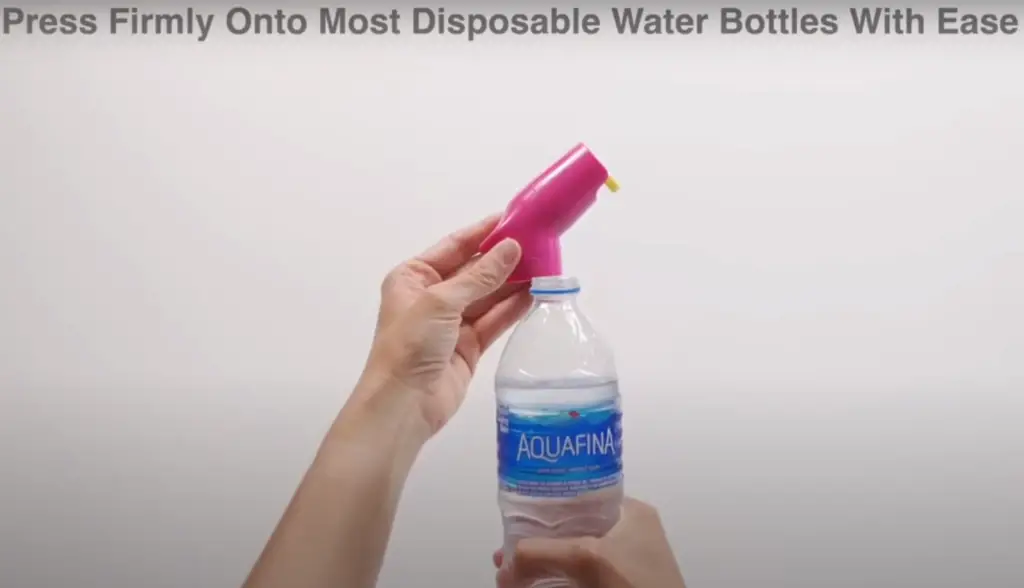 Suds2Go has experienced gradual but steady sales growth, garnering substantial popularity among consumers. Their product saw a significant surge in demand during the COVID-19 pandemic, resulting in sales reaching the impressive milestone of $ 1 million in just a matter of months, with Daymond's valuable assistance playing a crucial role in their success.
Alternatives To Suds2Go:
GoJo Purell Hand Sanitizing Wipes: These individually wrapped wipes are easy to carry and provide a quick way to clean your hands when soap and water are not available;
Portable Hand Sanitizer Bottles: Many brands offer small, travel-sized hand sanitizer bottles that you can easily carry in your bag or pocket;
The Scrubba Wash Bag: While not a handwashing system, the Scrubba Wash Bag is a portable, pocket-sized washing machine that allows you to wash your clothes on the go, which can indirectly help with hand hygiene by ensuring you have clean clothes to use as towels;
Welly First Aid Hand Sanitizer Replenishment Kit: This kit includes hand sanitizer spray bottles, sanitizing wipes, and adhesive bandages, making it a handy option for on-the-go hygiene;
LifeStraw Personal Water Filter: While not a handwashing system, the LifeStraw allows you to drink water from various sources safely, reducing the risk of contaminants on your hands when eating or drinking;
Germ-X Hand Sanitizing Wipes: These wipes offer a convenient and portable way to clean your hands when soap and water are not accessible;
Hydro Flask Hand Wash Station: This portable handwashing station includes a soap dispenser and a foot pump for water, making it a suitable option for outdoor activities or events;
Portable Camping Sink: These sinks are designed for camping but can also be used for handwashing in outdoor settings. They often include soap dispensers and foot-operated pumps for water;
---
FAQ:
How is Suds2Go doing after Shark Tank?
After appearing on Shark Tank, Suds2Go has seen a significant increase in its sales and popularity. The company's estimated worth has risen to $ 1 million. Since launching their website, Cindy and Gabe reported sales of $ 392,000 within just a few months.
Is Suds2Go successful?
Yes, Suds2Go can be considered successful. The company's valuation has increased considerably since its appearance on Shark Tank, with a reported hike in sales. The product has gained market traction due to its innovative design and the growing need for portable hygiene solutions.
How does Suds2Go work?
Suds2Go is a combination of a water bottle and a foaming soap dispenser. The soap dispenser is integrated into the lid of the water bottle. To use it, you simply fill it with foaming soap, then pump the dispenser to produce soap foam for handwashing.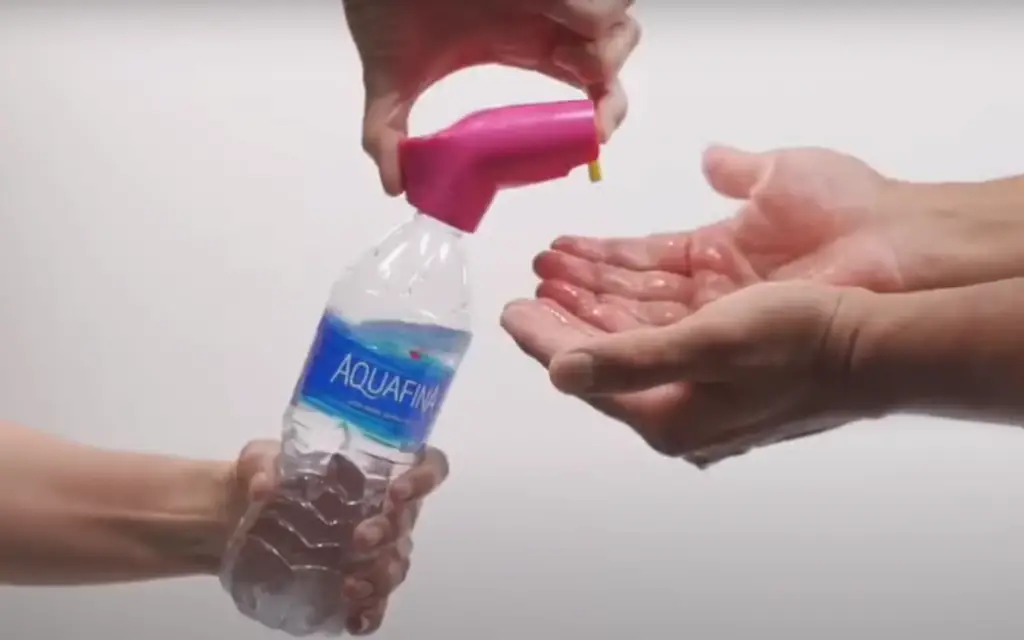 Is hand sanitizer as effective as hand washing?
Hand sanitizer can be effective at killing bacteria and most viruses, but hand washing with soap and water is generally considered more effective. Hand sanitizer can be a good alternative when soap and water aren't readily available, but it's not a complete replacement for hand washing. Hand washing can remove all types of germs and chemicals from hands.
How do you make a hand washing station for camping?
A simple hand washing station for camping can be made with a few supplies:
A container with a spigot filled with clean water;
Soap (preferably liquid soap);
A bucket to catch the wastewater;
Towels or paper towels for drying hands;
To use the station, simply turn the spigot to release water, lather your hands with soap, and then rinse. Ensure the wastewater bucket is positioned to catch the used water.
What are the 5 requirements for a handwashing station?
The five basic requirements for a handwashing station are:
Clean, running water;
Soap;
A way to dry hands (such as disposable towels);
A waste receptacle for used towels;
Clear signage encouraging hand hygiene;
What is the requirement for a hand washing station?
At a minimum, a hand washing station should have clean, running water and soap. Additional requirements may include a way to dry hands after washing and a waste receptacle for used towels.
How many times can you sanitize your hands before washing?
There is no specific limit on how many times you can use hand sanitizer before needing to wash your hands. However, the CDC recommends washing hands with soap and water whenever possible, as it is more effective at removing all types of germs and chemicals.
What is the most successful product on Shark Tank that was turned down?
One of the most successful products that was initially turned down on Shark Tank is Ring, a video doorbell company. Although the sharks didn't invest, the company later sold to Amazon for over $ 1 billion.
Did any soap company get a deal on Shark Tank?
Yes, Suds2Go, a portable hand-washing solution, secured a deal on Shark Tank.
What soap was on Shark Tank?
Suds2Go, a soap dispenser combined with a water bottle for portable hand washing, was featured on Shark Tank.
What are the disadvantages of Suds2Go?
Potential disadvantages could include the need for refilling with foaming soap and clean water and the size of the bottle that may be larger than some users prefer.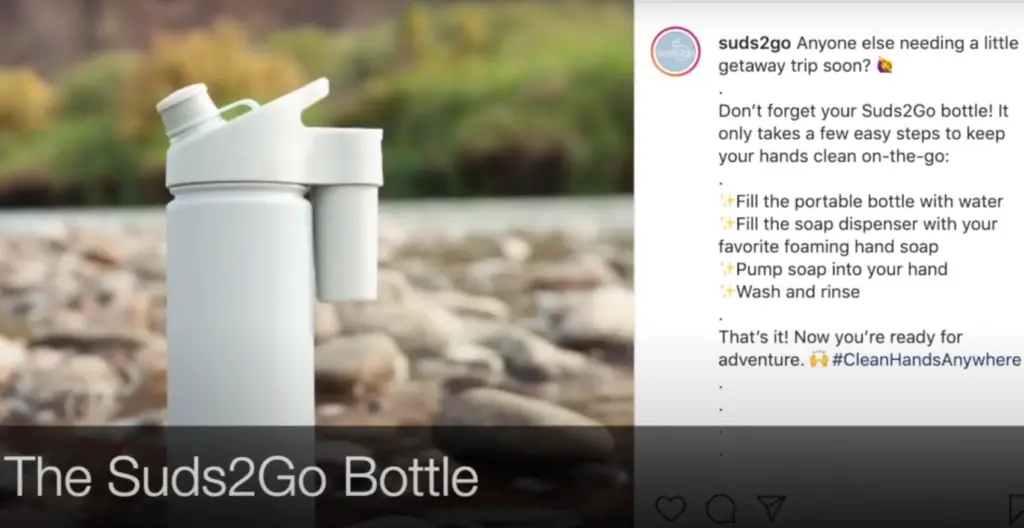 Who turned down a million dollars on Shark Tank?
Coffee Meets Bagel, a dating app, turned down a $ 30 million offer from Mark Cuban on Shark Tank.
Are Shark Tank deals real?
Yes, the deals made on Shark Tank are real, but they're contingent on due diligence and negotiation after the show. Some deals may fall through in this process.
Who is the poorest "shark"?
While all the sharks are multi-millionaires or billionaires, the shark with the lowest net worth is often considered to be Barbara Corcoran, although her net worth is still impressive at around $ 80 million.
What is the #1 item from Shark Tank?
The most successful product from Shark Tank to date is the Scrub Daddy, a versatile cleaning sponge, which has generated over $ 200 million in sales.
What businesses failed after Shark Tank?
Some businesses that appeared on Shark Tank but later failed include Toygaroo (a toy rental service), Sweet Ballz (a cake ball company), and Hy-Conn (a fire hose connector).
Useful Video: The Story Behind Suds2 Go
---
References:
https://sharktanktalks.com/suds2go-shark-tank-update
https://bizzbucket.co/suds2go-shark-tank-update/
https://www.sharktankblog.com/business/suds2go/
https://www.sharktanksuccess.com/suds2go-shark-tank-review/
https://2paragraphs.com/2021/07/suds2go-what-happened-to-portable-handwasher-after-200k-robert-herjavec-shark-tank-deal/
https://www.wikisme.com/suds2go-portable-hand-washer-after-shark-tank-suds2go-portable-hand-washer/
https://www.therealitytv.com/suds2go/
https://thecinemaholic.com/update-on-suds2go-from-shark-tank/