Plunge, the popular Shark Tank product that allows you to take a cold bath with a therapeutic effect, was one of the most successful products to come out of the tank. But what happened to Plunge after Shark Tank? Did it continue to be successful? In this article, we will answer all of your questions and provide some useful tips on what you can do to replicate Plunge's success!'
What Is Cold Shocking for Humans and Its Benefits?
Cold shock is a process that involves exposing the body to cold temperatures for a period of time. This method has long been used as a tool for healing, improving physical and mental health, and providing overall wellness benefits.
Cold shock can be done in several ways, such as through ice baths or other forms of cold exposure like cryotherapy chambers, ice packs, and saunas. The idea is to expose your body to cold temperatures in order to stimulate certain physiological responses that can provide many positive benefits.
Cold shock can also help improve mood, reduce stress levels, improve sleep quality, and increase energy levels. Cold temperatures cause a release of endorphins which are responsible for establishing a feeling of well-being and relaxation. This can be beneficial for those suffering from anxiety or depression as it provides an escape from the constant worries and stresses of everyday life.
In addition to mental benefits, cold shocking has been linked to improved physical performance including increased muscle power and endurance during workouts. When exposed to cold temperatures prior to exercising, muscles become more responsive and efficient resulting in better performance overall.
Overall, cold shocking is a great way to promote physical and mental health. It can help improve circulation, reduce stress levels, improve mood, and increase energy levels. Additionally, it has been linked to improved physical performance during workouts so it's a great way to get an edge in the gym!
Two passionate friends, Michael Garret, and Ryan Duey loved the benefits of cold shocking and wanted to make it easier for others to experience the same benefits. Both men had float spas at home but found the process of setting up, maintaining, and cleaning a float tank to be cumbersome. What's more, these are pricey too.
Michael worked as a Reboot Float Spa & Cryo Spa owner while Ryan owned Capitol Floats. Life was going smoothly for them until March 2020 rolled around and they had to shut down their businesses due to the pandemic.
But they weren't going to take it sitting down! Instead, they decided to convert their expertise into an affordable and easy-to-use product that anyone could use in their own home. That's when Plunge: The Cold Shock Solution was born!
Plunge is a portable device that you can use anywhere at any time to experience the same benefits of cold shocking without having to invest in pricey equipment or set up complicated systems. It's simply a large tub with added cooling elements as well as filtration to make sure the water is always safe and clean.
You can set the temps down to 39 degrees for a cold shock, or you can set it to whatever temperature is most comfortable for you. You can even turn the heater on (yes it does come with one!) and use it as a hot tub!
This unique product also comes with a tub cover to keep the heat in when you're not using it, a skimmer to filter out debris, and a hose filter to keep the water clean. It also has a convenient phone holder so you can watch movies or shows while enjoying your Plunge. The product has a one-year warranty so if something goes wrong, you can rest assured it will be taken care of.
Plunge is also incredibly easy to set up and maintain. All you need is a power source, some water, and a few minutes of your time. Still, if you were to be confused while setting it up, Plunge provides helpful tutorial videos to guide you through the process.
If you want to update your Plunge bath for both hot and cold temperatures, you can even purchase a separate kit for $ 1,490.
As we can see Plunge already had plenty of potential but the duo wanted to get a helping hand with their inventory and marketing. For this reason, they decided to appear on Shark Tank and pitch their business there! [1] [2] [3]
Plunge at Shark Tank
Michael and Ryan appeared on Shark Tank in 2021 and presented their product to the Sharks. They explained how Plunge is both affordable and easy to use, a great way to experience the benefits of cold shocking without having to invest in expensive equipment or set up complex systems. The duo then proceeded to talk about how cold shocking could help to improve sleep, reduce inflammation, and increase energy levels.
What surprised the sharks the most however was the valuation the duo placed on the company. They asked for a $ 1,20,000 investment in exchange for 5% equity, valuing their company at a whopping $ 24 million. This is a huge number for a business that had just started!
The duo then invites Robert to just into the 55-degree Fahrenheit Plunge tub and he agrees. After Robert gets into the water, he screams out of the cold shock. Still, he says it wasn't that bad in the end.
Mark is knowledgeable about the use of cold shocks for athletes to treat inflammation and sore muscles. He says he believes in the product and thinks Plunge could be a great tool for athletes to use.
Kevin isn't very convinced about the valuation that Michael and Ryan have placed on their company, but Michael and Ryan claim they have earned about $ 4,900,000 in a previous year and they are confident that their numbers will continue to grow. Landed cost floats around $ 2,400 and the on-set model costs $ 4,800.
At the moment they sell their products directly to the customer from the website, but they are looking to expand in the retail market. Mark is pretty skeptical about the long-term success of this idea and whether people will rush to buy it.
Kevin is interested in the idea and offers $ 1,200,000 for 18% equity but on a single condition, he gets immediate retribution. Lori agrees with the point Mark made and went out of the deal.
Barbara however saw potential in Plunge and offered $ 1,200,000 for 20% equity, half of which would be a loan. Robert too likes the product and offered the duo $ 2,400,000 for a 20% stake in the company, half of which would be a loan. Mark too goes in despite having his doubts and offers $ 1,200,000 at 15% and he claims that he'll fund all the purchase orders.
Michael and Ryan decided to counter Robert for a 10% stake instead of 20% and Robert was willing to lower his deal to 12% equity. The duo found it acceptable and the deal was closed. [2] [3]
Plunge After Shark Tank
After their appearance on Shark Tank, Plunge experienced considerable success. The company was able to use the added capital to increase production and expand into new markets. They also improved their website, making it easier for customers to purchase their products directly.
The appearance on live TV made them even more popular and their products got found to a huge audience.
As of the year 2023, we still can't confirm whether they managed to finalize their deal with Robert. However, right now there's little reason to worry because they are doing well and the negotiation process can last even longer than expected.
They also managed to sustain the huge fanbase they have on the web and their social media accounts are full of happy customers who express their satisfaction with Plunge's cold showers.
By taking a look at their Instagram account you will quickly notice that the company sees a loyal fan base since they have achieved 99,2k followers and their page is also constantly updated.
They also have a Facebook account although this one is less popular than the Instagram one. They have achieved more than 3k followers there so far.
What's more, the duo is also running their personal blog in which they share their thoughts about the business and some useful tips about how to use Plunge. And of course, they keep talking about the benefits of cold shocking for athletes and how Plunge can help in this matter.
Michael and Ryan have also decided on expanding their product line-up. Now they not only sell cold showers but they also offer merchandise and accessories, such as hoodies and towels. And to help their customers to take care of the Plunge spas on their own, they have released accessories that help them do the job. Those include filters and cleaning solutions.
All of these positive aspects have led this company to great success and it looks like Plunge is here to stay for a long time, as there's no sign of them slowing down anytime soon.  So from all points of view, it looks like their appearance on Shark Tank was definitely worth it! [2] [3] [4] [5] [6]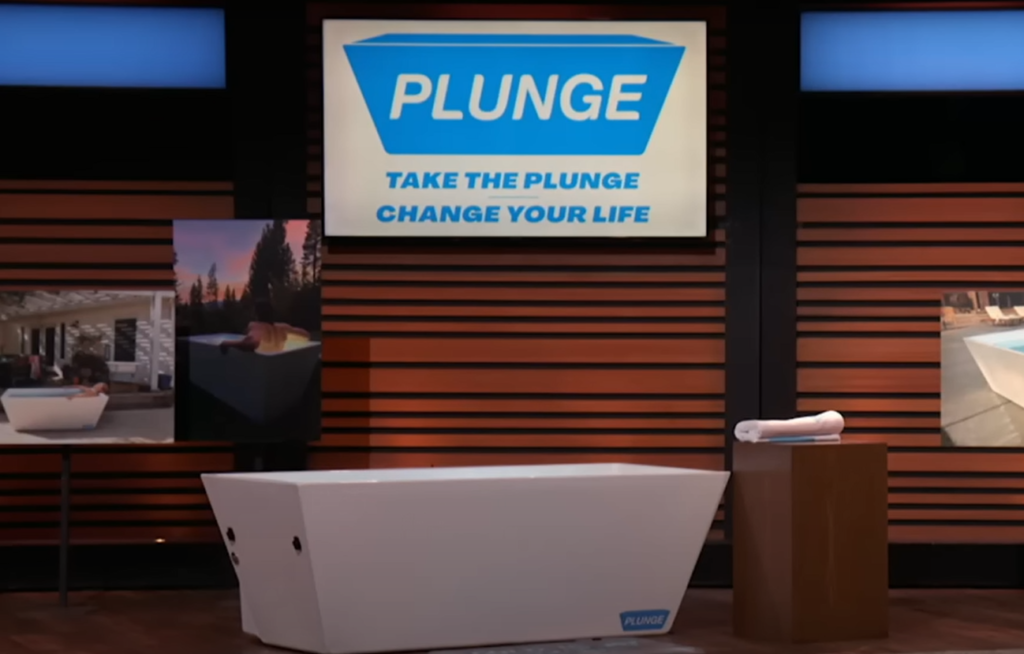 Net Worth of the Plunge
It is hard to say what the net worth of Plunge is since the company has not released any public financials. However, if we look at their success from a few years after Shark Tank, it appears that they have been doing well and are likely worth millions.
Since appearing on Shark Tank, Plunge has expanded its operations significantly by increasing production and entering new markets. They have also improved their website to make it easier for customers to purchase their products directly. This all suggests that the company has experienced significant growth in recent years and is probably worth quite a lot.
Furthermore, if we look at Plunge's social media following we can get an indication of how popular they are among consumers.
---
FAQ
Is Plunge from Shark Tank successful?
The short answer is yes; Plunge has certainly been successful since appearing on Shark Tank. After pitching their product to the Sharks, founders Michael Garret and Ryan Duey struck a deal with Robert Herjavec to invest in their company for $ 1,200,000 in exchange for 12% equity.
Since then, Plunge has grown exponentially. The company now boasts over 100,000 active customers and keeps solid sales up. They've also continued to expand their product line, offering merch and various supplies for their cool shock spa.
While we can't provide you with the detailed financials of the company, it's safe to say that Plunge has been a success. Not only have they expanded their customer base and product line, but they can also boast high customer satisfaction as well.
Which shark invested in Plunge?
Robert Herjavec, one of the Sharks, invested in Plunge when it was pitched in 2021. Herjavec saw the potential of what Plunge could be and chose to invest in the company despite fierce competition from other sharks.
The deal was pretty big at that too, with Herjavec investing $ 1,2 million in exchange for a 12% stake in the company. This was a milestone moment for Plunge, and it would be the foundation of their growth as they expand further.
Who owns Plunge from the Shark Tank?
Michael Garret and Ryan Duey are the owners of Plunge from Shark Tank. They appeared on the show in 2021, with a total deal of $ 1,200,000 for 12% equity. The duo teamed up with shark Robert Herjavec to help build their company.
While the current day deal with Robert still hasn't been finalized, it seems that they are still in negotiations and a potential deal could come to fruition.
But even now they are still going strong, with their product garnering a lot of attention on social media and beyond.
Who invented the Plunge?
They managed to create a spa that doesn't only involve cold water but also includes a hot bath if you wish. And their idea has turned out to be quite successful, as they managed to attract the interest of investors, including the Sharks on Shark Tank.
As of the sales, prior to the show they have earned around $ 4,900,000 in sales and they have sold dozens of thousands of units. As for now, we can't provide you with any information on the exact numbers and how they are doing, as they have chosen to keep that information private.
Useful Video: Shark Tank US | Will Robert Dive Into A Deal With Plunge?
Conclusion
Michael and Ryan's experience on Shark Tank was a positive one that led to a successful product launch for their company Plunge. The friends wanted to share the benefits of cold shocking with everyone and were able to do so with the help of the Sharks.
The Sharks were impressed with the entrepreneurial spirit of Ryan and Michael and offered them an investment that allowed them to take their business to new heights. In the end, Plunge was able to secure an investment from Robert Herjavec, a $ 1,200,000 at 12% equity deal. While we can't confirm that they managed to close the deal with Robert Herjavec, we can be sure that the success of Plunge has continued since their time on Shark Tank.
Since appearing on Shark Tank, Plunge has continued to innovate in the cold shower market. Their main idea was to make cold shocking enjoyable and relatively affordable for everyone. This has been successful with their products, as well as the services they offer such as continuous blog posts and various tutorials on how you can get the most out of a cold shower. This shows that Ryan and Michael are committed to giving everyone access to the health benefits of cold water therapy.
Plunge is now a well-known brand that offers high-quality cold shock therapy devices at affordable prices. The company continues to provide customers with excellent customer service and they are constantly innovating new ways to help people experience the benefits of cold shocking without having to invest in expensive equipment or set up complex systems.
Thanks for reading our guide about Plunge's journey on Shark Tank. We hope you found it informative and useful in understanding what happened to Plunge after their time on the show. Don't forget to follow Plunge on social media if you want to keep up with all of their latest updates!
---
References:
https://www.sharktankblog.com/the-plunge-tub-for-cold-therapy/
https://www.sharktankblog.com/business/plunge/
https://bizzbucket.co/plunge-shark-tank-update/
https://thecoldplunge.com/
https://www.facebook.com/thecoldplunge
https://www.instagram.com/coldplunge/