If you're a fan of Shark Tank, then you know that the show is all about startups and small businesses. In each episode, entrepreneurs have the opportunity to pitch their business ideas to a panel of sharks – five multimillionaires who are willing to invest in promising businesses. Some of these pitches result in life-changing deals for the entrepreneurs, while others end in disaster.
Peanut Butter Pump was a neat product that appeared on Shark Tank in 2018. The product was a pump system designed to dispense peanut butter without the mess or hassle of scooping it out of the jar. But unfortunately, the pitch didn't go too well for its founders, and they didn't get the investment. However not receiving a deal doesn't necessarily mean the end of a business. So what happened to the Peanut Butter Pump after Shark Tank?
What is a Peanut Butter Pump and Who Is Its Founder
The idea came to him randomly, Andy simply had extra time on his hands and thought it would be a good idea to develop something that made life easier for peanut butter lovers. He did some research and discovered that nothing like that existed for the purpose of dispensing peanut butter.
Andy just hated how the peanut butter knife tears the bread upon use and knew there had to be an easier way. The Peanut Butter Pump was born after he figured out the mechanism of creating it.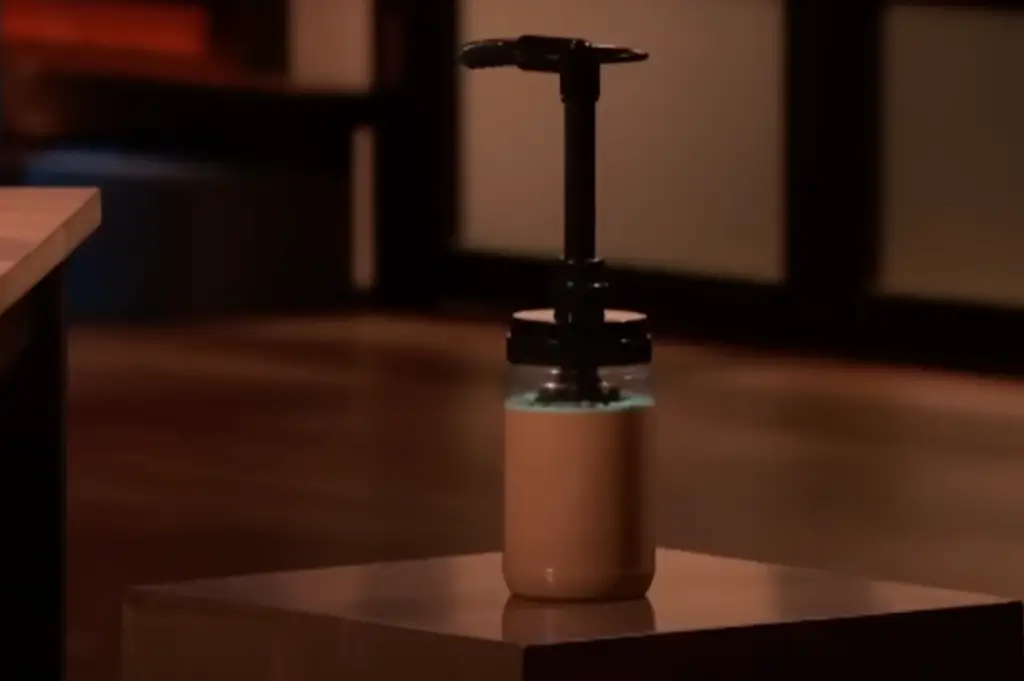 The pump is made of purely food-grade materials, including silicon and plastic. The pump is also BPA-free, making it an environmentally friendly product. The item is also incredibly easy to clean since it is dishwasher-safe and can be reassembled for cleaning.
To receive the funding for the project, Andy opened an IndieGoGo campaign and managed to reach its goal of $ 135,000. Seems like there were plenty of peanut butter lovers after all!
However, despite gaining such a large sum and having more than three thousand backers, the product was still in the early stages of development. Andy waited for things to go better at his company located in Taiwan before proceeding with the production plan.
Still, Andy is incredibly honest with his backers and provided updates to them on the progress of the product.
Because manufacturing the product in the early stages was so difficult, Andy decided to approach the Sharks for investment. [1] [2]
Peanut Butter Pump at Shark Tank
Andy arrived at the Shark Tank with his invention, the Peanut Butter Pump. He pitched his product to the Sharks, explaining how it could make life easier for peanut butter lovers by enabling them to dispense their favorite condiment with a single press of a button. To figure out the issues with the manufacturing process, Andy asked the sharks for $ 200,000 at a 15% stake in the company.
Andy then gives sharks the samples of his device and sharks don't quite get it. Kevin calls himself a peanut butter connoisseur and wonders whether the product can be used with refrigerated peanut butter. To that Andy replies no, and the same goes to chunky peanut butter.
Sharks aren't very pleased with Andy missing the intended delivery date of the product. The sharks still have concerns about the company going forward and the low scalability of the product.
Daymond is the first to say that he doubts the product is usable enough to get people to buy it. Lori and Robert think the same. Kevin is very unhappy about the valuation of the company, saying it's not worth that much. Mark is the last of the sharks to go out, making it a unanimous No for Andy.
However, even with the rejection from the sharks, Andy was not disheartened and kept working on his project. [2]
What Happened After Shark Tank?
Andy decided to continue working on his product despite the shark tank's rejection. He managed to get some more investors on board and continued pushing forward with the production of the Peanut Butter Pump.
While things were progressing slowly, they still made progress. Andy was unable to recover from the manufacturing hell during the year 2020 but still managed to keep in contact with the backers. He even commented that he will keep working on the product regardless of the failure at Shark Tank.
Lately, I've received a number of questions as to whether the project has been abandoned. I can't blame people for asking, but I'm glad to reassure you that the pump's progress is alive and well, and needs very little to be delivered. Scrapping the pump was never a thought for me, and in fact, would cost me more than completing it. Covid notwithstanding, most of the other delays reflect a cautious approach specifically to avoid the danger of a project-killing mistake. I've certainly made some mistakes, and being over-cautious is likely one of them, but thankfully none of them has put the project itself at risk, and the enthusiastic support from backers has ensured that it will go through.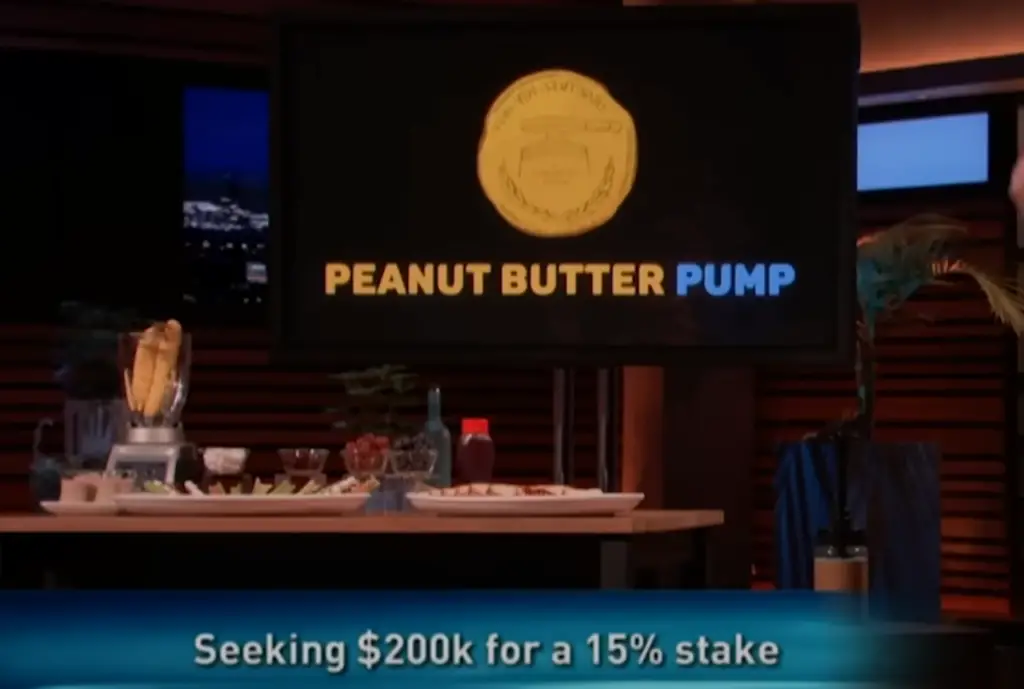 In early 2021 he finally managed to get a working prototype suitable for mass production. Andy was now closer than ever to delivering the product to all of his backers and his goal is to create a full-fledged product that can be used by everyone.
However, things didn't go as smoothly when Andy actually received the package, a very important piece was missing from it. Still, months later he had managed to get his hands on it as can be seen from the following update.
The package I was waiting for arrived, but it wasn't what I expected. After I begged and begged them to deliver, on January 16th I got their email with a tracking number and a message: "We just sent the package, and you'll get it in 5-10 days. It has less than what you're expecting. Also, we're closing from now until February 10th for the Chinese New Year." I don't like to complain about the factory, because good or bad the buck stops with me, not them. But I can't hide my annoyance at getting a "here's the minimum before we disappear on vacation" type of email. So I settled down to wait for the package. And when I got it, the frustration was fulfilled: instead of a few complete pumps, it had 4 production-quality piston rings.
This is an example of getting not what I wanted, but only what was needed. As the final piece, it was necessary to receive and test the production units, instead of the one-offs from the last sample, before going forward. All other components have already been vetted. So I'm good to go. But I'm confused and annoyed by the factory's behavior, and need a better understanding of their timeline. So that's what's coming up in the next few weeks.
The main thing is to pin down the dates, and then the exact dimensions of size and weight for packaging. When I have firm dates, I'll send them out.
As always, thanks for supporting one of the nuttiest crowdfunding campaigns ever. Feel free to leave any comments or write me with questions using the links below. Best wishes,
Andy
In the summer of 2022, he had become closer to starting the production than ever, he had all the pieces necessary and he had all the samples ready. Still, he first needed to make some tweaks here and there because he found some issues with the product.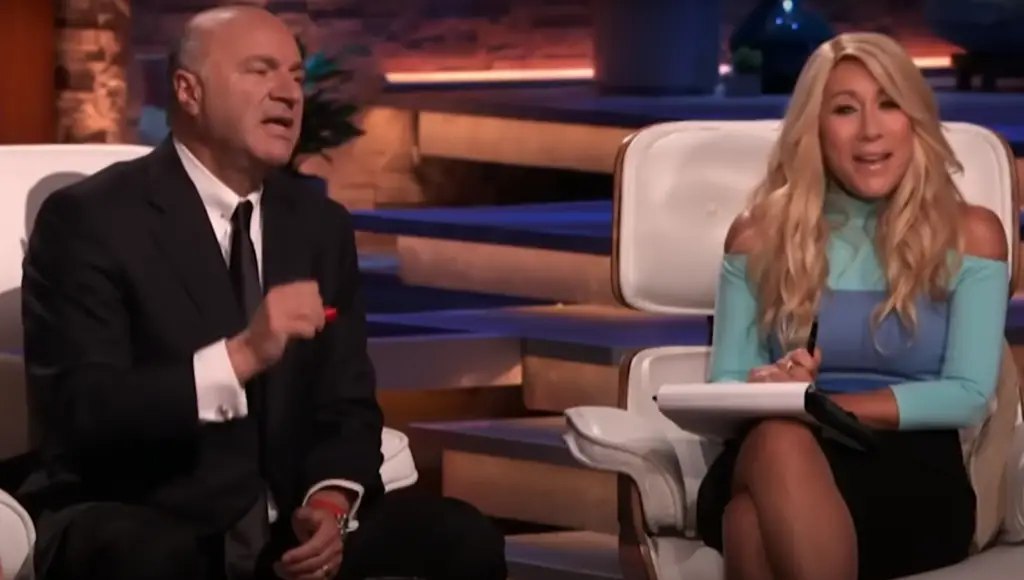 However, a large issue ensued when it was found out that the factory gave Andy the wrong piston size and he needed to go back to the drawing board once again. This was a huge setback and he had to start all over again, this time selecting a different factory that could deliver the pistons correctly.
The new pistons finally arrived in late 2022 but still, there were some issues with them that Andy needed to deal with before starting production. He also had to redo some of the design for the pump itself so it would fit perfectly into its intended shape. Finally, after months of hard work, all parts were assembled together and ready for mass production.
Once that was solved, two other issues appeared, the improper molds and the lockdown across China and Taiwan due to Covid-19. He was faced with another challenge and he needed to overcome it in order for the Peanut Butter Pump to be released.
Andy was visibly upset about having been dealt a bad hand, but he managed to find a way out before and we are sure this will be the case now. In his last update, posted on December 10th, 2022 he said the following.
Dear Peanut Butter Lovers,
My last update ended with a happy email from the company that they'd send me a package within a few days. That didn't happen.
Instead, I gnashed my teeth for 3 weeks while they didn't respond and my escalation to management didn't work. And then they responded: first an email, and then a phone call apologizing for the radio silence, and then, a few days later, a tracking number.
But as you'll see, it's hard for me to be angry: they explained the madness affecting their operations – at any time an employee, whether at work or at home, when visiting a grocery store, client or friend, could suddenly be stuck there, without even a toothbrush or a change of clothes for two weeks if anyone in the vicinity had a Covid alert, relying on food deliveries through government checkpoints until the alert is lifted. Apparently, this was even more frequent last month, affecting apartment blocks, shopping centers and train stations. They are truly experiencing trying times. Aside from the real personal hardships, the business is handicapped without knowing how many people will show up on any given day. In these circumstances, I can only express sympathy while wondering how to re-assess the timeline.
But following the explanations came the shipment. I just got it late last week. The previously missing part was fixed and looks good. The colors were corrected. And yet … take a look at the picture (the 2nd one, after the text). Inside the box was a note explaining that the airlock (which they call the scraper) still needed adjustments. They sent me what they had so I could check the other corrections, and highlighted the part that they knew was defective and still needed finalizing.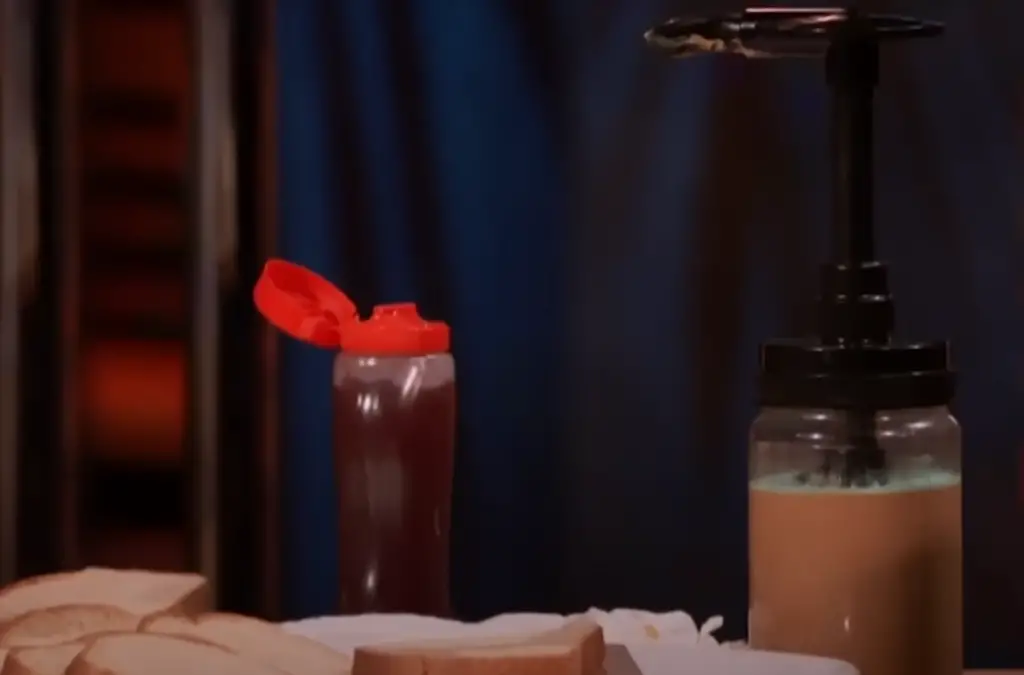 A week later, last night on the 8th, I received the make-up shipment, completing the sample sets for testing. It all looks good, it all clicks together properly, but I'll be testing over the next few days to make sure it's good enough for production. As I've learned, looks alone aren't enough, as it needs to work too. They've fooled me in the past, which is why I have 4 brands of peanut butter standing by, ready for pumping over the weekend and early next week. After that comes a briefing with the factory to go over the results, and the next steps, which if all goes to plan means a production schedule. Cross your fingers, everyone, and I'll let you know what happens!
Pictures are attached below. As always, feel free to write to me or leave a comment using the links below. Thank you all for the constant support. Merry Christmas and happy holidays to all!
Sincerely, Andy
We can only appreciate their honesty about Andy and his commitment to the Peanut Butter Pump project. We will certainly stay tuned for more news on this exciting journey! [2] [3] [4]
---
FAQ
Who made the peanut butter pump?
Is the peanut butter pump still around?
Yes, the Peanut Butter Pump is still around and doing well since its appearance on Shark Tank. The device is a one-of-a-kind kitchen gadget that dispenses peanut butter and other nut butter with just one hand. It works by pumping pure nut butter up from a jar or container into your bowl, sandwich, or wherever you'd like it applied. However, it did not secure a deal with any of the Sharks.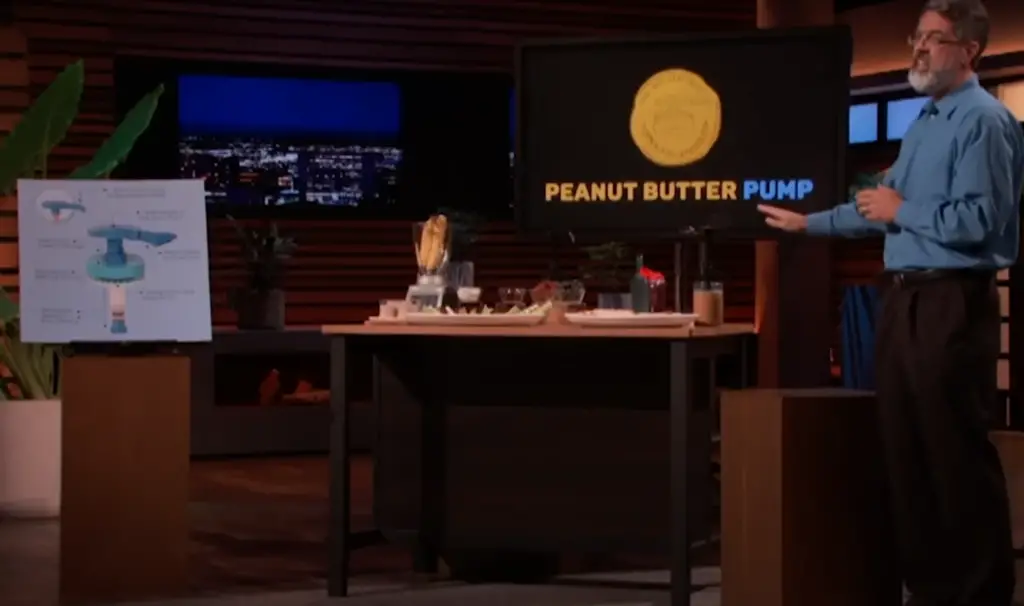 What's worse, the founder is yet to ship the product to the backers of her IndieGoGo campaign due to delays in production. Despite the setbacks, the company continues to promote itself and its product on social media channels.
What happened to the peanut butter pump from Shark Tank?
Unfortunately, Peanut Butter Pump failed to secure an investment from the Sharks during their appearance on Shark Tank.
While they haven't shut down as of 2023, its founder Andrew Scherer is yet to ship the product to customers. Andy was really suffering some serious mishaps at the factory either related to human errors or covid related problems. However, things are slowly moving in the right direction.
Useful Video: The World's First Downloadable Sandwich With Peanut Butter Pump
Conclusion
Andrew Scherer was a peanut butter fan before Shark Tank, and he was a peanut butter entrepreneur after the show. What Peanut Butter Pump is pretty self-explanatory: a pump that attaches to jars of peanut butter and dispenses said jar's contents in a controlled manner. Unfortunately for Andrew, he had difficulty finding investors willing to invest in his product after the show.
Despite this setback, Andy was set on making efforts to introduce his product to the world. He was struck by a setback after the setback with manufacturing, either because he received faulty samples or because the Covid pandemic made it hard to deliver items in time, but that hasn't stopped him from making progress.
Once the product hits the market, it is sure to become a hit with kids and adults alike. We can't wait to taste the delicious peanut butter made with the help of this innovative device! Until then, we'll keep our fingers crossed that everything goes as planned in production! Stay tuned and follow us here at Epic Guide for updates on what happened to Peanut Butter Pump after Shark Tank. Thanks for reading!
---
References:
https://www.sharktankblog.com/the-peanut-butter-pump-pumps-it-up/
https://www.sharktankblog.com/business/peanut-butter-pump/
https://thenuttyinventor.com/
https://www.indiegogo.com/projects/the-peanut-butter-pump#/updates/all