Eco Flower is an environmentally responsible florist that provides stunning blooms crafted from recycled materials and sustainable resources. Not only are these arrangements gorgeous, but they boast a significantly longer shelf life than natural flowers – making them ideal for transportation with no damage whatsoever! Discover the beauty of Eco Flowers today, you won't be disappointed.
These eco-friendly flowers can make your special occasions even more unique. This business provides creative arrangements for weddings, parties, and other celebratory events – all while being environmentally conscious.
If you're a fan of the show Shark Tank, then you know about Eco Flower. This startup had a unique idea: to create beautiful, eco-friendly flower arrangements using materials like bamboo and recycled paper. When they appeared on Shark Tank, they managed to snag a deal with one of the sharks. But what happened after the show? We'll tell you!
What Is An Eco Flower?
Eco Flower as per the name you can guess that it's an enterprise that offers eco-friendly flowers. Such flowers are made from a recycled process with the help of some sustainable resources [1]. These flowers look exactly like natural and beautiful flowers but have a very long shelf life as compared to natural ones and can be transported easily because of this with no damage.
These eco-friendly flowers can be used everywhere as per needs. The enterprise also carries arrangements and events like weddings and others.
Who Is The Founder Of Eco Flower?
She was the owner and manager of French Kiss Fitness before beginning the company, where she was in charge of hiring, scheduling, social media, marketing, payroll, and more.
She left this position in 2013 to work for Better City LLC, an economic development firm, where she was responsible for retail recruiting, data analysis, small business growth, and community development.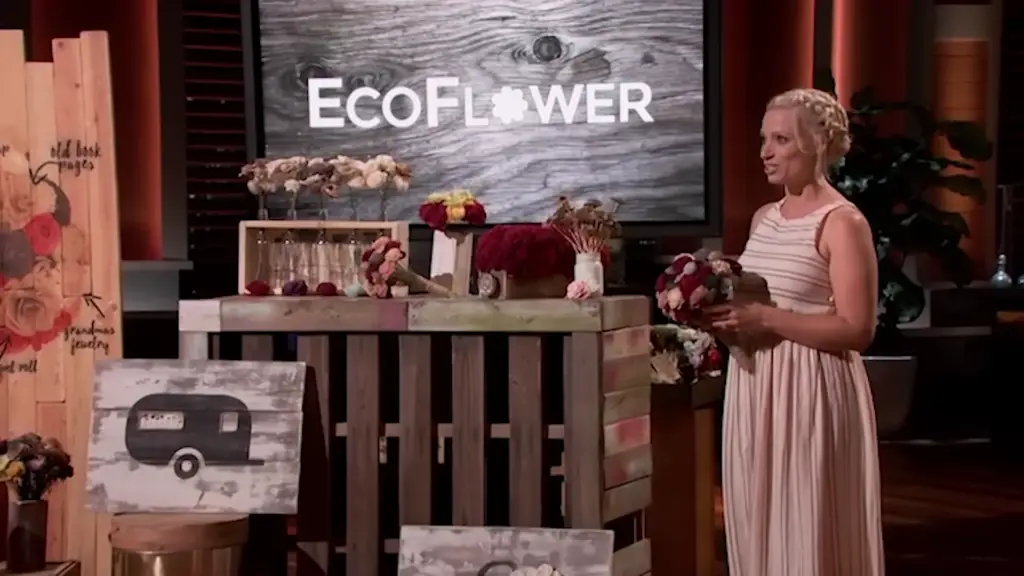 She worked part-time at Eco Flower while also working full-time at her economic development position until she was able to devote her full attention to her business.
While Meagan was on vacation, she came up with the idea for Eco Flower.
She came upon a wooden flower while out of town since she was weary of fresh flowers fading and having to be thrown away.
When she returned home, the thought of recycled flowers nagged at her until she decided to start her own line of natural flower alternatives.
She made it one of her early business goals to appear on Shark Tank, and after four tries, she was finally picked to show Eco Flower to the Sharks. 
Eco Flower Before Shark Tank
As she reaches for a passionate job, she has had a difficult childhood as she attempts to find a job path that fulfills her. She had resorted to assistance, which was embarrassing given her inability to care for herself for the first time in her life. She had the concept for Eco Flower during a phone discussion with her father. She came up with the concept as a teenager.
She's been a fan of Shark Tank since season 2 and seeing other entrepreneurs pursue their dreams inspired her to leap. She submitted many applications to Shark Tank but was rejected each time. 
Something compelled her to attempt again, and she received a phone call informing her that she would be allowed to pitch in front of the Sharks. She values the business highly since it is one of the most successful endeavors outside of having children. She wishes to be around for a long time to see Eco Flower thrive.
That is why she has come to Shark Tank searching for a $ 400,000 investment in exchange for a 10% stake in her business.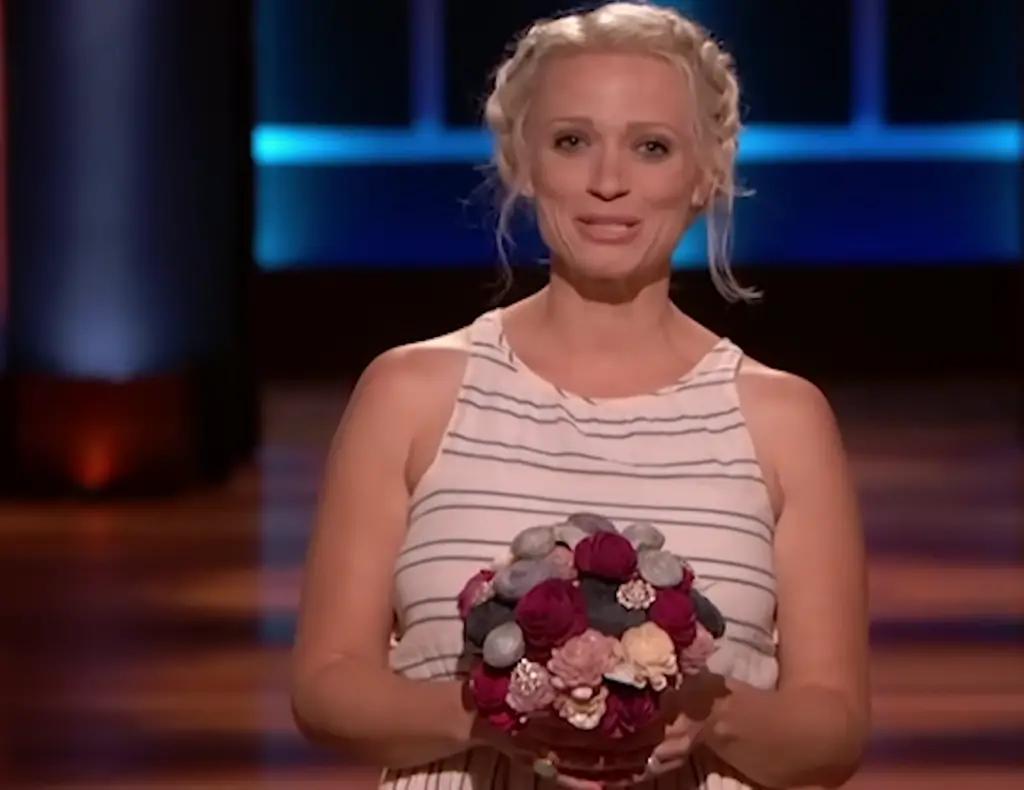 Eco Flower On Shark Tank: The Pitch
Meagan requested $ 400,000 for a 10% ownership in her company. She explains her narrative and expresses her belief that people are exhausted from receiving fresher bouquets and prefer something more long-lasting instead.
After that, each Shark receives a bunch of flowers. These people are pretty delighted with the items. Robert inquires about Barbara and Lori's reaction once they receive a wooden flower arrangement. Lori concurs with Barbara's assertion that she wants to be treated like a valuable blossom.
During the discussion about finances, every shark is astonished. In the last 18 months, she has generated revenues of $ 2.8 million. The average price of a bouquet is $ 59.00. She seeks the assistance of a Shark to increase her manufacturing process. She must restrain her marketing crew. A typical day generates revenues ranging between $ 6000 and $ 13,000.
A regional private equity firm offered Meagan $ 30,000 in return for a 25 percent stake in the company after she was rejected in her second-time Shark Tank audition. As a result, Megan's stake in the firm has been whittled down from its original 75 percent to a meager 25 percent. She has been wholly diluted to the point that she no longer owns anything at all in the firm.
More specifically, she transferred 75 percent of the company for around $ 35,000. Eighteen months ago, things were a lot tougher than they are now. But, shark Robert says one of the primary motivations for starting a company is to keep a piece of the retained earnings because you wish to watch it grow and prosper while also enjoying the results of your effort.
Mr. Wonderful inquired how she could avoid becoming eliminated when she received the investment from a Shark. She responded that every investor would contribute a fraction of their shares.
For Barb, flowers are the most expensive thing she buys, making her feel terrible about herself. Despite witnessing those items around Manhattan, she does not get the concept, so she is out. Like Barb, Lori is also not taking the deal, stating that she must be passionate about what she projected her capital on.
A few minutes later, Mark says that Meagan did an excellent job, yet this is not under his expertise, making him take a risk. Kevin and Damen claim that diminished ownership is the deal breaker for her portfolio. However, at this point, Daymond John wants to purchase out her present shareholders with a 25% stake in the company. As an alternative, she offers 20%, and he tolerates it as fair.
Eco Flower Now
For entrepreneur Meagan Bowman, the fourth time was the charm to finally achieve her goal of appearing on "Shark Tank" [4]. She was the founder of Eco Flower, a business she started in her home that uses bamboo, twine, dried roots, and other reused and recycled items to create exquisite flower bouquets.
"A lot are roots from plants that are existing," Bowman told ABC4. "So the farmers will pick the plants and then they will just harvest them and save the roots for us".
After handing out Eco Flower gifts to each of the six sharks, Robert Herjavec asks Lori Greiner and Barbara Corcoran, "If a man gave you one of these instead of real flowers, how would you feel about that?" Both women agree that they would rather have real flowers.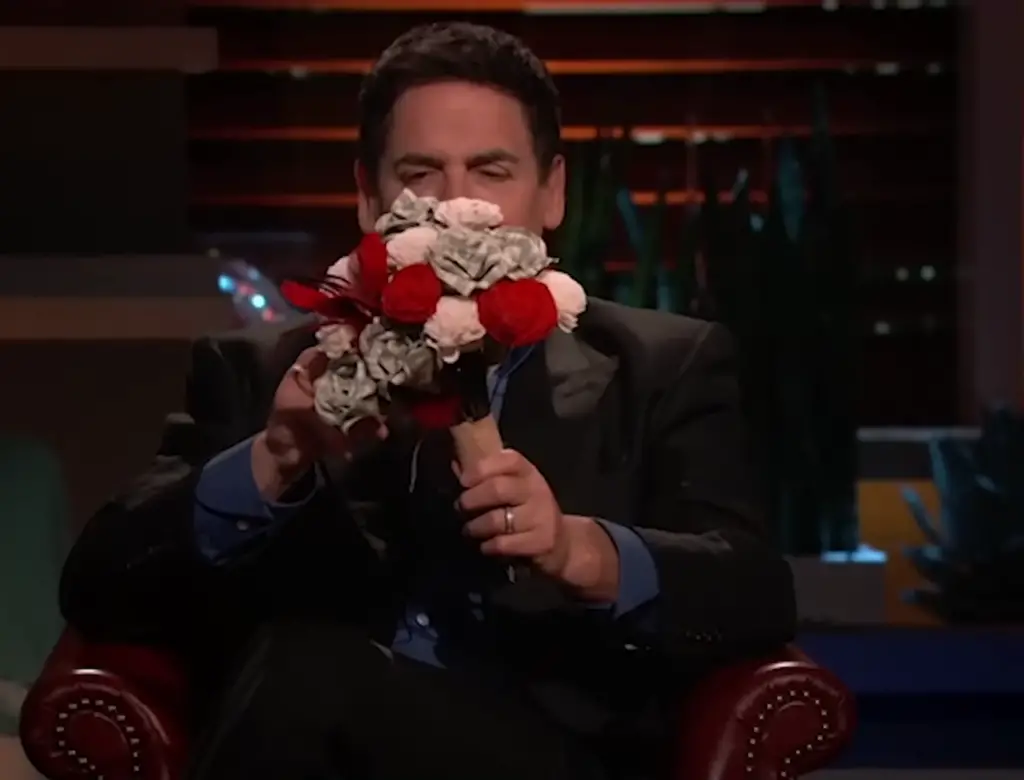 Bowman argues that women would rather have something that lasts, and Daymond John interrupts, telling her, "This is how you can prove us wrong: what are your sales?" The sharks are left speechless when Meagan says they've made $ 2.8 million in lifetime sales. They're obviously impressed — until she tells them that she only owns 25% of her business, and the other 75% of investors own.
In the end, all the sharks back out, except for John, who makes a deal with her for $ 400,000 in 20% equity, telling her, "I need to be invested in this business, so I want to attempt to buy them (the other investors) out down the road and give you a bigger piece of this business". Shortly after Bowman and John made their deal, things with Eco Flower took an unexpected turn.  
The Net Worth Of Eco Flower
She accepted an offer from Daymond of $ 400,000 for a 20% stake, thus bringing the valuation to $ 2 million, but it fell through. 
No, it was shut down in 2018. Meagan, who was the founder of Eco Flowers, started a new enterprise called Sola Wood Flowers which is doing good as of 2021.
---
FAQ
Where is Meagan Bowman?
Meagan Bowman is a former contestant on the popular TV show Shark Tank, where she pitched her startup Eco Flower to a panel of industry experts [6]. Despite receiving investment offers from several of the sharks, Bowman decided to walk away from the deal in order to retain more control over her company.
Since appearing on Shark Tank, Bowman has continued to focus on growing and expanding Eco Flower. She has worked tirelessly to build partnerships with major retailers like Walmart and Costco, while also developing new product lines that appeal to eco-conscious consumers. Through all this hard work, Bowman has been able to turn Eco Flower into one of the leading flower delivery services in the US.
Does Eco Flower buy wood for its production?
No, Eco Flower does not purchase any wood for its production. Instead, the company works with a network of local flower farmers to source sustainably grown flowers. These flowers are then shipped directly to customers using biodegradable packaging materials, such as recycled paper and bamboo fiber.
By focusing on sustainable practices from start to finish, Eco Flower is able to help reduce its environmental impact while also providing high-quality products to consumers.
What strengths did they have?
One of the biggest strengths that Eco Flower has is its focus on sustainability. By using environmentally friendly materials, partnering with local farmers, and cutting out the middleman, the company is able to reduce its carbon footprint while also delivering high-quality products to customers.
Additionally, Bowman herself has a strong track record of success in the startup world, which helps give Eco Flower a competitive edge in the market.
What were some of the weaknesses?
While Eco Flower has enjoyed a great deal of success in the past, there are some potential weaknesses and challenges that the company may face in the future.
One such challenge is the competition from larger, well-established flower delivery services like FTD and Teleflora.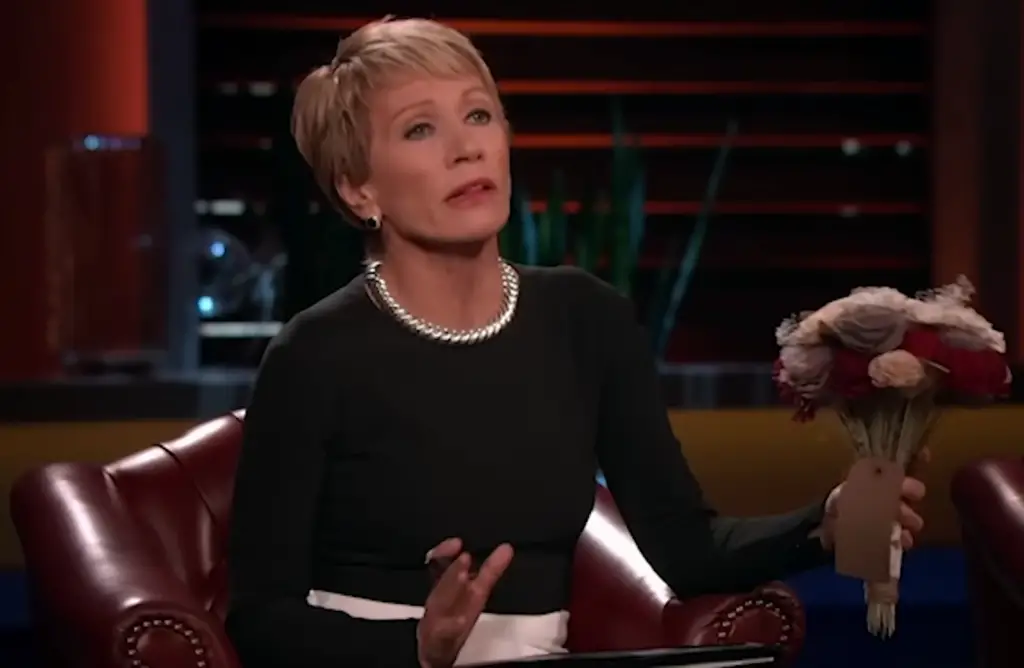 To overcome this challenge, Eco Flower will need to continue focusing on providing high-quality products and partnering with trusted retailers like Walmart and Costco [7]. 
Some other weaknesses include a lack of funding or resources to support product development, as well as an over-reliance on partnerships with major retailers and other companies within the industry. 
These are just a few of the many potential weaknesses and challenges that Eco Flower may need to address as it continues to grow and expand. However, with Bowman's strong leadership skills and focus on innovation, there is every reason to believe that Eco Flower will continue to be a major player in the flower delivery market for many years to come.
What are the best benefits of Eco Flower?
The best benefits of Eco Flower include its high-quality products, pricing, and focus on sustainability. By partnering with local flower farmers and using environmentally friendly materials, such as recycled paper and bamboo fiber for packaging, the company is able to provide customers with beautiful floral arrangements while also helping to reduce its environmental impact.
Useful Video: "You're Gonna End Up Working For Me As An Employee" – EcoFlower
---
References:
https://bizzbucket.co/eco-flowers-shark-tank-update
https://www.looper.com/911615/what-happened-to-eco-flower-after-shark-tank
https://seoaves.com/what-happened-to-eco-flower-after-shark-tank
https://www.bstrategyinsights.com/what-happened-to-eco-flower-after-shark-tank
https://sharktankrecap.com/eco-flower-update-shark-tank-season-8
https://solawoodflowers.com/blogs/sola-school/what-happened-to-eco-flower
https://biznewske.com/ecoflower-shark-tank-update