If you're like most people, then you probably watched the episode of Shark Tank where Cinnaholic made an appearance. If you're not familiar with Cinnaholic, they are a company that makes gourmet cinnamon rolls. And if you're even more like most people, you probably wondered what happened to them after the show. Well, wonder no longer! In this article, we will give you a full update on what's been going on with Cinnaholic since they appeared on Shark Tank.
What Is Cinnaholic?
Cinnamon rolls are a popular and delicious dessert treat. Cinnaholic is a company that specializes in vegan, gourmet cinnamon rolls made with plant-based ingredients. Founded by two entrepreneurs, Shannon, and Florian Radke, the business has grown from its humble beginnings in Berkeley, California, to a nationwide retail chain since appearing on Shark Tank in 2014.
Shannon was a former veterinary assistant who loved baking vegetarian snacks at her home. She eventually decided to pursue her passion and created Cinnaholic, a bakery offering vegan cinnamon rolls made with no animal products. She was accompanied by Florian, a former German punk rock scenester who she married shortly after meeting him. He joined Shannon to bring his business and marketing expertise to the venture.
Many people love cinnamon rolls but sadly not all of them are vegan. In fact, at least 7,3 million of Americans are vegetarians and 22,8 million are trying to reduce their animal product intake. What's more, there are at least one million vegans which is a pretty impressive number.
That's why Cinnaholic created vegan-friendly cinnamon rolls packed with flavor and nutrition.
Later on, they managed to open a bake shop in Berkeley, California, and this time their popularity had skyrocketed even more. Soon they were featured in the Food Network and appeared on "Shark Tank" which created an even bigger platform for their business.
Before appearing at Shark Tank, they were famous nationwide and were recognized as one of the top vegan bakeries in the country. They also have received at least 100 inquiries from potential franchisees, which is an incredible achievement. [1] [2]
How Was The Shark Tank Pitch Of Cinnaholic?
When the Radkes couple appeared on "Shark Tank", they were very confident in their product and had done a lot of effort to back up their claims. They asked for a $ 200,000 loan for a 20% stake in their business and explained that the money would be used to fund their growth plans and franchise operation.
The duo gave away the product samples to the sharks, and everyone loved them! They were impressed by the taste quality of the product, and even more surprised to learn that it was made without any animal products and still managed to completely replicate the cupcake taste.
What's more, their rolls are very light on calories (when it comes to cinnamon rolls), these contain only 500 calories per roll, compared to the regular cinnamon rolls with over 1,200 calories.
Then the sales discussion began, and the Radkes presented their impressive figures: at that point, they were pulling in $ 260,000 in annual sales in 2013. This got the sharks interested. However, Barbara quickly pulled out because she was spoiled by the high franchise sales of other products.
But the other sharks remained interested in the product, seeing great potential for Cinnaholic to grow nationwide. Robert thinks that the duo should reconsider their plans to open a store and told that they should ship cinnamon rolls directly to customers' homes. To help their business out he offered them $ 200,000 for a 40% stake. Kevin has a similar train of thought however he's not against keeping a retail store, but rather against opening another one as it would require a lot of effort to keep everyone up and running for a long period of time. He proposed the same deal as Robert but with a $ 1,20 royalty per unit until he gets his money back, then it's just 60 cents.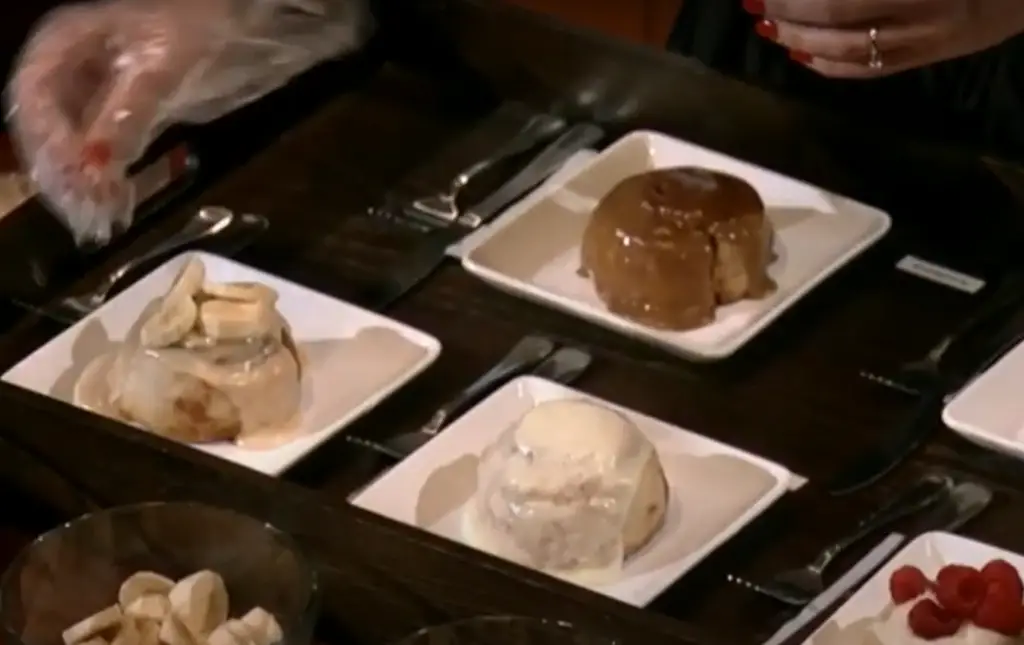 Shannon and Florine aren't fans of a royalty deal, instead, they offer to give Robert a 35% stake but he doesn't budge and eventually, the duo decides to accept Robert's offer.
So, Cinnaholic got the investment from Robert Herjavec and was able to launch its franchise plan. This is great news for vegan pastry fans as they can now enjoy delicious and healthy cinnamon rolls. [2]
What Happened After Shark Tank?
The Cinnaholic team got to work after getting the investment from Robert Herjavec on "Shark Tank" and soon enough, their business had started to grow exponentially. Obviously, the exposure they achieved on live TV was great and they used it to their advantage. However, did they manage to keep up the momentum?
Well, first of all, they never finalized their deal with Robert Herjavec and we can't provide you with the details. Instead of that, they got new investments from other sources and managed to keep their business rolling. Of course, this isn't what most people expect when they say "Shark Tank", but it's still a success.
They sold out their first store and decided to team up with the Atlanta Franchise group to further expand their business. This was their huge opportunity to grow their franchise model and increase the brand's reach.
They were so focused on expanding their business that they even stopped selling their products for a while. However, this didn't stop their success as in return, the company managed to open over 25 locations and started selling their cinnamon rolls both online and in stores.
And this was only the start of the nationwide expansion for Cinnaholic, as their pastries can now be found in over 70 stores all around the USA. They even started to attract international attention and opened a shop in Canada. This is a huge achievement for a business that started with just one store.
Today, Cinnaholic is still growing and expanding its business to even more cities. Alongside this, they have developed a new vegan baking mix that can help anyone to make delicious vegan pastries at home.
They also keep a strong social media following and receive a lot of positive feedback from their customers. For one, their Instagram account has over 139 thousand followers that are passionate about their sweet treats. They also keep up a Twitter profile with around 4k followers and an active Facebook page with over 35k followers.
Their commitment towards veganism also remains strong, since they are constantly coming up with new recipes and flavors. This is just another proof that Cinnaholic is still as dedicated to their mission as they were before "Shark Tank".
As of now, you can't order the cupcakes online, since they only deliver them to stores. However, you can order their baking mixes and cinnamon rolls that are shipped directly to customers' homes.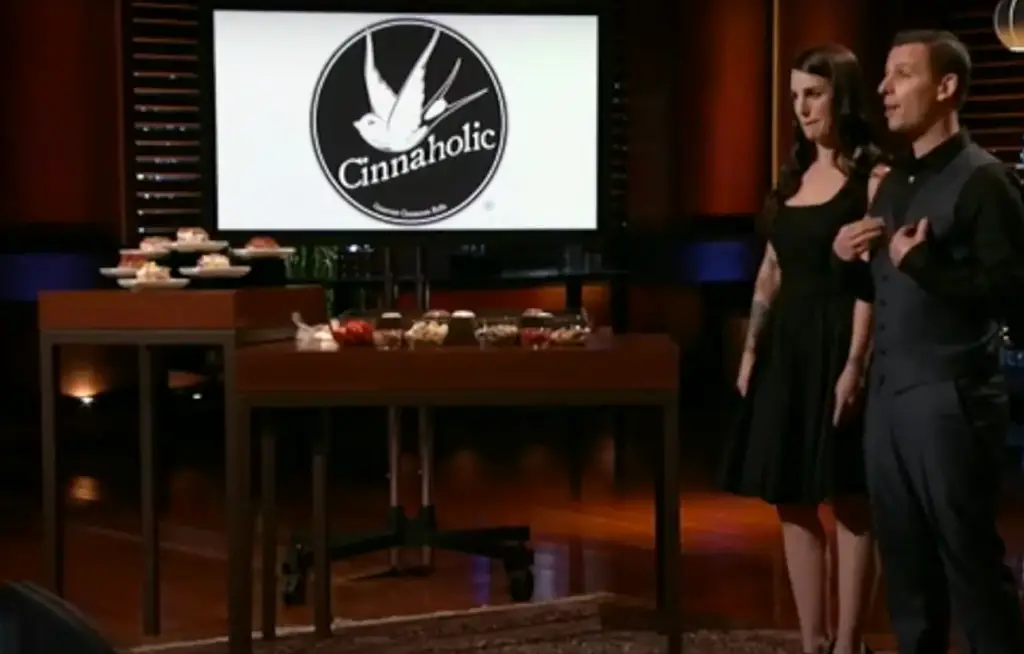 And if you want to celebrate your wedding or birthday in a unique way, you can order a catering tray from the Cinnaholic website.
If you want to enjoy their delicious vegan pastries, you can visit one of the Cinnaholic stores or find them in a store near you. You can find the nearest location by taking a look at their website.
You can also track the brand new flavors and products via their social media accounts, so you can always stay up to date with their news.
Cinnaholic Net Worth
Since their appearance on "Shark Tank", Cinnaholic has experienced tremendous success. This is mainly due to the great marketing tactics that they employed, as well as the strong team effort of their founders.
With this amount of money in hand, you can expect a lot more delicious pastries to pop up all around the USA soon! As for now, the company plans to expand its reach even further, opening new locations both in the US and abroad. [7]
---
FAQ
Did Cinnaholic get a deal on Shark Tank?
Yes, Cinnaholic did get a deal on Shark Tank. In 2014, the husband and wife team of Shannon and Florian Radke appeared on season 5 of Shark Tank. They pitched their business plan for a vegan gourmet cinnamon roll bakery that would allow customers to customize their own treats with over thirty different frosting flavors and an array of toppings such as fresh fruit, candy, nuts, and more.
The Sharks were impressed by the couple's passion for their product and unanimously offered to invest in Cinnaholic. After some negotiation from both sides, Cinnaholic struck a deal with Robert Herjavec for a $ 200,000 investment in exchange for a 40% equity stake in the company. While the deal wasn't finalized on air, the deal with Robert was officially closed and Cinnaholic went on to be a massive success.
Who bought Cinnaholic on Shark Tank?
The two co-founders of Cinnaholic, Shannon and Florian Radke, entered the Shark Tank in Season 5. After hearing their pitch, investor Robert Herjavec made an offer to invest $ 200,000 in exchange for a 30% stake in the company. The deal was accepted by the Radkes and they left the tank with an offer.
However, they never finalized the deal with Herjavec. Still, they managed to get the money to enhance their business with the help of friends and family as well as other investors. After that, Cinnaholic was able to take off and become a successful business.
Is Cinnaholic profitable?
Yes, Cinnaholic is a profitable business. After appearing on Shark Tank in 2014 and securing an investment from Robert Herjavec, the company experienced a surge of interest that helped them grow quickly into a nationwide franchise. As of 2023, they have 70 stores in operation spread across dozens of states and Canada, with plans to open even more locations soon.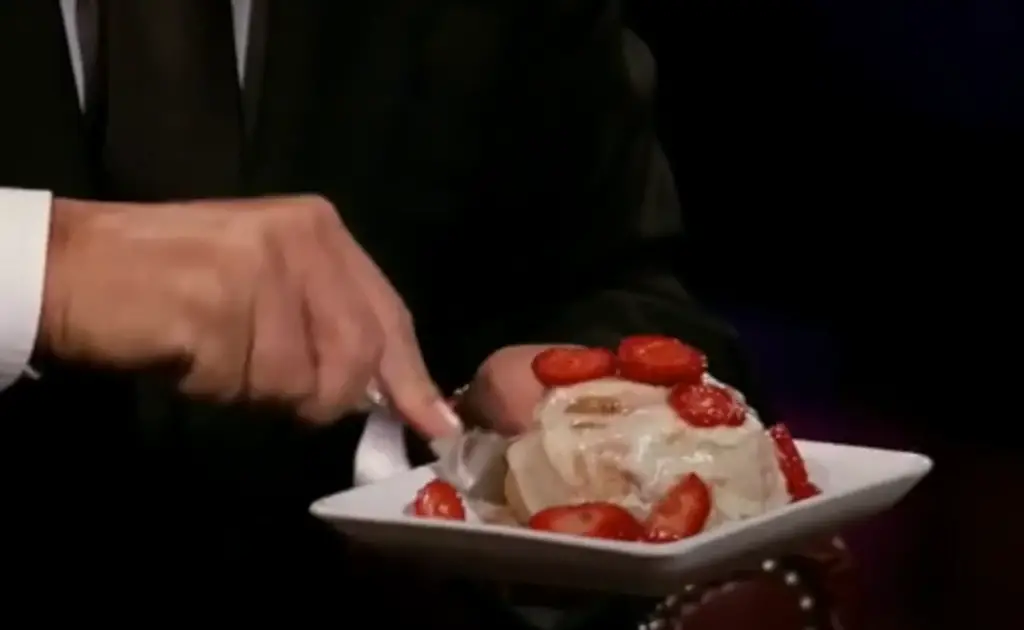 Cinnaholic also reported that its average store revenue has grown each year since its appearance on Shark Tank. In 2014, their average store sales were just around $ 260,000 per year and by the 2023 fiscal year, that number had risen to an impressive $ 20 million in total.
How many locations does Cinnaholic have?
Since appearing on Shark Tank in 2014, Cinnaholic has grown from one store in Berkeley, California to over 70 stores across the United States. The company has also partnered with the Atlanta Franchise group to access this reach.
What's more, they even managed to open several stores in Canada and they have even more locations in the works. Cinnaholic is continuing to expand its presence across North America and beyond with each passing year.
What episode was Cinnaholic on Shark Tank?
Cinnaholic was featured on 525  of Shark Tank, which originally aired on May 9, 2014. During the episode, founders Shannon and Florian Radke pitched their rolled gourmet cinnamon rolls to the Sharks. The couple asked for a $ 200,000 investment in exchange for 20% equity.
They ultimately managed to get a deal with Robert Herjavec who invested $ 200,000 in exchange for a 40% stake. However as far as we know that deal has never closed.
Useful Video: Cinnaholic Franchise Interview (Shark Tank) 100% Vegan!
Conclusion
Cinnamon rolls are a beloved American dessert that has been around for centuries, but no one could have predicted the success of Florian's and Shannon's Cinnaholic after their appearance on Shark Tank. The incredible response from the Sharks and the public alike has allowed them to grow into a nationally-recognized brand with locations in 70+ locations across the US and Canada.
Cinnaholic has revolutionized how people think about cinnamon rolls by offering unique vegan-friendly flavors and custom creations that are as delicious as they are beautiful. Their commitment to using only the highest-quality ingredients and creating a unique customer experience has allowed them to build a devoted fan base who love their cinnamon rolls.
The success of Cinnaholic after Shark Tank is an inspiring story for entrepreneurs everywhere, proving that with hard work and dedication, even small businesses can achieve big things. And for those of us who love cinnamon rolls, it just means there's more deliciousness to go around!
As of 2023, the Cinnaholic has managed to reach $ 20 million in sales, with no signs of slowing down. They are an inspiring example of how passionate entrepreneurs can turn their dreams into reality and build successful businesses.
No matter what your favorite flavor is, one thing is certain: Cinnaholic is here to stay. So if you haven't had the chance yet, make sure you stop by your nearest location (or order online) and try out these delicious cinnamon rolls for yourself!
Happy snacking!
---
References:
https://www.sharktankblog.com/cinnamon-rolls-cinnaholic/
https://www.sharktankblog.com/business/cinnaholic/
https://www.cinnaholic.com/
https://twitter.com/Cinnaholic
https://www.instagram.com/cinnaholic/?hl=en
https://www.facebook.com/Cinnaholic
https://seoaves.com/what-happened-to-cinnaholic-after-shark-tank/