Calm Strips was a Shark Tank success story. The product is designed to help people with anxiety, and it seemed like a perfect fit for the Sharks. They have managed to leave the tank with a deal from Robert Herjavec, and they have continued to grow their business. In this article, we will answer common questions about what happened to Calm Strips after Shark Tank. We will also provide some tips on how you can still get your hands on this popular product!
History of the Product & Founders
The last few years weren't easy on anyone and entrepreneurs were no exception. Businesses large and small have been forced to change the way they operate, and many people have lost their jobs. Uncertainty about the future was spreading among millions of people around the world.
Anxiety is a destructive force. It can prevent you from taking action, enjoying your life, and connecting with others. When faced with challenging times, it's more important than ever to find ways to stay calm and focused.
The idea for the product came to him one of the many days after work when he felt absolutely emotionally and mentally exhausted. To deal with it, he started researching natural solutions for anxiety and stress relief. After trying out a bunch of things, he found that none of them worked as well as he wanted. So, he decided to create his own solution.
The result was Calm Strips – small strips that work as a fidget device but are strips that have a sandy texture. Rubbing them between your fingers is said to help with anxiety and stress relief.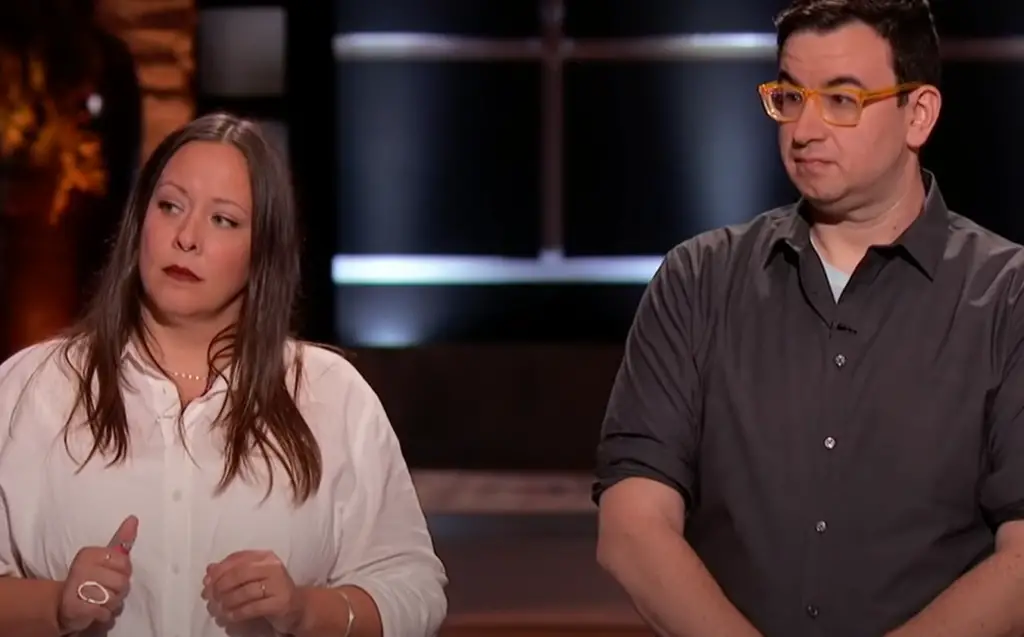 While the idea is nothing new, the execution is what makes Calm Strips special. The strips come in a variety of designs and colors, and everyone can find a design that suits them. They are also easy to carry around, so you can have them with you at all times.
Michael and the company started their business from their home in 2020. Since then, they have sold Calm Strips to at least 100,000 customers. Schools are especially fond of the product and some have even made it mandatory for their students to have them. The Calm Strips design is simple enough for children to use, but also effective for adults.
The strips are made of durable vinyl that can withstand a lot of wear and tear. They are also very flexible, so you can easily bend them and carry them around in your pocket.
Now at the start of 2022, Michael decided to team up with Luce Fuller and expanded his team with her help. Now they have their own office to work from and are looking to take their business to the next level. They also hired 5 employees to help with the daily tasks. [1] [2] [3] [4] [8]
Calm Strips at Shark Tank
While Calm Strips were off to a strong start, they wanted to take their business to the next level and decided to appear on Shark Tank. The main reason for that was marketing. They wanted the extra push that being on the show would give them.
Michael and Luce appeared in the 13th season of the show and decided to seek $ 250,000 for 10% equity in their company. They began their pitch by talking about anxiety and how it's a very common issue, but one that's often not talked about.
Around 45 million Americans struggle with anxiety and it's the most common mental disorder in the US. Michael and Luce said that their product was created to help people deal with anxiety in a natural way.
They then went on to explain how their product – Calm Strips reveal stress via sensory touch – and it's a well-known fact that touching certain textures can have a calming effect on the person. Michael also says that the strips can stick on nearly everything and that they are perfect for people who won't keep their hands still. The sharks were given some examples themselves to test out.
Daymon is very skeptical about the product and doesn't think it will work as Luce and Michael claim. Still duo counters with the fact that they have a customer base of 100,000+ people who have all given them positive feedback. And what's most impressive, the return rate is less than 1%!
The secret behind such a low return rate is that they offer a full refund without the need to return the product. This way, the customer is always happy with the purchase.
They mainly sell their strips in packs of 5. A pack of 5 costs $ 1 to make, this is for the "sandy" texture. "River rock" texture costs around $ 2. As for the sales, they sell these for $ 13.95 for a pack of 5 on their website (at the time of the pitch).
Since starting their business back in 2020, they have managed to earn around $ 2.5 million in sales. Their debut year got them $ 193.000 in total. The duo claims that summers aren't the most profitable season for them since the schools are closed and people are on vacation.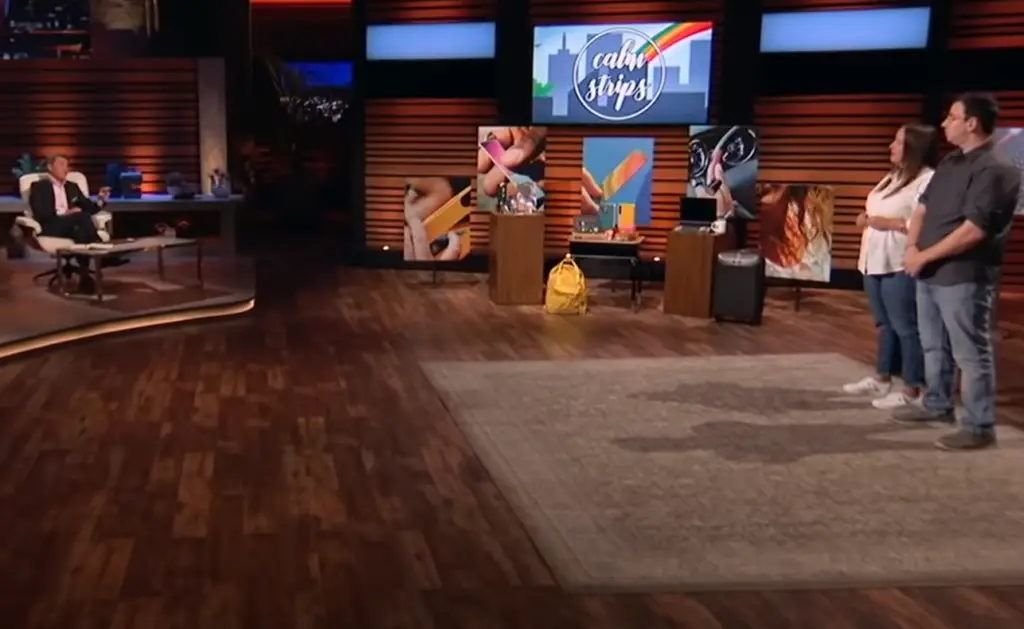 Kevin is very interested in their business and so is Robert. Daymond is impressed by their numbers, but he is still unsure about the product so he backs out. Mark is also pessimistic about the growth potential and he too drops out. But, Robert and Kevin decide to make an offer. Robert offered a $ 500,000 for 35% stake, while Kevin offered that he will earn $ 2.50 per unit that they sell until the whole sum is covered and $ 1 per unit in perpetuity.
Robert picks up on the game Kevin is playing and he counters with $ 2.50 per unit as well, but with $ 1.5 extra until he nets $ 750.000. Michael decided to join and asked Lori if she is willing to team up. Lori was very interested in the product from the start. She said she'll offer the same deal as Kevin but + 8% equity in the company. Robert backs out at this point.
Still, Michael goes to ask Robit if he would consider his original offer and Robert does agree to it. So, in the end, Michael and Luce leave the tank with a deal from Robert, a $ 250,000 and $ 2.50 per unit until $ 250,000, then $ 1.50 per unit until $ 750,000. [2] [3] [4] [8]
Calm Strips After Shark Tank
But what happened after they left the Shark Tank? Did their business take off as they hoped?
Luce and Michael's main goal for appearing on the show was to gain more exposure and they definitely achieved that. And no wonder why, Shark Tank attracts on average 8-9 million viewers per episode. Live TV appearance is a great marketing opportunity for any business, and it was especially beneficial for Calm Strips because the product is quite visual.
By February 2022 they have appeared in many mom-and-dad stores all around the country. And later, they managed to make it to the shelves of some large retailers, such as Walmart. This gave them a big boost in sales and helped them reach a wider audience.
As of now, their annual sales are around $ 1 million. But they are constantly expanding and working on new product lines, so we can expect this number to grow in the future.
They left the Shark Tank with a deal from Robert but due to the conditions of it, it will take a while before they can tell whether it was settled or not. For now, they seem to be doing everything right and are capitalizing on their newfound exposure. One of the best things they did was to create a social media presence soon after the show.
Their Facebook profile is constantly updated and they use it to interact with their customers, answer questions and give useful tips. The page has 24,000 followers and around the same amount of likes too! Their Instagram page is a little more popular, having around 27K followers. And it's also regularly updated with new content.
The team also constantly releases new designs for their products, so there's always something new to see. For example, they have released an exclusive Halloween set and a special Christmas set.
Their customer base has reached over 150,000 since and doesn't seem to stop growing! [2] [3] [4] [5] [6] [8]
Where Can You Purchase Calm Strips
As to where you can purchase Calm Strips, they are available in many stores across the United States. You can find them online on Etsy, or in physical stores such as Walmart.
But the easiest way to find the design that you want is to head to the official Calm Strips website where there is a wide variety of designs to choose from. By going to the source, you are also able to take advantage of any deals or promotions that are available.
The team still sells the original calm strips in sets of 5 for $ 25. You can also find calm circles – which are the round versions of the strips and they come at the same price.
Since their appearance at Shark Tank, Michael, and Luce added some more items to their store. You can find square-like items that have breathing exercises printed on them. They are intended to double down on relaxation and are said to be more aesthetically pleasing than the strips. These come with a price tag of $ 13.49 for a single item.
They have a similar product but in the form of the number "8" which is more suitable for those who want to repeat the breathing exercises by sliding in circles rather than squares. This one goes for $ 11.49.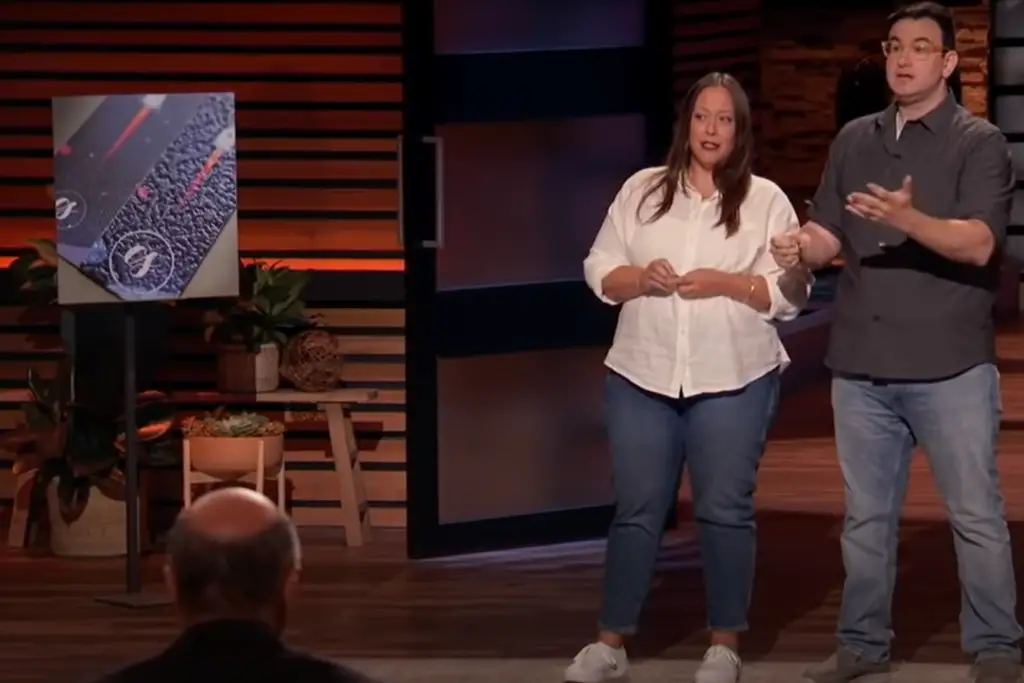 They are also selling special school kits that come with two wallet cases, one for the student and one for the parent or a friend. The kit also has 30 calm products and a student's guide. The price for this is $ 39. 
If you feel like the product has disappointed your expectations, you have 30 days to get a full refund as the team offers a money-back satisfaction guarantee. And if you want to snatch some Calm Strips for cheaper, watch for the special deals and codes as the team is generous for those! [7]
Calm Strips Net Worth
Calm Strips was born out of the idea to help people relax and de-stress. Michael and Luce saw a lot of people struggling with anxiety and stress in their lives and they wanted to create a product that would help them cope with these issues.
Michael and Luce have not revealed the exact net worth of Calm Strips. But we do know that the company has been growing steadily since it started and that it has made some good profits. But we think it's safe to assume that their net worth is estimated to be around $ 2,000,000 as of 2022. [8]
---
FAQ
Did Shark Tank invest in Calm Strips?
The Sharks were very interested in the product and its potential. Michael and Luce have eventually accepted a deal with Robert Herjavec for $ 250,000 in exchange for $ 2.50/unit until $ 250,000, and $ 1.50/unit until $ 750,000.
Is Calm Strips still in business?
Yes, Calm Strips is still very much in business and growing rapidly. After their appearance on Shark Tank, they have managed to secure additional investment and grow their product line. They are currently available in the biggest retail stores and continue to expand their reach. You can even order them internationally!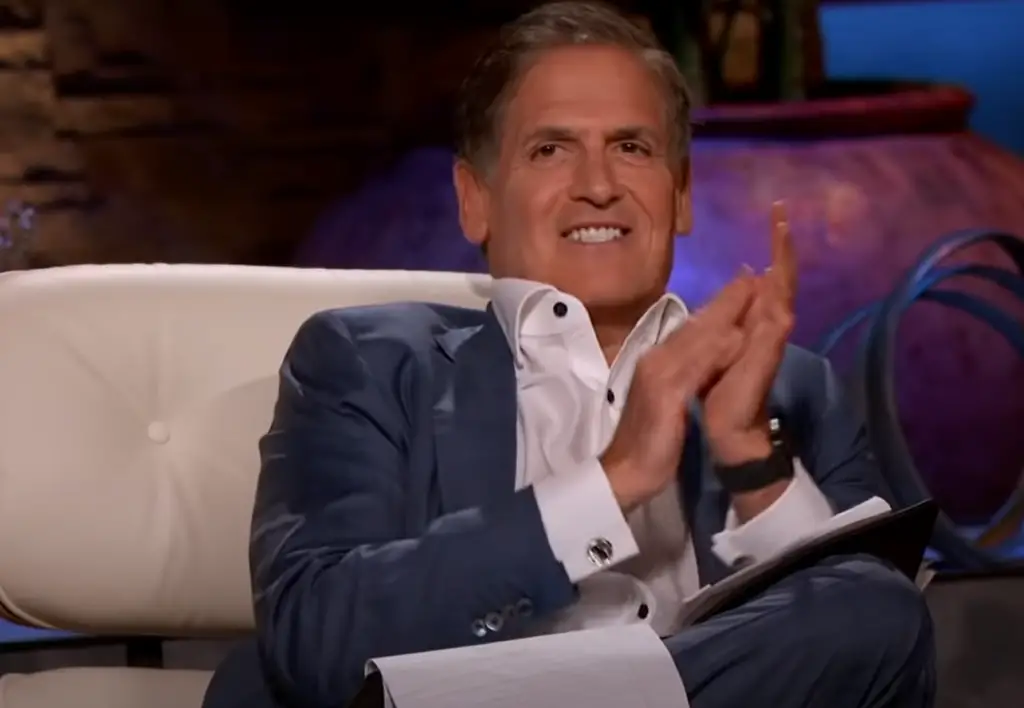 How long do Calm Strips last?
Calm Strips are made of a reusable yet durable material that will last up to four years with proper care. So they will survive even the most curious of children (and adults). Keep in mind that to prolong the life of your strip, you will need to clean the adhesive side every few months with a mild soap and water solution.
Why do Calm Strips work?
Calm Strips work by providing a rough yet pleasant surface for the finger to glide over, which has a calming effect on the nervous system. There are two types of calm strips, those with a sandy surface and those with a rocky surface.
The calming effect of Calm Strip is achieved by the stimulation of the tactile receptors in the skin, which are responsible for the sense of touch. When these receptors are stimulated, it sends a signal to the brain that reduces anxiety and stress levels.
Useful Video: Robert Is Out — Or Is He? – Shark Tank
Conclusion
Anxiety is an enemy of many people, but it doesn't have to be. Michael Malkin has felt its impact firsthand, and he was motivated to do something about it. That's how Calm Strips were born.
The product is a simple one – adhesive strips with a rough side that you can rub to relieve anxiety. He decided to team up with Luce Fuller and eventually, they managed to earn a 100,000 client base.
The duo went on Shark Tank in 2022, where they made a deal with Robert Herjavec. After the show, they managed to scale up and sell their product in stores like Walmart.
The product is popular because it's easy to use and it works. If you're feeling anxious, all you have to do is reach for a Calm Strip and start rubbing it. The rough surface will help you focus on something else and hopefully, relieve some of your anxiety. Schoolchildren and their parents (teachers too!) are especially big fans of the product, as it can help with test-taking anxiety.
As of 2022, the duo managed to achieve $ 1 million in earnings and they're planning to grow even further, given their enthusiasm on social media!
---
References:
https://www.sharktankblog.com/the-calm-strip-fidget-strips/
https://www.sharktankblog.com/business/calm-strips/
https://sharktankrecap.com/calm-strips-update-shark-tank-season-13/
https://techiegamers.com/calm-strips/
https://calmstrips.com/
https://www.facebook.com/calmstrips/
https://www.instagram.com/calmstrips/
https://bizzbucket.co/calm-strips-sharktank-update/