In the thrilling world of entrepreneurial ventures, the hit reality TV show Shark Tank has provided a platform for aspiring entrepreneurs to pitch their innovative ideas to a panel of seasoned investors.
One such success story is Coverplay, a company that entered the Shark Tank with a unique product designed to protect children while enhancing the cleanliness of play yards. After securing a deal on the show, Coverplay embarked on a journey of growth and expansion.
In this article, we delve into what transpired after their Shark Tank appearance, exploring the company's current status, its impact on the market, and the key milestones that have shaped its trajectory.
What Is Coverplay?
Every mother appreciates the presence of a clean and secure space for their child to engage in play. A portable play yard or playpen often fits the bill. Unfortunately, since they come into direct contact with toddlers, playpens are prone to spills, drips, and drooling, and they endure numerous other unfortunate incidents. It is safe to say that this particular piece of furniture becomes heavily soiled and poses a challenge when it comes to cleaning.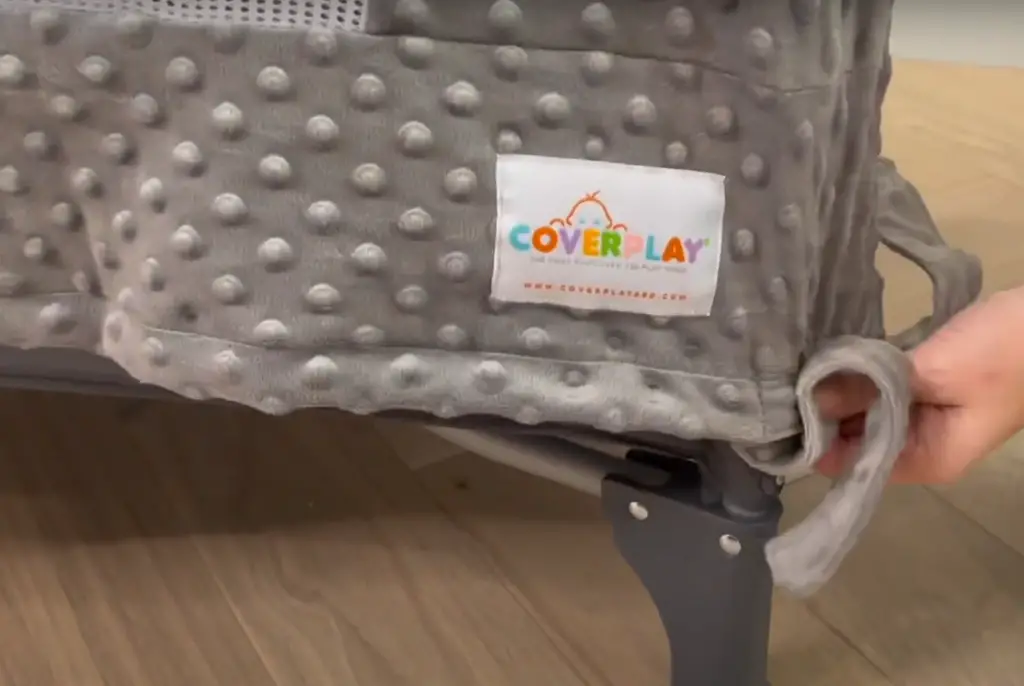 While CoverPlay protects the playpen and simplifies the cleaning process, it also safeguards your child from unhygienic conditions. Have you ever rented a play yard from a hotel or seen those provided at daycare centers? Just slip on your CoverPlay over the surface, and all your worries will disappear.
Offered in a variety of styles, the fabric is durable yet gentle to the touch of your little one. These exceptional covers are also designed with the well-being of mothers in mind. With a choice of 20 different patterns and colors, there is surely one that will perfectly complement your interior decor.
About Founders Of Coverplay
Amy Feldman recalls her fondness for placing her twins in their play yards, where they could unwind, play, and nap. However, she constantly faced the challenge of keeping the play yards clean, which fueled her determination to find a solution.
Meanwhile, Allison Costa, a former footwear designer and self-proclaimed Fashion Rebel, also had twin boys and encountered similar difficulties as Amy Feldman.
Being best friends, Allison Costa joined forces with Amy Feldman to embark on the journey of designing a product that would simplify the task of maintaining cleanliness and freshness in children's play yards. Together, they established a successful company and developed innovative products.
Now, in order to expand their reach and raise awareness about their offerings, Allison Costa and Amy Feldman are seeking investment from the Sharks. The investment would support their marketing efforts and help them introduce their products to a wider audience, ultimately establishing CoverPlay as a well-known brand in the industry.
The Pitch Of Coverplay At Shark Tank
Amy Feldman and Allison Costa stride confidently and position themselves before the Sharks.
Amy Feldman and Allison Costa initiate their presentation by introducing themselves to the Sharks, expressing their purpose of discussing Coverplay. They state that they are seeking a $ 350,000 investment in exchange for a 15% ownership stake in Coverplay [3].
Allison Costa proceeds with the presentation, showcasing the concept of a play yard to the Sharks and highlighting its ubiquity in homes, daycares, and even cruise ships. She acknowledges that play yards are often found in a repulsive state.
Amy Feldman pours out a jar of a substance resembling vomit into the play yard.
The Sharks appear taken aback by the unexpected turn of the presentation.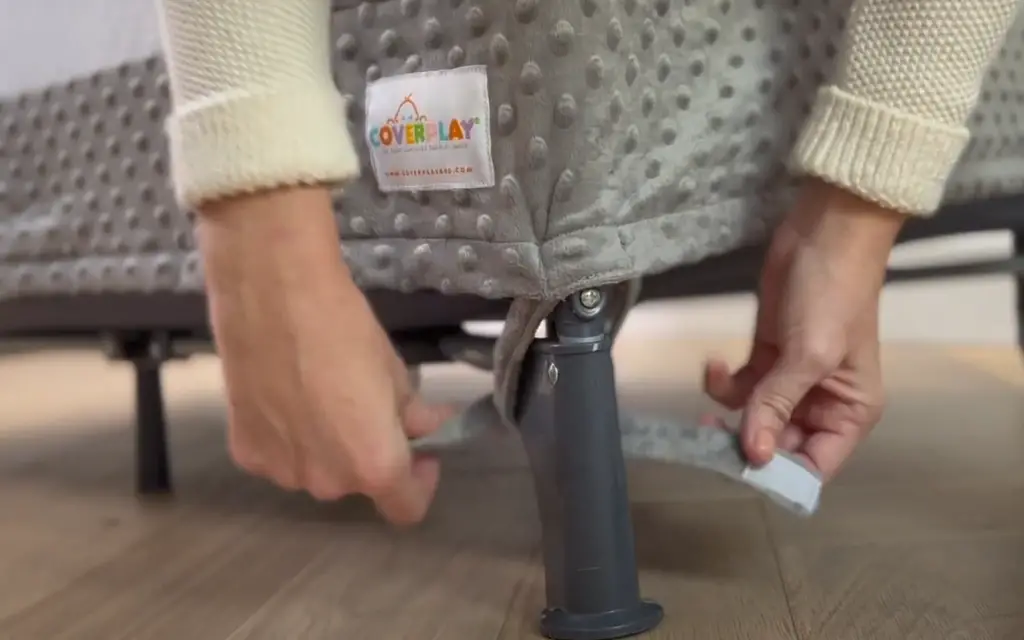 Allison Costa explains that young children frequently spill juice and food in their play yards and, at times, even have accidents. She emphasizes that this is especially common due to the age group of children using the play yards.
The "Sharks" display evident disgust at the vivid descriptions. Amy Feldman asserts that they have the ultimate solution to this revolting problem, which they call Coverplay. She emphasizes that Coverplay is the first and only slipcover designed specifically for play yards.
Kevin O'Leary inquires if the slipcover is meant to be carried along wherever one goes.
Allison Costa responds by suggesting that businesses could offer the slipcover to their clients. She provides the example of hotels providing slipcovers to their guests. Robert Herjavec asks Amy and Allison about the target customer.
Amy Feldman answers by explaining that Coverplay caters to multiple customer segments. On a retail level, it is designed for parents and grandparents looking after young children. She further mentions the potential for selling to the hospitality industry, allowing them to offer slipcovers to customers, clients, and guests.
Allison Costa suggests that businesses could also utilize Coverplay as a retail product, allowing guests to purchase the slipcovers. Amy Feldman adds that they recently launched Coverplay and already have it stocked at Target, one of the largest retailers in the United States.
Most of the Sharks express their admiration for Coverplay being available at Target. Kevin O'Leary states that he is impressed and inquires about their current sales figures.
Amy Feldman reveals that they have sold $ 200,000 worth of Coverplay slipcovers thus far. Allison Costa adds that they have also secured partnerships with major hotel chains such as Hilton, Wyndham, Royal Caribbean, and more.
Robert Herjavec asks about the revenue generated from selling Coverplay products to hotel chains. Allison Costa responds by stating that they have collectively sold $ 200,000 worth of Coverplay slipcovers.
Daymond John asks if the mentioned figure represents the opening order. Amy Feldman confirms and mentions that they receive frequent reorders, which is why they require an investment from the Sharks.
Kevin Harrington inquires about the patent status of Coverplay slipcovers. Allison Costa explains that they hold two patents for their product.
Daymond John points out that they already have distribution, sales, and patents, and questions why they need an investment from the Sharks.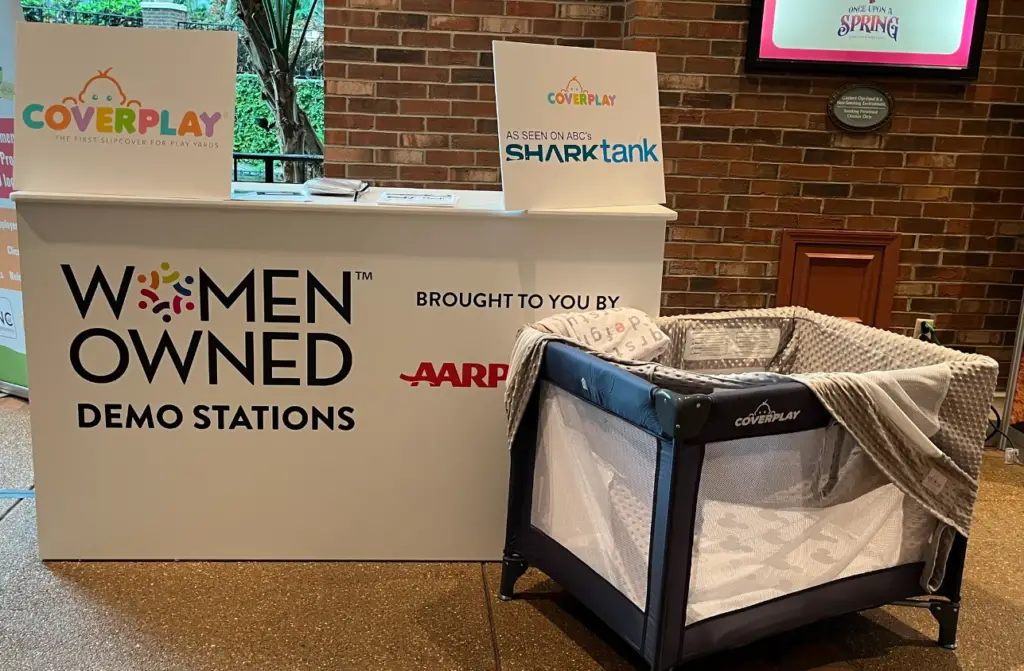 Allison Costa responds by emphasizing that Coverplay is a brand-new product that lacks widespread awareness. Amy Feldman states that they require additional funds for marketing to increase product visibility, as advised by their accounts.
Allison Costa adds that currently, people are not actively seeking out Coverplay slipcovers in stores.
Robert Herjavec insists on hearing a tangible reason beyond marketing for why Amy and Allison need $ 350,000.
Daymond John asks them to provide a quick breakdown of how they will allocate the investment. Amy Feldman mentions that the funds will be used for operational expenses, including employee salaries and warehouse rent.
Kevin Harrington inquires about the target age group for Coverplay slipcovers. Allison Costa specifies that the target age group ranges from newborns to two-year-olds.
Kevin Harrington expresses concern as his business revolves around television advertising, which he feels doesn't align well with marketing products solely for zero-to-two-year-olds. Consequently, he decides that Coverplay is too risky for him and opts out.
Robert Herjavec asks how much of their personal funds Amy and Allison have invested in the company.
Allison Costa discloses that each of them has invested around $ 50,000 in Coverplay.
Robert Herjavec asks when this investment took place. Allison Costa states that it was approximately a year ago.
Robert Herjavec highlights that a year ago, Coverplay had a valuation of $ 100,000 with no patents or sales. Now, they are offering a 15% stake in Coverplay for a $ 350,000 investment, valuing the company at $ 2.5 million.
Kevin O'Leary humorously comments that it involves a lot of "pipi and poopoo".
Barbara Corcoran expresses her belief that Coverplay is not worth what Amy and Allison are asking for. However, she recognizes their determination and sees potential in their abilities to drive the company forward. Barbara Corcoran presents an offer of $ 350,000 for a 40% stake in Coverplay.
Barbara Corcoran emphasizes that her offer is non-negotiable and that the investment will be allocated toward product production and development, not personal expenses or vacations.
Daymond John proposes an offer of $ 350,000, intending to utilize it for manufacturing Coverplay slipcovers. He assures them that he will cover all other costs to sustain the company. However, he requests a 65% stake in Coverplay [4].
Robert Herjavec acknowledges the two offers on the table. Barbara Corcoran's offer is for a 40% stake, but it comes with certain conditions on fund usage. Daymond John's offer is for a 65% stake, but it also includes strategic support such as warehousing, trucking, billing, and shipping. Robert Herjavec asks Amy and Allison to step out and discuss the offers.
Amy Feldman and Allison Costa exit to the hallway, deliberating whether to accept one of the offers.
The Sharks engage in a conversation about Coverplay slipcovers, recognizing the value of the patented product.
Amy Feldman and Allison Costa return to the Sharks and stand before them. Daymond John asks for their decision.
Amy Feldman states that they are unwilling to relinquish controlling interest in their company and seek a fairer offer.
Barbara Corcoran explains that she could have requested a 50% stake but chose 40% as a sign of respect for Amy and Allison's talent. Robert Herjavec raises his offer to $ 450,000 and proposes joining forces with Daymond John. Allison Costa expresses concern about the 65% stake.
Robert Herjavec further increased the offer to $ 500,000.
Kevin O'Leary advises Amy and Allison to accept the money, playfully referring to them as "crazy chickens". Allison Costa proposes to Barbara Corcoran that she lowered her stake to 30% in exchange for a percentage in the slipcover patent.
Barbara Corcoran appears puzzled, assuming the patent was already part of the deal. Amy Feldman clarifies that the patent is currently owned by Allison Costa, so it is not included in the proposed agreement.
Daymond John, Barbara Corcoran, and Robert Herjavec retract their offers. Kevin O'Leary asks who owns the patent for Coverplay slipcovers.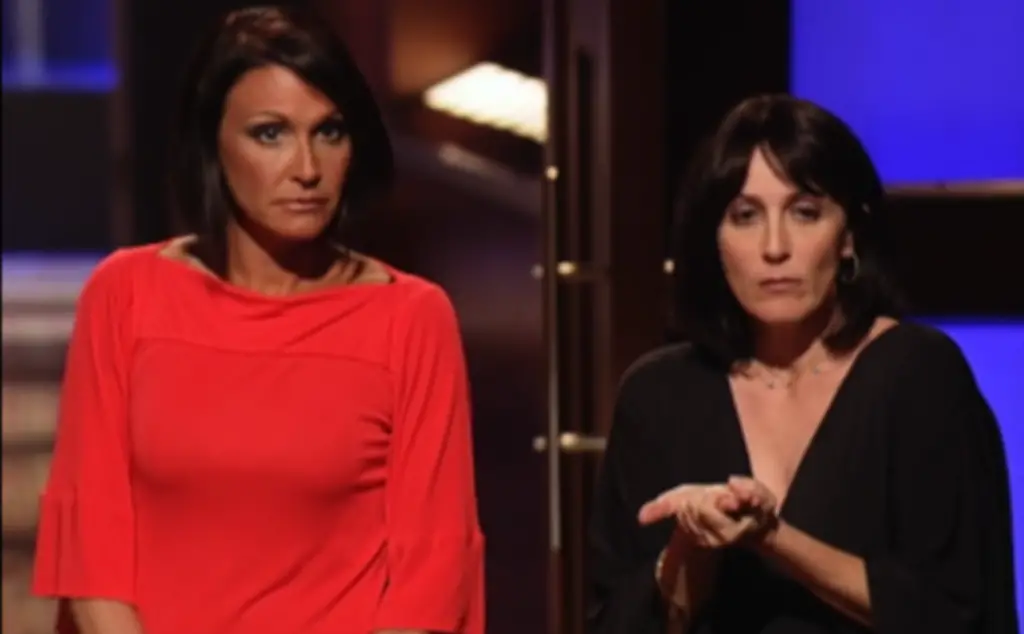 Allison Costa explains that she holds a 60% stake in the patent, with Amy Feldman owning a portion and her ex-husband owning the remainder. Barbara Corcoran bursts into laughter.
Kevin O'Leary inquires about Allison's relationship with her ex-husband and the possibility of integrating the patent into the company. Allison Costa assures him that her ex-husband is part of the agreement, and they can seamlessly integrate the patent into Coverplay.
Kevin O'Leary makes a final offer of $ 350,000 but requests to partner with Daymond John and Robert Herjavec, with a 51% stake in Coverplay.
Barbara Corcoran remarks that men always seek control in a company, but they can structure the deal in a way that makes sense, ultimately aiming for control.
Amy Feldman and Allison Costa accept Barbara Corcoran's offer of $ 350,000 for a 40% stake in Coverplay [5].
Coverplay After The Shark Tank
Costa and Feldman encountered a significant hurdle when they received a substantial order but lacked the capital to fulfill it.
They approached Shark Tank, a reality television program where entrepreneurs present their businesses to a panel of investors, seeking an investment to propel their company's growth.
They requested $ 350,000 in exchange for a 15% stake in their company, which was appraised at $ 2.3 million [6].
They possessed patents on their merchandise, a prosperous track record, and agreements with prominent retailers and hotels.
However, the investors put forth distinct offers, with some desiring a larger percentage of ownership in return for their investment.
After thoroughly weighing the alternatives, the founders ultimately embraced an offer from Barbara Corcoran for $ 350,000 in exchange for a 40% stake and the utilization of the funds for product advancement.
They also agreed to segregate the patent into a separate package. Exiting the show with a deal, they still retained majority control of the company.
Barbara effectively sealed the deal during her pitch, and the products are now accessible through numerous physical and online retailers, including Amazon.
The company primarily markets its items through a distributor that caters to wholesalers, who in turn resell to hotels and cruise lines.
The Net Worth Of Coverplay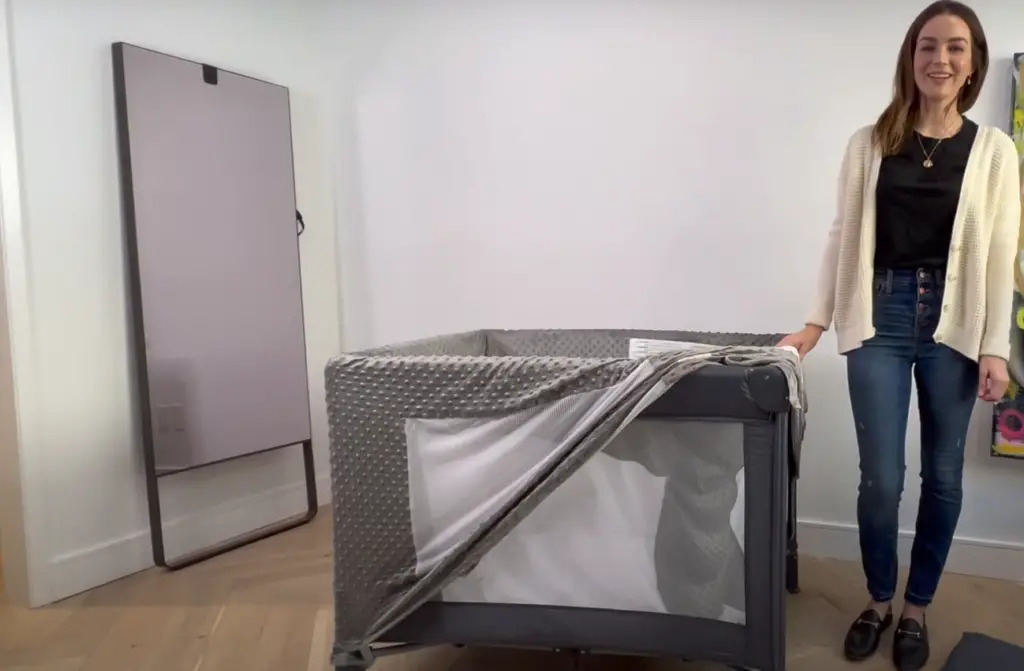 Alternatives To Coverplay:
Babycare Play Mat: Babycare offers a range of play mats that are designed to provide a comfortable and safe play area for children. These mats are made from non-toxic materials and are easy to clean, providing a hygienic surface for little ones to enjoy;
North States Superyard: The North States Superyard is a versatile playpen that offers a secure space for children to play. It is easy to set up and can be used both indoors and outdoors. With its sturdy construction, it provides a safe and enclosed area for children to explore;
Graco Pack 'n Play: Graco offers a line of Pack 'n Play playards that provide a convenient and portable solution for parents. These playards come with various features such as changing stations and bassinets, making them multipurpose and practical. They are also designed with easy-to-clean materials, ensuring a clean play area for your child;
Joovy Room2 Portable Playard: The Joovy Room2 is a spacious and durable playard that offers ample room for multiple children to play together. It features a sturdy frame and mesh sides, providing both security and visibility. The playard is easy to clean, ensuring a hygienic environment for your little ones;
Baby Delight Go with Me Eclipse Portable Playard: This portable playard by Baby Delight offers a lightweight and compact design, making it ideal for travel and on-the-go use. It comes with a removable sun canopy, providing shade and protection for outdoor play. The playard is easy to clean and provides a safe space for your child;
---
FAQ:
Who is the richest investor in Shark Tank?
The richest investor in Shark Tank is currently Mark Cuban. As a successful entrepreneur, investor, and owner of the Dallas Mavericks basketball team, Cuban has amassed significant wealth throughout his career. His shrewd business acumen and strategic investments on the show have contributed to his status as the wealthiest investor on Shark Tank.
What is the biggest deal in Shark Tank history?
The biggest deal in Shark Tank's history is the acquisition of the company "Ring" by Amazon. In season 5, Ring, a smart doorbell and home security company, secured a deal with Jamie Siminoff and received an investment of $ 700,000 for a 10% equity stake. Subsequently, Ring's valuation soared, and in 2018, Amazon acquired the company for over $ 1 billion, marking the most significant deal in Shark Tank's history.
Who is the CEO of Shark Tank?
Shark Tank is a television show, and it does not have a specific CEO. However, the show is executive-produced by Mark Burnett and Clay Newbill. They play crucial roles in overseeing the production and operations of the show, working closely with the network and the panel of investors.
Is Coverplay still in business?
As of June 2023, Coverplay is still in business. It's recommended to visit their official website or contact their customer support to obtain the most up-to-date information on their current business status.
Does it really work?
Coverplay slipcovers provide an extra barrier between the play yard and the child, similar to a sheet on a mattress. While they can offer protection and help maintain cleanliness, it's important to remember that proper cleaning and disinfection practices are crucial to effectively protect against germs and viruses. Coverplay slipcovers can be a useful accessory, but they should be complemented by regular cleaning and hygiene measures.
What are the key factors that affect the growth of Coverplay?
Several key factors can impact the growth of Coverplay. These may include market demand for their slipcovers, the effectiveness of their marketing and distribution strategies, the quality and design of their products, competition within the industry, customer satisfaction and reviews, pricing strategies, and the ability to adapt to changing consumer preferences and trends.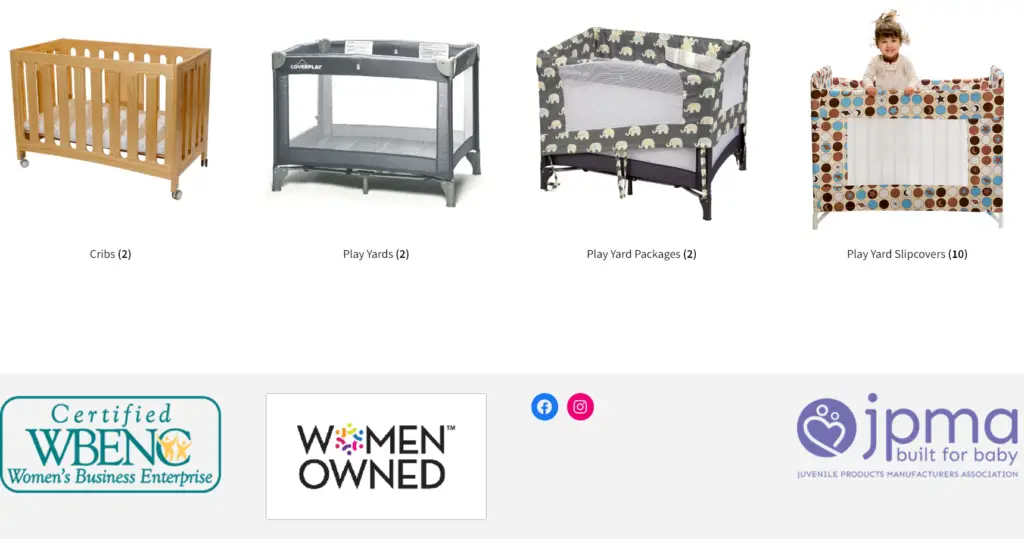 Is Coverplay self-sustaining?
The self-sustainability of Coverplay as a business can depend on various factors, including its revenue generation, cost management, profitability, and ability to reinvest in research and development, marketing, and expansion efforts. Without up-to-date financial information, it's challenging to determine the exact level of self-sustainability for Coverplay.
How do they protect from germs and viruses?
Coverplay slipcovers act as an additional barrier between the play yard and the child. While they can provide a layer of protection, it's important to note that proper cleaning and disinfection practices are essential to effectively protect against germs and viruses. Regularly cleaning the play yard, using appropriate disinfectants, and following hygiene guidelines can help maintain a clean and safe environment for children.
Why does it cost $ 49.99 and up?
The cost of Coverplay slipcovers is influenced by various factors. These include the amount of fabric used, the complexity of the design with over 40 pieces, manufacturing costs, overhead expenses, distribution expenses, and potential licensing or patent fees. Additionally, the price may also reflect the perceived value of the product and its uniqueness in the market.
What sizes do Coverplay's slipcovers come in?
Coverplay slipcovers are designed to fit most standard-size play yards. However, it's recommended to check their product descriptions or consult their website to verify the available sizes and compatibility with specific play yard models.
Where are Coverplay's slipcovers made?
Coverplay slipcovers are manufactured in China [9]. However, it's important to note that manufacturing locations can change over time. For the most accurate and up-to-date information, it is advisable to refer to their website or contact their customer support directly.
What items are in stock?
To find out which items are currently in stock, it's best to visit the official website of Coverplay or check their product section. There, you will likely find an updated inventory of the slipcovers and other products they offer.
What is their return policy?
Coverplay's return policy may vary, so it's recommended to refer to their official website or contact their customer support for the most accurate and up-to-date information. In general, they may offer a full refund if merchandise is returned in its original packaging within a specified timeframe, often around 14 days. Customers may need to contact Coverplay to obtain a Return Authorization (RA) number before initiating a return.
Can you use the Coverplayard covers with your play yard attachments?
No, Coverplayard covers or any Coverplay product is not intended for use with any play yard attachments. It's important to adhere to the manufacturer's guidelines and instructions regarding the use of play yard accessories to ensure safety and proper functionality.
Useful Video: We Are The Sharks Not You
---
References:
https://allsharktankproducts.com/shark-tank-products-kids/coverplay/
https://biznewske.com/coverplay-shark-tank-update/
https://gazettereview.com/2016/07/coverplay-shark-tank-update-now/
https://www.coverplayard.com/faqs/
https://trendnetworth.com/coverplay-net-worth/
https://www.jacobtyler.nyc/coverplay-shark-tank-entrepeneurs/
https://insidergrowth.com/coverplay-net-worth/
https://www.sharktankblog.com/business/coverplay
https://sharktanktales.com/coverplay-shark-tank-update/