In the thrilling world of startups and innovations, ABC's Shark Tank has been a launchpad for many. One such venture that caught the attention of many was WaiveCar, an ad-supported, all-electric car-sharing service that debuted in 2016.
This article delves into the journey of WaiveCar post its appearance on Shark Tank, exploring its growth, challenges, and the current state of affairs. From its unique business model offering free rides for up to two hours to its efforts towards environmental sustainability, we'll take a close look at how WaiveCar has navigated the competitive landscape of car-sharing services.
What Is WaiveCar?
The electric vehicles provided by WaiveCar sport attention-grabbing digital displays. These displays serve a dual purpose: they exhibit advertisements when the car is stationary and furnish users with navigation guidance when in operation.
Initially, users do not incur any charges during the initial hours of service; subsequently, a minor fee is applied. This model ensures a mutual benefit for users seeking affordable transportation and advertisers in search of a mobile platform to connect with their target demographics.
WaiveCar offers an array of supplementary features that render it enticing to city residents, all within its pioneering business framework. It employs electric cars, aligning with the prevailing trend of environmental consciousness and contributing to the reduction of carbon emissions. The service's convenience is truly remarkable.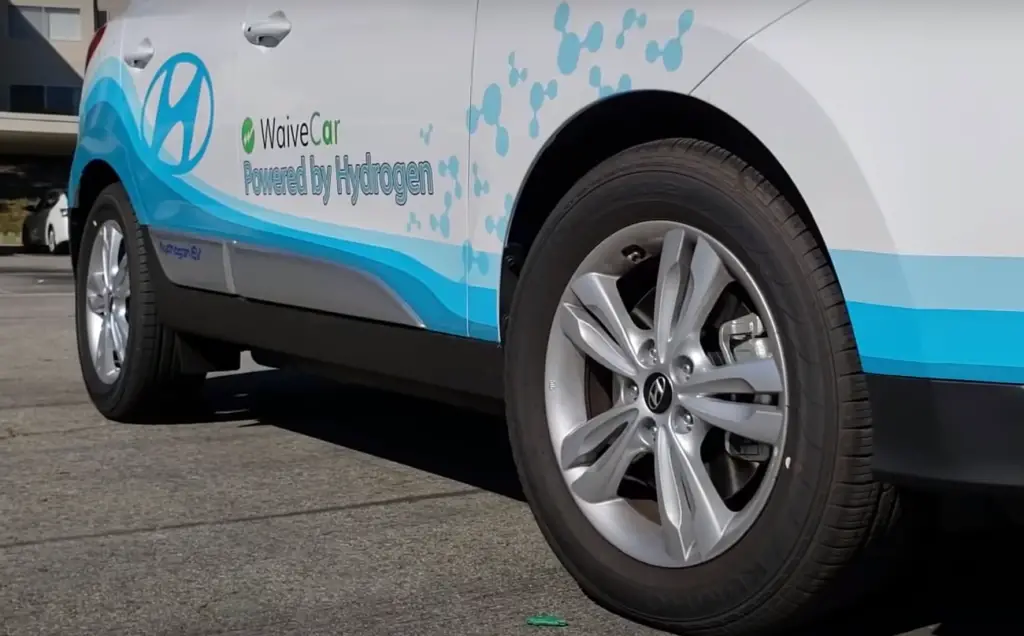 Through the company's mobile app, users can reserve a WaiveCar, collect it from specified locations, and return it anywhere within the service area, delivering a level of flexibility that is challenging to rival.
Furthermore, the simplicity of use and economical pricing establishes WaiveCar as a compelling choice for individuals who occasionally require vehicular transportation but wish to avoid the financial burdens and responsibilities associated with car ownership.
Tourists and business travelers can seamlessly employ it in the same manner as conventional car rentals, sans the associated inconveniences. Hence, WaiveCar emerges as a pragmatic, cost-efficient, and ecologically conscious transportation solution that harmonizes effortlessly with the demands of contemporary urban living.
Features
Additional insights into WaiveCar reveal a platform that leverages a fleet of electric vehicles, championing environmental responsibility and economic efficiency. This strategy resonates with the global shift towards sustainable transportation solutions.
The initial two hours of service are entirely complimentary, with subsequent hourly fees ensuring it remains an economical choice for short jaunts within the city.
Notably, these digital billboards are GPS-enabled, tailoring ads to the car's precise location. This precision enhances the effectiveness and value of these advertisements for the benefit of advertisers.
For user convenience, the WaiveCar mobile app streamlines the booking process, providing a seamless experience from start to finish.
WaiveCar, besides its advertising prowess, actively promotes electric vehicles, actively contributing to the noble cause of reducing carbon emissions.
In the realm of Shark Tank, WaiveCar has forged a distinctive business model that masterfully melds car-sharing, advertising, and sustainability, marking it as a trailblazer in the modern transportation landscape.
Pros:
Affordability. The most significant advantage of WaiveCar is its affordability. As the world's first free electric-car sharing service, it ensures cheap and accessible rides, with customers only having to pay after the first two hours. This feature makes it an attractive option for those looking for a cost-effective way to get around;
Environmental Footprint. Being an all-electric service, WaiveCar contributes to reducing carbon emissions, making it a great choice for environmentally conscious users. Users can contribute to saving the environment without incurring additional costs;
User-friendly. WaiveCar has received numerous positive reviews from actual users, with an average rating of 4.2 out of 5. These reviews highlight the ease of use and convenience offered by the service [3];
Cons:
Limited Availability. One of the significant drawbacks of WaiveCar is its limited availability. Currently based only in Santa Monica, California, it's not accessible to users outside this area;
Limited Free Usage. While the first two hours of usage are free, customers have to pay for any usage beyond this period. This could add up for users who need the car for more extended periods;
Ad-Supported. The cars are ad-supported, which means they carry advertising on their exteriors. While this is how the company offsets the cost of providing free rides, some users may not appreciate the overt advertising;
Who Should Use The Services of WaiveCar?
WaiveCar operates as a versatile car-sharing service accessible to anyone in the vicinity seeking cost-effective transportation options. The initial two hours of usage are provided free of charge, making it an attractive choice for individuals requiring economical means of commuting for work-related tasks or personal errands [4]. What sets WaiveCar apart is its ability to offer affordability without direct financial burdens for those embarking on longer journeys.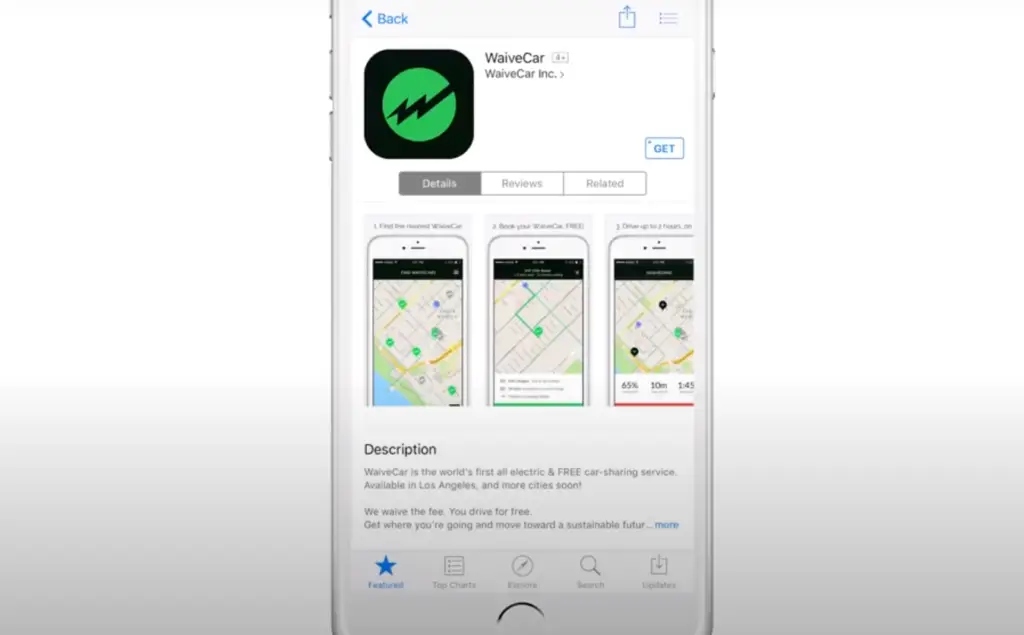 About the Founders of WaiveCar
Isaac Deutsch's previous career encompassed successful stints in real estate investment and mortgage brokerage, which granted him profound insights into the world of commerce.
Conversely, Zoli Honig, a tech enthusiast, had already co-founded and sold a tech startup, providing him with invaluable knowledge and passion for technological innovations. This background laid the perfect groundwork for the birth of WaiveCar.
The inception of WaiveCar sprouted when Deutsch and Honig discerned a unique niche within the burgeoning sharing economy. They astutely identified an opportunity to merge the growing trend of car-sharing with the burgeoning demand for novel advertising platforms.
Drawing upon Deutsch's business acumen and Honig's technological expertise, they devised a model for a car-sharing service that could defray costs through advertising revenue.
Before making their debut on Shark Tank, WaiveCar had already embarked on the path to establish itself in the car-sharing arena. In 2016, the company made its initial foray into the market, starting in Santa Monica, California, with a fleet of 20 vehicles available for complimentary two-hour rentals.
These vehicles boasted roof-mounted digital billboards that transformed them into mobile billboards when parked, heralding a fresh approach to advertising.
The company's innovative concept began to garner attention, and its triumphs in its initial market prompted ambitious expansion plans. This growth trajectory laid a robust foundation for its appearance on Shark Tank, elevating the company's profile and paving the way for further expansion and success.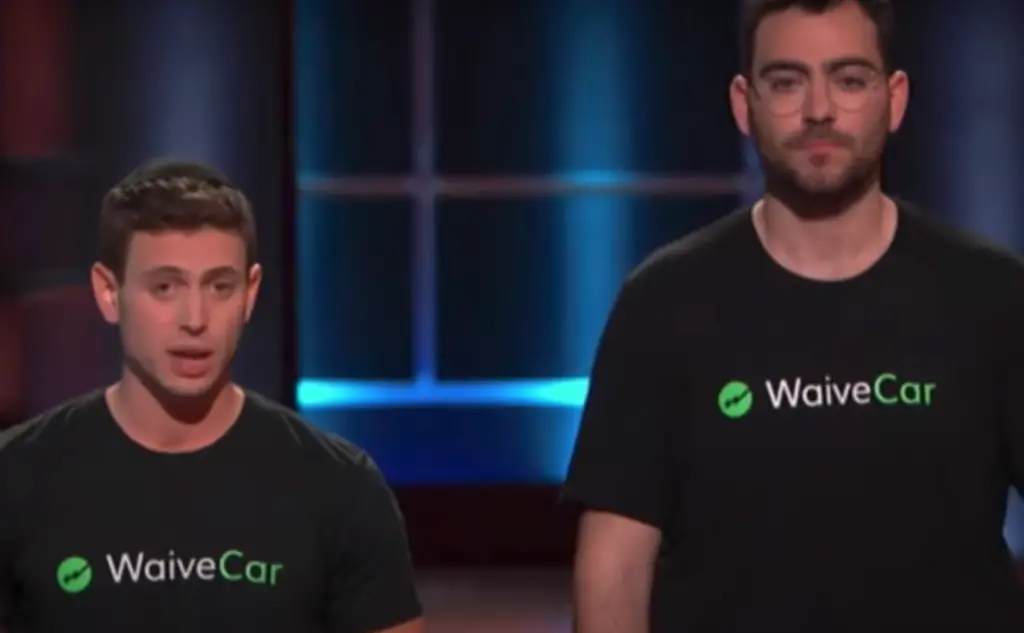 The Pitch Of WaiveCar At Shark Tank
Isaac and Zoli, the co-founders of WaiveCar, enter the Shark Tank with a confident pitch. They introduce themselves as the brains behind the world's first free car-sharing service and reveal their need for a $ 500,000 investment in exchange for a mere 2% equity stake in their company [5].
Isaac elucidates that WaiveCar grants users free access to their vehicles for up to two hours at a time, undoubtedly piquing the sharks' interest. Anticipating the inevitable question regarding their revenue model, Zoli explains that the primary income source is advertising. Companies pay WaiveCar to display ads on their vehicles, effectively monetizing the service.
Each car boasts a vinyl advertising wrap and a sophisticated dual-sided LCD screen capable of dynamic ad content display. Zoli emphasizes its ability to show ads based on various factors, including time and GPS location.
The duo then simplifies the user experience, describing how customers can easily reserve a vehicle through their app. They attribute their recent success to their five-month-old venture in Los Angeles, where they currently have 20 vehicles on the road. However, they reveal their challenge: the need for more cars to meet demand, prompting their desire for a strategic partnership with a shark for global expansion.
They conclude their pitch with their catchy tagline: "We wave the fees, you drive for free".
Lori, impressed by their rapid launch, acknowledges having seen WaiveCars in her area. The founders share that they are headquartered in Santa Monica and already have 20 vehicles in circulation. When questioned about fees after the initial two hours, Isaac explains that customers are billed $ 5.99 per hour.
Barbara inquires about vehicle return locations, to which Isaac responds that the cars can be parked at any public meter in Santa Monica for free, thanks to their electric nature. He further elaborates that users must complete a quick checklist on the app before each booking.
Mark delves into cost details, asking about break-even points. Zoli discloses that break-even costs are around $ 1,500, with each vehicle costing about $ 1,000 per month. Surprisingly, they haven't spent any money on marketing yet, but they have acquired 4,300 users.
Mark follows up by asking about their total funding, to which they reveal they've raised $ 1.3 million. Barbara inquires about profitability, and Zoli explains that it hinges on the number of cars they have. If all 20 cars are fully utilized, they could generate $ 1.2 million in revenue, translating to a $ 300,000 profit. More vehicles could increase these figures exponentially.
When asked what sets them apart, the founders emphasize the unique, custom-engineered LCD screen atop their cars, secured through an exclusive deal with the manufacturer.
Mark decides to bow out, citing concerns about oversaturation in the advertising industry. Lori soon follows suit, and a discussion ensues between the remaining sharks.
Robert asks about their advertiser count, and they reveal they have two due to their recent launch. This sparks a heated exchange with Chris, the guest shark, who eventually exits the deal.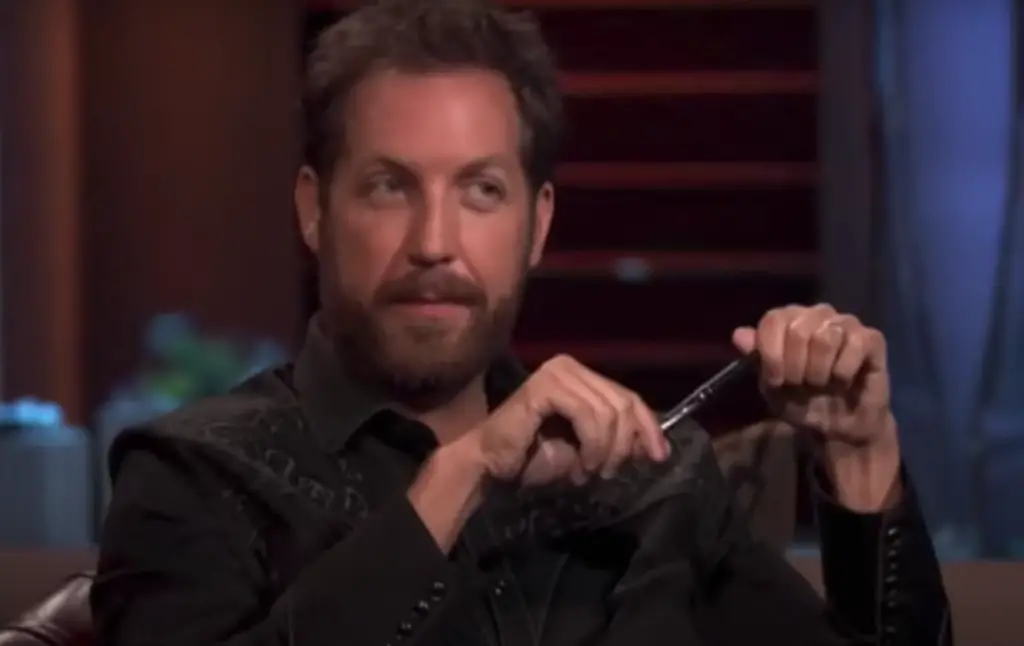 Kevin then delivers his verdict, echoing some of Chris's sentiments. He believes WaiveCar doesn't possess a unique selling proposition. Kevin offers a loan of $ 500,000 at 12% interest for 36 months and 4% equity, along with unsold digital advertising space.
Zoli queries the value of the unsold space, to which Kevin responds with "nothing." Lori encourages the founders to counteroffer, but before they can, Barbara presents her deal: $ 500,000 for 10% equity, with no interest or contingency.
While grateful for the offers, the founders decline Kevin's loan, and they find Barbara's 10% equity demand challenging. Unfortunately, Barbara doesn't budge on her equity requirement.
Faced with limited options, Isaac and Zoli counter Robert's offer: a $ 500,000 loan for 1% equity, plus an 80% discount on unused digital advertising. Robert deems the equity share too low and proposes a $ 500,000 loan for 2.25% equity, along with an 80% discount on unsold ad space [6]. The deal is struck, and the founders and Robert share a brief hug before heading backstage.
WaiveCar After The Shark Tank
Following Kevin's involvement with WaiveCar, the company experienced a surge in popularity. In a swift response to this newfound attention, they promptly deployed 19 vehicles to Cal State Los Angeles for use on campus and within the local community shortly after their appearance on the show.
Unfortunately, despite this initial success, the company faced challenges in maintaining its online presence and sustaining its programs. Their social media accounts remained stagnant since 2019, and insurance issues forced the cancellation of the WaiveCar program at Cal State Los Angeles in January 2020. The emergence of the COVID-19 pandemic further hindered their prospects, preventing them from gaining a stronger foothold in the industry.
Zoli Honig began working at REEF in March 2020, while Isaac Deutsch joined the same company in December of that year. Regrettably, there have been no updates on the WaiveCar website or any activity on their social media channels since June 2021. The company's website now appears blank.
While WaiveCar did not achieve the status of the next Uber or Lyft, it did manage to pivot and offer rideshare services in select cities, which is a noteworthy accomplishment for a company that was still in its infancy when it appeared on Shark Tank.
The Net Worth Of WaiveCar
However, the introduction of WaiveWork, offering rentals at a rate of $ 280 per day, had also proven to be profitable. Unfortunately, the onset of the COVID-19 outbreak abruptly halted their business operations, presenting a challenging obstacle that disrupted their progress and profitability.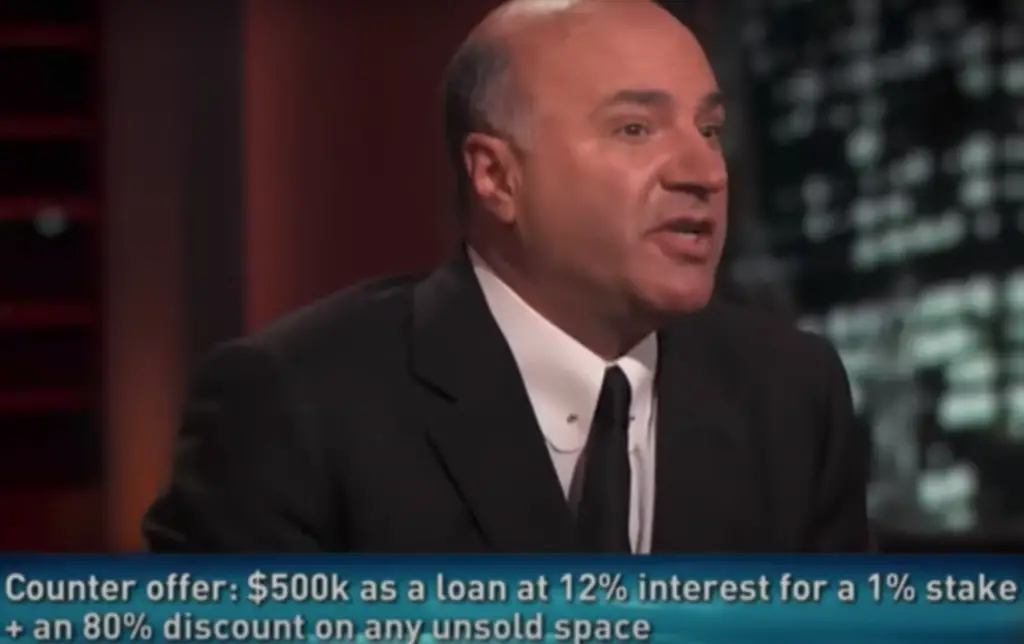 By the conclusion of the previous year, WaiveCar had accrued an impressive net worth exceeding $ 10.2 million [9]. In addition to this substantial valuation, they also generated an astonishing revenue of over $ 3.5 billion during the same period. Despite their relatively subdued presence on social media, it is clear that their business operations continued to thrive and expand without any signs of slowing down.
Alternatives To WaiveCar :
Zipcar: Zipcar is one of the most well-known car-sharing services, offering a wide range of vehicles for rent by the hour or day. Users can book cars through a mobile app or website and access them with a Zipcard;
Turo: Turo is a peer-to-peer car-sharing platform that allows individuals to rent their own cars to others. It offers a diverse selection of vehicles, from economy cars to luxury models;
Getaround: Getaround is another peer-to-peer car-sharing service that allows users to rent cars from local car owners. It provides a variety of vehicle options and operates in several cities;
Car2Go: Car2Go, now part of SHARE NOW, offers one-way car-sharing services with a fleet of compact vehicles. Users can pick up a car at one location and drop it off at another;
Lyft: Lyft is a popular ride-sharing service that allows users to request rides from drivers using the Lyft app. It operates in many cities and offers options like Lyft Line for shared rides;
Uber: Uber is one of the largest and most widely recognized ride-sharing services globally. Users can request rides using the Uber app, and it offers various ride options, including UberPool for shared rides;
Enterprise CarShare: Enterprise CarShare provides hourly and daily car rentals for members. They offer a range of vehicle types and have locations in various cities;
Lime: Lime offers electric scooters and bike-sharing services in addition to their car-sharing offerings. Users can rent electric vehicles for short trips within cities;
BlaBlaCar: BlaBlaCar is a long-distance carpooling platform that connects drivers traveling between cities with passengers heading in the same direction. It's a cost-effective way to share rides for longer journeys;
Carpooling Apps: There are various carpooling apps like Waze Carpool and Scoop that connect commuters who are traveling in the same direction to share rides and reduce commuting costs;
Local Car Rental Agencies: Many traditional car rental agencies, such as Hertz and Avis, offer hourly or daily rental options for local use [10];
---
FAQ:
How does WaiveCar work?
WaiveCar is a car-sharing platform that allows users to rent vehicles for free for a limited time, typically the first two hours.
Here's how it works:
Reservation: Users can download the WaiveCar mobile app and browse available vehicles in their area. They can select a car, check its availability, and reserve it for a specific time period;
Pickup: Once the reservation is confirmed, users can locate the designated pickup spot for the chosen vehicle. The app provides information on the car's location;
Unlocking: Users can unlock the car using the WaiveCar app. The app generates a code or provides instructions on how to access the vehicle;
Drive: Users can use the vehicle for the reserved duration, typically free for the first two hours. During the rental, the cars often feature digital billboards that display advertisements, which help offset the cost of the service;
Return: After using the car, users return it to a designated drop-off location within the service area. Electric vehicles may have the added convenience of being able to park at public meters for free in certain locations;
Payment: If users exceed the free time period, they are charged a nominal hourly fee. Payment is typically processed through the app;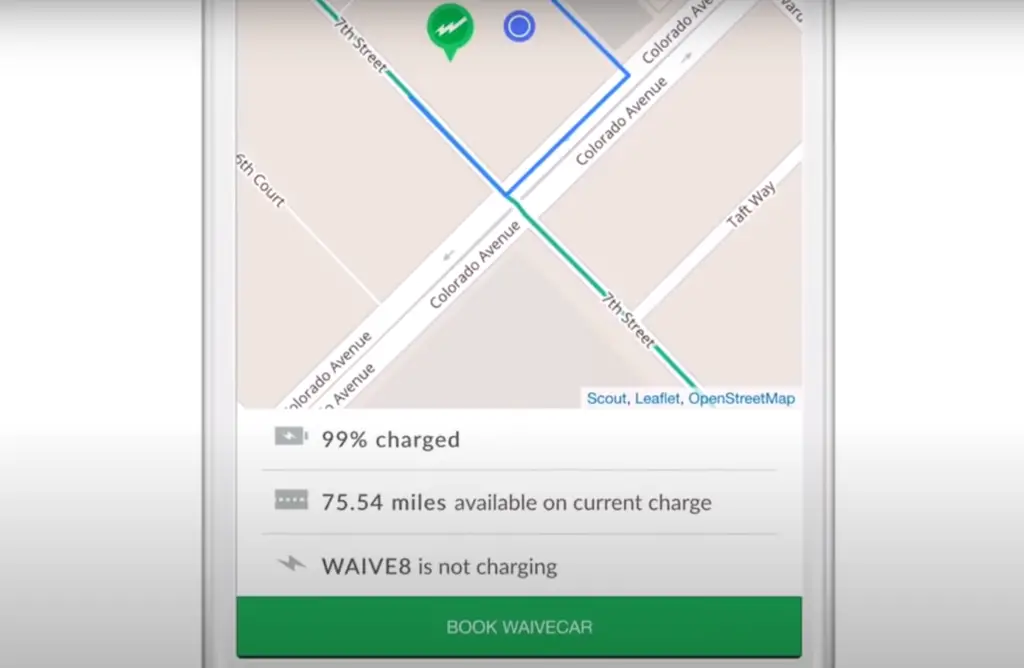 What is WaiveCar as seen on Shark Tank?
WaiveCar appeared on Season 9, Episode 6 of the television show "Shark Tank". During their pitch, the founders of WaiveCar, Isaac Deutsch and Zoli Honig, presented their innovative car-sharing platform that offers free car rentals with advertising support. They sought a $ 500,000 investment in exchange for a 2% equity stake in their company. The sharks discussed the business model and, eventually, Kevin O'Leary made a deal with them.
Who is the founder of WaiveCar?
WaiveCar was co-founded by Isaac Deutsch and Zoli Honig. Isaac Deutsch served as the company's CEO, leveraging his background in finance and real estate, while Zoli Honig, with experience in tech startups, took on the role of Chief Technology Officer.
Does Shark Tank really pay?
"Shark Tank" investors (the sharks) do not pay to appear on the show. In fact, they are often compensated for their time and expertise as investors. If a deal is made on the show, it involves the sharks offering to invest their own money into a business in exchange for equity. The negotiations and agreements made during the show are legally binding.
Have any Shark Tank deals failed?
Yes, many deals made on "Shark Tank" have failed after the show. The success of a business is not guaranteed, and factors such as market changes, competition, mismanagement, or other unforeseen challenges can lead to business failures. Some entrepreneurs have experienced tremendous success post-show, while others have struggled or even closed their businesses.
What is the most successful Shark Tank reject?
One of the most successful "Shark Tank" rejects is the company Ring, which offers smart doorbells and home security products. Although Ring did not secure a deal on the show, it went on to become a massive success and was acquired by Amazon for over $ 1 billion.
Which shark has made the most money from deals?
As of 2023, Kevin O'Leary (also known as Mr. Wonderful) was reported to have made the most money from "Shark Tank" deals. He has a diverse investment portfolio and has been involved in numerous successful businesses that have appeared on the show.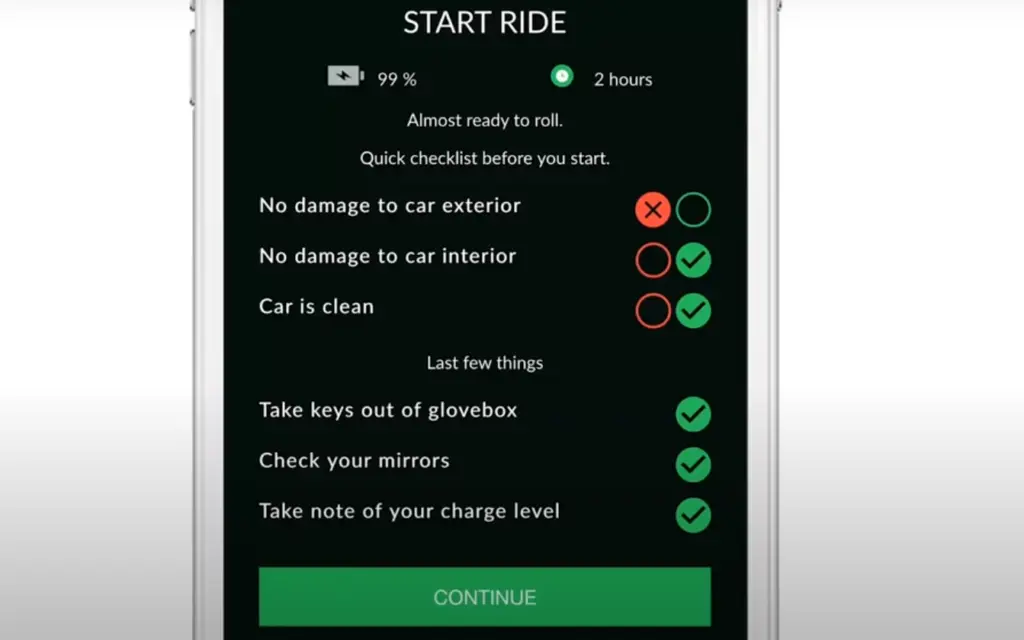 How many billionaires are on Shark Tank?
As of 2023, there were three billionaires among the sharks on "Shark Tank". These billionaires were Mark Cuban, Lori Greiner, and Robert Herjavec. However, the status of the sharks' net worth may change over time due to various investments and business ventures.
Is any part of Shark Tank scripted?
"Shark Tank" is a reality television show, and while it follows a structured format, the interactions between entrepreneurs and sharks are not scripted. The entrepreneurs pitch their businesses to the sharks, and the sharks make investment decisions based on their assessments of the businesses and negotiations. However, like many reality shows, there may be some elements of editing and storytelling to enhance the entertainment value of the program.
Useful Video: 2 Done – WaiveCar on Shark Tank
---
References:
https://www.sharktankblog.com/business/waivecar/
https://onlinebizbooster.net/what-happened-to-waivecar-after-shark-tank/
https://seoaves.com/waivecar-shark-tank-update/
https://bizzbucket.co/waive-car-shark-tank-update/?expand_article=1
https://insidergrowth.com/waivecar-net-worth/
https://marketrealist.com/p/waivecar-shark-tank-update/
https://gazettereview.com/waivecar-after-shark-tank-update/
https://www.sharktanksuccess.com/waivecar-shark-tank-review/
https://getjerry.com/electric-vehicles/what-is-waivecar#but-did-it-pay-off-for-waive-car
https://2paragraphs.com/2019/01/waivecar-what-happened-to-electric-car-sharing-co-after-shark-tank/