On the show Shark Tank, entrepreneurs have the opportunity to pitch their business ideas to a panel of potential investors, also known as "the sharks." If the sharks are interested in the product or service, they may invest in the company. Sometimes products and services that appear on Shark Tank are successful, and other times they are not. This article is about Toilet Timer, a product that was featured on Shark Tank and what happened to it after the show.
What is a Katamco Toilet Timer?
Not many people realize how much time they spend on the toilet. In fact, the average person spends about ninety days of their life on the toilet according to this study. That's a lot of time spent sitting on a porcelain throne. And what do we do with all that time? We procrastinate, of course!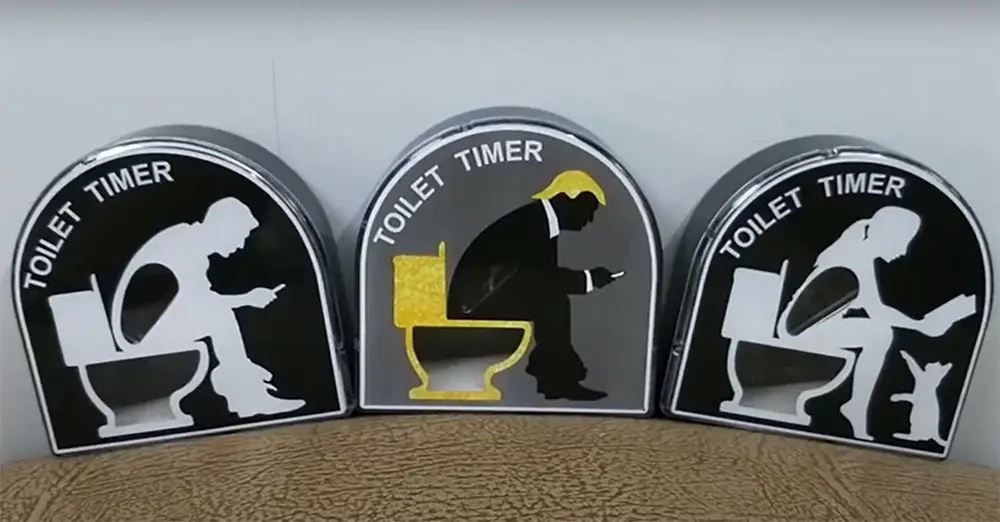 We scroll through our social media feeds, read articles (like this one), and generally just waste time because we can. It's not like we're going anywhere, right? Well, actually, there is somewhere we could be doing: being productive!
The Toilet Timer was created to help people make better use of their time on the toilet and make some adjustments to their lifestyles.
The Katamco Toilet Timer is a simple sand timer that works by being placed in the toilet bowl. The device is very simple to set up and use. You simply attach it to the outside of your toilet bowl using the suction cups provided. Once in place, you can set the timer for however long you need. The sand will start seeping to track time and the device will then emit an "poo-crastinator" sound alarm when the time is up, alerting you that it's time to get off the pot!
The toilet timer was then featured on the TV show Shark Tank in 2020. The episode aired on December 4th, 2020 and it received a lot of attention.
Sharks present were Mark Cuban, Daymond John, Kevin O'Leary, Lori Greiner and Barbara Corcoran. [1], [2]
History of the Founders
The toilet timer was invented by an aspiring couple, Katie and Adam Stephen. The idea for the toilet timer initially came to Adam one day when he was spending too much time on the toilet. His wife was baffled he took so long and asked him how exactly long it took. He couldn't find an answer, because he simply didn't know. It was then when I realized that he needed a way to track how long he was spending on the toilet so he could be more efficient with his time.
Being an inventor who has learned 3D printing a long time ago, he prototyped the very first toilet timer with the help of his friend Elliot Worth, and creating a single unit cost them only $3. Initially it took a lot of trial and error, but he eventually perfected the design. After using it for a while, he realized that other people might benefit from this invention as well. And so, he decided to start selling the toilet timer online.
This is where Katie comes in. She was Adam's girlfriend at the time and she helped him with the business side of things, as she was actually a Marketing Specialist. After doing some research, they found that there wasn't anything like their idea on the market. And thus, they made their final decision to push their own product to the market.
Together, they started Katamco LLC back in 2017 and began selling the toilet timer on their website and on Amazon.
Later on, they started a Kickstarter campaign to raise money for production costs, and it was successful. They raised over $20,000 and were able to start manufacturing more of their toilet timers.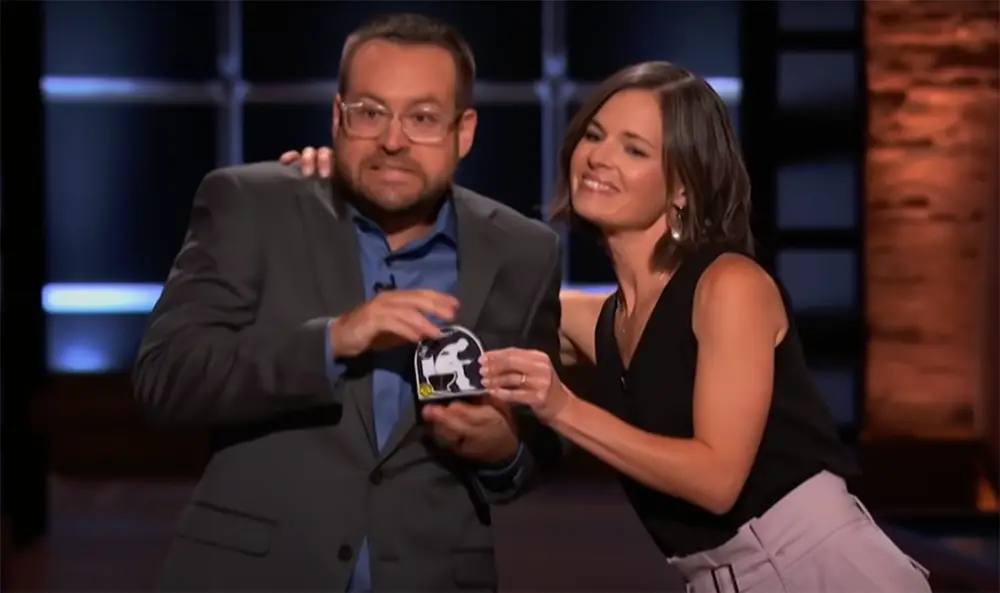 The toilet timer was actually quite successful before appearing on Shark Tank. They had made over $290,000 in sales in their first year and they were growing quickly. This is an impressive amount considering they didn't spend much on marketing. [2], [3], [4]
Why Did They Decide on Going to Shark Tank?
The founders of Toilet Timer decided to go on Shark Tank because they wanted to take their business to the next level. Yes, they had a successful Kickstarter campaign and were able to start manufacturing their product, but they felt like they needed more exposure. They thought that appearing on Shark Tank would help them get their product in front of a wider audience and attract more investors. And it was later found out that the couple seeks to expand their business to China and other parts of the world.
How Was The Shark Tank Pitch Of Katamco Toilet Timer?
The Katamco Toilet Timer Shark Tank pitch started off with Adam and Kate explaining what their product was and how it worked. They explained that the average person doesn't realize how much time they spend on the loo. They said that their product would help people save time by setting a timer for however long they needed to use the toilet. Adam and Kate called people who spend their sweet time on the toilet 'poo-crastinators' and said that their product was perfect for such people.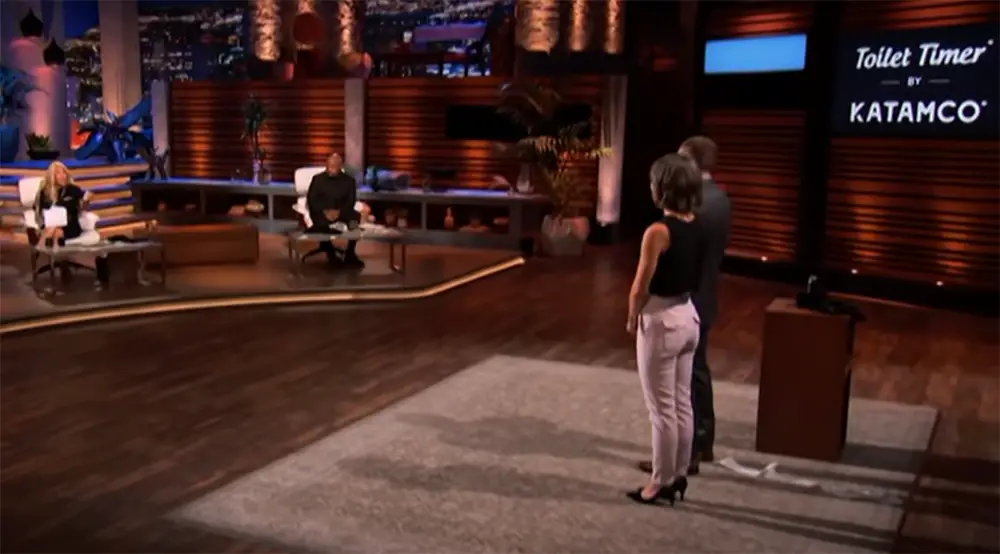 The Sharks were impressed with the product but their opinions on whether or not it has potential varied greatly. Some of the Sharks thought that the product was a great idea and had potential, while others thought it wouldn't amount to much.
Sharks were also not on board with the investment the couple was asking for. Adam and Kate were looking for a $200,000 investment in exchange for 10% equity in their company. Kevin O'Leary was the first to point out that the couple's demands were too high, so he backed out first.
Barbara called the idea gimmicky at best, and she was the second Shark to back out, followed by Lori.
The other Sharks were interested in the product and asked Adam and Kate how much they had made in sales. They pointed out how impressed they are about the couple taking a $30 capital and tracking a $300,000 of sales at the moment of filming. Daymond was particularly impressed with their sales numbers however he didn't resonate with the product and eventually backed out as well.
The only shark who was left was Mark. Previously he already invested into gag products and he saw the "joke gift" potential in this product as well. But Mark too didn't agree to the initial demands of the couple and told them they should be willing to give up more equity for the amount of money they were asking for.
In the end, Mark Cuban was the only Shark who decided to invest in Toilet Timer. He offered them the $200,000 they were asking for, but in exchange for 25% equity in their company. The couple thought about it for a minute and then accepted his offer. He always dreamed of adding something similar to a "Toilet Timer" to his portfolio. He also claimed that Toilet Timer will earn the couple from $1,000,00 to $3,000,000 in sales by the end of 2020. [2], [3], [4], [5]
How Shark Tank Spotlight Impacted the Katamco Toilet Timer?
In a week after their appearance Katamco sold more than 5000 units of their product.
There are four versions of the timer released, one is the regular one, second one has an image of a dad printed on it, as a reference to a joke made by Mark Cuban on the show about how the product could be used as a great Father's Day Gift. And he was right!
Katamco also has made a timer that is intended to be used for all-genders and even a design option that features Donald Trump sitting on the golden pot.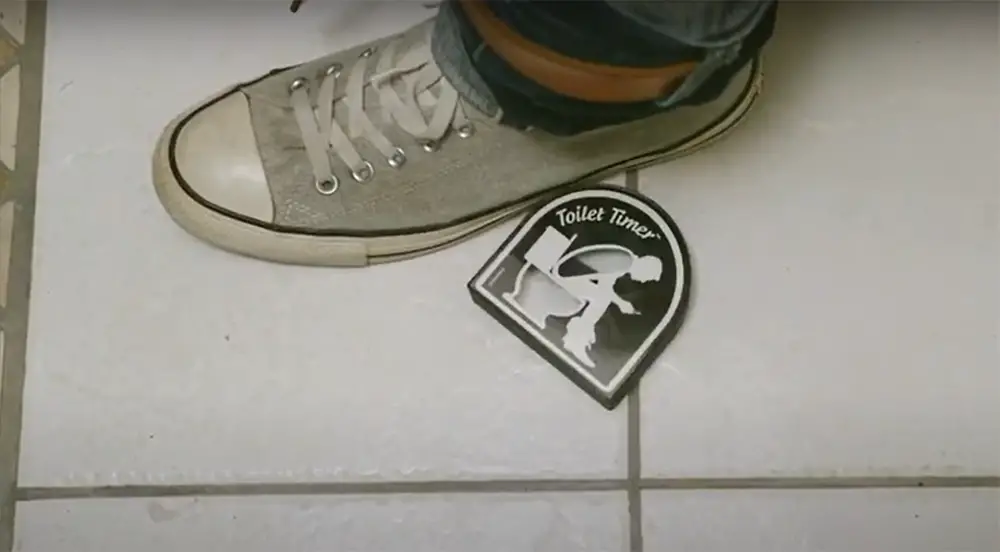 There is also a Father's Day holiday bundle which includes quite a lot of stuff. In addition to the timer, it comes with a book called "When Dad Goes Poo: Bathroom Book". The book is actually a collection of poetry about going to the toilet, written by Adam himself. Besides 3D printing, it turns out Adam also likes comedic writing!
The company also sells "Get off the Pot!" greeting cards. The intention of these cards is to help people gain awareness over the time they waste by "poo-crastinating" on a toilet.
Katamco also tried selling Female version of a timer, but it wasn't as successful. It seems like men suffer more from poocrastination issues!
Compared to the other products present on the show, it may seem clear that the toilet timer didn't make as big of an impact. This is likely because it's a more niche product and not something that everyone needs. But their business is still alive and going.
Social media presence for the company however stayed low even after the show. The company has a Facebook page with 21 million organic views but only with around 7,900 likes. Their Amazon page however is active and they gather thousands of mostly positive reviews, with an average of four stars.
And when it comes to the creators themselves, Adam actually has created plenty of other inventions besides Toilet Timer using 3D printing technique! [2], [3], [4], [5], [7], [8]
Where Can I Buy the Toilet Timer?
The toilet timer is available for purchase on the company website and on Amazon. The price for the regular version is $14.99 and the "When Dad Goes Poo" holiday bundle version is $34.99. You can also buy the gag book separately for $19.99 and the same goes for postcards.
Katamco offers shipping to many different countries around the world and they seem to be very dedicated when it comes to customer service as well. [5], [7], [8]
How Much is Katamco Net Worth?
Katamco was earning $290,000 a year before they appeared on the show. However, it is unclear how much money they have made since then, but it's obvious that the TV show helped them to boost their earnings.
Despite this Katamco net worth is estimated to be $650,000 in 2021. Which indicates the product is successful even a year after! [2], [3], [4], [5], [6]
Benefits of a Toilet Timer
Even though the idea started as a joke, there are actually some benefits to using a toilet timer.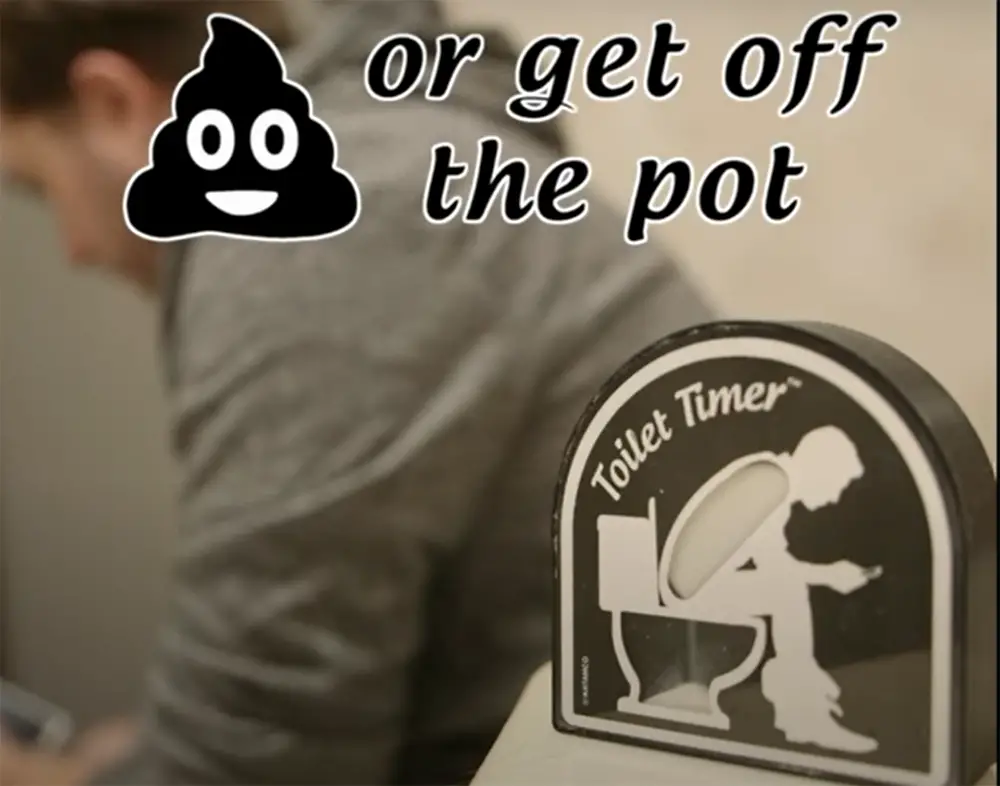 Main benefit of using a toilet timer is that it can help you stay on schedule. If you have a busy lifestyle, it can be easy to lose track of time and find yourself running late for appointments or commitments. By setting a timer for your bathroom breaks, you can ensure that you always have enough time to get where you need to go. And if multiple people live in your house, a toilet timer can help to prevent arguments over who used the bathroom last and how long they were in there.
There are also health advantages to it, if you try to force the poop out for too long, it puts you at risk of hemorrhoidal hemorrhage.
Many parents also find toilet timers to be helpful in potty training their children. By setting a timer for how long their child can stay in the bathroom, they can help them learn to use the restroom in a timely manner. This can be a valuable skill for kids to learn, especially as they get older and start going to school or participating in extracurricular activities.
Toilet timers can be extremely useful for both adults and children alike. If you are looking for a way to save water or stay on schedule, a toilet timer may be the perfect solution for you. With so many different benefits, it is no wonder that these devices have become so popular in recent years. [2], [3], [4], [5]
FAQ
What is the working principle of the Katamco Toilet Timer?
The Katamco toilet timer is a simple yet effective way to help track the time you spend in the toilet and reduce it accordingly. After all, we all know that time is precious!
The timer works by being placed on the toilet seat before you start your business. Set up the time you wish to spend in the toilet, and hit start. Once the time is up, an alarm will sound, letting you know it's time to leave!
The timer can be reset as many times as needed, well since it's a sant timer you just need to flip it over! Plus, it is small enough to take with you wherever you go.
Is Katamco Toilet Timer still in business?
Yes, Katamco is very much still in business! In fact, they've been doing quite well since appearing on Shark Tank.
According to their Amazon page, Katamco has sold dozens of thousands of units of their product and have been featured in major publications such as The Huffington Post, Forbes, and Entrepreneur. They've also included many additional merchandise into the timer box, and you can even buy holiday editions. Overall, it seems like things are going swimmingly for Katamco!
Who is the richest Shark Tank member?
As of 2022, Mark Cuban is the richest Shark Tank member, with an estimated net worth of $4 billion. This is followed by Barbara Corcoran, with an estimated net worth of $80 million.
Of course, being the richest doesn't mean that Mark Cuban is always serious. In fact, he has invested into many gag items on Shark Tank – like the time he invested in a company that made toilet timers.
Useful Video: Shark Tank US | Will This Toilet Timer Impress The Sharks?
Conclusion
All in all, it seems like appearing on Shark Tank was a great experience for the Toilet Timer company. They've seen significant increases in sales and exposure and have managed to maintain a strong social media presence. While they may not be one of the most successful products to come out of the show, they've certainly made a name for themselves. Mark Cuban's investment was certainly a boost, and it'll be interesting to see how they continue to grow in the coming years. Thanks for reading!
References:
https://tvovermind.com/whatever-happened-to-the-toilet-timer-from-shark-tank/
https://seoaves.com/what-happened-to-katamco-toilet-timer-after-shark-tank/
https://thecinemaholic.com/update-on-katamco-toilet-timer-from-shark-tank/
https://www.cnbc.com/2020/12/07/shark-tank-why-mark-cuban-invested-in-toilet-timer.html
https://bizzbucket.co/toilet-timer-shark-tank-update/
https://trendnetworth.com/toilet-timer-net-worth/
https://katamco.com/
https://www.amazon.com/Toilet-Timer-by-Katamco-Classic/dp/B07CT6DYFG