Since making its appearance on Shark Tank a few years ago, SPERGO has been the talk of the town! Many people have been curious to know what happened after the company made its debut on the popular show. In this blog post, we'll dive deep into the mystery and provide readers with a full guide on how exactly SPERGO fared after Shark Tank, plus useful tips from experts who got first-hand experience with the company. So stick around, and let's explore why SPERGO is making waves in the entrepreneurial sphere!
Story of SPERGO Creators
At the young age of just 12, Trey Brown had a vision for a brand that would inspire positivity and encourage his peers to pursue their dreams. With $ 178 that he received as a birthday gift, Trey purchased 16 t-shirts and took it upon himself to personally sell them. He didn't stop there. Instead, Trey reinvested all of the profits he made back into the business, producing more and more t-shirts. His hard work paid off, as by the time he turned 13, he had amassed an impressive $ 25,000. With this money, he expanded his product line to include a variety of clothing items, such as socks, t-shirts, sweatshirts, hoodies, sweatpants, and shorts.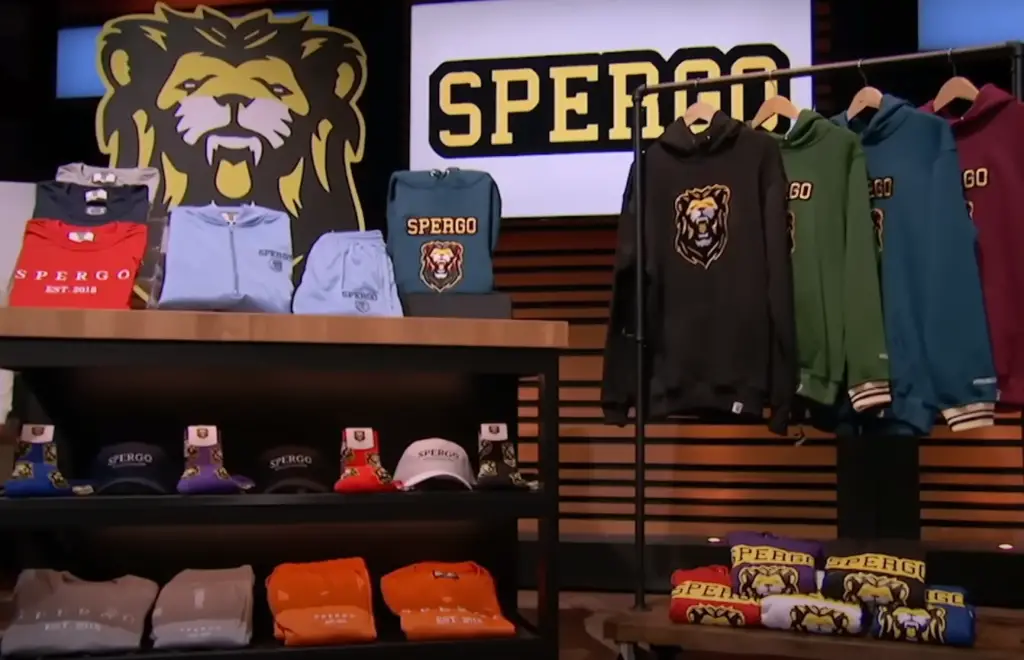 To capture the essence of his brand, Trey combined "Sports Heroes" and "Go," creating the name SPERGO Apparel. From selling 16 t-shirts, Trey has grown his brand into a mini-empire, with endorsements from celebrities and athletes alike. He has also been a participant in the Philadelphia 76ers Buy Black grant program, which supports black-owned businesses with marketing. Trey has even made it onto the famous Times Square electronic board, solidifying SPARGO's place in the public eye.
Projected to reach $ 2 million in sales in 2021 (compared to $ 825,000 in 2020), it is clear that Trey's hard work and dedication have paid off. He sells his products both through his website and his store in Philadelphia, which he was able to open thanks to a $ 25,000 grant he received from Sean "Diddy" Combs on the Ellen DeGeneres Show. Trey has plans to expand his brand even further, with two new stores set to open soon in Pentagon City, VA, and King of Prussia, PA.
Trey Brown's success with SPERGO Apparel has not gone unnoticed. In fact, he even won a $ 200,000 grant from the Philadelphia 76ers Buy Black grant program, which has provided him with a wealth of benefits. As a result of this grant, SPERGO Apparel has received free advertising during game broadcasts, as well as prominent signage in the Wells Fargo Center and digital ads that can be seen on the game floor. This exposure has been instrumental in helping Trey expand his brand and gain recognition for his hard work and achievements.
SPERGO Apparel offers a wide variety of high-quality clothing items, including socks, t-shirts, sweatshirts, hoodies, sweatpants, and shorts. With prices ranging from $ 12 to $ 95, Trey's products are affordable and accessible to a broad range of consumers. Despite his initial success, however, Trey recognizes that there is still plenty of room for growth and expansion.
Given the high quality and affordability of Trey's products, it's easy to see why they have become so popular among consumers. But Trey and his family wanted more exposure in order to share their story and grow the brand even further, so they decided to apply for an appearance on Shark Tank. Let's recap how it went for him. [1] [2]
SPERGO at Shark Tank Pitch
At Shark Tank, Trey and his mother opened with a charming rhyming intro before sharing the inspiring story of how Trey created the brand at just nine years old, and how he had a millionaire mindset since he was twelve years old. He explained that the brand was created to be a role model for kids and to show them that it's possible to achieve success without resorting to violence or drugs.
Trey also shared that he's proud to have been able to retire his mother and make her his first employee. His passion for the brand and his entrepreneurial spirit were apparent to the Sharks, who were all impressed by the quality of the products. In particular, Daymond John noted that the quality was exceptional.
When asked about the cost of producing the Leo Sweatsuit, Sherrel revealed that it costs $ 21.50 to make, and it's sold for $ 170. Trey mentioned that he would go out every Saturday to sell the products until he ran out, highlighting his dedication to the brand.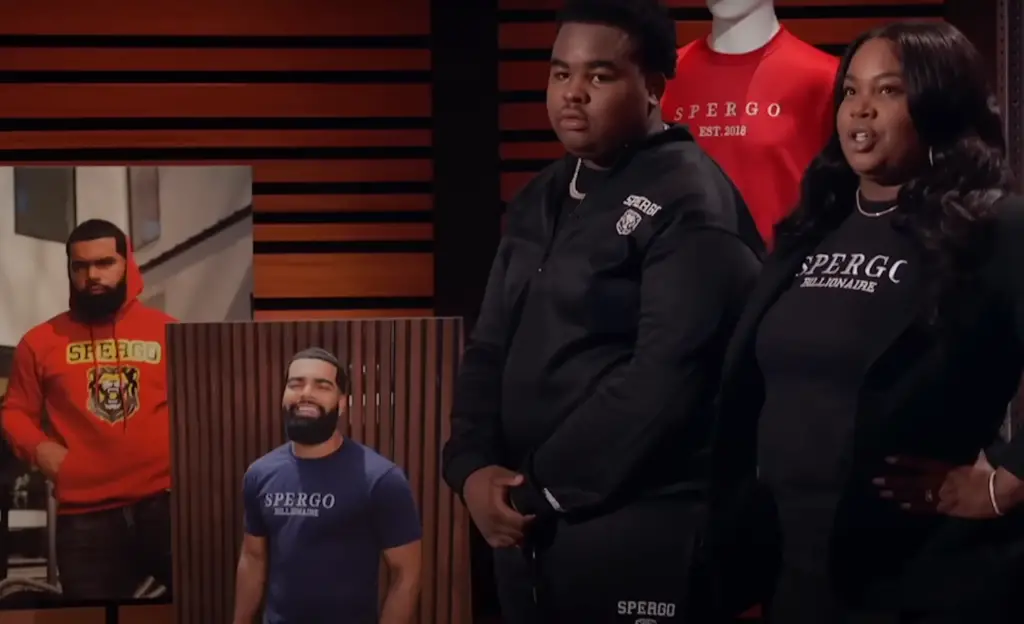 The brand has gained a significant following on social media, with Trey's personal Instagram page boasting 89,000 followers and the company page having 71,000 followers. The company has three stores, where they make 70% of their sales, and the rest are sold through various pop-up shops and online.
Sherrel recounted the story of how Trey connected with P Diddy, which is a remarkable accomplishment for any entrepreneur. Sherrel explained that while Trey was selling his products at a barbershop, a man was so impressed with him that he gave him P.Diddy's phone number. A year later, Trey was awarded a $ 25,000 grant from P Diddy, which was a significant boost to the company's growth.
The impressive sales figures for 2021 are a reflection of the company's success, with projected sales of $ 2.2 million. After paying themselves, they expect to make a profit of $ 313,000. However, they are aware that to continue growing, they need to invest in hiring designers and professional digital marketers. This is why they are seeking investment from the Sharks.
During the pitch, Lori expressed that she may not be the best partner for them and bowed out of the deal. Kevin, who admired Trey's story, was impressed by the quality of the product, but he was not interested in investing in the clothing industry, so he also declined to invest. Robert was skeptical about the company's high reliance on retail sales, which accounted for 70% of their sales, so he also decided to pass on the deal.
Mark, however, was intrigued by Trey's story and offered $ 300,000 for a 25% stake in the company. Although he doesn't usually invest in clothing companies, he is willing to invest in young superstars with an entrepreneurial spirit. Daymond declined to join the deal but later changed his mind and matched Mark's offer. Trey then countered with a lower percentage, offering 20%, and Daymond accepted the offer. The episode ended on a high note, with all parties happily hugging it out and closing the deal. [2]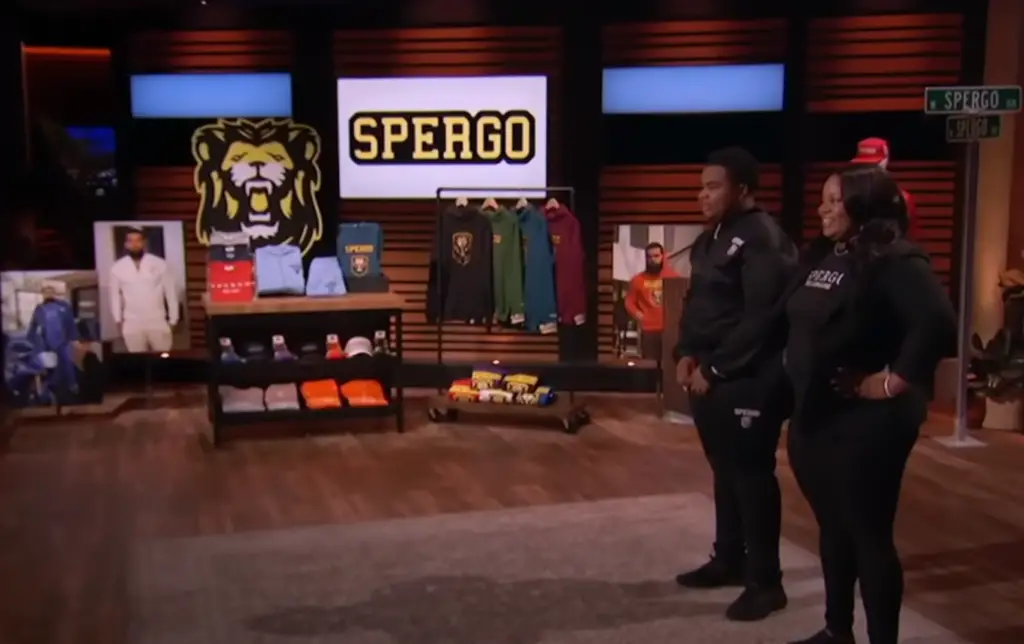 SPERGO After the Show
As we can see from the company's sales figures, SPERGO has been steadily growing since its appearance on Shark Tank. The brand now sells its products through three stores and various pop-ups, as well as online. An appearance on Live TV had obviously boosted the brand's popularity, and a P.Diddy's grant took it to the next level.
This is something called a Shark Tank "effect", which could also be described as a period of heightened interest in the business resulting from the exposure on the show. But was this buff long-lasting? After all, not all deals made on the show translate into long-term success.
Luckily, this time it was different. After appearing on Shark Tank, the deal between Trey Brown and Daymond John closed successfully, and Daymond took to Twitter to express his pride in partnering with Trey. Daymond highlighted Trey's inspiring journey, from selling shirts at local barbershops to becoming the founder of a multi-million-dollar company. Daymond's tweet served as a testament to Trey's drive and vision to succeed.
In the five days following the Shark Tank episode, SPERGO experienced a significant boost in online sales, processing over 1,000 orders. This was a sharp increase compared to a typical week, where they would typically receive 40-60 online orders. By November 2021, SPERGO had opened a third brick-and-mortar store in the Pentagon City Mall in Arlington, VA, highlighting its rapid growth and expansion.
Trey's entrepreneurial spirit and creative vision continued to drive the success of SPERGO. He hinted at the possibility of creating a sneaker line, which would be an exciting addition to their already popular clothing line.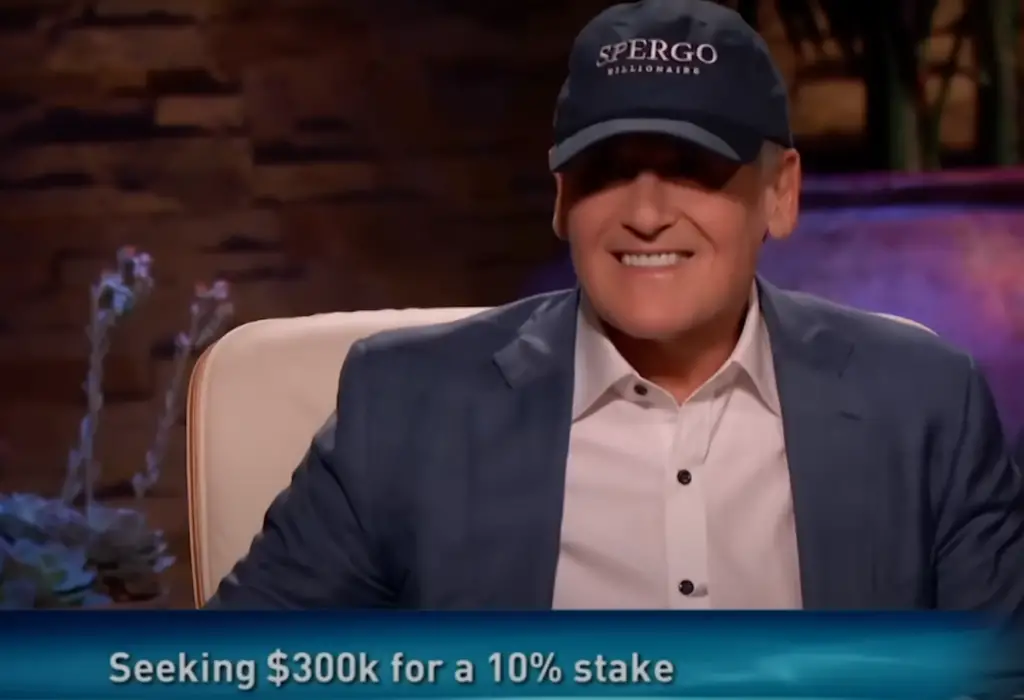 As of February 2023, SPERGO continued to thrive, with sales figures for 2022 reaching $ 3 million. Trey's story serves as an inspiration to aspiring entrepreneurs, demonstrating the power of perseverance and hard work.
SPERGO's social media presence however is quite low. Their Instagram page has been deleted and their Facebook has around 5.9k followers, which is far below what many companies of similar size have achieved. They need to invest in digital marketing in order to reach a wider audience and continue their growth.
Still, the company's Facebook page is highly engaging, featuring regular posts showcasing their latest products, behind-the-scenes glimpses into the brand's operations, and updates on new store openings and events.
It's incredibly inspiring to see how far Trey Brown has come with SPERGO. What started out as a small business selling t-shirts at barbershops is now a multi-million dollar business with dozens of products, three stores, and international distributorships. From the Shark Tank pitch to their current success – this story has been nothing short of incredible!  We can't wait to see what's next for SPERGO! [2] [3]
SPERGO Net Worth
Estimating the net worth of SPERGO is a difficult task because certain financial information about the company remains undisclosed. However, we can make an educated guess based on their sales figures and other available information.
With such a steady growth rate in sales figures and no sign of slowing down, we can expect that SPERGO's net worth will continue to increase over time. Moreover, the brand's success story shows that it is possible for any aspiring entrepreneur out there to achieve their dreams if they stay focused on their goals. [4]
---
FAQ
1. What is the most wasted rejected deal at Shark Tank?
There have been many rejected deals on Shark Tank over the years, and it's difficult to say which one was the "most wasted" as it ultimately depends on one's perspective and the potential success of the product or service. However, one deal that has gained attention for its perceived missed opportunity is the rejection of the company Ring, which was seeking a $ 700,000 investment for 10% equity in 2013.
Ring is a smart doorbell company that allows homeowners to monitor their front door from their smartphone or other device, providing a video feed and two-way audio communication. The company has since become wildly successful, with Amazon acquiring it for over $ 1 billion in 2018.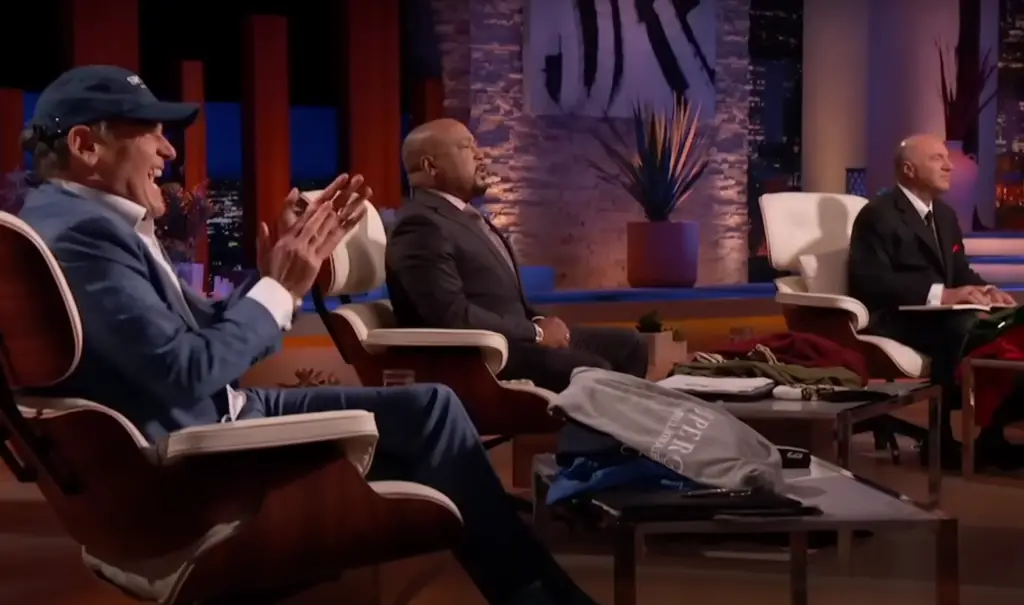 At the time of its appearance on Shark Tank, the Ring founder, Jamie Siminoff, pitched the product under the name "DoorBot" and failed to secure a deal with any of the Sharks. Some have criticized the Sharks for failing to see the potential of the product and missing out on a major investment opportunity. However, it's worth noting that investment decisions are complex and multifaceted, and there may have been valid reasons for the Sharks' rejection of the deal.
2. How much is SPERGO worth after Shark Tank?
Trey Brown is the founder and CEO of SPERGO. He started the company in 2018 at the age of 13, with the goal of creating a brand that could inspire young people to pursue their dreams and achieve success. Brown has been the driving force behind SPERGO's growth and success, and he continues to be a highly visible figure in the brand's marketing and social media efforts.
3. How much is SPERGO worth?
As of May 2023, SPERGO's net worth has not been publicly disclosed. However, the brand has experienced significant growth since its founding in 2018, with reported sales of $ 2.5 million in 2021 and $ 3 million in 2022. The company has also expanded its operations, opening three brick-and-mortar stores in the Washington D.C. area.
4. Who is the billionaire CEO of SPERGO?
After appearing on Shark Tank and securing a deal with Daymond John, SPERGO's valuation has not been publicly disclosed. However, the company has experienced significant growth in the years since its appearance on the show, with reported sales of $ 2.5 million in 2021 and $ 3 million in 2022. The brand has also expanded its operations, opening three brick-and-mortar stores in the Washington D.C. area.
5. Is SPERGO a luxury brand?
SPERGO is not typically considered a luxury brand, although its clothing and accessories are priced higher than some other similar products in the market. The brand is known for its high-quality, stylish streetwear and athleisure clothing, often featuring bold graphics and designs. While the brand may not be as high-end as some luxury fashion labels, it does cater to a fashion-conscious audience and is often associated with urban fashion and streetwear trends.
Useful Video: Shark Tank US | 15-Year-Old SPERGO Entrepreneur Negotiates A Deal
Conclusion
Trey Brown and his mother, Janice Brown, were able to find success with SPERGO after their appearance on Shark Tank. With their investment from Daymond John, SPERGO has continued to grow and expand its operations, now with three brick-and-mortar stores in the Washington D.C. area. The brand also continues to experience steady growth in sales figures, estimated at around $ 3 million for the year 2023. We are excited to see what other successes await this inspiring young entrepreneur and his team!
The Browns' commitment to providing quality products at an affordable price has kept them in business, even with the ever-changing fashion industry. SPERGO has adapted to modern trends while still holding true to its original mission of making sure everyone can express themselves and be a trendsetter. Their continued success is a testament to their resilience and commitment to excellence.
We hope this article provided you with a better understanding of what happened after Shark Tank with SPERGO. In conclusion, Trey Brown and his mother, Janice Brown have been able to find success with SPERGO after their appearance on Shark Tank. With the help of Daymond John's investment, SPERGO has grown into a successful brand with three brick-and-mortar stores and estimated sales of $ 3 million for the year 2023. We are excited to see what other successes await them! Thanks for reading!
---
References:
https://www.sharktankblog.com/spergo-apparel-lifestyle-streetwear/
https://www.sharktankblog.com/business/spergo/
https://spergo.com/
https://marketrealist.com/net-worth/spergo-clothing-net-worth/