In case you missed it, Proven Skincare was a contestant on Shark Tank in early 2018. The company secured a deal with one of the sharks and has been on an amazing journey since then. This article will give you the inside scoop on what happened to Proven Skincare after Shark Tank. We'll answer some common questions, provide useful tips, and tell you how you can follow their success!
Story of Proven Skincare Creators
In today's world, Artificial Intelligence (AI) is being used in an ever-increasing number of areas. For example, AI has been incorporated into many medical and healthcare procedures, financial engineering strategies, customer service chatbots and virtual assistants, marketing analytics platforms, agricultural robotics, and logistics management systems.
Using AI-based technology, Proven Skincare has been able to provide personalized skincare solutions that are tailored to the needs of each customer. Furthermore, they have also achieved cost savings by reducing their reliance on manual labor and increasing the efficiency of their operations.
When they started Proven Skincare, Ming Zhao and Amy Yuan had a distinct vision in mind: to provide customers with skincare solutions customized to meet their individual needs. It's not easy to accomplish such an ambitious undertaking without access to a large database – but that hasn't stopped these inspiring entrepreneurs from achieving it!
Yuan had a degree in computational physics and this helped her to develop a worldwide database called The Skin Genome Project. Proven Skincare leverages over nine million data points to evaluate skin type, products, testimonials, skincare ingredients, and scientific journal articles. By utilizing this extensive collection of information they are able to create personalized skincare formulations for their customers.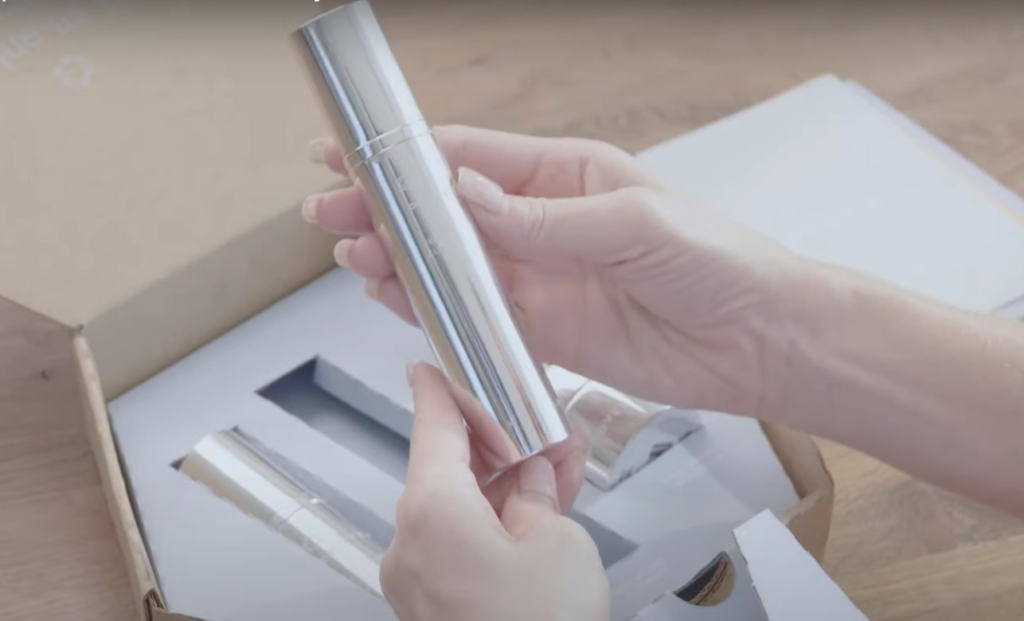 Before you get your own special formula, you will need to pass a 47-question quiz. This will help the company to learn about your lifestyle and skincare needs. You can also upload three pictures of yourself so that Proven Skincare's artificial intelligence engine can scan your face and suggest which products are best for you based on your skin type.
Yuan had chronic dermatitis and this is what motivated her to start Proven Skincare with Zhao. Yuan wanted to find a way to help other people with similar skin problems, so she decided that AI technology would be the best solution.
Proven Skincare has revolutionized the $ 140 billion-dollar global skincare industry by providing custom products and eliminating any guesswork. It is the first company to offer such an individualized, data-driven solution that caters directly to its customers' needs.
However the women wanted to get wider recognition, and a shark would also help them evaluate business decisions. So they decided to apply for Shark Tank and went to pitch their creation. [1] [2]
Proven Skincare at Shark Tank Pitch
Ming is asking for an investment of $ 500,000 in exchange for 5% ownership in the company. She begins her presentation by illustrating the meticulous process of creating each one-of-a-kind skincare product, offering a personalized version to all the Sharks. As of 2019, the company had already achieved its goal of generating $ 65,000 in monthly sales. She hoped they would be able to reach $ 3 million in annual earnings from now on. To further capitalize on their success, they licensed their technology to a baby skincare company for an astounding $ 3.5 million!
Ming proudly shared her success in Facebook advertising, revealing that she had spent a total of $ 90,000 over the past two months to generate an impressive revenue of $ 110,000. This wasn't good luck and Kevin decided to go out because the market is that competitive. And so think the other sharks.
Therefore, the women leave the tank without a deal. However, as we all know not getting a deal doesn't mean it is all lost. [2]
Proven Shark Tank Update
Despite not getting a deal, her appearance on Live TV drastically increased sales. Through their hard work, they achieved something remarkable—a whopping $ 3 million in sales by the end of 2019. The success kept rolling into 2020 with April's figures surpassing those from the previous month by 60%! As more people become aware of their brand and its offerings, they have been able to reduce advertising costs even further.
In March of 2021, the company was chosen to be featured in a new series on Entrepreneur.com called Going Public which showcases companies' inspiring journeys of raising capital. Rather than Sharks, mentors who offer guidance to entrepreneurs take their place. Unlike the original premise of investing by the Sharks, viewers will now have a chance to invest in companies showcased on the show!
They also made an appearance in different outlets, increasing the company's exposure and reach even more.
Taking things to the next level, the company enabled members of the public to invest directly from their website in 2022. By July of 2022, lifetime revenue for this enterprise had skyrocketed above $ 37 million!
All in all, Proven Skincare has come a long way from its appearance on Shark Tank and continues to grow in success each day! Their products help individuals find the perfect skincare solution for their own specific needs and want – something that sets them apart from any other brand on the market today. Thanks to Ming's and Amy's entrepreneurial spirit and unyielding determination, Proven Skincare has obtained a place in the skincare industry.
So if you're looking for personalized skincare, look no further—Proven Skincare offers the best solution around! [2] [3] [4] [5]
Proven Skincare Net Worth
Ming and Amy continue to ensure success by staying up-to-date on market trends and offering customers the best possible experience. They have achieved an impressive customer base that continues to grow every day due in part to their amazing products and savvy marketing strategies focused on social media.
Still, we believe that at this point the net worth of the company is around $ 20 million, with room for even more growth. Thanks to their hard work and dedication to their customers, Proven Skincare is definitely here to stay! With the help of passionate individuals like Ming and Amy, this innovative skincare brand will continue to stand out from the crowd. [6]
---
FAQ
How much is a Proven company worth?
The exact worth of Proven Skincare is difficult to determine as the company's financials are not made public. However, following its appearance on Shark Tank and a subsequent funding round led by Mark Cuban, it was estimated that Proven had raised approximately a lot in venture capital investment. This would put the company's worth at around $ 20 million.
What happened to Proven after Shark Tank?
After appearing on Shark Tank in 2019, Proven Skincare saw a significant surge in its customer base. The founders, Ming Zhao and Amy Yuan have failed to get sharks on board but despite that, their sales have skyrocketed since the show. They started selling their products on Amazon and then opened a website for online orders which has helped them to reach out to more customers in different parts of the US.
Proven Care utilizes AI-powered algorithms to provide personalized skincare routines for its customers. The founders have also released several new products such as face oils, serums, and body creams that are tailored specifically to the customer's skin type.
Who owns Proven skincare?
Ming Zhao and Amy Yuan, co-founders of Proven Skincare, remain the sole owners of the company after the Shark Tank episode aired. After their appearance on the show, they secured a bunch of investments, even though they didn't receive one from the sharks.
As of 2023, the annual sales of the company are more than $ 37 million, which is a 3500% increase from the numbers before their appearance on Shark Tank.
How much is Proven Skincare stock?
Proven Skincare does not currently have any publicly traded stock. After appearing on Shark Tank, the company was acquired by Unilever for an undisclosed sum in 2019. While the exact figure is unknown, estimates suggest that Proven Skincare sold for approximately $ 50 million.
Unilever has since developed and launched a new skincare line based on the Proven Skincare technology, called "ProActiv+". The product line, which consists of both over-the-counter and prescription formulation treatments, is available in stores across the United States.
Useful Video: PROVEN founders explain the Skin Genome Project
Conclusion
Ming Zhao and Amy Yuan's appearance on Shark Tank's Kickstarter a journey of success — one that saw them achieve their dreams in spite of not getting an investment from the Sharks. Through creative marketing tactics and outstanding customer service, they have built Proven Skincare into a successful business with annual revenue of over $ 37 million. With customers consistently raving about their products, it is clear that this company is here to stay!
Their innovation of AI-powered skincare has earned them numerous awards and recognitions. They have also garnered significant attention from the press, making it clear that they are a business worth watching.
Their story serves as an inspiration to anyone looking to build something of their own. With hard work, dedication, and innovative thinking, anything is possible — even without the help of Sharks!
Ming and Amy's success with Proven Skincare proves that with enough determination and passion, you can reach your dreams — no matter how daunting they might seem. So if you're looking for some motivation to take on your own entrepreneurial journey, look no further than Ming Zhao and Amy Yuan's inspiring story. The sky is truly the limit when it comes to
If you are seeking personalized skin care advice or products that actually work, then be sure to check out Proven Skincare. Thanks for reading our Epic Guide of What Happened After Shark Tank Proven Skincare. We hope that you learned something new and were inspired to take on your own entrepreneurial journey!
Thanks for reading!
---
References:
https://www.sharktankblog.com/proven-skincare-custom-formulas/
https://www.sharktankblog.com/business/proven/
https://www.provenskincare.com/
https://www.instagram.com/provenskincare/
https://www.facebook.com/provenskincare
https://www.forbes.com/sites/davidprosser/2022/03/23/how-proven-skincare-brought-science-to-the-art-of-beauty/?sh=1e2f31f96bb1