In the wake of its electrifying debut on the hit television series Shark Tank, Holiball underwent a transformative journey, marked by unprecedented growth and a soaring trajectory in the world of holiday decorations. This article delves into the captivating narrative of what unfolded after the show's dramatic spotlight, tracing the evolution of this inflatable ornament sensation.
From securing strategic investments to navigating the challenges of inventory management, Holiball's post-Shark Tank journey is a testament to the resilience and innovation of its founders, Amberly, Kristy, and Jennifer.
Join us as we unveil the inspiring story of how Holiball continued to shine and redefine the landscape of festive decor.
What Is Holiball?
The company was established in 2019 with a mission to create "Texas-sized" Christmas ornaments, offering a unique product designed for both indoor and outdoor use.
Known as HOLIBELL, this inflatable, de-inflatable, and reusable product is designed to be easily inflated using any standard household electric air pump. Once fully inflated, the Holiball can be effortlessly hung at the top using a hanger plug.
What sets HOLIBELL apart is its exceptional durability, UV resistance, and expert craftsmanship, making it capable of withstanding harsh weather conditions.
With the Holiball First Flow Inflator, you can have your HOLIBELL fully inflated in just 30 seconds, ensuring a hassle-free holiday decorating experience.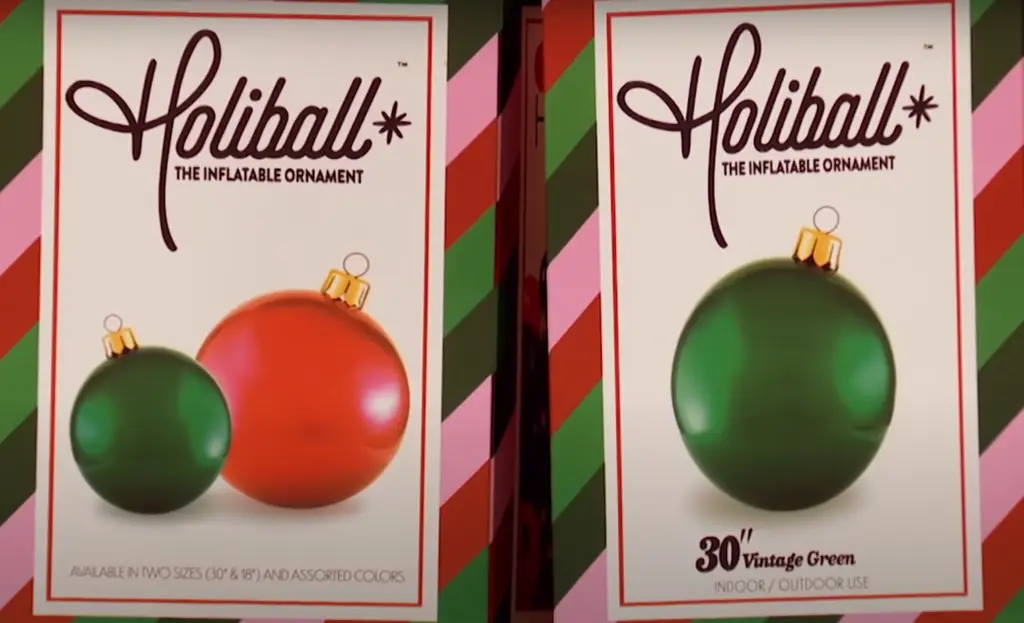 How To Use Holiball Products?
Holiball operates on a straightforward yet ingenious principle, offering an inflatable ornament that serves as a versatile decoration suitable for both indoor and outdoor settings. This product is available in various sizes, with options including 18″ and 30″ in diameter.
Among their offerings, the Holiball Collegiate Collection boasts a larger 30″ diameter size, while the Holibell measures 12″ in diameter and sports an ornament-style pattern [2]. The Holibell, being smaller than the Holiball, offers a unique aesthetic touch.
What sets the Holiball apart is its construction from a specially engineered material, designed to withstand outdoor conditions and featuring an all-weather rating. This material renders the Holiball inflatable, de-inflatable, reusable, and conveniently easy to store.
Moreover, it is designed to inflate in less than 30 seconds, and the flexible hose enhances maneuverability.
The Holiball's appeal is further enriched by its availability in an array of vibrant colors, including options like red, silver, green, gold, blue, and many more [3]. This variety allows for customization to align with various occasions, whether it's a holiday, birthday celebration, or party theme.
The Holiball stands as a remarkable piece of Christmas decor, conceived by a trio of enterprising women who happen to be cousins. Its appearance on Shark Tank catapulted it to popularity, making it a sought-after decoration item that adds festive charm to any setting.
Pros of Holiball:
Unique and Eye-catching Design
The Holiball is, simply put, larger than life. With its oversized design, it's sure to grab attention and become a talking point among friends and neighbors. As a piece of decor, it adds a significant impact wherever it's placed, whether indoors or outdoors.
Durability and Weather Resistance
Despite being inflatable, the Holiball is made from thick material designed to withstand harsh weather conditions. It has been tested and proven to hold up against high winds, storms, and snow, making it perfect for outdoor use during the holiday season. The Holiball is also UV-resistant and can withstand temperatures ranging from -20 degrees to 140 degrees Fahrenheit, according to Houstonia Magazine [4].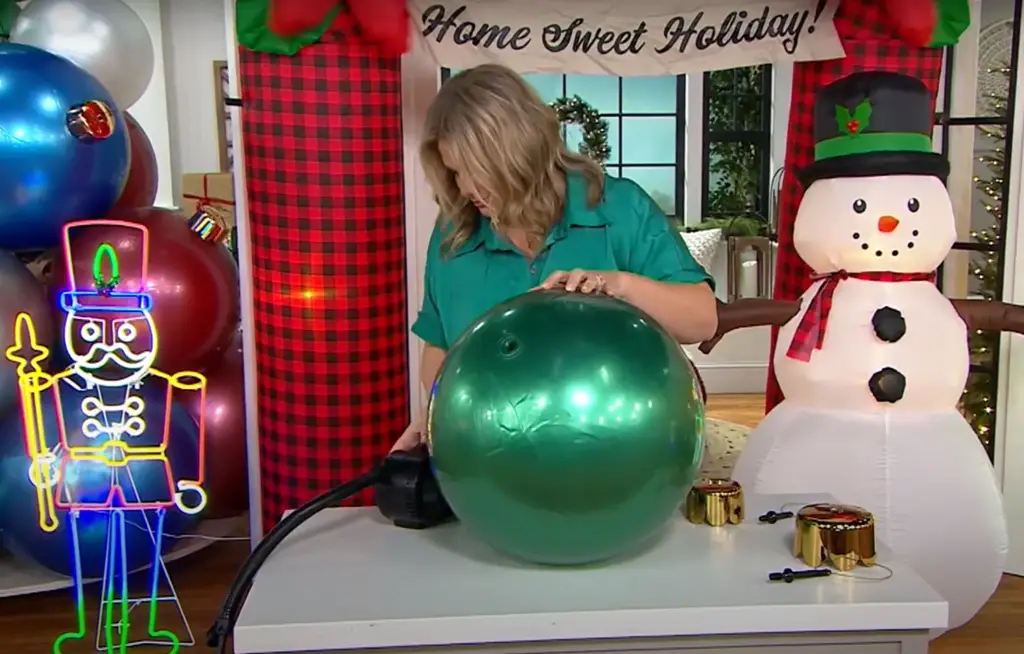 Reusability
Unlike traditional ornaments that may break or wear out over time, the Holiball is reusable. This makes it a cost-effective choice in the long run, as it can be deflated and stored away once the holiday season is over and then reinflated for use year after year.
Profitable Business Model
From a business perspective, Holiball has a nice profit margin of $ 30 – $ 50 and solid sales [5]. It managed to attract the interest of four different sharks on the show, which speaks volumes about its potential profitability and success in the market.
Cons of Holiball:
Higher Initial Cost
While the Holiball is reusable and can potentially save money in the long run, its initial cost is higher than that of traditional holiday ornaments. This could potentially deter some customers who are looking for more budget-friendly options.
Size Can Be a Hindrance
While its large size is part of what makes the Holiball unique, it can also be a hindrance. Not everyone has the space to accommodate such a large ornament, particularly those living in apartments or smaller homes.
Inflation and Deflation Process
The process of inflating and deflating the Holiball could be seen as inconvenient by some users. While the company provides everything necessary for inflation, it's still an extra step compared to traditional ornaments that are ready to hang right out of the box.
Who Should Use Holiball?
Holiball is a versatile product that can be used by a wide range of individuals and for various occasions.
Here are some potential users:
Homeowners with Large Outdoor Spaces: Due to its large size, Holiball is an excellent choice for homeowners who have ample outdoor space and want to make a significant visual impact with their holiday decorations. The product's durability and weather resistance make it well-suited for outdoor use;
Businesses and Commercial Spaces: Businesses looking to attract attention and spread holiday cheer could greatly benefit from using Holiball. Its eye-catching size and design can help draw in customers and create a festive atmosphere;
Event Planners: Holiball may be a valuable addition to the toolkits of event planners. It can serve as a unique decor piece for holiday-themed events or parties, creating a visually striking focal point;
Individuals Seeking Unique Decor: For those who enjoy standing out and expressing their personality through their decor, Holiball offers a unique alternative to traditional ornaments;
Environmentally Conscious Consumers: As a reusable product, Holiball could appeal to consumers who are conscious about reducing waste and seeking sustainable options for holiday decorating [6];
Despite its versatility, Holiball may be less suitable for individuals with limited space, such as apartment dwellers, due to its large size. Additionally, those looking for more budget-friendly decor options might find the initial cost of Holiball to be a deterrent.
About the Founders Of Holiball
Jennifer, on the other hand, boasts a wealth of business experience. She embarked on her career as an intern architect at MetroNational, a real estate firm, and steadily climbed the ranks to become the Director of Interiors. Eventually, she transitioned into ownership with DC American.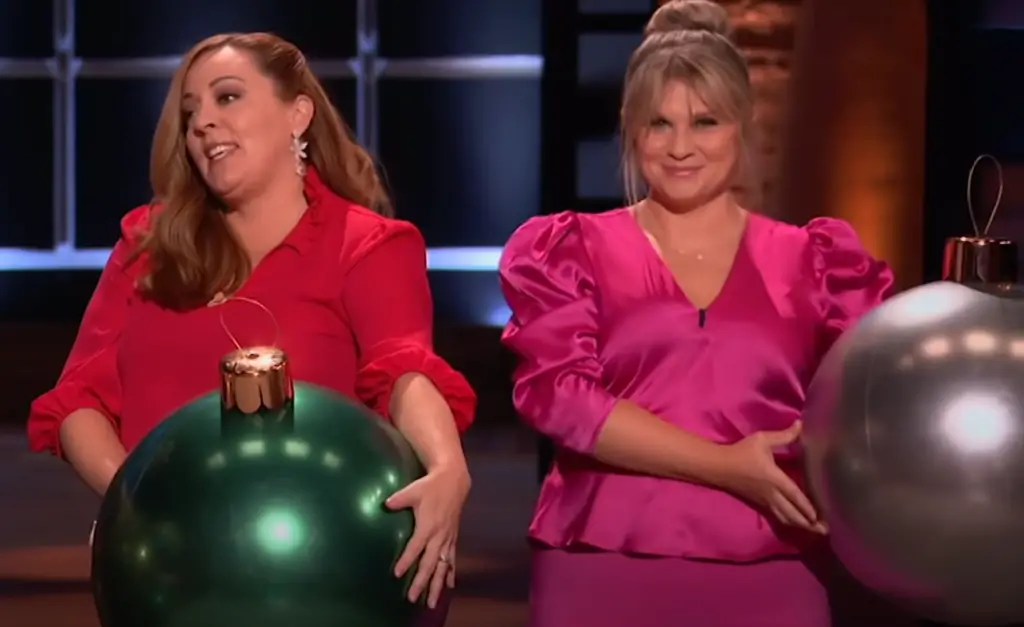 Amberly also dabbled in the real estate industry, much like Jennifer. However, her journey took an interesting turn when she explored the world of teaching. Her career allowed her to traverse the globe, but as motherhood beckoned, she shifted her focus towards raising her children.
These three close-knit cousins reside in close proximity to each other, which facilitated numerous bonding moments over their shared interests. One such passion they all shared was their love for grandiose Christmas decorations. However, they found the traditional options to be excessively heavy and cumbersome to handle.
Eager to innovate, the trio put their heads together and conceived the idea of inflatable Christmas balls. After conducting thorough market research and realizing the absence of similar products, they decided to take matters into their own hands and began manufacturing Holiballs.
Their company officially debuted in early 2019, and during its inaugural year, it achieved an impressive $ 171,000 in sales [8]. The primary limiting factor for their revenue at the time was the scarcity of inventory. However, when the pandemic emerged, they had to adapt their business model by shifting their focus online, with wholesale sales accounting for 70% of their revenue before the transition.
The Pitch Of Holiball At Shark Tank
Following the creation of Holiball, the three enterprising cousins made the bold decision to showcase their innovative product on the popular TV show Shark Tank, with the hope of securing a partner who could help them realize their ambitious goals.
During their pitch, Jennifer, Amberly, and Kristy passionately narrated their company's journey and introduced the Sharks to their inflatable samples, providing a hands-on demonstration of their efficient power-inflating machine. In their proposal, the cousins sought a $ 150,000 investment in exchange for a 10% equity stake in their company, which they had valued at $ 1.5 million at the time of the pitch [9].
Remarkably, the entire journey from conceiving the idea to bringing it to market had taken a mere 120 days. Since its official launch in 2019, Holiball has already accumulated $ 171,000 in sales, with a promising revenue projection of $ 650,000 for the year 2020.
Their products were manufactured at a cost of $ 10 each and retailed for prices ranging from $ 40 to $ 60, a pricing strategy that presented them with the challenge of effective inventory management.
Interestingly, despite Kevin's previous investments in Christmas-related companies, he chose not to participate in this particular venture. Barbara, while expressing reservations about the company's valuation, made an offer of $ 150,000 for a 25% equity stake.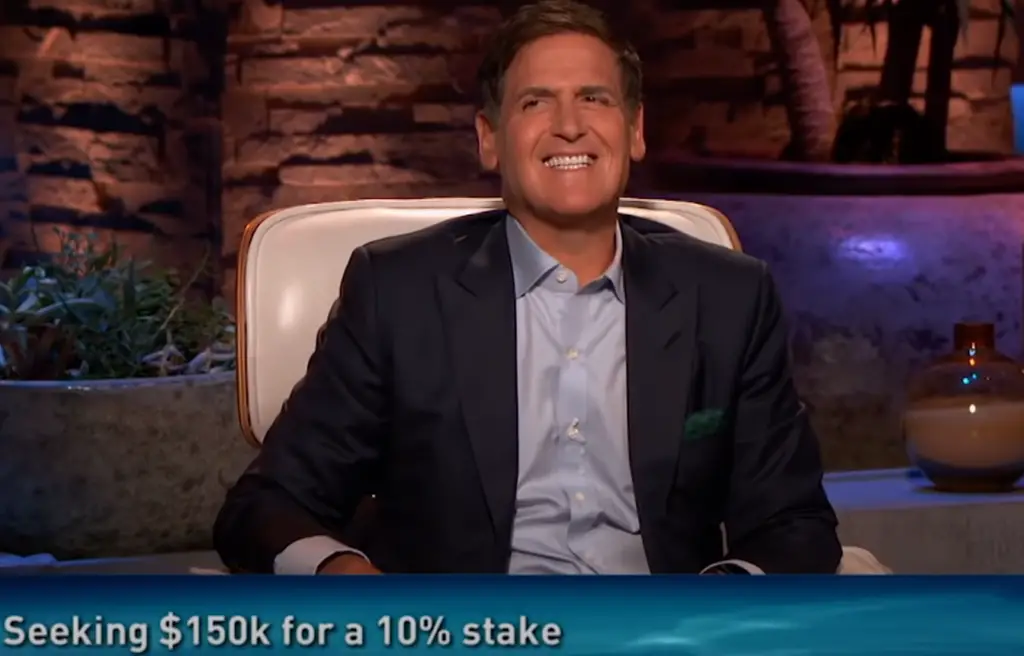 In the end, Barbara and Mark decided to join forces and collectively invested $ 150,000 for a 25% equity stake, while Daymond and Lori also saw the potential in Holiball, each contributing $ 150,000 for a 20% equity stake [10]. This strategic partnership marked a significant step forward for Holiball and its ambitious creators.
Holiball After The Shark Tank
Following their appearance on Shark Tank, Holiball experienced a significant surge in Christmas sales that year. However, the business faced a challenging period in 2021. During Season 13, a follow-up episode shed light on the company's struggles, revealing that they had fallen victim to a cybersecurity breach. It was likely that one of the founders inadvertently clicked on a link within a phishing email.
This unfortunate hack inflicted substantial financial damage, costing them hundreds of thousands of dollars as their banking information was altered, leading to a diversion of funds. Regrettably, they were unable to recover any of the lost funds. Despite this major setback, they have since established a new fulfillment center to effectively manage their inventory levels.
In 2021, this Christmas-themed company had projected sales of $ 800,000 and was estimated to be worth $ 1.5 million [11]. As for 2022, Holiball is expected to come close to achieving $ 1 million in revenue.
Holiball's product line is exceptionally versatile, seamlessly transitioning from indoor to outdoor use. Their rapid ascent in the market has been nothing short of remarkable. Amberly, Kristy, and Jennifer initiated their startup journey in the Houston region, launching with a modest inventory of just 1,000 units, offered in four classic colors.
However, they have since evolved significantly, expanding their product range to encompass a staggering 22 distinct colors. Remarkably, the demand for their innovative product surpassed all expectations, leading to a swift depletion of their entire stock. Even the more unconventional shades, such as lilac, merlot, and black, have gained equal popularity among customers, further solidifying Holiball's success in the market.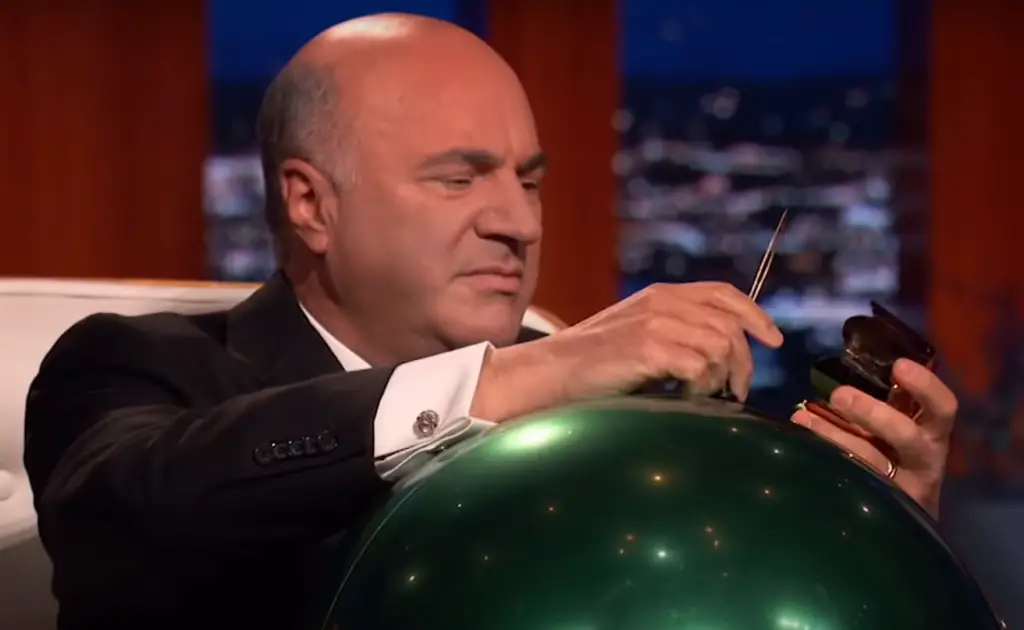 The Net Worth Of Holiball
Holiball can be found in over 29 states across the United States, in addition to accepting orders through its official website. This fantastic item is also conveniently offered on the reputable online marketplace, Amazon, and is offered in two size options: 18 inches and 30 inches [12].
This delightful product has been introduced in more than 22 different shades and designs, and you have the option to make a direct purchase through Amazon.
The Holiball product is not limited to the United States; it is available in more than 8 different countries.
Since securing a deal on Shark Tank, the company has successfully expanded its reach internationally, making Holiball accessible throughout the entire United States.
Currently, the issue of low Holiball inventory has been effectively resolved.
The company's debut featured a modest offering of 1,000 units in 4 distinct color options, all of which quickly sold out.
Alternatives To Holiball:
Oversized Outdoor Lighted Ornaments: These are similar to Holiball in size and visual impact but offer the added feature of lighting up. They can be found on various online retailers like Amazon and Home Depot;
Inflatable Holiday Decorations: These come in a variety of shapes and sizes, from giant inflatable Santas to snowmen and reindeer. They are also designed for outdoor use and are typically self-inflating;
Large Outdoor Christmas Bows: These are a simple and classic way to add a festive touch to your home or business. They can be attached to doors, windows, or large outdoor trees;
Giant Christmas Tree Baubles: Larger than the typical tree bauble, these decorations can create a striking effect when hung from large outdoor trees or structures [13];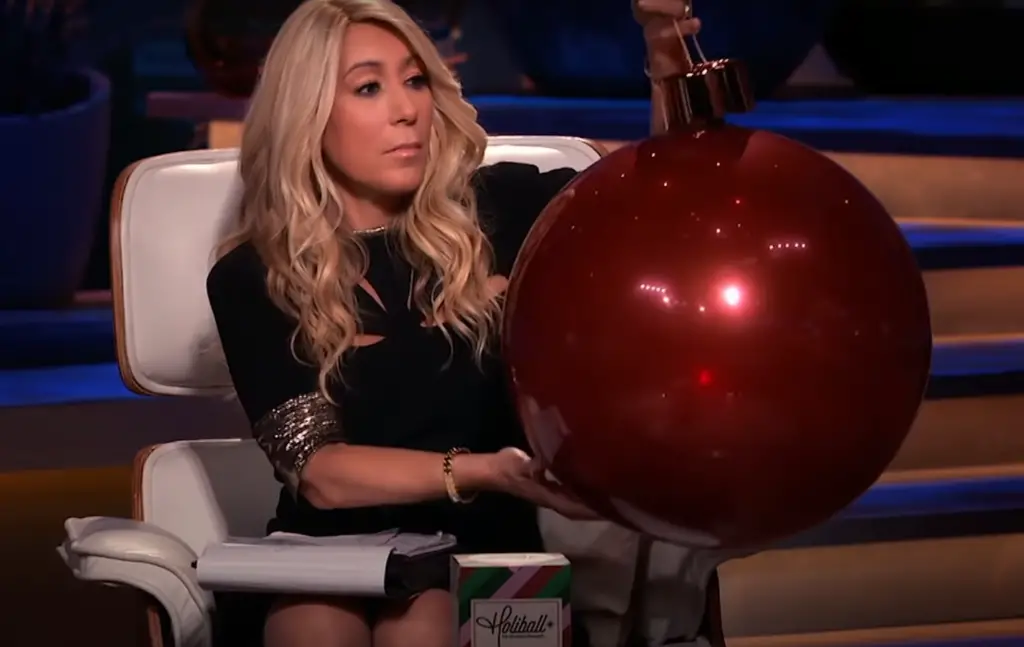 ---
FAQ:
How should you inflate Holiball?
To prepare your Holiball for use, simply follow these straightforward steps:
Start by extracting the Holiball from its packaging and unfolding it;
Take an electric household pump or the Holiball Fast Flow Inflator and insert its tapered nozzle into the designated inflation hole;
Activate the pump to begin the inflation process. Ensure that you inflate the Holiball until it reaches the desired firmness. You can even employ a measuring tape to confirm that the diameter meets your preferences;
Once fully inflated, firmly insert the HoliPlug into the inflation hole to seal it securely;
For an added decorative touch, consider attaching the Holiball or Holibell Topper to achieve an ornament-like appearance. To do this, thread the HoliRing wire through the hole located at the top of the Topper and then twist it to securely lock it in place.
Can you inflate Holiball with a hand or foot pump?
It is crucial to avoid inflating Holiball manually by mouth, as well as steering clear of hand pumps and foot pumps for this purpose. Instead, opt for an electric household pump equipped with a tapered nozzle and boasting a psi (pounds per square inch) rating of 1.2 or greater. Alternatively, you can make use of the Holiball Fast Flow Inflator for safe and efficient inflation. Prioritizing these recommended inflation methods ensures both the ease and longevity of your Holiball.
Can you inflate Holiball with helium?
It's important to note that helium is not recommended for inflating the Holiball. Utilizing helium for inflation may not produce the desired results and could affect the performance and appearance of the Holiball. Stick to the recommended inflation methods using an electric household pump or the Holiball Fast Flow Inflator for the best outcomes.
How do you use the Holiball topper?
After successfully inflating your Holiball and securely inserting the Holiball Plug, the next step is to enhance its appearance.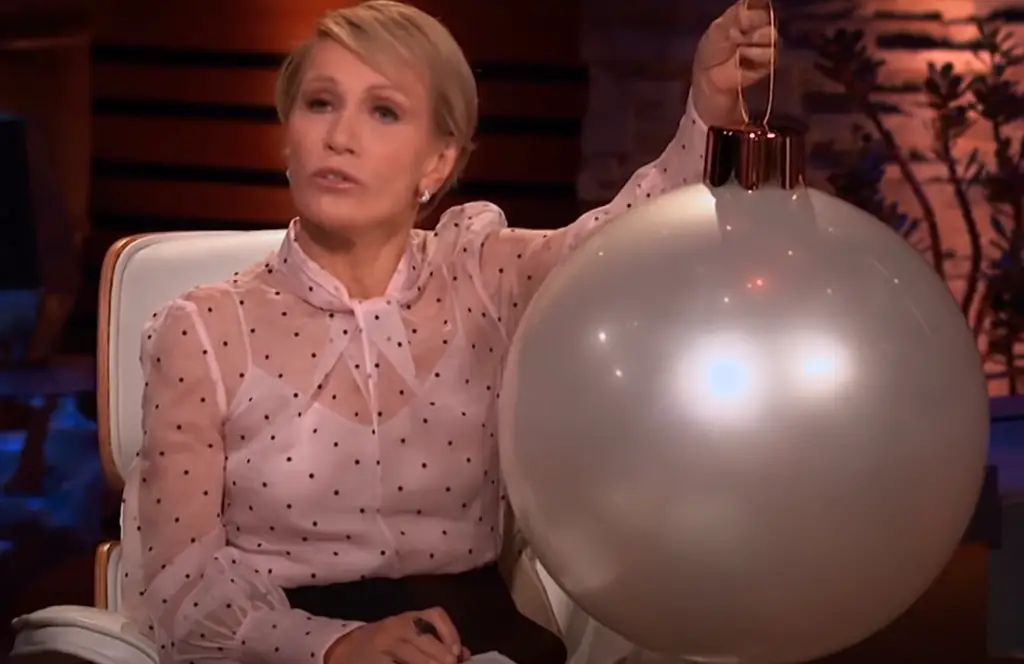 To do so, follow these simple instructions:
Thread the Holiball Ring wire through the hole located at the top of the Topper;
Gently twist the Topper to lock it firmly in place;
Where can you decorate with Holiball? 
Holiball offers remarkable versatility in terms of placement. You can easily hang it from trees to create charming yard decorations, or securely stake it into the ground for added stability. Moreover, its adaptability extends indoors, allowing you to arrange it creatively to suit your decorative preferences.
Each Holiball purchase includes essential accessories to facilitate your decorating endeavors. You'll find a Holiball Hanger Plug, as well as the comprehensive Holiball Hardware Kit. This kit comprises user-friendly ground stakes for outdoor use, a convenient tethering ring, a reliable suction cup equipped with 3M Adhesive for indoor placement, and an ample 12 feet of monofilament.
Please note that Holibell does not include the Holiball Hardware Kit. With these accessories at your disposal, your Holiball® decorating options are boundless.
Can you float Holiball in the pool?
Indeed, with the right adjustments, Holiball can achieve a floating effect. By adding weight, you can make them float on their own effortlessly.
To accomplish this, follow these steps:
Apply the provided 3M Adhesive to your Holiball;
Attach the supplied suction cup securely to the adhesive;
Hook a carabiner to the suction cup;
With these modifications, your Holiball will be ready to create a captivating floating display. Enjoy the mesmerizing effect and the unique decorative possibilities it offers!
How do you keep Holiball from blowing away outdoors?
When utilizing Holiball as a yard decoration, you'll want to make use of the ground stakes that are conveniently included in your Hardware Kit with your Holiball purchase.
However, it's essential to be aware that in areas prone to high winds, there is still a possibility that Holiball may become dislodged or displaced. To ensure the longevity and safety of your decorations, it's advisable to exercise caution and bring Holiball indoors during inclement weather conditions. This precaution helps to preserve the integrity and appearance of your Holiball while safeguarding it against adverse weather elements.
How do you deflate Holiball?
Achieving the deflation of your Holiball or Holibell is a straightforward process, consisting of three easy steps:
If you have a Holiball or Holibell Topper in place, start by removing it. To do so, twist the Topper until the slot aligns with the HoliRing;
Next, pinch the Holiball Ring and gently remove the Topper;
Finally, remove the Holiball Plug, allowing the air to release naturally, or gently push it out;
By following these simple steps, you'll successfully deflate your Holiball or Holibell, making it convenient for storage or transportation.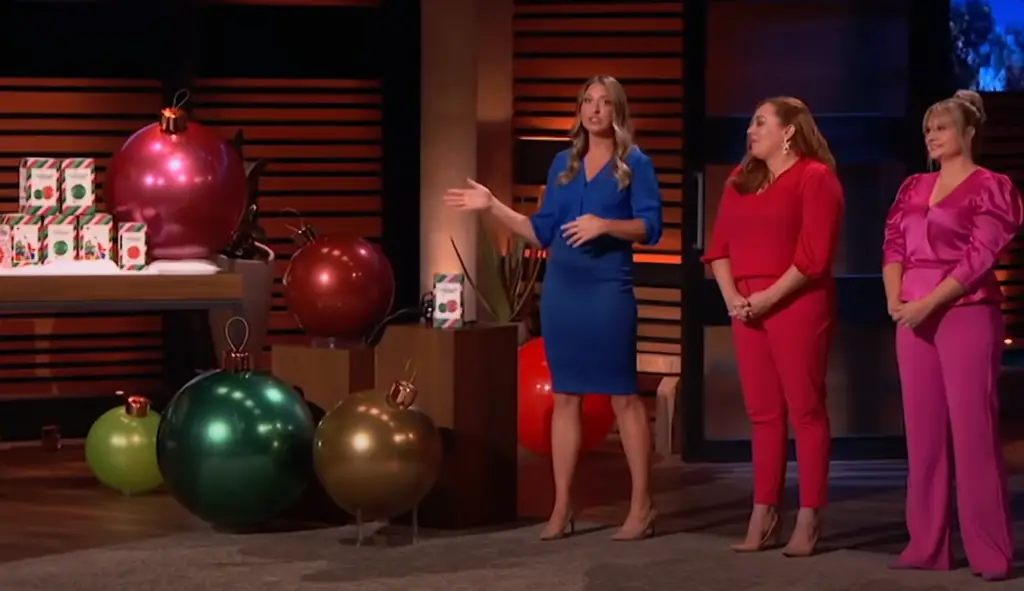 How do you store Holiball?
After deflating your Holiball, the next step is to fold and roll it for compact storage. To maintain the vibrant colors and ensure no color transfer, consider the following storage guidelines:
Keep your Holiball in its original container if available, as it's designed to protect the colors and material.
Alternatively, you can pack each Holiball individually in a plastic container, bag, or wrap. This provides an extra layer of protection against dust and potential color transfer.
Store your Holiball in a cool and dry environment. Avoid exposure to excessive heat or moisture, as this can impact its condition over time.
How many Holiball colors and styles are available?
The Holiball lineup boasts a diverse range of options to cater to various preferences:
Holiball: This versatile choice is available in an impressive array of 23 captivating colors, ensuring you'll find the perfect shade to complement your décor;
Holiball Collegiate Collection: For sports enthusiasts, the Collegiate Collection offers the opportunity to showcase your team's pride. With a selection of six team names and mascot logos, you can personalize your Holiball to represent your favorite college or university;
Holibell Set: The Holibell Set adds an elegant touch to your decorations with options in silver and gold, perfect for those looking to achieve a more classic holiday aesthetic;
With over 50 color, style, and size combinations to choose from, the Holiball lineup provides a wealth of possibilities to suit your unique decorating preferences and create the perfect festive atmosphere.
What Holiball sizes can you choose from?
The Holiball range offers a variety of diameter sizes to cater to different decorating needs:
Holiball: You can select from two popular sizes, with options for an 18″ diameter or a larger 30″ diameter to suit your specific space and style preferences;
Holiball Collegiate Collection: This collection features Holiballs with a 30″ diameter, allowing you to proudly display your chosen college or university team;
Holibell: The Holibell offers a more compact option with a 12″ diameter, perfect for those seeking a smaller, yet equally charming, decorative piece;
How is Holibell different from Holiball?
Holibell is the perfect choice for those looking to infuse their holiday decor with the delightful sound of sleigh bells. This inflatable Christmas ornament offers a unique feature – when jingled, it produces a charming ringing sound akin to sleigh bells.
Holibell is slightly smaller in size compared to the Holiball range, measuring 14″ in diameter, as opposed to the 18″ and 30″ diameter varieties available for Holiball.
Additionally, Holibell boasts an attractive ornament-style pattern, adding a touch of elegance to your festive decorations.
Can you use Holiball year-round or only for the holidays?
Holiball and Holibell are incredibly versatile, making them suitable for a wide range of occasions and settings:
Inflatable Christmas Ornament: Enhance your holiday decor by attaching the included Holiball Topper or Holibell Topper. They'll add a festive touch to your Christmas decorations;
Topper-Free Decor: For a more minimalist or versatile look, you can opt to use them without the topper. This allows you to incorporate them into birthdays, special events, year-round holidays, or simply as charming home decor for any occasion;
Licensed Collegiate Holiball: If you're a sports fan, you can celebrate the big game with the Licensed Collegiate Holiball. Show your team spirit and pride with these specially themed Holiball options;
With their adaptability and stylish designs, Holiball and Holibell offer the freedom to express your creativity and enhance your decor for a wide range of celebrations and moments throughout the year.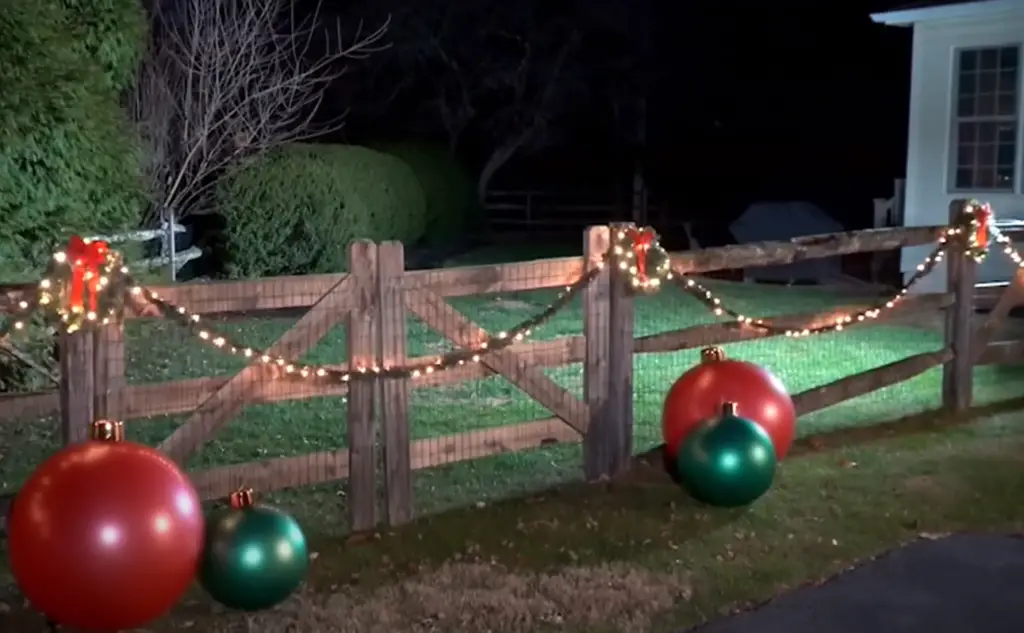 Is Holiball durable enough for outdoor use? 
Absolutely! Holiball is designed to serve as both a large outdoor Christmas ornament and a versatile inflatable yard decoration suitable for various occasions.
Here are some key features that make it a fantastic choice:
Durable Engineered Polymer: Holiball is constructed using an engineered polymer that's specifically designed to withstand outdoor conditions. This material ensures longevity and resilience in various weather conditions;
UV-Resistant Coating: The Holiball is equipped with a UV-resistant coating, which means it won't fade when exposed to sunlight. This ensures that your decorations will maintain their vibrant colors over time;
All-Weather Rated: Holiball is rated for all-weather use, withstanding temperatures ranging from -20 to 120 degrees Fahrenheit. It's well-suited for both cold winters and hot summers without compromising its quality;
Crack- and Dry-Out Resistant: Unlike some materials that may crack or dry out in extreme conditions, Holiball is rubber-free, guaranteeing its resilience even in windy, cold, or hot environments;
How long will the Holiball stay inflated?
Holiball ensures peace of mind with its inflation guarantee, which covers a minimum of 90 days. This assurance underscores the product's durability and reliability, ensuring that your decorations stay inflated and look fantastic for an extended period.
Why are there wrinkles in my Holiball?
It's perfectly normal for Holiball to develop temporary wrinkles during storage and shipping.
However, you can easily address this issue with a few simple steps:
Inflate the Holiball until it becomes firm. This action will help to smoothen out the wrinkles;
Over the course of approximately 24-48 hours, the wrinkles should naturally disappear as the material adjusts and settles;
To expedite the process, you can also utilize light heat, such as the sun's warmth. Exposure to sunlight can help ease the wrinkles more quickly.
What to do if your Holiball is sticky?
Holiball's UV-protective coating, while essential for preserving its vibrant colors, may occasionally result in a slightly sticky surface.
To restore its sparkling sheen and alleviate any stickiness, follow these simple cleaning steps:
Use warm, soapy water or hand sanitizer to clean the Holiball®. Gently rub the affected areas with a soft cloth or sponge;
Allow the cleaned Holiball to sit for approximately 1 to 3 days. During this time, the stickiness should naturally dissipate, and its sparkle will return;
Who invested in Holiball?
The company secured an investment from Mark Cuban and Barbara Corcoran. They offered $ 150,000 for a 20% equity stake in the business.
What are Holiballs made of?
Holiballs are described as being durable and weather-resistant. They're designed to withstand harsh weather conditions, including high winds, storms, and snow. They are also UV-resistant and can handle temperatures ranging from -20 degrees to 140 degrees Fahrenheit.
What size is the Holiball?
The search results do not provide specific dimensions for the Holiball. However, it is described as an oversized, inflatable holiday ornament. This suggests it's significantly larger than traditional holiday ornaments.
Can you leave inflatables on?
In general, it's possible to leave inflatables on for extended periods. However, it's essential to consider factors such as weather conditions and power usage. Leaving inflatables on constantly may increase your energy consumption. Additionally, adverse weather conditions could potentially damage inflatables left outdoors.
Can you put inflatables away wet?
While the search results don't provide a direct answer to this question, it's generally advisable not to store inflatables or any other items while they're still wet. Doing so could lead to issues such as mold and mildew growth, which could damage the item and pose health risks.
How do inflatables lose air?
Inflatables can lose air due to a variety of reasons. These include small leaks or holes in the material, seams coming undone, or issues with the inflation valve. Changes in temperature can also cause the air inside an inflatable to contract, giving the appearance of air loss.
Useful Video: Will Barbara Get HOLIBALLS or a Lump of Coal for Christmas?
---
References:
https://sharktanktalks.com/holiball-shark-tank-update/
https://techiegamers.com/holiball-net-worth/
https://bizzbucket.co/holiball-shark-tank-update/?expand_article=1
https://biznewske.com/holiball-shark-tank-net-worth/
https://sharktankrecap.com/holiball-inflatable-ornament-update-season-12/
https://www.sharktankblog.com/business/holiball/
https://www.sharktanksuccess.com/holiball-shark-tank-review/
https://2paragraphs.com/2021/02/holiball-inflatable-ornaments-what-happened-after-150k-shark-tank-deal/
https://thecinemaholic.com/update-on-the-holiball-from-shark-tank/
https://theholiball.com/faq/
https://www.houstoniamag.com/home-and-real-estate/2021/12/deck-the-halls-with-holiballs
https://sharktanktales.com/holiball-shark-tank-update/
https://allsharktankproducts.com/shark-tank-products-home/the-holiball-giant-inflatable-holiday-ornament/