In the world of innovative transportation, Coolpeds stands out with its unique electric scooter that doubles as a carry-on bag. This groundbreaking product caught the attention of many when it was featured on the popular TV show, Shark Tank.
But what happened to Coolpeds after its Shark Tank appearance? Did the company take off, or did it fail to meet expectations? In this article, we delve into the journey of Coolpeds post-Shark Tank, exploring its evolution, challenges, successes, and current status. We'll also look at how Coolpeds has influenced the transportation and luggage industries with its novel idea.
What Is Coolpeds?
Pros of CoolPeds:
One of the primary advantages of the CoolPeds scooter is its dual functionality. It serves as both a mode of transportation and a luggage carrier, making it ideal for airport commutes or short urban trips. Its lightweight and compact size adds to its portability and convenience;
The scooter's electric motor ensures an environmentally friendly ride, aligning with the company's mission for more environmentally friendly travel. Additionally, the scooter's battery life is decent, offering up to 7 miles of ride on a single charge;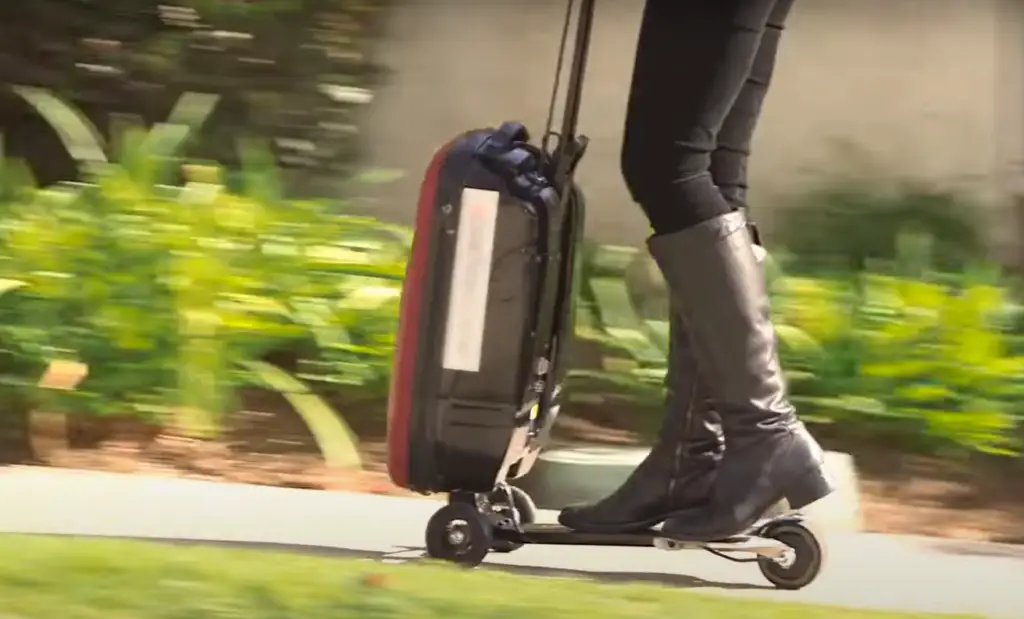 Cons of CoolPeds:
Despite its innovative design and functionality, CoolPeds has received some criticism. Some users have complained about the quality of the product, describing it as poor and flimsy. This raised questions about the product's durability and long-term use, especially when used frequently or under heavy loads;
Furthermore, although the company appeared on Shark Tank, it failed to secure a deal, which might raise concerns about its viability and future growth potential;
Who Should Use Coolpeds?
Coolpeds, the innovative electric scooter that doubles as a carry-on bag, may benefit a wide range of individuals.
Below are several groups who stand to gain from using Coolpeds:
Urban Commuters: Those living in busy cities may find Coolpeds beneficial for navigating traffic and reaching their destinations faster. The scooter's compact size and ability to weave through traffic makes it an ideal solution for city dwellers;
Travelers: Frequent travelers, especially those who often navigate through crowded airports, could greatly benefit from Coolpeds. The device not only provides swift transportation but also serves as a carry-on bag, making it a practical solution for airport commutes;
Environmentally Conscious Individuals: Coolpeds is powered by a quiet, brushless electric motor, which makes it a more eco-friendly option compared to traditional gas-powered vehicles. Those committed to reducing their carbon footprint may find Coolpeds an appealing choice;
Individuals Seeking Convenience: With its dual functionality as a transporter and luggage carrier, Coolpeds can save users time and energy. This feature could be especially beneficial for those carrying heavy loads or those with mobility issues;
Fans of Innovative Technology: For tech enthusiasts, the combination of transportation and luggage might be intriguing. Coolpeds is a testament to the creative solutions technology can provide, making it a potential draw for those who appreciate such innovations [2];
About the Founders Of Coolpeds
Tony's passion revolves around crafting the world's most stylish and featherweight electric vehicles. His latest creation? The world's premier super-lightweight electric scooter, tailored for tourists and commuters alike. Imagine zipping effortlessly to and from the train station, seamlessly navigating the parking lot, cruising across vast campuses, or even gliding directly to your boarding gate at the airport – all without lugging around a cumbersome backpack.
What's more, commuting becomes an enjoyable experience! The scooter features a removable bag at the front, and it offers speeds ranging from a leisurely 7 miles per hour to an exhilarating 15 miles per hour. Plus, it boasts electric braking functionality, ingeniously recharging the battery every time you hit the brakes.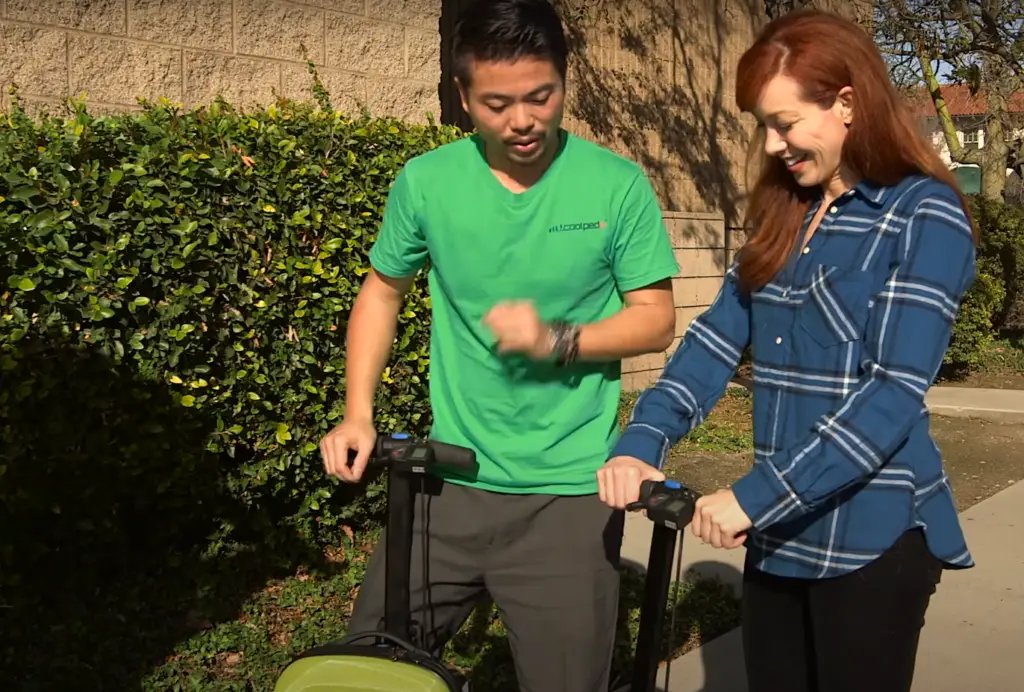 But here's the kicker – the battery is incredibly user-friendly, allowing you to recharge it practically anywhere. Moreover, it comes equipped with a USB port, enabling you to charge your smartphone on the go. As if that weren't impressive enough, the scooter itself is a featherweight champion, folding into itself with remarkable ease. Weighing in at just under 11 pounds, it ranks among the lightest electric scooters on the planet.
Tony's vision extends beyond just transportation; it's a mission. He aspires to furnish the world with enjoyable, dependable, and cost-effective eco-friendly mobility solutions accessible to everyone, irrespective of their location on the globe. CoolPeds is on a mission to revolutionize the way we get around.
The Pitch Of Coolpeds At Shark Tank
In the latest scene, the spotlight is on CoolPeds as Kevin takes the company's scooter for a test ride in the Shark Tank, with Robert eager to follow suit. Kevin hops onto the scooter and zips around in a circular path, prompting the boom camera to rise to avoid any potential collision. Mark observes the spectacle from the sidelines, sporting a subtle hint of amusement on his face.
Kevin eventually rides the CoolPeds scooter out of the Shark Tank, prompting all four remaining Sharks to shout for the doors to be closed. Kevin seems to be thoroughly enjoying himself as he returns with a beaming smile. However, it's worth noting that Kevin has been cruising at a leisurely 7 miles per hour, and there's potential for even more speed by pulling the trigger.
Throughout this spectacle, a car-shaped silhouette has remained shrouded in a gray sheet in the room adjacent to Tony. Robert inquires about the mysterious object beneath the sheet, and Tony responds with enthusiasm, declaring it the future of the automobile industry. Unveiling the cover reveals a sleek and futuristic vehicle, which Tony proudly proclaims as the world's first highway-ready, fully-electric sports car, available for under $ 10,000 retail [3].
This revelation leaves Lori in a state of shock, and her jaw drops. Robert can't resist and promptly gets behind the wheel, while Lori seeks clarity on what, precisely, Tony is pitching. As it turns out, the car is a functional prototype and represents their next product venture.
Robert appears to be having a blast behind the wheel, and both Lori and Barb express their surprise at this unexpected turn of events, especially considering the $ 10,000 price point. However, Kevin urges a return to discussing one product at a time, requesting information on CoolPeds' scooter sales forecast for the year.
Tony discloses that they've achieved approximately $ 500,000 in sales over the past 18 months, with most of their products sold online. Barb inquires about the compatibility of CoolPeds scooters with personal luggage, to which Tony explains that, for safety reasons, they prefer customers to use their custom-designed luggage carriers, as they offer enhanced security.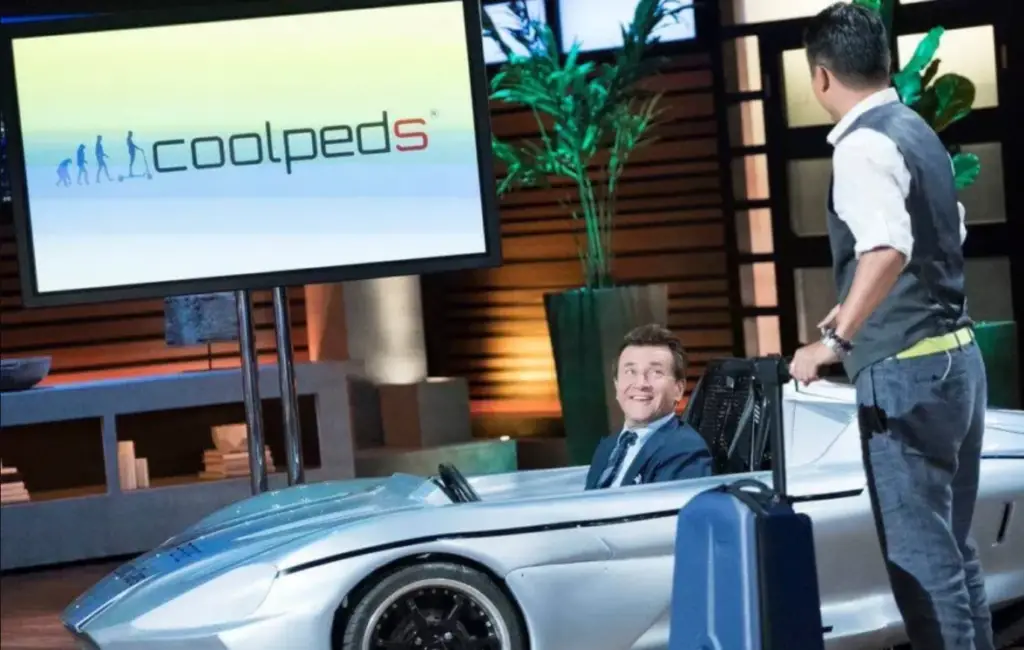 The price tag for CoolPeds scooters stands at a mere $ 399 at retail, with a production and shipping cost of $ 170 [4]. Kevin promptly crunches the numbers and identifies limited profit margins for distribution. Tony clarifies that they intend to focus primarily on online sales, where they have been thriving. Lori inquires about the patent status, and Tony confirms that they have secured one.
Kevin raises the issue of specific locations, such as large airports, and questions whether electric vehicles are permitted. Tony asserts that he frequently uses them in such environments without encountering any issues or restrictions, emphasizing the cautious and considerate riding behavior of himself and his customers.
As the discussion continues, Robert seeks insight into Tony's background. Tony's passion for cars has been with him since a young age, as he began earning pocket money at the age of seven by waxing cars for neighbors. This passion led him to buy and restore classic cars during his college years at UCLA, enabling him to pay for his education through car flipping. Subsequently, he spent over 15 years building high-performance race cars, cultivating extensive relationships and resources in the process. Mark Cuban urges Robert to make an offer immediately.
Tony is confident that he can make a substantial impact in the burgeoning electric car market, citing the shift towards electric vehicles mandated by countries like France, the U.K., and China as early as 2025. Robert acknowledges the potential but points out that they are not currently selling the electric car. Tony clarifies that the electric car will be available for pre-order later in the year 2017, retailing at $ 9,900 [5]. The initial model emphasizes a flashy and extravagant design, following the Tesla model's approach, which commenced with the cool image of the Roadster.
The goal is to be seen as a "cool" brand.
Mark interjects with a dose of reality, emphasizing the cutthroat competition in this market segment. He highlights that selling the "cool factor" is a monumental challenge. While Tony is a dedicated entrepreneur, Mark decides to exit the deal.
Barb raises concerns about both products, expressing confusion about their combination. She questions the practicality of scooters in airports and anticipates logistical challenges if many people were to use them simultaneously. She is particularly interested in understanding the applicability of CoolPeds scooters in airport settings. With reservations about the products, Barb decides to exit the deal as well, leaving three Sharks still interested.
Lori shares her astonishment at what Tony has presented, describing the two product categories as entirely distinct. She believes that Tony's true passion lies in selling the car rather than the scooter, which she views as a means to an end. As she lacks a clear vision of the car's potential, Lori also opts to exit the deal.
Kevin and Robert remain as the two remaining Sharks. Kevin emphasizes the enormity of marketing the scooter/suitcase combination as a full-time endeavor, asserting that even a 5% equity stake wouldn't be sufficient motivation for him to dive into this market. Tony offers to raise the equity stake, but Kevin believes that Robert, with his background in cars and technology, is better suited for the venture. Consequently, Kevin decides to exit the deal, leaving Robert as the sole remaining Shark.
Robert, while impressed with Tony's determination and passion, expresses concerns about the business's clarity due to the inclusion of both the scooter and the car. He believes that it's essential to focus on one or the other, given the differing natures of the two products. Tony insists that the scooter remains their primary business, but he understands the investor's perspective.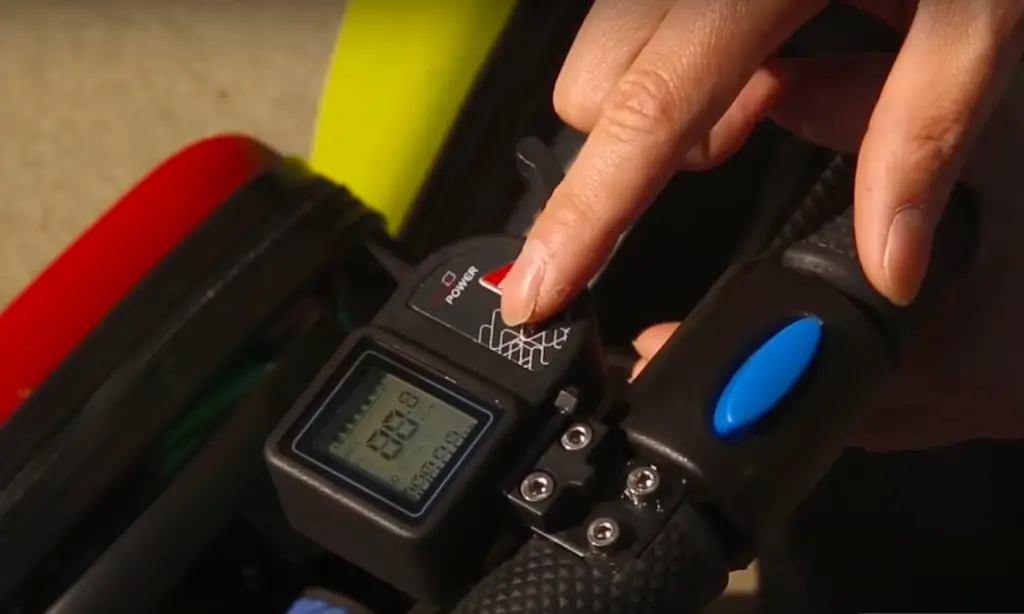 Ultimately, Robert cannot find a way to reconcile both the scooter and car in a deal, leading him to exit the negotiation. Despite this, all of the Sharks appreciate Tony's spirit and believe that he has a promising future ahead, driven by a well-conceived plan. Tony remains optimistic about the future as he departs from the Shark Tank.
Coolpeds After The Shark Tank
The Coolpeds creator successfully amassed $ 43,000 in funding but regrettably failed to fulfill a single bicycle order [6]. An advocate for consumers intervened, leading to the refund of one investor, while four others who sought assistance finally received their bikes in 2019. However, these bicycles exhibited such severe defects that they posed a grave safety risk. Subsequently, IndieGoGo barred Chan from utilizing their platform.
Fast forward to June 2021, and Coolpeds is still accepting preorders for the Ampere automobile – a situation that raises suspicions. Additionally, they assert the availability of an electric scooter, an electric briefcase, and an electric motorized scooter. Curiously, their Facebook page has remained untouched since 2019. A cursory investigation reveals a growing number of individuals who have placed deposits for the Ampere car are now demanding refunds.
Moreover, the Better Business Bureau has been inundated with complaints regarding malfunctioning or non-functional scooters. Notably, Coolpeds' products have vanished from Amazon, and their website conspicuously lacks a "contact us" button.
As of the latest update, Coolpeds' website remains operational, albeit with minimal content. Information about the briefcase scooter is somewhat concealed, necessitating a bit of searching. The homepage offers a sparse introduction to the company's background. On the site, there are two featured "products", but neither of them corresponds to the briefcase scooter.
These offerings include a standard electric scooter (not foldable) and a pre-order option for the Ampere electric vehicle, which Tony Chan briefly showcased during his appearance on "Shark Tank".
Clicking on the electric scooter option redirects visitors to Zoom E-Scooters, a seemingly unrelated company at first glance. However, upon closer investigation, Coolpeds' Shop page reveals a listing for an identical scooter design adorned with a "Go Zoom" slogan further down the page [7].
This suggests a potential connection between Zoom E-Scooters and Coolpeds, possibly involving Tony Chan, although the exact nature of this connection remains unclear. The elusive briefcase scooter also makes an appearance on the Shop page, representing the sole mention of this product on the website.
The Net Worth Of Coolpeds
Since its appearance on Shark Tank, CoolPeds has been valued at $ 5 million and its net worth is estimated to be around the same in 2022.
Interestingly, it is priced at $ 700, which differs from the $ 400 figure quoted by Chan during his "Shark Tank" presentation.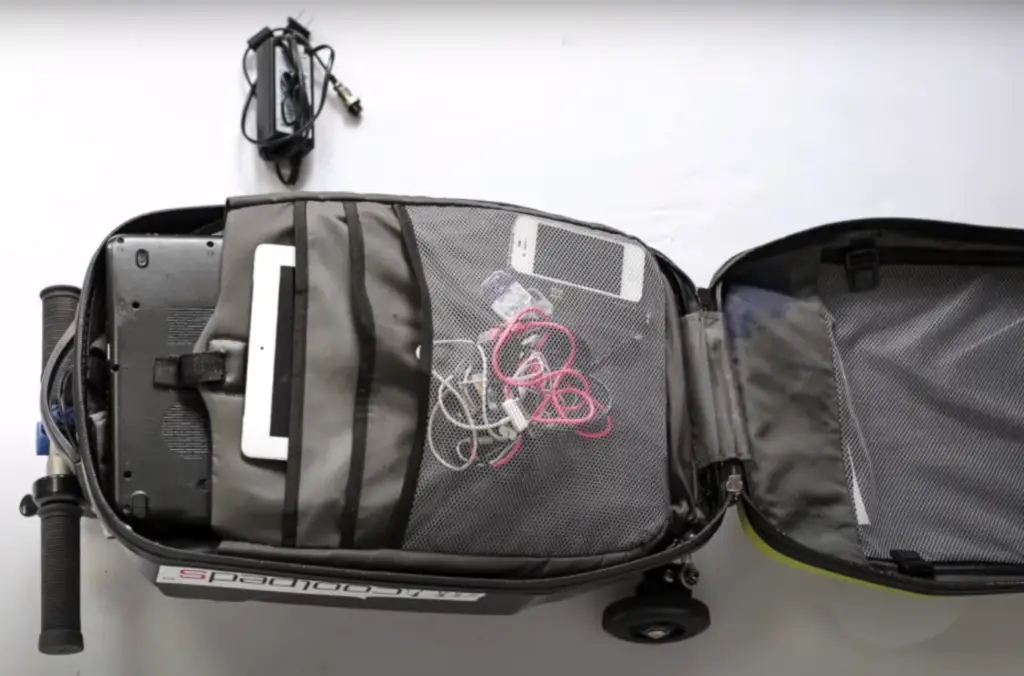 Meanwhile, the pre-order page for the Ampere prompts customers to place a $ 399 deposit for a total price of $ 9,900 [9]. However, it explicitly states that the Ampere is "not an automobile" and does not adhere to automotive safety standards. According to the product description, each Ampere is custom-made, although it does not specify the expected delivery timeline.
Alternatives To Coolpeds:
Segway: Segway offers a range of electric scooters, including foldable models and larger electric personal transporters;
Razor: Known for their electric scooters designed for kids and adults alike, Razor provides a variety of options for short-distance commuting;
Xiaomi Mi Electric Scooter: Xiaomi's electric scooters are popular for their affordability and functionality, making them a good alternative for urban commuting;
Bird: Bird operates electric scooter-sharing services in various cities, allowing users to rent electric scooters for short rides;
Lime: Lime is another electric scooter-sharing company similar to Bird, offering a convenient way to rent scooters for short trips;
Swagtron: Swagtron produces a range of electric scooters and hoverboards for both recreational use and commuting;
Ninebot: Ninebot, a subsidiary of Segway, manufactures a variety of electric scooters, including models for personal use and shared mobility services;
GOTRAX: GOTRAX offers a range of electric scooters and hoverboards for different user preferences and needs;
Unagi: Unagi specializes in stylish and lightweight electric scooters designed for urban commuting;
Boosted: Boosted is known for its electric skateboards, offering an alternative mode of electric personal transportation [10];
---
FAQ:
Are Coolpeds scooters any good?
Coolpeds scooters are generally well-regarded, especially for urban commuting. They are praised for their sleek and compact design, with an LCD display that shows speed, battery level, and range. Users have found them to be a practical solution for getting around town and connecting to subway stations. They also feature a quiet, brushless electric motor, disc, and regenerative brake system.
How fast can Coolpeds scooters go?
Coolpeds scooters can reach speeds of up to 10 miles per hour [11].
How long does the battery last on a Coolpeds scooter?
The battery on a Coolpeds scooter can last for up to 7 miles on a single charge.
How much does a Coolpeds scooter weigh?
Coolpeds scooters are designed to be lightweight and compact for easy portability, but the exact weight is not specified in the available sources.
Where can I buy a Coolpeds scooter?
Coolpeds scooters can be purchased directly from the Coolpeds website or through various online retailers.
Was Coolpeds featured on Shark Tank?
Yes, Coolpeds appeared on Shark Tank, where the founders pitched their innovative electric scooter to the show's panel of investors.
How do I charge my Coolpeds scooter?
Coolpeds scooters come with a charger that can be plugged into a standard electrical outlet.
Is Coolpeds scooter suitable for children?
While Coolpeds scooters are generally safe for use, they are primarily designed for adults, especially urban commuters and frequent travelers. Please check the product specifications and safety guidelines before allowing a child to use a Coolpeds scooter.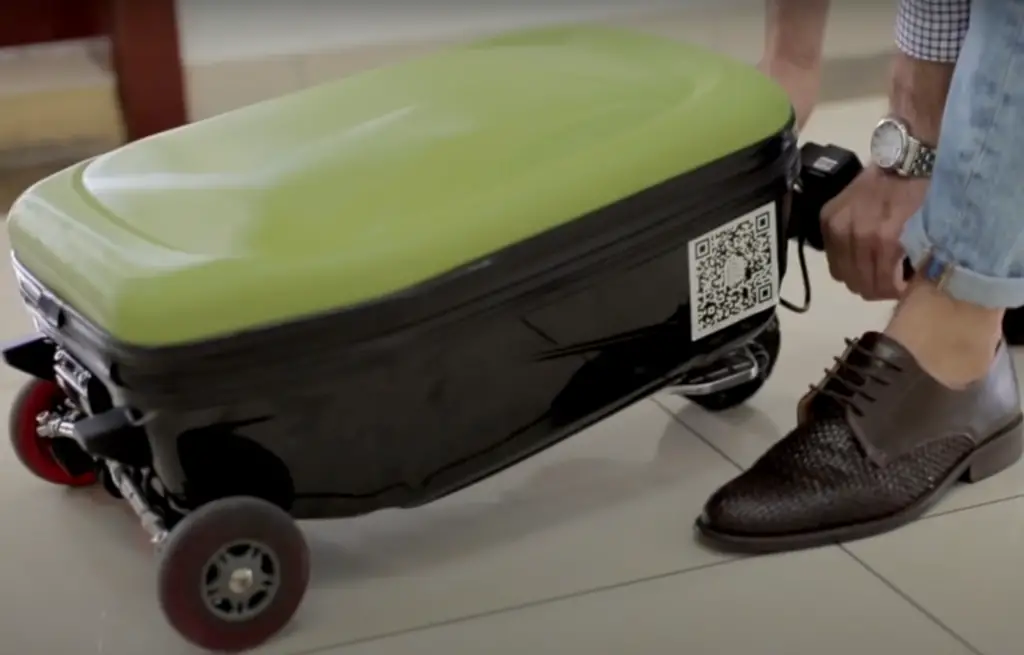 What are the available sizes of Coolpeds?
The exact sizes of Coolpeds scooters are not specified. However, they are described as super lightweight and compact, which suggests that they are designed to be easily portable for commuting and travel.
Many adult electric scooters are designed to support a weight load of up to 108 kg (approximately 238 pounds) [12]. However, it's essential to check the specifications and weight capacity of each specific scooter model, as these limits can vary depending on the scooter's design and build quality.
Riders who exceed the recommended weight limit may experience reduced performance, shorter battery life, and potential safety issues, so it's crucial to adhere to the manufacturer's guidelines for safe and efficient operation.
Which electric scooter company was on Shark Tank?
Coolpeds, the company that produces electric scooters and high-tech luggage, was featured on Shark Tank.
Are electric bikes any good?
Electric bikes can be an excellent transportation option for many people. They offer benefits such as increased speed and reduced effort compared to traditional bicycles, making them a popular choice for commuting and recreational use. However, their suitability can depend on individual needs, preferences, and local regulations regarding their use [13].
Useful Video: Coolpeds Briefcase Electric Scooter Featured On CBS's Innovation Nation
---
References:
https://www.looper.com/1337121/whatever-happened-coolpeds-briefcase-shark-tank/
https://www.slashgear.com/1352507/what-happened-coolpeds-breifcase-electric-scooter-shark-tank-season-9/
https://www.bstrategyinsights.com/what-happened-to-coolpeds-after-shark-tank/
https://seoaves.com/coolpeds-shark-tank-update/
https://www.sharktankblog.com/business/coolpeds/
https://www.sharktanksuccess.com/coolpeds-shark-tank-review/
https://gazettereview.com/2018/07/coolpeds-after-shark-tank-update/
https://www.coolpeds.us/
https://sharktanktales.com/coolpeds-shark-tank-update/
https://www.reddit.com/r/shittykickstarters/comments/d29cse/coolpeds_ibike_article_20190811_campaign_was/
https://2paragraphs.com/2018/02/shark-tank-coolpeds-taking-200-deposit-for-9900-ampere-electric-car/
https://kirktaylor.com/coolpeds-ampere-motors-electric-driven-on-shark-tank/
https://allsharktankproducts.com/shark-tank-products-tech/coolpeds-briefcase-electric-scooter/