If you watched Shark Tank, then you know the story of SubSafe. This innovative product was created to help keep sandwiches from getting soggy. It was designed to help keep sandwiches fresh and delicious no matter how long they were in transit. After appearing on Shark Tank, the SubSafe team was able to secure an investment from one of the sharks and take their business to the next level. In this article, we will answer some common questions about what happened to SubSafe after Shark Tank.
Story of the SubSafe Founders
When it comes to soggy sandwiches, there are several issues that arise. The first problem is that the bread can become overly moist from the ingredients inside, making it difficult to bite into. This can also cause the sandwich to become unappetizing and less enjoyable to eat.
But the biggest cause is the storage issues, sandwiches often should be kept in a cooling environment and in a sealed container. However, ice ultimately can cause water to condense in the container leading to a soggy sandwich.
To keep sandwiches dry, it is best to use ingredients that don't release a lot of moisture and to avoid adding too many condiments or sauces. But of course, not everyone is fine with sacrificing flavor for the sake of dryness. That's where SubSafe comes in.
SubSafe was founded by entrepreneurs Adam and Desiree Haller. The couple loves fishing and attending the beach, but they found it difficult to bring sandwiches with them without them becoming soggy. So the duo thought of a solution- SubSafe, an insulated container that separates the sandwich halves and helps keep them fresher for longer. They created a prototype, applied for Shark Tank, and were lucky enough to get selected.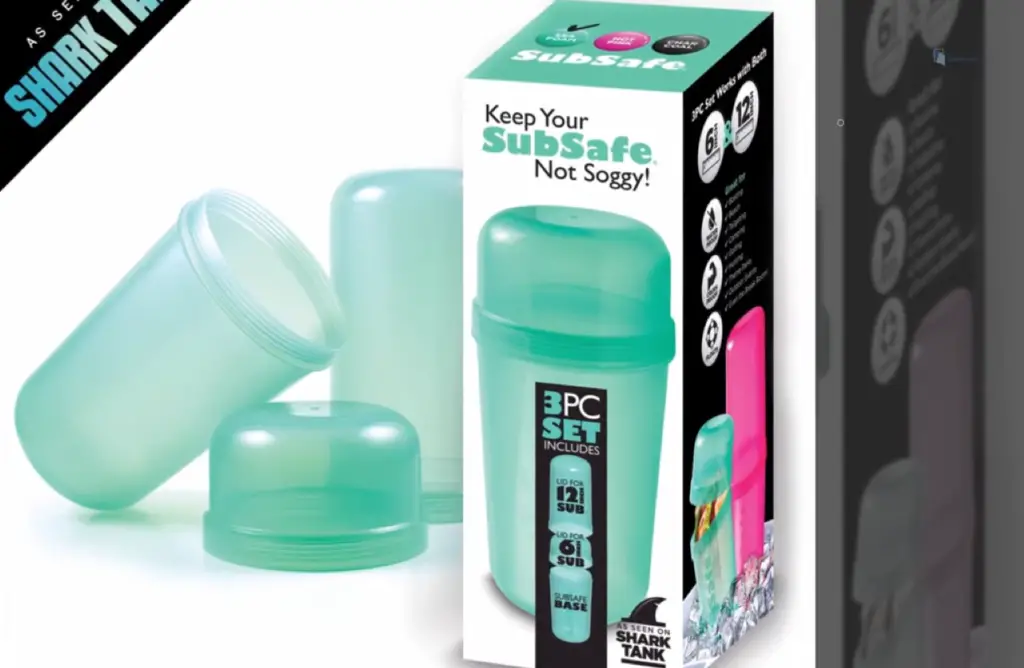 The duo didn't like the idea of using commercial plastic containers so they opted for a more eco-friendly approach. They created the SubSafe out of recyclable BPA-free plastic and came up with an innovative design that kept the sandwiches dry without sacrificing flavor.
They were quick to patent their design and concept. Each of these containers contains between six and twelve sandwiches and helps to keep them cooler than room temperature. This design not only reduces sogginess but also prevents moisture from the environment from seeping into the sandwich, keeping it tastier for longer periods of time.
In addition, these containers also come with cup holders and a handle for easy transport. The duo also made sure that their containers were easy to clean and store, making them ideal for picnics and travel. You can also keep your phone or keys in the same compartment of the SubSafe. In February 2018, the couple released the product to the world and their containers instantly became a hit with fishermen, beachgoers, and picnickers alike. The couple released containers in three different colors: black, pink, and blue.
Since then, the couple has been able to focus on expanding their product range and reaching a larger audience. They have also applied for additional patents which they hope will make it even easier for people to keep their sandwiches dry while on the go.
The couple continues to work hard towards making SubSafe one of the huge players in efficient sandwich storage solutions, with their signature eco-friendly design and convenient features that are great for work, school, or play.
Their efforts didn't go unnoticed and they have been taped by Shark Tank to make an appearance! So, how did it go for them? [1] [2] [3]
SubSafe at Shark Tank Pitch
At their Shark Tank pitch, Adam and Desiree gave an impressive presentation of their product. They explained how it worked and presented the advantages over ordinary plastic containers. They asked only $ 50,000 for 13% of their business.
They gave out the samples to the sharks, who were impressed with the design of SubSafe. They liked how the container was designed to keep sandwiches fresh for longer.
As for the sales, during the first four months of business, they managed to earn $ 40,000 in sales. Margins are also pretty impressive, they create the SubSafe for $ 2,38 and sell it for $ 17,95.
All the sharks are pretty concerned about the sales figures, as they didn't look as high as they expected. However, the couple claimed that they didn't invest much into marketing their product. They even had to seal their boat in order to keep up with the production.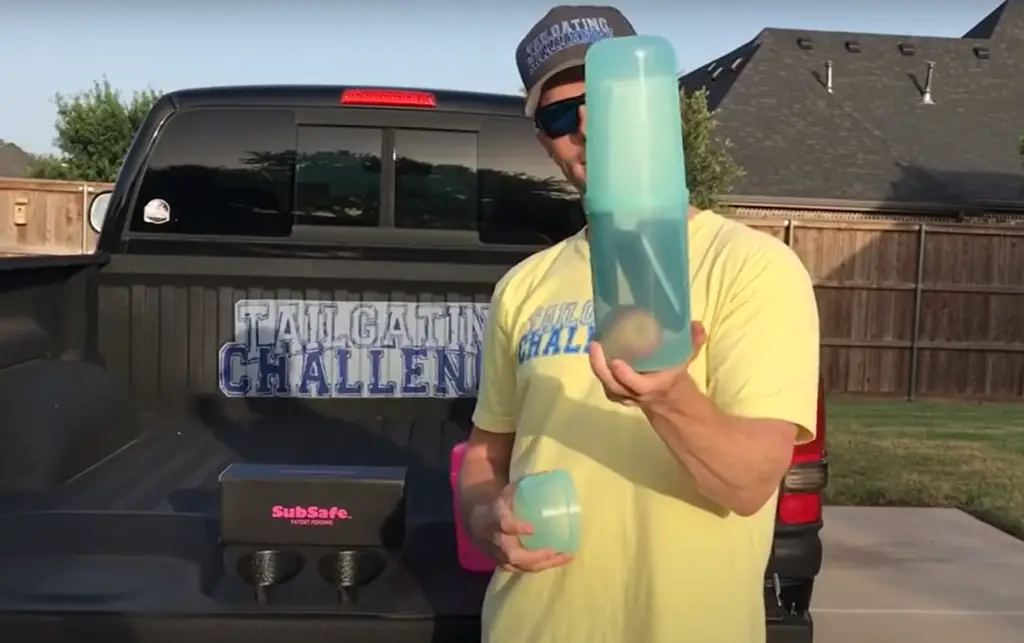 They also said that they are in the process of making a deal with one of the biggest sub-makers in the US. Lori doesn't think this is enough and decides to go out because the market is that crowded.
Kevin is unsure whether to invest or not. He is impressed with the product but he doesn't know if it will have a future in the market. Mark and Charles however decided to invest. They offered a couple of $ 100,000 for 25% which Adam and Desiree happily accepted.
This means, not only did the couple manage to secure their investment but they also got a few business partners who can help them grow and expand their reach even more. [2] [3]
How is SubSafe Doing After the Show
So as we can see, the couple did a great job in their Shark Tank appearance and managed to secure an investment and two business partners. They got immense exposure on the show and this helped them expand their reach even further.
Adam and Desiree managed to close the deal with the sharks and that not only gave them the financial boost they needed but also the recognition and confidence in their product.
Today, SubSafe is still a growing business that helps people keep their sandwiches safe from becoming soggy or having bad taste. Besides Amazon.com and the official SubSafe website, the containers are also sold at Publix supermarkets.
The couple saw that they were receiving enough customers already and decided to lower the prices for their product. Their sandwich containers now cost $ 14,95. This attracts even more customers, as it's a competitive price for what can be considered a high-quality product.
The company also managed to move to its own warehouse instead of keeping its stock in the couple's house. They also have a team of five people helping them manage the business and keep up with production.
They also expanded their products, and now they are also selling VyroSafe paper straws that are intended for mass use and can be used for both hot and cold drinks.
In the year of 2019, they managed to sell 4 million worth of their products, and the sales keep growing every year. SubSafe even made a deal with ORCA coolers to make their subs popular among college athlete teams.
And they didn't stop there! Their latest addition is WineSafe, a waterproof plastic koozie for wine and champagne bottles.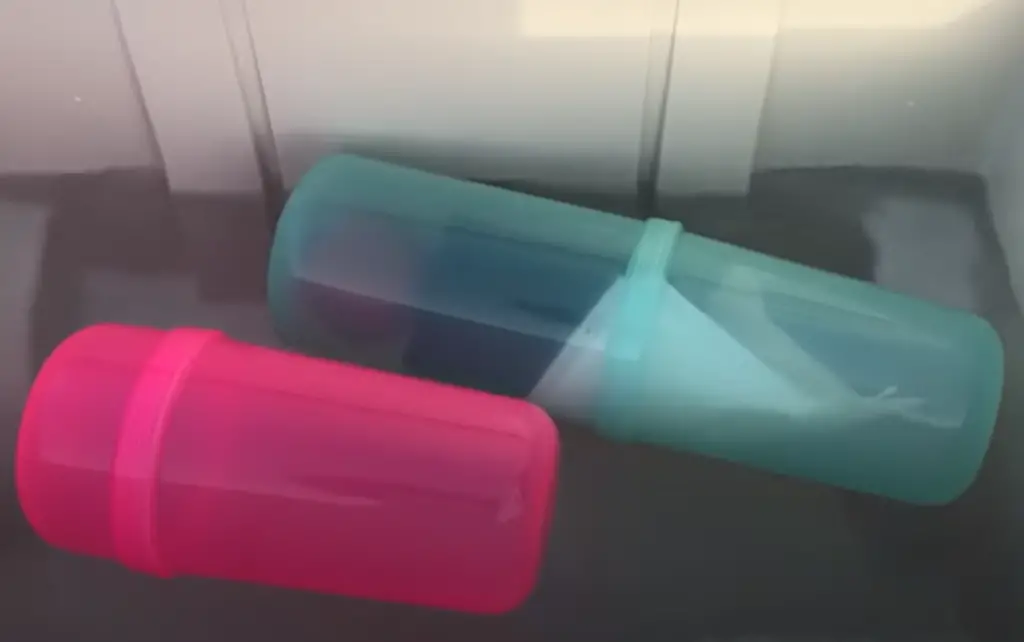 They also have a loyal following on Instagram, having over 16k followers there. However, it's not updated much. Facebook however is their main social media to share updates and new products with their customers. There, they have over 7k followers and the number keeps growing.
The last thing we want to note is the expanded reach of the company! Not only can you encounter them online on Amazon and their off website but also Publix, Wawa, and Bed Bath and Beyond, just to name a few.
So all and all, SubSafe is doing great after Shark Tank! They managed to secure an investment from the sharks and now have multiple products on the market that are popular among customers. They expanded their reach even further and lowered the prices for their product in order to make it more attractive to customers. From where they started to where they are now, Adam and Desiree have done a great job managing the business and making it grow! [2] [3] [4] [5]
---
FAQ
How is SubSafe doing after Shark Tank?
SubSafe is doing quite well after its appearance on Shark Tank. Not only did they manage to get two whole sharks on board, but the negotiations went smoothly and the product was received with great enthusiasm. After their appearance on Shark Tank, SubSafe held a successful entrance to the Publix supermarket chain and further expanded into a few other large consumers.
SubSafe also received a large injection of capital from their Shark Tank investment, which allowed them to increase production and expand their product line even further. As a result, SubSafe has become a popular brand for safe and healthy food storage solutions on the market today. SubSafe products can be found on Amazon, the official website, Bed Bath & Beyond, and many more stores.
What is SubSafe worth now?
By the year 2023, SubSafe is worth about $ 4,000,000. This is an amazing feat considering the company was just featured on Shark Tank not even five years ago. The idea of a BPA-free cooling container where you can store sandwiches without fear of them getting soggy has proven to be a success.
SubSafe has branched out into other areas such as camping and outdoor activities where keeping food cold is essential even if you're miles away from refrigeration. This has led them to create paper straws that can help you enjoy your drinks in an eco-friendly way.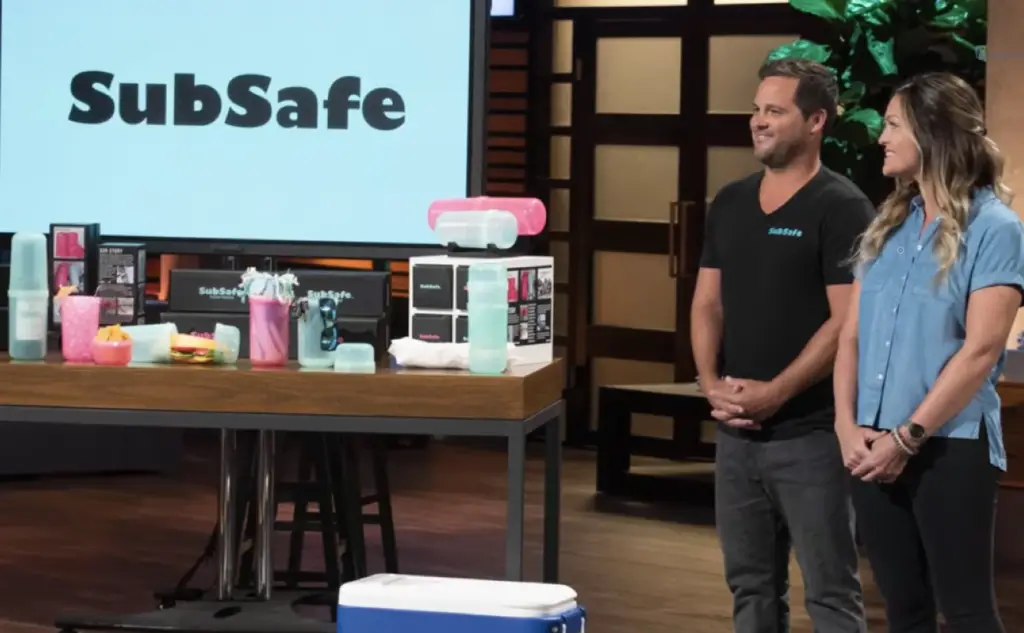 Who owns SubSafe?
Adam and Desiree have worked hard to make sure they bring the best features to their product, such as a BPA-free and silicone-free material, 100% recyclable plastic, and a warranty.
Who invested in SubSafe on Shark Tank?
Charles Barkley and Mark Cuban both invested in SubSafe on Shark Tank. Both the sharks split the $ 100,000 deal for 20% equity among each other. And the owners of SubSafe, Adam and Desiree Haller were quick to accept it!
Thankfully, the deal managed to close successfully, with both Charles Barkley and Mark Cuban walking away satisfied and providing the necessary funds for SubSafe. This investment was a major milestone for the company and it allowed them to expand even further.
Useful Video: Subsafe Review
Conclusion
Adam and Desiree Haller were annoyed by how soggy their sandwiches got with the traditional cooling containers. They created SubSafe to protect their sandwiches from becoming soggy and as an eco-friendly alternative to commercial plastic containers. After appearing on Shark Tank, the couple struck a deal with Charles Barkley and Mark Cuban and were able to secure an investment that allowed them to expand their business.
SubSafe has since grown exponentially and even managed to get into Publix stores nationwide. Their mission to provide an eco-friendly alternative to traditional lunch containers is still alive and thriving. SubSafe has continued to develop new products that make it easier than ever to enjoy food outdoors while keeping the environment in mind.
The couple constantly hits $ 1 million in sales annually and they have a range of new products in the pipeline. At the moment, their valuation floats in the $ 4 million range, and seems to be going only upwards!
Overall, it can be said that Shark Tank was a great opportunity for SubSafe to get the exposure they needed to help their business grow. Now they are an established company with their own warehouse and team working on expanding the reach of their products even more. They also managed to secure a deal with one of the biggest sub-makers in the US which serves as proof that SubSafe is here to stay!
---
References:
https://www.sharktankblog.com/the-sub-safe-sub-container/
https://www.sharktankblog.com/business/subsafe/
https://bizzbucket.co/subsafe-shark-tank-update/
https://www.instagram.com/subsafeco/
https://www.facebook.com/TheSubSafe/