If you're a fan of Shark Tank, then you might remember the episode where two entrepreneurs pitch their product called Souper Cubes. These are little plastic cubes with compartments that can be used to store soups, stews, and other food items. After pitching the product on Shark Tank, the entrepreneurs made a deal with one of the sharks and ended up getting an investment of $400,000. But what happened to Souper Cubes after the Shark Tank episode aired?
What Are Souper Cubes?
Let's picture a certain common situation. You have prepared a large amount of curry, chili or soup. You portion it out into containers and store them in the freezer or fridge for later. After coming home from work, you start to crave one of those containers of homemade goodness, so you pull it out and heat the whole container up. One hour later, you finally get to sit down and enjoy your meal. But by then, you are probably already even more hungry and exhausted. Or even worse, you have made too much soup and it's already gone bad by the time you get around to eating it after a week or two.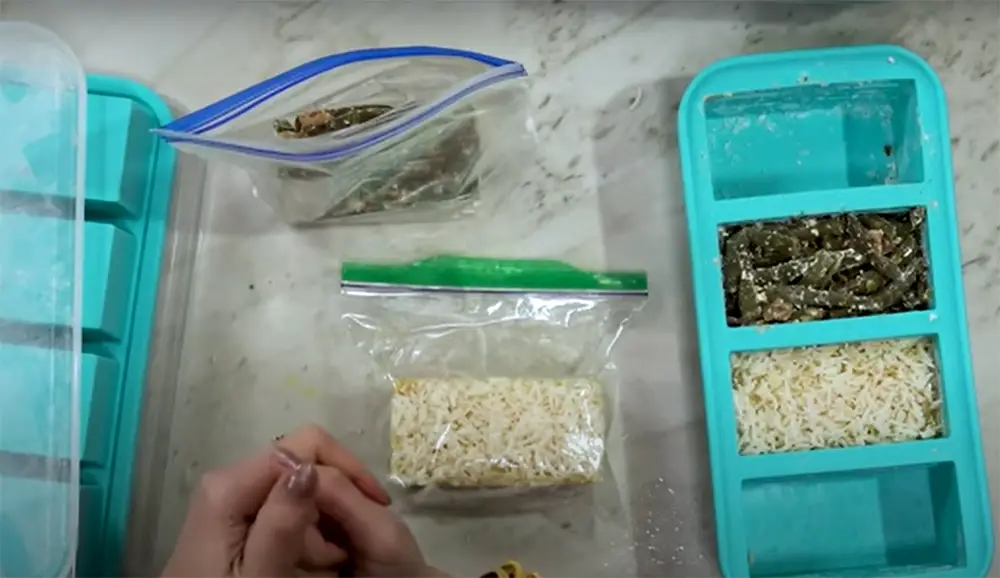 We also know how different just prepared soup tastes when compared to leftovers that have been reheated multiple times. There must be a better way to portion out and store homemade soup!
Souper Cubes are here to change that sad story. They are freezing trays that essentially look like ice cube trays, but for soup. This way, you can portion out your homemade meals into small, convenient cubes. When you're ready to eat, just pop as many cubes as you want into a pot and heat it up! No more waiting an hour for a meal that could have taken less than five minutes to heat up.
You can also be more creative and use these trays to make some delicious icy desserts or popsicles. The sky's the limit with Souper Cubes!
While all the tray options have the same exact dimensions of 11.5 x 5.5 inches, they do vary in depth. The smallest tray compartments are 50 ml deep, while the medium and large trays offer compartments that are 125, 250 or 500 ml deep. This way, you can portion out as much or as little soup as you want!
The sectors in the medium tray option are just the right size for a single serving, so you won't have to worry about eating too much or wasting food, while smaller compartments are ideal for sauces. Due to reinforced rims, the trays are also stackable, so you can save even more space in your freezer!
The tray is made with a BPA-free, food-grade silicone that can withstand both freezing and boiling temperatures and is completely safe to store in the freezer or place inside an oven. It's also dishwasher safe, so you won't have to spend hours scrubbing it clean by hand.
Souper Cubes also come with a cover, that just like the tray is made of non-toxic materials. The cover helps to lock in flavors and nutrients, as well as prevents freezer burn.
That being said, it's still not recommended to place these containers inside a microwave, as the silicone can break down when heated up too quickly. [1]
History of the Founders
It all began in California, when co-founders Jake and Michelle Sendowsky were preparing chicken stock in their kitchen. They soon realized that they were making so much of it, that it would be troublesome to reheat it later on. This made them ponder about some different storage options for frozen liquids.
After using them for a while, the couple realized that they had something special on their hands and decided to bring the Souper Cube trays to the masses.
They found other trays on the market inconvenient and difficult to use, so they thought selling their product might not be that bad of an idea. Initially, it took them many tries to get the perfect mold for their trays. But after a lot of hard work and dedication, they finally did it!
Then in 2017, they reached their good friend Sasan Salek for some help with sourcing the materials and manufacturing the trays. Sasan had experience with manufacturing in China, so three of them founded Souper Cubes with the main factory located over there. Jake and Michelle were always keeping an eye on the working conditions in the factory and made sure that the employees were treated fairly.
Before even appearing on the show, Souper Coubes has gained a lot of popularity among people who love to cook. People were impressed by how much time and money they could save by using the trays!
The couple have been impressed by a community that has formed around Souper Cubes. People have been sharing recipes and tips on how to use the Souper Cubes on social media, which has helped to spread the word about their product. Thousands of people from around the world have already become fans of Souper Cubes and shared the pictures of their culinary creations! [2], [3], [4]
Souper Cubes at Shark Tank
When the day finally came, Jake and Michelle walked into the Shark Tank with high hopes. They pitched their product to the sharks asking for a $400,000 investment in return for a 5 percent equity in their company.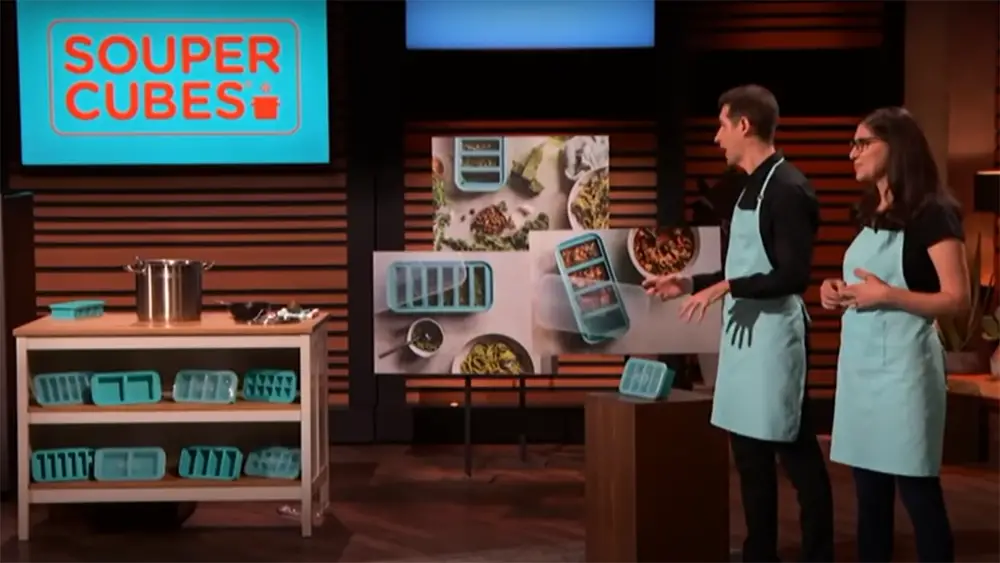 Michelle and Jake presented the sharks demonstration video that they created with the help of their friend Sasan. The video showed the couple cooking a delicious soup using Souper Cubes. The sharks were really entertained by it. Mark Cuban even praised the tongue cheek name choice for the product, as it was short, easy to remember and had a great ring to it.
Michelle and Jake then proceeded to describe the design features of the product and how it is different from the other storage options on the market. They had also provided samples of the frozen liquid pieces for the sharks to try.
The sharks were interested in the product and its potential. Lori asked about what numbers they are making in sales, to which Michelle replied that in 2019 their production has generated about $940,000 in sales. Which is largely due to the big online following that they have.
Michelle & Jake explained that 78% of sales come from Amazon, 8% from their official website, and 14% from retail. They already managed to partner with Williamson Sonoma and Sur La Table.
Sharks have been surprised with such a revenue and joked saying they don't even need a shark at this point. But Jake and Michelle clarified that they want to seek a professional mentor that would help them with making better business decisions. Of course, money is also a plus since they would use them on expanding even further!
Kevin O'Leary was the first shark to make an offer – he presented the couple with two deals.
First, he would take only 3% equity but then he would get $0.40 royalty on every unit they sell until one million was reached. And the second one, he would give them $400,000 for 15% equity without any royalty.
The couple were hesitant about both offers, but before they made their decision, Barbara Corcoran decided to step in.
She too offered them two offers: $400,000 for 10% equity or $800,000 for 20% equity. Michelle said that the 20% of their company is too much for what they are willing to give.
Lori Greiner, the last shark in line for this bidding war stepped up and offered $400k for 5%. She said that Michelle and Jake's product is the best one she saw in this season so far.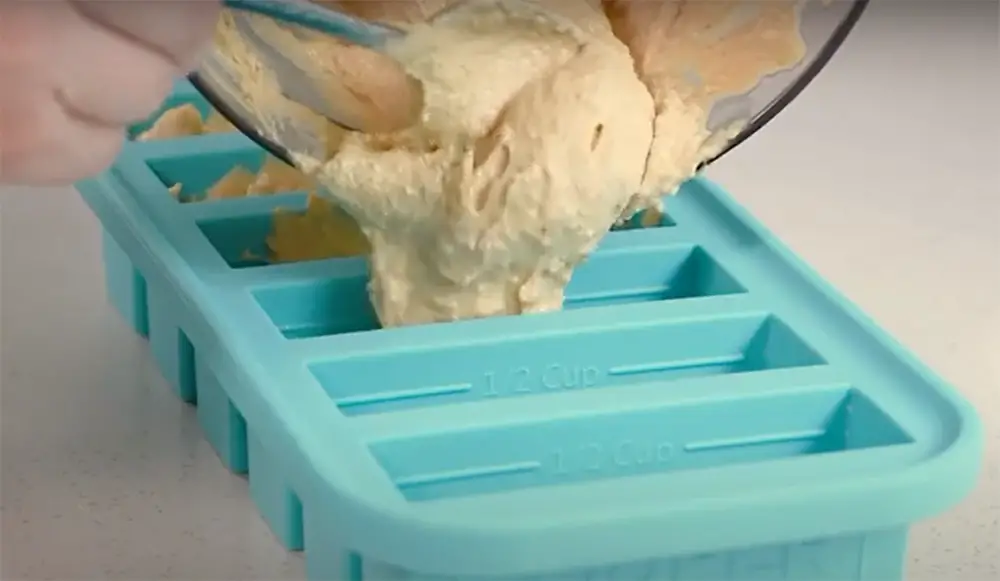 Kendra Scott, said that she was interested in the product as well but there was no way she could compete with the other offers.
What Happened After Shark Tank
Every product that appears on the Shark Tank receives a lot of exposure and this was no different for Souper Cubes.
Since appearing on Shark Tank, Jake and Michelle have continued to grow their business and increased their retail presence. But the majority of their sales come from their official website and Amazon. Their website also features a first-time offer for the new customers – 10% off from the first order if you subscribe to their newsletter.
The couple has also been able to expand their product line beyond just the original cubes. They now sell baking dishes, cookie trays and milk cube trays!
The souper cubes come in many options. If you're not sure what size to get, just pick the largest one that fits your needs.
The four available tray options are as follows:
The 1-Cup Tray
The 2-Cup Tray
The 1/2-Cup Tray
The 2-Tablespoon Tray
You can purchase trays either individually or in packs of 2-4. A single 1-Cup Tray will cost you $19.95 while a pack of two is worth $36.99, which means you are actually saving money by buying these trays in bulk. The prices for different tray models are all the same, which makes it easier for customers to make a decision.
Four tray gift pack is sold for $69.99 and it comes in two color options, the standard blue or black.
The company offers free shipping on all orders over $50 and this covers the entirety of continental United States. Souper Cubes currently doesn't ship internationally, but the company is planning to change that in the near future!
All this success has not come without its challenges though. One of the biggest challenges they faced was keeping up with the demand after appearing on Shark Tank. However, they are working hard and replenishing their stocks as quickly as possible so that customers can continue buying from them!
Company was already popular online but with the added exposure from Shark Tank, they have seen a significant increase in traffic to their website and social media platforms.
Their Facebook account is still active with six thousand likes and they are constantly updating it with new posts and videos.
But the main share of their community is gathered on Instagram. They have more than 32 thousand followers and the number is increasing every day. The couple shares their cooking tips, new product information, kitchen hacks and cute photos of their children on this platform.
They also run a YouTube channel with. Although it is not as active as their social media accounts, they still post occasional videos cooking using Souper Cubes.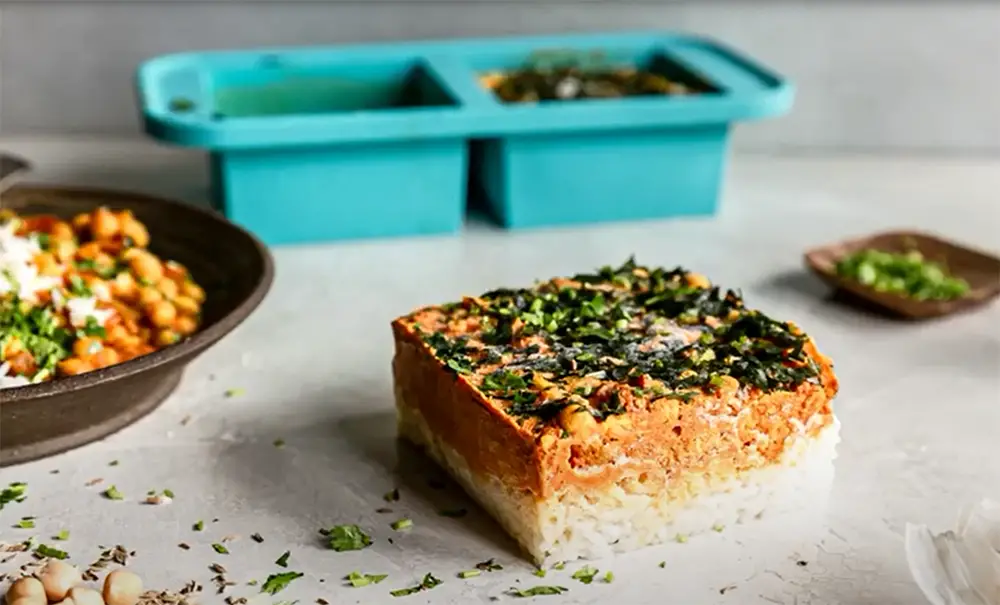 The couple both seem to be both enjoying seeing so many people using their product and being able to share their love of cooking with the world. For this reason, they also keep a blog on their website with even more recipes!
Jake and Michelle are always paying attention to their workforce even now, hiring more workers to help with the manufacturing process and customer service.
The product has gotten rave reviews from many people in the food industry. Food & Wine Magazine called it a game changer for kitchens while others such as Amazon award them with an "Amazon's Choice" badge and thousands of 5-star feedback prove how much Americans love these little trays! [2], [3], [4], [5]
What is Souper Cubes Net Worth?
Souper Cubes already were worth a lot even before their appearance on Shark Tank. With the added exposure and capital from Lori Greiner, they have been able to grow their business even more and their net worth has increased significantly. It is estimated that Souper Cubes is now worth around $8 million!
When Souper Cubes started out, the company's value was estimated to be only $3 million. Now with their success and sudden increase in valuation; they are now valued at almost three times what everyone expected them to be worth. This really goes to show that appearing on Shark Tank can really be a game-changer for businesses. [2], [3], [4]
FAQ
How is Souper Cubes doing?
Since appearing on Shark Tank, Souper Cubes has expanded and the company's value is now estimated at $8 million dollars. It looks like both exceptional marketing and their appearance on the program helped them to reach such numbers. Their goods may be purchased online from their official website and in select retail stores.
It is always difficult for any business to keep up with the demand after appearing on a national TV show, but it seems like Jake and Michelle are doing a great job at it. It was a life-changing moment for them and after appearing on the show, their business only continued to grow!
Did Souper Cubes get a deal on Shark Tank?
Souper Cubes made an appearance on Shark Tank and landed a deal with Lori Greiner. The shark praised the product and offered the founders Jake and Michelle $400 thousand for 5% equity, which was exactly what they were looking for.
Are Souper Cubes worth it?
Souper Cubes are definitely worth it! They are a great way to portion out your food and they make meal prep a breeze. With them you won't have to worry about your liquids spilling or your food getting freezer burn. Plus, they are dishwasher safe!
They come in a variety of sizes so you can find the perfect one for your needs, and they are also very reasonably priced. You can purchase them individually or in bulk. Shipping is also free on orders over $50, so it's easy to get your hands on a set (or two!) of these handy little trays.
How big is a Souper cube?
The size of the cubes will depend on the design of the dray you decide to go with. The trays have multiple trays with fill lines indicating how much soup or other liquid you can put in each one. The most popular size is the 2-Cup variant which has two sections, 500ml each. For 1-Cup tray you get four sectors, 250ml each. Make your choice on what works best for your lifestyle and needs!
How much money has Souper Cubes made?
Souper Cubes was valued at $8 million during its Shark Tank appearance. After that, the company made $940k from sales in 2019 and saw a significant increase to $1.6 million in 2020. With lifetime sales quickly approaching the $15 million mark, it's fair to say the company's net worth is now much higher.
How much do the Souper Cubes cost?
Souper Cubes currently have different products:
1 Cup Tray – $19.95;
2 Cup Tray – $19.95;
1/2 Cup Tray – $19.95;
2 tablespoon/1 oz: $31.99 (pack of 2);
Cookie Tray: $29.95 (pack of 2);
Square Baking Dish: $31.95 (pack of 2);
MyMylk: $39.95 (pack of 2);
Souper Cubes are most popular in different portion sizes, from 2 tablespoons to two-cup servings. The original design was for single-serving portions and is a cube's signature aqua color. A package of these cubes retails for $19.95.
The 2-tablespoon freezing tray with lid is sold in a two-pack for $31.99, while the Ultimate Gift Set – which includes all freezing tray sizes and their respective lids – is priced at $69.99.
Souper Cubes also came out with "The Cookie Tray" for storing cookie dough, which comes complete with a lid for $29.95 per set. The company also offers "MyMylk," a tray designed specifically for freezing homemade almond milk, in packs of two for $39.95.
How to use Souper Cubes?
Souper Cubes is a food storage solution that makes it easy to portion and store soups, broths, leftovers and so much more. It resembles a large ice tray but because it is made with food-grade silicone, you can easily pop out frozen portions that can be reheated.
If you're looking for an easy way to freeze and store your food, Souper Cubes are silicone molds that do the trick! Made from 100% food-grade silicone and BPA-free, these molds are a safe choice for anyone. Plus, the lids make it easy to keep track of what's in each mold.
This tray can hold cubes, milk, a baking dish, cookies, or anything else you need. Plus, it can go straight from the freezer to the oven for reheating – up to 415 degrees Fahrenheit.
There are four different sizes of Souper Cubes freezer trays to choose from – two cups, one cup, two tablespoons, and half a cup. When you're done with your soup, dinner casserole, broth, or other cuisines, you can store the leftovers in your favorite Souper Cube. The next step is to cover it and put it in the fridge or freezer for later.
When you're ready to eat, simply defrost your meal in the microwave. The servings are cleverly divided so that you only need to reheat what you'll use. Souper Cubes look like regular ice cube trays at first glance, but their silicone construction makes it easy to remove your frozen meals.
The trays used for Souper Cubes can be cleaned easily in the dishwasher after use. Plus, you have the option of taking the food out with a pop and reheating it however you like.
What are the advantages of Souper Cubes?
There are many reasons to love Souper Cubes freezing molds:
Portion controlled for future recipes or meals;
Stacks nicely in your freezer;
Freeze in nice squares;
No plastic;
Reduces food waste & saves money;
Great for meal preparation;
These cubes have honestly changed the way I meal-prep and store food – it's so much easier now. 1 cup trays are a great place to start.
Additionally, Souper Cubes are environmentally friendly as they eliminate the need for plastic packaging. This helps to reduce waste and save money by avoiding buying premade frozen meals with excess packaging. They also make it easy to portion out your food for future recipes or meals, making meal-prepping a breeze.
What are the disadvantages of Souper Cubes?
Although Souper Cubes are a great product, one downside is that they may be more expensive than other freezing molds or containers, especially if you need multiple trays.
If you're in a hurry, know that another potential drawback is they are not microwave-safe and must be defrosted in the fridge or stovetop before being heated up. This extra step may take some time out of your meal prep process.
What are some alternatives to Souper Cubes?
A few of Souper Cubes' competitors are Polish Pottery House, Kitchen Swag, eKitchen Products, Cooks of Crocus Hill Home Kitchen Things Sparrow Hawk Cookware, and more.
If you're looking for an alternative to Souper Cubes, your best bet would be traditional ice cube trays, silicone freezing molds, or reusable plastic containers. But if want the benefits of portion control and stacking efficiency in the freezer that only Souper Cubes can provide, look no further.
How long does it take to ship Souper Cubes?
To receive free standard shipping, orders must total $50 or more and be sent to locations within the Continental United States. This does not include Alaska, Hawaii, or other US territories. Additionally, taxes are not included in the free shipping qualification calculation. Finally, this offer is not valid on prior purchases.
They typically process and ship orders from our California-based fulfillment center within one to two business days after receiving them. Their fulfillment center is closed on weekends and select holidays.
For example, orders that are placed on a Friday or over the weekend will not ship out until Monday at the earliest.
They primarily use UPS and USPS for shipping, but there are instances in which they have to use a different carrier. You will be given tracking information as soon as your order is transferred to the carrier. Unfortunately, sometimes it takes several days for the carrier to scan in your package after you've received it from the fulfillment center, but this isn't something that they can control.
They can't ship to all areas, including Hawaii, Alaska, Puerto Rico, PO boxes, and US territories.
They are currently only shipping to countries in North America but plan on expanding their international shipping.
What is the return policy of Souper Cubes?
They will accept returns for items that are unused and in the same condition as when you received them. The product also needs to be in its original packaging. Returns must happen within 30 days of purchase and they require a receipt or proof of purchase along with photo evidence that the item is unused and still in its packaging.
They will send you an email after receiving and inspecting your returned item, to let you know whether they approve or reject your refund.
If your return is approved, we will process your refund and the credit will be applied to your credit card or original payment method automatically within 10 days.
Was Souper Cubes a popular product?
Within a year of their episode airing, Souper Cubes sold extraordinarily well. In the 24 hours after it aired, they made $938,000 in sales and could have kept going if they hadn't run out of stock. Since being on Shark Tank, they've had lifetime sales totaling over $14 million as of 2022.
You can now find the cubes at retailers such as Crate + Barrel, Bed, Bath and Beyond, Williams-Sonoma, and Sur la Table.
The Sendowskis reported to the sharks that Amazon did most of their sales at the time of the show, but the food storage devices can still be found there as well as on their website and a variety of smaller retailers including Weight Watchers (via Google Shopping).
Are Souper Cubes oven safe?
Not only are Souper Cubes dishwasher-safe, but you can put them in the oven as well (just not with the lid on)! They freeze food in perfect pre-sized portions, including 1, 2, and 1/2 cup increments!.
Can I put Souper Cubes in the dishwasher?
Souper Cubes are dishwasher and oven-safe (minus the lids). They provide perfectly portioned frozen food, including 1, 2, and 1/2 cup increments!
Do Souper Cubes fit in Stasher bags?
If you're in the market for more sustainable and reusable freezer-safe bags to store your frozen Souper Cubes, Stasher's or ReZip bags are both excellent options.
Are Souper Cubes stackable?
Souper Cubes are durable and made to last for years, with a sturdy silicone construction that can withstand being baked, put in the dishwasher, and easily stacked in your freezer.
How do you reheat Souper Cubes?
You don't always have to thaw your food before reheating it. Sometimes you can just put it straight from the freezer to the stove, microwave, or oven, and it will cook just fine. It all varies depending on what type of food you're trying to heat up.
If you portion your soups and chilis into one-cup servings and freeze them, you can later reheat them in the microwave. Most experts recommend using a silicone cover like this to get the best results. If you're reheating multiple cups or larger amounts, the stovetop method with a pot and lid works best.
If you want to reheat lasagna or enchiladas, the oven is a great option. Remember that Souper Cube trays (not the lids) are oven-safe up to 415°, so you can prep, freeze, and bake all of them at once if you want.
Useful Video: Shark Tank US | Lori Gives Out Her Golden Ticket To Souper Cubes!
Conclusion
So what happened to Souper Cubes after Shark Tank? As we mentioned, Jake and Michelle already had a thriving business before appearing on the show. Since the episode aired in February 2021, they've been busy getting their product into retail stores like Williams-Sonoma. The 5-star reviews continue to pour in on Amazon and the couple has reached an estimated net worth of $8 million.
Overall, Jake and Michelle have been able to turn their Shark Tank appearance into a long-term success story. They are slowly but surely expanding their product line and building a loyal customer base that loves their product! We can't wait to see what they come up with next. Thanks for reading and following their story. We'll be sure to keep you updated on any new developments!
References:
https://allsharktankproducts.com/shark-tank-products-home/souper-cubes-food-freezing-tray/
https://sharktanktalks.com/souper-cubes-shark-tank-update/
https://www.pinoymoneytalk.com/souper-cubes-shark-tank/
https://www.sharktankrecap.com/souper-cubes-update-shark-tank-season-12/
https://www.soupercubes.com/