Naja Lingerie is a Colombian-based ethical lingerie brand that was launched in 2013 by Catalina Girald. The company quickly gained recognition for its innovative approach to sustainable fashion and for its social impact mission. Naja Lingerie seeks to empower women in Colombia and other developing countries by providing fair and safe employment opportunities, as well as by supporting various initiatives that promote female education and equality.
Since its appearance on Shark Tank, Naja Lingerie has continued to thrive, and the company has made significant progress in achieving its social impact goals. In addition to providing employment opportunities for women in Colombia, the company has also partnered with various organizations to support women's education and health initiatives. Naja Lingerie has also continued to innovate in the sustainable fashion space, using eco-friendly materials and processes to create high-quality, beautiful lingerie.
This article will delve into the story of Naja Lingerie after its appearance on Shark Tank, exploring the company's growth, its continued commitment to sustainability and social impact, and the challenges and opportunities that it has faced along the way. We will examine how Naja Lingerie has managed to differentiate itself in the competitive lingerie market and how it has continued to build a loyal customer base through its innovative and socially conscious approach.
What Is Naja Lingerie?
The concept behind Naja is simple but powerful. They prioritize high-quality materials and ethical labor practices in the creation of their products, and they strive to empower women through their designs. One of the ways that this is accomplished is by featuring inspirational quotes from notable women on the labels of their products.
One of the unique features of Naja's lingerie is the fact that they offer a wide range of sizes, including extended sizes that are often neglected by other lingerie brands. This commitment to diversity is reflected in the diversity of the models that Naja uses in their advertising campaigns.
Another key aspect of Naja's business model is its focus on sustainability. They use eco-friendly materials such as recycled plastic bottles and they have implemented a digital printing process that reduces water waste. In addition, their factory in Colombia has received certifications for their ethical labor practices such as fair wages and safe working conditions.
The success of Naja Lingerie has been phenomenal since it was featured on Shark Tank. Girald and Rodriguez's pitch on the show led to investment from billionaire investor Mark Cuban. The exposure from the show helped the company grow and expand its product line to include swimwear and activewear.
Key Features Of Naja Lingerie
Naja is a luxury lingerie brand that employs single mothers, who work from home and produces eco-friendly lingerie made from recycled materials. By purchasing Naja underwear, customers automatically become eligible for the Underwear for Hope campaign. This initiative helps women build their confidence and provides them with resources to establish comfortable lives for themselves and their children.
The Naja co-brand was founded by Catalina Girald shortly after she immigrated to the United States and studied law. Her family has been in the lingerie business for several generations, and Naja's products are made by single mothers in Colombia, which is also Girald's place of origin.
Aside from creating beautiful lingerie, Naja is dedicated to giving back through its charitable causes, including the Underwear for Hope initiative and the Golondrinas Foundation. These causes aim to empower women by providing them with education and support, ultimately helping to break the cycle of poverty.
The Naja product line stands out from competitors not only for its beautiful designs but also for its environmentally sound materials and production methods. In addition, the company has launched an "Underwear for Hope" initiative that provides training in sewing to single mothers. These women are then able to earn a living by producing Naja lingerie, receiving payment on a piece-by-piece basis.
Naja Lingerie has continued to thrive, scaling its operations and expanding its reach in Colombia and the United States. The company's innovative and socially conscious approach has helped it differentiate itself in the competitive lingerie market, building a loyal customer base who appreciate Naja's commitment to sustainability and social impact.
About The Founders Of Naja Lingerie
Catalina Girald and Gina Rodriguez are the founders of Naja Lingerie. Catalina Girald is the CEO and Creative Director of Naja, and she has over 12 years of experience in the fashion industry. Prior to starting Naja, Catalina founded Moxsie, an online fashion retailer that was later acquired by Fab.com. She is passionate about sustainability and ethical manufacturing practices, which led her to launch Naja and create a brand that emphasizes these values.
Gina Rodriguez, on the other hand, is well-known for her acting career, particularly for her role in the hit television show "Jane the Virgin". She co-founded Naja Lingerie with Catalina Girald in 2013, initially serving as a spokesperson for the brand. However, she eventually became more involved in the business side of the company, even appearing on the television show "Shark Tank" to pitch Naja.
Together, Catalina Girald and Gina Rodriguez have helped to build Naja into a successful and socially conscious lingerie brand. They have prioritized inclusivity, sustainability, and ethical labor practices in the creation of their products, and they have worked to empower women through their designs. Their partnership has been instrumental in the growth and success of Naja Lingerie, and it will be interesting to see where they take the brand in the future.
The Pitch Of Naja Lingerie At Shark Tank
Naja (pronounced Nih-Haya) is a startup founded by Catalina Girald, who sought a $500,000 investment in exchange for a five percent stake in the company when she appeared on Shark Tank. During her pitch, Catalina highlighted Naja's mission statement, explaining that she believes the time is ripe for a new lingerie company that prioritizes sustainability, ethical manufacturing practices, and social impact.
During her appearance on Shark Tank, Catalina Girald pitched Naja Lingerie, seeking a $500,000 investment in exchange for a 5% stake in the company. Naja Lingerie aims to disrupt the $14 billion women's underwear industry by offering eco-friendly, socially conscious lingerie. Catalina distributed samples of the lingerie to the Sharks, but Robert declined to try them on. Each piece of underwear contains a message, adding a unique touch to the product.
Catalina shared that Naja Lingerie had generated $145,000 in just five months, impressing Robert with the company's impressive 72% margins. Mr. Wonderful questioned why the business was valued at $10 million, to which Catalina responded that the valuation was based on previous fundraising efforts. She identified herself as a Silicon Valley venture capitalist and believed Mark would understand the valuation. Prior to appearing on the show, Naja Lingerie had raised $850,000 at a $5 million valuation.
The brand's emphasis is on sourcing raw materials and manufacturing goods sustainably. However, Mr. Wonderful challenged Catalina, stating that branding was everything and that Naja Lingerie was not yet a well-known brand. Mark also questioned the company's sales stats, stating that a 14% reorder rate was too low and that the product needed more passion to succeed. Despite these challenges, Naja Lingerie has continued to grow and expand its reach, providing beautiful, sustainable lingerie to customers who want to make a positive difference in the world.
After Mark and Robert exited the deal, Mr. Wonderful expressed his disbelief at Catalina's valuation, insisting that she needed to make money. Kevin proposed a counteroffer of $500K for a 50% stake, which Catalina immediately declined. Lori noted that some Silicon Valley entrepreneurs get caught up in fundraising and neglect the core business fundamentals. She then bowed out of the deal.
Daymond questioned Catalina about her negotiation approach and admitted that he adored the designs but couldn't compare them to her opinion. Mark urged Catalina to make projections, and she estimated a revenue of $14 million. Lori asked about the source of the figure, while Robert deemed the number irrational [2].
Daymond viewed the investment as "dumb money" and stated he would have gone all-in if the valuation had been more accurate but ultimately decided to pass on the deal. Despite the rejection, Naja Lingerie has gone on to experience success, offering luxury lingerie while providing social and environmental benefits.
Naja Lingerie After The Shark Tank
In 2015, Catalina Girald decided to pitch her company on the popular television show Shark Tank. Her appearance on the show was a huge success, and she managed to secure a $75,000 investment from investor Lori Greiner, in exchange for a 15% equity stake in the company. The exposure and the funding from the show helped Naja Lingerie to scale its operations and to expand its reach, both in Colombia and in the United States.
The company's website is still operational, and they offer free shipping for orders above $100. Naja also offers various types of underwear, including bikinis, high-waisted undies, briefs, thongs, and matching sets. They have even expanded into selling face masks since the pandemic began, with 70% of the proceeds going to Soi Dog, a non-profit organization that supports stray dogs and cats. Each mask, priced at $25, is made by single mothers and female heads of households, contributing to Naja's mission of empowering women [3].
For those looking for a deal, Naja has a sale section on their website, where you can find discounted items such as bralettes and bras listed for $18 and $24, respectively. Signing up for their newsletter also grants occasional access to discounts and promotions.
The Net Worth Of Naja Lingerie
Catalina Girald has extensive experience as an entrepreneur, early-stage investor, and executive, spanning over 12 years across different industries such as consumer goods, sustainability, and supply chain. She is an advocate for animal welfare, climate technology, and women's empowerment through mentorship. She also shows a great interest in technology that promotes environmental sustainability.
Several sources estimate Girald's net worth to be around $1 million. Her most notable accomplishment is the creation of "Nude for All", a range of skin-tone diverse underwear that has become an industry standard in intimate apparel globally [4].
Moreover, Girald established and managed a manufacturing facility in Colombia, South America, which employed 42 individuals. This successful venture highlights her ability to lead and manage operations efficiently while promoting social responsibility.
Social Media Of Naja Lingerie
Naja Lingerie has a significant presence on social media platforms such as Instagram, Facebook, and Twitter. They use their social media accounts to showcase their products, educate followers on social and environmental issues, promote body positivity and inclusivity, and engage with their community. They also occasionally run social media campaigns, such as the #NudeForAll campaign that promoted their collection of nude lingerie available in multiple skin tones.
Alternatives To Naja Lingerie:
Patagonia is a well-known outdoor clothing brand that also offers eco-friendly underwear and bras made from recycled materials. They prioritize sustainability and ethical labor practices in their production processes;
PACT is a clothing brand that emphasizes eco-friendly materials and fair labor practices. They offer organic cotton underwear and bras in a range of sizes;
Everlane is a fashion brand that is committed to transparency in its supply chain and pricing. They offer minimalist, high-quality bras in various styles, including bralettes and underwires;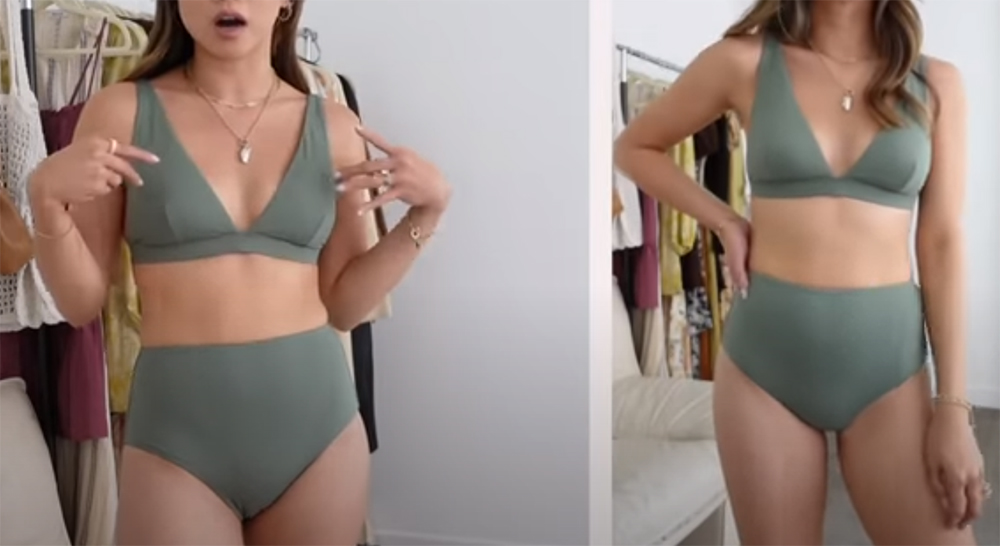 TomboyX is a gender-neutral underwear brand that offers a range of styles and sizes, including extended sizes. They prioritize inclusivity and diversity in their marketing and product offerings;
Parade is a sustainable and inclusive lingerie brand that offers colorful, fun designs in a wide range of sizes. They use eco-friendly materials and donate a portion of their profits to LGBTQ+ causes;
Nudie Intimates is a sustainable lingerie brand that uses bamboo, organic cotton, and recycled materials in its production. They prioritize ethical labor practices and offer extended sizes;
FAQ:
What are the values of Naja Lingerie?
Naja Lingerie values sustainability, ethics, and inclusivity. They prioritize using eco-friendly materials and ethical labor practices in their production processes, and they aim to empower and celebrate women through their designs.
What sizes does Naja Lingerie offer?
Naja Lingerie offers a range of sizes, including extended sizes. They strive to be inclusive and cater to a diverse range of body types.
Where is Naja Lingerie based?
Naja Lingerie is based in San Francisco, California.
How does Naja Lingerie give back to the community?
Naja Lingerie partners with the Golondrinas Foundation, a non-profit organization that helps provide underprivileged women in Colombia with job training and education. They also donate a portion of their profits to various women's empowerment organizations.
Does Naja Lingerie offer sustainable and eco-friendly products?
Yes, Naja Lingerie prioritizes sustainability and eco-friendliness in its production processes. They use recycled materials, organic cotton, and other eco-friendly materials in their products.
How can I purchase Naja Lingerie products?
You can purchase Naja Lingerie products on their website, as well as at select retailers. They offer worldwide shipping and free returns in the United States.
Can I return or exchange Naja Lingerie products?
Yes, Naja Lingerie offers free returns and exchanges in the United States. They also offer international returns, but the customer is responsible for shipping costs.
Are Naja Lingerie products comfortable?
Yes, according to customer reviews, Naja Lingerie products are comfortable and high-quality. They offer a range of styles, including bralettes and underwire bras, to cater to different preferences.
How did Naja do after Shark Tank?
After appearing on Shark Tank and not landing a deal, Naja Lingerie continued to grow their business. Being on the show helped to increase their brand exposure and sales. As of 2023, Naja is still up and running, offering a variety of lingerie and face masks.
What is the story of Naja?
Naja Lingerie is a sustainable lingerie brand founded by Catalina Girald in 2013. Their mission is to empower women, promote diversity and inclusivity, and create a positive impact on the environment and society. They are known for their innovative designs, use of eco-friendly materials, and Nude for All campaign, which introduced a diverse range of skin tones in their underwear line.
What is the meaning of a Naja?
Naja is the Latin name for a genus of venomous snakes commonly known as cobras. The Naja logo is inspired by the shape of a cobra's hood and represents power, transformation, and protection.
Who made the most money after Shark Tank?
The most successful Shark Tank investor is Mark Cuban, who has made over $500 million from his investments on the show.
Does Shark Tank actually give money?
Yes, the Sharks on Shark Tank invest their own money into the companies they choose to partner with. The amount of money they invest and the percentage of ownership they receive varies from deal to deal.
What companies failed on Shark Tank?
Many companies have failed to secure a deal on Shark Tank, including some that were highly publicized during their appearances on the show. Examples include Buggy Beds, Ionic Ear, and UroClub.
Which Shark Tank is the richest?
As of 2023, Mark Cuban is the richest Shark Tank investor with a net worth of approximately $4.5 billion [6].
What was the worst Shark Tank investment?
One of the worst Shark Tank investments was the RuckPack Energy Drink, which received a $150,000 investment from Robert Herjavec and Kevin O'Leary. Despite the investment, the company struggled and eventually filed for bankruptcy.
Who rejected the Shark Tank offer?
Several entrepreneurs have rejected offers from the Sharks on Shark Tank, including Jamie Siminoff of Ring and Billy Blanks Jr. of Dance With Me.
Who is the least successful shark?
It's difficult to determine who the least successful Shark is as success is subjective and can vary from one investment to another. However, some of the Sharks have had fewer successful investments than others, such as Kevin Harrington and Barbara Corcoran.
Has anyone from Shark Tank made it big?
Yes, many entrepreneurs who appeared on Shark Tank have gone on to achieve great success, such as Ring, Scrub Daddy, and Bombas.
Which business is most profitable in the world?
As of 2023, the most profitable company in the world is Apple Inc., with a market capitalization of over $2 trillion [7].
What is the most successful company in the world?
The most successful company in the world can be measured in various ways, such as revenue, market capitalization, or brand value. Some of the most successful companies in the world include Apple, Microsoft, Amazon, and Google (Alphabet) [8].
Useful Video: ★★★ Naja Lingerie Stretch Cotton Briefs ★★★
References:
https://sharktanktales.com/naja-shark-tank-update/
https://gazettereview.com/naja-lingerie-update-happened-shark-tank/
https://seoaves.com/what-happened-to-naja-after-shark-tank/
https://2paragraphs.com/2018/10/naja-what-happened-to-lingerie-brand-after-shark-tank/
https://www.sharktankblog.com/business/naja/
https://www.sharktanksuccess.com/naja-lingerie/
https://www.business2community.com/small-business/shark-tank-sharks-dont-get-naja-luxury-lingerie-01183196
https://www.bustle.com/articles/69081-where-to-buy-shark-tanks-naja-lingerie-so-you-can-have-the-cheekiest-underwear-around