Kitchen Safe was one of the most successful products to come out of Shark Tank. The product is a safe that locks up your containers so kids can't get to them. After the show, Kitchen Safe saw a surge in sales and was able to expand its business. But what exactly happened after Shark Tank? Were they able to keep the momentum going? In this article, we will answer all of your questions and give you some tips on how you can improve your business after appearing on Shark Tank!
Story of Kitchen Safe Creators
Storage containers are irreplaceable items in most households, so when Kitchen Safe came up with their innovative solution to the traditional container, it was no surprise that their founders were successful.
We all have some nighttime snack cravings from time to time, but when it becomes a bad habit, only Kitchen Safe can help you out.
In fact, David came up with this idea to combat his addiction to sweets. The concept behind the product is simple, yet genius. The user can set the timer to lock their snack items away for a designated period of time and it will be impossible to access them until the timer runs out. This can help people develop better eating habits and stick to their healthy diets. And not only that but this container is made from a food-grade, BPA-free plastic, making it safe for use with food.
You can also use these containers for hiding food you don't want your children to eat or as storage containers for your medications, electronics, and documents.
For example, you can store your phone inside one to help you focus on schoolwork without the distraction of social media. Well, you can break the container to get your stuff ahead of time but obviously, that's not what one would prefer.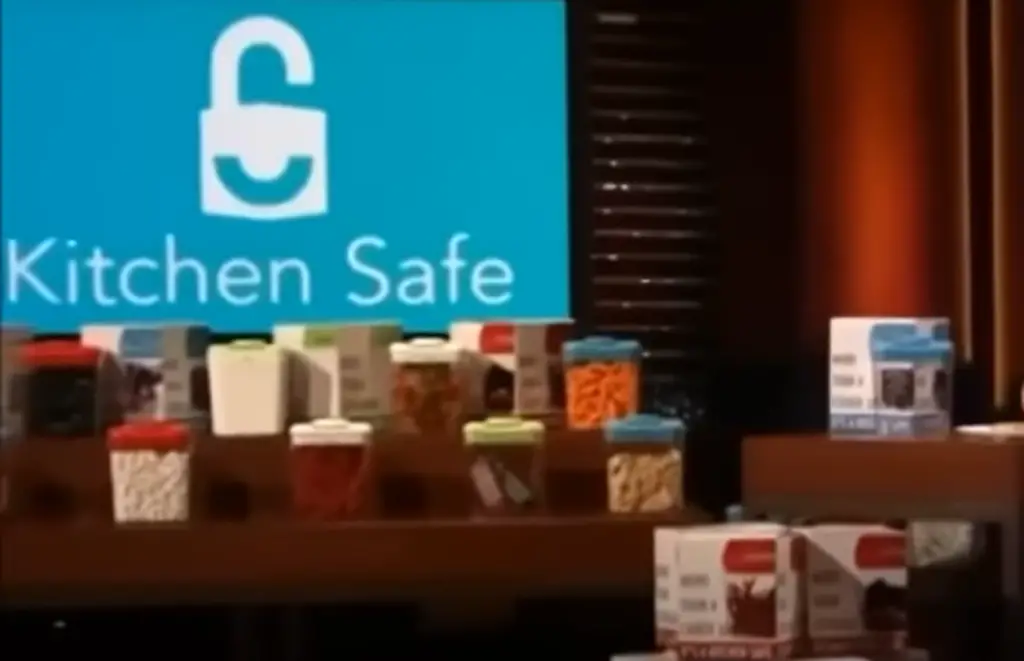 The Kitchen Safe was successfully funded on Kickstarter in July 2013 and raised an incredible $ 42k to launch its initial production. It's now available through Amazon and the company website.
And it didn't take long for David and Ryan's idea to get the attention of the Sharks in Shark Tank. The duo was excited by the idea of appearing at the show as well as it'd help them reach a much larger audience and more potential customers. [1] [2]
Kitchen Safe at Shark Tank Pitch
David and Ryan appeared at the show in episode 612 to pitch their product. The two were very confident in their ability to sell the product and they presented an excellent case for why it was important.
The founders of KitchenSafe are attempting to raise $ 100,000 in exchange for 5% equity. As they present their product to the Sharks and highlight its humorous design, David explains that it is a "commitment device" designed to help people resist temptation. Furthermore, the team hands out samples of KitchenSafe so the investors can experience the product firsthand.
Over the course of 11 months, they have already sold a remarkable $ 300K worth of products and even secured a contract with HSN to support it. Kevin instantly points out how a $ 14.50 product, retailing at $ 49 is too expensive. However, the duo is extremely confident in their product and says they have 4 pending patents that will help protect their idea from being copied and bring it to retail.
Nick Woodman isn't the biggest fan of the name, and the other sharks question the product valuation and the fact that they are seeking an equity stake. David and Ryan to their credit, remain calm and respond to each question confidently. Kevin is being ruthless however as he calls their product trashy which got David emotional.
Sharks however step in to defend the duo and support the product, Lori being the first one to do so. At this point, Kevin goes out. David, however, was determined to create something that would make an impactful difference in people's lives.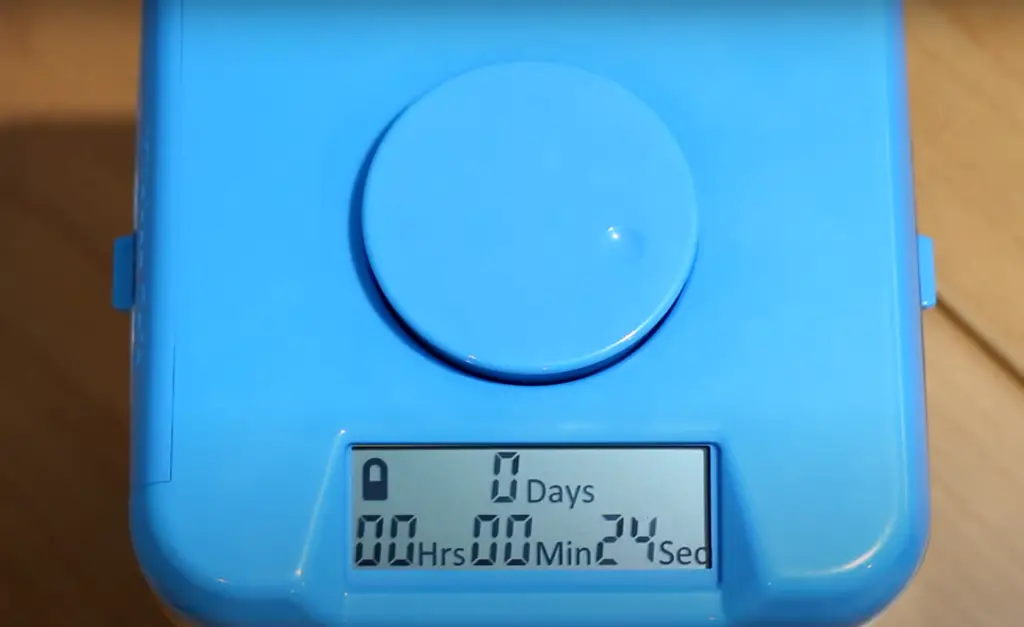 Daymond admired their ambition and offered them $ 100K for a 20% stake in the company. Lori then sweetened the deal by offering $ 100K for 20% equity if they decided to go with QVC instead of HSN. In a bid to become Lori's partner, Nick sweetened the deal by offering an additional $ 100K for 30% of her business. Together they would make a total investment of $ 200k. Daymond and Lori have a brief disagreement as Nick and Lori converse, but ultimately the two investors offer $ 100K for 20% equity in their business. By doing so, they demonstrate that they are confident in their potential to succeed.
The duo decides to counter the sharks with $ 200,000 for 10% equity. The two were still determined to keep the majority of their business however the sharks declined. With the duo refusing, they decided to accept Lori's offer and close the deal.
Now, Kitchen Safe has the resources to expand its product range and reach a larger audience. But how did it go for them? Let's find out! [2]
Kitchen Safe After Shark Tank
When Kitchen Safe appeared on Shark Tank, the product was already selling in stores. The company had seen a great response from customers who used the product to help manage their portion control needs and break bad eating habits. After appearing on the show, Kitchen Safe saw an even greater demand for their product.
Appearance at Live TV does magic and obviously the same was the case with Kitchen Safe. After appearing in front of millions of people, their product became a household name and the demand kept increasing day by day. David and Ryan listened to the sharks and renamed their product "kSafe" which resulted in even more sales.
And as for the sales, in 2022 their sales have reached the annual $ 5 million mark. The product is now out of stock at KitchenSafe.com but is still available on Amazon.
The company also keeps an Instagram account with around 400 followers, however, it's not updated as of recently. Facebook, however, is way more active with more than 30,000 followers and regular posts about their product.
The product can be bought both at Amazon and the official website of the company. Kitchen Safe continues to amaze customers and is still a popular product for those looking to manage their portion control needs or break bad eating habits. The reviews are pretty solid too, these containers have hundreds of positive reviews and stay at the 4.5 stars mark!
Prize-wise, these containers are quite expensive. Medium containers will cost you around $ 70 while bigger containers are sold for $ 80.
Kitchen Safe continues to be a success story even without the help of the Sharks! It just goes to show how entrepreneurs can take an innovative idea and turn it into a thriving business with hard work and perseverance. [2] [3] [4] [5] [6]
Kitchen Safe Net Worth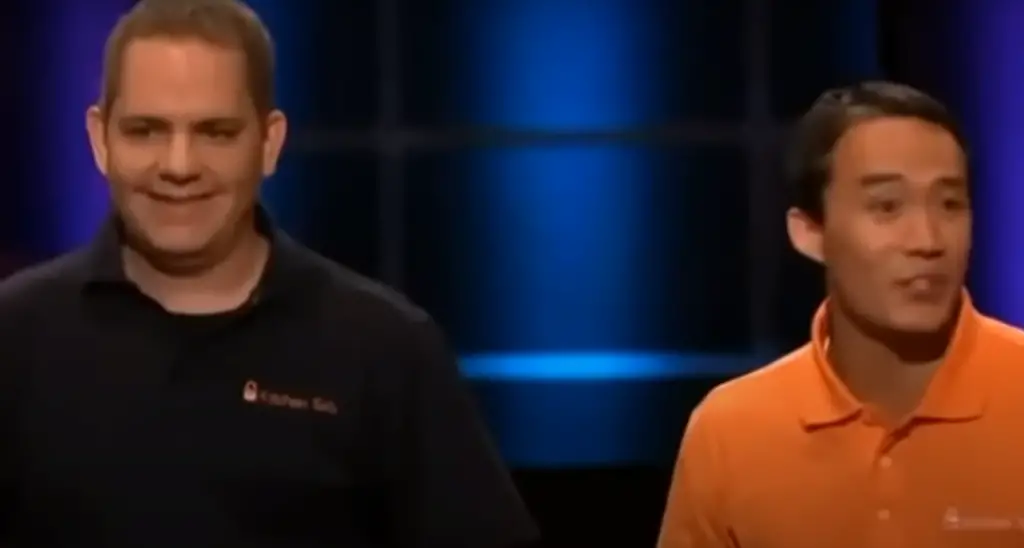 The company has since expanded its product line and now offers a variety of sizes: small, medium, and extra-large size containers. Their products are also now available on Amazon as well as from the official website of the company.
Still, we think it's safe to assume that the net worth of the company is estimated at around $ 2,5 million in 2022. This number is a conservative estimate as the company has done well since its appearance on Shark Tank. [7]
---
FAQ
What is Kitchen Safe exactly?
Kitchen Safe is a revolutionary product designed to help people control their cravings and maintain healthier habits. It looks like an ordinary storage container, but it has a built-in timer and locks that allow users to set a pre-programmed amount of time before they can access the contents of the container. After the timer reaches zero, it automatically seals shut and cannot be opened until reset. This feature helps keep users honest with themselves by not allowing them access to unhealthy snacks or treats until their predetermined time frame is up.
Did Kitchen Safe get a deal?
Yes! Kitchen Safe received a deal from Nick and Lori – $ 100,000 for 20% equity. Unfortunately, the deal didn't conclude in the end, however, this didn't stop the creators.
As of now, Kitchen Safe is still in business and going strong. Their annual sales are around $ 5 million and they are a featured product on Amazon. The company has also started to expand its products by creating more sizes and colors.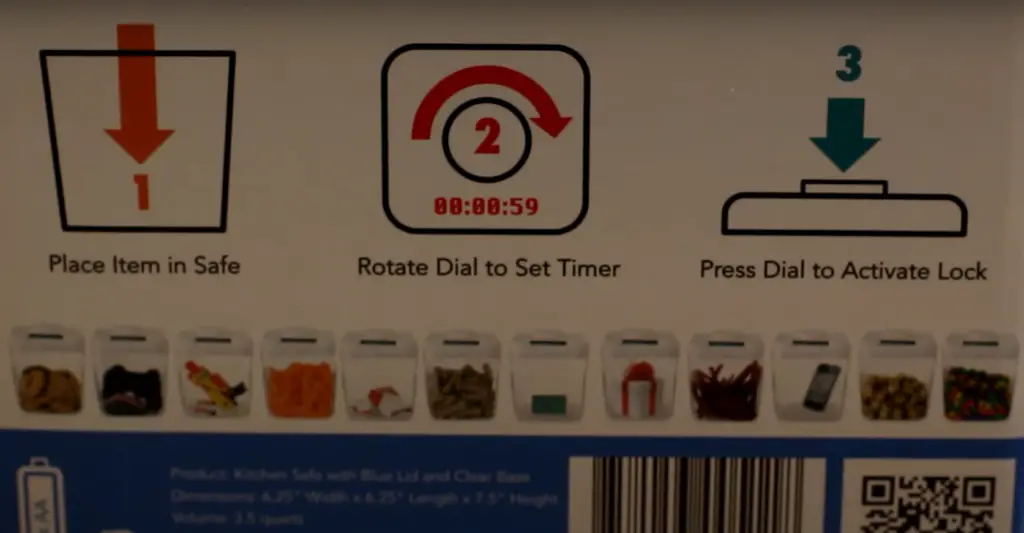 How much money has Kitchen Safe made?
At this point, we can't confirm how much exactly Kitchen Safe has made, however, it is safe to assume that the company has seen a surge in sales since its appearance on Shark Tank. The Kitchen Safe Time Locking Container was the product featured on the show and it continues to be a popular item for those looking for an effective way to limit time spent on certain activities.
The annual sales as of 2022 stay at the 5 million USD mark. There is no doubt that this number has been influenced by the exposure they received on the show. After appearing on Shark Tank, Kitchen Safe was featured in publications such as The New York Times, Oprah Magazine, and People.
What is a Kitchen Safe, as seen on Shark Tank?
A Kitchen Safe is a product designed by founder and CEO Matt Alexander to help people with their food cravings and other bad habits. It is an innovative timed container that allows users to set a timer, so once the lid is closed, they cannot open it until the time limit has expired. It helps them resist temptation and stick to their goals, whether it's eating healthier or quitting smoking.
Who founded Kitchen Safe?
David Krippendorf and Ryan Tseng founded Kitchen Safe. Krippendorf came up with the idea after struggling to stick to a healthy eating plan because of his passion for sweets and came up with a timed kitchen container to help him break his bad habits. After talking to Tseng, who had experience in product design and manufacturing, about the concept, the two decided to form a company and create their product.
They started a Kickstarter and it was a success! They then followed up with a successful Shark Tank appearance and secured an investment deal with Nick and Lori for $ 100K for 20% of the company.
Useful Video: Kitchen Safe – More Than a Container
Conclusion
Kitchen Safe is one of the most interesting and successful products to come out of the Shark Tank. It continues to be a popular product for consumers who want to avoid temptation and limit their food choices for health reasons. With its unique design, Kitchen Safe has earned accolades from both customers and investors alike.
David Krippendorf and Ryan Tseng surely created something special when they initially designed and launched Kitchen Safe. After appearing on Shark Tank, the two were able to take their product to a new level of success.
The company has continued to grow and expand, introducing different models and sizes to meet the needs of different markets, such as college students and dieters. They have also increased their marketing efforts through social media engagement with fans, influencers, celebrities, and athletes. With the support of all their partners and customers, there is no doubt that Kitchen Safe will remain successful for many years to come.
Ultimately, it's clear that appearing on Shark Tank was one of the best decisions Ryan Tseng and David Krippendorf ever made in terms of launching their business. We hope that this article helped you understand what happened after Shark Tank with regard to Kitchen Safe. To learn more about other successful businesses on the show, check out our main Shark Tank page. Thanks for reading!
---
References:
https://www.sharktankblog.com/time-locking-container-kitchen-safe/
https://www.sharktankblog.com/business/the-kitchen-safe/
https://www.thekitchensafe.com/
https://www.instagram.com/thekitchensafe/?hl=en
https://www.facebook.com/kitchensafe/
https://www.amazon.com/stores/KitchenSafe/page/15D4417D-04F3-4484-A846-353FB5653AFF?ref_=ast_bln
https://insidergrowth.com/kitchen-safe-net-worth/