The popular TV show Shark Tank features entrepreneurs who pitch their business ideas to a group of wealthy investors, or "sharks." Some of these businesses are successful and receive the sharks' investment, while others are not so lucky. In the aftermath of the show, curious fans often want to know what happened to the businesses that didn't make it. In this article, we will provide an in-depth look at one such business: Chord Buddy.
What Is a Chord Buddy?
Travis Perry is an energetic guy who loved to play guitar, but he was always frustrated that it took so long for him to learn.
Chord Buddy revolutionizes the way to learn guitar, allowing even beginners with zero experience to quickly become pros. Its unique design fits conveniently on any neck of a guitar and provides an immersive learning process at your own pace – all in the comfort of home without needing private lessons!
And it comes with a songbook too. The Chord Buddy songbook has over 100 songs to learn in all kinds of genres, and you can even switch out the chords to fit whatever style you want.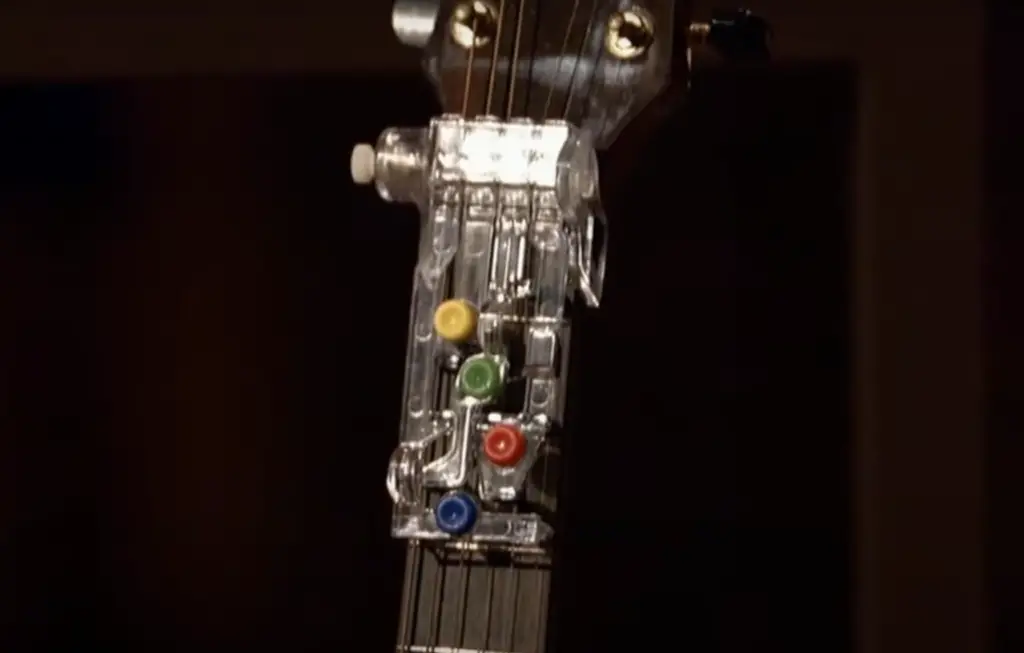 Before appearing at the Shark Tank, Travis earned around $ 150k in sales which is impressive for a new product. However, to push his business to a larger audience, he needed the Sharks' help. [1] [2] [3]
Chord Buddy on Shark Tank
When Travis Perry appeared on Shark Tank, he pitched Chord Buddy with his unique story and a demo of the device. He held his own in front of the "sharks", explaining how it works and why it would be so useful for beginners to learn guitar quickly and effectively. He claims one can learn how to play guitar in two months only!
Travis was in search of an investment of $ 125k for a 10% stake in his company. Initially, he crafted the product to give his daughter an immersive and educational guitar-playing experience. However, Travis struggled with promotion and he states it as his reason for appearing at the Shark Tank. Travis makes the sharks laugh with his enthusiasm and witty remarks, making the atmosphere enjoyable. Everyone – from the Sharks to his fellow entrepreneurs – adored Travis Perry. His witty "I'm from LA: 'Lower Alabama'" line is a standout amongst other entrepreneur quotes in season 3! Mark Cuban however, wasn't satisfied with the sales and he decided to pass on the opportunity.
The other sharks enjoy the product, however. Kevin O'Leary offers $ 125,000 for a 20% stake in Chord Buddy. Daymond John then offers the same amount with 20% equity + celebrity endorsement. Robert also joins in and offers $ 125K for 20%. And so does Barbara who offers a bigger amount of $ 175K for 20% with $ 50K earmarked for an infomercial. Travis likes Robert's deal and wonders if he can match Barbara's offer. He agrees to that and the deal is made! [2] [3]
What Happened To Chord Buddy After Shark Tank?
An appearance on Live TV Shark Tank made Chord Buddy a household name. This meant a lot more customers were buying the product and it also raised awareness about how easy it could be to learn guitar.
Travis Perry's appearance on Shark Tank was a great success, as he managed to convince the Sharks that this product was going to revolutionize learning guitar for everyone.
The deal with Robert Herjavec gave Travis even more opportunities and financial resources to scale his business. After appearing on Shark Tank, Chord Buddy was featured in many major publications and became one of the most viewed products on Amazon! Soon after making an appearance, he added even more songs, including country, jazz, and blues. This made it even easier for people to learn guitar with Chord Buddy and inspired more beginners to take up the instrument.
Robert kept his promise and got John Rich –  one of the most popular country music stars – to endorse the product. This increased Chord Buddy's exposure and made it even easier for people to take up guitar.
Travis Perry was also able to use his newfound financial resources to set up a website and an online learning platform which makes it even simpler for people all around the world to learn guitar with Chord Buddy!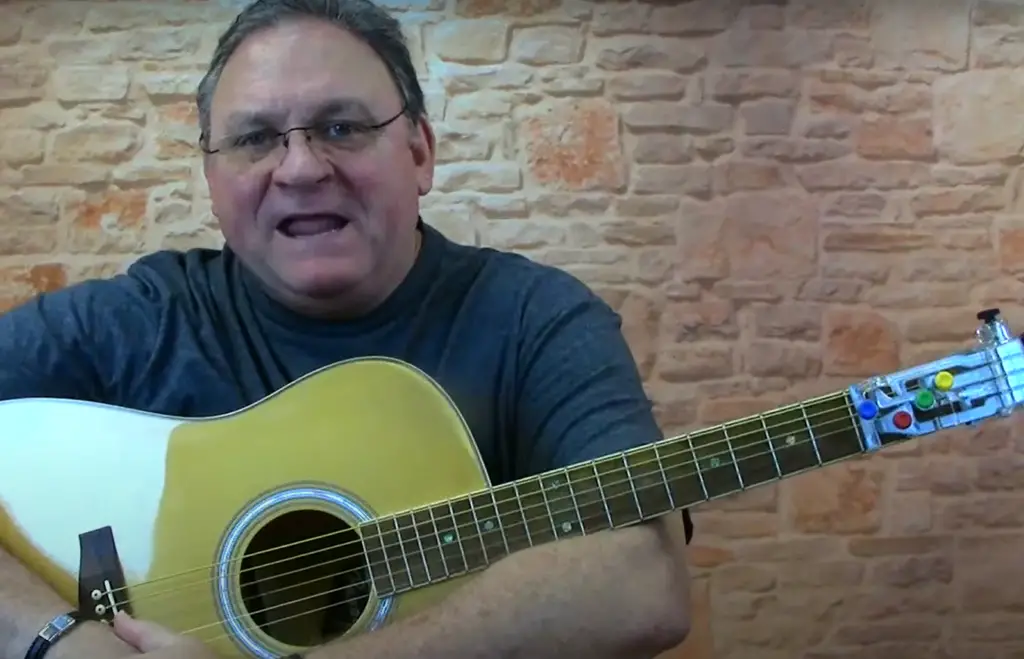 To make his guitars more accessible, he also added adult and child-sized guitars with Chord Buddy. This was a great move and helped even more people take up the guitar!
The annual sales as of January 2023 are more than $ 1 million and Chord Buddy has now become a staple in music education. Its success is due to Travis Perry's innovative idea and his persistence during the Shark Tank challenge.
You can also purchase DVD lessons, tutorials, and extra chords with your Chord Buddy purchase. This helps people to learn even more about guitar playing and makes their experience with Chord Buddy even better!
Still, Chord Buddy has hundreds of positive reviews from satisfied customers which are a testament to how well this product works. It is evident that Chord Buddy has been able to revolutionize the way people learn guitar and it looks like Travis Perry's company will only continue to grow in the years to come!
So, if you're looking for an easy way to learn guitar, then Chord Buddy could be the right choice for you. With its user-friendly design, instructional videos, and helpful support team, it will help you reach your musical goals in no time! Let's see what other amazing products Travis Perry comes up with next! [4] [5] [6] [7]
Chord Buddy's Net Worth
The sales have jumped significantly since then and as of January 2023, annual sales are more than $ 1 million. Because of this, Travis was able to use his newfound financial resources to expand the business by setting up an online learning platform, adding more songs, and even releasing adult and children-sized guitars with Chord Buddy! [8]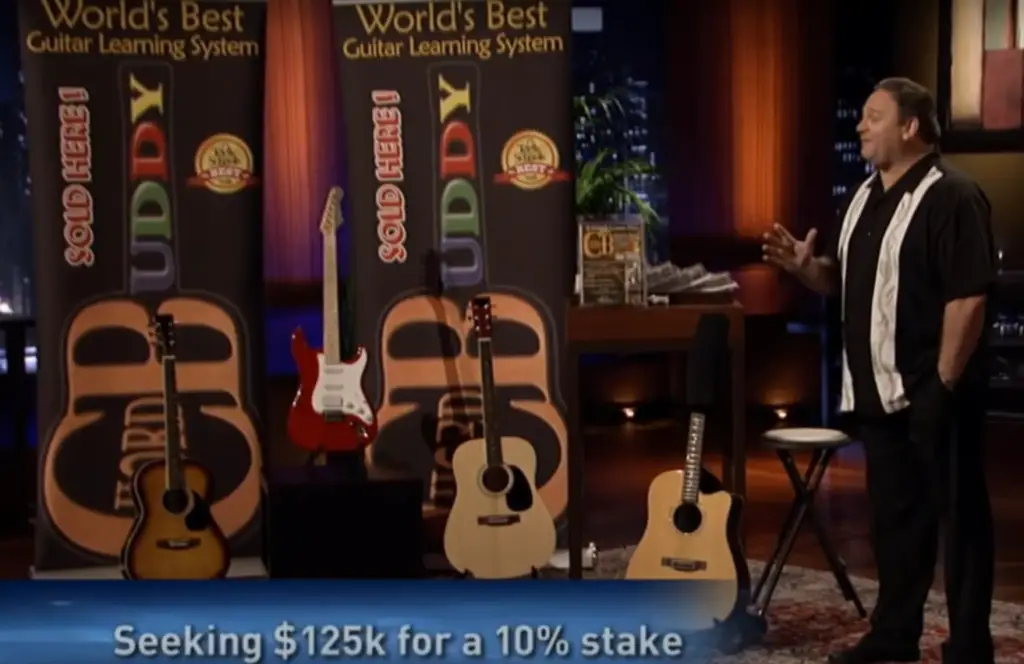 ---
FAQ
What did Chord Buddy do after Shark Tank?
Chord Buddy had a very successful post-Shark Tank trajectory. After appearing on the show, they received an incredible amount of interest in their product and saw a major jump in sales.
The company continued to experience rapid growth and success following its appearance on Shark Tank. It's still doing pretty well in 2023, earning $ 1 million in annual revenue and shipping thousands of orders around the US.
How much has Chord Buddy made?
It's hard to say what are the lifetime sales of Chord Buddy. The company's CEO, Travis Perry, has stated that they have sold over one million units since their appearance on Shark Tank in 2013.
The success of the product can be attributed to its viral marketing campaigns and partnerships with major music stores like Guitar Center. The Chord Buddy brand has been seen on TV shows such as American Idol and ABC's Show Me the Money, further increasing its visibility and reach.
The annual earnings of the company as of 2023 are estimated to be around $ 1 million.
Did Chord Buddy get a deal?
Yes! After a successful pitch on Shark Tank, the Chord Buddy team walked away with an offer from Robert Herjavec for $ 175,000 in exchange for 20% with $ 50K earmarked for an infomercial. The deal was contingent upon working out certain details between the two parties.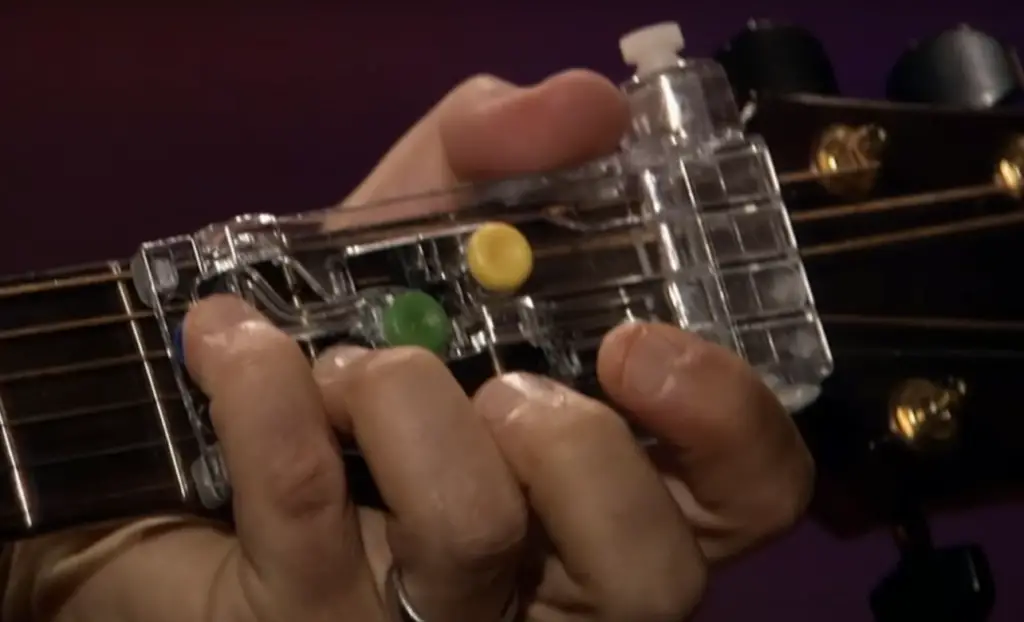 Robert had helped Travis Perry, the founder of Chord Buddy, refine his pitch and had great confidence in the product's potential.
After working through the details of the deal, Travis accepted Robert's offer and made him his first investor. This opened up a whole new set of opportunities for Chord Buddy. They were able to expand their reach with a bigger marketing budget and create more instructional videos for their customers. Additionally, Robert helped make connections with industry veterans who provided invaluable advice on running a business.
Who is the owner of Chord Buddy?
Travis Perry is the founder and owner of Chord Buddy. He first pitched his product on Shark Tank in season 3 of the show, and since then has developed it into a leading learning tool for beginners looking to learn how to play guitar.
In addition to being an entrepreneur, Travis Perry is also an educator and musician. His unique combination of experience as both a musician and an educator allowed him to create products that are both easy to use and effective for teaching novices how to play the guitar.
You can purchase DVD lessons to pair up with the Chord Buddy device as well as a host of other products to help you learn how to play.
Useful Video: ChordBuddy on Shark Tank
Conclusion
Travis Perry's Chord Buddy has been one of the most interesting companies to appear on Shark Tank. The innovative product has gone on to become a widely popular item among both beginners and experienced guitar players alike. His main goal was to create an easier way for others to learn a guitar, and it looks like he's achieved his dream. It's amazing to see how far Chord Buddy has come since it was first introduced to the world on Shark.
The deal with Robert Herjavec enabled Chord Buddy to become even more popular, and it has done a great job of helping people learn how to play the guitar. The product is still going strong and continues to be a great tool for those just starting out with learning the guitar chords. The company has also developed additional products such as a guitar tuner, an Electric Guitar Kit, and an instructional app. There are even more items in the works too!
We wish Travis Perry and Chord Buddy all the best in their future endeavors, and can't wait to see what else they have up their sleeves! With all of their successes so far, there's no doubt that this innovative product will continue to help more and more people learn how to play the guitar with ease. Thanks for reading!
---
References:
https://www.sharktankblog.com/chord-buddy-update/
https://www.sharktankblog.com/business/chord-buddy/
https://www.sharktankblog.com/chord-buddy-shark-tank-robert-herjavec-deal/
https://www.amazon.com/s?k=ChordBuddy
https://www.chordbuddy.com/
https://www.instagram.com/thechordbuddy/
https://www.facebook.com/TheChordBuddy/
https://techiegamers.com/chord-buddy-net-worth/