In this article, we delve into the fascinating journey of Sand Cloud, the lifestyle brand that made a splash on the hit television show "Shark Tank". With their innovative beach towels, clothing, and accessories, Sand Cloud captured the attention of the Sharks and viewers alike.
We'll explore what transpired after their appearance on the show, examining their continued success, business operations, and the impact of their philanthropic initiatives. From their commitment to sustainability and unique product offerings to their mission to protect marine life, join us as we uncover what happened after Shark Tank for Sand Cloud.
What Is Sand Cloud?
However, in response to customer feedback in 2015, they transitioned to producing captivating mandala towels without the attached pillow. This decision propelled the brand's growth exponentially, particularly after their appearance on a 2017 episode of Shark Tank [2].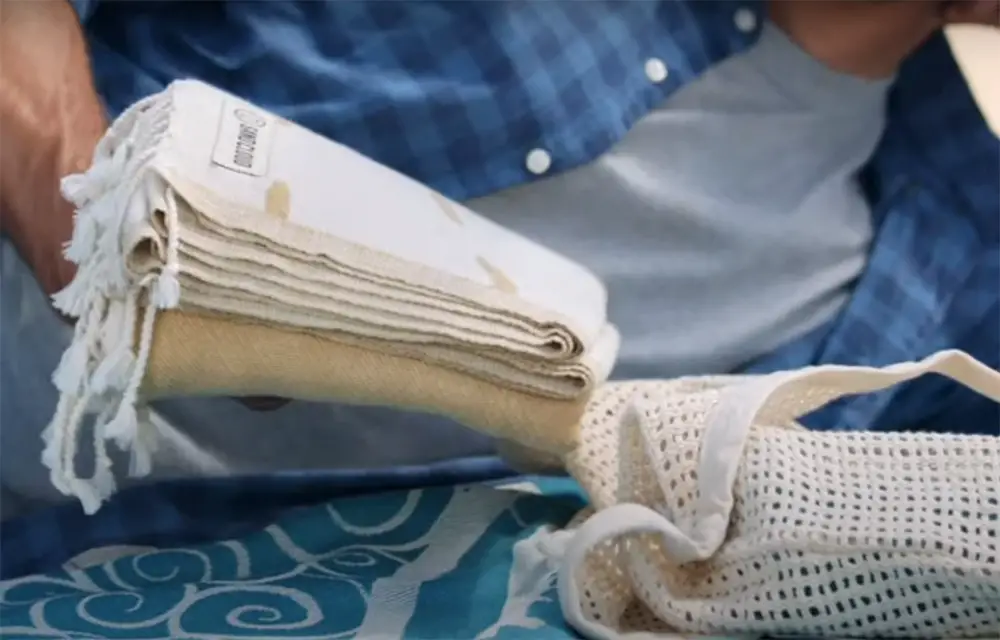 While these towels are undoubtedly of exceptional quality and fulfill their intended purpose admirably, they are not specifically designed for heavy-duty absorption. They excel as beach or poolside companions, effortlessly shaking off sand and other small particles. For those seeking more thorough drying capabilities, a thicker towel might be a more suitable alternative. Overall, Sand Cloud towels efficiently serve their purpose while boasting exquisite aesthetics and compactness.
The softness of the fabric makes it a delight to wrap oneself in, especially during the enchanting twilight hours. Admittedly, Sand Cloud's products come with a higher price tag, but considering that a portion of the proceeds goes toward crucial initiatives such as marine mammal rehabilitation and local beach cleanups, investing in their towels becomes a meaningful endeavor.
What's particularly noteworthy is that these towels become even softer and more absorbent with each wash. The Sea Turtle design, featuring a captivating reef motif, showcases single weave jacquard, twisted tassel fringe, and sand resistance [3]. Experience the convenience of a towel that dries three times faster than store-bought alternatives! The inspiration behind Sand Cloud emerged from the realization that traditional beach towels often fall short when it comes to beach-related functionality.
They tend to be either overly thick and cumbersome or become laden with sand, leading to everlasting car-related inconveniences. Founders Brandon Leibel, Steven Ford, and Bruno Aschidamini dedicated countless hours to research, reinventing a seemingly simple product that has now become synonymous with their brand.
The utilization of Turkish cotton adds a luxurious touch to the towels and blankets, as confirmed by some Redditors who claim that they become even more delightful with time. Moreover, these towels conveniently pack down to the size of a rolled-up shirt, allowing even the larger options to fit snugly in your bag. Customers are effusive in their praise for the towels, commending their exceptional feel, adherence to advertised functionalities, and justifying the price based on their impressive quality and versatility.
About Founders Of Sand Cloud
A blazing hot sandy beach can quickly turn a fantastic day into a complete disaster. Bruno Aschidamini, together with his pals Steven Ford and Brandon Leibel, set out to tackle the problem of scorching feet and uncomfortable naps by the seaside [4]. Their venture, Sand Cloud Towels, presents an innovative approach to this issue while also serving as a charitable organization.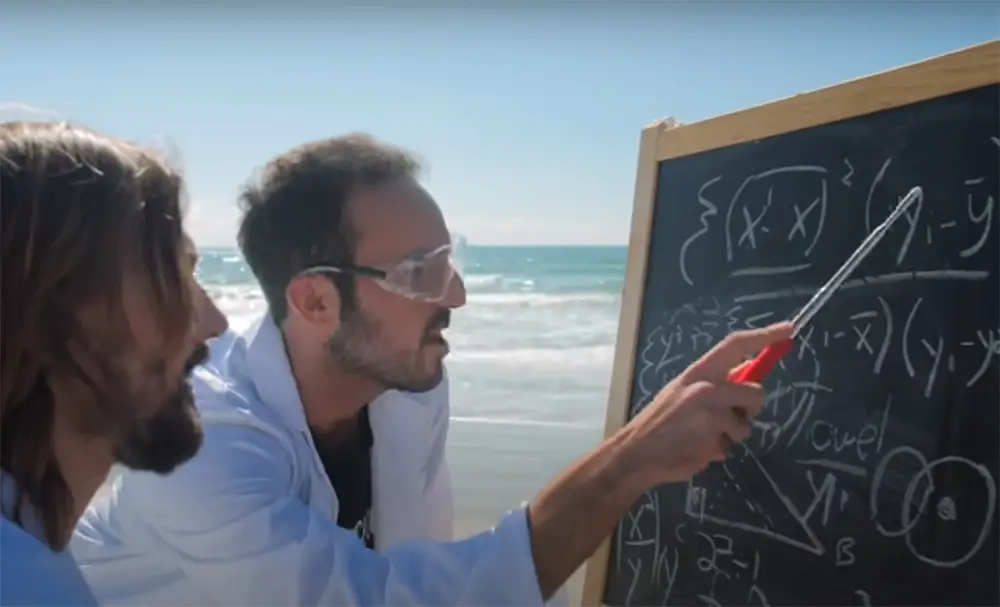 Since 2014, their company has been offering Turkish towels adorned with exquisite patterns, catering to beach enthusiasts nationwide, all while supporting marine wildlife. It's time to bid farewell to those unpleasant beach towels that serve only one purpose and toss them into the depths of your closet! Upgrade your lackluster beach towel to a Sand Cloud towel and receive far more than you anticipated.
Sand Cloud Towels took its first steps in 2014 through a Kickstarter campaign fueled by a shared dream. These three inseparable friends, residing and working near the sunny shores of San Diego, California, yearned for enhanced comfort during their beach outings. After numerous prototypes, they discovered the perfect solution: a Turkish cotton towel with a detachable built-in pillow. With overwhelming success, their initial Kickstarter campaign met and surpassed its $15,000 goal, leading to a successful launch [5].
Presently, the brand has broadened its horizons. Leaving behind the integrated headrest concept, Sand Cloud Towels dedicated itself to crafting top-notch, handcrafted towels that are not only spacious enough for two but also ideal for lounging — both on and off the beach.
The collection boasts stunning designs, ranging from traditional mandalas and striped patterns to vibrant tie-dye creations, and much more. These towels were specifically designed to capture picture-perfect moments, and their impressive presence on social media is evidence enough that they are destined for stardom.
With the product revamp, the founders of Sand Cloud Towels aimed to go beyond simply enhancing comfort. While the brand prioritizes providing luxurious experiences, their true passion lies in environmental conservation. With every purchase you make, 10% of the profits are donated to nonprofit organizations dedicated to preserving marine habitats, rehabilitating marine animals, and ensuring access to safe drinking water [6].
Each sale of a towel, water bottle, beanie, phone case, and other products contributes to fundraising efforts that directly benefit marine mammals and their habitats.
The Pitch Of Sand Cloud At Shark Tank
Kevin playfully quips that the chances of him offering $200,000 are slim to none, prompting laughter even from the crew. However, undeterred, the trio regains their composure and continues their presentation, knowing it's time to introduce new options for a fresh generation. As the Sharks chuckle in amusement, the trio unveils their innovative creation: the Sand Cloud [7].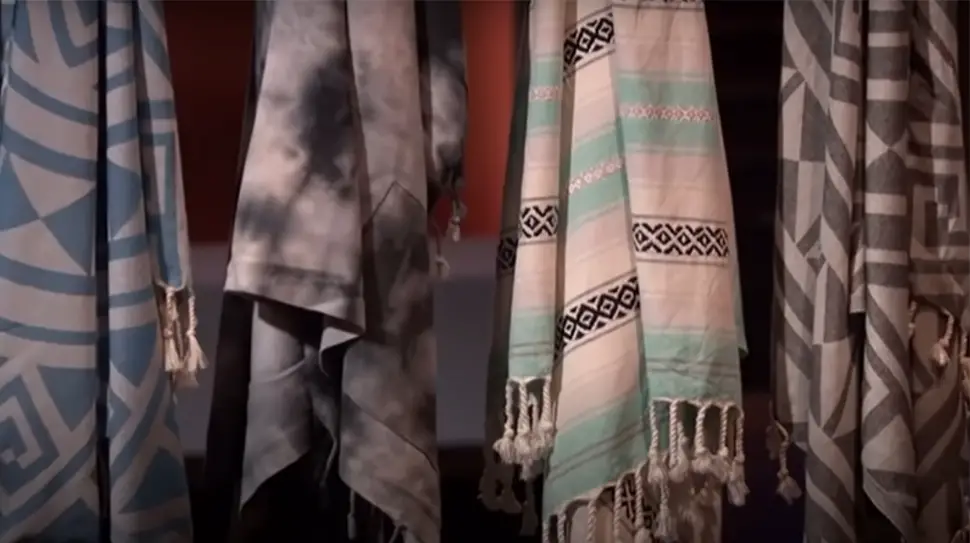 This one-of-a-kind beach towel boasts vibrant patterns that guarantee to turn heads wherever you take it. Each towel is meticulously handcrafted using the finest Turkish cotton, resulting in a lightweight and versatile masterpiece.
These towels make ideal gifts and can be utilized in various ways, such as a decorative tapestry, a fashionable scarf during the winter, or, quite literally, the possibilities are endless. But beyond their versatility, these towels connect people to a greater purpose. With every purchase of a Sand Cloud, a contribution is made to preserve our oceans and marine life.
To showcase the impact of their charitable endeavors, they plan to share a video featuring their charity partners releasing sea lions back into the ocean after rescuing them earlier this year. The Sharks are captivated by this heartwarming footage, just as much as they were by the carefully prepared visuals.
The Sand Cloud trio isn't solely seeking financial support today; they're also in search of a mentor who can guide them to the next level. The question remains, which Shark wants to wrap themselves up in a Sand Cloud and make a meaningful difference?
Bruno distributes samples of the Sand Cloud to each Shark. One by one, the Sharks unfold their Sand Clouds, and Robert comments on how thin the towel feels. He expresses doubts about its effectiveness as a towel once it absorbs water. Brandon explains that each towel is painstakingly handmade in Turkish villages by skilled families using high-quality Turkish cotton. It's this dedication to quality that justifies their price point of $47. Nevertheless, some Sharks perceive it more as a wrap than a traditional towel. Mark reminisces about his own company's beginnings and how his first commission check was spent on thick, fluffy towels that provided a luxurious feel [8].
Bruno elaborates on their journey as a company, sharing their initial desire to create thicker and more luxurious towels. However, through market testing, they discovered that people desired something different and more convenient to carry in their backpacks, especially for beach outings. Thus, their product is tailored specifically for the beach rather than being solely a home product. Daymond echoes Robert's sentiment, mentioning how the Sand Cloud feels more like a wrap or sarong. The lightweight material allows for versatility, doubling as a sarong and often used as a tapestry.
Curious about the price, Kevin asks about the cost of the Sand Cloud he's holding, which amounts to $47 [9]. With a production cost of $10 per item, they enjoy a substantial 80% margin. Kevin expresses disbelief that people would be willing to pay $50, but the trio emphasizes the appeal of the Sand Cloud as a lifestyle product with a philanthropic cause.
Bruno explains that they see themselves as the "NEXCOMs of the sea" because millennials rally behind social causes to support a brand. Lori points out that causes have become prevalent, a sentiment Mark agrees with, having encountered many millennial-founded businesses on Shark Tank that champion a cause.
Sand Cloud After The Shark Tank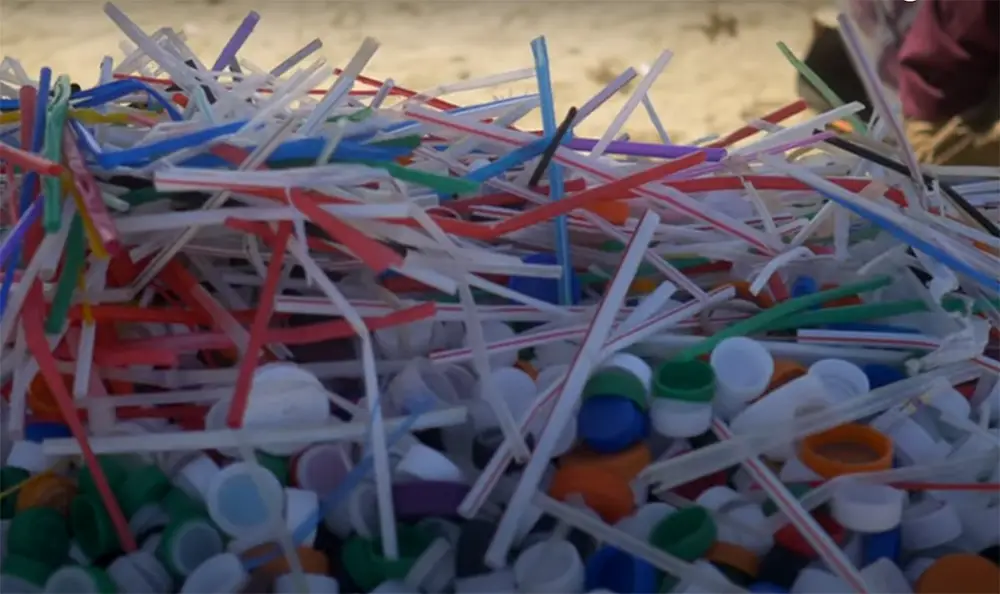 Sand Cloud, the epitome of ingenuity and expansion, has ventured into new frontiers with an extended lineup of products and an enriched inventory. The assortment of towels remains plentiful, with prices commencing at $47 [10].
Moreover, Sand Cloud now presents a captivating range of garments, amplifying their offerings. Despite this diversification, Sand Cloud remains steadfast in their commitment to donating 10% of proceeds to their philanthropic endeavors.
Notably, they have introduced a delightful collection of blankets, featuring vivid patterns inspired by cultures worldwide. The newly unveiled blankets are available from approximately $90 onwards, and they have garnered outstanding reviews, each adorned with a rating out of five stars. Additionally, the brand boasts an array of accessories, including hats, backpacks, stickers, pins, leggings, and an extensive selection of other enticing items.
The unrivaled triumph of Sand Cloud can be attributed to their unwavering focus on delivering superior quality. Across more than 400 reviews on Facebook, they have achieved an astonishing 4.8-star rating, an accomplishment seldom witnessed. In more relatable terms, this signifies that an impressive 96 out of 100 individuals will be thoroughly satisfied with their purchase.
This exemplifies that by combining an exceptional product with a noble mission, one can aspire to reach the highest echelons of success and beyond.
The partnership with Robert resulted in a significant boost in the company's followers. Their online presence witnessed a remarkable surge of 13,000 visits within a single day, a substantial improvement compared to the previous count of 600 [11]. As a result, the company is poised to achieve a remarkable sales figure of $7 million, out of which they have earmarked $1 million for donation towards the conservation of marine life.
The product range encompasses a diverse array of vibrant hues and captivating styles. Each design possesses its own distinctiveness, ensuring a wide variety of choices for customers. Crafted from high-quality Turkish cotton, the products come in multiple variations, catering to different preferences and needs. Notably, these items are lightweight, making them convenient for various purposes and offering versatility.
The product line extends beyond towels to include hand towels and bath towels, providing comprehensive options for customers. Furthermore, every purchase made contributes towards supporting marine-related non-governmental organizations (NGOs) in the country, amplifying the positive impact of customers' choices.
In addition to their renowned towels, the company also offers an array of products for the kitchen, home, and sustainable drinkware, presenting a holistic approach to enhancing the customer's lifestyle. Each item is meticulously designed to meet high standards of quality and sustainability.
One standout feature of the product is its remarkable resistance to sand. Whether it's a windy day at the beach or any other weather condition, the product remains resilient, ensuring an enjoyable and hassle-free experience. Its light and compact nature further enhance its convenience, allowing users to carry it effortlessly.
The Net Worth Of Sand Cloud
Following the partnership on Shark Tank, the company's official website experienced a remarkable surge of 13,000 visits within a span of 24 hours [12]. The investment from the show propelled Sand Cloud's growth by expanding their inventory and refining their website.
Robert's invaluable support has played a pivotal role in generating sales exceeding $7 million. Demonstrating their commitment to ocean-related nonprofit organizations, they have dedicated approximately $1 million towards supporting their causes.
Expanding their range of offerings, the company has introduced a diverse array of products including hats, bags, pins, stickers, leggings, and more. As a result, the company's annual revenue has now reached an impressive estimated sum of $6 million.
During their initial pitch, the company was valued at $2.5 million, but with Robert's investment, its value decreased to $1.3 million. However, as of 2022, Sand Cloud's valuation has skyrocketed to an impressive $10 million.
Alternatives To Sand Cloud
The Beach People: Known for their luxurious and stylish beach towels, The Beach People offer a range of beautifully designed options. Their towels are made from premium materials like 100% cotton and feature eye-catching patterns and colors. With a focus on quality and functionality, The Beach People towels are highly absorbent and perfect for a day by the water;
Tesalate: Tesalate is a brand that has gained popularity for its sand-free beach towels. Their innovative AbsorbLite™ fabric ensures that sand doesn't stick to the towel, making it easier to shake off and keeping your belongings sand-free. Tesalate towels are also lightweight, quick-drying, and come in a variety of attractive designs;
Slowtide: Slowtide offers a range of beach towels and accessories that combine functionality with artistic designs. Their towels are made from sustainably sourced materials and feature unique collaborations with various artists, resulting in stunning prints. Slowtide's towels are not only visually appealing but also highly absorbent and durable;
The Bali Market: If you're looking for a versatile beach accessory, The Bali Market offers handwoven round beach blankets that can also be used as towels, picnic blankets, or wall hangings. Made from natural fibers like Turkish cotton, these blankets are soft, lightweight, and easy to carry. The Bali Market's products showcase intricate designs inspired by different cultures, adding a touch of bohemian charm to your beach outings;
Sandusa: For those seeking a sand-resistant beach towel, Sandusa is a brand worth exploring. Their towels feature a unique blend of cotton and nylon that repels sand, ensuring a sand-free experience. Sandusa towels are also waterproof, making them ideal for water activities like surfing or poolside lounging;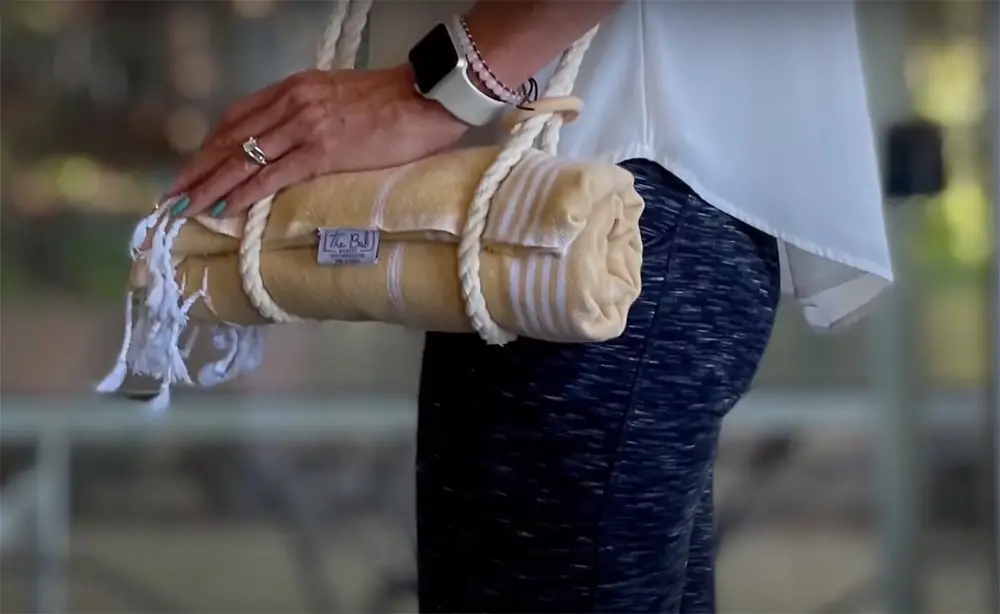 Sand Cloud Towels Review: The Pros
Quick Drying Design
One of the primary attractions of Sand Cloud lies in its quick-drying towels, which also boast remarkable sand resistance. All their products are meticulously crafted from sustainable materials, ensuring both quality and eco-friendliness. Furthermore, 10% of their profits are dedicated to supporting marine life conservation organizations, such as the Surfrider Foundation, the Marine Conservation Institute, and the Pacific Marine Mammal Center [13].
It's hard to find fault with a brand that not only offers practical products but also actively contributes to the preservation of our oceans and marine ecosystems. This commitment to giving back is evident in the positive reviews from satisfied customers.
Verified buyer Dawn, for instance, expressed her admiration for the beautiful and high-quality towel while appreciating Sand Cloud's efforts to protect sea life. Many other purchasers share the sentiment, highlighting the brand's dedication to ocean conservation alongside their top-notch towels.
Sand Cloud Supports Sea Life
Although Sand Cloud initially focused on towels, they have now expanded their product line to include bath towels and apparel. With their beach-oriented usage, Sand Cloud aims to create thoughtful and top-quality items that simultaneously give back to our oceans. This alignment with the values of today's generation of entrepreneurs and consumers has helped establish Sand Cloud as a brand dedicated to the thriving future of our oceans.
Designed For Easy Storage
Sand Cloud towels are designed to enhance everyone's beach experience. They possess a unique characteristic of being both thin enough to fit easily into your bag and impressively large when unfolded, yet they can be compactly folded. Drawing inspiration from various cultures worldwide, the towels showcase an array of patterns that reflect the global nature of our oceans.
While the thin fabric might seem unconventional compared to traditional bulky towels, it provides the advantage of drying three times faster. This rapid drying feature is crucial for beachgoers, as it prevents the unpleasant experience of carrying around a damp towel that emits a musty odor and clings to sand.
Unique Patterns And Colors
Each Sand Cloud towel is hand-dyed, resulting in a one-of-a-kind pattern and color scheme that is truly unique to you. It's worth noting that the colors may bleed during the initial few washes, but they should maintain their vibrancy afterward.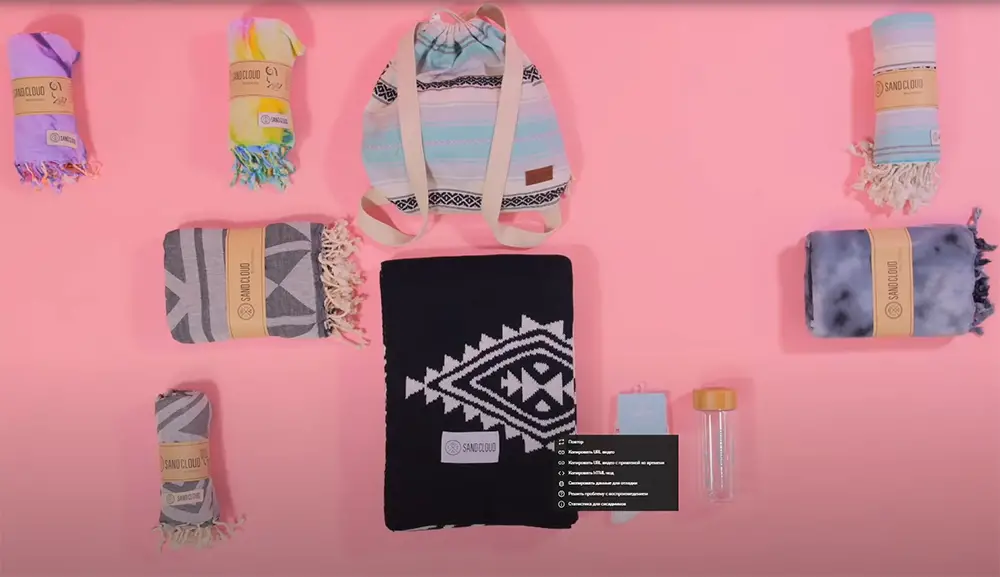 Made entirely from 100% Turkish cotton, these towels are best cared for through gentle hand washing.
The smaller size measures "51 x67", while the larger blankets provide ample lounging space at "78×87", making them perfect for enjoying beach moments with friends [14].
The towel patterns offered by Sand Cloud are thoughtfully categorized into the following styles:
Extra Large;
Marine Life;
Boho (Bohemian);
Tie Dye;
Bath Towels;
Sand Resistance
All Sand Cloud designs possess remarkable sand resistance, ensuring that you no longer have to deal with unpleasantly crunchy and dirty car seats. Hand-loomed with meticulous care in Turkey, these towels are easy to maintain in prime condition.
Sand Cloud Towels Review: The Cons
A potential downside to consider is the cost of the towels, which can vary from $48 for a single towel like the Santa Fe Green to $148 for an extra-large towel such as the Nesting Turtles Party Blanket. If you opt for the four-towel Blanket Bundle, it will set you back $345 [15]. This might seem like a steep price for a towel, especially one marketed specifically as a beach towel.
However, Sand Cloud towels offer much more than meets the eye. They serve multiple purposes and can be used as a blanket, beach towel, regular towel, sarong, headwrap, and even as a wall decoration. While the price may be a deterrent for some potential customers, the overwhelming consensus from Sand Cloud's existing customers is that the investment is worthwhile. Many satisfied buyers have become repeat customers, attesting to the value they find in these towels.
Features Of Sand Cloud:
Environmentally conscious materials: Sand Cloud utilizes sustainable materials like recycled plastic bottles to create their beach towels and apparel. They also employ packaging materials that are eco-friendly;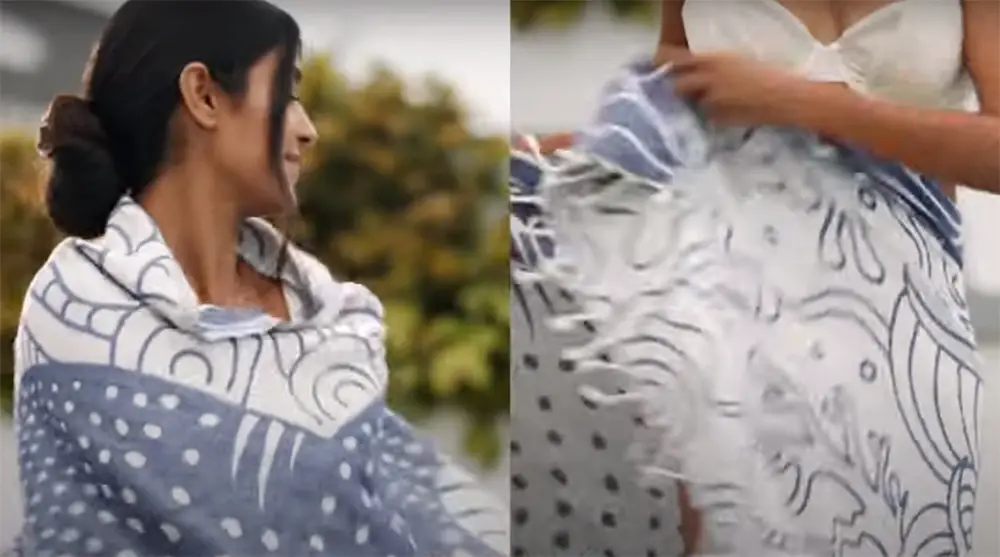 Distinctive designs: Sand Cloud products feature unique designs inspired by the ocean, beach, and marine life. They offer a wide range of colorful and vibrant patterns to choose from;
Versatile products: Sand Cloud's beach towels can serve multiple purposes, functioning as towels, blankets, or even cover-ups. They also offer versatile clothing and accessories that can be worn in various ways;
Philanthropic initiatives: Sand Cloud is committed to protecting marine life and has partnered with various organizations to support this cause. A portion of the proceeds from their sales goes towards marine conservation efforts;
Superior quality: Sand Cloud products are crafted with high-quality materials and are designed to be long-lasting. They are durable, soft, and easy to care for;
Affordability: Despite their use of sustainable materials and philanthropic initiatives, Sand Cloud products are priced reasonably, making them accessible to a wide range of consumers [16];
FAQ:
Is Sand Cloud successful?
Sand Cloud has achieved considerable success in the lifestyle brand market. With their focus on beach towels, clothing, and accessories, they have garnered a loyal customer base and expanded their product offerings. Their commitment to sustainability, unique designs, philanthropic initiatives, and quality products has contributed to their success.
Where did Sand Cloud launch on Shark Tank?
Sand Cloud appeared on the popular television show "Shark Tank" in 2017. This appearance provided them with a platform to showcase their brand and products, leading to increased visibility and growth opportunities.
Where is Sand Cloud located?
Sand Cloud is headquartered in the United States [17]. However, they serve customers worldwide through their online platform. The specific location of their headquarters may vary, and it is recommended to refer to their official website or contact their customer support for accurate information.
Are Sand Cloud towels made in the USA?
Sand Cloud's towels are not exclusively made in the USA. They utilize sustainable materials, such as recycled plastic bottles, to create their products. While some of their manufacturing processes may take place in the USA, it is also possible that they collaborate with global partners for production. For specific details regarding the manufacturing origin of their towels, it is best to refer to their product information or reach out to their customer support.
Is Sand Cloud healthy for the ocean?
Sand Cloud actively supports the health and conservation of the ocean through their philanthropic initiatives. They partner with marine life conservation organizations and donate a portion of their proceeds to these causes. By utilizing sustainable materials and raising awareness about ocean protection, Sand Cloud aims to contribute positively to the well-being of the ocean ecosystem.
Are Sand Cloud towels really that good?
Sand Cloud towels are highly regarded by many customers. They are known for their quick-drying properties, sand resistance, and vibrant designs. The quality of the towels, along with their versatility and multi-functionality, has received positive feedback. However, personal preferences may vary, and it is recommended to read reviews, consider individual needs, and make an informed decision based on one's own preferences.
How many workers does Sand Cloud have?
The specific number of workers at Sand Cloud may vary, and I do not have access to real-time data regarding their current workforce. As a growing lifestyle brand, they are likely to employ a team of employees working in various departments such as design, production, customer support, and administration. For accurate and up-to-date information, it is best to refer to their official website or contact their customer support.
What is it about Sand Cloud that makes them so unique?
Sand Cloud stands out due to several factors that make them unique:
Firstly, their commitment to sustainability sets them apart. By using recycled materials and supporting marine conservation efforts, they align their brand with environmental consciousness;
Secondly, their range of products, including towels, clothing, and accessories, caters to the beach and outdoor lifestyle, offering versatility and functionality;
Additionally, their unique designs inspired by the ocean and marine life contribute to their distinctiveness;
Lastly, their philanthropic initiatives, such as donating a portion of their profits to marine conservation charities, demonstrate their dedication to making a positive impact beyond their products [18];
Useful Video: The Sharks Bite At This Beach Towel Reinvention | CNBC Prime
References:
https://allsharktankproducts.com/shark-tank-products-home/sand-cloud-turkish-towels/
https://biznewske.com/sand-cloud-shark-tank-update/
https://bizzbucket.co/sand-cloud-shark-tank-update/?expand_article=1
https://gazettereview.com/2018/01/sand-cloud-after-shark-tank-update/
https://thefascination.com/blogs/the-edit/sand-cloud-reviews
https://www.honestbrandreviews.com/reviews/sand-cloud-review/
https://insigniaseo.com/blog/sand-cloud-shark-tank-updates-in-2020/
https://www.sharktankblog.com/business/sandcloud
https://sharktankrecap.com/sand-cloud-update-shark-tank-season-8/
https://www.cnbc.com/2017/05/31/how-sand-cloud-got-on-shark-tank-and-made-millions.html
https://2paragraphs.com/2017/07/sand-cloud-towels-what-happened-after-200k-shark-tank-deal/
https://thenetworthof.com/sand-cloud-net-worth/
https://sharktanktales.com/sand-cloud-shark-tank-update/
https://www.therealitytv.com/sand-cloud-towels/
https://www.inc.com/emily-canal/shark-tank-sand-cloud-2019-inc5000.html
https://www.success.com/how-sand-cloud-survived-the-shark-tank/
https://www.statsforsharks.com/entry/Sand_Cloud
https://www.business2community.com/social-buzz/shark-tank-sand-cloud-accepts-deal-robert-herjavec-200000-01787559